Like most things, influencer marketing has been significantly impacted by COVID-19 and there is a range of implications as a result.
Influencers are creators of content on social media, they often may be committed to a niche market and have a loyal following. Influencers are usually compensated by brands they deliver content either through monetary gain or other benefits such as products and services.
Last year, in 2019, the influencer marketing industry was an $8 billion industry already with it predicted to rise to $15 billion by 2022. However, COVID-19 has already had significant impacts on the global economy. In the first quarter of 2020 GDP dropped by 4.8%, the largest contraction since the financial crisis of 2007-2009. A recent survey of 237 brands showed that congruently 69% of brands expected to decrease ad spend in 2020.
So, what does this all mean for the influencer marketing industry?
Table of Contents:
More reasons for content to be on point including the correct empathetic tone
A Global Web Index survey found that over 80% of consumers in the U.S and U.K say they've consumed more content during COVID-19. While this can be a good opportunity for brands and influencers to engage with their audiences with impactful messaging, greater monitoring by consumers also means mistakes will be more significant.
Visuals and messaging must strike the right tone especially given the current complex individual circumstances people find themselves facing. This may include financial difficulties as a result of lost income or work and personal issues resulting from physical isolation. Check out influencer marketing resources you can really trust.
Consumers want a sense of normality and stability as the pandemic has caused concern about the present and future. Brands and influencers need to be building trust and presenting that familiar face with hopeful and inspiring messaging. So, while its likely most influencers may benefit from a higher engagement rate, in this environment it is increasingly important to recognize the difficult social circumstances surrounding audiences. People want to engage with content that is authentic and cognizant of challenging circumstances.
Well-known Melbourne, Australia French restaurant Vue De Monde has been providing filmed cooking classes to their customers so they can emulate favorites such as their popular chocolate souffle.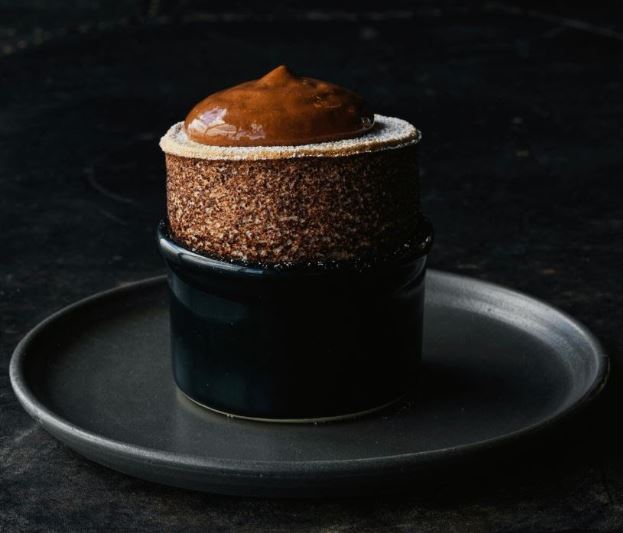 Australian Chris Hemsworth's Centr App Free Trial for 6 weeks during the earlier stages of the lockdown period in March was also a huge hit. Chris' health and fitness program features over 1000 unique video workouts, meal plans and over 500 healthy recipes kept many in lockdown reasonably healthy when they could have been otherwise!
Try to be part of the solution rather than the problem.
For example, influencers can share advice on how they've coped with the new situation on a practical basis. This may include how they've juggled remote working and being caretaker for the kids or minimized health risks when needing to go outside the house.
Consumers want brands and influencers that can communicate empathetically. As a result, influencers can share what they have been doing to make a difference however, there is a need to do it in an authentic and tasteful way. It is important that influencers find the right voice that suits their niche. This may involve acting on feedback from their audiences from previous messaging.
Guide consumers with trustworthy, accurate sources of information
Consumers are being inundated with coronavirus related information and advice however these do not always come from the most trustworthy or accurate sources. The recent misinformation around Dettol disinfectant injection and Donald Trump provides an example of how important it is for brands to provide correct, accurate information to consumers based on reputable sources.
Global Web Index results show that consumers trust organizations such as the World Health Organization and UK government websites to deliver correct and accurate information regarding COVID-19. Tellingly, the U.S. government did not feature as one of the top results and this is likely to indicate distrust in the U.S. government to provide these facts and advice.
Brands and influencers alike must align themselves with facts and advice coming from reputable sources such as WHO and the UK government. They may be able to increase trust by citing these sources, especially where facts and statistics on COVID-19 may be provided in messaging.
As a whole, trust in social media is low so recognition of health-related organizations such as WHO must be a consideration when providing trustworthy material and advice related to COVID-19. Influencers will continue to prominently support social media marketing in 2020. Through their personal views and support of their followers they will continue to shape the conversations occurring in the post-lockdown world.
Spend is more likely to be focused on essential items or self-improvement at home
Research from Stackline shows that e-commerce spending on household goods, cleaning products and pharmaceuticals have had large increases during the COVID-19 physical isolation period. In fact, more than 40% of brands reported rising sales of products in the essential category.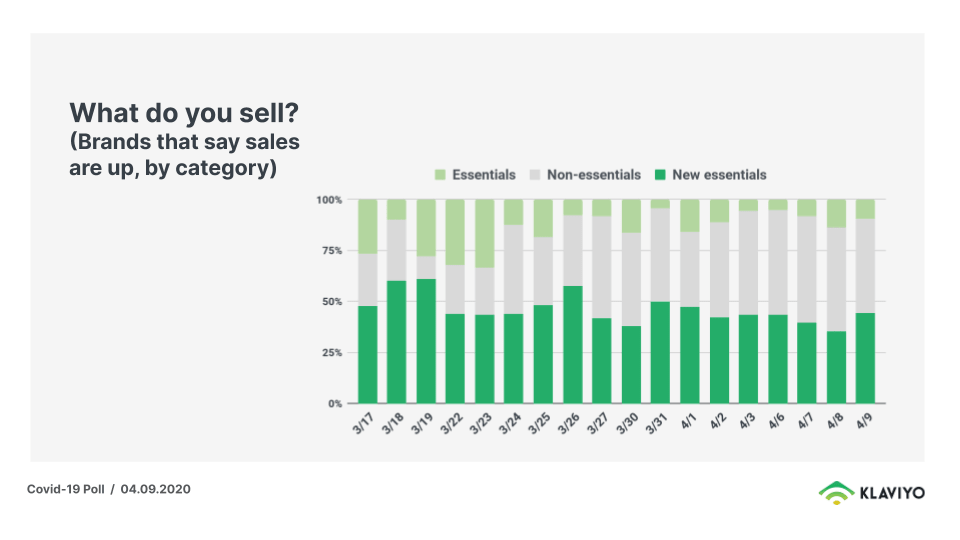 Unsurprisingly, areas of discretionary spending and especially those heavily affected by COVID-19 such as travel-related products have decreased markedly. This includes for example luggage, cameras, clothing and footwear.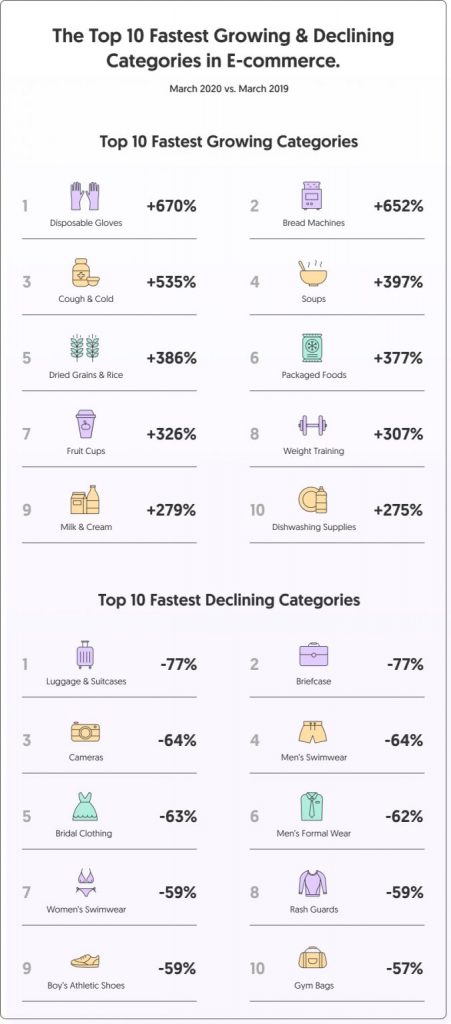 It can perhaps be surmised that marketing spend is likely to follow these movements. Marketing spend may increase reflecting more consumer spending on those areas such as household items that are increasing, and also decrease in areas such as travel-related products.
With this in mind, influencers that have had campaigns stopped or decreased in areas such as travel-related products may benefit from looking for opportunities in packaged foods for example, or self-improvement at-home products such as weight training and exercise at-home related products.
However, before reaching out to new brands influencers must first recognize how their personal brand and messaging aligns. They must also consider how they can add value in a challenging economic environment. Influencers must be cognizant that rates will be forced down and should be reviewing these in line with comparative influencers.
To foster a new relationship influencers must think creatively about ways they can reach out to brands such as by offering a free post or participate in remote gifting. Many brands are looking for content creator channels outside the traditional scope during this time especially so this can benefit influencers if they can show value and return on any investment made.
US rapper Travis Scott recently produced a gig inside the game Fortnite which reached out to over 12 million players of the game. Like many of Travis Scott's productions, it was psychedelic, however, in the Fortnite induced world, it was able to go to new levels with the player going underwater, into space, and even floating on amusement parks.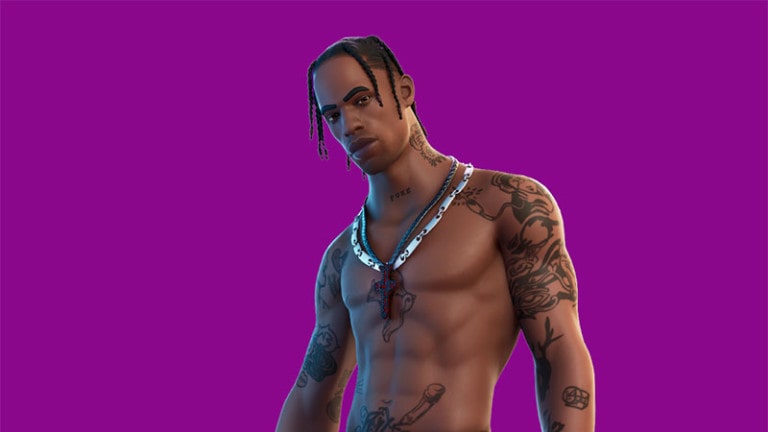 The collaboration is a brilliant example of how brands can go outside of traditional paths in uplifting ROI. Influencers are also helping people to overcome the disappointment of seeing events and festivals being canceled by creating online alternatives.
Replacement for agencies
The Fifth points out that using influencers can be a cost-effective alternative to using production agencies, because they are their own production and creative houses and have a portfolio of content ready for brands to use. Many content creators also own professional equipment and have the skills to create TV-worthy content.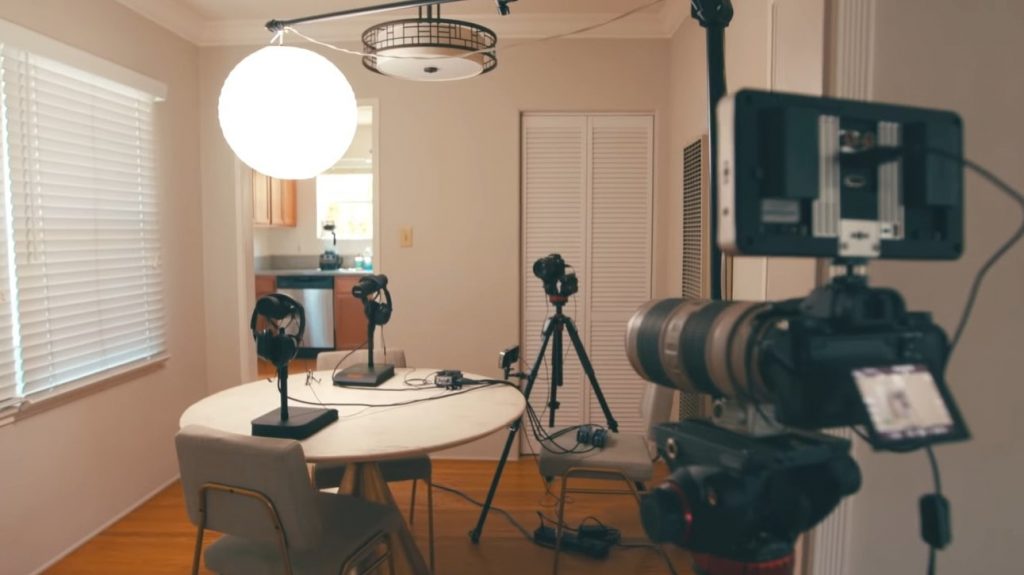 As an example, Asma Elbadawi – a spoken-word poet, basketball player, activist and playwright – recently collaborated with director of photography Johno Verity on an Instagram video called 'Lockdown', produced for just £250. Influencer strategist Scott Guthrie points out in his blog that the video "offers a prime example of the speed of turnaround, the power and relatability of content, and the low cost of production possible through skilled influencer-generated content".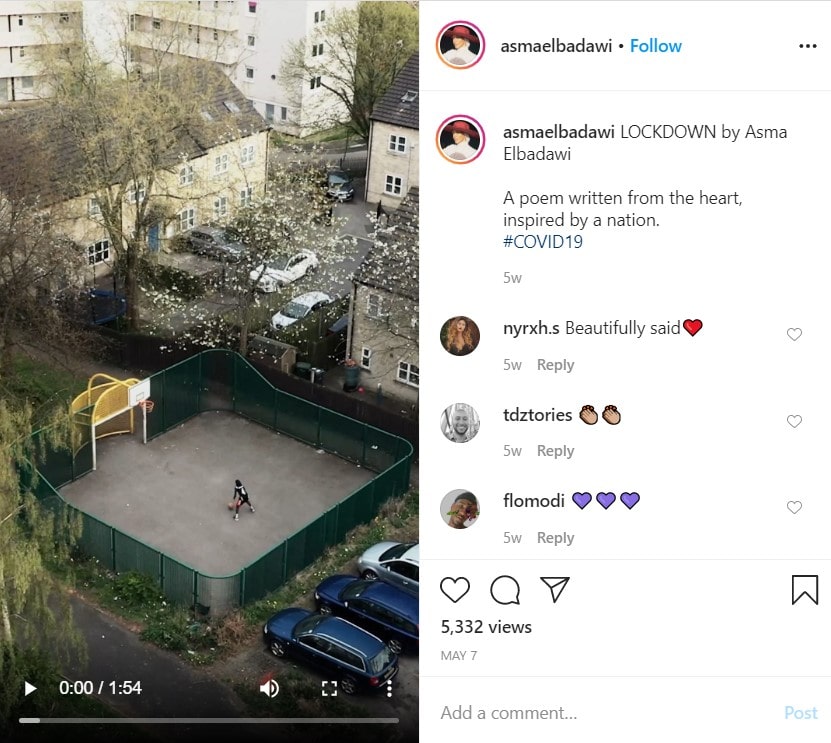 Brands must be astute in continually monitoring what consumers' needs are at present and in the near future. This should include monitoring what is being said about their brand, products, and services online as well as continual measuring of impacts of marketing activities. As restrictions ease for example it is highly likely consumer spend and needs will also shift quickly as they did at the start of the period in which COVID-19 restrictions were enforced.
Video continues to increase in popularity
87% of U.S. consumers and 80% of UK consumers say that they've consumed more content with online videos, one of the top areas of increased media consumption.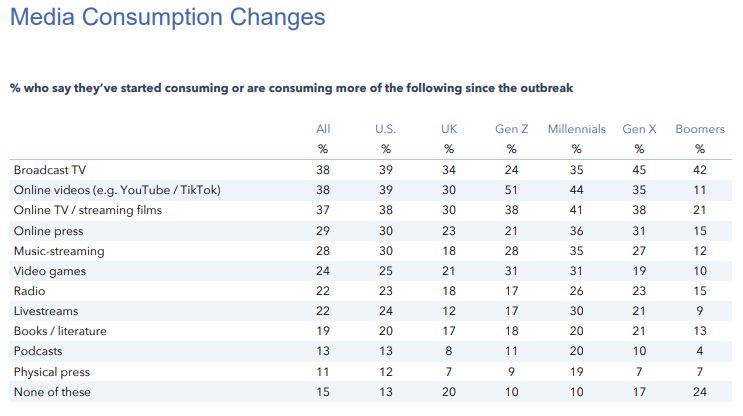 So what does this mean for brands and influencers?
For brands and influencers, they must recognize that video continues to be the new norm and a strong continued focus must be placed on continuing to develop great video content. This may include content related to coronavirus related updates which is the number one online activity or conversely, entertaining content such as funny videos which enables audiences to get away from coronavirus onto more entertaining content.
TikTok has been identified as one of the most popular mediums for video content consumption so brands and influencers alike must look for ways to increase their exposure in this fairly new avenue. Similarly, evidence shows that video content through live streams and podcasts is likely to benefit from increased media consumption in those areas.
Find out how Mention can help you find the best influencers to work with!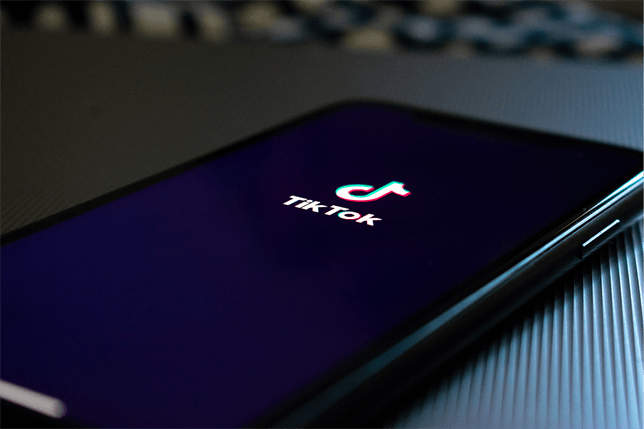 Unsurprisingly, consumers are turning to entertaining online media to help pass the time during isolation. Brands should look to partner with influencers that can entertain their target markets while espousing the benefits of their suite of products and services.
For example, the popularity of Stephen Curry golf trick shots and the following enthusiasm around the best quarantine golf trick shots supports that entertaining original content will continue to be in high demand from audiences.
When covering coronavirus consider using coronavirus related hashtags
Recent research shows that 466,175 posts on #coronavirus has resulted in 1,888,051,405 engagements. Further, hashtags with #coronavirus, #covid19, #covid, #pandemic, and #coronavirusoutbreak from 800,000 influencer posts have resulted in an incredible 2.9 million engagements around the world.
As mentioned previously, if relevant brands and influencers must tie in what they are doing to help solve the problem. Social good campaigns and coronavirus-information sharing posts have exceeded 1.5 billion from just 480,000 posts. This includes hashtags such as #stayathome which has featured in 173,005 posts and equated for 512,286,746 engagements.
More than ever consumers recognize that brands and influencers can utilize their marketing to contribute to social causes while also benefiting their own goals. It can be surmised that consumers increasingly see that companies must be part of the communities that enrich them giving back to further the status quo. This may be through providing helpful information to reduce COVID-19 cases or simply helping their consumers get their minds off the subject.
If not covering coronavirus news, help consumers escape
When not seeking Coronavirus news consumers ultimately want avenues to escape. As content creators, brands and influencers must determine the best ways to entertain their audiences and move them away from coronavirus related events. How to do this? Place the emphasis on positivity and inspirational messaging.
Webindex research supports these propositions. A third of the consumers actually want to see topics completely unrelated to coronavirus in the U.S. and U.K. This includes around 30% of consumers who wanted sports and celebrity-related news and 70% that wanted positive stories in the news. Furthermore, around 40% of consumers in these countries were considering purchasing new media subscriptions lending weight to the fact that if not seeking coronavirus news, consumers want to escape from it.
More than ever brands must leverage technology, data and measurement
The importance of influencer marketing as a core marketing strategy has only grown during the COVID-19 crisis. Companies must continue to depend on influencers to act as their spokespeople and execute their messaging in a trustworthy and human way.
Investing in support tools is critical to providing a measurement of influencer marketing campaigns and accurate guidance on return on investment. Increasingly as brands are confronted with reductions in their marketing budgets the long-term strategically sound play is to invest in long-term brand building collaborations such as those with influencers.
2019 studies support that branding or engagements deliver an 8x as high ROI as compared to other methods such as paid ads or social advertising. This provides further evidence to support the view that brands must not only spend wisely on influencer marketing but also leverage software and insights capable of providing detailed data to inform future influencer marketing activities.
It is only through directly attributable data on their campaigns that brands can measure their campaigns with complete accuracy rather than rely on industry-wide measures especially during the peculiar and constantly changing period of COVID-19.
For example, studies have shown that larger influencers such as those with 250K to 1M followers have a 30% lower ROI than those with 50,000 to 250,000 followers. Correspondingly, those with 1M+ followers were shown to have a 20% lower ROI than those in the same 50,000 to 250,000 follower range.
Brands can only gather their ROI and what works through trial and error and utilizing the right technology solutions for accurate measurement of their varying influencer marketing campaigns.
Impacts are relevant to both smaller and larger companies
Recent studies show that impacts are relevant to both smaller and larger companies. There were similar concerns among companies that had fewer than 50 employees as those with over a thousand employees.
Thus, small and large companies alike must review and carefully think about their marketing strategies and budgets moving forward. The effects from COVID-19 will be long-term and as a result, marketing strategies must be revised to suit the new environment in which smaller and larger companies find themselves in. Influencers must shift to respond to the needs of their consumers as well as the brands they choose to work with.
For example, influencers will benefit from recognizing ways to help increase domestic demand for small businesses as 73% of these businesses have suffered a significant decrease in this important area of business.
This could include simply letting followers know how much these businesses are suffering as a result of restrictions and how much small gestures such as getting take away from a local small restaurant could help.
Wrap-Up
Whilst, COVID-19 has caused a great deal of uncertainty, brands and influencers can benefit from insights provided from up-to-date and accurate data. Utilizing accurate sources of information on their industries and marketing campaigns during this period will enable better ROI on marketing spend.
Brands and influencers must recognize that consumers want information backed by sources they know and trust. When not consuming COVID-19 related information, consumers seek escapism through entertaining forms of media especially video content.