If a tree falls in the woods but no one is around to hear it, does it make a sound?
In the digital world, our websites are metaphorically trees in the ever-expanding online forest. When we release a new product or launch into a new market, how can we be sure of the impact?
Measuring your digital presence, or how much noise you're able to make, poses its challenges. With an endless amount of content available online and unpredictable consumer behavior, it can be tricky to pinpoint your successes and learn from your mistakes.
That's where benchmarking comes in. It provides much needed context to your performance, giving you an idea of where your company stands in the industry at-large as well as compared to your direct competitors.
Looking to get that blue check mark? Maybe you want to increase your Instagram followers or become a top hashtag on Twitter. Read on as we break down five benchmarking tips to help you grow your online presence and succeed in the digital world. Let's get started.
Benchmarking your digital presence
Benchmarking is the act of rating one value by comparing it to a standard or point of reference.
It's a critical step in market research. With it you can grow your online presence by optimizing your content, enhancing your offering, and providing insights that help top management reach better-informed decisions.
There are a variety of benchmarking types – strategic, practice and process, internal vs. external, and more. For the purpose of this post we focus on a mix of competitive and strategic benchmarking.
There's a slight nuance between the two, but both refer to the process of comparing your results to others, focusing on the best-in-class and the strategies driving their success.
Choose the right metrics
In order to make an impact and successfully grow your digital presence with benchmarking, you need to clearly define your goals and consider which metrics to measure.
Below are some of the metrics we suggest using and the benefits they can provide you:
1. Engagement metrics – Show how your audience is interacting with your website. Do they visit multiple pages before leaving (pages per visits), exit after only viewing one page (bounce rate), or spend a long time browsing (visit duration)? Benchmarking engagement metrics is a way for you to contextualize customer happiness, pinpoint your target audience, and set a baseline for performance.
2. Device split – Determine how users access your site. In the multi-platform digital world, analyzing whether traffic comes from desktop or mobile web is essential to improving your overall online presence and optimizing user experience.
3. Total visits – Compare your monthly or yearly visits with your competitors to gauge how popular you are in the market. If they are higher than the average you are doing something right; if they are lower you may need to rethink your marketing or social media strategy.
4. Marketing channels- Benchmark the performance of your marketing channels to discover opportunities for growth as well as those areas where you may be lagging behind your rivals.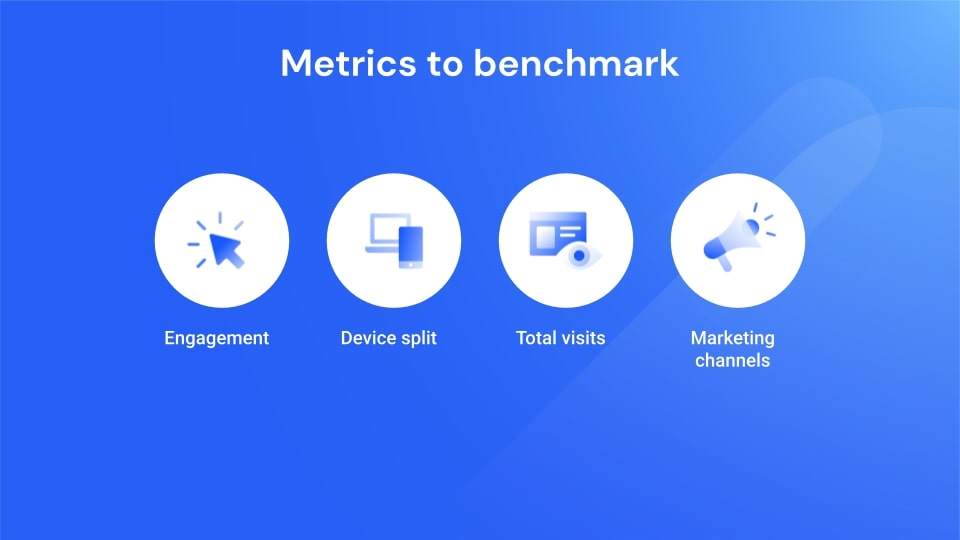 Benchmarking basics to guide you
Follow these five tips to create a strong online presence.
1. Piggyback off the latest trends
On the basic level, to grow your digital presence, you need to draw in new customers and retain existing ones. To do this you'll need to make the most out of whatever is currently trending in your market.
Your first step is determining what people are actually searching for. Web and social media monitoring will give you an idea of the types of products, content, and services that are top of mind for consumers.
Once you've determined the trending keywords for your industry, benchmarking your performance will determine how well you're doing at actually owning the keywords that matter.
As of July 2021, the top trending keywords worldwide for the news and media industry are: trump, covid, china, britney spears, and simone biles.
You can see both the volume trend and traffic share percent change for each keyword to give you a better idea of what trends are just getting hot and which ones are about to die out.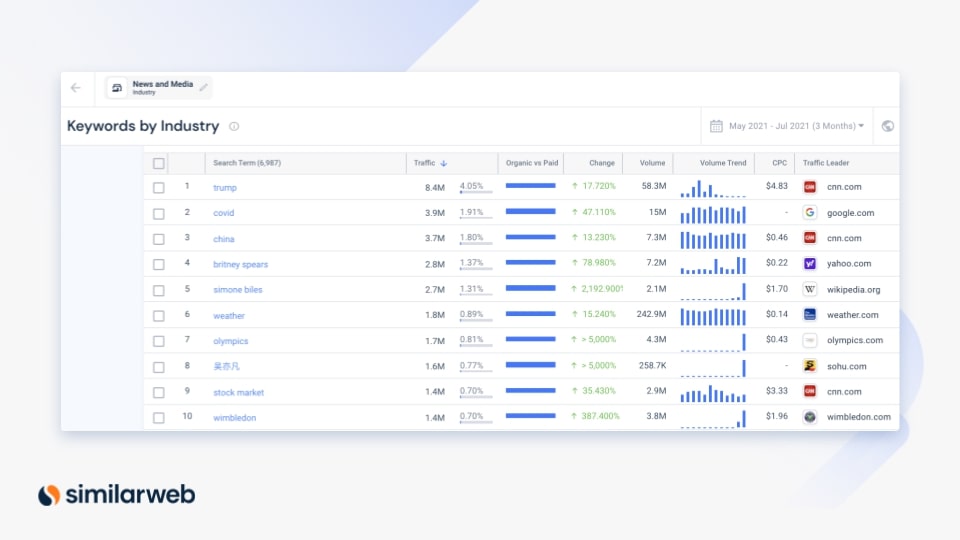 If you see your competitors are winning most of the traffic share for the top trending search term, you're not doing enough to capitalize on the trend and use it to your advantage. You may want to switch up your messaging, run a new PPC campaign, or release new content accordingly.
2. Create content your audience wants to engage with
What better way to grow your online presence than by having your users do it for you. Sharing, commenting, and linking back to your content can provide valuable results.
To do this, you'll need creatives that people actually want to engage with. Video marketing could be much more effective for converting your audience than traditional content, or maybe certain design elements are more effective at drawing readers in.
How can you measure this? Benchmarking comes to the rescue again.
Measuring your visitors' on-site experience can tell you a lot about how engaged they are (or aren't) with your content. There are four main metrics to look at when benchmarking engagement rate: average session duration, pages per visit, click-through rate (CTR), and bounce rate. Start by comparing your numbers to the industry standards and draw conclusions from there.
Here are some general guidelines to keep in mind:
A higher number of pages per visit means that users are enjoying your content. It also means more opportunities for users to click on your ads.
Session duration can vary significantly depending on your industry (think of a streaming website versus a search engine), so benchmarking is the only way to evaluate your numbers accurately.
A high bounce rate typically indicates that visitors expected something else from your website and therefore leave quickly without interacting.
How do you stack up against the rest of the internet? See the difference between benchmarks for the finance industry compared to TV, movies, and streaming:
July 2021 website benchmarks: financial services industry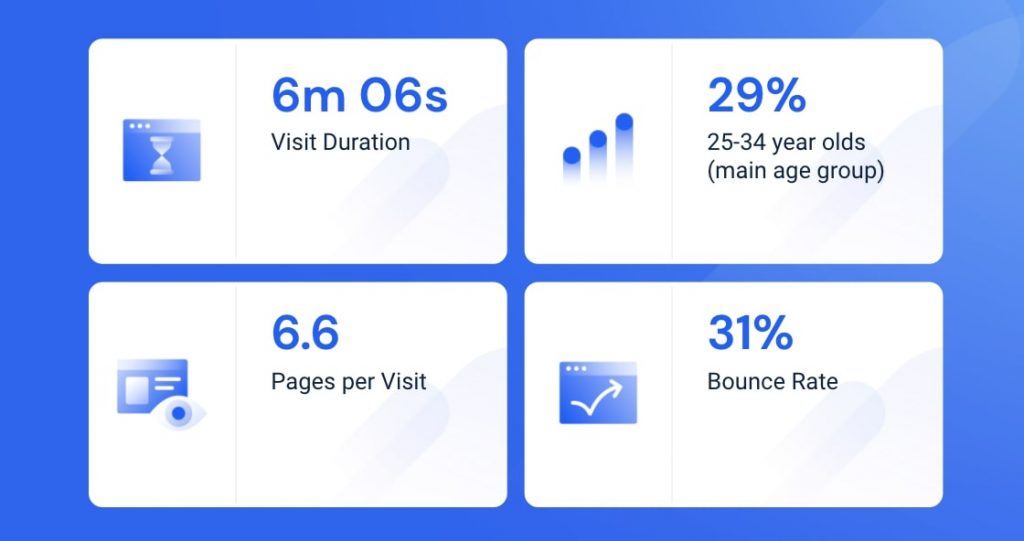 July 2021 website benchmarks: TV, movies, and streaming industry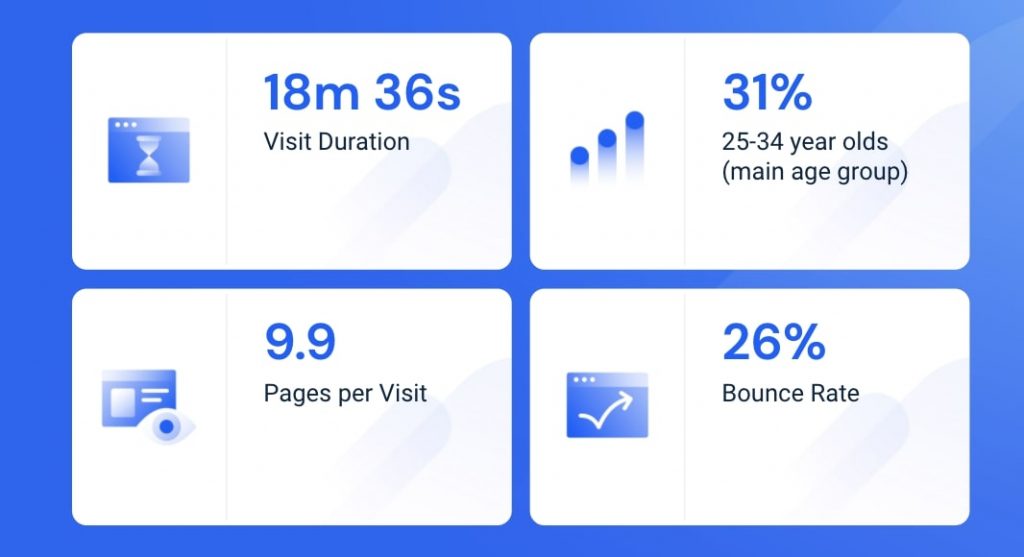 3. Drive more traffic to your website
More high-quality traffic will help you improve your online presence. You want to become the go-to website for whatever you're offering readers or consumers.
Understanding your performance across marketing channels can help amplify your presence online in the areas it matters most.
Ask yourself where most traffic to your website comes from? If it's through paid search, but for most of your competitors it's organic traffic – what can this tell you about your brand awareness? Or maybe you're dominating social media, but fall below the industry standard for affiliate marketing. Do you focus more effort there, or continue to use social media as your main user acquisition source?
If you strategize right, you'll be able to optimize your spend for your top channels and revitalize underperforming ones to grow your presence even more.
4. Target up and coming markets
Expanding into new regions and adding different demographics to your audience base will also give your website's digital presence a boost because it undoubtedly means more eyes on you.
One way to figure out the best area to target is by benchmarking traffic share across your industry over time.
By analyzing who in your industry is gaining or losing market share in particular regions, you'll get the insights you need to choose your next target area correctly.
Take a look at the example below for top social media websites in France. We can see that some of the industry leaders have been losing traffic share in the last three months (May – July 2021). This suggests that there's an opening in the market to steal some of that traffic. A social media provider looking to grow could take this information to target potential new customers.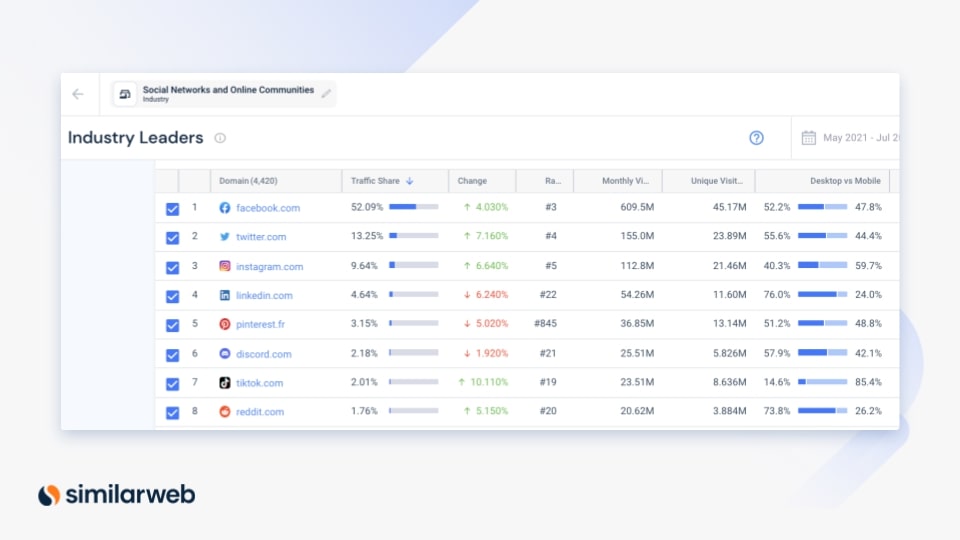 5. Optimize for any digital medium
We're living in a digital world – just last year there was an increase of 93 million mobile phone users worldwide.
With access to the internet at our fingertips, understanding device split reveals a lot about your audience. You can better predict your users' lifestyle, habits, and preferences when you know if they're coming to you from a desktop, mobile web, or application.
Benchmark against your industry and see where you can expect most of your traffic to come from: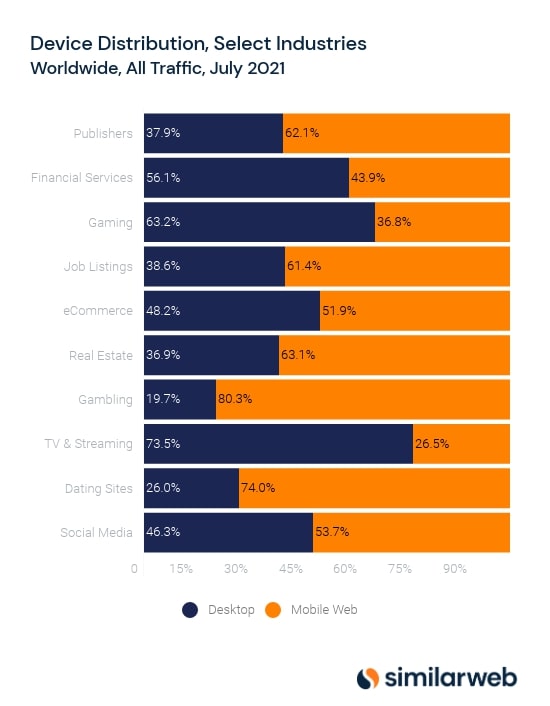 Stay competitive, 24/7
With endless options available to consumers today, benchmarking your digital performance is key to growing your presence online.
Use the tips from this article as a stepping stone towards creating your digital research strategy, and stay one step ahead of the competition, around the clock.
Learn more about how Similarweb Research Intelligence can help you outperform the competition and win your market.