You're completely in tune with what's happening with your brand. A tweet about your CEO? Got it.
Discussion threads about you in a popular forum? Saw 'em.
The incoherent customer service rant misspelling your company name? You found that too.
You're pretty good at media monitoring, and know your way around your Mention feed. But there's always more you can do to make monitoring easy on yourself.
I'm always surprised at some of the new features I find hidden away in tools I use every single day – only to find they're not new, I just hadn't found them before.
That got me thinking – how many Mention users haven't found their favorite feature yet?
So I started talking to our customer success team to discover the best "hidden" (but not so hidden) features of our own monitoring tool.
These are some of the features that they're frequently teaching existing users about for the first time. The ones that throw a big time-saving or challenge-solving loop through existing monitoring strategies.
Are you ready to get more productive and listen better?
Still need to learn the basics? Follow our free step-by-step guide to monitoring your brand!
1. Engage with social media mentions
Even though we talk about this a lot, some users don't realize that when it comes to social media mentions, you can do more than just monitor – you can engage right back.

When you connect your social media accounts to your Mention dashboard, you can engage and publish new content right from the app. Comment on a Facebook post left on your business page, reply to a tweet or Instagram comment, etc.
No need to open up the original post in a new tab. Different options for engagement will be listed right below the mention itself. In the screenshot above, for example, you can see that you can reply, retweet, quote, or like a tweet from within Mention.
Sweet, right? This will save a ton of time and frustration when you no longer need to open up a new tab to engage with social media mentions. If you're anything like me, you have way too many tabs open already, anyway.
Download our free ebook to learn how to use monitoring to increase social media engagement!
2. Manually change a mention's sentiment
Sentiment analysis is pretty prominent in the app – a colorful smiley or frowney face in your toolbar tends to attract attention. (Not looking at sentiment in your media monitoring yet? No problem – read this introduction.)
But sometimes, our "sentiment analysis dictionary" isn't perfect because it can't pick up on context. For example, sometimes calling something "sick" is a good thing, sometimes "sick" is a really bad thing.
Because of context, slang, and other sentiment barriers, media monitoring metrics around sentiment can sometimes be a little off. If sentiment is important to your monitoring reporting, you can change the sentiment "score" for any mention in any of your alerts.
Just click on the smiley and choose the correct option:

3. Assign tasks to other team members
If you're going through an alert and find something that requires another team member's attention, you can assign it to them to deal with.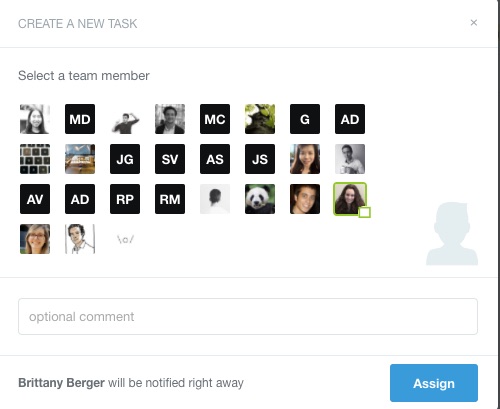 This is important when you have more than one person working in the same alert.
If someone else should be the one to respond to a social media post, assign it to them. If a team member would benefit from a quick "heads up" about an article, assign it with a brief comment about why you're sending it over.
Then when you and your team login, you can go through each alert and see any tasks and mentions assigned to you. Team members can even mark tasks as complete to send notifications to each other when things have been dealt with.
4. Get notifications in Slack
Even though Mention has its own push and email notifications, for some teams it's easier to streamline notifications into as few places as possible.
So if those teams are talking to each other in Slack all day, that's where it makes sense to do some monitoring.


With our official Slack integration, you can pipe any mention notifications into any Slack channel to share the mentions and notifications with the rest of your team. You can even get daily digests like the one pictured above!
Basically, instead of checking Mention and then sending your boss a Slack message about what's up, you can get Slack notifications about mentions and then discuss them in the same place.
This is great for users who spend all day in Slack anyway, and has the added bonus of letting team members without Mention accounts join in on the listening – just invite them to the Slack channel.
5. Add things to your Buffer
Speaking of crazy helpful integrations…do you use Buffer? I bet you do, because so many social media marketers do, that probability's working in my favor here.
So as you learned at the beginning of this post, you can easily send out social media posts while you browse through your mentions. Let's say you like retweeting nice things people say about your brand, but don't want your brand to come off too conceited.
Just connect the Buffer account associated with those social profiles. Instead of interacting with and retweeting a dozen tweets in a row, add them to your Buffer queue right from the dashboard.
6. Integrate Mention with more than 750 web apps
If you don't use tools like Slack or Buffer, you can still integrate Mention with the tools your team relies on. We also connect to Zapier, an automation tool that lets you lets you pretty much build your own integrations.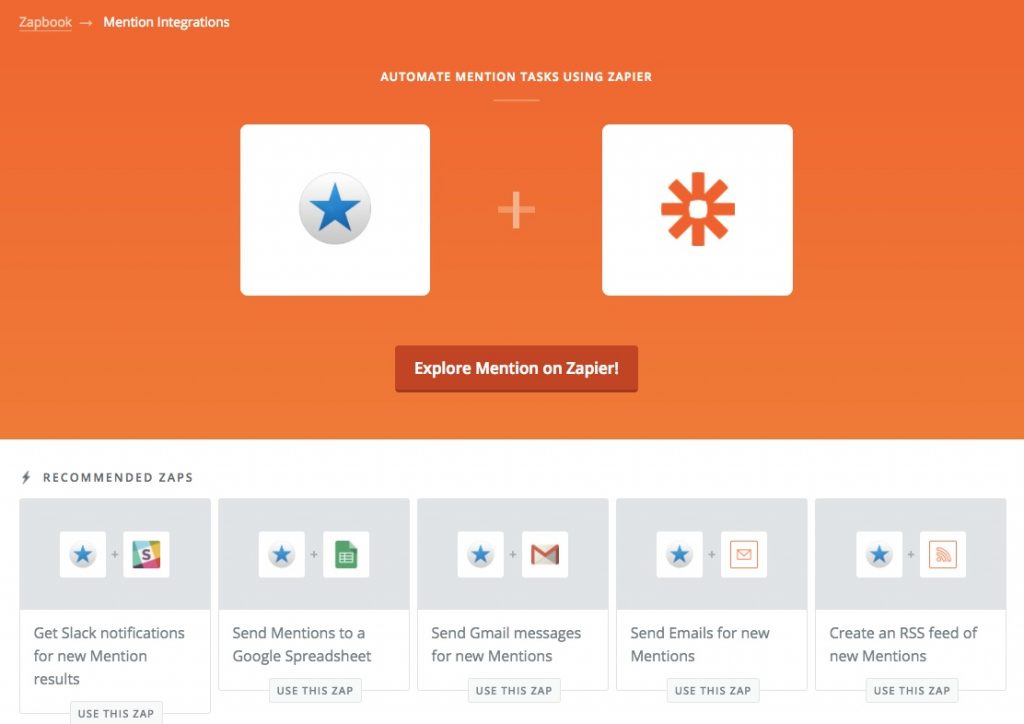 So, for example, if you like the idea of getting mention notifications in your team chat app, but don't use Slack for that, you can connect your alerts to your tool of choice. Zapier opens up hundreds of new use ideas, too!
Want recommendations for more marketing tools? Check out our free cheat sheet of hand-picked recommendations for digital agencies!
7. Exclude your own posts
A lot of our users' own content ends up in their alerts. For example, if I'm monitoring the keyword "media monitoring," then blog posts, social media posts, and more from Mention will show up. We talk about it a lot.
But you don't need to get notified when your own brand publishes content. So you can edit any alert and in the "Monitored Pages" section, choose to exclude any content published by your own website, Facebook page, or Twitter handle.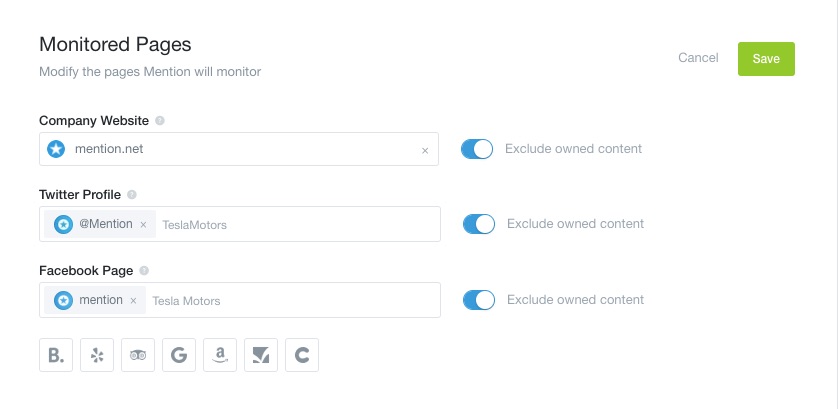 8. Blacklist certain websites and keywords
For the most part, monitoring is about choosing what information you need to find and see online. But you also might have some requirements for what you don't want to see, as well.
No problem. You can easily exclude all mentions with a certain keyword or phrase. You can even exclude mentions from an entire site – just block it all out if it's irrelevant to your monitoring goals.
9. Grant guest access to your alerts
Finally, you can also add people to your team as guests to share all this goodness with them. Sometimes it will be helpful for someone to have access to one or two alerts, but it doesn't make sense for them to be a "full" member of the team who can make changes to your account.
Guest access is perfect for that. You can give people like execs or clients what's basically "read only" access to the alerts they care about.
Become a Mention pro
Once you've set up alerts and learned how to use them, you've created a lot of work for yourself. Monitoring can be a big task, which is why it's important to eat up every tip and time-saver you can. For more Mention help, be sure to check out our Tutorials page.