The first time you go to do a competitive analysis, you're like "I got this, it'll be easy, I'll just look at these 3 things…"
And then when analyzing them, you realize another 3 things you need to do.
And then another 2 things. And then 8.
Finally you realize that analyzing your competitors can be pretty complicated and maybe you were a little cocky before you knew what you were getting into.
It's not necessarily that this is an insanely hard job. But there's so much that you could possibly do and measure and look at, that just jumping in on a whimsy will definitely lead to overwhelm.
You need a plan, stan. That includes knowing what you're looking at and why, and having a process for monitoring and analyzing their content. That way you know your focus and won't get distracted by all those other things you could look at.
Here are some of my favorite resources and tools for getting the job done:
The competitor analysis tools you need
Mention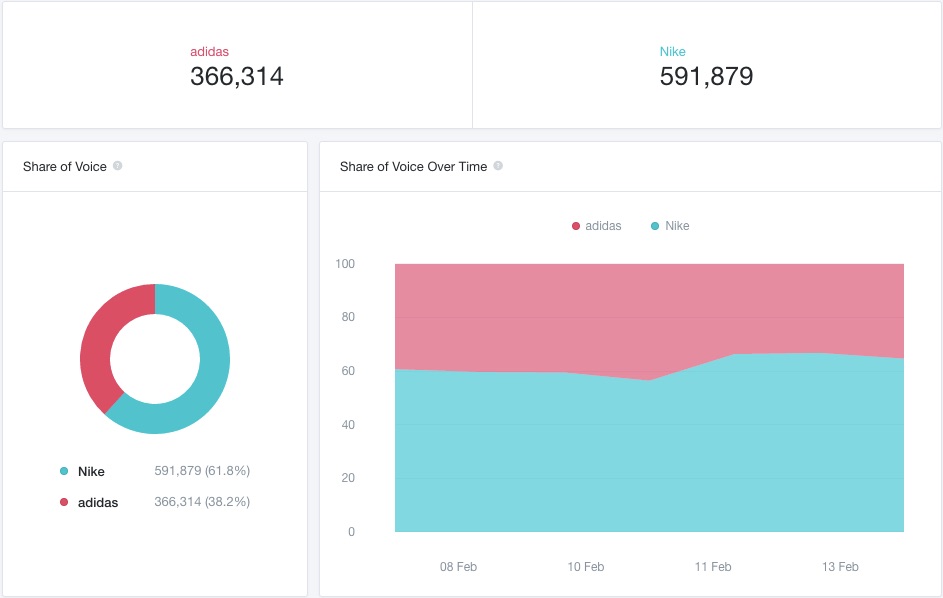 Of course this is first. Who do you think I am, a non-marketer? Obviously my own company's on this list.
But Mention should also be on any list of competitor analysis tools for marketers – including the list of the tools you use. Our competitive analysis features kind of rock.
First of all, just keeping up with your competitors on a day-to-day basis becomes way easy with a monitoring tool. Instead of following individual social media profiles, visiting websites for brand content, and Googling for PR and earned coverage, all online content about your competitors comes to you.
Then there's the really powerful part: the competitive dashboard. This is where our software takes the data from your competitor alerts and gives you visualizations to actually analyze it. Compare things like share of voice, reach, daily activity, and geographic data for the conversations happening about you vs. your competitors.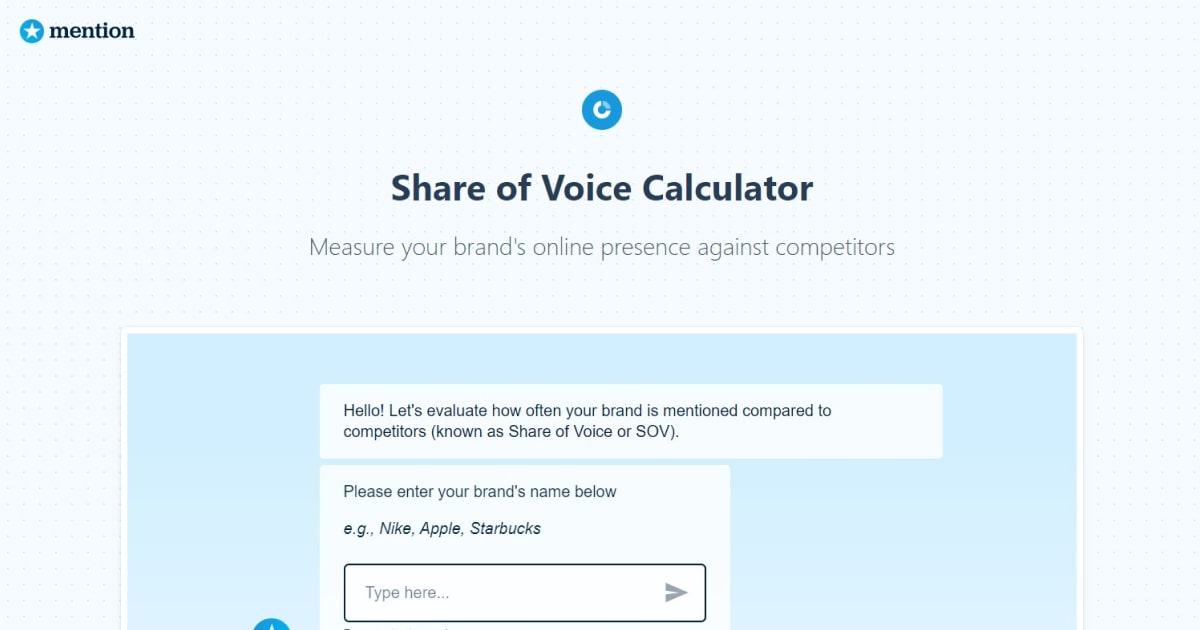 TrackMaven
In addition to getting great monitoring in place, you'll also want to get a general marketing analytics tool working for you. I've always thought TrackMaven's sounded great! They give you the numbers around web, social, and content marketing – both for you and your competitors.
Since the biggest mistake you can make with competitive research is spending too much time collecting information and not enough time actually analyzing it, a tool with a strong focus on taking numbers and making decisions will help you turn data into action.
All Canadian Online Casino Gambling sites chosen & recommended here at Online Casino Rewards have been thoroughly tested by us for fairness, reliability, online casino gambling game play realism, casino payout percentages, game speed, and bonuses. We have tested hundreds of casino sites ourselves in an effort to bring you the very best online casino promotions. The following is a small sampling of online casinos – only the best from Online Casino Rewards.
Moz
And of course we have Moz on the list. For SEO competitive analysis, this software gives you several different tools that you'll want to use. Between tracking and analyzing how your competitor's' content ranks and for which keywords, and running campaigns to track your own performance to compare and contrast, you have lots of information to look at in here.
I'm sure there's useful competitive intelligence in every area of Moz Pro, but I personally spend my competitor research time mostly in the Keyword Explorer (identifying competitors for certain keywords), Open Site Explorer (analyzing your competitor's site), and Fresh Web Explorer (one-off searches for mentions of things I'm not monitoring in Mention).
SEMrush
SEMrush is another SEO and SEM staple, and I'm loving the alliteration in that sentence. And in addition to organic search data, this one also gives you a lot to work with for PPC. Tap into your competitor's ad strategy, crack the details around their budget so you can outbid them, and see where they may be running any display campaigns.
BuzzSumo
BuzzSumo's competitive research strengths lie in diving deep into another brand's content and how the internet reacts to it. It's content research tools make it easy to measure the success of any content, whether or not it was published by your own brand.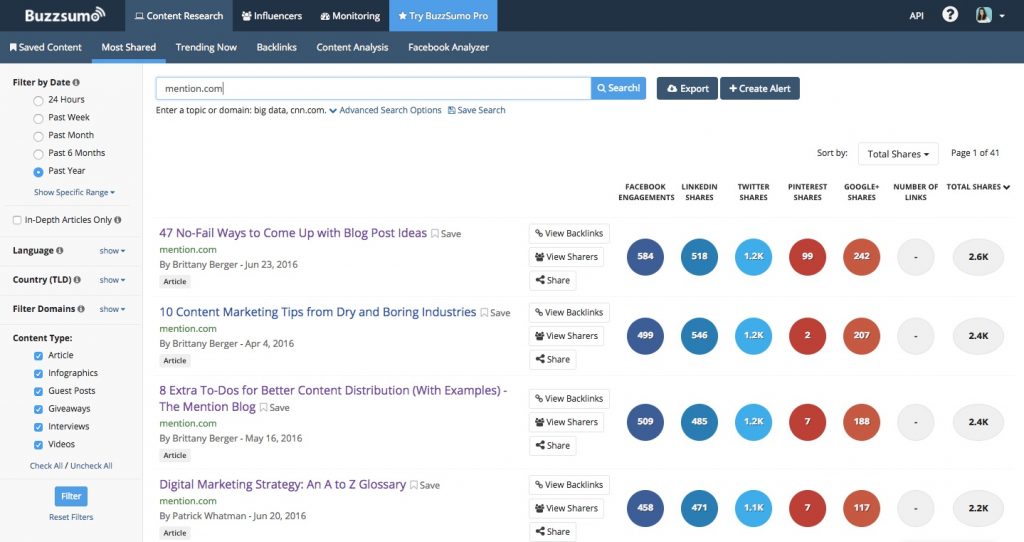 Find their most shared content – and who shared it and where, see the influencers that made their content get spread, and create comparison reports on their published content's performance to your own.
Building your competitor research strategy
A Full Guide to Building a Competitive Monitoring Plan
Before you start scouring Facebook, Twitter, and Google, you need to figure out what you're actually doing. What information you're looking for, how you're going to find it, an what you're going to do with it.
This ebook is all about setting yourself up for success with competitive intelligence. It walks you through setting up alerts to monitor your competitors on multiple marketing channels, then goes more specifically through through social media, content marketing, public relations, and more. You'll finish reading it and know exactly what to look for on each of those channels to get ahead of your competitors.
How to Write a Great Business Plan: Competitive Analysis
Most advice around competitive analysis focuses on existing businesses…but that's probably just because you'll do more of that than competitive analysis for a new one. Makes sense. After all, you start the business once but are constantly and continually improving it.
But even though you may not perform "business building" competitive research as often, it's a crucial step to getting up and started.
In Jeff Haden's Inc series on building a business plan, he spends an entire article on the competitive analysis section of that initial document. What I love about this is the detail it goes into about types of competitors. You won't compete with every company that's similar to yours. And for those that are actual competitors, they won't all compete with you in the same way.
Jeff's article breaks down different types of competitors, what to look for when researching them, and what ideas and opportunities can come from it.
4 Ways to Spy on Competitors to Better Plan Your Marketing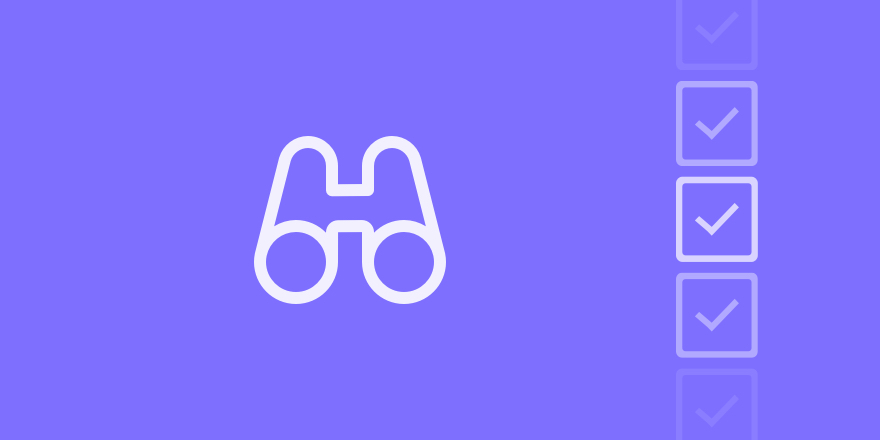 This cheat sheet will serve to remind you what's possible with competitive sleuthing. As you're scrolling through a competitor's mention feed or brainstorming a new strategy, it can be easy to lose sight of what your main goal is for that project.
To prevent that and always keep your objectives in mind while monitoring, this cheat sheet is a short guide or reminder of what channels to check and what you can learn from them.
Competitive Marketing Analysis: 14 Ways to Monitor and Beat Your Competitors
In this post, Writtent starts off with a strong and very true point: SWOT analysis is overwhelming. Going through weaknesses and opportunities and threats means you'll discover a lot of work you need to do, and it can be easy to lead to analysis paralysis.
So instead, they lay out 14 things to look at within your competitors' marketing to focus on the strengths and opportunities areas of a traditional SWOT competitive analysis. This way, you're focusing more on capitalizing strengths and opportunities to get ahead of your competitors, than negative aspects that would require more work to repair.
How to Do a Competitive Analysis for Digital Marketing
Alright, back to TrackMaven. This guide to structuring your competitive analysis sessions and strategies will make it easy to dive into Mention and any other tools you use for this, and pull what you need to to make great decisions.
I especially like their ideas about breaking your competitors up into three categories: leading competitors, industry influencers, and aspirational brands.
5 Reasons to Go Sherlock on Your Competitor's Marketing
One reason I love competitive analysis so much is that it makes me feel like a spy, and therefore very, very cool. Like Sherlock (the Cumberbatch version, naturally), James Bond, or the fiercest of them all: Harriet the Spy!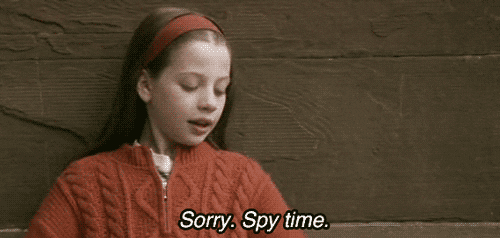 In this introduction to competitive monitoring, you'll learn why competitive monitoring matters, what you can do with it, and where to get started.
Monitoring competitors and collecting your data
Monitor the Competition for Superior Digital Marketing
Once you've set your goals and come up with a strategy for competitive analysis, it's time to start sleuthing. This ebook for digital marketers walks you through the media monitoring side of all of it – an awesome resource for agencies who need to get familiar with a new client's niche.
In this ebook, we walk you through using monitoring to get the best data for your analysis. From choosing the most relevant competitor keywords to monitor, to mapping out the network of influencers promoting them, you'll be able to do it easy peasy.
7 Strategies for Monitoring Your Competitors
You know that there's always more to learn about your competitors. Sure, it can be done in five minutes per day if that's the time you have, but if you have more, do more.
This guide from Convince and Convert talks about even more competitive analysis tactics than the initial strategy-building ones we've talked about in this round-up already. It also has some great tips that aren't written about on blogs as much: basic, simple activities like creating Twitter lists. They're not sexy or flashy but they're essential, and this guide won't let you forget it.
The Illustrated SEO Competitive Analysis Workflow
This infographic is a really helpful map of what your SEO competitive analysis process – starting with designing a strategy and collecting benchmarks, through to analyzing the data – should ideally look like.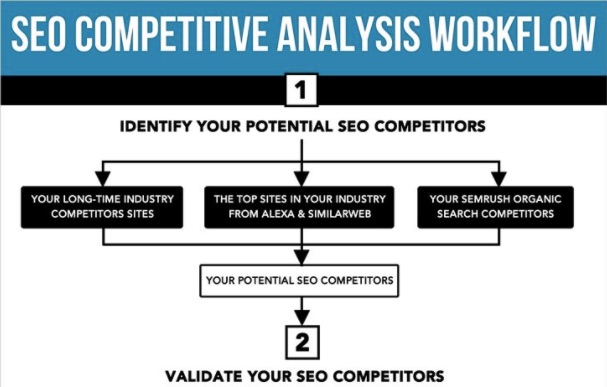 It breaks up the workflow into four sections:
Identifying competitors
Validating analysis
Comparing competitors to yourself
Selecting new target keywords
Within those stage, this workflow breaks things down even further into what analysis activities you should be performing, and when.
If the thought of SEO competitive analysis seemed overwhelming because of all that there is to do, reference this for organizing your projects into a more organized process.
Your Daily Competitive Monitoring Checklist
While a big ole analysis session might be something you only do a few times a year, the software pulling that data is running all the time. Why wait until it's time to make decisions to check in on what your competitors are actually doing?
I like to separate competitive intelligence into two parts: daily monitoring, and less frequent analysis. By checking in on competitors so frequently, you never have to spend too much time on it at once. With this checklist, you can be done each day in 5-10 minutes.
A 5-Step Guide to Conducting an Email Marketing Competitor Analysis
You know what doesn't get talked about enough at all? Competitive analysis for email marketing! This guide may be the first one I've seen. It might have to do with the fact that email content isn't just publicly available the way web content is, so you actually have to sign up for their list, but it's not like that's hard!
So you should absolutely be getting your competitor's emails.
This post walks you through a great process for organizing and analyzing any newsletters you get from competitors. Considering how often email marketing has a higher ROI than other channels, it's something you'll want to dig into ASAP.
Measuring, comparing, and contrasting
The 5-Minute Social Media Competitive Analysis
So you're monitoring your competitors regularly. You want to dive a little deeper than just reading through mentions and content, but don't have the time or resources for a full-on, hardcore analysis.
That's the perfect time for a 5-minute analysis.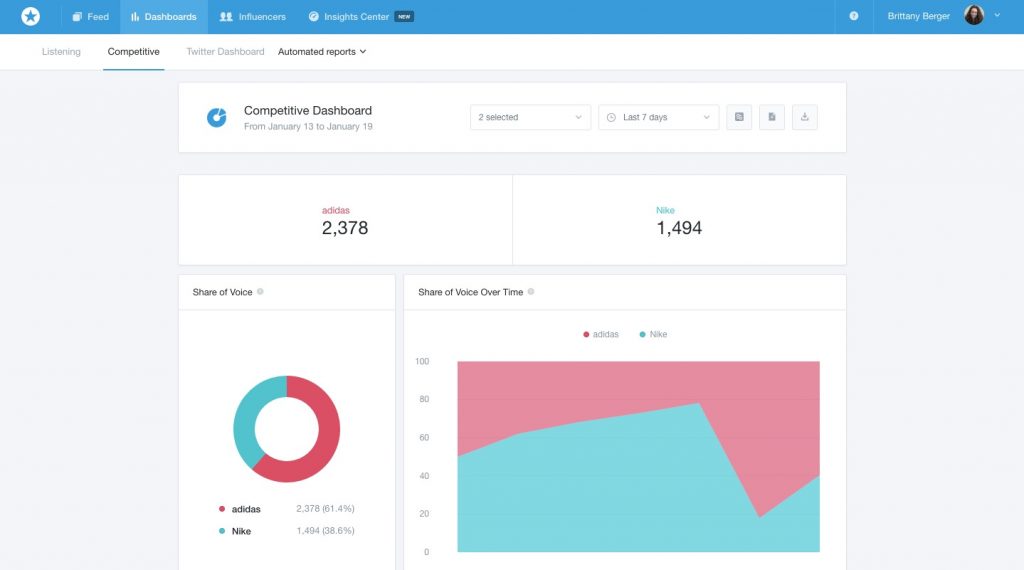 This guide walks you through how to run a quick competitive analysis of you and your competitors on social media. Collect summaries and benchmarks, see what's changing over time, and make any quick adjustments that you need to.
Do You Know Who Your Competitors Are? The 5 W's of PPC Competitor Analysis
Okay, your social media competitive analysis is taken care of for now. Let's move on to PPC, shall we?
First of all, this post starts off with imagining yourself at an auction for Beyonce memorabilia, so I'm game. And then, it goes on to teach you a framework for PPC competitive analysis that follows the familiar "who, what, when, where, why" questioning we've known since childhood.
5 Ways to Perform a Competitive Analysis to Establish Your Presence
This is another great framework for you to try, but it doesn't have Beyonce. Whether that's a good thing or bad thing is up to you to decide.
What's different about this framework than others I've mentioned is that it doesn't necessarily focus on one area of online marketing, so it focuses a lot more on content and overall strategy than specific SEO or PPC metrics to look at, for example.
8 Ways to Perform Competitive Analysis for Online Business
And here's yet another post with even more ideas for an actual process for looking at numbers and data and making a decision. But what I love about this guide is the detailed list of questions to ask about each of your competitors for each area of their online presence.
From studying their customer experience to comparing their pricing and shipping where applicable, this one has great ideas I hadn't seen elsewhere yet. The tips about using information on whether your competitors are hiring or seeking funding were top-notch.
Analyze this, analyze that
From their website to email to PPC and SEO, there's way too many parts of competitive analysis to go in without a plan and "just take a look around." But now you know how to create a strategy, monitor sources to collect information, and analyze only what you need.