Acquiring new customers is one of the primary goals of marketers. It can be achieved only by getting a company's name in front of the target audience through social media, outdoor advertising, and other techniques. Or as marketers would say, "build brand awareness." Without it, you have no way of knowing if your efforts are working.
Despite its apparent importance for businesses, brand awareness is something of a black box for many marketers. Everyone knows they should be doing their best towards increasing it, but few are confident in their measuring methods.
So, how exactly does one quantify brand awareness success? Below, I'll walk you through some effective methods to measure it and give you helpful tips.
1. Use Social Media Listening
Social media is one of the most important sources of information when it comes to measuring brand awareness. "Listening" allows you to listen to online conversations about your brand across social media, and hear customers' opinions about it. For example, you can use the following metrics:
Brand Mentions
Customers often use names of brands to refer to them in posts, so monitoring the discussion can provide you with valuable information. For example, it can lead to honest feedback and objective insight.
Use special tools like Google Alerts or Mention to track brand mentions with specific keywords and phrases, across all of your social media feeds.
Also, don't limit your analysis to direct mentions of your brand's name. Include potential misspellings, as well as some of your top products.
Social Media Reach
You post information on your brand's social media pages every day, but how many times people share it? To analyze the reach of your social media content, you can use tools like Sharedcount which tracks URL shares, likes, pins, and more.
2. Use Google Analytics
Google Analytics is a perfect tool for measuring brand awareness because it determines the sources of traffic, identifies user demographics, and shows how engaged your audience is.
What are the main traffic channels on your website?
Let's assume you already have a Google Analytics account (if you don't, create one). Enter it and click on "Acquisition." Then, find and click on "All Traffic" and "Channels." The platform will generate data about where your website traffic is coming from so you can analyze the sources.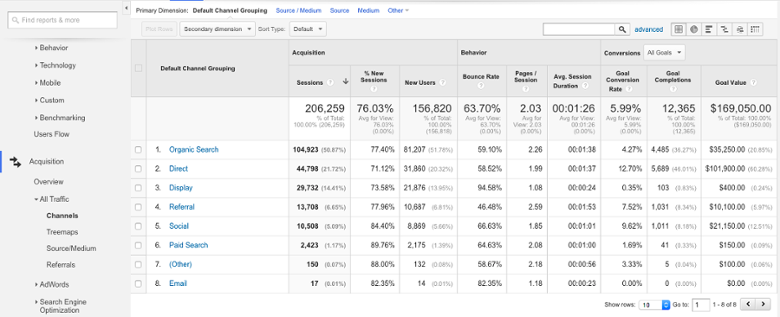 Image Source
You can see eight main traffic channels in the image above:
Organic Search
Direct
Display
Referral
Social
Paid Search
Other
Email
What do all these channels mean? First and foremost, the term "organic search" refers to when someone searches for something on Google, and your website comes up in the search results, and they click on the link to it. Second, Direct channel encompasses different sources of traffic such as mobile apps and browser bookmarks.
Next, email channel encompasses traffic that comes from email marketing while social comes from your social media profiles.
By viewing the data and stats on each of these channels, you'll be able to see how well your awareness effort has been going. Thus, you'll determine the most successful areas as well as areas where you have to increase the effectiveness.
Top Sources of Traffic
Don't leave your Google Analytics account just yet. Now, we're going to use it to determine your main traffic sources. To do that, you need to click on "Acquisition" once again, and then go to "All Traffic." There, find "Sources/Medium" and click on it. This page enables to measure the success of brand awareness effort by revealing resources that offer the best results.
For example, the following image shows an example of a social media awareness campaign because the two top sources of traffic are Twitter and LinkedIn.



Image Source
Most of the cases, the list of sources contains more than 10 items. It provides you with some valuable insights; for example, if some of the sources rapidly reach the top of the list, you should look for possible reasons. Maybe it's an effect of some new tactics you have been experimenting with? In any case, you have to conduct a regular analysis of the sources (once a week is perfect), and see what works.
Explore User Demographics
The knowledge and understanding of a target audience are undoubtedly critical for marketers to reach their goals. Google Analytics can help you to explore your customers, too, so now we'll take on this opportunity.
Click on "Audience" in the menu on the right and then proceed to "Demographic." This section contains information characterizing your visitors, including age, gender, lifestyle, and product-purchase interests.



Image Source
For example, the image below shows age and gender data generated by Google Analytics. The graph on the left shows that visitors aged between 35 and 44 are the largest visitor group with almost 30 percent of the traffic volume. This data informs your marketing strategy, as it shows that your effort to attract this group is effective.
The graph on the right shows data related to gender. 70 percent of the visitors are male, and 30 percent are female. The conclusions on this one, naturally, depend on the nature of the business you're running.
Keywords Driving your Traffic
Hang on, that's the last thing we'll do in Google Analytics at this point. Keywords are another important aspect of brand awareness analysis because they are used to find your business online. So, click on "Acquisition" once again and proceed to "Search Console" (the latter should be connected to Google Analytics).
There, you'll see the list of keywords that are driving traffic to your website. Each of them is organically connected with your business, which is good news. Also, you can use this information to inform your keyword strategy.
3. Collect Feedback
Surveys
This method of assessing brand awareness can be done both online and offline. For example, you have probably seen various forms on websites asking you to complete a small survey, often in return for something like free content or even a discount. These small surveys often evaluate your familiarity with a brand by asking a series of questions like "How did you hear about us?"
By answering them, you help the brand to determine areas in which they succeed in marketing itself as well other helpful details. For example, you will give them an understanding of how people like you hear about them. These surveys are often used by companies like essay writing services that deal with visitors from all over the world. As the result, the brand will have some evidence to adjust the marketing strategy to achieve the highest awareness results.
Review Sites
Today, all businesses should monitor review sites such as Yelp, Google, and Yahoo because that's where customers go to obtain information about them. For example, if a customer is not sure about using a business, he or she can go to Yelp and see what others say about their experiences with that business. Even though there are some reports suggesting that many of the reviews are fake, most of them aren't, so review sites remain a credible source of information for many.
So, by visiting these site, you'll be able to evaluate how is your business perceived by the customers who used it. Naturally, these reviews impact how potential customers perceive your brand as well, so they can provide some valuable information on improving products or services.
You can use positive testimonials and reviews as a part of your promotion as well.
4. Think Both Qualitatively and Quantitatively
The last item on this list is actually not a technique but a tip that will serve you well for measuring brand awareness. To get a good sense of it, you need to think in both qualitative and quantitative terms.
For example, qualitative data is "intangible," meaning it cannot be expressed as numbers. You can use it to measure emotional connections with the brand, customer satisfaction, and brand recognition. When asking your customers to complete surveys, you are gathering qualitative data that is subjective to each individual customer.
On the other hand, quantitative data is the most important for measuring financial information related to brand awareness. For example, it includes profits, a brand's net worth, number of shares of Facebook posts, etc. Remember to always conduct brand awareness campaigns that can provide quantitative data, because if you can't measure it, you can't improve it.
By combining insights provided by qualitative and quantitative data, you will be able to determine root causes of problems, identify opportunities for growth, and make adjustments to marketing strategy.
Final Thoughts
Measuring brand awareness is a complex task but it's something you'll have to perform at least once every week to produce meaningful results. By now, you may be overwhelmed by the amount of work that goes into measuring. However, you should not think of brand awareness as something overly complex because if you follow guidelines, you'll master the process in no time.
That's when the tips in this article come in. Hopefully, they will be useful for you to prepare a plan for success that will ensure that your business is well-known.