The social media landscape is filled with diverse content that is strategically layered across multiple platforms. On any given day, a brand may upload an industry-relevant blog post on LinkedIn, an employee spotlight video on Instagram, or a viral meme on Twitter. While the type of content may be different, these posts all share a common goal: to build a relationship between a potential customer and your brand.
While this goal may sound easy, the process of curating content and following a shared brand identity involves many moving parts, especially if you work with a social media team. On top of this, you also have to remember that your posts are going up against the competitors in your industry and thousands of other brands that post daily.
To ensure that your brand has a strong social media presence, we have compiled a few recommendations to ensure that your team can align on a strong social media strategy. Along with these suggestions, we will provide some resources within Mention Publish to ensure that your curated content is coherent across all social media channels and your brand voice is consistently present.
Make Sure Everyone Knows Their Role and Responsibilities…
Each team member plays an important role in your organization, and it is important to clearly define those roles for everyone. Having a well-designed process will provide your team with an understanding of who to reach out to for feedback or guidance on specific tasks, especially when it comes time to review final pieces of content. Here at Mention, we define two major roles within our own Approval Workflow : Creators and Moderators.
Creators are tasked with creating content that fits the vision of your brand's identity online.
Once content is created, the Moderator will assist with content review. Their role is to provide guidance to the creator by sharing constructive feedback and ensuring that the content fits the guidelines of your brand's identity.
Together, these two roles work seamlessly to share new content and feedback with one another. The goal is to maintain a strong connection between team members and managers to ensure that new content pieces are always properly reviewed and refined. Within Mention Publish, you can implement these roles with ease using the Approval Workflow, which is a review process already built into your scheduling calendar!
Determine Your Metrics & Goals
Before content is published on your brand's social media accounts, it is important to identify the key metrics that will define success to your team. Although each social media platform has its own identity for content, the metrics that can be tracked across these platforms are similar. Some examples of metrics that various platforms share include follower evolution, post likes, and comments to name a few.
As far as metrics go, we recommend the following key insights:
Followers: the evolution of your followers over time will indicate if your campaigns are attracting a new audience or deterring current customers. With Mention Social Analytics Dashboards, you can view the growth of your followers over time and investigate the specific posts that would have garnered this positive reaction.
Diversity of Content: it is important to keep your content fresh with posts that convey unique stories in multiple formats. Filling your social account profiles with blog posts, videos, or infographics can reach a wider audience, and it will create an opportunity for new customers to find your brand. As a baseline, your team should determine the amount of content they want to create for a campaign. With Mention's Content Calendar, it will be easy for your team to view how these unique posts will be laid out over a period of time.
Volume of Content: the amount of posts that your brand shares across social media also plays a role in the sentiment of your brand. You want to make sure that your content appears consistently across social feeds; however, you do not want to clutter platforms with too many posts. This is where your Content Calendar will play a role once again. You can utilize the filters in your Calendar to view the volume of scheduled content for each specific social media platform. If you feel that there is too much content going live over a certain period of time, you can easily re-schedule posts to space them out or simply remove some content!
Engagement: once your content is published online, your team can view engagement as an opportunity to recap the performance of each post and the overall campaign. The metrics of your social posts is constructive feedback that will determine the best content that your followers react to, as well as content that may need to be restructured. When you share a post through Mention, you will be able to review metrics like engagement directly with Post Analytics! Mention will provide dedicated post analytics for each social platform, such as the number of retweets for Twitter posts or the number of clicks on LinkedIn posts.
These are just a few metrics to consider for your team! When reviewing metrics, it is important to consider the frequency of data tracking. Your team should determine if the analytics should be reviewed on a specific timeframe such as daily, weekly, biweekly, or monthly. If your team is utilizing analytic reports, we recommend creating dashboards for multiple frequencies. Having multiple views of your data will be beneficial, especially as new posts are shared online. Your team will be able to see the effect of these posts over time, and they can compare data from previous periods if you have been monitoring trends in the last few months.
Establish Guidelines and Best Practices
The identity that your brand presents online should be well-defined across your social media accounts. A consistent brand identity reassures your followers about your company's values and offerings. On top of this, a unique brand identity creates an opportunity to draw new customers by setting you apart from the competition.
In order to follow a consistent brand voice, it is important that your team documents the appropriate brand guidelines for content creation.
Brand Guidelines are documented processes that your social media team should follow to ensure that the brand identity remains consistent across all channels. These guidelines should convey the narrative that your brand wants to tell online. It should include information about the tone of voice for posts, information on the brand logos, and design specifications. Once everything is defined, your team will have a proper strategy that they can utilize during new campaigns.
Build Your Content on a Social Media Calendar
Now that your team is aligned on key metrics, responsibilities, and brand guidelines, it is time to start creating content for social media. Nowadays, social media teams oversee multiple social accounts across different platforms such as Facebook, Instagram, Twitter, and LinkedIn. If you have dedicated team members for each platform, you want to make sure that everyone is coordinated on the vision of the social media campaigns. One of the best ways to view the content for your campaigns is through a Social Media Calendar like Mention Publish.
A shared Content Calendar will provide your team with a full scope of upcoming posts throughout the upcoming weeks or months. The ability to view every post in one area allows your team to verify that brand guidelines are being followed and the identity of your brand voice is consistent. On top of this, your team members can use this tool to schedule future posts to ensure that your followers are receiving content at a reasonable pace.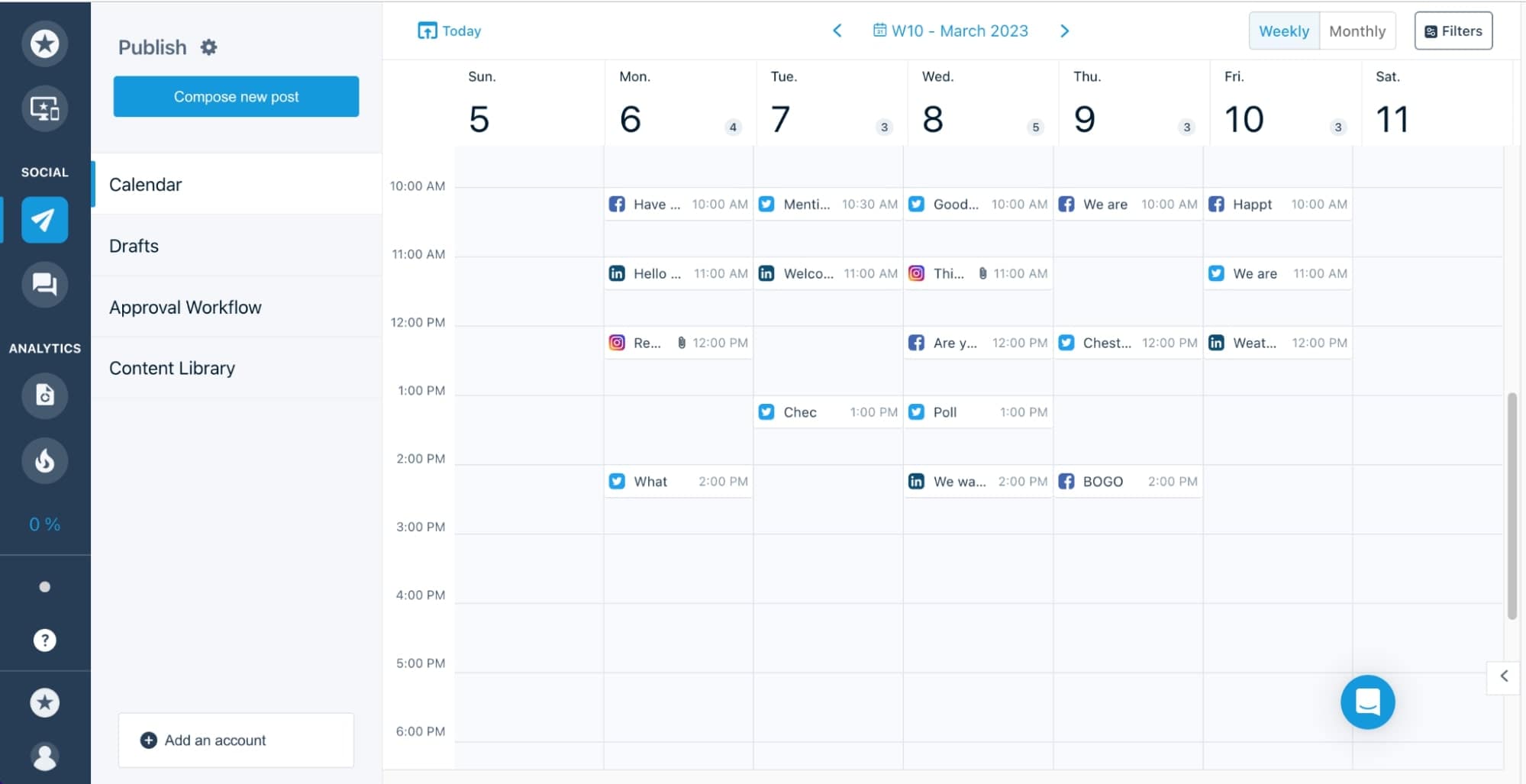 Use a Content Library
For certain campaigns, your team might need to reuse specific images, designs, or videos across multiple social channels. To guarantee that your team can find all of the content at a rapid pace, we recommend the Content Library.
A social media content library allows your team to upload in one area and organize it using titles and folders. The Mention Content Library that is built into Publish will also allow you to seamlessly transfer multimedia to the social media posts that your team is scheduling on the Calendar.
If your team consistently creates new brand illustrations throughout the year, they can utilize the Content Library to compartmentalize content into specific folders for future campaigns. Whenever media files become outdated, they can simply be removed from your Library at any time with ease.
Set Up an Approval Process
In order to create a consistent narrative on social media, your team should follow the brand guidelines accordingly. Your team can support this goal by implementing an approval process for social media content. An approval process will guarantee that content is properly reviewed by one or multiple supervisors before it is scheduled to the Content Calendar.
Within Mention, you can activate the Approval Workflow, which is a resource for content review that is built directly into your Publish tool. The Approval Workflow will integrate the Creator and Moderator roles for your team. As a Creator, your team members can create or edit content and then request approval from a Moderator. From there, Moderators have the ability to approve posts for the calendar or request edits to the post. The process of reviewing content is a great way to share constructive feedback across your team, identify any errors, and ensure that the brand identity is always present.
Use Social Media Monitoring and Revise as Needed
Social Media Monitoring is a powerful resource that your team should implement into their daily processes. Within Mention, your team has access to Alerts which will fetch streams of data from across the web including social media. This data can range from global news, viral content, or industry relevant trends.
If your team decides to monitor global news and trending topics, they can use the data from Mention as inspiration for new content pieces for future campaigns. In this scenario, Mention can be used to strategize before content is created.
On the other hand, your team can monitor the conversations around your industry and your social channels as well. When new posts are published online, your team can review the audience reaction by reviewing the post analytics or creating a social analytics report. From there, they can implement the feedback into their strategy for future content.
Regardless of how you monitor data, integrating social listening to your stack of tools can provide your team with a well-rounded overview of data metrics for your brand.
Social Listening is one of the multiple solutions offered by Mention. We understand that social media management involves many moving parts and relies on effective collaboration amongst your team members. In an effort to support your team throughout your social media process, Mention's platform is built with features dedicated to online listening, publishing, and dashboard analytics. If your team is in need of one or all of our features, we are here to help you!