At Mention, we're dedicated to supporting your entire social media marketing journey, from social listening to your social publishing strategy. Whether you're in charge of Instagram, LinkedIn, Facebook, or all of them, we have something special in store for everyone. Let's dive into the exciting new features that will elevate your social media game!
Complete Redesign of Mention Publish
From the publishing calendar to the composer, we've been hard at work to make your entire social media management experience smoother and more efficient.
Let's kick things off by discussing how you can now organize your content. A few months ago, we added tags to the calendar for you to classify your posts by campaign, media type, objective… whatever works best for you! Most recently, we released a feature that many users were asking for: the list view to get a bird's-eye view of your scheduled posts.
Now let's talk about the glow up that happened. The Mention Publishing tool now features a redesigned composer with improved design and accurate preview of your posts on various social media channels. That's not all, as we now have a new bulk posting feature: you can now effortlessly create and schedule posts for various social media platforms all in one go, and customize versions for each platform. And if you thought we stopped there, there's more to it. We've integrated brand new tools to streamline the creation of your social media posts: a hashtag generator, an AI-powered caption generator, and a UTM parameter generator… A full makeover, right?
Now, how about channel-specific updates?
Instagram
Get ready to dominate the Insta-game! In addition to posts, Reels, and carousels, we've added Instagram Stories scheduling to our arsenal. Now, you can seamlessly schedule and publish Stories without leaving Mention.
LinkedIn
For all the LinkedIn enthusiasts out there, brace yourselves for a game-changing LinkedIn PDF Publishing. With Mention, you'll be able to schedule and post PDFs as carousels on your LinkedIn profile, unlocking a new dimension of engagement on this professional platform.
Mention has also found a solution to make @mentioning company or school pages a breeze – something that wasn't possible in the past. Simply copy and paste the Page's LinkedIn URL in the composer, and you're good to go.
Last but not least, we also launched a LinkedIn report with followers growth, reach, and engagement metrics and very soon the best time to post for your account.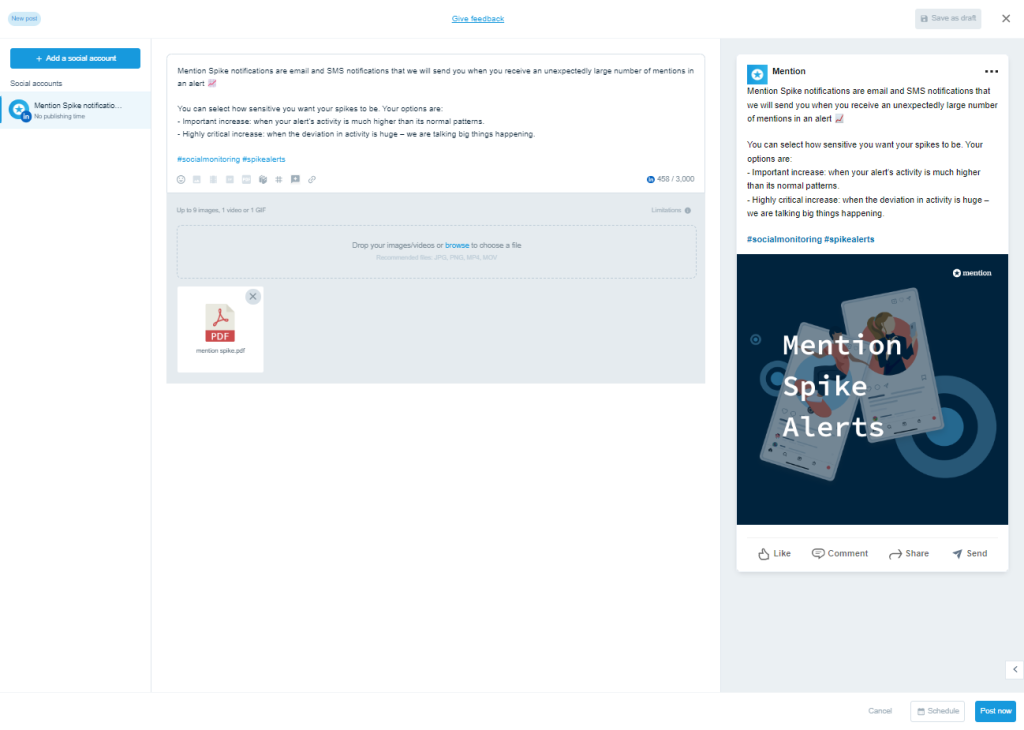 Facebook
We're thrilled to offer an extended response timeframe for Facebook DMs. Instead of the previous 24-hour limit, you now have a generous 7 days to answer DMs. This gives you the flexibility to engage with your audience without the time pressure.
In a nutshell, we can be your virtual social media BFF, it's up to you now! Whether you've been tweeting since the dawn of Twitter (sorry, X) or you're still trying to figure out what UGC stands for, Mention is your go-to solution.