We're all focused on finding new customers. It's the same for every business, everywhere.
But while it's important for any business to acquire new customers, what's even more important is retaining the customers you have. Adobe found that repeat customers yield higher revenue per visit than other shoppers. In the US, one repeat customer delivers the same revenue per visit as five other shoppers together.
And repeat customers buy 30% more items than a new customer, according to the study: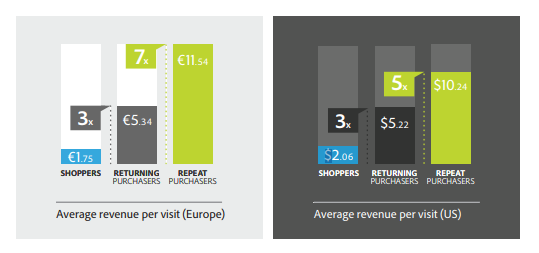 Image credit: Adobe
These numbers clearly show how vital it is for businesses to keep their customers coming back for more.
So here are a few effective tips you can follow to increase your customer retention rate:

#1: Map out the customer's journey
Your business isn't perfect. There may be many ways in which you're lacking and failing your customers. The best way to identify these problems is by gaining a better understanding of every single interaction you have with your customers at every touchpoint.
This will help you understand where there are gaps and how you can fill them to improve customer relationships.
This is where customer journey mapping enters the picture. This is a map detailing your customer's purchase journey with your brand. It will ideally include details such as how the customer found your store, why they chose you, their first point of contact, their purchase activity, and more. You can add more details and steps as necessary.
It's important to remember that different customers will have varying experiences and interactions with your store. So you'll need to have multiple journey maps, which you can build based on different customer personas.
Consider multiple communication and purchase channels as well as customer behaviors and interaction timelines.
Closely examine different journeys and identify areas in which you need to optimize your retention efforts.
Ask yourself the following:
How do you re-engage people who have abandoned their carts?
What action do you take after someone makes a purchase?
Is there any payment method or purchase channel in which customers seem to be experiencing a problem?
#2: Optimize your email marketing strategy
Email still plays an important role in customer communications. And the more you communicate with your customers, the better chance you have of strengthening your relationship with them.
This is why you must prioritize optimizing your email marketing strategy. You can't just send out generic automated emails that are clearly meant for every customer on your list.
Invest in email marketing tools that you can integrate with your CRM. This will help you personalize the emails you send out to each customer.
Send out relevant automated emails based on the actions taken by a customer such as signing up, abandoning their cart, etc. To keep track of these points, tools such as Aweber and Mailchimp can be of great help.
Additionally, make sure you keep a close eye on your past communications with each customer. This is especially important when you're dealing with customer service issues over email. You need to keep track of everything that's been said between you and the customer so you can provide them with the service and resolution they expect.
When you do this, your customer will know that you're paying attention. And it will improve your chances of retaining them. You can use platforms like Salesmate to keep track of your email conversations instead of having to manually dig through your previous emails.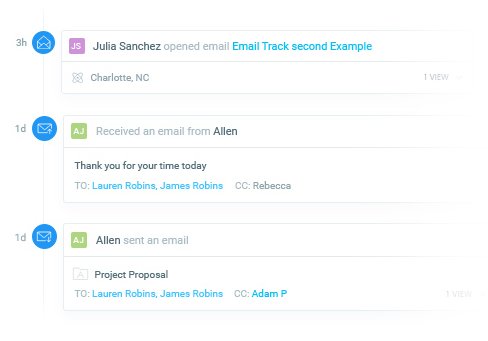 Image credit: Salesmate
#3: Reward customers for their loyalty
Give customers a good reason to remain loyal to your brand. Reward them for every desirable action they take such as making a purchase or recommending you to their friends. The more they interact with your brand in a positive manner, the stronger their attachment will be.
Additionally, have a program in place dedicated to loyal customers. Those who sign up for the program will be able to take advantage of exclusive deals and offers that are unavailable to other customers.
When customers are getting something in return for being loyal to you, it will make them feel special. So there's a good chance of retaining their loyalty and you will keep them coming back for more.
The Kiehl's loyalty program is an excellent example. Members get:
Early access to events and exclusive offers
Annual rewards if they spend a certain amount within their first year
VIP status if they spend a certain amount. This gives them access to VIP-only offers, higher annual rewards, and complimentary shipping.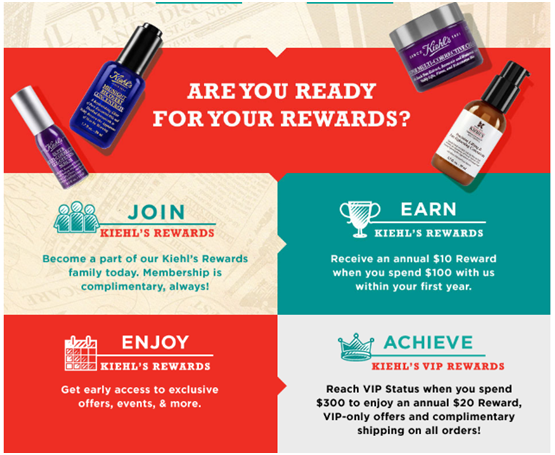 #4: Build a strong social media community
If you want to ensure that your customers feel a bond to your brand, you need to create that bond. Make them feel like they're part of a large, close-knit family. The best way you can do this is to build a strong community of fans on social media.
Interact with them, acknowledge them, consult them, and show them your appreciation.
As social media usage grows, there is also a gradual change in the way people are interacting with brands on different social channels. Olapic conducted a study which found that:
74% of respondents in their study have uploaded a photo with a branded hashtag.
40% say that they do this to share their purchases with their friends.
34% of respondents said that they post pictures on social media referencing a brand because they enjoyed the brand's product or service.When people share content about your brand on social media, it creates more opportunities for you to engage with them. And regular engagement fosters brand loyalty.
So if you're going to build a strong social media community, it would be wise to keep a close eye on any mention of your brand. Look for opportunities to engage with the customer through the content they created. Use tools like Mention to track brand mentions and find new opportunities to interact with your customers.
Besides this, create opportunities for people to engage with your brand on social media or create content about your brand. Encourage them to share their purchases using specific hashtags for an opportunity to be featured.
Brands like BlackMilk Clothing extend such invitations through their Instagram bio.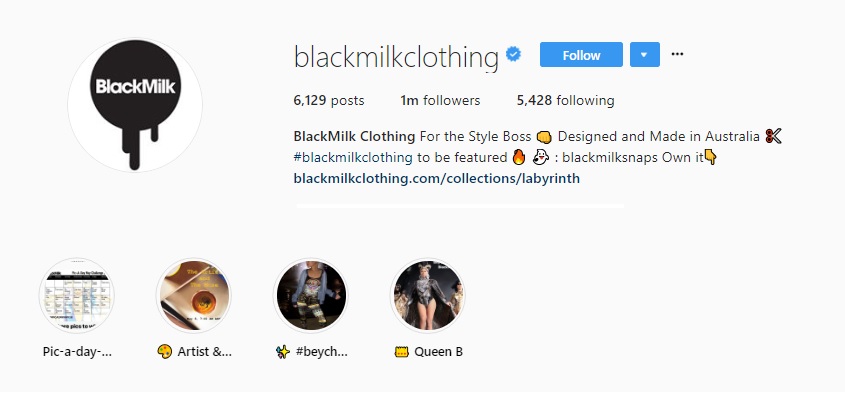 Conclusion
These are some of the best ways you can increase customer retention and foster brand loyalty. The main thing you have to do is ensure that your customers have a pleasant and memorable experience interacting with you.
And just as important, make sure you can accurate measure whether customers continue to have that experience. You may think that you provide the experience that every customer craves, but can you be sure?
Got any more ideas that worked for you in retaining customers? Let us know in the comments.