Consumers are growing suspicious about the authenticity of brands they use. According the Edelman Trust Barometer (2018), only 48% of U.S consumers say they trust businesses.
As of now there's no sign of it getting drastically better anytime soon. On the other hand, we now know that almost 1 in 2 consumers will believe anything an influencer says online.
This, plus the fact that 84% of consumers say they trust online reviews as much as recommendations from friends led brands to rely more heavily on influencers to market their products and services.
Once a trend, influencer marketing is now a strategy and businesses of all sizes are investing in it to boost their brand awareness and increase sales.
In fact, it's predicted that the global market for influencer marketing will reach $10 billion in 2020.
Now, the competition is tough as there are may brands targeting the same audience.
It's key to understand that it's not because you pay someone with an important following that you'll get great results from it.
The influencer marketing honeymoon period is over and it seems that brands are now realizing that creating, monitoring, and driving results actually requires a lot of efforts.
Do it wrong, and you'll end up burning money.
Do it right, and you'll see impressive results.
While some would rather hand over the task to influencer marketing agencies, many companies prefer to keep all of the work in-house, using dedicated influencer marketing tools and platforms.
So, which one should you choose?
An influencer marketing agency or a platform?
In this blog post, I'm discussing both options to help you decide what will work best for you and your business.
5 reasons to work with an influencer marketing agency
The primary responsibility of an influencer marketing agency is to create and execute influencer marketing campaigns.
They work with brands and influencers seamlessly to facilitate and optimize the campaigns. A good influencer marketing agency will be able to effectively organize and manage a number of campaigns with different variables.
Here are 5 advantages of working with an influencer marketing agency.
#1. They have a network
Dedicated agencies understand the goals of the brand they work with. They get the requirements, values, and other aspects that make them unique.
They know what they're doing (which helps when it comes to choosing the right influencers for the brands they work with).
Another thing to take into account is that influencers are busy folks. Some receive hundreds of solicitations from brands every single day and, therefore, have no time to deal with most of them.
In other words, they ignore them because they don't know the brands and/or have no time to consider all of their offers.
Now, well-established agencies have a network, and they often have privileged contacts with influencers.
When scrolling the market to find the right agency for you, take the time to look at the brands and influencers they've work with in the past.
#2. They Connect Brands with Relevant Influencers
Finding the right influencer for your business can be a time-consuming process if you try to do it all by yourself.
Besides, the success of any influencer marketing campaign depends on the match between the influencer and the brands, product, or service.
If there's none, you'll waste your money, and other influencers may be reluctant to work with you.
In theory, Influencer marketing agencies will find the most relevant and effective influencers for you.
After all, your job is to grow your brand.
Theirs is to give you the means to do it.
Here's an example of a successful campaign from Diesel.
Influencer Marketing Agency (IMA) helped clothing brand, Diesel launch a social influencer marketing campaign.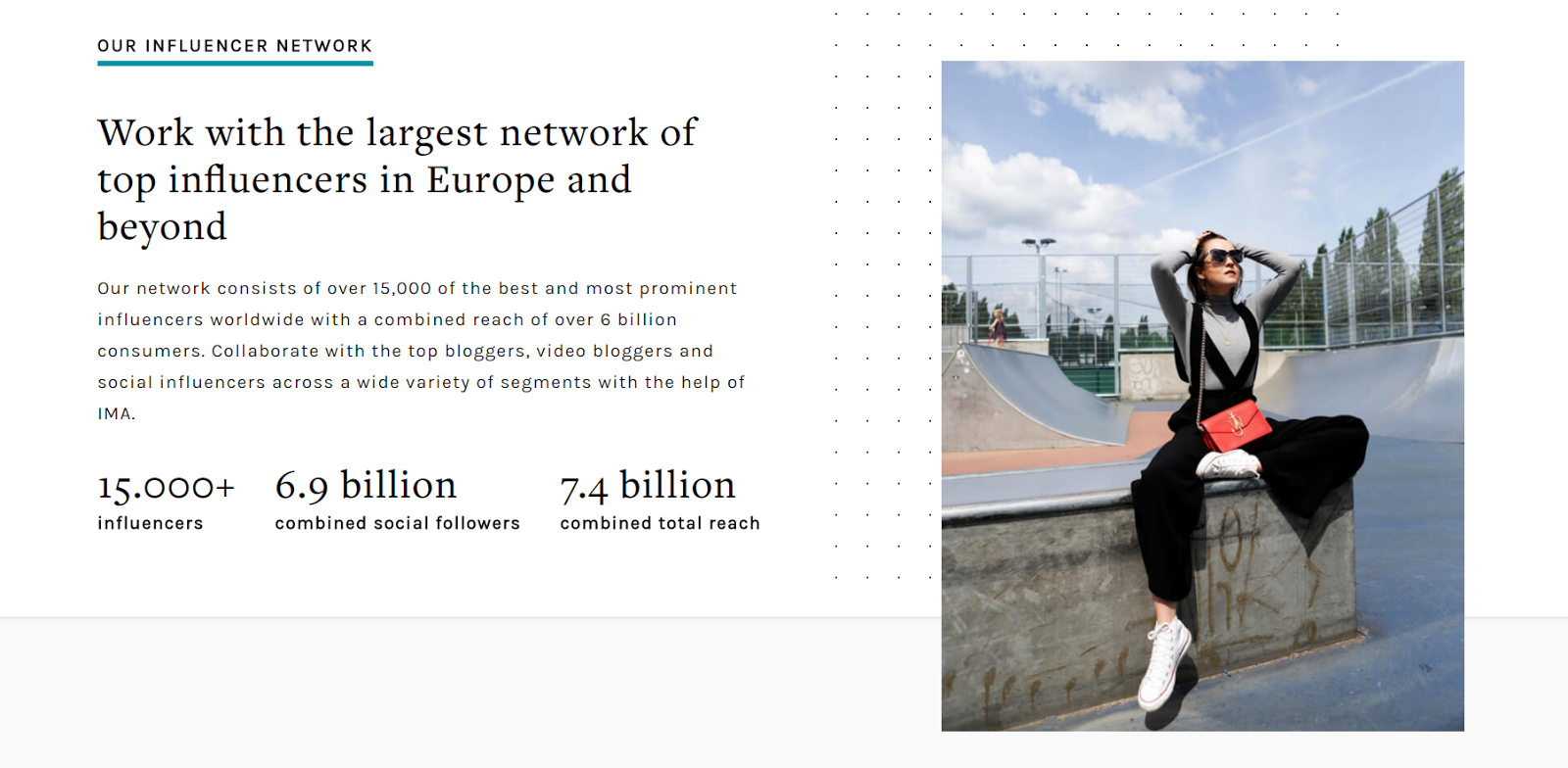 The European-based agency connected the brand with 77 influencers across Instagram and other channels, promoting the hashtag "#DieselPeople."
#3. They will choose the right social media platform(s) for your campaign
An influencer marketing agency also knows how to bring a campaign to life by identifying not only the right influencers, but also the right social channels.
Choosing the right social media platforms is crucial for the success of the campaign.
One reason for this is that you need to work with influencers with strong community on the social channels that your audience also uses on a daily basis.
From experience, you can trust agencies to carefully chooses the right channel to maximize your brand's exposure.
I recommend your look into working with HireInfluence. They collaborates with influencers from 12 countries and utilize 7 industry verticals to distribute their client's message.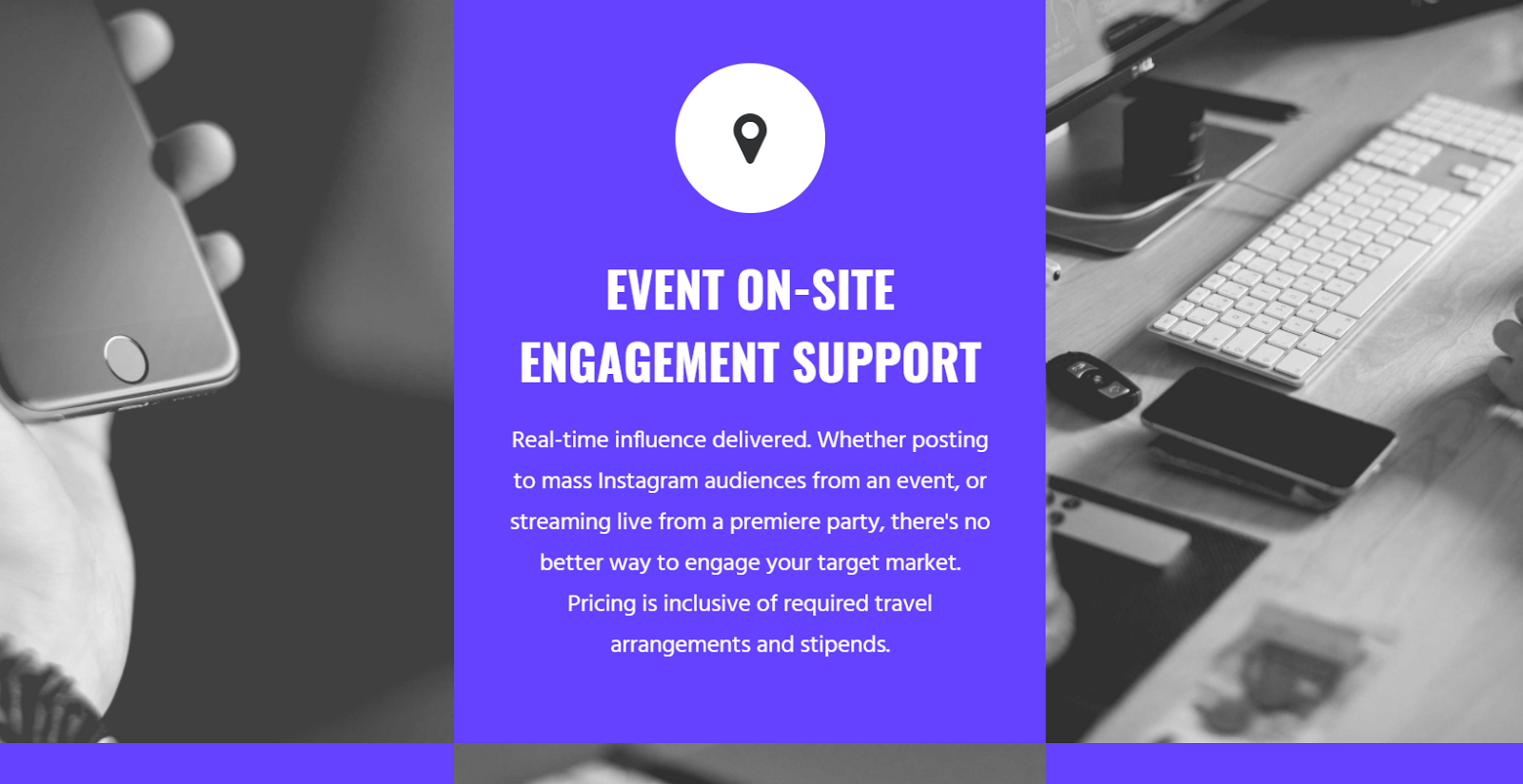 The agency works across all social media channels but targets the best social media platform for any given brand.
#4. They negotiate contracts and rates
An agency will take care of all of the negotiations regarding the rates and terms of the contract with influencers on your behalf.
If you've tried to do this on you own before, you know how stressful it can be.
After all, there's always a loophole somewhere.
For example, there's no fixed rate for influencers when it comes to sponsored posts. In reality, it varies drastically from one influencer to another, depending on their audience size, the engagement they get, and the industry they have an expertise on.
Since an agency is already connected with influencers, they can select ones who will fall within your budget and industry. They will then reach out to, and negotiate with selected influencers, (with approval from your brand).
Looking for a professional invoice generator? Create your invoices with our easy-to-use generator.
#5. You will save time
When you choose an agency for your campaign, you delegate the task to experts.
They'll be the ones researching, reaching out to influencers, and reviewing the content they created for your brand (at least to make sure that it's respecting the signed contract).
The best agencies will take care of all aspects of your campaign and report back to you.
In the process, they will free you from most of the manual work so that you can focus on other important aspects of your business.
That being said, you can also try to do all of this by yourself.
Differences Between an Influencer Marketing Agency and a Platform
What is an influencer marketing platform?
And how does an influencer marketing agency vary from a platform?
An influencer marketing platform is a software designed to help you find the right influencers for your brand and/or market, manage influencer relations, and measure the ROI of your campaigns.
And this is only scrapping the surface.
In reality, platforms will basically give you all the tools you need to do what could be done by an agency.
Now, there are obviously many differences between working on your own — using an influencer marketing platform — and paying an agency to work for you.
#1. Tools will save you money, not time (compared to working with an agency that it)
There's so much information out there that it is impossible for marketers to understand it and identify what's relevant for their brand. At least not without help.
This is where tools come in.
They make it easy to aggregate all the data about your brand, market and competition. That includes market influencers.
A platform like Mention, for example, lets you focus on influencers depending on topics, level of influence (0 to 100) and social platform.

If you want to learn more about how to find influencers, check this comprehensive blog post.
What's more, because you'd have to use the platform to plan, implement, and manage the campaigns yourself, this would be an opportunity to learn and develop your acumen in influencer marketing.
Now, obviously, while most tools are not as costly as hiring an agency to run your campaigns, they will take some of your time as you'll be managing the campaigns in-house. The time you could invest in other tasks.
#2. They are more suitable for smaller Campaigns
Influencer marketing platforms are best suited for smaller or one-off influencer campaigns.
They work well for campaigns that do not involve strict regulations, consistent brand messaging, or a very high level of engagement.
This is because, unlike agencies, most platforms aren't able to quantify the engagement level of an influencer (that said, some platforms like Mention, will score social media users based on their influence).
Learn more about this here.
#3. They require a higher level of brand involvement
Influencer marketing platforms require a much higher level of brand involvement than agencies.
Platforms provide tools and software needed to plan, launch, and manage campaigns and deliver measurable results. But the tasks themselves still need to be done by the brand's in-house marketing teams.
Conclusion
Whether you choose an influencer marketing agency or a platform depends mostly on what you're trying to achieve (and the means you have).
Many startups and small businesses prefer to go with platforms and manage their campaigns themselves.
After all, who knows your business better than you? It's you who will understand better which influencers will be the best fit for your company.
But then again, the expertise and the experience of an influencer marketing agency cannot be ignored.
The ball is in your court.