Social approval matters! Getting the approval of an influencer on a social channel is by far one of the best ways to build brand awareness and drive profits. Social influencers are the new celebrity endorsements that customers trust and follow.
No wonder influencer marketing is considered to be one of the most profitable brand campaigns. The Influencer Marketing Benchmark Report 2019 confirms that for every $1 spent on influencer marketing campaigns, a marketer can expect an average return of $18.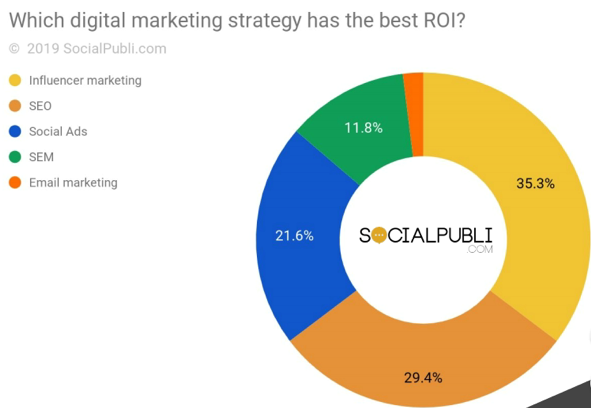 Regardless of the industry, influencer marketing is quite popular among modern marketers. However, the eCommerce marketers seem to have got the best out of influencers. Consequently, social media channels are buzzing with influencers vouching for brands looking to improve their reach and establish their niche.
Several eCommerce brands are turning to influencers and industry experts on social media to drive their brand message and boost conversions. If you are an eCommerce marketer looking to drive traffic to your site and increase your social media exposure, we have a few winning influencer marketing tips for you. Let's get started!
1. Do the Groundwork
Before building an influencer marketing strategy for your eCommerce brand, go through these pointers.
Define your audience
First things first, get to know the various sets of audiences you will be targeting. For instance, a brand like Decathlon attracts a wide array of customers for the type of sports they are interested in. Thus, the online sports store has to select one market segment per influencer campaign to appeal to the respective audience.
Check out how @av.explores, an ace skier and influencer vouches for Decathlon in most of his posts. Such posts are bound to engage other skiers across the globe.
Getting to know the followers of these influencers can help brands learn about their audience, their preferences, the hashtags they follow, and the type of content they consume. Deep audience research will help you identify the best influencers and create relevant content, thereby boosting your engagement rate.
Determine your goal
What do you want to achieve through this campaign? Are you looking for improving your reach, boosting brand awareness, or have a few sales targets in mind? Any influencer marketing campaign is bound to improve brand reach, but not necessarily the sales. Of course, influencers can help you perk up your sales too. But remember to spell out these goals, allowing your influencer collaborations to yield desirable results.
Consider the social platform you will be using
Different platforms help in achieving specific influencer marketing goals. In the eCommerce domain, Instagram, Facebook, Twitter, Pinterest, Snapchat, and YouTube are quite popular and successful in driving influencer campaigns. For instance, Instagram has nearly 1 billion active users and is being successfully used by brands to boost awareness and expand audience reach.
Similarly, Snapchat which was initially popular for its ability to generate real-time buzz. However, it later introduced shoppable features for eCommerce brands, allowing them to achieve their conversion goals.
2. Look for a Suitable Influencer
Finding a perfect influencer for your brand is no easy endeavor. Begin by defining your brand identity and company values. This simple exercise will help your influencer to represent your brand for what it stands for, reflecting consistency in your content's voice and imagery.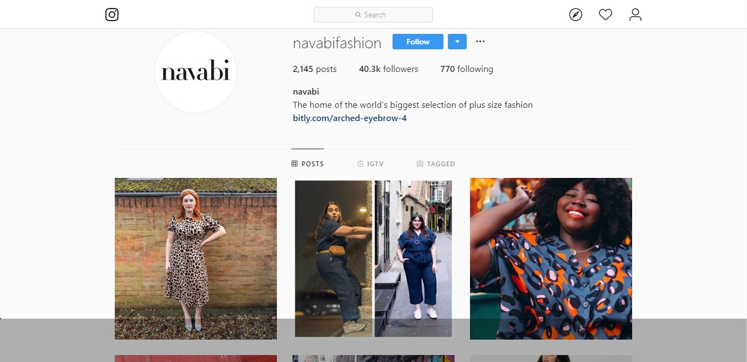 Notice how Navabi, the world's biggest selection of plus-size fashion has partnered with curvy fashion bloggers and vloggers to position itself as the leader in premium plus-size fashion.
Use these tips to find influencers who match with your brand persona.
Rake through your current follower list
There's a huge chance that your follower list has an enthusiastic bunch of brand-loyal consumers who are already tagging you, participating in your social contests, or liking, sharing, or commenting on your posts. This loyalty can be nurtured to create a lasting relationship with them.
Notice how the beauty editor and influencer, Sara, mentions using Victoria Beckham's products. Such loyal followers have to potential to become influencers in the near future.
Google search
This one's easy! Simply ask Google to show you the top influencers in a particular niche. You can then go through their social page and content and filter them based on your brand personality and objectives.
Influencer meets
Influencer events like Instameets are a great platform for finding and connecting with local influencers. Use services like Meetup to know about such local events and network with specific kinds of influencers.
Influencer marketing tools
Use influencer marketing tools, namely BuzzSumo, NinjaOutreach, Awario, and Followerwonk among others to find influencers on social media. These tools will also help you streamline your options and choose the ones that best suit your brand, budget, industry segment, and campaign.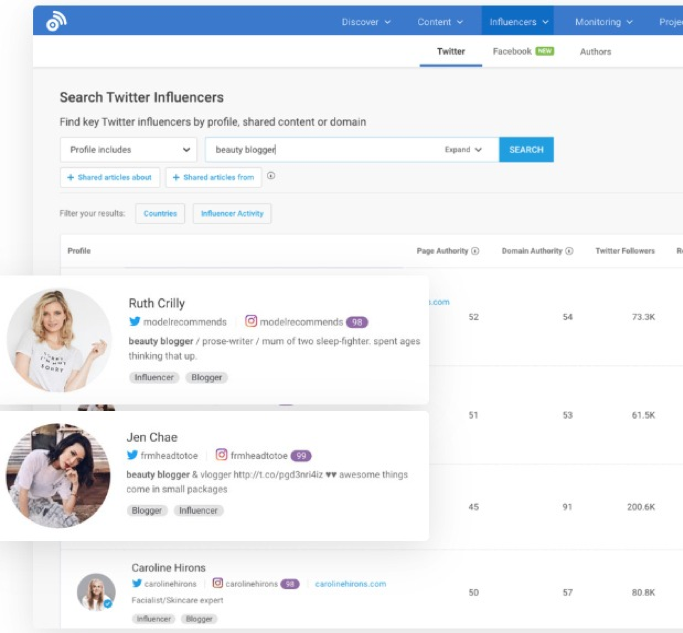 Source: https://buzzsumo.com/find-influencers/
For instance, BuzzSumo can easily help you find the top influencers for your brand on Facebook and Twitter.
Similarly, Awario is an effective social listening tool that not only monitors brands and competitors but also allows you to discover influencers in a chosen niche by monitoring keywords across social media, websites, and blogs.
3. Don't Forget the Micro-Influencers
A study conducted by Markerly revealed that the larger the fan-following of an influencer the lower is the engagement. As you can see in this graph, an influencer with less than 1000 followers enjoys an engagement rate of about 8 percent, whereas the engagement rate significantly dips (1.6 percent) for those with more than 10 million followers.

Source: https://markerly.com/blog/instagram-marketing-does-influencer-size-matter/
Therefore, it's wise to find influencers enjoying a follower base of 10k-100k for a broad reach and the best-possible engagement. Tapping into micro-influencers with a trustworthy reputation can significantly improve your brand awareness.
A micro-influencer could be a popular blogger, vlogger, or a social media authority who caters to a specific niche or segment. Since they do not have a very high following (10k-100k), they enjoy a high engagement rate (likes, shares, and comments).
Check out how Kristal Heredia, the micro-influencer in plus-size fashion shares fashion shots from Lulus, an online style destination for trendsetters worldwide. She also features apparel and accessories from Primark, Forever21, and other stores and engages with her audience by responding to their comments. This helps brands to take advantage of a responsive micro-influencer audience, ultimately building trust among Kristal's followers.
4. Be Open to Experiment
Influencers often have a unique style of working. You should respect that and let them create content that got them their existing set of followers. Offer them ample room to express your brand values creatively. Providing them a rigid script or talking points can affect their creative thinking and reduce the authenticity of their posts. Allow them to reconstruct your brand communication in their language, making it sound natural and relevant to the target audience.
Further, depending on your brand objectives and brand personality, experiment with the following types of influencer marketing campaigns.
Contests and giveaways
You may have seen engaging posts from influencers, asking you to –
● Like the post or a page
● Comment with your photograph, a story, or a hashtags
● Tag a friend
Once you do that, you are promised giveaways and freebies.
Everyone loves contests and giveaways. Therefore, these types of influencer campaigns are a win-win for all – the brand, the influencer, and followers.
Creative content
Sponsored content is one of the most popular types of influencer campaigns where a brand can reach out to a relevant influencer to promote their brand through a photo, video, or blog post.
Here's a classy example from Carl Thompson who regularly posts about eCommerce brands on his Instagram profile.
Here's another example where Angi Greene talks about her experience with The Base Collective.
Product reviews
Product reviews are quite popular and boost engagement as they offer the audience the influencer's take on the brand. Unboxing videos and posts are quite popular these days.
The eCommerce brand offers its products to the influencer for free. In turn, the influencer posts their product reviews or opinions in the form of product images and videos.
5. Track the Effectiveness of the Campaigns
The effectiveness of an influencer marketing campaign is not merely about increasing your following. Use Google Analytics to monitor the engagement metrics and the goals you had set before launching the campaign.
For instance, if your objective was to generate leads, you should track the number of new visitors to your e-store. Similarly, if you simply wanted to raise brand awareness, track social reactions and impressions to see the types of content getting the most attention from your target audience.
Finally, know what influencer marketing metrics define the success of your campaign.
Return on investment – The revenue you made from the campaign minus the costs.
Click-Through-Rate – The number of people who have clicked from the influencer ad to our brand.
Cost per click – The amount you are charged for a click on your ad.
Conversions – How many prospects completed a desired action like placed an order, downloaded a book or report, or signed up for a newsletter.
Referral traffic – This KPI gives an idea of your campaign's reach. Pay attention to the new visitors, referral sources, total page views, and total time spent on the site to see if the referral traffic is engaged enough.
Engagement – Look at the clicks, likes, shares, reactions, comments, and brand mentions.
Summing Up
Influencer marketing is a powerful weapon in the eCommerce space. When done right, an influencer marketing campaign can boost your brand awareness and drive online conversions. Effective influencers intriguingly tell a brand story, thereby helping brands connect with their audience and drive conversions.
Use the tips shared in this post to build and execute a fool-proof influencer marketing campaign to take your brand to new heights.