The new wave of influencer marketing includes employee influencers, nano influencers, and niche authority.
Growth marketing experts agree: influencer marketing isn't going anywhere. Most believe it will continue to grow exponentially in the coming years.
Jonathan Martinez, quoted in a TechCrunch article, believes "we're still less than 10% of the way there on how impactful influencers will be in the next decade."
As savvy marketers know, influencer marketing is most effective when it's done strategically. Sure, you could throw truckloads of money on a big name with a huge following but are you sure it's going to move you toward your desired goal?
Remember the time-tested marketing principle: If you're marketing to everybody, you're marketing to nobody. Big-name influencers reach a lot of people. But are they the people most likely to buy your product or use your services?
In many cases, the answer is no.
The good news is, you can benefit from influencer marketing without a huge budget. Not only is thinking smaller more affordable, it's often more effective.
A marketing report created by Later and Fohr revealed that the Instagram influencers with the highest engagement rates are the ones with the lowest follower counts. As follower counts rise, engagement drops.
Thinking smaller is also more targeted, helping you to connect with the audiences you really want to reach.
Employee influencer marketing, nano influencer marketing, and niche influencer marketing can be essential tools to have in your toolkit. Here's what you need to know to get the most out of these influencer marketing strategies.
Table of Contents:
Employee influencer marketing
Who they are
If you're scouring multiple platforms for the perfect influencers, you could be missing the obvious answer: Your brand's most effective influencers may be right in front of you.
Your employees love what you're doing. They work for you because they believe in your values and your culture. They're intimately familiar with your products or services. And each of them belongs to multiple unique communities, each with its own network. If you ask your team to spread the word, the results could ripple outward.
Social Media Today shares eye-opening research on employee influencer marketing: "Employee content sees 8x more engagement than content shared through a brand's channel."
As a bonus, asking your employees to advocate for your brand signals that you trust their judgment and value their expertise – which could translate to improved morale and worker retention.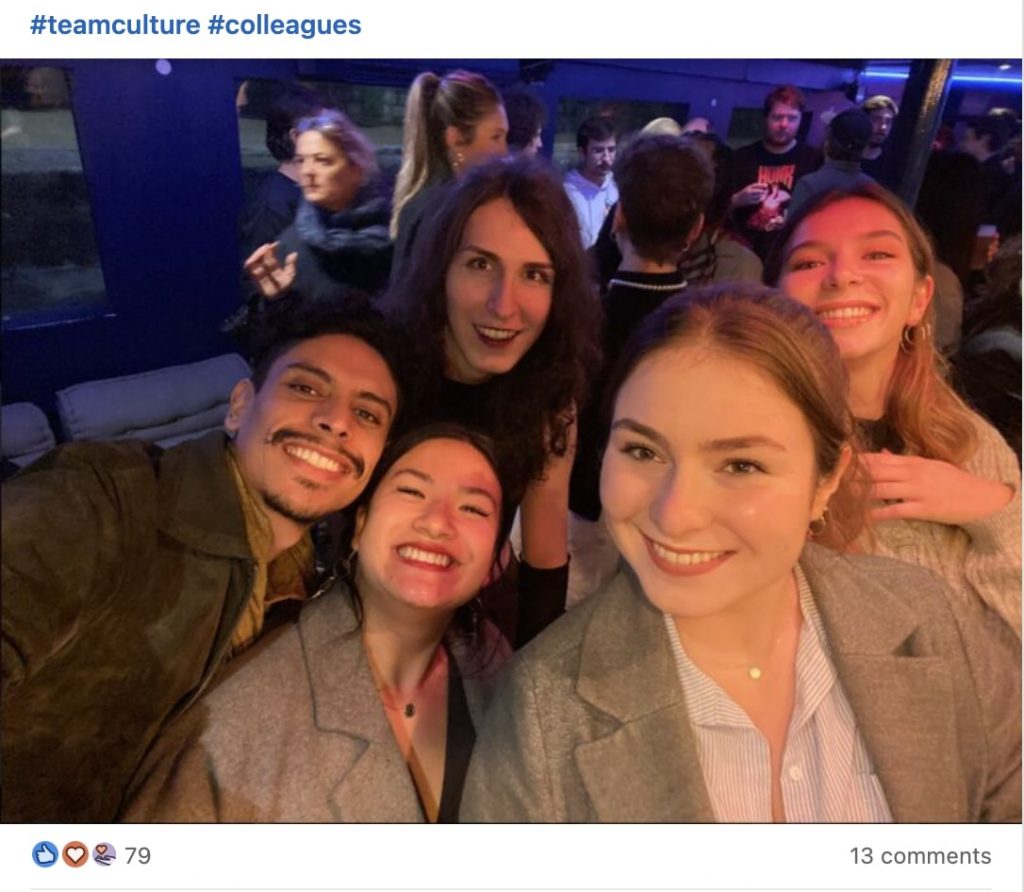 Why it works
Social media users see employee-created content as more relatable and authentic than content produced by a brand.
Plus, people love getting a peek behind the scenes at brands they're curious about. If your employee content is compelling and provides a unique angle, the audience feels like they're getting exclusive inside access.
Employee influencer marketing in action
The StarbucksPartners Instagram account features Starbucks employees sharing "what it means #ToBeAPartner." Content themes include latte art contest winners, coffee tutorials, and longevity appreciation. "Partner superlatives" are a fun throwback to high school yearbooks, with awards given for "most likely to volunteer to do the dishes" and the cheeky but loving "most likely to forget their apron."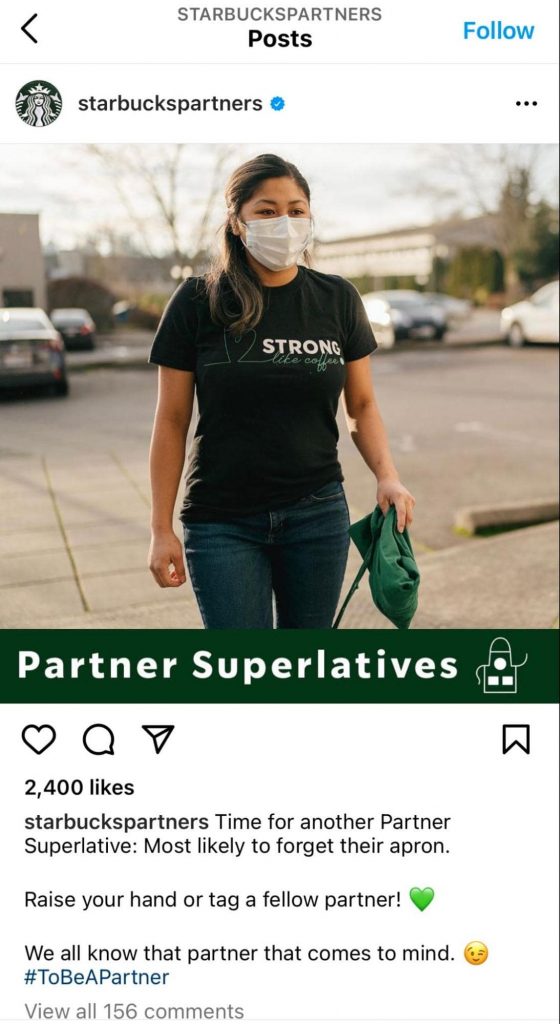 Macy's has a landing page for the ambassadors it calls the "Macy's Style Crew." The brand offers incentives to employees whose content leads to sales.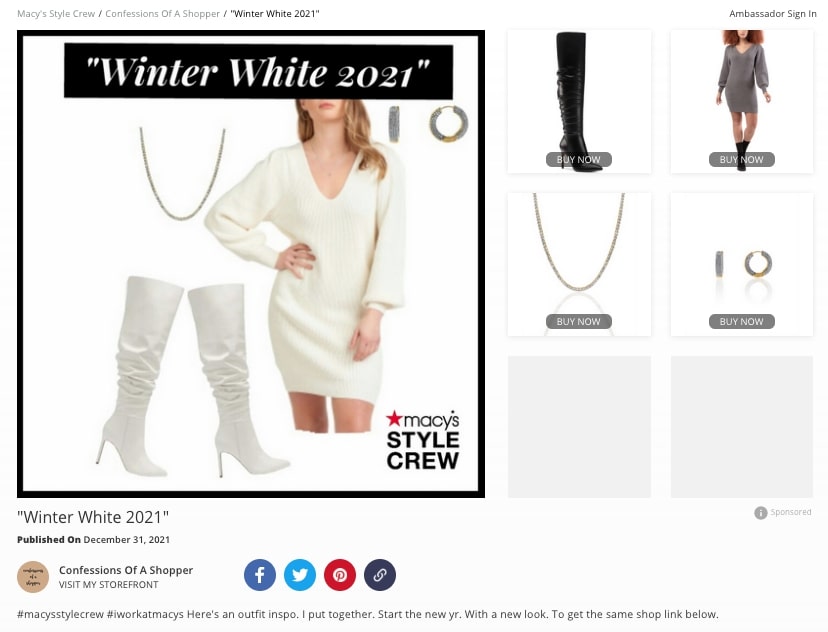 How to find them
Of all the influencer categories featured here, employee influencers are, obviously, the easiest to find. But it's worth putting some thought into which of your employees might be the most effective at producing this type of content.
Questions to consider: Who is your audience? What platforms are they on? Which of your employees are on those platforms?
It's reasonable to consider follower counts, but engagement may be a more relevant metric with this category. Maybe you have an employee with a small follower count, but whose content consistently inspires shares and enthusiastic comments.
Make it work for you
While these examples come from major brands, employee influencer marketing is accessible at any level. To get started, identify candidates who might be interested in participating. Think about incentives you might offer to encourage them to create content. And provide guidelines such as hashtags you want your team to use when posting.
Nano influencers
Who they are
Influencer tiers are ranked by their follower counts. Mega macro-influencers are at the highest level, with more than one million followers. Nano influencers are at the other end of the spectrum, with 10,000 or fewer followers. But small can be mighty. Many nano influencers have extremely loyal followers who eagerly engage with their content. And, according to the Later and Fohr report, nano influencers have the highest engagement rate of any influencer level.
Why it works
Again, authenticity is the name of the game. Nano influencers are typically seen by their audiences to be more genuine and real than influencers with huge follower counts.
It's also easier for a brand to build a true relationship with a nano influencer – typically you'll deal with them directly, rather than with an assistant or other employee.
Gus Ferguson and Alyssa Crankshaw, co-founders of Ascendant have seen this strategy pay off: "Those repetitive, consistent and truly authentic relationships are an insanely powerful marketing asset. We've achieved some of our most spectacular results from this kind of work on behalf of our clients. It's probably my favorite marketing strategy."
And because nano influencers are more affordable, it may be feasible for brands to partner with multiple individuals – a model that can reach more networks over time.
Nano influencer marketing in action
The recovery footwear brand Oofos regularly features athlete influencers – but not marquee NFL stars. Their Instagram account features surfers, volleyball players, and ballet dancers.
At an even more nano level, they build relationships with teachers, healthcare workers, and other people who spend all day on their feet. The nurse Haley Adelman is a relatable choice for their intended audience.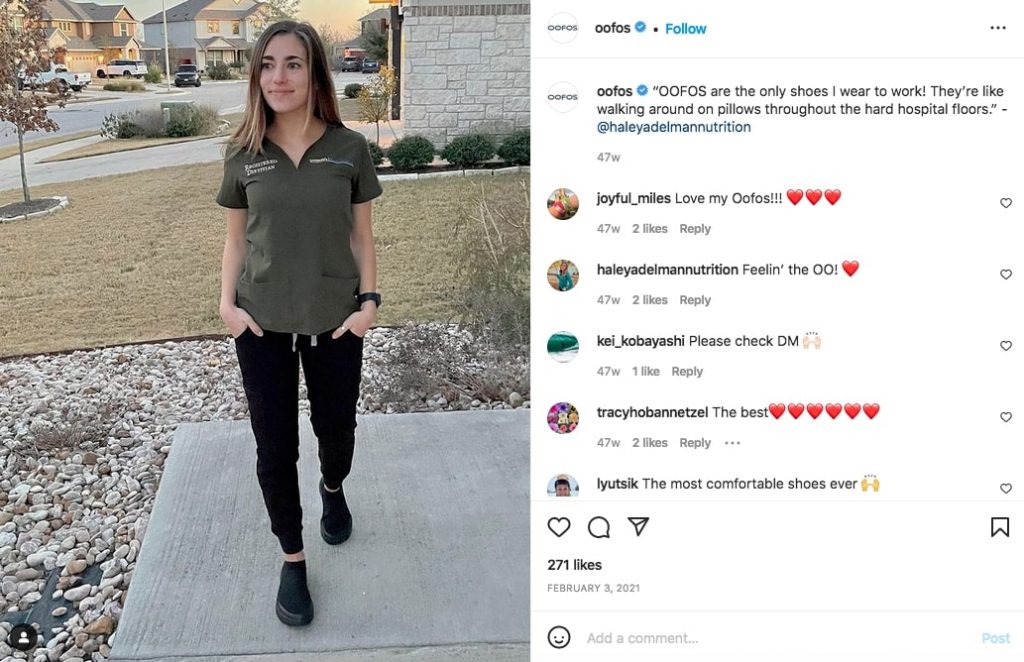 Victoria Davis is a nano influencer whose audience that loves plant-based and DIY beauty products – a perfect fit for the wellness-focused CBD company Hulsa Wellness.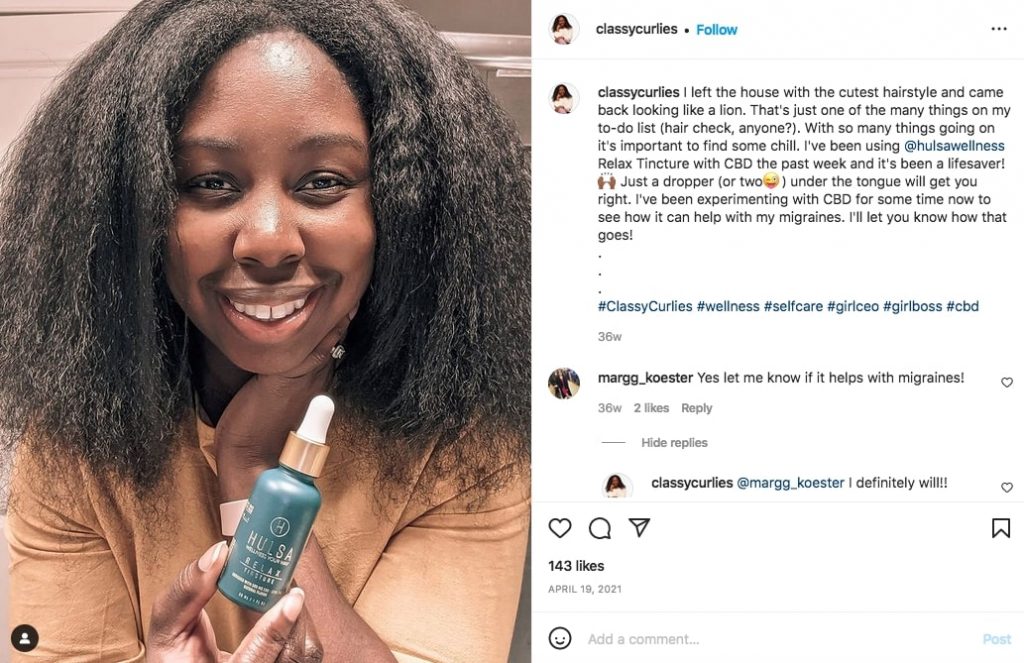 How to find them
You may find nano influencers among your existing customer base. The best influencers tend to start out as big fans of your brand before moving into an influencer role: You know their support for you is genuine, and that will come across in their content.
Do a search for your brand on various platforms. Are there people who have been raving about you, perhaps without tagging you. If you find anyone who's been posting about you, do a careful scan of their other content. Do they align with your values? Does their tone and style align with your brand? Would your audience see them as an authority?
If you don't have obvious candidates to start with, influencer marketing platforms such as Pixlee can be a good source for finding nano influencers.
Make it work for you
Once you've identified a nano influencer who aligns well with your brand, reach out and propose a collaboration: A PS in their newsletter, an Instagram story where they offer a free resource or discount, a free call with you about your service, or a free promotional event about your product.
Testimonials are another way to leverage nano influencers: Getting an influencer with a small but dedicated following to provide a glowing testimonial can do wonders for your brand's visibility and reputation.
Niche influencer marketing
Who they are
Niche influencers occupy a specialized segment of the market. Not just musicians, but ambient French horn players. Not just herbalists, but Latinx wildcrafters.
Niche influencers can be at any level of the influencer scale, from nano to mega.
Why it works
Niche influencers can connect you directly with specialized audiences. They tend to have loyal followers with an identity-based connection to their content. As a result, their word can carry a lot of weight.
Niche influencer marketing in action
The personal styling company StitchFix is naturally inclined to work with influencers in the fashion space. But they went a step further to identify niche influencers who reach specific audiences. They include Sarah Tripp, a body positivity fashion blogger.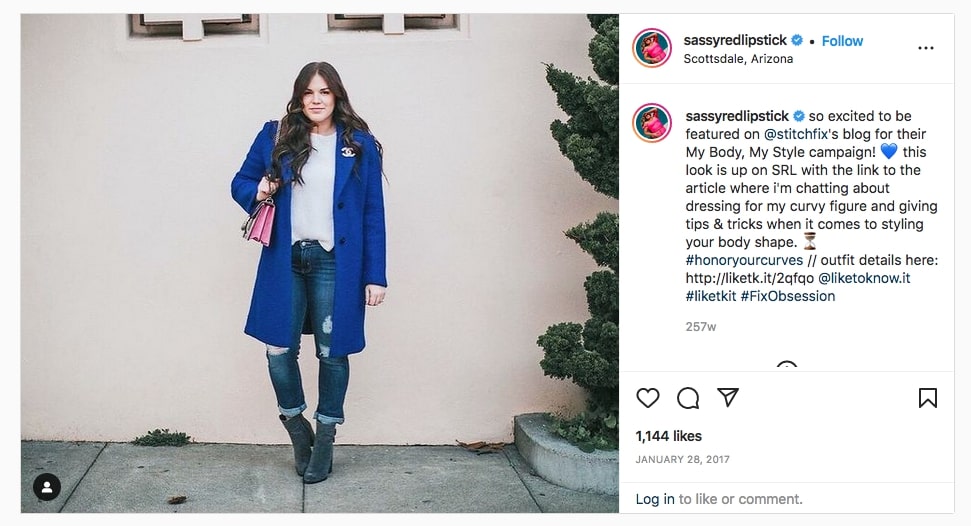 A fashion model might not seem like the first choice for a cookware company. But GreenPan, makers of non-toxic non-stick cookware, found a niche influencer in model Holly Owens. Holly's content focuses on health, wellness, and non-toxic lifestyle choices – and her followers eagerly consume that content. For GreenPan, her posts focus on the brand's healthy ethos.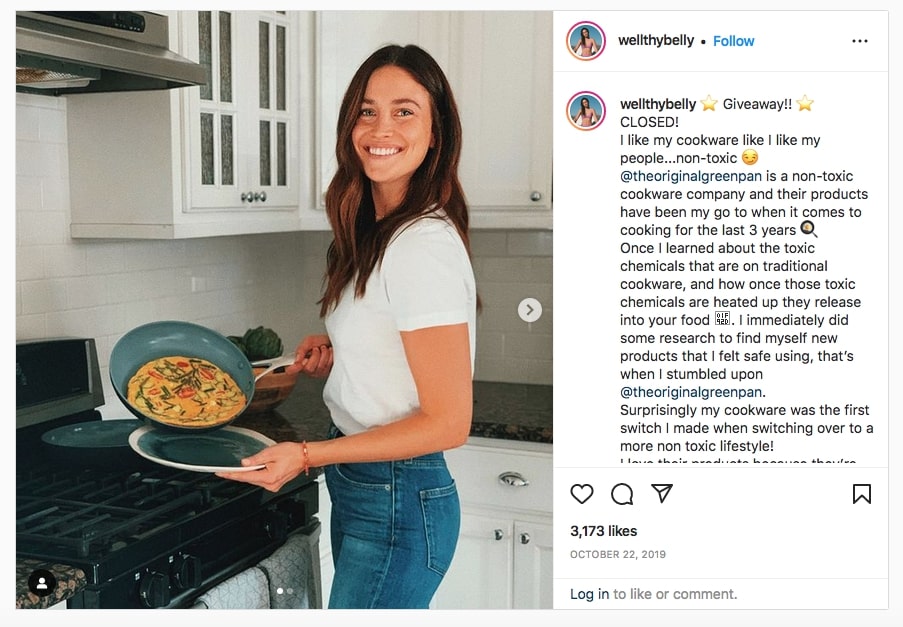 How to find them
Social listening is a great way to identify niche influencers who may be a great fit for your brand. How are customers using your product? You may find a niche audience you weren't aware of.
If you're running a make-up company, you've surely thought of teen girls as a potential audience. But have you considered drag queens? Depending on your budget, you could go mega macro (e.g. RuPaul), macro (a contestant on RuPaul's Drag Race), or nano (someone from your local drag house).
If you're selling artisanal vanilla extract, you've surely thought about bakers. But what about gluten-free bakers?
Once you identify a promising niche, use keywords and hashtags to find the influencers in that space.
Make it work for you
After you've identified a niche influencer you'd like to work with, focus on building a relationship. Send them a product or offer them a service for them to consider promoting. Be sure to consider what's in it for them.
Write a pitch that conveys how the partnership would be mutually beneficial. What can you offer them beyond direct compensation – perhaps in the realm of networking, brand alignment, or insider access?
The takeaway
Working with influencers can elevate your business and connect you to new audiences. Rather than shooting for the moon, be strategic about what you spend and whom you approach. Social listening and utilizing influencer marketing in 2022 can support your business growth and supercharge your success. Working with employee influencers, nano influencers, and niche influencers can bring you directly to your audience in a way that's direct, relatable, and trustworthy.
---