Social media channels like Instagram, Facebook, and YouTube are popular touchpoints for social media marketing. However, savvy marketers are always on the lookout for new and emerging social networks to reach audiences. One such channel is Twitch.
Twitch is a live video streaming platform that allows streamers to create content for and interact with audiences in real time. It's like TV broadcasting, with social media engagement features like chat and branded emojis (emotes). While eSport video game streamers dominate Twitch (it started as a broadcast channel for gamers), the platform hosts other content, such as ASMR, music, DIY, podcasts, and more.
If you are not convinced that marketing on Twitch is the right move for your business, consider the following. In 2022, 22.4 billion hours of content was consumed on Twitch, eclipsing other live streaming platforms like YouTube and Facebook Gaming. If this has piqued your interest, here's what you need to know about Twitch marketing.
Table of Contents:
What Is Twitch Marketing?
To answer this question, we must first understand how the platform works. Twitch has two types of users: content creators (streamers) and viewers.
Streamers broadcast free content to a live audience. It could be a demonstration of a skill, a video gaming session, or even a roundtable conversation. Viewers can support content creators through donations or paid subscriptions. Think of these as small business grants to keep their favorite streamers streaming.
Now to answer the question. Simply put, Twitch marketing is the promotion of products and services on live video content.
3 Effective Strategies for Marketing on Twitch
So, if Twitch works like live TV, does this mean shows stop for commercial breaks? Yes, and no. Marketing on Twitch happens in three ways: influencers, ads, and branded channels.
Influencer marketing
Twitch has hundreds of popular streamers with over 1 million followers. Moreover, 76% of users approve of brand sponsorships for their favorite channels. That makes the platform ideal for influencer marketing. When companies reach out to the platform's top creators, they access an engaged and receptive audience.
Streamers promote companies on the live stream or chat through brand mentions, product placements, giveaways, and product unboxing events.
Here's a great example of an influencer marketing campaign done right. DrLupo promoted KFC by naming a live gaming stream after the fast-food giant. In the broadcast, he played a game whose catchphrase was 'winner, winner, chicken dinner.'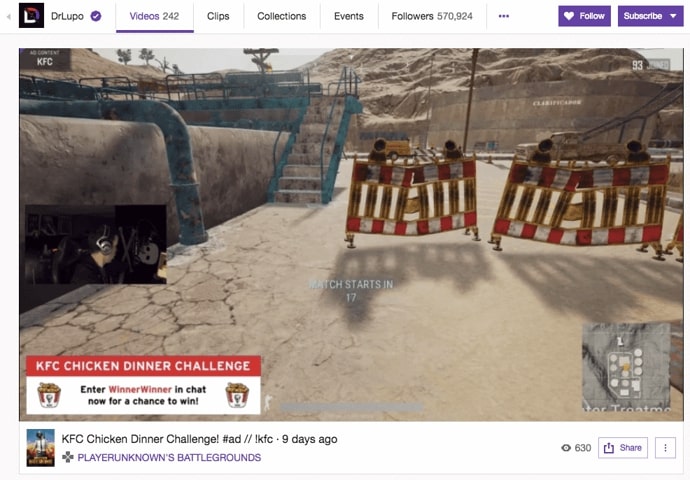 The stream also had an interactive banner encouraging viewers to type 'WinnerWinner' in the chat for a chance to win a KFC gift card. The campaign was so successful that to this day, many Twitchers associate the phrase 'winner, winner, chicken dinner' with KFC.
The key to a successful collaboration is partnering with the right influencer. You want to partner with a streamer that reflects your brand's values and goals.
Here are three things you should be looking for in an influencer.
Genre: This refers to the type of content on the streamer's channel. You want influencers who align with your brand's values. For instance, if you're an outdoor apparel marketer, you'll have a hard time appealing to the majority of the gaming community that makes up Twitch's audience. On the other hand, you will find success with a travel or adventure streamer.
Audience numbers: You want to partner with streamers with a large follower count. But more importantly, a high average concurrent viewer (ACV) rate ensures maximum exposure. ACV refers to the highest number of viewers at the same time and is different from the total of viewers during the stream.
Streaming consistency: You want to work with active streamers who broadcast regularly. They tend to have a more engaged and loyal audience.
In addition, pay attention to the language your target audience speaks. Twitch has a sizable global demographic. So, many Twitch viewers and streamers come from non-English-speaking countries, and your ads might be irrelevant to them.
Reaching out to Twitch influencers is simple. Many Twitch streamers include their email on the contact page. If you can't find it there, outreach tools like email finder software can help you find the information you need.
Advertising
You can run two types of ads on Twitch. They are banners and in-video ads.
Banner ads have different formats, including headliner banners at the top of the homepage, super leaderboard under the Browse tab, and displays ads alongside streams. The KFC interactive banner mentioned earlier is a stream display ad.
Below is an example of a medium rectangle ad.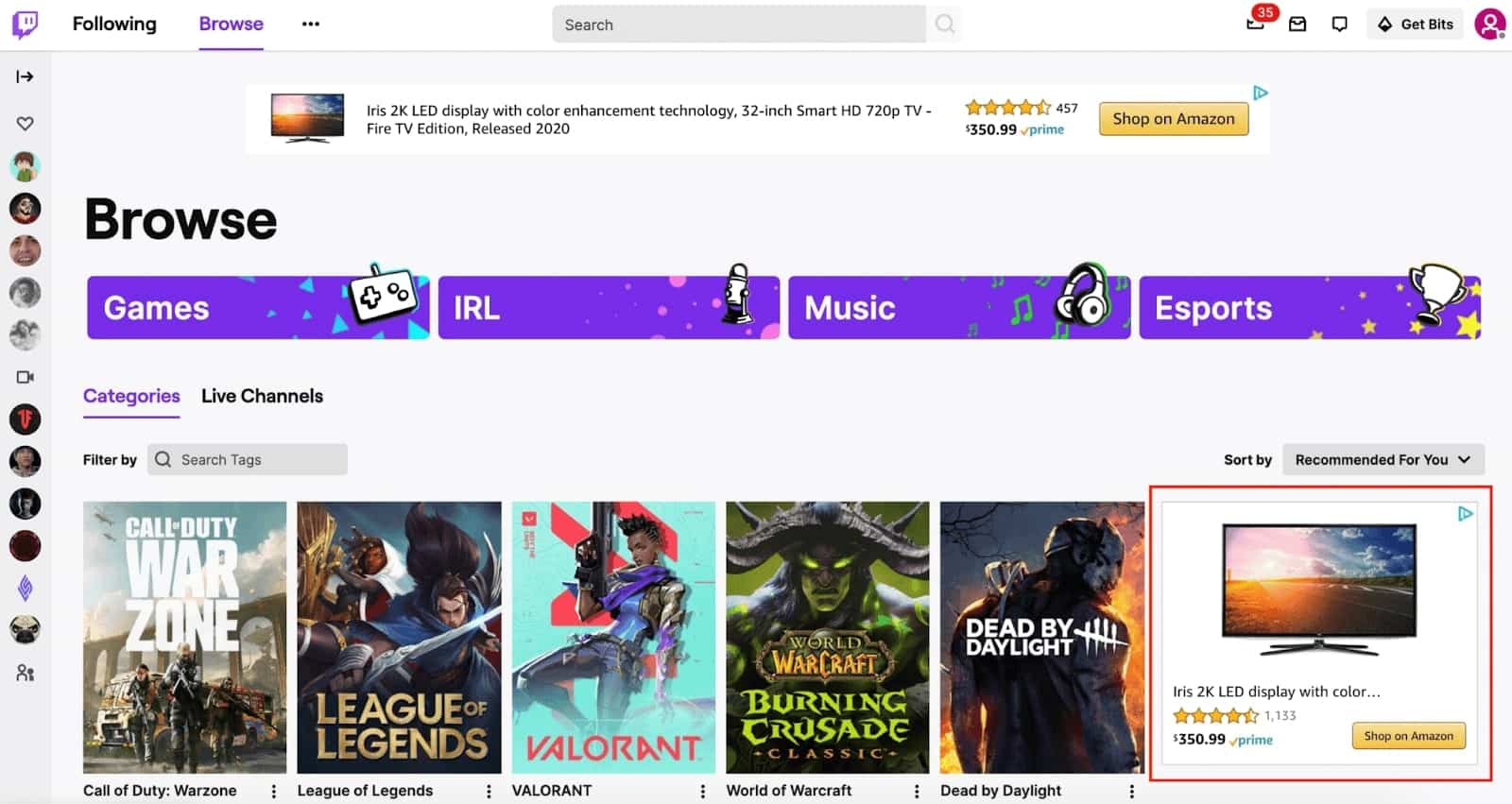 These ads appear with other Twitch content on the left corner as the user scrolls through the browser page.
Video ads are only available for Twitch partner channels. These are creators that amass 25 broadcast hours, stream on 12 different days, and have an average of 75 viewers over a 30-day period.
Based on the streamer's peak viewership, you can show ads before, during, or after the live stream. Usually, the best time to run video ads is in the middle of streams. The pre-roll ads tend to have low viewership as people are still joining the stream, and viewers drop out towards the end, making post-roll ads equally ineffective.
Given Twitch's target market and unique content format, it is essential that advertising is authentic, engaging, and blends with other content on the platform. Twitch also recommends that creators let audiences know when advertising breaks are coming, either during the stream or their page description.
Note that Twitch subscribers enjoy ad-free content. Therefore, ads shouldn't be your only marketing avenue on the platform.
Branded channel
The third way to market on Twitch is to create a branded channel and host live streams for your customers. That's what brands like Red Bull do.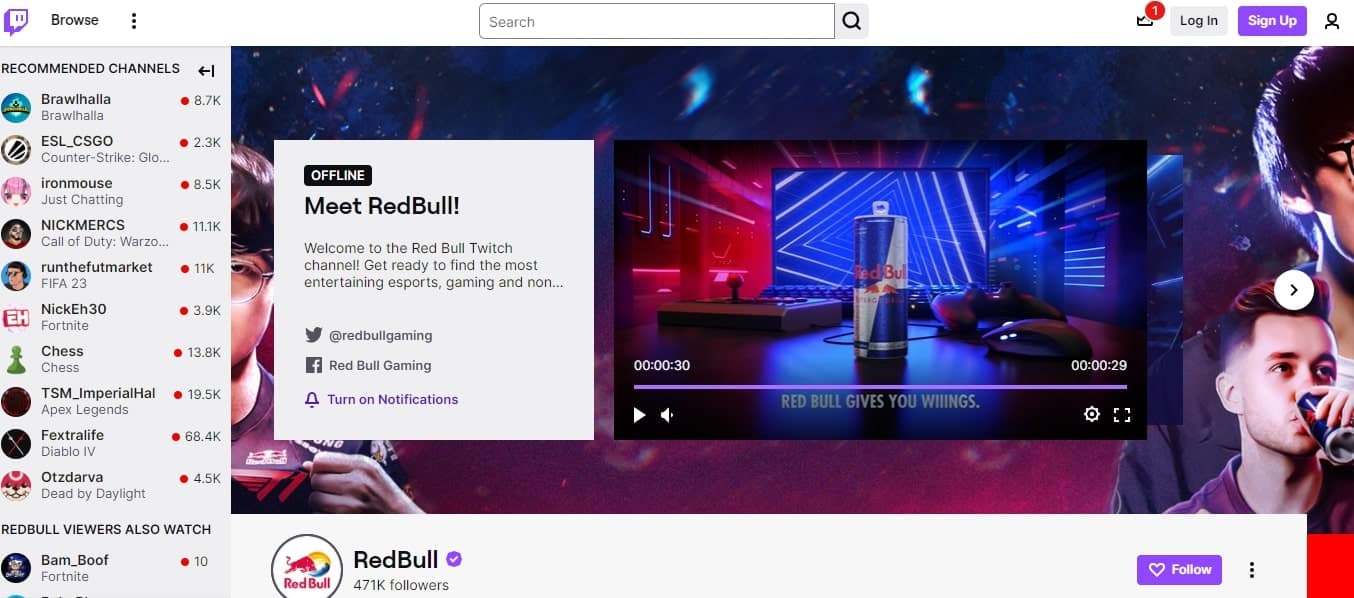 The energy drink brand streams eSports, gaming, and non-gaming content.
In addition to events, you can live stream interviews, tutorials, behind-the-scenes content, and more. It's a great way to build community with followers.
Running a branded Twitch channel can be time and resource intensive. Unlike Instagram or Facebook, you can't pre-record or schedule posts. Furthermore, live streams disappear after broadcast unless you save them as on-demand videos. It encourages followers to tune in during the live show.
Consequently, you must have a robust content plan and a dedicated social media team member to grow and nurture audiences on the platform.
Getting started on Twitch is easy if you go the branded channel route. Sign up on the Twitch website or app, create an account, and agree to the community guidelines. You'll need a computer or mobile device, an internet connection, streaming software, and hardware (camera, mic, headphones) to start streaming.
How to Get Started With Marketing on Twitch
Whether you choose one or all of the above strategies, there are best practices to keep in mind to ensure marketing on Twitch is successful.
Understand Twitch
The majority of content on Twitch is streamers playing video games and engaging with viewers on the chat. You might wonder why anyone would watch hours of people playing games. It comes down to the streamer. They are either highly skilled, have an engaging personality, or both. The most popular Twitch channels are individual streamers, not companies.
That tells us Twitch users value educational, personal, and authentic content. Therefore, when marketing on Twitch, you must reach potential customers on a personal level, create organic ads, and commit to community building.
Twitch's latest user statistics show the platform's demographics skew heavily towards male users under the age of 35. So, if your core customers are middle-aged women, the streaming site doesn't make sense. However, other age groups may catch on as Twitch grows and diversifies.
Define your goals
A great marketing strategy will always start with goal setting. Whether it's an ecommerce or SaaS marketing campaign on social media or search engines, you'll need well-defined goals to structure the rest of your strategy. Twitch is not any different.
For effective marketing on Twitch, you must define your goals and develop a strategy to meet them. In other words, you should be able to answer why you want to create content on the platform.
The graph below lists the top social media marketing goals.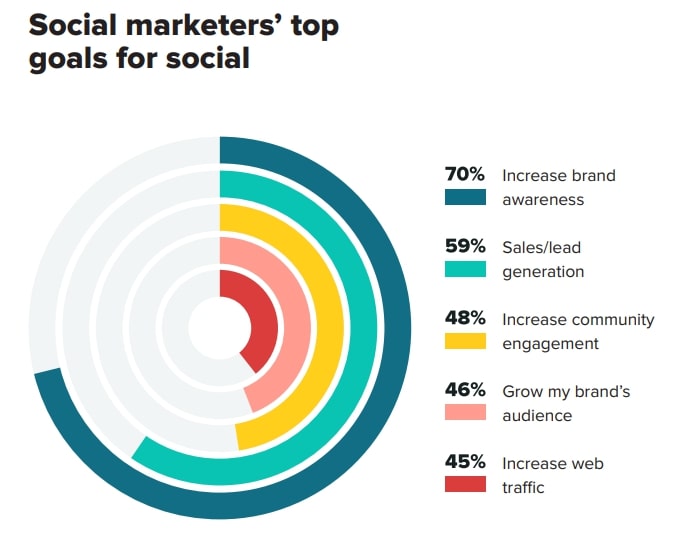 The top marketing goals for social media marketers are brand awareness and lead generation.
Brand awareness puts your company on the map. If no one knows your business exists, they can't buy your products. Lead generation is the first step of turning target audiences into customers by sharing valuable information. Twitch content helps you do both in an easy and enjoyable format.
In addition to overarching business objectives, set specific goals for the channel. For instance, your goal could be to improve your average concurrent viewers (ACV) score. Follow the SMART goal-setting best practice. Your goals should be Specific, Measurable, Achievable, Relevant, and Time-bound. So, instead of a broad statement like 'increase AVC,' say, 'double ACV for "How-to" content three months.'
Invest in the right tools
Quality streams depend on quality tools. Earlier, we mentioned some of the basic tools you'll need to stream on Twitch – computer, camera, microphone, etc.
If you're using a computer (desktop or laptop) you need streaming software like StreamLabs, OBS Studio, or Twitch Studio. These are available for download or as browser-based solutions.
Most streaming software enables you to connect your camera and microphone and record video. Depending on the one you choose, you can stream from multiple sources, filter out background noise, replay or slow-motion sections of the stream, and more.
You also need to know how well your channel and content are doing. Twitch has an analytics tool to help streamers monitor performance. Users can view overall, viewer, and revenue metrics. Social media monitoring tools enable brands to listen to and understand customers.
Don't forget about branding. While some creators outsource their branded emoji creations, you can create logos, backgrounds, and covers with design tools like Canva.
Engage with your audience
Engagement is part and parcel of Twitch's streaming format. It's rare to find channels where streamers aren't talking to viewers during the stream and responding to questions posted on the chat. These interactions build loyalty, attract followers, and increase revenue through subscriptions and donations. No one will spend money on a stream where you ignore them.
The type of content you show also factors into your engagement rates. You already have an advantage with video, with 49% of marketers believing video improves audience engagement. Still, you must offer educational and entertaining content viewers will want to engage with in the first place. Research your target audience and create content around their interests.
For the best results, customer engagement should go beyond your Twitch channel. You can't respond to every comment on a fast-moving chat, but you can have more meaningful interactions on other social media platforms. You can promote your other social media channels on Twitch to ensure maximum engagement with your audience.
Promote your channel
Speaking of social media, use your social pages to promote your Twitch channel. People can't know about your streaming content if you don't tell them. \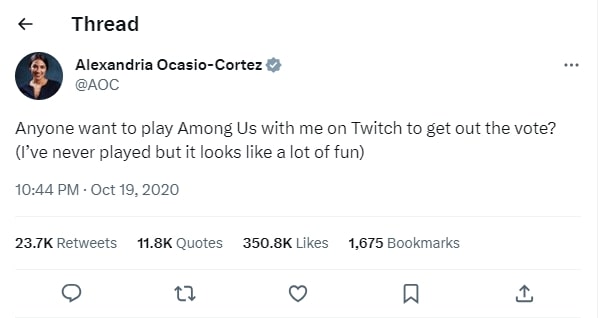 U.S. Representative Alexandria Ocasio-Cortez delivered the biggest Twitch debut by posting about her upcoming video game streaming session on Twitter.
There are several ways you can promote Twitch. These include using branded hashtags and email marketing newsletters. You can also use integration tools with cross-platform functions so your followers on Instagram or Facebook automatically know when you're live streaming.
You can also create a QR Code business card and link your Twitch profile to it. You can share this card on your social media platforms. With a digital card, you make it easy for people to get to your Twitch account. All they need to do is scan the QR code.
By incorporating a digital business card into your promotional strategy, you provide a convenient and efficient way for potential viewers or followers to access your Twitch account. Instead of relying on users to manually search for your account among countless profiles, the QR code on your digital business card allows for instant access with a simple scan. This streamlined process enhances user experience and increases the likelihood of engagement with your Twitch content.
Another avenue to promote your Twitch channel is through your company blog. If you don't have a blog, software like BlogHandy can get you started with an SEO-optimized blog in no time. All these strategies of using QR embedded digital business cards, company blogs will conveniently give way for your audience to connect with your content and enhance overall experience.
In Closing
Marketing on Twitch is in its infancy. Many marketers avoid the platform because they think it is a platform for gamers. But the app is a gold mine for marketers able to tap into their young audience. The platform offers two of the most impactful marketing strategies in one package – video and influencer marketing.
In addition to influencer marketing, brands can buy banner space on the site or open their own branded channel.
Whichever marketing strategy you choose, be sure to research user demographics. Twitch users value educational and organic content. So, your ads can't look like ads and must offer valuable information. Twitchers also support brand sponsorships, making influencer marketing the go-to for many brands on the platform.
Before jumping into marketing on Twitch, review the five best practices we shared. They will ensure your marketing efforts on Twitch pay off.
Happy streaming!