2014 was a big year for Mention. Our team grew internationally with a second office in New York, our product evolved, and our content found its voice. Most importantly, we grew closer to our customers and our community.
Because a new year is a perfect time for reflection, we took a look at our community interactions of 2014, measured by mentions of our brand name online. We found that we had more community interactions and engagements than ever before.
The graph below shows a high-level timeline of where and why we saw the most mentions of our brand name throughout the year. Below that, we break down what drove those mentions — from blog posts to Twitter chats, from hashtags to the people who mentioned us most.
With this bird's eye view, we're able to take our lessons from 2014 and build on them for an exciting and rewarding 2015, filled with community engagements.
Hover on the dots for detailed mentions for each date.
[graph url="js/graph1.js"]
Number of mentions for each event are based on a weekly moving average and are representative of that specific day.
The breakdown
We saw a total of 16,264 unique brand mentions throughout the year with an average of 47 per day. Of these mentions, 15,126 (93%) of them were on Twitter. And if you count retweets, we saw a total of 35,460 mentions this past year, as reflected in the graph above.
Top 10 blog posts
It was a big year in terms of content for us. We shifted efforts from PR to our own blog and contributed opportunities. We focused on quality over quantity, recruiting stellar guest contributors, and syndicating our content.
We also learned several lessons on the importance of distribution. As a result, here are our most popular posts of the year, measured my mentions.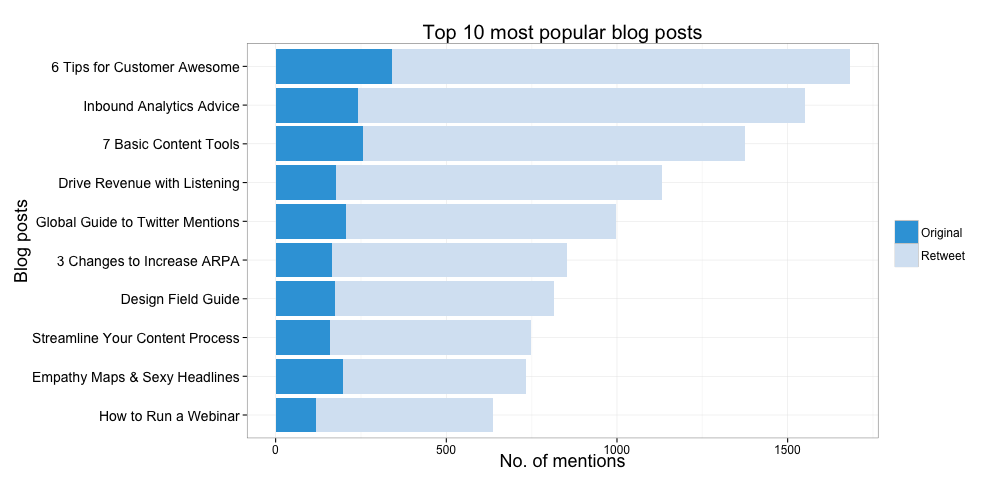 6 tips for making your customers feel awesome and why it matters by Alice Default of Front: 1682 mentions
4 things you need to know about your inbound analytics: 1551 mentions
4 ways and 14 tactics to drive more revenue by listening to your customers: 1131 mentions
The global guide to twitter mentions: 997 mentions
A field guide to design: where to begin: 816 mentions
6 ways to streamline and scale your content process by Garrett Moon of CoSchedule: 747 mentions
6 ways empathy map can make your deadline even sexier by Demian Farnworth of Copyblogger: 733 mentions
Everything you need to know about running a webinar: 637 mentions
22% of our original blog post mentions (3,722, not including retweets) were posted from Buffer. The others came from 2137 different sources.
Top 11 hashtags
Twitter is about more than broadcasting your message; it's a place for conversation. Here are the conversations on Twitter that drove most mentions of our brand name.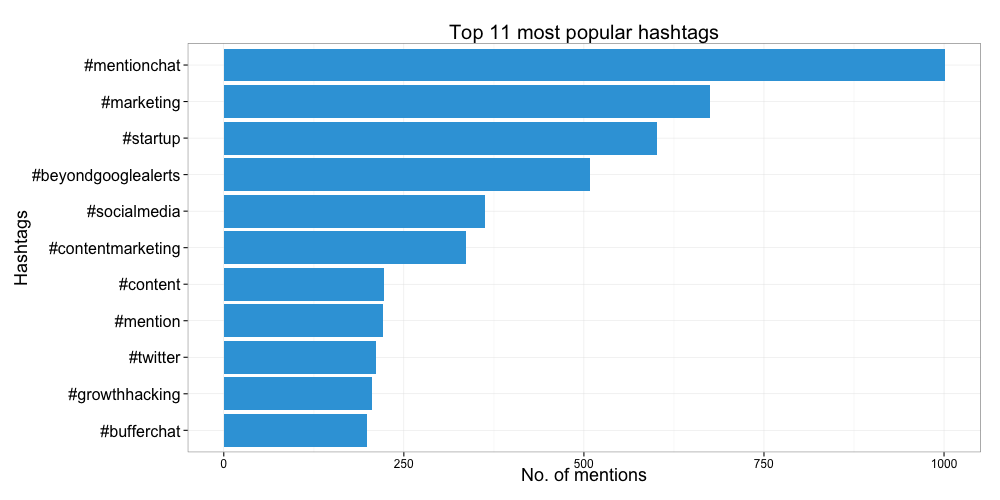 We held our first two #mentionchat Twitter chats this past year. The first one "Is Growth Hacking Bullshit?" with Morgan Brown had 46 participants and 388 tweets: 131 positive, 253 neutral, and 4 negative.
Our second #mentionchat Twitter chat on "Customer Support Has Gone Social" with Lincoln Murphy has 67 participants and 243 tweets: 89 positive, 149 neutral, and 5 negative.
Top contributors of mentions
The following people and brands, with the exception of our own brand and employees, are responsible for the majority of mentions of our brand name. We're proud and honored to have them as loyal and active members of our community.
That's a wrap
Armed with this information, we're ready to take 2015 by the horns and share another eventful year full of lessons and forward movement with you all!
Want to see what your year in mentions looks like? Head on over to your stats page now. Don't have a Mention account? Get started today!