As a marketer, business owner, or customer service representative you know the importance of maintaining happy customers. Then there's no doubt that online reviews strongly influence a customer's opinion about a business, their loyalty, and their purchasing decisions.
We've seen a substantial increase in the number of online reviews in the last couple of years, meaning it is getting harder to maintain brand reputation online. In fact, online reviews were 40 to 80 percent higher during 2020's core pandemic months than in 2019.
At Mention, we're making it easier for you to stay on top of important online reviews, recognizing the role it plays in your business' growth. In Mention's Basic and Standard Alerts you can now select from over 75+ review sites worldwide such as Google reviews, Google Play, Yelp, Amazon, Target, Trustpilot and so much more.
Part of a solid social listening strategy involves a 360 approach to your brand, meaning that online reviews carry just as much weight as the opinions of your audience on social media.
How to get started monitoring online reviews
Within an Alert, you have the option to select the sources you want to monitor. You can include social media platforms such as Twitter or Instagram, but you can also select online Review Sites in the Monitored Pages section of your alert creation. Including both social platforms, the web and review sites which will provide a more accurate perception of your brand's health online.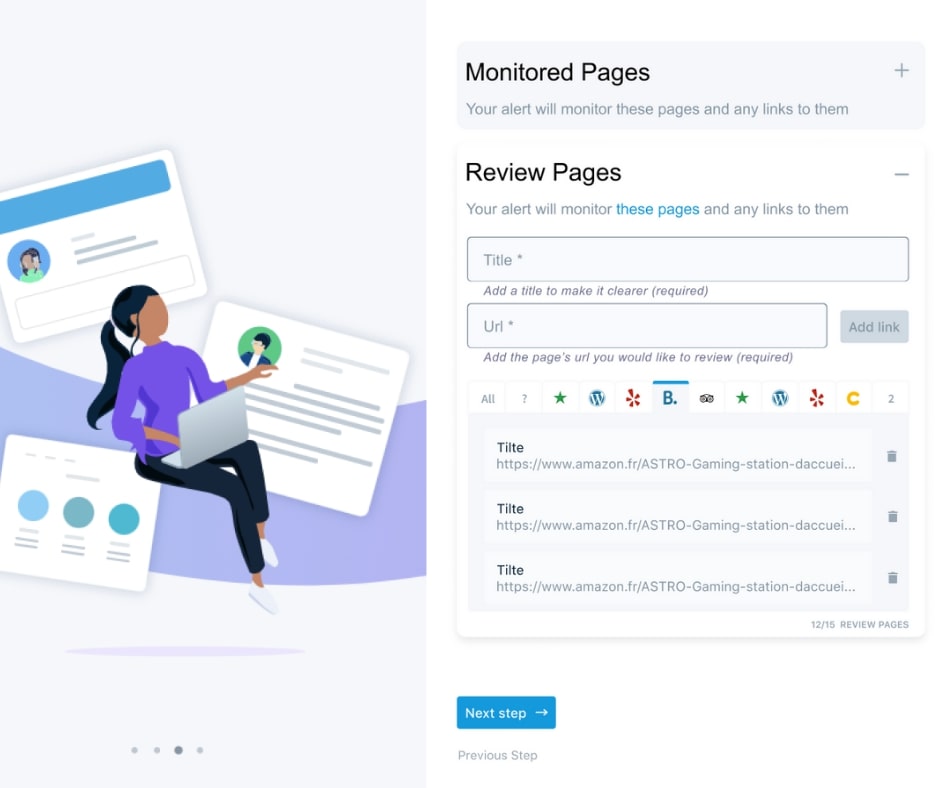 In the Monitored Pages section of your alert creation, we provide you with a list of over 75+ review sites from industries such as Health & Wellness, Real Estate, Education, E-commerce, Tech, Hospitality and more.
Simply, add the URL of the review site webpage you want to monitor
Choose your custom title
Add the link
And viola! You now will see your review site appear in the tab list
3 ways to use online reviews in your business strategy
Using Mention to fetch these online reviews into your Feed is only the first step. Learn what you can do with online reviews to improve your relationship with customers and potential ones.
1. Use online reviews in your reports
Compare and contrast important customer reviews with Basic Reports in Mention. Understand the differences in sentiment, influence, and reach of certain review sites versus other sources across social media and the web.
2. Organize positive and negative reviews
Responding to reviews, the good, and the bad is crucial for maintaining a positive image of your business online. Use Mention's tags and Inbox Folders, and label your mentions accordingly to organize your customer reviews. This will help stay on top of reviews to flag to your team, and one's to respond to.
3. Build credibility and add reviews to marketing materials
Placing reviews front and center on your website shows website visitors what others think of the products they are considering. These reviews can act as the tipping point for visitor conversions. You can add reviews to your flyers, brochures, and social media posts. Although all reviews won't always be fantastic, it's still important to show your weaker reviews, it lets your customers know your brand is honest and credible.
Manage your online reputation and listen to your customers
Constantly monitoring review sites might seem overwhelming, but it gets a lot less daunting when you use Mention to help collect mentions and identify trends in customer feedback. Listen to what they have to say about your business. Learn what they like, what they dislike, and how you can improve. Do this right, and you'll end up overwhelmed with positive feedback (in a good way). If you follow these steps, you'll be well on your way to scaling your business with Mention's Review Sites feature as your new best friend.
Ready to get started? Book a free trial to start listening now.