You put a lot of effort into your social media campaigns. But, how would you know if it's working? Well, you could try measuring your social media Return on Investment (ROI).
But how will you measure social media ROI? Isn't it too much work? Don't worry. We will make it easier for you. This blog post will take you through how to calculate ROI on your Instagram and Facebook ad campaigns. You will also get some tips to make the most of your ROI figure and boost your business.
What is social media ROI, and what can it tell you?
Social media ROI is what you get back from all your investments on social media. Your investments are not limited to money alone. The time and effort you put in should also be considered.
Here's a simple formula for measuring social media ROI:
(Value received – investment made)/investment made * 100
Social media ROI shows the tangible returns you get from all the time, money, and efforts spent on social media campaigns. If you get a positive ROI, it means your business is generating returns from your investment. But if your ROI is negative, it's time to think carefully because your investments are more than your returns.
You can't afford to ignore your social media ROI while making your social media strategy. That's because it tells you what is working and what is not. So, you can make necessary changes in your strategy if your ROI is negative or not satisfactory.
Similarly, calculating ROI can help you prove the value of your work to others in your company.
Suppose you have to convince the finance department to raise the social media marketing budget. You just can't go and tell them to do it. You have to show that your social media marketing strategies are working. And your positive ROI will speak for itself. After all, who doesn't want to invest in strategies that are helping the business grow?
Calculating social media ROI was not that popular a decade back. But things are changing now. In a recent survey conducted by Hootsuite, 80% of respondents said they were confident about measuring social media ROI.
5 easy steps for measuring social media ROI
Now you know the formula to calculate social media ROI. Let's make it easier by covering some actionable steps.
Step 1: Set up conversion tracking
Conversion tracking is monitoring the actions of your audience and potential customers. It helps you understand whether their actions are meeting your business goals. It is the first step to calculating your returns from social media advertising.
But, what should you track? Well, that depends on your social media goals. For instance, you may have to track one or more of the following.
Whether your customers are making purchases
Cart history
How many people are signing up for your email marketing from Facebook and Instagram
Ebook downloads
Analytics and advertising tools let you track your conversion data. What tool you use depends on the platform you put your content on.
The good news is you don't need any external tools to monitor your conversions on Facebook. The Facebook ad manager has a feature called Facebook pixel that helps you track conversions from Facebook ads.
Follow these simple steps to set up conversion tracking on Facebook pixel:
Install Facebook pixel on every page of your website.
Choose the actions you want to track.
The Facebook ad manager will show you a conversion code for each event you want to track. Install the conversion code to your website.
Alternatively, you may choose to get a plugin called PixelYourSite. It will make your work easier. You just have to enter your pixel ID and choose the events and pages you wish to track.
Bravo! You have successfully set up the conversion tracking. Now, check if everything is working fine. For that, you have to download the Chrome browser extension of Facebook pixel. You can check the status of your events and conversions by clicking on the pixel helper button in the top right corner of your browser.
Step 2: Choose goals
How will you measure social media ROI if you don't define your business goals? You need to have a clear idea about what you want to achieve through your social media marketing strategies.
You may want to boost brand awareness. Or, do you want to generate more leads and make more sales? You may also aim to retain your existing customers.
Some businesses also try to build trust among their employees and develop job satisfaction. Social media is an excellent tool to keep your employees engaged.
You should set SMART goals for your social strategy. Let's see how to infuse SMARTness into your social media goals.
S– Specific goals are easier to achieve. Be crystal clear about what you wish to achieve, whom you want to reach out to, and why you want to reach that particular goal.
M– Your goals must be measurable. It's not always about sales and revenue. There are several non-monetary metrics too. For instance, you might aim for a certain number of followers or likes and comments on your posts.
A – Are your goals achievable? Ask yourself if they sound too out of the world. For instance, if you aim to get a million followers within a week, that would be daydreaming and not a goal!
R– Your social media goals are useless if they are not relevant to your business. You must ensure that your goals stay aligned with your long-term business objectives.
T– Remember how teachers gave deadlines for assignments? Deadlines motivate you to complete a task on time. Similarly, setting a time limit for your social media goals will motivate your team to work towards achieving them.
A secret to sticking to goals is backing them up with actionable processes that help you reach them step-by-step. For example, having a smooth workflow will help you manage social media easily.
Similarly, think carefully about the goals you select and how they fit into your overall strategy. If you'd like to learn more about building a SMART Instagram strategy, read "5 Steps To Develop a Successful Instagram Strategy."
Step 3: Work out how much you invested
You must know how much you invested in your social media marketing efforts to calculate the returns. Assigning a monetary value to your investments will make your task easier.
The various social media costs you might account for include:
The budget allocated for Facebook and Instagram ads
The cost of content creation (you may have an in-house team or outsource it to freelancers)
The salaries and allowances of your social media team (you might want to try work tracking to monitor this cost accurately)
The cost of tools used for social media marketing
The cost of consultants (if you require them)
The total of all these costs will tell you how much you spent on your social media marketing activities.
Step 4: Track metrics for each goal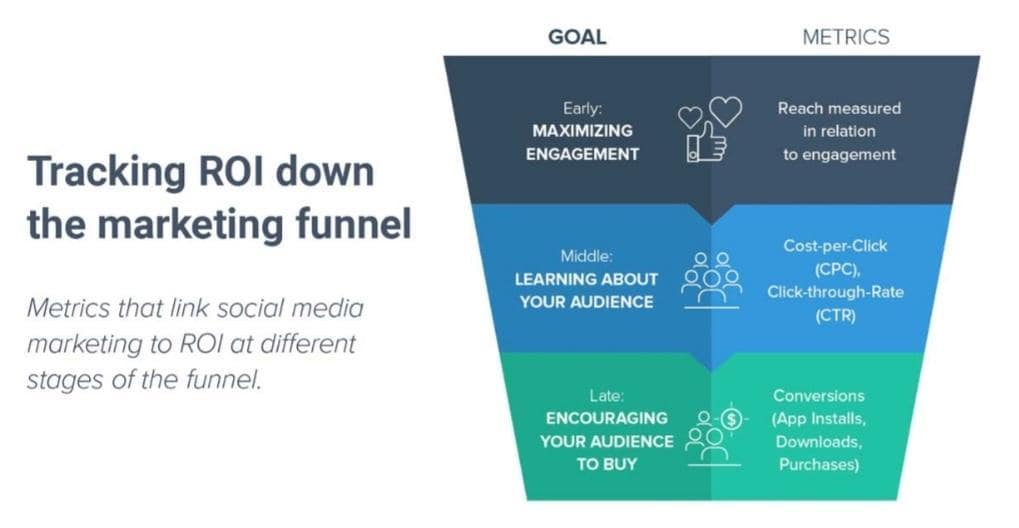 Your social media metrics tell you how your advertising campaign is performing. Naturally, it's crucial to track the right metrics to understand if you are meeting your business goals.
Let's see what metrics you need to track for Facebook and Instagram.
1. Reach
Tracking the reach of your posts lets you understand how many people viewed the content. A higher reach will boost your brand awareness as new people will see your posts.
You can see the reach below each post, indicated by a red line. You will get the exact number of people who have viewed your post. So, you don't have to put in any extra effort for this KPI.
2. Engagement rate
Your engagement rate shows whether your posts are interesting.
Having a high engagement rate means you have aced the game. Congratulations! Your target audience loves your posts. But what if your engagement rate is low? You might consider making your posts more fun and relevant to your audience.
Now, let's see how to track the engagement rate of your Facebook posts:
Visit the 'Insights' section of your Facebook page.
Click on 'posts.'
Scroll down to the section called 'All posts published.' You will get the engagement data for all your posts. An engagement rate above 0.5 is decent. But anything lower than that means your posts require improvement.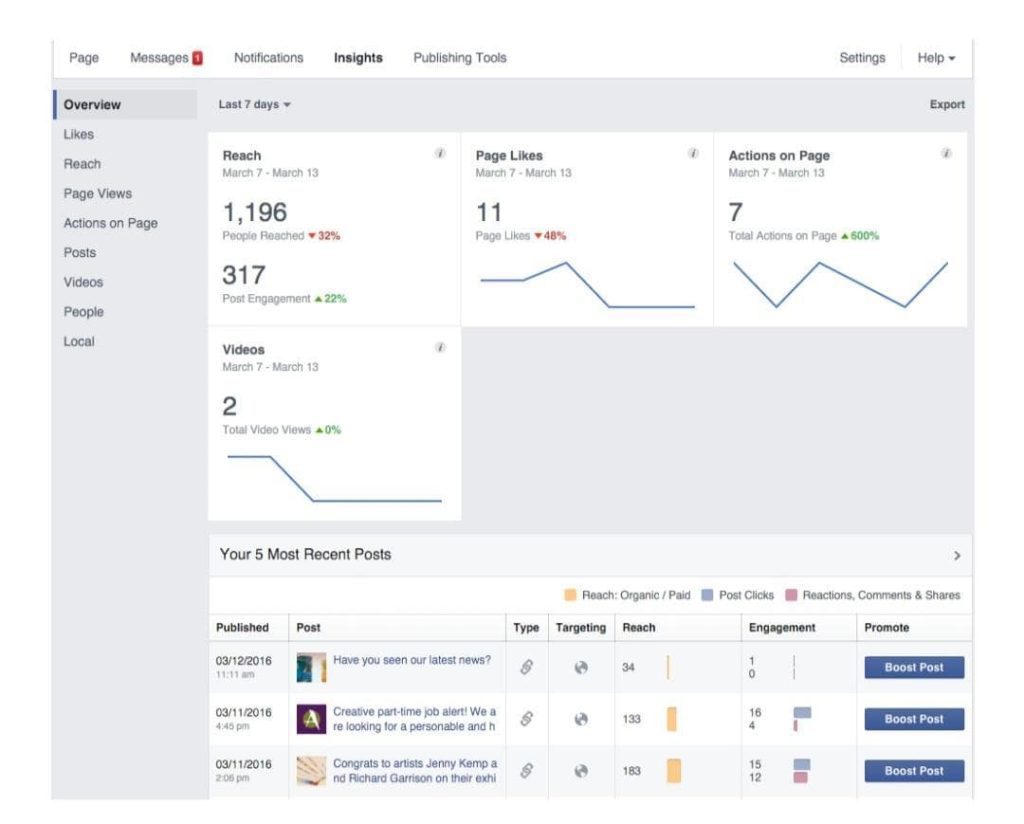 3. CTR
Your Click-Through Rate (CTR) is a vital metric for all social ads. It is the number of clicks on your ad divided by the number of times it has been shown. Tracking the CTR will tell you if people are taking action on your ads.
Thankfully, you don't need to track CTR by hand. Facebook and Instagram do the work for you. You can get the detailed performance of all your ads in the Ads Manager.
Alternatively, you can check your social analytics with Mention Dashboard.
Step 5: Calculate your ROI figure
You have already calculated your total investments. Now, you need to determine the monetary value of your gains through social media.
You can use historical data from your company's past records for this. If you know the average lifetime value (LTV) of each customer, you can calculate the value you get from every successful visit to your site.
Let's assume that the average LTV of each customer is $300. And 1 in 30 people who view your ad become customers. So, the value you get from each view is $10.
After finding your total benefits figure, find out your social media marketing ROI with the same old simple formula.
Social media marketing ROI = (Total Investment – Total Cost) / Total Investment *100
You can also use a margin calculator to calculate your total gains or profits.
Did you get a negative ROI? That might be because your website traffic is not getting converted into customers.
Tips for getting more from your ROI figure
Your social media ROI is not just an indicator of the performance of your marketing activities. It means a lot more for your brand. Let's see how you can make the most of your ROI figure.
Think long-term
A viral post gives you a dopamine boost. But that's not everything in digital marketing. You have to think about the bigger picture and focus on your long-term business goals.
For instance, capitalizing on a trend might bring a lot of engagement. But, what's the use if the trend has nothing to do with your business or target audience?
Social media is much more than lead generation. It helps you establish a positive and consistent brand image. Make sure you don't post something that irritates your customers or doesn't resonate with them.
You can also use your social network to solve customer problems. That will create a credible brand image in the long run. 49% of customers abandon brands due to poor customer service. So, you better use social media to address their grievances before they run away to your competitors.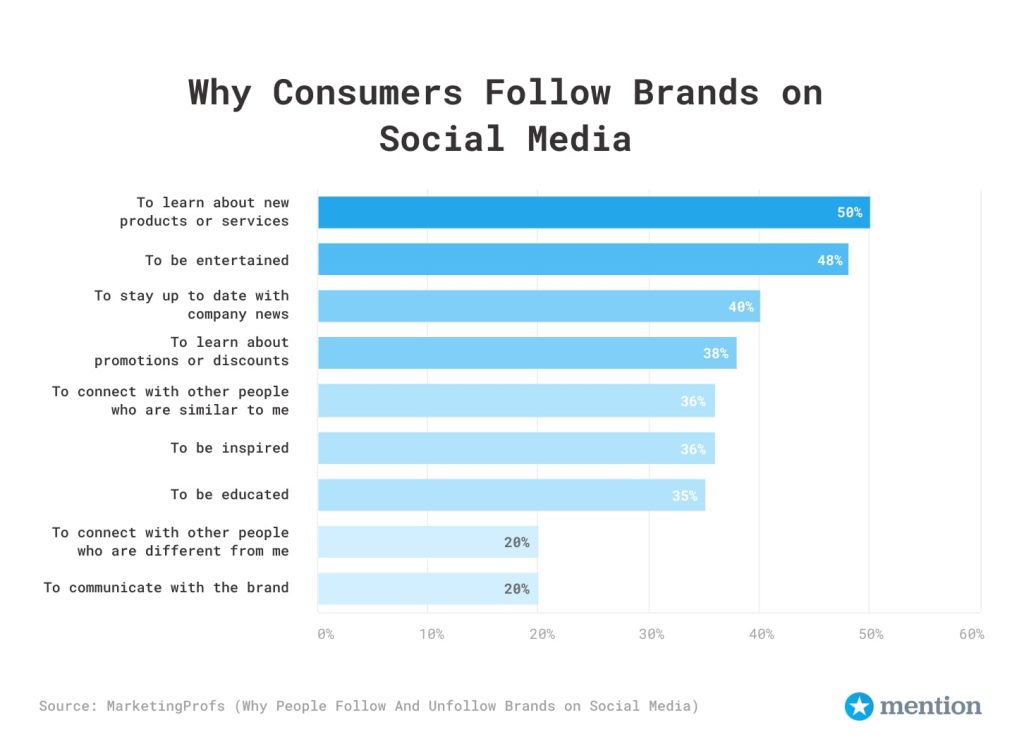 Use a starting benchmark
You won't achieve all your goals in a day. That's why it's important to have a starting benchmark in mind. Keep reach, engagement, and sales out of your mind during the initial days. Instead, focus on creating valuable content for your audience. That will also give you some good organic gain.
Set a benchmark for your content. Make sure it meets the quality standards of your business. It will directly impact your social media marketing ROI in the long run.
Here are some examples of creative content by B2B firms that will inspire you to level up your content game.
Account for non-monetary investments
You have calculated the total costs for your social media actions. But what about all those hours you spent brainstorming? What about the brilliant campaign ideas that came from your mind? These non-monetary investments are a critical part of your social media marketing efforts.
Considering your non-monetary investments will tell you whether you have received your desired returns.
Consider data quality
There are several social media ROI tools. You will also get some free tools. But, make sure that the data collected is genuine and reliable. The good news is that Facebook and Instagram let you track analytics without the aid of any third-party tools. But, if you get an irresistible free tool, make sure it is from a trusted source.
Inaccurate and biased data can impact your social campaigns and harm your customers.
Rock your social media campaigns
Now that you know the importance of calculating social media ROI, you can track analytics according to your goals. If you make use of the data and boost your ROI, you can raise the social media budget of your business.
So, are you ready to take your business to new heights with your killer social strategy? Take the tools in the article and go for it.