Scheduling content in advance is a great way to stay organized with your brand's social media presence and online strategy. Through the use of a content calendar tool, the ability to schedule content can now be quick and centralized providing you with a macro view of your online communications.
The Calendar View can be found in the Publish tool within the Mention platform. It allows you to view, draft, schedule, and even post content immediately across your social channels. Once you or a colleague has scheduled content, your weekly content calendar will begin to fill up with calendar blocks: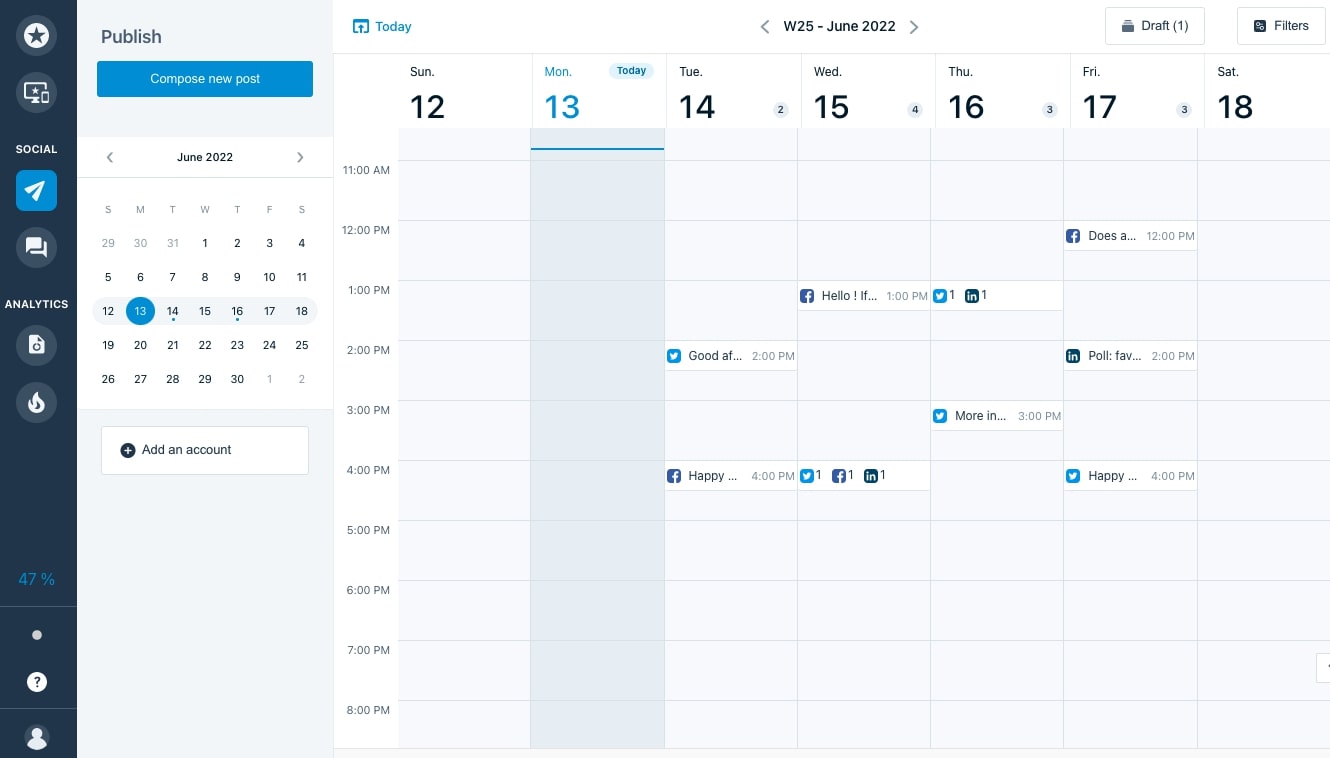 Understand the Calendar View
To ensure that you are fully informed about your scheduled content, Mention has enhanced its Calendar View with new indicators such as the daily posts counter and social accounts filter.
At the top of the weekly calendar, the daily posts counter will appear and increase based on the number of scheduled posts on that date:

If you click on this number, a sidebar will appear with the ability to review the scheduled posts for that day! Alongside this content overview, you will also be shown some information about the post including:
The account name and handle
The scheduled date and scheduled time of posting
The social media platform that the post is scheduled for
An indicator if the post is scheduled, published, drafted, or failed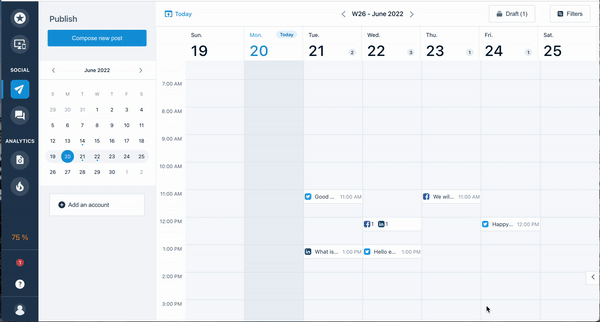 This daily overview is a great way to start off your day if you would like a quick review of the content that is scheduled before it goes live. You have the option of reviewing the daily overview for any upcoming dates to ensure that every post is coordinated accordingly.
Mention Tip: If you would like to review an individual post, you can also click on the calendar block and the preview will be displayed here too!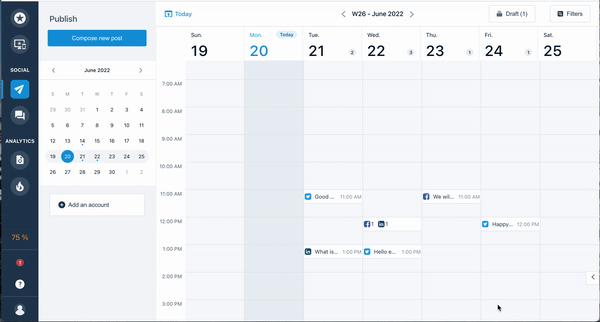 Filter your Calendar
If you are a social media manager overseeing numerous accounts at the same time, you may find yourself overwhelmed with the quantity of scheduled blocks appearing in your calendar. If you head over to your filter tab at the top right of your calendar, you can filter by social accounts. This feature will allow you to review scheduled content from only the accounts that you are particularly interested in: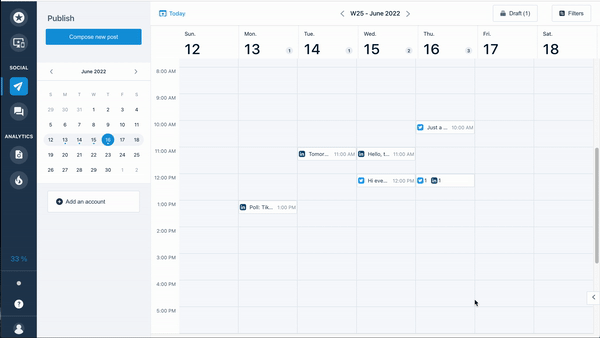 Mention Tip: If you have dedicated team members that are assigned to a specific social account, they can use the filters feature to adjust their calendar view. The filters in the calendar are attached to individual accounts so you do not need to worry about other team members' views being changed.
Modify Your Scheduled Content
The landscape of social media is constantly changing and your Publish calendar has the ability to adapt with ease! If your team needs to remove a scheduled post, edit the content, or push the release to a later date, they can simply utilize the editing features within the Calendar View.
To modify a post, you can click on the daily post counter or the individual post on the calendar block. This will open the preview with the Edit and Delete button appearing directly under the post.
In Edit mode, you are free to adjust the scheduled time and content. You can even save your changes in a Draft if you would like to revisit the post at a later time with new content or media attachments.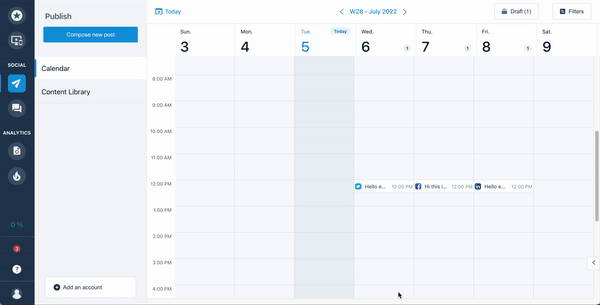 Benefits of Mention Publish
View All Your Content in One Place – The Publish calendar will provide you with a complete overview of scheduled content across multiple social accounts. Instead of logging in to each social account separately, you can save time and prioritize other topics on your agenda.
Publish Content Instantly – Whether the messaging is about your brand or online news, you can publish content across multiple accounts with ease in one area. Mention allows you to schedule or post content immediately through Publish. This is a great way to react to a major event or urgent situation with your brand.
Collaborate with Multiple Teams – As you prepare for new campaigns and product launches, it is important to have a shared message across your multiple social channels. Publish allows you to collaborate with multiple social media teams in one place, ensuring that your editorial calendar is properly aligned.
Mention Publish is available for Free, Solo, Pro, ProPlus, and Company plan subscribers of Mention. If you'd like to give this feature a try, sign up for our Free Trial!