All-in-one is an awesome thing. Who has time to go to 6 different stores when you can run all your errands in a big box store?
And the same goes for social media tools. All-in-one social suites make it incredibly easy to manage your company's social media in one place. But is it always the best option for your team?
But while social media suites do a lot of things and do them all well, sometimes the solution you need is more specialized. Every social tool has one thing they do best.
For example, monitoring/listening is "our thing." Mention does a lot, but monitoring is our main focus. And because we can dedicate a lot of time to that, our monitoring features will be better than a tool with a completely different focus. Because that's not their thing.
We can't all be perfect at everything. But that doesn't mean users should settle.
All-in-one suites aren't for everyone. Some of us would rather use the best tool for each specific task, even if that means logging into a few more platforms or taking a few extra minutes.
It's all a matter of preference.

And for multifaceted marketing teams, where a different team member is performing each task, the convenience of a social media suite is a little less important, so you can get really specific. You can make sure that each team member has the best tool possible for what they're doing.
Let's go down the list of some social media marketing tactics you're probably already doing, and the tools you need to rock at them.
Want to know which social media tools you need to turn followers into customers? Download our free ebook to find out.
Plan your social media content calendar
I love a good plan, and hate going without one. It gives me hives. And when it comes to your company's content, you should love a good plan, too.
Your social media strategy probably lays stuff out like who your social audience is, what they're interested in, and how you'll tap into that. It'll talk about the types of content you're going to post and how you're going to post it.
But that's just a start. You still need an actual roadmap.
If you want to be able to see a clean summary of your brand's social media, you need an editorial calendar.

Use a social media editorial calendar to:
Get a bird's eye view of all your social media activity – all campaigns, all channels.
Determine and keep track of the best times and days to publish content.
See how posts in different campaigns intersect with each other.
Quickly track the status of each piece of content.
Plan content for campaigns and holidays in advance while staying organized.
Schedule posts for publishing.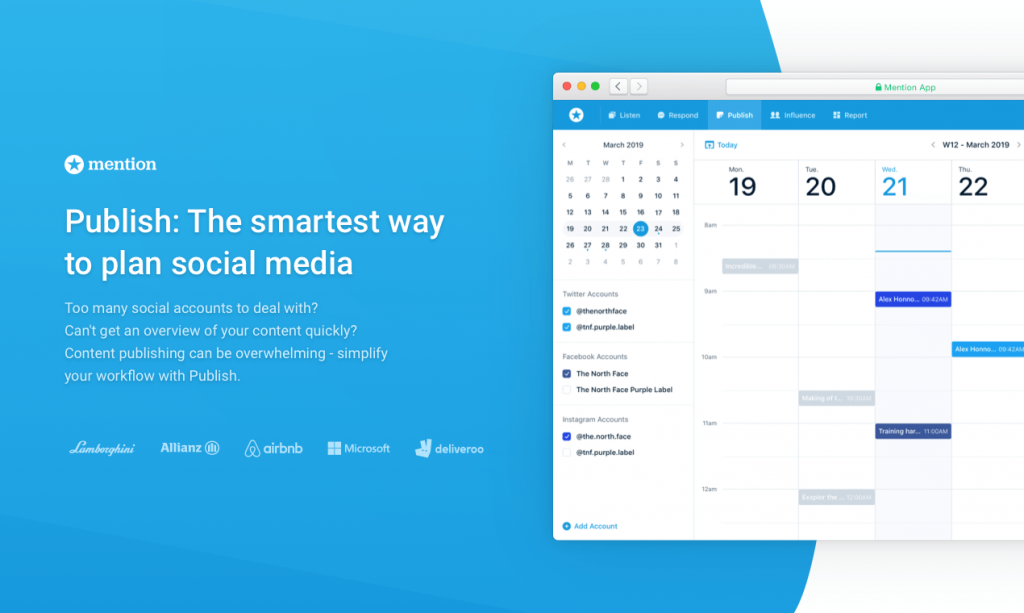 And of course, that's a partial list. What you can do with an editorial calendar is only dictated by how you set it up. Some popular options for creating a social content calendar include:
Mention: Mention's new Publish feature is as easy to use as it's pretty. Do your media monitoring AND schedule relevant social media content – without ever leaving the tool.
CoSchedule: this marketing calendar is my personal favorite for keeping track of social posts.
Spreadsheets: it may be basic, but there's beauty in simplicity. Building your own calendar spreadsheet gives you 100% control.
Trello: great for organizing anything, Trello's visual layout and calendar power-up gives you the cleanest summary of your content.
Venngage: Believe it or not, there are social media holidays for just about anything. Want to join the conversation but don't want to spend time creating content for every holiday? Check out tons of social media holiday post templates available with their tool.
Schedule posts to be published
So you've planned out that next Tuesday you'll be sharing two posts about your holiday campaign, a photo one of your customers submitted, and your latest blog post. Now it's time to set it all up to go out.
There's a lot of debate about how much of your social media you can get away with scheduling ahead of time. But I think we can all agree that if you're company is doing things right on social, then there's simply too much to do it all real-time. You'd spend your whole life clicking the "publish" button.
Plus, you know something would fall through the cracks or wouldn't go as planned. So save yourself the trouble and make sure you're posting a mix of engaging scheduled and real-time posts.

What to schedule? A few ideas:
As soon as a blog post goes live, schedule social promotion for weeks or months in advance.
Get campaign content ready to go live as soon as the copy's been approved.
Schedule any posts around important dates or holidays, like for events you're attending or on holidays where the office will be closed.
Queue up all weekend content over coffee Friday morning to avoid logging in during your time to relax!


As for how to get it done? We'll help you there, too. I'm nice like that.
Buffer: our favorite here at Mention, schedule posts for specific dates and times, or just add them to your rolling queue.
Hootsuite: Hootsuite falls more into the "all-in-one" realm but their plugin keeps scheduling super simple.
Edgar: this friendly looking octopus helps you recycle your social posts, so scheduling isn't so much of a worry in general.
Engage in relevant social conversations
Up until this point, we've been talking about social media output – planning and publishing content. But what really makes social different from other marketing channels is how easily you can talk directly to your audience and join their conversations.
You can talk directly to your customers, potential customers, and VIPs in your community. It's great for building relationships, and it's just silly not to take advantage of that by looking for opportunities to make a new social friend.

By using a social listening tool, you can:
Determine what kinds of conversations are most important for your brand to be aware of.
Find those conversations happening on various social networks.
Identify influencers in any topic or niche and start conversations with them.
Directly respond to and build relationships with new people talking about relevant topics.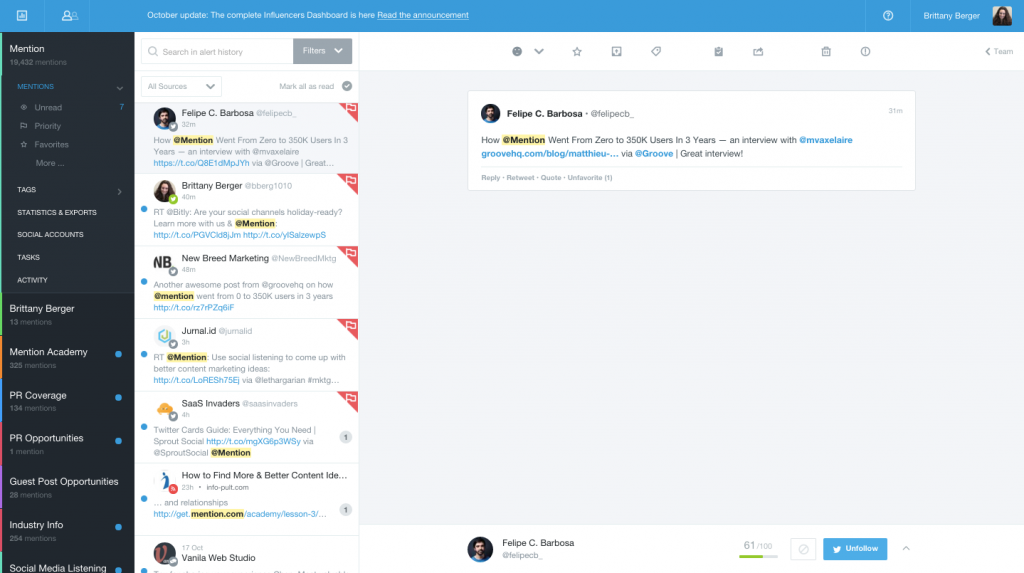 You can do all of this in Mention. There are other monitoring tools out there, of course, but like I said before, it's kinda "our thing." 🙂

Measure and report on your performance
Finally, the last step. You've spent all this time executing your social media strategy. Now you need to figure out how it moved the needle.

Are you better off posting once per day or five times? Which of your blog posts perform best on LinkedIn vs. Pinterest? Did your latest announcement garner a lot of news coverage? Is your new strategy increasing your Facebook reach?
Those are all questions you need to be able to answer. Both so you can report back to your bosses, and so you can improve your own marketing.
Here's how you can collect your data and start analyzing:
Native analytics: Surprisingly, for several networks, the best place to get data is the network itself. Sometimes they keep metrics to themselves that you can access through analytics tools, and you can usually easily export data.
Followerwonk: Get in-depth Twitter metrics, analyze your followers, and compare stats of different users (great for competitive reports!) in this tool by Moz.
SumAll: SumAll makes it easy to stay on top of your analytics by providing awesome email digests of your important numbers on different networks.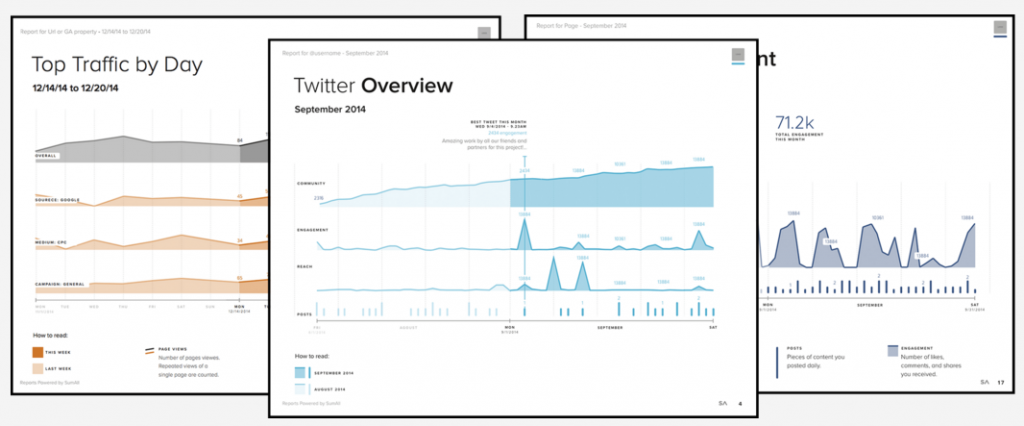 Separate it and bring it all together
If you're not familiar with any of the above tools yet, take a look at a few. As you can see, they focus on one thing and they make sure they do that one thing really, really, ridiculously well. They go Zoolander on it.
So while there are definitely advantages to the convenience of an all-in-one suite, you can see that using different management tools has its advantages.
Do you prefer specialized tools or using an all-in-one suite? Share your preference in the comments!