The world of social media is a never-ending carnival of specters and sounds, which consumes the attention of today's generation. Almost 2.77 billion social network users exist in the world at present, according to Statista, and most of them fall in the uber-distracted teenage demographic.
This begs the question.
How can brands and businesses make themselves heard and known through this online cacophony? How can they direct this always-engaged traffic to their landing pages/profiles and ensure profitable conversion rates? Most importantly, which particular social media trends should they incorporate in their marketing strategy to be successful?
How about hashtags?

First, let's make sure we're all on the same page.
What's a hashtag?
A hashtag is a single word or a series of meaningful words conjoined without spaces or punctuation and headed by the symbol of a hashtag (#). It serves the purpose of thematically distinguishing a social post (i.e. categorizing it according to the subject), and is usually placed in the description box or the comments section of the respective post. This trend came into existence not so long ago and got caught on like wildfire.
Nowadays, you will find it being utilized throughout social media, especially on Instagram and Twitter.
Now, while they increase the potential reach of your posts, it's key that you understand that more hashtags does not mean more engagement. A better use of it, however, will help you trigger more engagement.
In this blog post I'm sharing all there's to know about hashtags and how to better make use of it to generate more engagement towards your brand.
1. How do you write a hashtag?
Let us suppose you post a picture of your tabby cat looking through a rain-splattered window on your Instagram profile.
It is a nice shot, you can be certain that it will get abundant 'likes' and 'shares'.
In the description, below the caption, you should also add relevant hashtags, such as #catstagram, #pet, #cute, #animallovers, #rainyday, #meow, etc. This annotates your post and makes it appear wherever and whenever these hashtags are looked up by the users — improving its visibility.
2. Types of hashtags
What people generally do is that they come up with hashtags of their own and randomly place them in their posts. Then, they lament not being able to generate leads.
Why is that? Because they are not aware of the intricacies of this trend.
Using hashtags for brand promotion and awareness is an art. Therefore, it would benefit you greatly to know about their types, so you can use them tactfully in your social media posts. The best species of hashtags are:
Popular — These are the general, evergreen hashtags which have a huge following by people across various niches. For example, #winter, #love and #selfie. Such hashtags tend to add your posts to the wide-stream. Use them here and there. Not too much. Usually, these don't generate the most engagement.
Specified — These are industry-specific and niche-only hashtags which make the focus of your posts particularly narrow and unidirectional. For instance, #foodgasm and #bakestagram. Such hashtags allow a filtered and targeted audience of potential buyers to easily access your posts.
Branded — These are organization-specific, unique-tagline hashtags which work best for the brands that have managed to acquire a relative popularity. Like, #nikewomen and #cocacola. According to Social Sprout, around 70% of hashtags on Instagram are the branded ones.
Categorical — These are trope-related hashtags which touch particular categories. For instance, if your post is sports-related, then you can add #running, #marathon, and #fitness etc. These are less focused than the branded ones but do accrue a good following.
Events — These are occasion-related hashtags which tap into the fame of current news, event or trend. For instance, #worldcup18, #marslanding, and #californiawildfire are all event-related hashtags.
Campaigns — These are short-term hashtags which focus on a particular marketing campaign your brand may be hosting. For instance, if yours is a telecommunication services brand and you are promoting a new deal on, let's say, xfinity internet deals, then you'd better use a campaign hashtag in your social media posts and redirect your audience to the brand's main site. Just like coke did the #ShareACoke campaign.
3. How to create the right hashtag?
How do you create a hashtag? There are multiple ways to do that. But first, you need to select the type of hashtag which would perfectly align with the interests of your brand.
Then, choose the platform you will be utilizing for your marketing strategy, as each one has its own unique little system.
For instance, Twitter is ideal for timely events, and for businesses that want to regularly add links in their tweets. Instagram is best for heavily visual content, contests + promotions, and for an abundant usage of hashtags, which can be hidden as well to avoid redundancy. Whereas, Facebook hashtags are sorted on the basis of popularity, the date and the individual who posted them.
Once you've picked your social media platform, it'd be wise to check out the competition and how they're incorporating hashtags into their posts.
Then, you can proceed to generating hashtags of your own. There are certain tools which will help you do just that:
Hashtagify — Simply enter the hashtag of your choice in its search bar and it will scrape all the data related to that hashtag off the social media forums and present it before you. This way, you can check out the hashtag's popularity, the influencers' promotion of it, and the user engagement level in relation to it. Plus, it will give you the trending hashtags too.
Instagram Hashtag Generator by Mention — The tool is designed to help users find relevant hashtags for their posts. Using successful hashtags allows users to have a higher visibility on the platform and grow their number of followers. Simply enter your post topic to get started.
Ritetag — This one comes with a browser extension of its own. All you have to do is insert your topic, sit back and let Ritetag offer multiple hashtag suggestions to you, color-coded according to a certain criteria.
Seekmetrics — This is an efficient hashtag generator tool which comes with a clean user-interface. You simply have to enter a keyword according to the theme of your post in its search bar and it will create 30 or so hashtags for you in a matter of milliseconds. This is an ideal tool for Instagram and Twitter. Do give it a try.
4. 9 Things to keep in mind before you jump in!
What are the tried-and-tested hashtag usage guidelines which you need to follow for gaining a bucket load of traffic?
1. Topics that are trending get the most audience views. So, if your post is in consonance with the latest hype, use its hashtag in the description. For instance, the #metoo movement, #metallicmakeup or #climatechange.
2. Instagram gives you the option of adding thirty or so hashtags in your posts. You don't necessarily have to follow this exact number. Staying relevant is super important.
3. Use hashtags that are shorter, easier to remember, give off a clear message, are actionable, unique, consistent and exclusive to your brand. For example, #TGIF or #Foodgram etc.
4. Make your captions crafty. For this purpose, learning the Instagram lingo will help you immensely. For instance, IRL means 'in real life'.
5. Use hashtags that drive user-generated content. This is an amazing publicity measure. For instance, #picoftheday or #yoursadstories etc. will encourage your audience to participate as well, giving your original post quite the exposure.
6. Spread your hashtags throughout your posts, your Instagram stories, and even your bio. If you make them clickable, it will count as an added benefit. For instance.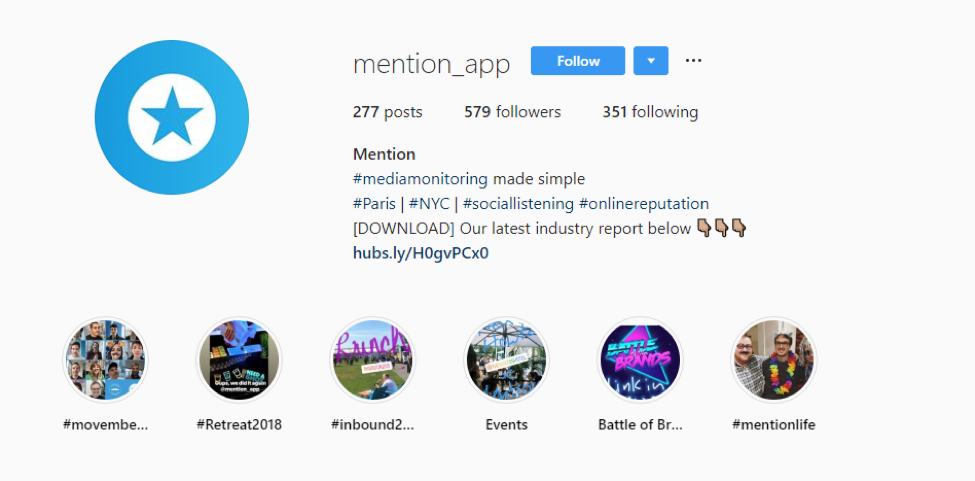 Look at how the Mention_app inculcated their hashtags without being pushy in their bio.
Check out the Instagram Bio Generator to easily create an engaging bio with the perfect hashtags.
7. Follow the hashtags of your competitors to stay in the flow.
8. Do not add random and irrelevant hashtags just to fulfill the quota. Each hashtag should serve a purpose and address a target audience.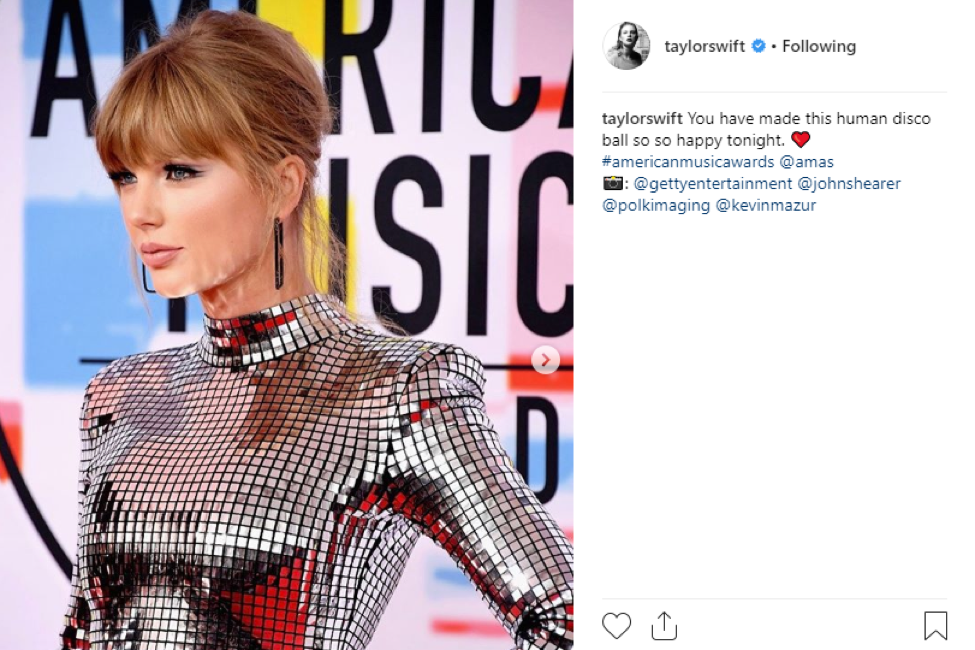 Now if, Taylor Swift had added a different hashtag would that have made sense to the AMAs? No, right? Remember that when you are doing so yourself.
9. Do not beg for people's votes with hashtags like #pleasefollowback or #follow4follow. These seriously endanger the credibility and the professional persona of your brand.
5. 3 ways hashtags can help you grow your brand
Why should you incorporate hashtags into your marketing strategy? What good can they possibly do for your brand? According to a study conducted by Simply Measured, posts with at least one hashtag in them have a 12.6% higher engagement rate. Other than this, hashtags benefit you with:
1. Discoverability — Hashtags are like an effective filing system for a social media platform. For instance, Instagram hashtags help the host engine to recognize the subject of the posts and to categorize them in its wide-ranging pool. If a user looks up a particular hashtag, like '#dessertlover' your 'cake-making' post will be featured in the search results, provided that it's been tagged with the respective hashtag. This will give your brand a huge amount of visibility and discoverability. I looked up #cakedecorating and look at how the posts were narrowed down to the particularity of my search query.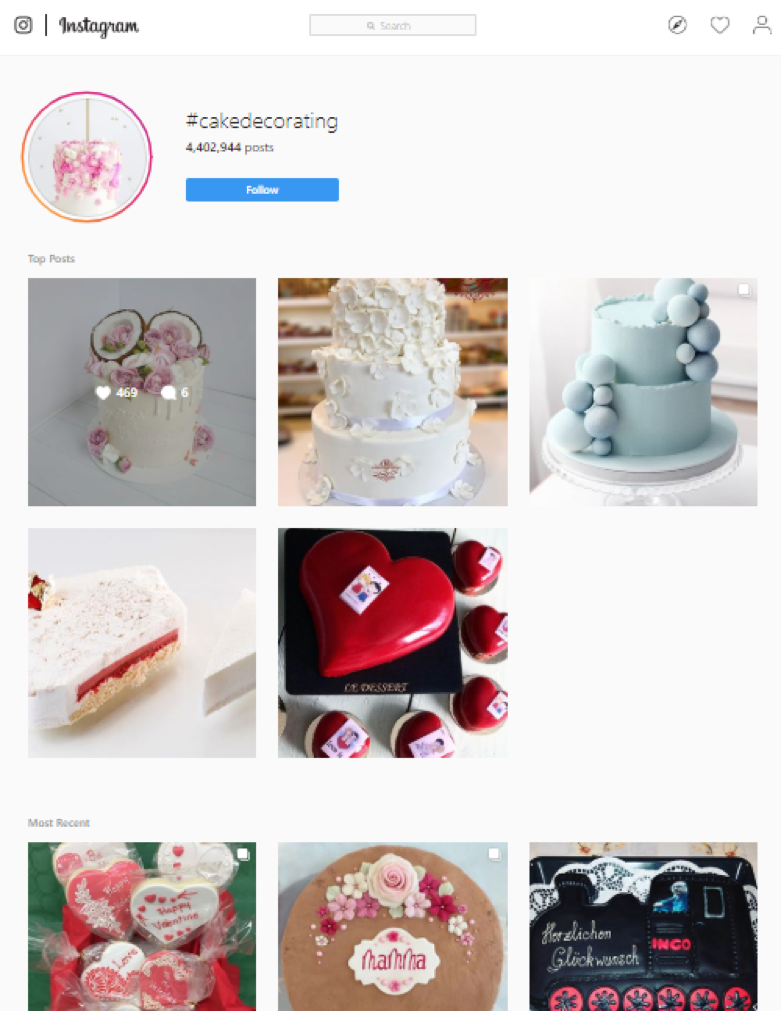 2. Solid User Base — Hashtags allow users to travel over posts, all the way to your profile. Especially specified hashtags, which help the target audience to locate your site. Once enough users start following you, a solid user-base will come into shape, largely benefiting your sales and conversions. For instance;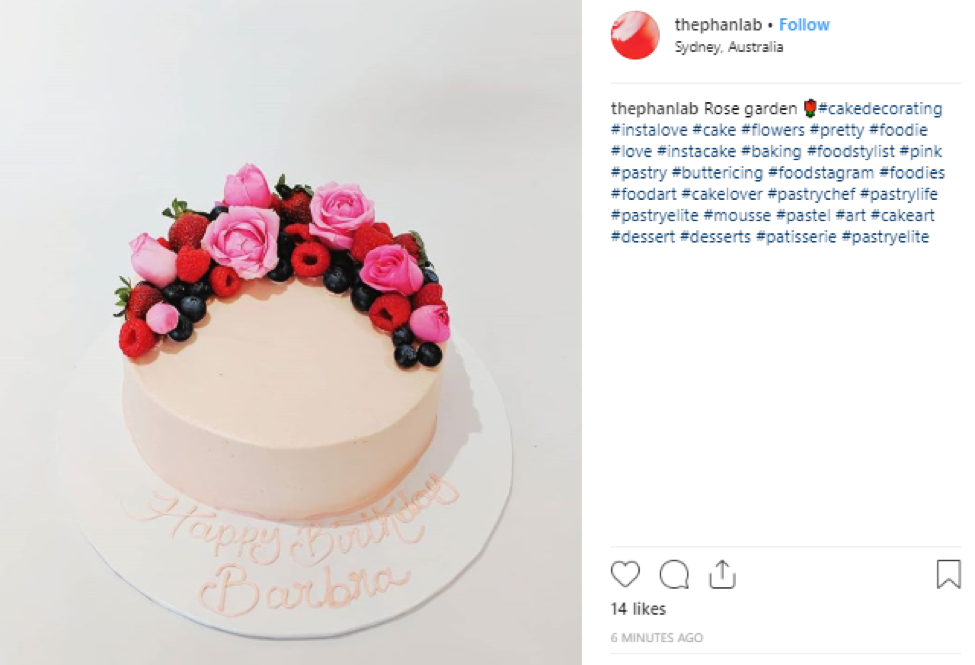 3. Brand Growth — Hashtags help your e-commerce business to flourish as well. If you use such hashtags that inspire your user-base to participate, like #tellusyourstory or #pictureoftheday, or others that act like subtle CTAs, then you'll see a boost in your traffic rate and a sensible increase in your lead generation.
6. 107 hashtags you shouldn't use
Surprisingly enough some of the hashtags that drove a lot of traffic as well as attention towards them in the past years are now banned. They are not just the X-rated hashtags – they are simply hashtags that were used a lot by spammy accounts and bots. A quick fix for the social network to keep their posts away from the light.
If you're not careful and use those hashtags nonetheless — you might end up being shadowbanned. In fact, people who fail to follow the community guidelines as per the application end up getting banned alongside the hashtags they used on the illegal use of a photo or video.
Here's a list of all those hashtags you need to avoid this year:
In conclusion, if you want to gain more followers on social media sites, then do take advantage of the 'hashtag' trend, which comes with its own set of peculiarities and rewards, as are discussed above.
Moreover, if you aren't sure of a hashtag and want to know whether it has been banned or not — just search that hashtag on Instagram. If you get results, go ahead. If you can't find any results – best not use it.