Video marketing has gained a surge of popularity over the past years. Many brands have used this marketing strategy because it can generate ROI in the space of a short time. However, what makes video marketing distinct from any other marketing tactics in the first place?
First, let's take a look at the video statistics below:
From those staggering numbers above, it's safe to say that videos are the future of online content for every business. Most people would rather watch videos to receive information than other types of content. That's because videos offer a quick, simple explanation that people can easily get the point within minutes.
Likewise, when it comes to perceiving marketing information, videos have a bigger value than their content counterpart. Videos allow people to understand the message without any barrier. What's presented in a video is entirely the same as what brands intend to convey. Thus, videos can eliminate the chance of misinterpreting as the visual and narration straightforwardly address the points.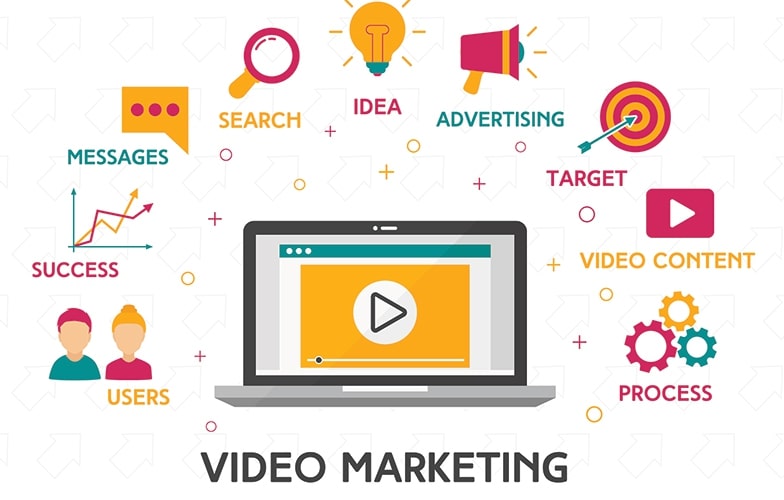 What Is Video Marketing?
Video marketing utilizes visuals and narration to make an old-fashioned copy into an exciting presentation. This marketing tactic usually includes any animation or live-action in order to simplify the message. As a result, viewers can quickly grasp what the video context is all about.
Unlike other marketing strategies, video marketing can turn even complex data into digestible information with its remarkable features. Put simply, using video marketing can transform any content to be more appealing.
There are many types of video marketing content used for every stage of the funnel. For example, if you aim to raise awareness, incorporating explainer videos will be the best move as this video content showcases your brand interestingly. You can use explainer videos to represent your business in a trade show or presentation.
On the other hand, if you're looking for content to influence your audience's decision, testimonial videos are the ideal option. Using customers' own perspective that talks about their experience can inspire others to get into your brand.
See, there are many ways you can incorporate video marketing for your business campaign. Not only does it serve informative and entertaining content, but it's also perfect to use for every stage of the marketing funnel.
The Benefits of Video Marketing
Video marketing is undisputedly a great marketing tool to increase ROI for your business fast. According to Biteable, 74% of marketers say that video has a better ROI than static images.
Not convinced yet? Below are some of the benefits you can reap from this marketing strategy.
1. Hook Attention In No Time
Video marketing can be a good investment when you need a plan to quickly capture your audience's attention. It gives people expectations of what the content is all about in a matter of minutes. Since most people enjoy video content, they will anticipate every piece of information the video brings to them.
Or, they might as well expect a solution for their problem through your videos. Videos, for the most part, have topped in this competition due to their exciting nature.
Suppose you're running a local chocolate factory; it isn't easy to compete with the world-brand chocolate in the industry. However, you can win the competition by attracting a local audience to your brand. If you aim to capture people's attention and reach out to a broader audience, incorporating video marketing is your best bet.
You can use how-to videos to hook their attention quickly. This instructional video will let viewers know what they can do with your chocolate product. For example, you can create a brand-new recipe using your local chocolate to enhance the taste or making unusual foods that go well with chocolate.
The more creative you're in producing your video marketing, the higher chance of getting more attention from the get-go.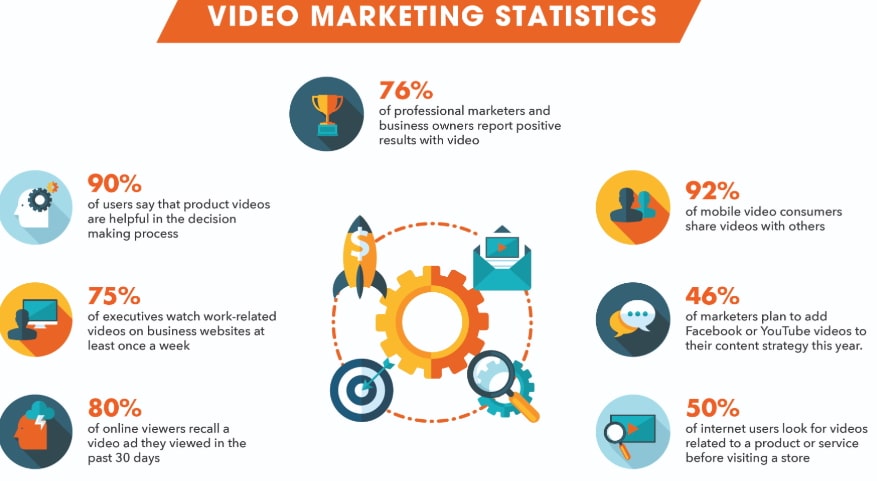 2. Drive More Traffic
Often the best case for a local business like the example above is that they lack exposure. Given the massive online marketing at the moment, our local chocolate factory still doesn't get the most of it.
The reason is a bit simple. If you rely on one and only specific content like blog posts or articles, chances are your site will be sunk in the sea of content. Many have used this approach, and only a few succeed in landing on the top of Google search.
However, that's not the case with video marketing. Video content has seen a surge in popularity over the past decades. Many prefer this type of content due to its easiness of understanding within minutes.
Video marketing can dominate social platforms quickly. When it does, you'll see a chance of getting traffic from how many those videos are shared. Not to mention that the search engine loves video content as it offers a better approach to internet users. Your video marketing will land on the first page, resulting in higher traffic to your sites.
8 Ways to Optimize Video Marketing Strategy to Increase ROI
Now that you understand how beneficial video marketing is for your business, it's time to learn how to optimize it.
Here are some tips to follow when you're ready to create your video marketing.
1. Define Content Goals
Often, marketers rely too much on the profitable tool while ignoring the fact that the tools are just a way to achieve goals. Without a solid understanding of what your marketing goals are, even a powerful tactic like video marketing can't bring you to success.
That's what makes determining your goals is the crucial first step before producing video marketing. If you don't know where to start, you can check out the marketing funnel for your reference.
In short, there are four stages of the marketing funnel such as awareness, interest, decision, and action. You can break down each step to match the suitable content.
Awareness
When you embark on the entrepreneurial journey, the most challenging part is to get the public's recognition. In this step, you'll be educating the audience about your brand or services. Your video marketing content should represent you well and give the needed information.
Interest
Potential customers will grow their curiosity to learn more about your brand. In this funnel, they expect more from you as they develop an interest in your product or services.
Decision
Your target audience will consider whether they purchase your brand from this point on. It's essential to build trust and persuade them at the same time.
Your video marketing content should be convincing from the beginning. You'll be working on influencing potential customers to finally embark on your brand's experience.
Action
The audience in this bottom-of-the-funnel stage will be great potential customers that actually convert. If the start of the funnel focuses on getting them interested in your product, in this stage, you'll be working to convince them further.
Your video marketing should contain reasons why they need to purchase from you. Giving the reason will urge them to take action immediately.
2. Know Your Audience
The next thing you need to ensure is who your content is for. Video marketing is like any content strategy that fits a different type of audience. So, not knowing your target audience is a mess from the start.
When you understand the "who" element, you save your time from making further mistakes. That's because if you aim for specific viewers, your content will be more deliverable than the other way round. However, if the video marketing is viewed by an unlikely audience who isn't meant to receive, you can't expect any conversion.
That's why it's vital to set the relevant audience from the very beginning. You can address the right audience by creating a buyer persona. This part will determine important information like demography, users' online schedules, and their internet behaviors.
If you can measure these things correctly, then you can find suitable video marketing to hook viewers' attention. Also, make sure to double-check which online platform you're going to publish your video marketing.
Each platform has a distinct audience, what will work on platform A won't work in platform B, and so on. Therefore, do in-depth research on your target audience on a different social network to ensure your campaign's success.
3. Focus on User-Generated Content
Many marketers favor user-generated content more than ever. The reason behind this customer-centric content is that it's easily perceived from the audience's perspective. This type of content can bring more attention than any brands' centered stories.
Customers love stories about them. They want to be a part of something that inherently objected to them.
In other words, talking about customers' points of view in a marketing campaign has been proven to bring more conversion for a business. That's because we concisely address their needs and pain points through a single video marketing.
When they feel of being represented, viewers will more likely grow a strong, more meaningful relationship with a brand. This connection can be a reminder whenever they see your product as part of their solution. Thus, increasing the chance of getting more conversion.
4. Win the First 10-Second
As the human attention span is getting shorter each day, marketers need to get their brand recognized quickly. Eight seconds. That's all the time you have to get their attention.
You can implement some methods to get eyeballs faster and improve your video marketing performance, such as:
Use an eye-opening title and thumbnails.
Include a thought-provoking question in the beginning.
Create a relevant questionnaire for the viewers.
More people will be convinced to linger until the video ends when you succeed in bringing up the tail-baiting elements for your video content. That's why it's vital to make your first 10-second impressive enough for the audience to spend their time watching your content.
5. Include Caption
Did you know that most people enjoy watching videos with sounds off? Over 85% of people prefer watching videos without audios as it's more comfortable for them. Now it makes sense why most social networks have audio-off from their default system.
Surely, even when you include the audio to your videos, most people can still enjoy viewing your video marketing without any difficulty. However, it becomes a problem when those with hearing disabilities try to understand your content. They won't experience the same way as what you intend to.
It's essential to include a closed caption in your video marketing. Not only will it help people with special needs, but it also eases your job to convey the right messages. Sometimes, viewers just don't understand what your information is about in a single go. This invisible barrier makes it more difficult for them to understand.
You can help them understand the point through the built-in caption in the video. Potential customers will no longer crawl trying to point out what the message is about.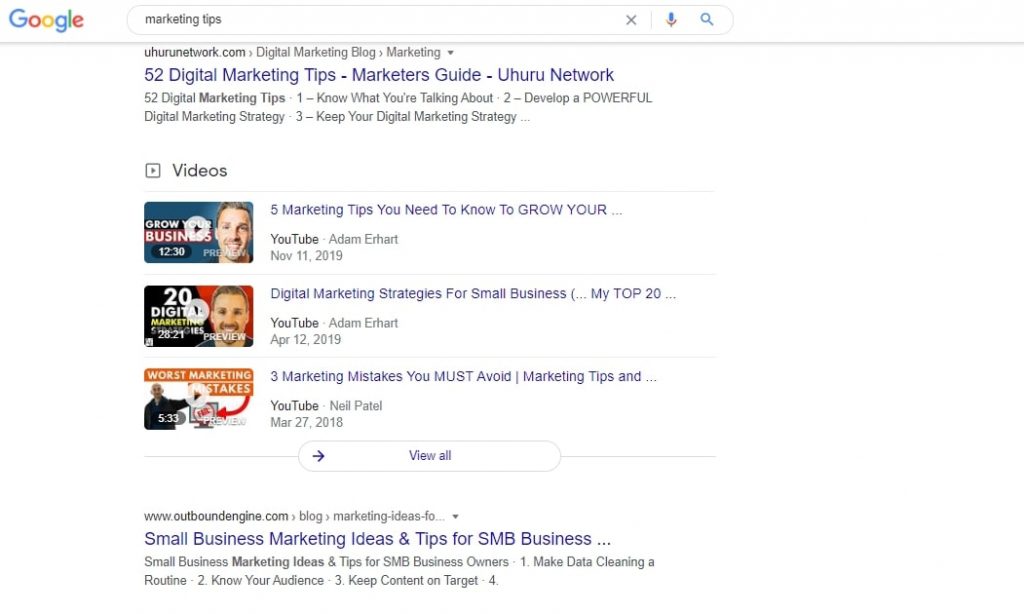 6. Improve Video Search
You must know that Google is the biggest search engine platform in the world, with its subsidiaries, YouTube ranks second. With billions of searches being performed daily on both platforms, you have a bigger chance of getting picked on the search engine result page.
You can optimize your video marketing visibility by inserting relevant keywords on the title, adding descriptions, and using hashtags. People can easily find your video when they enter specific keywords on Google.
Since Google owns YouTube, you might as well publish your video marketing on that platform. The reason is that Google often places video search results on the first page that links directly to YouTube. When you have the video on YouTube, practically you have conquered both worlds as people use both platforms to perform any search.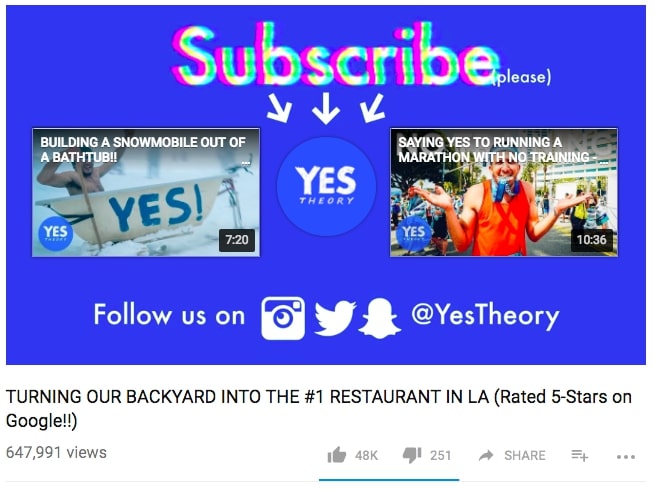 7. Incorporate Call-to-Action
Every video marketing has a call-to-action element. It's a marketing term to persuade viewers to take the desired action immediately. It leads to sales conversion or even an engagement rate.
The call-to-action can form in many ways, from a textual phrase to a subtle narration. Basically, it's a specific term that urges the audience to perform marketing goals.
Some call-to-action include phrases like "sign up now to get discounts" or "visit the link to redeem your voucher." Content that genuinely influences your viewers to respond quickly.
Make sure to include a call-to-action in your video marketing. It helps viewers decide whether they should proceed in your brands' journey. Call-to-action also acts as the gate to know your product or service better through linking to your site.
8. Measure Video Analytics
Last but not least, ensure always to check your video marketing metrics right after the campaign ends. The objection in measuring the analytics is to understand whether your past strategy works out. This will be a parameter for the following campaign.
Some crucial metrics that you can pay attention to to understand how well your marketing videos are performing are:
Numbers of video viewed
Video likes and shares
Duration of video watched
From these analytics, you can decide to use the same strategy or improve it with some addition. The insights will let you know if your video marketing meets your targeted audience's needs. Otherwise, you can always make an improvement to achieve your goals.
Wrap It Up
Video marketing is undisputedly an excellent marketing strategy to win the audience's heart in relatively a short time. With the powerful visual representation and the right storytelling, video marketing can precisely address the audience's needs right away.
Added with the fact that video content will dominate the internet traffic for the next few years, this marketing strategy can be a perfect investment for every marketer in the world. Video marketing helps people understand the information comprehensively in minutes. The nature of a video can lessen the chance of getting misinterpreted as it contains what human brains can process: images, sound, and text.
Even when every company has decided to use this marketing tactic, the competition will never get saturated as video marketing itself is a roof for many marketing content out there. Many types of video marketing fit every stage of purchasing funnel. What you need to do is create the right content for the right audience. You'll get tons of effective ways to attract potential customers to your brands.