You've created your first handful of episodes. Spent hours crafting interviews, mixing your audio so it sounds just right, created the perfect logo, uploaded your podcast to your host, and a million other tiny little things.
The time has come to press publish on your podcast, but what's next?
You probably got into podcasting to dive deep into a topic you're passionate about, or interview interesting people to learn about their perspectives. Whatever your reason, you want to cultivate a community of listeners who share your common interests and passions.
In the podcasting world, it seems like creating your show was the easy part compared to getting people to know your show exists.
Luckily, getting listeners, subscribers, and fans isn't rocket science, but instead a series of tactics you can implement and strategies you can test. Here are 11 different strategies you can use to promote your podcast on social media and attract new listeners.
Table of Contents:
1. Launch Your Show With At Least 3 Episodes
If you haven't launched your podcast yet, then this tip is for you. You should have at least 3 episodes ready to go when you launch. That way if a reader comes across your podcast they'll have more episodes to dig into and explore.
Otherwise, you run the risk of a new listener dropping off, since the single episode wasn't memorable enough. Online educator Pat Flynn recommends that podcasters post between 3 to 5 episodes when they launch their shows.
2. Promote Your Podcast on Social Media
Social media gives you a myriad of different ways to share and promote your new podcast episodes. You can promote videos, images, teaser clips, quotes from interviews, and more. Instagram alone has a ton of powerful tools for growing your audience, like Instagram stories, live videos, and posts.
Here is an example on how to promote a podcast on social media:
The social media network you choose depends on where your audience spends time online. For example, a B2B marketing podcast may do well being promoted across LinkedIn. While a podcast that deals with political commentary could gain more traction being promoted on Twitter.
Here are a few ideas for how you can share your podcast across multiple networks:
Create a graphic using Canva and pin it to a relevant Pinterest board
Pin a tweet to the top of your Twitter page featuring your latest episode
Create an Instagram story that shows behind the scenes of your podcast studio
Create a short audio teaser with your podcast logo and post it to Instagram
Get active in relevant Facebook groups and mention when a new episode goes live (as long as it benefits the group)
Ultimately social media promotion is all about experimentation and creativity.
3. Make it Easy for Guests to Share your Podcast on Social Media
Obviously, this depends on the style of the podcast. However, interview-style podcasts are very popular, so there's a good chance you're using that format.
Once the interview is over and the podcast is live, you should reach out to your guest and make it easy for them to share and promote your episode to their existing audience. The last thing you want is to make it another task on their to-do list.
The best way to do this is to pre-create the media and emails they could potentially share. This could include:
Pre-created graphics with quotes
Pre-written social media posts
Pre-written email blasts
Then, once the podcast is live send them an email notifying them, thanking them for their time, and giving a gentle no-pressure nudge to share.
4. Convert Your Podcast Audio to YouTube Videos
Podcast promotions are all about repurposing the audio content you already have. One great channel for this is YouTube. YouTube is the second-largest search engine in the world, so you'll not only be picking up additional viewers but new fans of the podcast as well.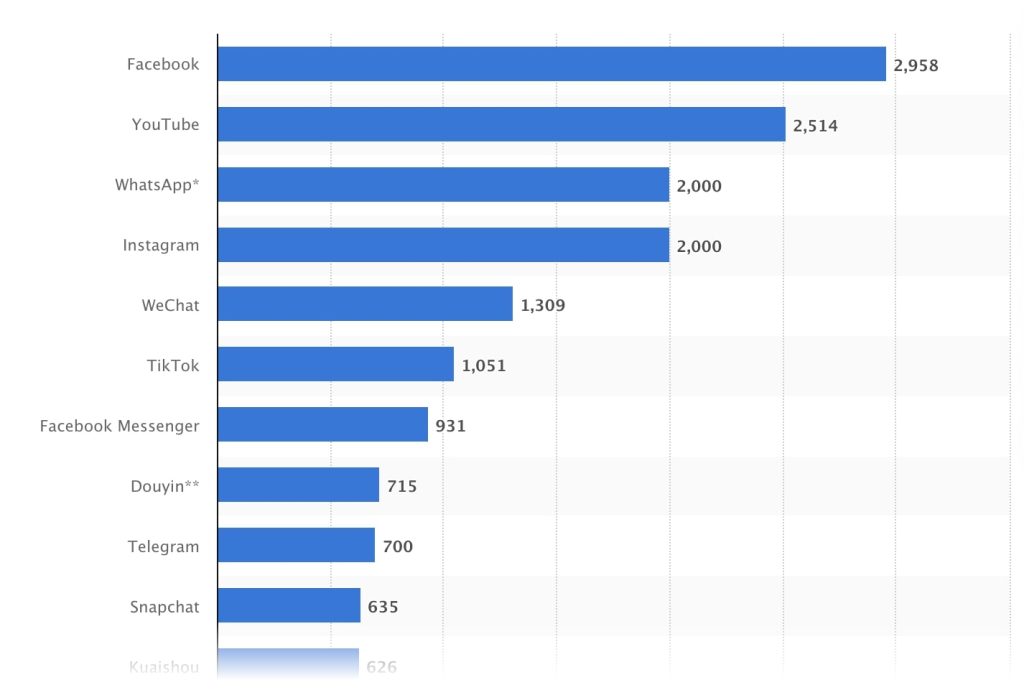 Some people's preferred podcast channel might even be YouTube, so you'll be picking up these people as fans, who you otherwise would have missed out on.
Adding your podcast to YouTube can bring the following benefits:
Closed captioning and transcripts automatically apply to your video
Your video can rank in YouTube and the Google search results
You have additional video content to share on social media
Converting your audio files to YouTube videos doesn't have to be difficult either. For example, there are a variety of tools like iMovie (Mac) and Windows Live Movie Maker (PC). With these tools, you'll be converting a .mp3 podcast to a .mov video file. 
All you need is your audio file playing over a still graphic that has your logo and the title of your podcast episode. For example, here's how James Altucher uploads his audio podcasts to YouTube.
A simple graphic is all you need. With your YouTube video, you have two ways to increase traffic, through YouTube SEO and by ranking in Google. Make sure you optimize your video title and description for relevant keywords. 
5. Upload your Podcast on Multiple Streaming Plaforms
Podcast directories are a great way to get your show in front of new podcast listeners. People listen to podcasts across all different apps. The most well-known podcast platform is Apple Podcasts, but there are plenty of others including:
Spotify
Google Play
SoundCloud
Podbay
Podbean
TuneIn
Overcast
Stitcher
There are dozens of different podcast streaming services you can submit your podcast to. However, the most important are Spotify and Google Podcasts, since these have the highest number of monthly listeners.
Create accounts with whichever podcast directories and aggregators you want to submit your podcast to, and submit your RSS feed, so new episodes will be published to each platform. This allows you to reach new podcast audiences without having to do any additional work.
6. Run Giveaways to Get Reviews
People can't resist free stuff. You can use the power of discounts to get more listeners to your podcast.
For people to enter your giveaway they must leave a review on iTunes. Hopefully, this will earn you more reviews and boost the social proof for your podcast, leading to more downloads and listens overall.
Some examples of products you can giveaway include:
Discounts on your products
Stickers, hats, and other branded merchandise
Books in your same niche
A half-hour of consulting time
The important thing about what you're giving away is that it's relevant to your brand. By giving away something like an iPad you'll just get people joining who will never become listeners.
If you don't have a budget for the giveaway consider the following:
A shoutout at the beginning of your show
A mention in the show notes
Think of these as a way for your guests to sponsor your podcast and get recognition from you and the rest of your listeners.
Running a giveaway doesn't take much. To get started you can mention it during one of your episodes and start promoting it across your existing social media channels.
You can either enter into your giveaway who've left reviews and track them down manually. Or, you can use a tool like Wishpond or KingSumo to create a product-oriented giveaway.
If you're using a giveaway tool to build your email list, make sure you follow up with your new email subscribers and let them know about your podcast. You should alert your email list every time a new episode goes live. 

Here's an example of a Podcast giveaway campaign of Pure Cinema Podcasts:
7. Invite Guests On Your Podcast
To add variety and expertise to your podcast, inviting guests can be an excellent strategy. Here are some tips to help you invite guests to your podcast:
Identify potential guests: Look for individuals who have knowledge or experience in your podcast's topic or niche. Consider inviting authors, industry leaders, or influencers in your field.
Reach out to potential guests: Send a polite and professional invitation email to your desired guests, explaining why you think they would be a great fit for your podcast. Personalizing your invitation can help increase your chances of getting a response.
Be clear about expectations: Provide your guests with clear expectations for the recording, including the duration, format, and any questions you plan to ask. This will help them prepare and feel more comfortable during the recording.
Prepare questions: Do your research on your guest's background and interests, and create engaging questions that will spark interesting conversations.
Make it easy for guests: Provide clear instructions on how to join the recording, and make sure they have access to the necessary equipment and tools to participate.
Follow up with guests: After the recording, thank your guest for their time and effort, and promote the episode on social media to help them gain exposure and expand their audience.
You can either contact these guests by email, social media, or podcast booking services such as PodMatch, PodcastGuests.com, and Interview Connections.
8. Add Show Notes With Transcribed Audio
You'll notice that a lot of existing podcasts place detailed show notes below each episode. "`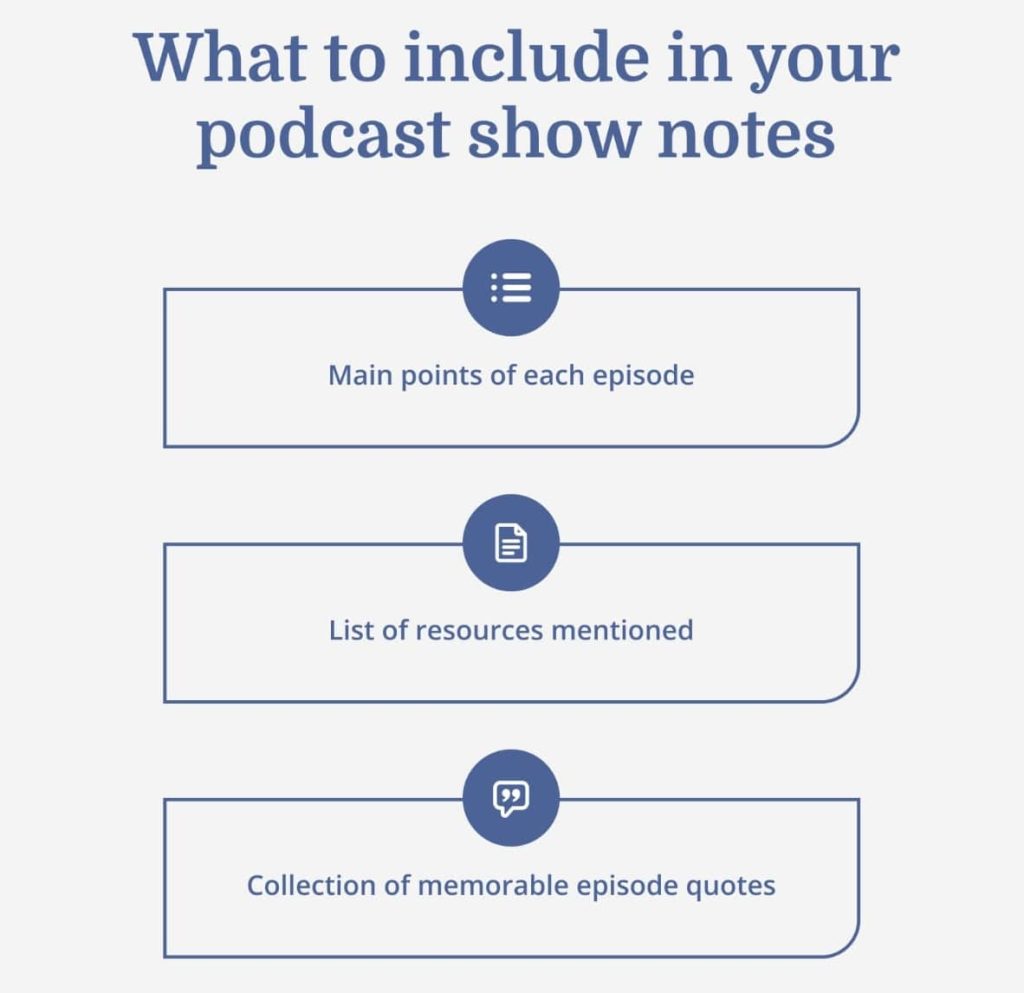 This is done for three reasons:
To make it easier for listeners to find the key points of your podcast and provide an alternative form of consumption
To make your podcast more accessible to those who are hard of hearing
For SEO benefits, there's a chance your podcast episodes could rank in the search engines and bring more traffic to your episodes
Doing the transcription yourself will take a lot of work. But, you can use a service like Upwork or Fiverr to get the transcription done fast and cheap. 
9. Optimize Each Podcast Episode for SEO
To continue the previous point, there are some serious SEO benefits for publishing every podcast episode on your own podcast website as a new post.
You can include an embedded audio of the episode, as well as a transcription and show notes. The written content is what will help you rank in the search engines for relevant keywords. However, Google has recently started ranking audio content as well, so you can really double down on your SEO efforts.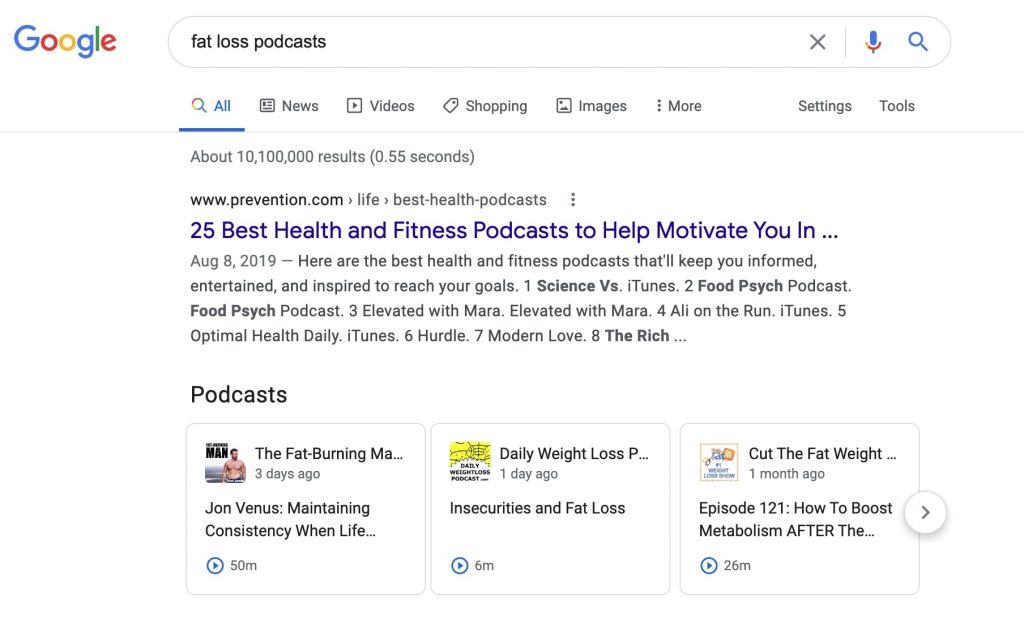 For each post make sure you choose a target keyword to optimize that post around.
Here are some tips for optimizing your show notes and transcript:
Include your target keyword in your H1 title tag
Include H2, H3, H4 tags with related keywords
Include your target keyword in the first 100 words of copy
Optimize your meta description and title with your keyword
10. Mention Brands and Businesses in Each Podcast Episode
This tip touches on the law of reciprocity, which boils down to: when someone does something nice for you, you have a psychological urge to do something nice in return.
It can work the same way with podcasting. Chances are you have a handful of brands, companies, bloggers, or even other podcasters whose work you wholly endorse. Why not give them a shout out on your next episode?
When you mention any brands on your podcast this gives you the chance to reach out to them (link) and let them know they've been featured on your podcast.
If there's a connection between your podcast and the product or business you endorsed, a simple outreach email could work. However, you can also reach out via Facebook and Twitter and tag the brand letting them know about the endorsement.
11. Use a Podcast Marketing Service
If you have a large budget, but don't have the time to invest in promoting your podcast yourself, you can rely on a podcast marketing service to execute a marketing strategy on your behalf.
Creating a quality podcast is very time-consuming. Time spent marketing is time where you could have been improving the quality of your show.
There are all kinds of promotion services out there, from gigs on Fiverr to full-fledged agencies.
Here are some tasks you could hire out to a third-party service:
Producing well-written show notes
Creating social media posts from show content
Doing email outreach to influencers
Distributing your podcast across different platforms
Running podcast ad campaigns
Wrapping Up
Promoting your podcast is vital for creating a strong audience and expanding your reach. Social media platforms provide a fantastic opportunity to attract new listeners and reach a vast audience. Identify the appropriate platforms for your target audience and consistently produce engaging content.
Collaborating with other podcasters or influencers in your niche can help broaden your audience and attract new listeners, while optimizing your podcast for search engines can help new listeners find your content when searching for relevant topics.
Building an email list of your subscribers and regularly promoting your podcast through newsletters is crucial, and offering incentives like exclusive content, merchandise, or discounts can motivate listeners to subscribe and share your podcast.
By following these tips, you can effectively promote your podcast, increase your listenership, and establish a loyal fan base.