Using AI for your social media content isn't a new concept, but it's certainly trending now more than ever before.
From sentence rewriters, to text-to-image tools and editing apps, the world of AI is rapidly advancing. And for social media content creators, this news can change everything.
With AI tools, you can save ample time and resources producing social media assets. These digital writing and image "assistants" can relieve unnecessary stress, so your team can spend more time on strategy and production and less time on repetitive, redundant tasks.
If you're ready to create engaging content for social media using AI without skipping on quality, we've got a treat in store for you.
Read on to discover 10 ways you can use AI to craft social media content as efficiently as possible.
Why Use AI for Social Media Content Creation?
Engaging social media content is key to connecting with your audience and driving leads to your funnel campaigns.
But generating content your ideal customer aligns with consistently, takes strategy, skill, and a deep understanding of who they are — and how you can add tremendous value to their lives.
Once the ideation phase is complete, off you go to strategize the next content batch, as long as you've created your assets for the batch you were just working on.
And that's where AI tools change the game. Once you've laid out a strategy for the next three months, you want to create assets as efficiently as possible, so you can begin planning your next round of content.
As every marketer knows, staying ahead of your content calendar is key to hitting your goals, monitoring and interpreting metrics accurately, and creating a production line of assets that are ready to go.
Whether you're trying to grow your Instagram account, rebrand across multiple platforms, or produce bulk content batches for multiple clients, AI tools can help save your creative team time, money, and countless resources.
Now that we've laid the groundwork for AI and why it matters, let's take a look at 10 helpful tips you can use to create engaging social media content with this fascinating technology.
1. Get on the same page with your team
If you're ready to use AI in social media, grab your team and host a meeting to ensure you're all on the same page. While we'll cover helpful AI tools for content creation in this article, we encourage you and your team to conduct research on your own to see what other tools might be out there that can meet your needs.
Consider using a board portal to communicate decisions made by management to the various teams, to communicate during the research process, and to keep meeting materials in one spot.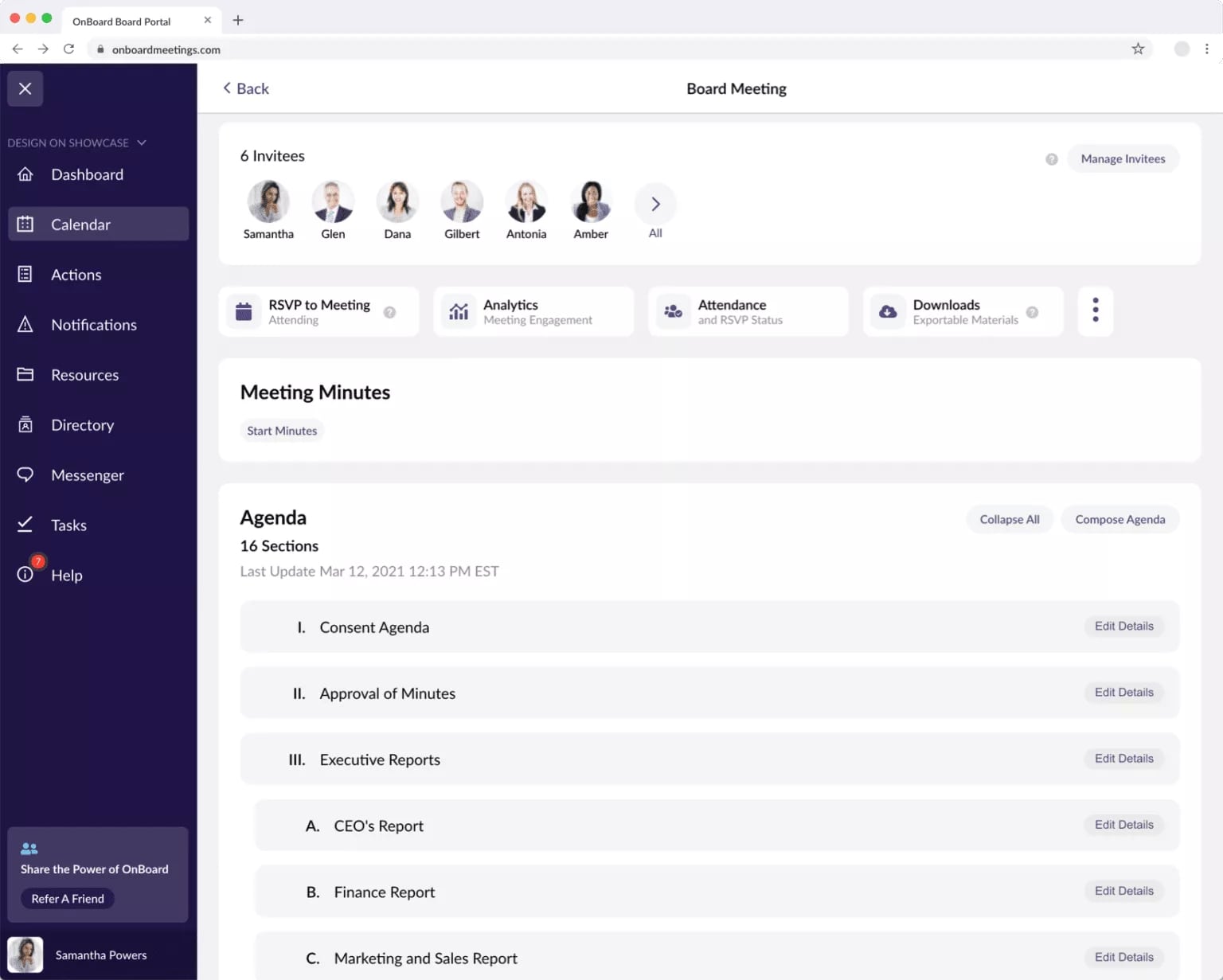 Share notes, schedule time to test out the tools you find, and be sure to simulate faux marketing campaigns so you can monitor which options produce the best results.
2. Use Mention for social listening
We've touched on strategy a few times already, so we had to start with an AI tool that can help you make the most of this crucial phase in the content creation process.
And that's Mention, an AI social listening tool that can help you identify which topics, influencers, and trends matter most to your ideal customer.
Use Mention to spot visual product, collect user-generated content, and create assets that are perfectly tailored to your unique audience.
3. Spruce up your website and other marketing channels
Engaging social media content only goes so far if you don't put the same effort into your website and connected marketing channels.
If you're a new business, looking to rebrand, or your image is inconsistent across the board, there are some great AI-powered tools you can use to build a consistent, engaging presence across all platforms.
For instance, one-stop shops like Tailor Brands or Looka offer AI logo makers and brand kits, so you can create a strong brand identity your audience will recognize, no matter where they find you on the web.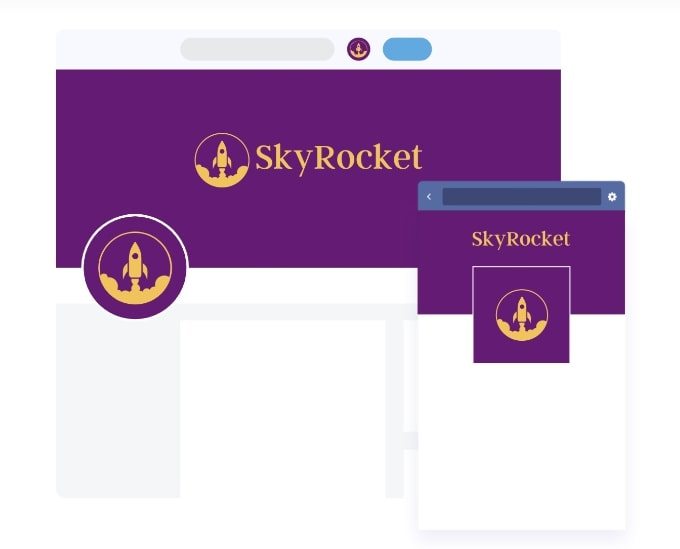 From your website, to Instagram, YouTube and beyond, you can use either one of these tools to create a consistent brand image. You can also make business cards, print branded merch, and build a stunning website.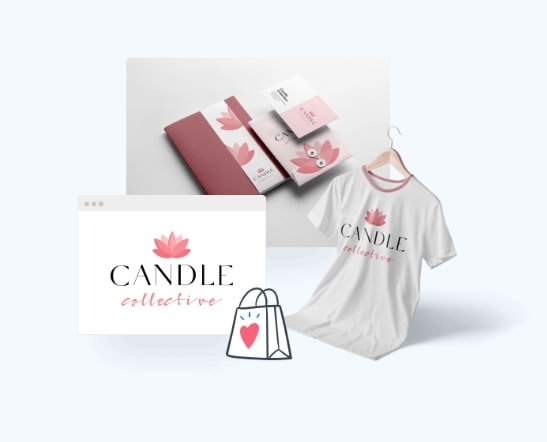 Artificial intelligence is revolutionizing how businesses curate their brand identity, with most design tools incorporating AI features in some way, shape, or form.
The result? It's easier than ever to build a consistent, engaging presence across all platforms, by investing in these innovative tools that have supplemented traditional online poster makers and drawing tools.
Trust us. Your customers will notice the difference. And your brand will stand out from the crowd. It's a win-win.
4. Hire AI freelancers to help you manage and use AI tools
Stuck navigating your AI tools? Consider hiring AI freelancers to manage your tools and create content for you.
If you opt for this route, make sure to hire AI freelancers that specialize in prompt engineering and editing. Working with experts in this field can help you optimize your AI-generated content for maximum impact, ensuring your messaging is clear, concise, and compelling.
One of the benefits of AI-generated writing tools is that they can help you generate first drafts quickly, but you should consider using a content writing service to add a human touch to your writing.
You can hire AI freelancers to:
Create one-of-a-kind images using AI text-to-image tools
Craft compelling content using AI writing assistant apps
Edit content using AI editing apps
Create and edit video content using AI text-to-video apps
You can also ask an AI freelancer to create custom images for you. For example, if you want to make people aware of certain topics in your Instagram profile, you can ask the AI to create a special image for you on a chosen topic to share on your social media.
Examples of AI Social Media Content Generator
Social media content creation can be time-consuming and challenging, especially when you have to create a large amount of content that resonates with your target audience.
Let's explore some examples of AI tools for social media content creation and how they can help you create compelling content that resonates with your target audience. With the help of these AI-powered tools, you can save time and effort while producing high-quality social media content that drives engagement and growth.
5. Save time narrating your videos with Lovo
Videos boost social engagement by building confidence and connections between brands and customers, developing brand loyalty, and sparking pertinent conversations.
But creating video content is one of the most time-consuming tasks on any marketer's plate. The planning, production, and editing alone can eat up the bulk of your content schedule.
Enter: Lovo, an AI text-to-speech solution that can help you save time narrating your videos with its voice generation features and realistic AI voices.
Lovo has the world's largest library of voices and can express up to 25+ emotions. We recommend using Lovo to create explainer videos, Reels, and mini-videos across your marketing channels.
Pro-Tip: Take your time listening to the voices Lovo offers in its library. Opt for voices that sound as natural and authentic to your brand as possible.
6. Use Canva to produce giveaway content, unique images, and carousel posts
In just a few short years, Canva has evolved significantly from being a mere online design tool. Now the platform boasts a full creative workspace, an asset management system, and, of course AI apps, like its recent text-to-image tool.
Canva also offers a magic resize tool that can automatically resize an image or design to fit the required dimensions across other social media platforms you use.
With Canva you can create and edit:
Images
Videos
Graphics
Posters
Carousel posts
Interactive posts
Infographics
And more
This makes Canva an invaluable tool for creating giveaway content, unique images, and generating (currently algorithm-friendly) carousel posts on Instagram.
Be sure to give its text-to-image app a try if you're looking to design custom cover art or any specific image that comes to mind.
For instance, Canva's text-to-image app produced the following image after we entered "a cupcake swimming".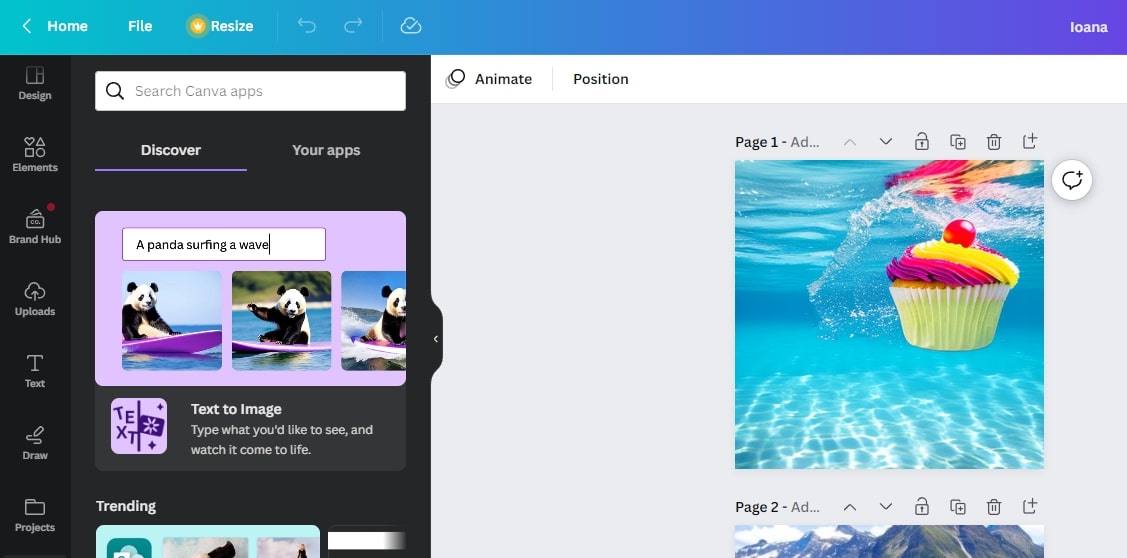 However, Canva recommends using ultra-precise language to give its AI tool the best chance at producing what's on your mind.
For instance, if you wanted to create cover art for a banana bread recipe mix giveaway or video, be specific when describing your design and style choice.
For instance, in the example above, we typed "surrealist background, ultra-detailed, colorful, banana bread on a cutting board".
And here's one of the images the tool produced as a result: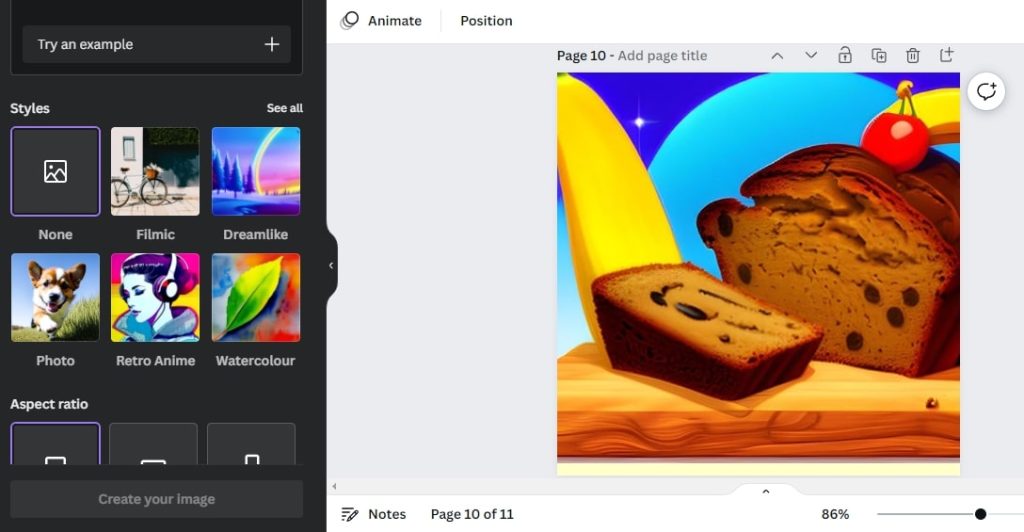 If we were going for a funky, colorful, other-worldly style, this image would be perfect.
But don't think you have to go super creative when generating these images. Its text-to-image app also offers realistic styles if you'd prefer the image to look like an actual photo.
For instance, to get the following image, we typed "banana bread baking in the oven under a kitchen window with sunlight streaming through".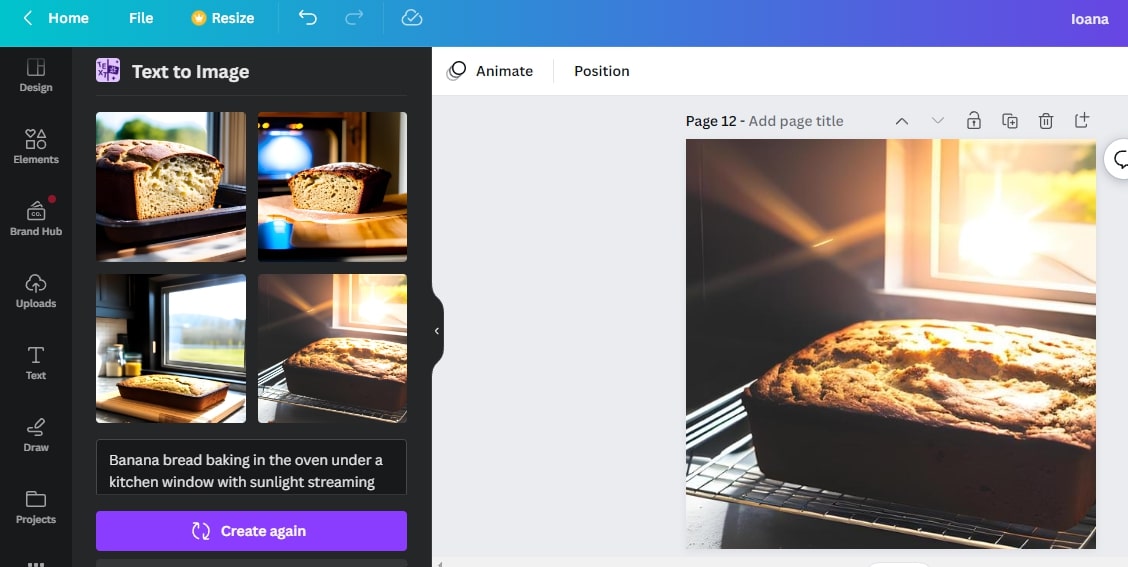 Pretty spot on, right?
Pro-Tip: Got a social media giveaway coming up with a new influencer you're partnering with? Use a terms and conditions generator to draw up giveaway terms in seconds.
7. Reduce fluff and boost readability with the Hemingway App
Your social media audience is bombarded with messages every day. To truly stick out, you need to write words that matter and use language they can actually understand.
With the Hemingway App, you can paste your text directly into the tool and it'll instantly scan your copy for readability.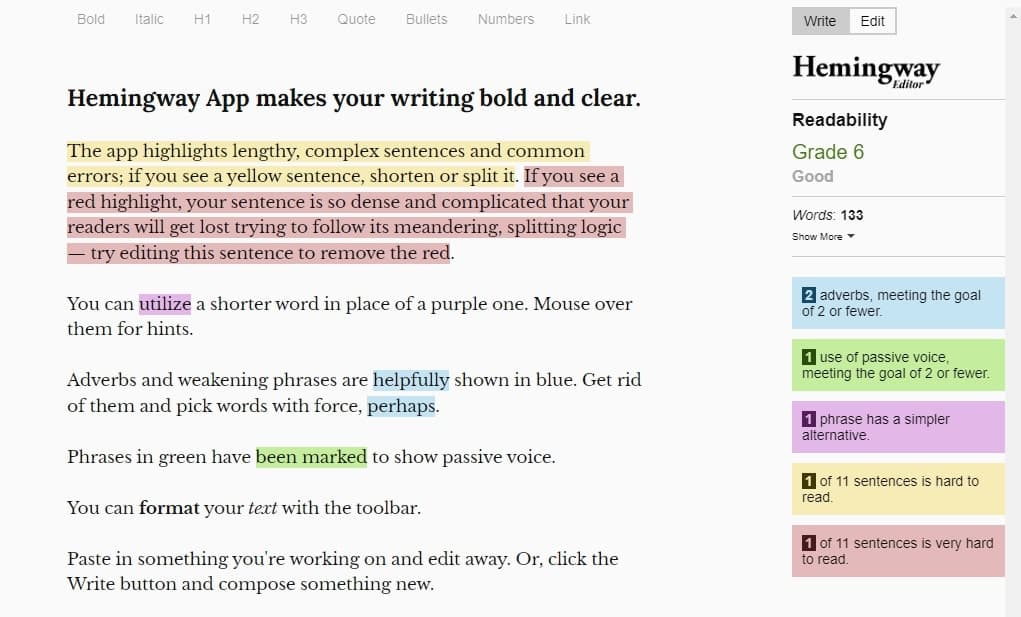 With the Hemingway app, you'll be able to:
Learn how to write, lean and mean
Smooth out or rework clunky sentences
Reduce fluff
Reduce excessive adverbs
Spot any sentences that are hard to read
Correct active voice
See your text's readability score
This tool is every copywriter's dream as it's brutally aware of run-ons and sentence clarity. Use it to omit unnecessary fluff, and keep your content aimed directly at your target reader.
Pro-Tip: Write using a 6th-8th grade reading level to avoid alienating anyone in your audience.
8. Proofread and master the art of writing for online readers with Writer
Online readers prefer simple, conversational language that's engaging and easy to read.
That means being mindful of formal language (always use contractions!), inclusivity, and using terms they won't have to Google later.
That's why we love Writer AI. With Writer, you'll get autosuggestions for writing for the web, so you can write pristine copy every time.
You can use Writer to:
Proofread your work
Scan your text for plagiarism
Refine your sentence clarity
Write inclusively
Scan your copy for readability
Check your copy for errors directly in Google Docs using the Writer extension
Pro-Tip: Grammarly is a great backup AI editing tool.
9. Use an Instagram Caption Generator
Mention's Instagram Caption Generator is a powerful tool that helps you create captivating captions for your Instagram posts.
As social media and visual content continue to surge in popularity, Instagram has become one of the most sought-after platforms for sharing photos and videos. However, creating attention-grabbing captions can be a daunting task.
Fortunately, Mention's AI social media post generator is available to assist you.
Simply put in the main topic of your post, adjust the tone you would like your caption to have, and let this free Instagram Caption Generator curate a caption for you!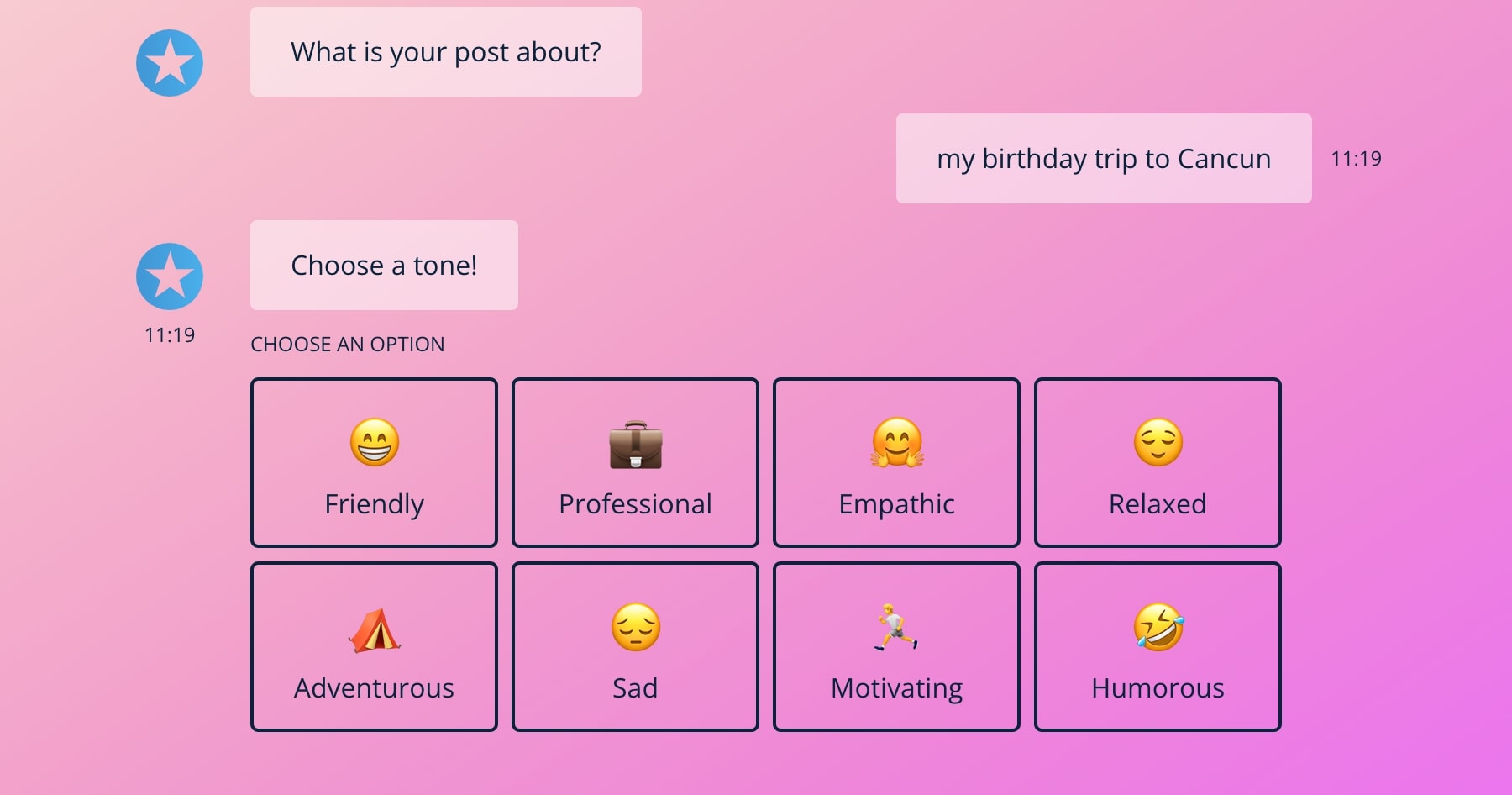 The tool analyzes your photo and suggests relevant keywords and phrases that you can incorporate into your caption. Additionally, it considers your brand voice, target audience, and industry trends to ensure that your captions are tailored to your specific requirements.
One of the most significant benefits of using Mention's Instagram Caption Generator is that it saves you time and effort. Rather than spending hours brainstorming ideas for your captions, you can use this tool to generate innovative and effective captions in seconds.
This frees up time for you to focus on other essential elements of your Instagram strategy, such as producing high-quality content and engaging with your followers.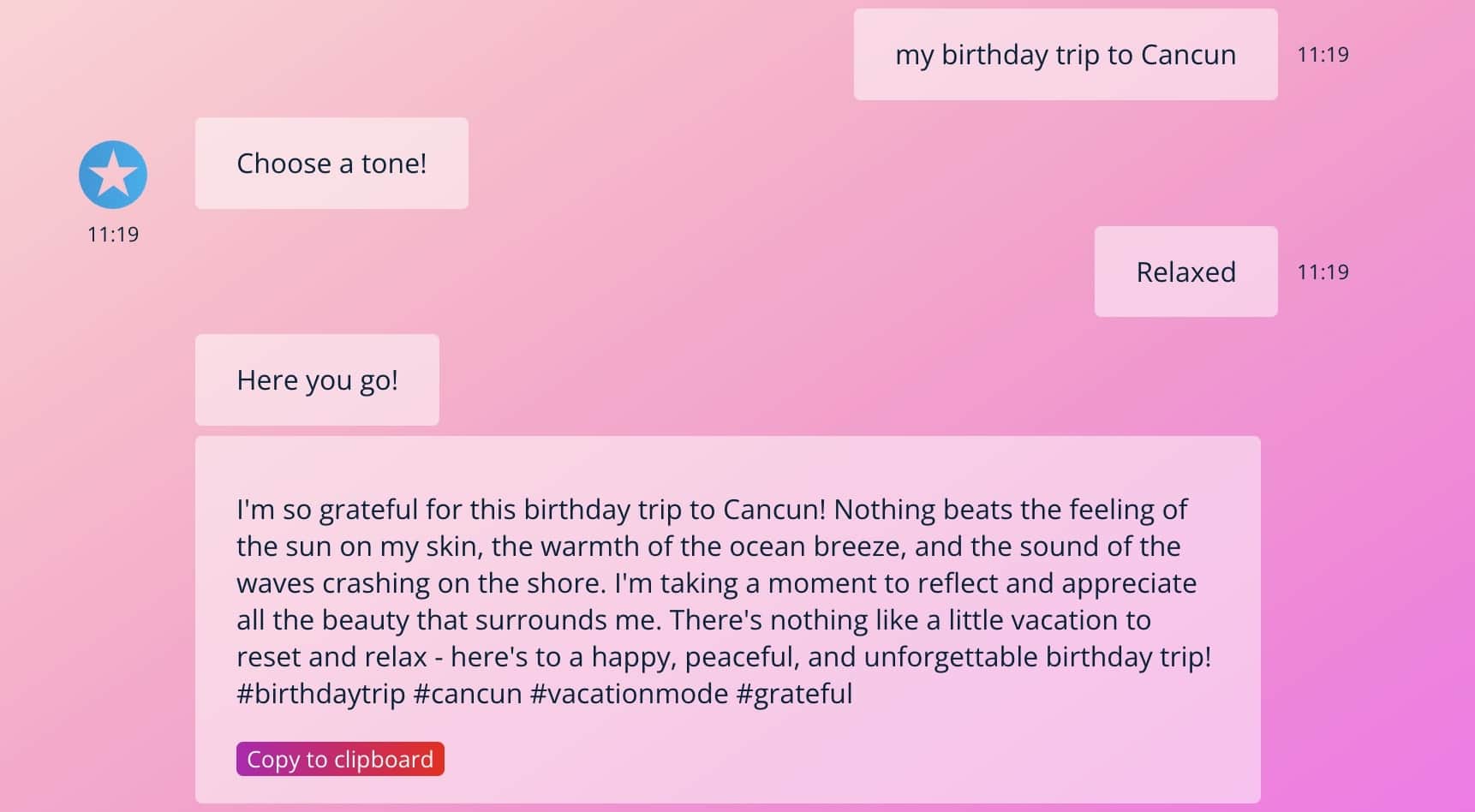 10. Create bite-sized informative videos with Designs.ai text-to-video technology
If you're looking for an easier way to create bite-sized informative videos, look no further than Designs.ai text-to-video technology.
To use this feature, simply open the text-to-video tool, give your video a title, and then type or paste a script of up to 20 full-stop sentences. After that, choose an end-screen message, the industry you're in and a language.
Then, select a voice-over, hit next, and wait for the tool to finish creating your video.
Once you see your video, you can customize it further to reflect the look and feel you want. You can change out the still images, replace video clips, update the color palette, and more.
While you'll need to play around with this tool to get the results you're looking for, its handy features can help you batch mini videos in record time.
Pro-Tip: Prepare detailed scripts, video titles, and image inspiration ahead of time. Hand these over to your AI freelancers or creative team to produce the videos using Designs.ai or another text-to-video app.
Wrap up
While there are more tips where these came from, the resources we shared today are a great starting place for any marketer looking to embrace AI tools to automate their social media content creation.
If you're ready to save time on redundant tasks and focus on the work that matters most to you, give the AI tools in this article a try. Many of them are either free or offer a free trial, so you can start test-driving them right away.