While Google is getting better and better at search intent, you should get better at giving the best match for their searches. Keywords are important indicators of how people use to search.
The exact match keywords are no longer precise matches, and they will now match with the intent of a search. You should focus on finding close variants of these exact match keywords to reach more people and grow organic traffic to your website.
Using the right SEO tools and keyword finders, will help you analyze, find ideas for content that's relevant to searchers, identify gaps that your content could fill, boost your website's search engine ranking and gain an advantage over your competitors.
After in-depth testing, here are ten keyword research tools for any budget and business needs, including all-embracing greats and features for more specific use cases.
Keyword Research Tools for Advanced SEO
If you are an SEO expert or consultant in SEO or content marketing, you need something more advanced to dig into the details and comprehensively analyze current results. The tools from this section serve different purposes in one tool, from the standard search volume data to competitive keyword gap analysis.
Here are the tools for those who need to build an advanced SEO strategy.
SE Ranking
SE Ranking is a powerful all-in-one SEO platform that includes many keyword data and makes it easy to analyze SERP features and current website results. The tool offers a wide range of keyword research features, from the standard search volume data and traffic analysis to competitive keyword gap analysis and position tracking.
The most significant focus of SE Ranking is competitive analysis. You can compare a list of your competitors' keywords and analyze them against essential SEO metrics, such as search volume, keyword difficulty, rankings, CPC, etc.
With the help of its search engine keyword tracker, you can assess the performance of your keywords and see how they compare with your competitors.
The tool provides detailed reports, separate for organic and paid search, and comes with a visualization of your competitors.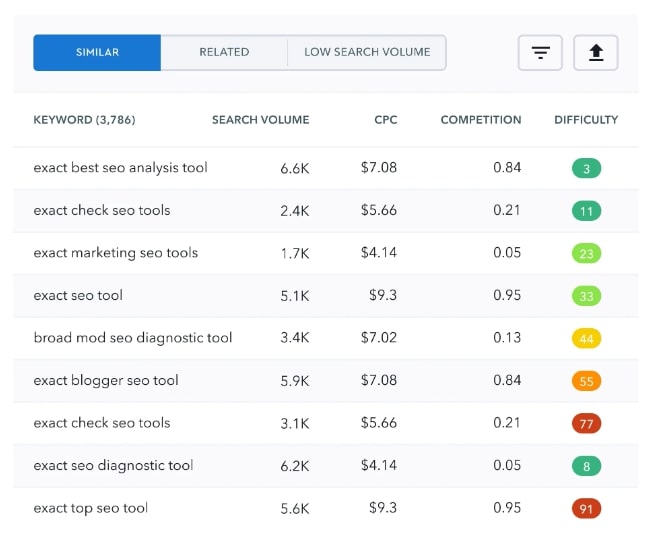 Another cool feature is to analyze your competitors' paid campaign history. You can find out which competitor ads are the most effective and popular, and which keywords they use to promote their ads in paid searches.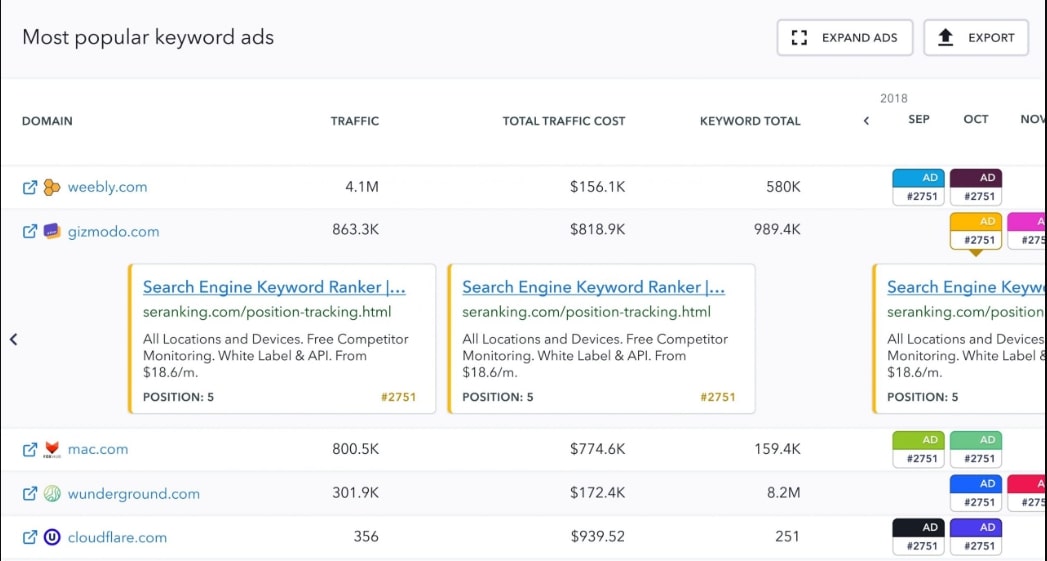 "SE Ranking gives the best value SEO insights on the market," said Chris Kirker from Kirker Davis LLP. "With an effective keyword and on-page audit tools available for a small fee, we've taken our lowest budget law firm clients to heights and shown them impressive data about their competitors."
WebCEO
Another excellent tool for advanced keyword research is WebCEO. Its built-in keyword suggestion tool can help you find content ideas from multiple sources within seconds. It offers a bunch of valuable metrics, such as global monthly searches, the average cost per click, bid competition, and global KEI, that help you define to target or not your keyword phrases.
With WebCEO, you can monitor search trends for a particular keyword over the last 12 months. The tool extracts keyword data from Google Keyword Planner, Google Autocomplete, People Also Ask, and other sources.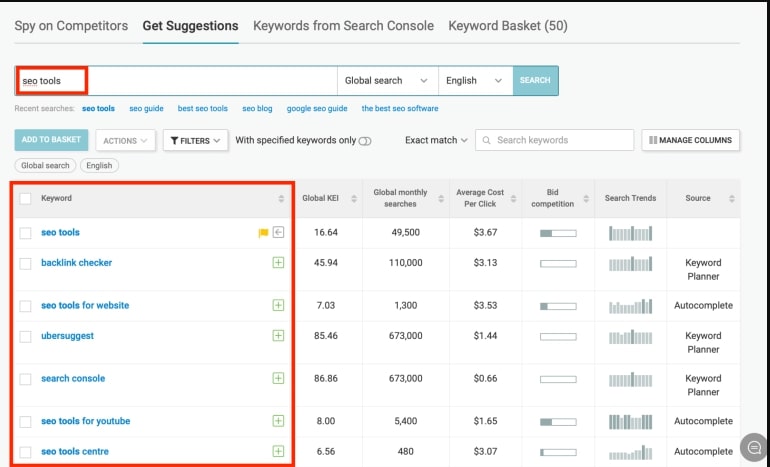 Another cool feature is to find profitable keywords that already work for your competitors. The WebCEO's Local Keyword Analysis tool also provides more specific keyword ideas for any region and location of your choice to promote a local brand.
Semrush
Semrush is one of the most popular marketing platforms for search engine keyword research. The tool includes a wide range of valuable tools and reports that can help you with keyword research and local SEO, social media management, content marketing, website audit, and more.
Semrush offers more advanced keyword data and makes it easy to receive details about SERP features and detailed analysis of current results. You can also find out where your competitors rank and which keywords they use for organic SEO and PPC advertising. The best thing about Semrush is finding additional keywords from WordPress integrated within the All-in-One SEO plugin.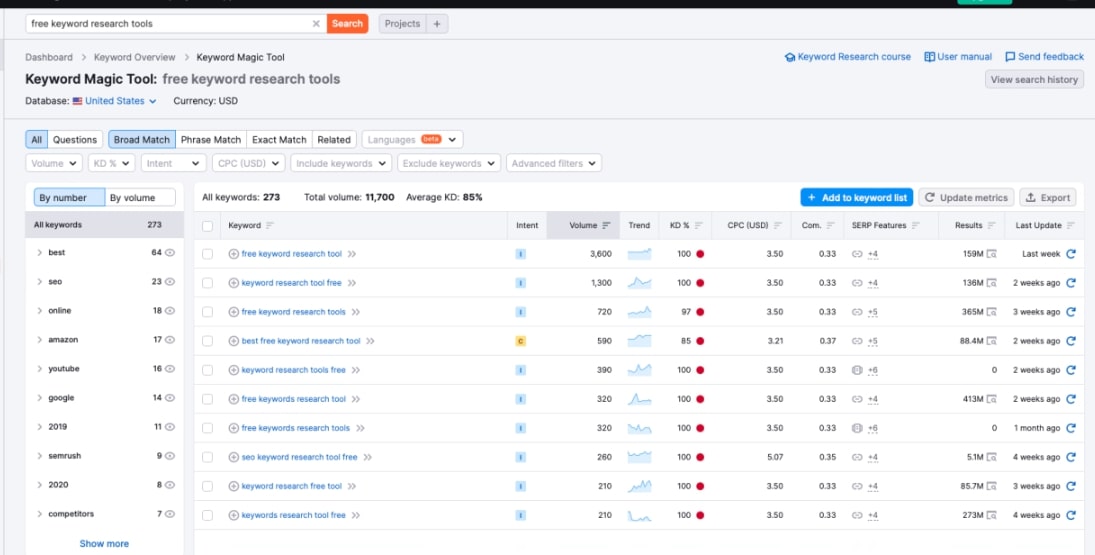 "Semrush is like a lighthouse that helps to surf through the ocean of websites," said Kashif Raza from Kamil Web Solutions. "Its detailed keyword tool provides many ideas based on your desired search volume, spots previously used words by your competitors, and offers excellent keywords to rank for."
Keyword Research Tools for Content Ideation
Google Trends
Google Trends is a great free tool that can help you identify popular keywords, prioritize your content ideas, and create a series of valuable articles based on these keywords. What's unique about this tool is the option to see keyword popularity across different locations and over time.
With Google Trends, you can identify keywords with low volume and competition, growing in popularity, and those that are worth targeting. Using this data, you can quickly refresh your content marketing strategy based on keyword trends. Moreover, it can also provide real-time data and search history starting from 2004.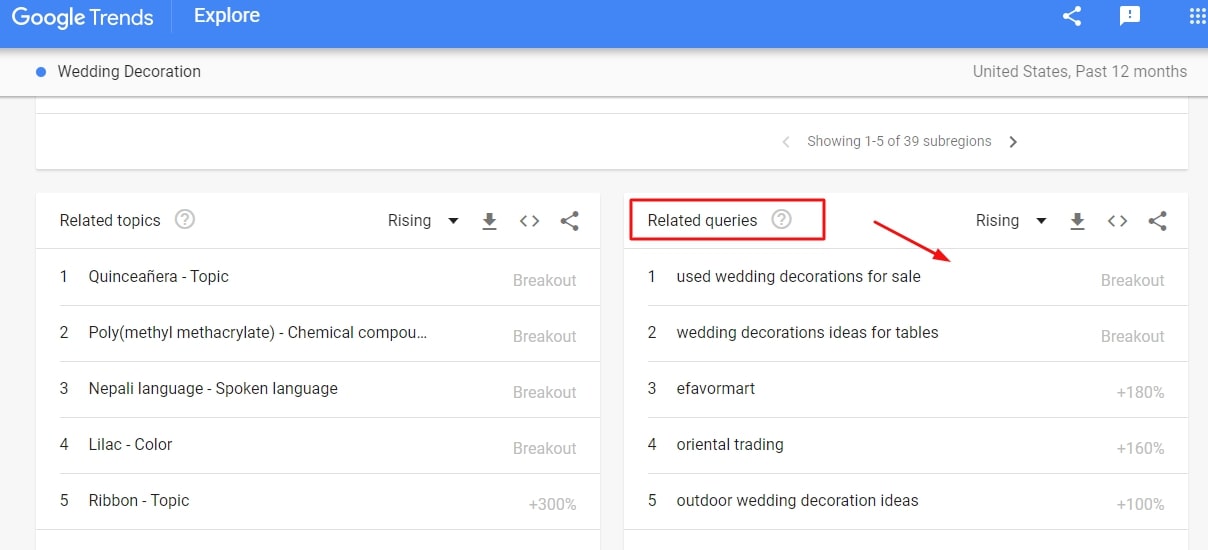 "You can also use Google Trends to write about newsworthy topics and share your articles with journalists," said Max Benz, CEO at BankingGeek. "They will be happy to take up your story, since public demand is backed up by Google Trends."
AnswerThePublic
AnswerThePublic is a great keyword research tool that is quite different from other tools. It provides smart search queries in a visual format, and presents relevant content ideas for each keyword.
People are using more and more natural language to form their search queries; that's why Google prefers to deliver more specific, question-like search results to satisfy their needs. AnswerThePublic helps you find the questions (who, what, when, where, which, etc.) people are searching related to your keyword. Its keyword visualization feature also shows suggestions for comparisons (or, vs., and, etc.).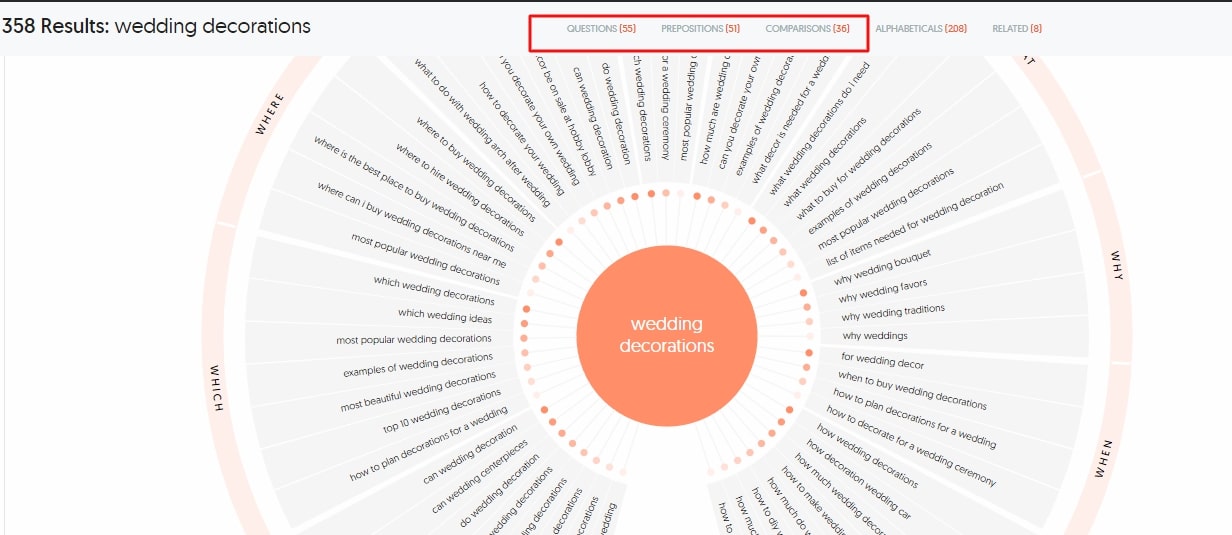 The tool provides a vast list of information that takes time to digest. So you can easily export the data to a .csv file along with fantastic visuals. Its paid version offers more useful features, like data comparison over time, monitoring and alerts, and customized viewing.
QuestionDB
QuestionDB is another powerful question-oriented keyword finder that extracts keyword data from other 48 million questions on Reddit, Quora, and Stack Exchange sites. This tool is excellent for finding blog topics and social media post ideas to create unique expert content.
With QuestionDB, you can enter a broader topic or keyword, giving you a list of related questions that people often ask online. Moreover, the tool will also show sources where these questions come from.
"The best thing about QuestionDB is the sourcing. You can gather content topics, define what people are talking about, and get more context about your case", said Mariano Rodriguez from LawRank. "Its free version allows 50 results per search question with the option to gain access to the paid one for unlimited searchers, API access, and complete results."
Soovle
Soovle is another excellent option for initial brainstorming of new keywords and seeing the most popular search questions from different search engines like YouTube, Bing, Google, Amazon, eBay, Walmart, and many more. If you want to see results from specific search engines, you can easily customize the tool to display them from that platform.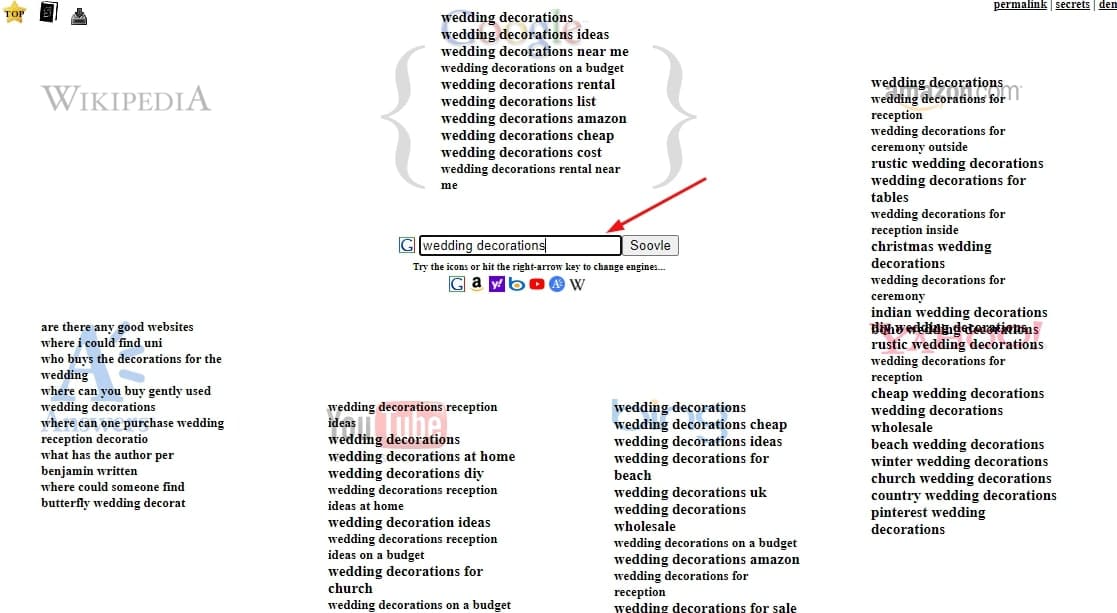 Soovle doesn't show search volume, cost data, or competition, but it is great for revealing content ideas and understanding search intent in particular cases. With its drag-and-drop feature, you can easily save their specific keywords into the Saved Suggestions list, and send it to your team, so that they can refer to it later.
Keyword Research Tools for a limited SEO budget
Ubersuggest
If you are looking for a premium keyword research tool with a limited budget, Ubersuggest can show many search suggestions with search volume and keyword difficulty. The tool will display the top 100 Google results for your keyword with many backlinks, domain scores, and social shares. You can easily filter search queries by a question, comparison, and preposition.
Ubersuggest is great for content marketers and SEO specialists. Thanks to its Content ideas feature, you can find web pages related to your keywords, figure out how well they perform, the number of their Facebook and Pinterest shares, and monthly visits. The free version is minimal, while the paid one only costs $29 per month with extended options.
KWFinder by Mangools
KWFinder is an effective tool for finding easy-to-rank keywords for newbies and experienced SEO users with a limited budget. With its easy-to-use interface, the tool provides all your keyword basics, including long-tail variations, suggestions, search volume, CPC, SERP analysis, and website analysis. You can also search by domain, location, or keyword.
A cool feature is to get search volumes with historical data. It will help you create content based on long-term trends and define seasonal keywords and hot topics that will help increase website traffic. The free version allows five keyword lookups, ten competitors, and 25 related keywords per lookup. Try the paid version at $29 per month to get more keyword suggestions.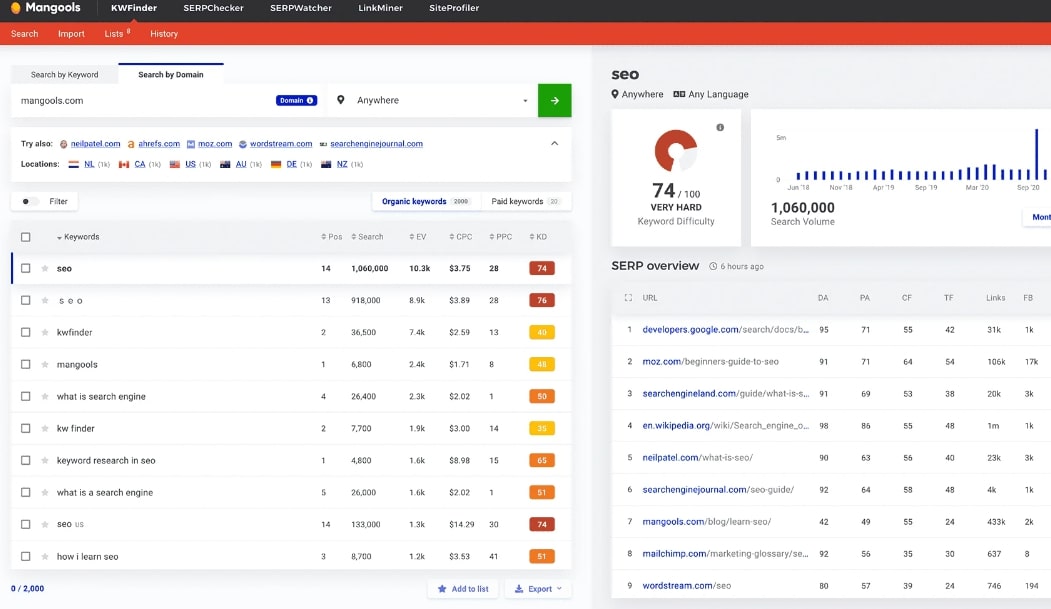 KeywordTool
Keyword Tool is a free tool that helps you find long-tail keywords for SEO and PPC using Google autocomplete. Compared with Google Autocomplete, which shows only five keyword variations, Keyword Tool provides many valuable search suggestions from different platforms, including Bind, eBay, Play Store, Instagram, Twitter, Google, YouTube, and Amazon.
Keyword Tool offers a free version that goes without numerical data. If you want to get more data (search volume, CPC, trends, competitive analysis, and more) and find precise keywords with low competition, you can use the paid plan that starts at $69 per month.

Bottom Line
The benefits of keyword research can't be understated. Using the best keyword suggestion tools can help you find profitable keywords and achieve your business goals. To find the right one for your needs, figure out your budget and the primary focus of your SEO strategy.
If you are looking for more advanced tools, you can try SE Ranking, WebCEO, or Semrush. If you have a low budget, you can find a lot of tools that are free of charge or at a low cost. This list offers excellent keyword research tools for any level, purpose, and business, enabling you to maximize your SEO ROI.