Project management tools are among the few tools that span all departments in a business, and with some 85% of companies accelerating the digitization of employee collaboration since the outbreak of COVID, project management is one of the most important tech niches in the post-pandemic world.
In the modern business arena, project management tools are a non-negotiable essential for planning, monitoring, and executing projects of any size, while preventing miscommunication and lost efficiencies that can arise from dated or otherwise improvident strategy.
Like any kind of tool though, the project management niche is large and varied, and tools can be a huge asset or an unnecessary complication, depending on your exact goals and needs.
In this guide, we'll take a deep dive into what project management tools do, how to find one that's a good match for your organization, and a round-up of our four favorite project management tools to consider using at your business.
Table of Contents:
What Are Project Management Tools?
To put it simply, project management tools are pieces of software which help workers to plan projects in a way that ensures clear and efficient communication, and the efficient use of resources across a whole team. They can vary from rudimentary task management boards, all the way up to cutting-edge software suites that use artificial intelligence to help predict and optimize decision making.
Though there's a lot of variance within the project management space, most tools will have a few core functionalities, including:
👉 Task Management: Setting tasks with assignees, due dates, and briefs, with relevant documents and other materials attached to help with organization and visibility across the team.
👉 Parent Projects: Structured project management, where individual tasks are assigned to an overarching goal, showing everyone involved the steps needed to achieve "big picture" benchmarks.
👉 Collaboration: Making it easy to share documents and content, stay in constant communication with the other members of a team, and collaborate on a single task in a logical and efficient way.
👉 Capacity Tracking: Many collaboration tools have features that allow managers to see employees' capacity and assign work based on these limitations, ensuring no one gets burned out or winds up taking an unfair share of a given project.
How to Assess Project Management Tools for your Business
Bringing a good project management tool into the fold can have countless benefits, such as:
More efficient resource management
Easier employee onboarding
All-around risk mitigation for many different project types
However, with countless tools on the market and dozens of important variables within each option, finding a tool that's well-suited to your team and the wider organization can be challenging, to say the least.
As you begin to explore your options for project management optimization, here's some of the most important areas to consider when you're assessing project management tools for your business…
Capacity for Task Management & Project Tracking
With around 12% of a manager's average work week spent assigning and prioritizing work for their team, task management and project tracking are two of the most fundamental functions of any project management tool.
No matter how complex they get, projects are made up of individual tasks and having a system that allows you to assign, review, and manage your tasks from a centralized, user-friendly location is one of the best things you can do for your project management capabilities.
When assessing a new tool, start by viewing demo videos or getting a free trial to give yourself the most accurate picture of how your own task management and project tracking needs will fit into the interface. Subtle differences here can make a lot of practical differences in the way your team interacts with the tool, so don't take a tool's marketing hype at face value.
Ease of Use
Most project management suites are framed as being easy to use, but this can mean different things in the context of different tools.
Just like its capacity for effective task management, you need to consider a tool's ease of use in the wider context of your team, and try to project just how easy team members at all echelons of your organization will find it to hit the ground running when they're asked to start using project management software.
In an ideal scenario, the project management tool you choose should have a simple enough interface that all team members, even junior new hires who have never seen a project management system before, can use its main features without having to navigate a challenging learning curve.
Many businesses can find it difficult to free up training resources, especially when it's relatively new, so make sure that ease of use is a priority as you go about assessing your options for project management tools.
Reporting Features
We live in a post-big-data world, where everything from organization-wide quarterly financials to niche areas like sales intelligence requires objective and accurate data used to inform key decisions.
Intelligent prospecting solution Outbase explains that sales intelligence "can help keep track of emerging trends or technologies, and keep tabs on competitors, allowing you to recognize these patterns and adapt your business to account for these changes. It also means that manpower which would be spent researching can be put into a more useful role."
Just like the more outward-facing tools you use to maximize success, your project management software should give you access to reporting dashboards that give you a detailed look at project performance indicators, and helps you make the right calls to maintain your long-term project health.
Though being able to generate these highly granular reports at a project, individual, or custom level may not feel like a big priority in your company's current state, it's important to remember that nothing in business is static. If you find yourself in a position in the future where you need increasingly complex reports and detailed projections in terms of capacity and demands, it's better to have these capabilities ready through your project management tool, rather than having to scramble to carry out fresh research, upgrade your tool subscription, or find a new tool altogether.
Communication Features
Employees have shown an increasing need for efficient and flexible communication for some time, and within post-Covid remote working environments, this is more important than ever.
With more than half of managers in charge of remote teams encouraging more asynchronous communication, a project management platform's communication features are another big thing to consider when you're window shopping for new tools.
A good project management tool will empower workers to notify managers and colleagues about important updates on a given project with just a few taps of their device, and then have those updates reach the right people no matter where they're working from.
For example, popular task management platforms such as Asana and Clickup both allow users to type into the updates section on a given task or project, simply "@" a fellow collaborator in the same workspace, and send them their comments. Within a few seconds, depending on each user's settings, these important messages will then appear as push notifications on their computers and mobile devices, ensuring everyone is kept in the loop.
Equipping your teams with a project management tool that allows for seamless, instant communication will help to mitigate the risks of mismanaged projects and simple forgetfulness, and nip emerging issues in the bud before they become serious problems.
4 Project Management Tools to Consider for Your Business
Now that we've explored what a good project management tool can do for your business, and the kinds of qualities that you should be looking for, here's our round-up of 4 great project management tools to consider bringing on board.
Monday.com
Topping off the list is project management tool Monday.com, an extremely versatile project management platform that's accessible to workers with a range of technical backgrounds.

Though the wealth of views and options may be a little daunting at first glance, Monday's project management in practice has some truly great features and enough flexibility to tailor it to the needs of any project or business.
While many project management tools tend to only a few stripped-down views of the data gleaned from a given project, Monday's configuration capabilities allow you to wrangle complex datasets into custom visualizations, which can be immensely useful for generating regular reports and finding new efficiencies.
Though there's a considerable learning curve for using some of Monday's more advanced features, its project management views can be made as simple or as complex as you need, and always maintains a clean interface.
💡 Investment: Monday starts free for a plan of up to 2 seats and goes up to $16 per seat per month before the enterprise-grade plan.
Asana
Asana has risen to become one of the most popular project management tools in the shift to remote working that followed the pandemic. When you get to grips with its handy features and huge potential for extensibility, it's not hard to see why!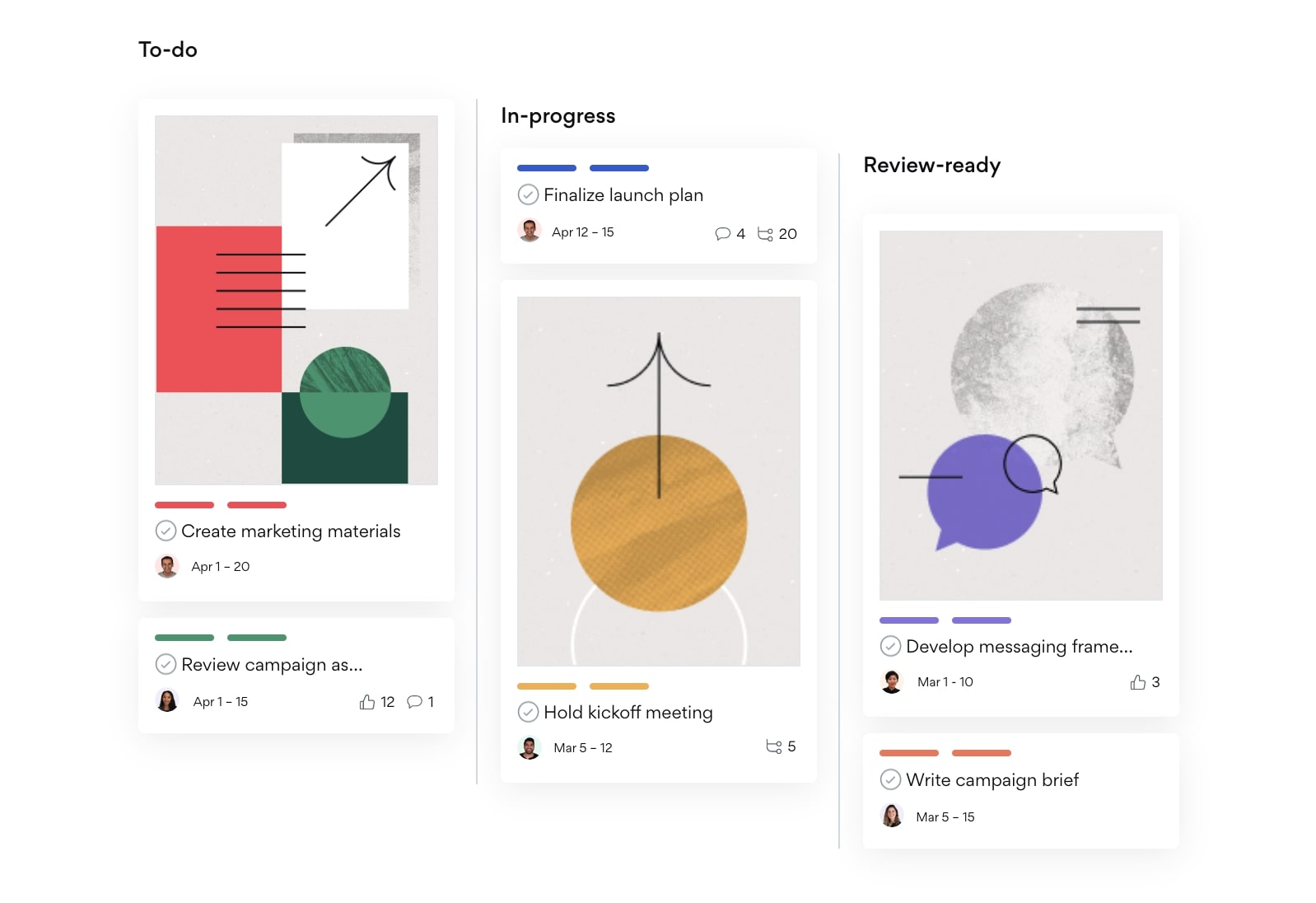 With a range of project data views including list, workload, calendar, and timeline views, as well as a broad selection of custom fields and rules you can edit around projects that tend to follow a similar template, Asana makes it easy to plan out large-scale projects involving multi-disciplined teams, even when you have limited contact with your colleagues. It also offers simple features workers can use to import essential data from Google Sheets, Trello, Airtable, and various other tools.
Though the UI may not be as intuitive at first glance as some of the simpler competitors like Clickup, the learning curve required to really harness some of Asana's more complicated features is a fair trade-off for its great extensibility and future-proofing for all businesses.
💡 Investment: Asana is free for its basic plan, going up to $24.99 per user for its most advanced plan before the enterprise level.
Teamwork
As the name suggests, Teamwork is a project management platform that's designed around collaborative tasks, and prioritizes features for assigning responsibility and managing workloads.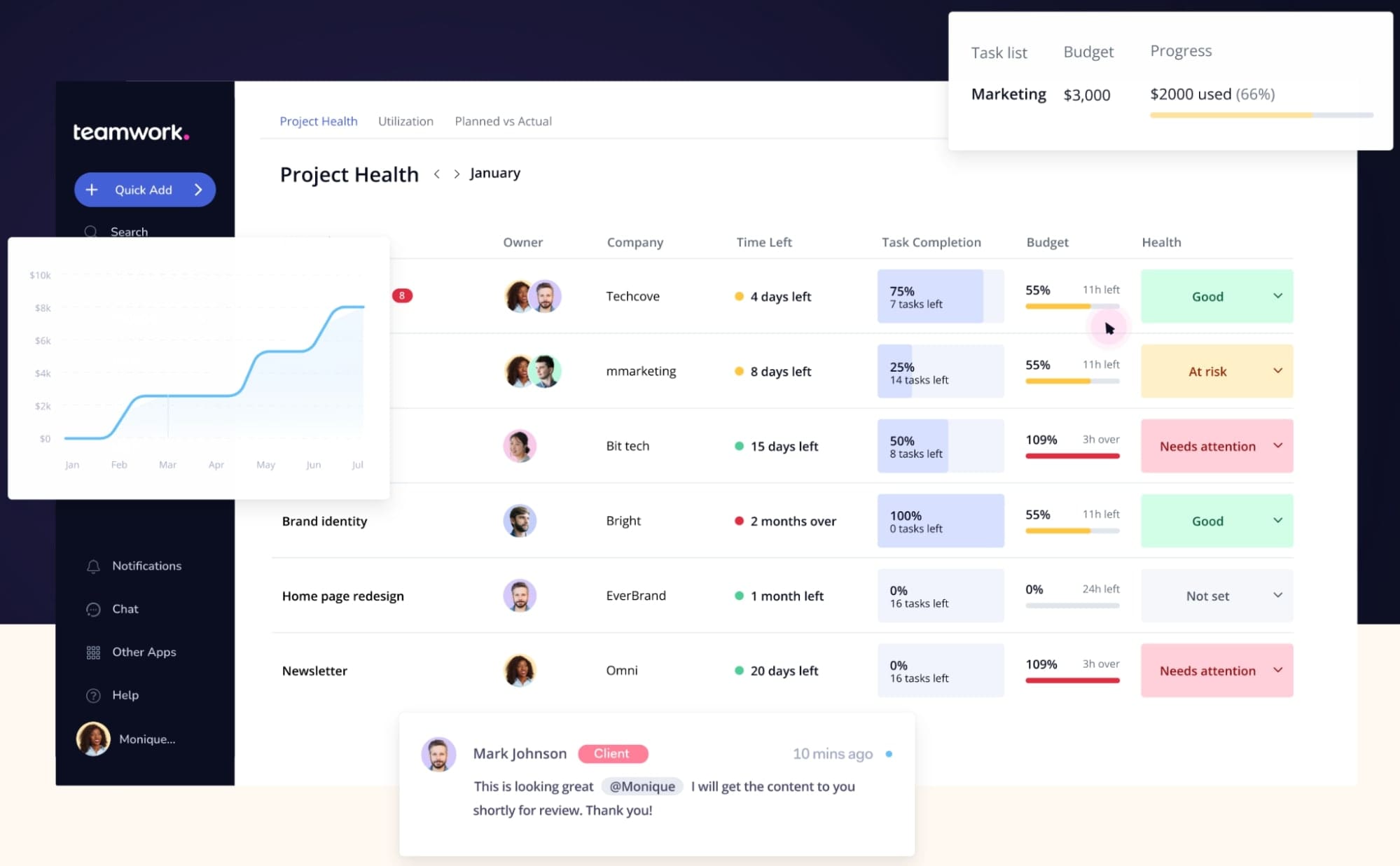 With features that allow you to organize project data into Gantt charts, calendars, and kanban views with just a few clicks, create project templates and dashboards which can then be organized via project-level tags, as well as some great Microsoft 365 and Google Drive integrations, Teamwork makes it easy to ensure that every member of every team knows exactly what's required of them within given timeframes.
This tool also offers fantastic capabilities within time tracking, budgeting, and stakeholder management, which makes it a great option to explore if your project managers are feeling overworked or in-the-dark about the initiatives they're directing.
💡 Investment: Teamwork starts with its most basic "Free Forever" plan, going all the way up to its "Grow", which costs $17.99 per user per month before getting into enterprise plans.
Zoho Projects
If you're a freelancer or part of a fledgling startup that's only a few people strong, then Zoho Projects may be the ideal project management solution for your needs.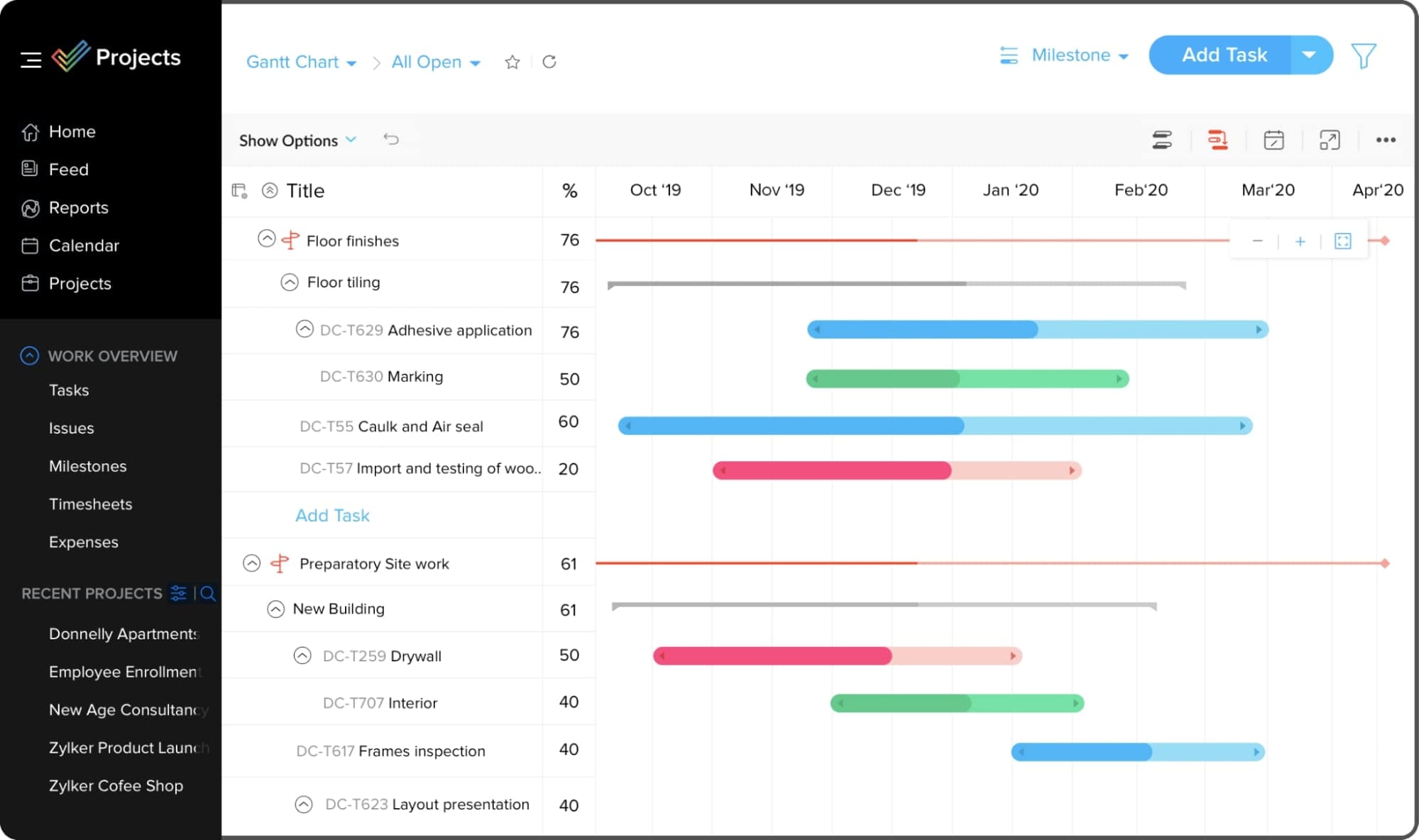 Though it's one of the most affordable project management tools on the modern market, Zoho offers a serviceable spread of features for assigning tasks, monitoring progress, and ensuring that time and resources are distributed as efficiently as possible.
Zoho offers a great selection of views for arranging your project management data, from classic spreadsheet views to complex, automated workflows made through the platform's own "Blueprints" feature.
Though Zoho Projects offers some helpful features for a tool with such a low price point, it's important to note that it lacks a lot of the extensibility and configuration options that many of the other tools in this list can bring to the table.
Having said that, if you're currently working in a small and close-knit operation where it's easy to keep in constant contact with your colleagues, and you're hoping to scale up gradually into more complex operations over an extended timeframe, Zoho can be a great tool to keep your workload in check while getting to grips with a basic project management tool set-up.
💡 Investment: Zoho Projects is free for up to 3 different user accounts, with its most advanced pricing plan costing just $10 per month.
In Summary
With largely remote teams requiring greater levels of communication and collaboration than ever before, finding a project management tool that works for you is an essential part of managing a successful business in the modern commercial arena.
Though this list certainly isn't exhaustive, we hope we've given you a better idea of how the various functions of project management suites can fit into your needs as a business, and got you started toward finding a tool that will prove a major asset for your organization.