Remote work has thrown up a lot of new challenges for teams. Before, office life was dominated by connecting in person and being physically present. This enabled work to get done and allowed an easy pathway to socialize. A coffee chat here, team lunch there, after-work drinks, and a host of activities can be efficiently planned as most people share a common factor – the office.
The past two years of forced remote working have been challenging for many, with widespread feelings of fatigue and isolation. We've been at home, trying to work during a pandemic. The research shows that 67% feel less connected to their colleagues, and 61% feel lonely at work, which can cause a variety of problems such as anxiety and depression.
How have remote managers been coping?
Team managers – especially those new to work remotely – have lost many tools that made team bonding practical. Having a team based in one location made organizing effective team outings like lunches and activities easy. For more significant moments, offsites and away days were crucial for team relationships to form.
There are many tools that help remote teams be more productive, but spending quality time together can be an after-thought. Managers are often tasked with mixing social activities alongside video conferencing tools. Giant wall-of-screens for social meetings don't cut it anymore. Work meetings are serious business with agendas, notes, and follow-ups. Taking that same meeting environment and adding badges and emojis does not make it instantly fun or social. You probably wouldn't pick the office meeting room for a team bonding session, and the same applies virtually.
Working remotely without the upside
One of the most anticipated moments in many remote team calendars is the company retreat. Typically an annual (or if you're lucky – more often) getaway somewhere exotic with time to bond, plan and hang out together. Downtime is often as valuable as strategizing or brainstorming. Getting to know colleagues personally adds harmony and meaning to teams. Retreats are a fantastic way to connect socially but also collectively to your mission. For the most part, we've been unable to meet in person and enjoy retreats together. All of this means we're desperately underserved opportunities to get to know each other away from work mode. Often it can feel like the best aspects of working remotely have been disabled due to the pandemic.
Team bonding in the age of remote work
Like any good relationship, team bonding takes time, patience, and consistency. As a remote team manager, you are tasked with providing the right environment and structure for your team to flourish.
Here are four social rituals that remote managers can incorporate to build a great team bond.
1. Social Check-ins
Starting the week off with a social check-in is an excellent opportunity to foster community amongst a remote team. Share stories from the weekend, what you are looking forward to this week, or just general chit-chat. The trick here is to keep this for social chats only, rather than work discussions. This is precious time for the team to check in with each other. Adding some background music helps break the formal feeling of remote meetings. Many Mibo users find that bringing their team together for around 20-30 minutes after the weekend break helps reset and reconnect everyone for the week ahead.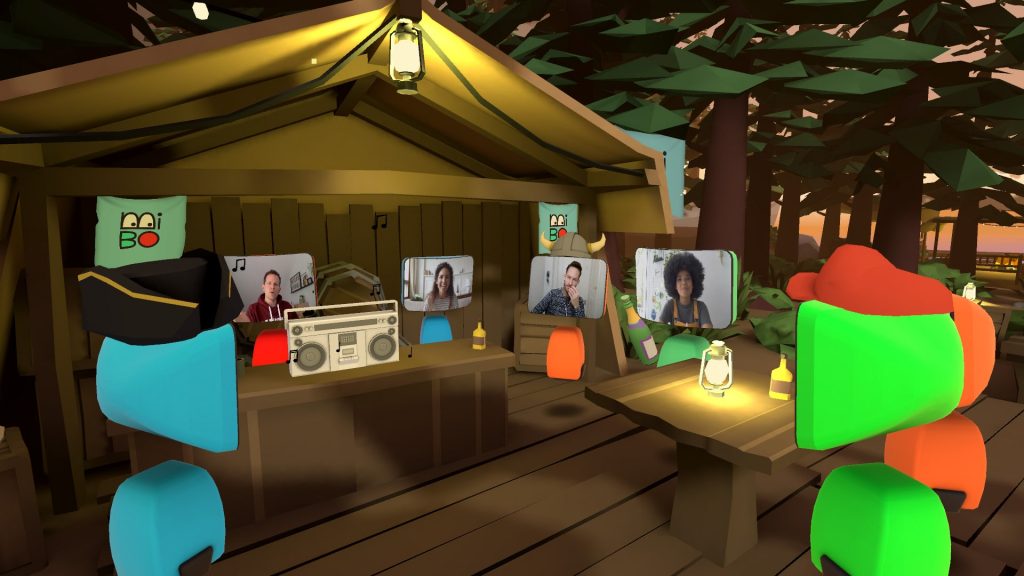 When to have it? Monday is a natural fit here. At the start of your working week, preferably before folks get into work mode.
How to make it great? Schedule social time just before or after your first work meeting of the week. If you typically host a stand-up or team meeting at the start of the week, build in a buffer to allow time to check in over small talk and catch-ups.
2. Coffee Drop-ins
Scheduling a couple of casual moments for colleagues to drop in if they need a social fix is a great way to keep a remote team connected. Making attendance optional means that folks can pop in when suits and keeps things light – perfect for chance encounters. We recommend scheduling two 15-minute coffee chats in your teams' calendar each week. Mibo has lots of spaces that are perfect for casual chats. One of my favorites is the Studio which has comfy seating and an excellent view for cozy conversations.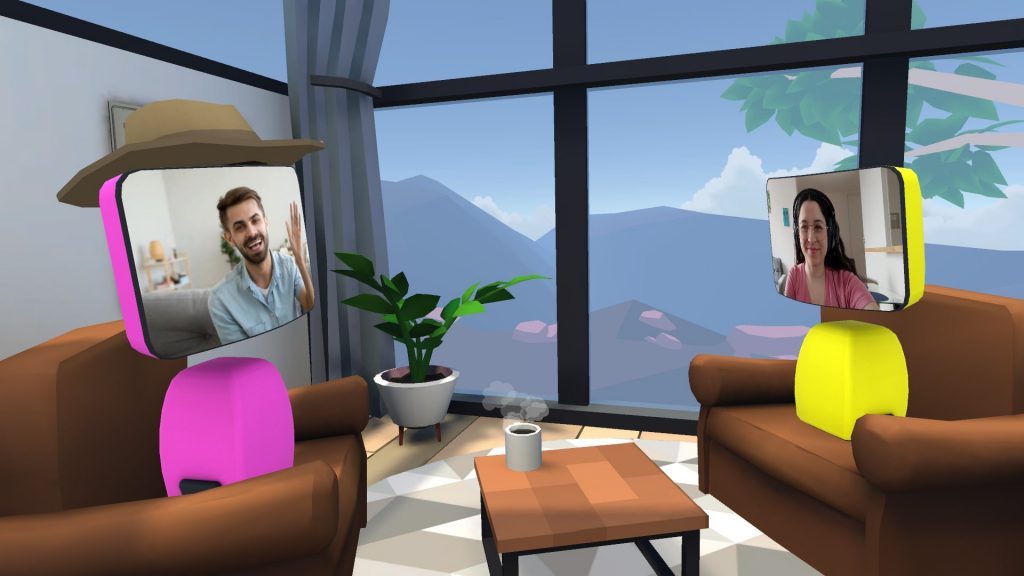 When to have it? Check with your team what time suits them so it doesn't interrupt their workflow. I've found Tuesdays and Thursdays at 11 AM are good times, but if you're running widely different time zones, 3 PM afternoons are a good option too.
How to make it great? Keep expectations light with no agenda but make sure it's in the calendar. This is a casual drop-in moment over some coffee, or tea, or whatever you like.
3. Weekly Socializers
One of the most important things we see successful remote organizations do is have regular socializers that their teams look forward to. Being well planned doesn't necessarily mean much work for managers. How do you know your current efforts aren't working? When your team skips them, or it's the same couple of voices talking – or even worse – just you.
Much of the pain for remote managers has been hunting for online activities and combining them with video meetings. This can sometimes work out okay, but neither solution is built with remote team socializing in mind. When we developed Mibo, we wanted to create environments where social moments happen naturally. That's why you don't see your own face, and you hear sounds in the direction they're coming from. All of this makes conversations flow naturally. We also added lots of interactive things to do, like playing games together. You don't need to open another tab or load in another tool – you can play games right away and interact naturally. Playing games with your team is an underrated way to build teamwork as well as relationships.
Pick up a cue to shoot some pool, smack a ball to play volleyball, or take photos with an instant camera. Mibo does all of the work in making team socializers fun. You can also add to the moment if there's an occasion to mark, like welcoming a new colleague or celebrating a milestone. In Mibo, you can take to a virtual stage with a microphone and share your screen too. There are many ways to organize team socializers, but they should be social, fun, and memorable.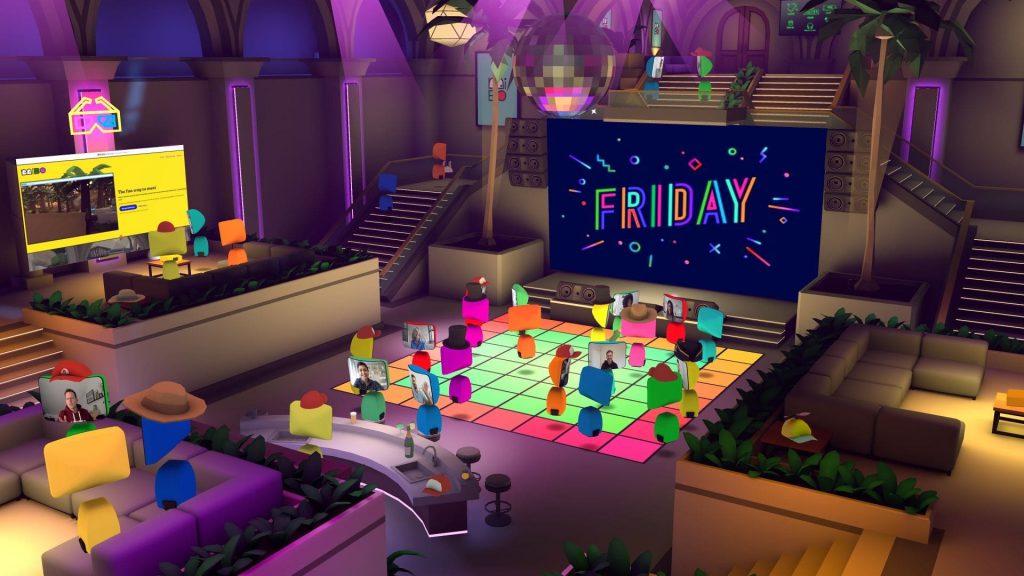 When to have it? Ideally, socializing is already part of your teams' rituals. The end of each week is a great time to bring everyone together. If your schedules don't allow it with time zones or you don't have something planned, just make it as regular as possible. Typically these are weekly for about 45 minutes or every couple of weeks for 60-90 minutes. Whatever works for your team.
How to make it great? If your team is yet to find its comfort zone, you can add some fun icebreakers to this moment. Consistency is critical, so setting aside time in your teams' calendar is the first important step. The second is using Mibo.
4. Virtual Parties
What about when you need to cater to the whole company and not just your team? It's essential to build social connections right across the organization. Holding a virtual party for large groups of people can be daunting. Getting everyone excited and making the event fun while connecting from across the globe is operationally challenging and a bit of a logistical nightmare to get right.
Virtual parties can often feel passive and disconnected where one person speaks, and everyone listens. We miss the excitement of meeting in real life and having a party. At Mibo, we've just launched a festive online event – Winter Wonderland 2021 – packed full of holiday fun for remote organizations. The key to any great party is to keep the fun going. We built heaps of playfulness into a snow-filled winter island, complete with a Ferris wheel, northern lights, and interactive moments that bring people together in a natural way.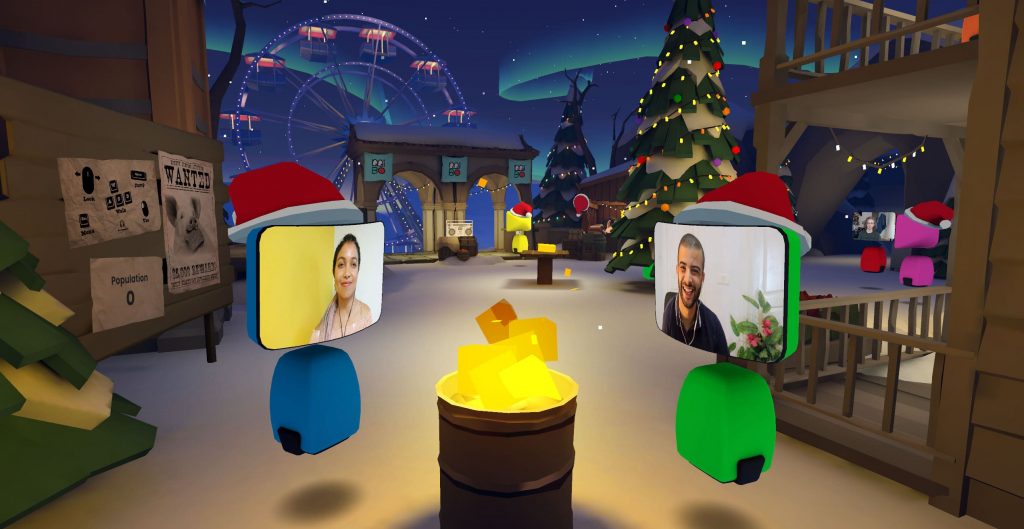 When to have it? Every season, so every couple of months is a good rhythm. This falls nicely with seasonal themes you can tie in with, like the Holidays, Halloween, or St. Patrick's Day.
How to make it great? Themes are a great way to add a little spice to virtual parties. Once everyone is in the mood, there should also be some planned activities or moments to keep the party going. The real trick here is to help take everyone out of the desk environment by being as imaginative as possible. If you're not confident in planning a virtual party, choose a platform that does it all for you, or hire a professional to help make it magical.
Ready to level up your remote team?
With organizations adjusting to a new work-life that might be fully or partially remote, keeping your team connected is more important than ever. Mibo is like nothing you've seen before. With your camera as your head, you move around a 3D environment and chat with others, feeling conversations flow like real life. Mibo is filled with interactive stuff to make socializing fun, never forced.
Use all or some of the moments in this article to develop your social rituals and help build a happy and connected team.
Try Mibo for free today and create your first social moment this week – there's never been a better time.