The current COVID-19 crisis has turned our company (and many, many others) into a full-remote organization.
Now, fortunately, Mention is a remote-friendly company.
For years now, we've had full-time remote workers, and Mentionos (that's how we call ourselves) are allowed to work from home when necessary, no questions asked.
In short, we have experience.
In this short blog post, you'll find our tips and tricks to make remote work a reality for your business during this unusual crisis.
🚨 Keep your employees in the loop
The world is going through a unique and frightening sanitary crisis.
As a result, people are scared. That includes your colleagues and employees too. To make the current situation as smooth as possible within your organization, we recommend that you make sure that everyone has access to the right information.
Share information on the epidemic
To keep anyone from panicking and possibly endanger themselves, here are a couple of reliable sources to get the latest information on the COVID-19 pandemic.
1. The World Health Organization
This medium blog post will tell you all you need to know about how the virus spread in various countries, and how confinement measures are slowing down the virus.
Share information on how your organization is coping with the situation
To keep your troops calm, you also need to be as transparent as you can when it comes to the measures that your organization is taking during the crisis.
Remind the security measures
This is mostly common sense, but make sure that you make it known to everyone that your organization is doing what's necessary to protect employees and clients.
What's more, it doesn't hurt to remind your folks to:
Keep their distances with others
Limit their movements to what's strictly necessary
Wash their hands regularly
Stay at home
Make sure that the remote rules are defined and clear for everyone
We're all trying to make the best out of a very odd situation.
The keyword here is flexibility.
Some of us have kids and other relatives to take care of. This means that some of your employees and colleagues will likely be taking more breaks than usual.
And it's okay.
Trust them to do their best during this critical period.
–
🏡 4 management tips to work remotely
Daily team meetings
An efficient team is a synchronized team.
Having said that, being in sync with your teammates can be difficult when working remotely. This is why you should kick start each day with a remote team meeting.
First, it's an opportunity to connect with your colleagues and open up on how you're doing. And it's key to make sure that all team members work towards the same goal during the day ahead.
"Communication is key. Be sure to stay in contact with your entire team to make things feel as normal as possible. Since we are not together, everyone must be in the loop."
—Trudy-Ann @Mention.
1 to 1 calls with teammates
You can, of course, send emails or Slack your teammates to ask them for help. But, from experience, a quick call is much more efficient:
Leave no stone unturned
Actually talk to a human.
🍅 Follow the Pomodoro Technique
Working from home is an interesting experience.
You get to work at your own pace, and in a stress-free environment. Having said that, it's also easy to lose track of time when there's no one around to remind you that it's been 3 hours since you last took a break.
It happened to me all the time until I discovered the Pomodoro Technique.
Developed in the 1980s, it's a time management method designed to break down your work into 25-minute-long intervals. Each interval is separated by a short break.
Taking breaks is key to keep a clear mind and to stay efficient throughout the day.
In other words, turn this crisis into an opportunity to try new working techniques! Don't overwork yourself and give the Pomodoro Technique a chance!
FYI — Pomodoro comes from the Italian for "Tomato". The technique was simply named that way because inventor Francesco Cirillo theorized it with a tomato-shaped timer back when he was a student.

📳 Use tools to work efficiently and to stay in touch
We've identified a list of tools to face extreme crises like today's.
Google Drive
Working on the cloud is game-changing when working remotely.
Now, many businesses still rely on local servers to host their data, mostly for security reasons. Now, in 2020, security isn't a valid argument anymore. In fact, many experts actually find that the best cloud hosting solutions (such as Google Drive) are more secure than a local hosting option. 
Slack
Slack is a great tool to chat with colleagues and clients (and mostly when we refuse to walk 15 steps to bother Antoine about bouncing invoices).
Now, during the exceptional COVID-19 crisis, Slack has become a must-have for all types of businesses (with at least 2 employees, of course) to maintain a certain level of office life.
—
Video and audio chat tools
Tools such as Zoom, Skype, Hangout or Discord (among many others) are great to chat using video and/or voice with your colleagues and clients.
"Having an available vocal chat to recreate the chit chat that occurs daily. You can join/leave whenever you want. That way you can concentrate when you need to, and be a bit more relaxed when you want/need to."
—Damien @Mention
The best part is that all of those tools are free to use!
We've surveyed Mention's employees to know more about the tools they use to keep in touch with friends, colleagues, and family.
Here are the results: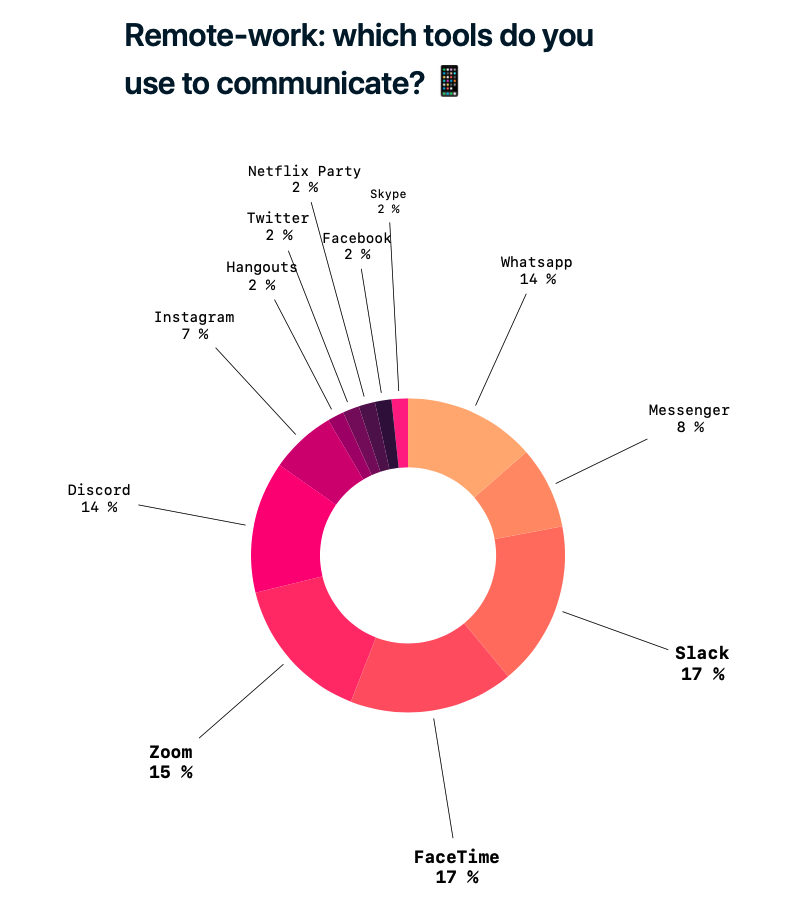 —
Now, while teammates need to work together, they also need to share casual moments.
☕️ 3 Remote activities to consider
The keyword is Casual.
Open an evergoing voice/video chat
When things are "normal", you can wander around the office coffee machine to find colleagues to talk to. When working remotely, things can get pretty lonely around your coffee machine.
Here at Mention, we're using Discord to create casual channels to chat with colleagues when taking a short break.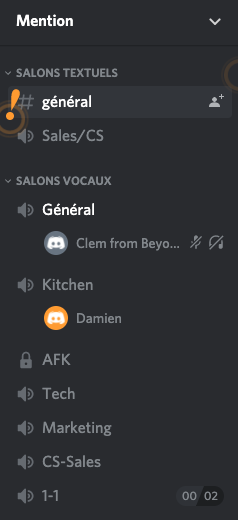 Plan daily coffee breaks
If like us coffee breaks are pacing your regular working days, you need to still have them while working remotely.
At Mention, we've added Remote Coffee Breaks for everybody in the company to join freely.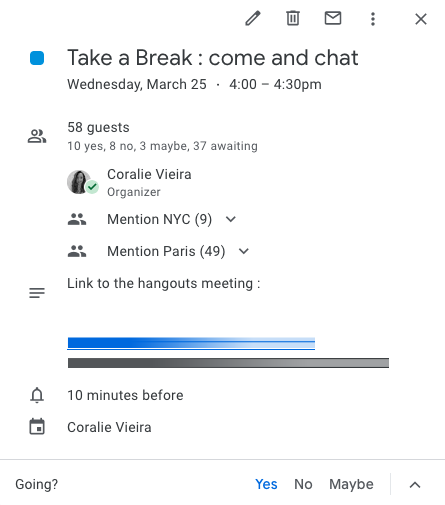 Lunches and food challenges
Some of your colleagues are alone at home — and maybe you are too. To make sure that we keep our lunchtime fun and interactive for the social animals that we are @Mention, we're also organizing a couple of remote lunches each week.
Here are a couple of ideas for you:
🥗 Healthy lunches: "gather" during lunch and challenge your colleagues to eat healthily! No greasy or calorie-heavy foods allowed!
🧁 Remote bake-offs: this can be terribly frustrating if you don't have what it takes at home to do it yourself — but invite all your baker colleagues to share their secret recipes to bake tiny cakes and other lovely treats to survive confinement.
🎓 Lunch and learn: we find that working remotely is an opportunity for us – as a team – to learn new things. When some of us feel like sharing their expertise on something — may it be marketing tricks, sales techniques or coding tips — we organize internal webinars.
🧘‍♀️🧘‍♂️ 5 Things to do to stay sane while locked up at home
Here are a couple of extra tips to — as Jordan, Head of Sales for Mention NYC puts it — stay sane while having to stay at home.
Open your windows (regularly)
We're currently spending a lot more time at home, thus missing the benefits of breathing fresh air throughout the day.
Opening your windows will:
Freshened your mind, making it easier to work efficiently
Renew the air and eliminate stagnating impurities.
Start a home workout routine
Because we have to limit our movements, we may find ourselves restless at times. To solve this problem, try to adopt a short home workout routine.
Nerdfitness actually wrote a comprehensive blog post in which they present 12 different movements to try at home to get/stay in shape.
Now, if you're feeling extra motivated, and are lucky enough to have a large balcony or terrace, you can try, just like this crazy Frenchman, to run a marathon.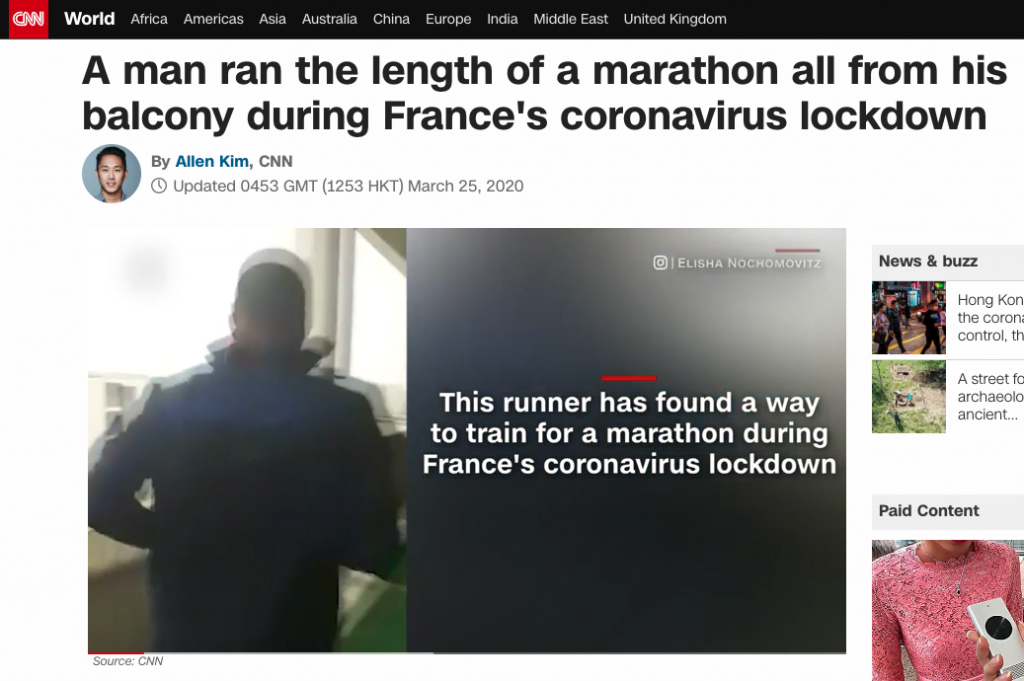 Try meditation
We're going through a very unusual and stressful time-period. We find that meditation can help a lot to cope with it a bit better.
According to Healthline, meditation has 12 benefits: 
1. Reduces stress
2. Helps to control anxiety
3. Promotes emotional health
4. Increases self-awareness
5. Improves attention span
6. Reduces memory-loss
7. Increases kindness
8. Helps to fight addictions
9. Improves sleep
10. Helps to reduce pain
11. Decreases blood pressure
And the best part.
12. You can do it anywhere.
If you're not familiar with meditation at all, we find that Headspace's Beginners Guide covers everything you need to know to discover this world.
Eat healthy (power) food
Don't make it harder on your body than this already is.
To stay dynamic and healthy, we believe that you need to keep a healthy diet. In fact, research showed that eating healthy is highly correlated with being in a good mood — something we all need right now. 
So, eat your greens and stay hydrated.
Stay in touch with friends and family
Lastly, don't let your home's walls be the end of your social life. Stay in touch with your relatives and make sure they are doing well. They need your support as much as you need theirs.
—
We've also asked Mentionos to share their thoughts about having to work remotely all the time. Here are the results: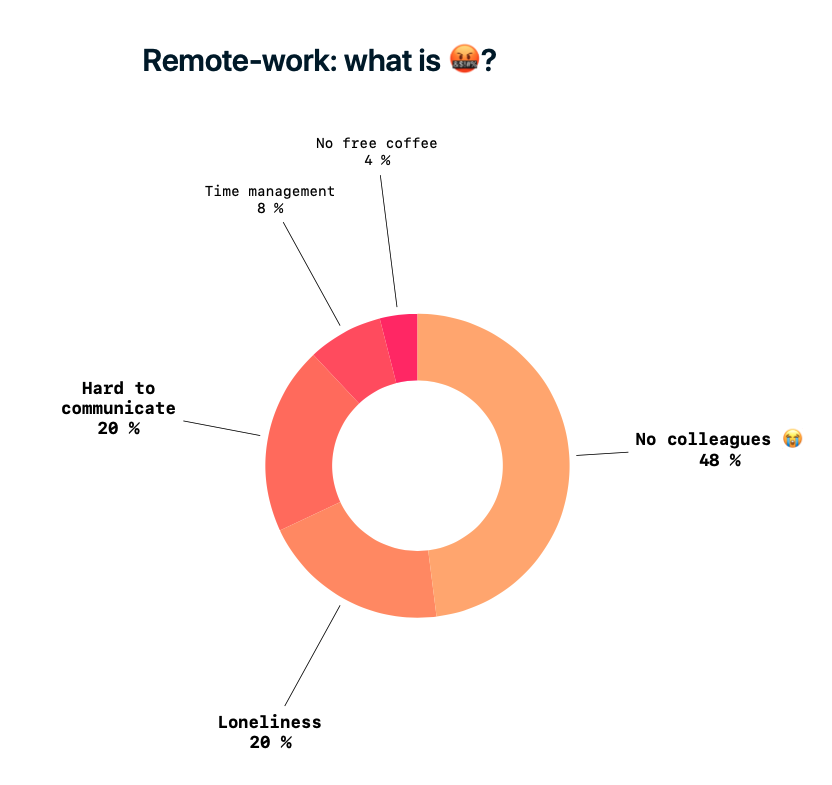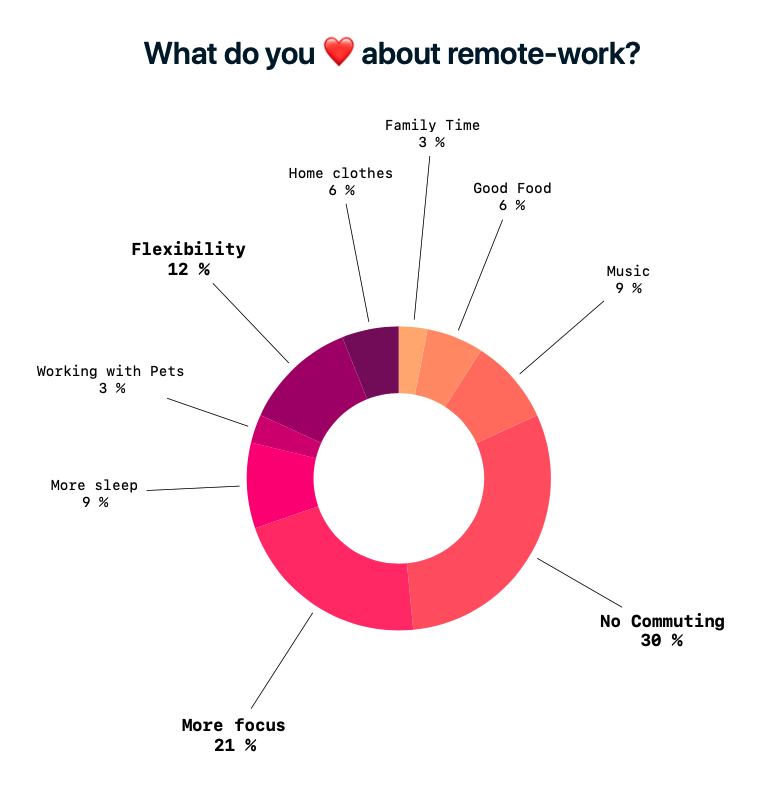 We highly recommend that you try to survey your colleagues too. It's fun to do and the data may surprise you!
Take care
The current situation is a tough one, and we can only hope for the best.
We're obviously no experts, but we can only recommend that you apply all the necessary sanitary measures to protect yourself and your loved ones. Now, we hope that the ideas you found in this blog post will help you and your colleagues to turn working from home into a fun (and bearable) activity.
Take care ❤️