How many times have you gone out to eat at a restaurant and asked to scan a QR code to access their menu?
We're guessing more times than you can even remember. And most often, these menus are in PDF formats embedded within the QR Codes.
It's a scenario that has become increasingly common lately. QR codes, which once only had specific use cases, have rapidly evolved to become an essential part of our daily lives.
These codes have transformed how we access information, connect with businesses, and make everyday tasks easier.
Well, this is just one of many use cases where QR codes are used to access PDFs. But how do you create a QR code for your PDFs?
In this article, we'll explore the 8 best QR code generators to create QR codes for PDFs and things to look for while choosing the right one.
8 Best QR Code Generators to Use for PDFs
Whether you're a marketer, educator, or simply someone looking to simplify PDF sharing via QR codes, this article is for you.
We have evaluated the features, pricing, user-friendliness, and more for the 8 best QR code generators (some offers free QR Code creation capabilities!) available in the market. Let's get started and help you choose.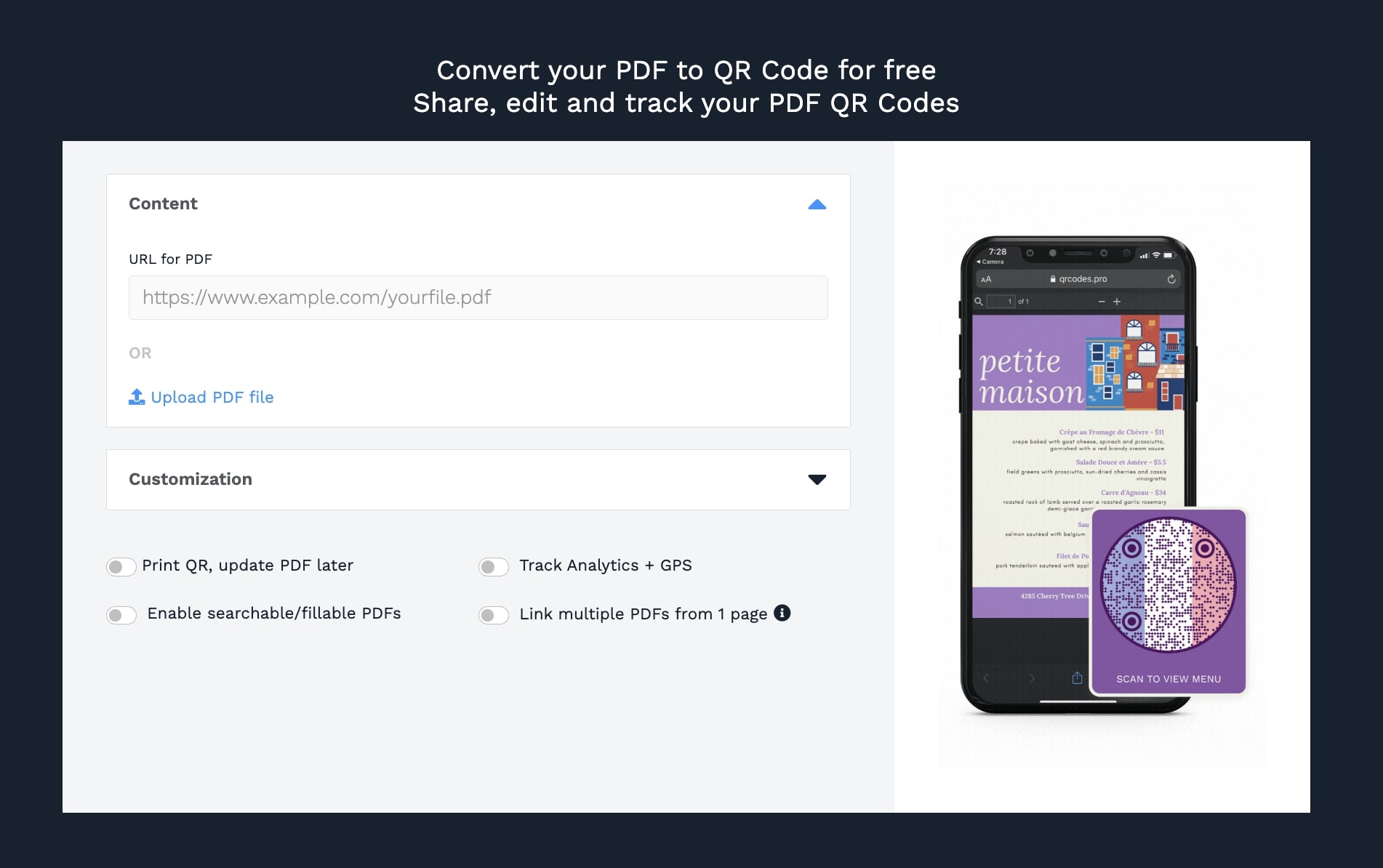 Beaconstac's QR Code generator should be the prime choice if you are looking for an efficient and easy-to-use PDF QR code generator. It offers a range of powerful features to create QR code PDFs.
You have the flexibility to fine-tune every aspect of your QR Code, from its color, shape, and background to the addition of logos and call-to-action frames.
Beaconstac's advanced settings allow you to deploy password protection, granting restricted access only to those with passwords. Also, it provides detailed analytics for tracking QR Code scans, user engagement duration, and location.
These valuable insights can be utilized for various use cases, including presentations and events.
One of Beaconstac's unique features is QR Code retargeting, enabling seamless integration with Facebook Pixel and Google retargeting.
This integration allows businesses to retarget individuals who have scanned your QR Codes with tailored ads across a multitude of platforms.
For example, if you have a QR code-based restaurant menu, you can run targeted campaigns to bring more customers based on QR scans.
Pros
Highly customizable QR Codes
Multi-user access
Real-time scannability score
Super-responsive customer support
Advanced retargeting and other enterprise-level features
Cons
Logo size and placement inside the QR Code could be better
Pricing: Beaconstac offers a 14-day free trial to explore the solution in detail. The paid plans start at $5/month and go up to $99/month, billed annually. They also offer enterprise plans, for which you can get in touch with their sales team directly.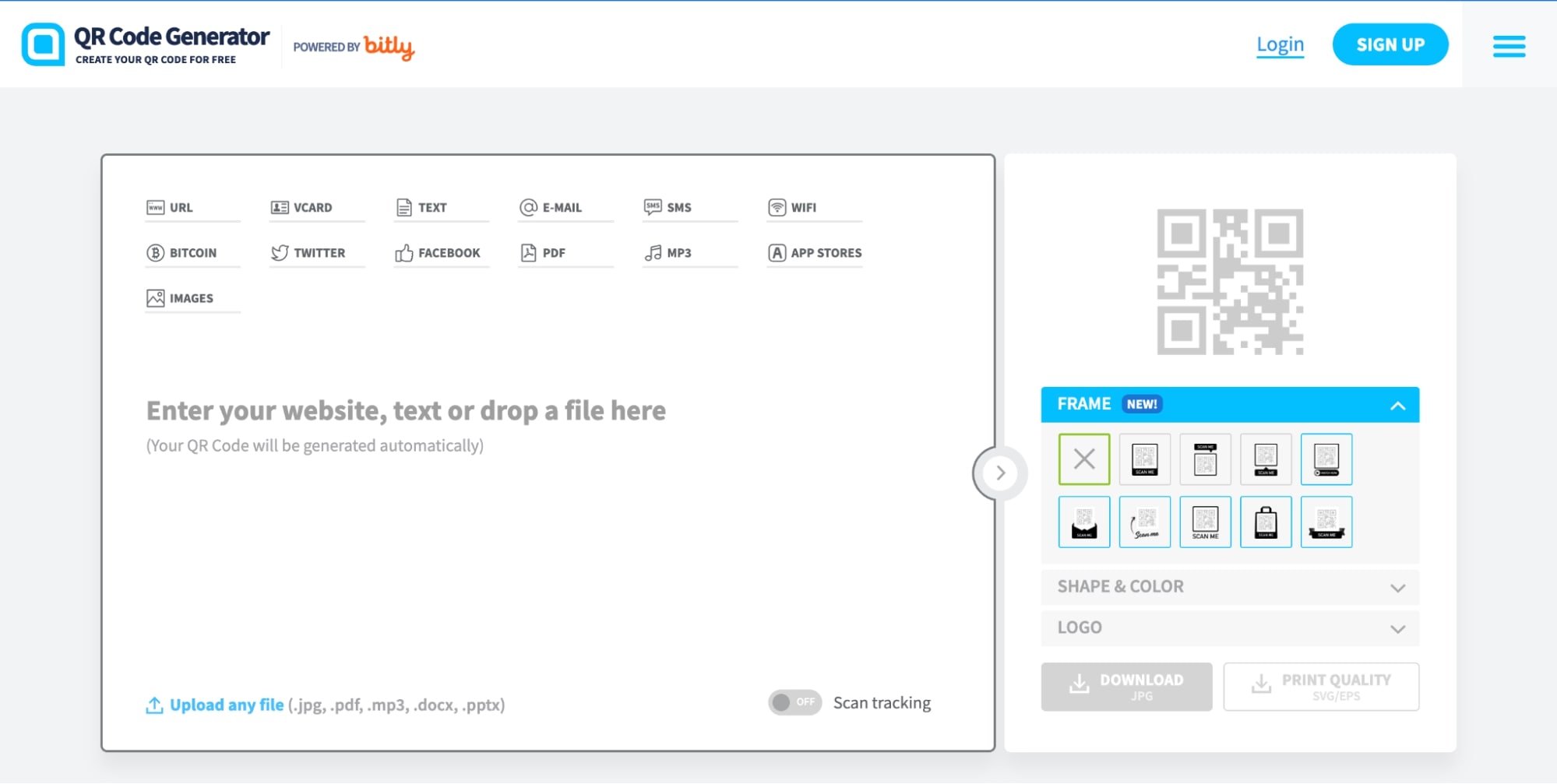 QR Code Generator is a pretty straightforward tool to create QR Codes for your PDFs. The platform gives you an option to customize or create your own short URLs.
It also allows you to incorporate your brand's colors and add your company logo to your QR Codes, ensuring they stand out from the competition.
You can collaborate securely with team members to create QR codes. Track where, when, and how many people scan your QR Codes to access the PDFs. The platform also ensures your QR Codes stay in high resolution no matter what.
It further lets you label your QR Codes, create folders, and add campaign info to keep them organized.
The QR Codes created using the QR Code Generator adapt seamlessly to various devices, including tablets, desktops, and smartphones. You can flexibly make changes in the PDF, and there's no need for reprints and redistribution.
Pros
The quick and hassle-free onboarding process
Easy-to-use interface
Integrates well with various platforms
Cons
Inability to create custom domains
Frequent reminders to upgrade to the paid plan
Performance lags during high-traffic periods
Pricing: The paid plans start from $5 per month and go up to $37.50 per month, billed annually.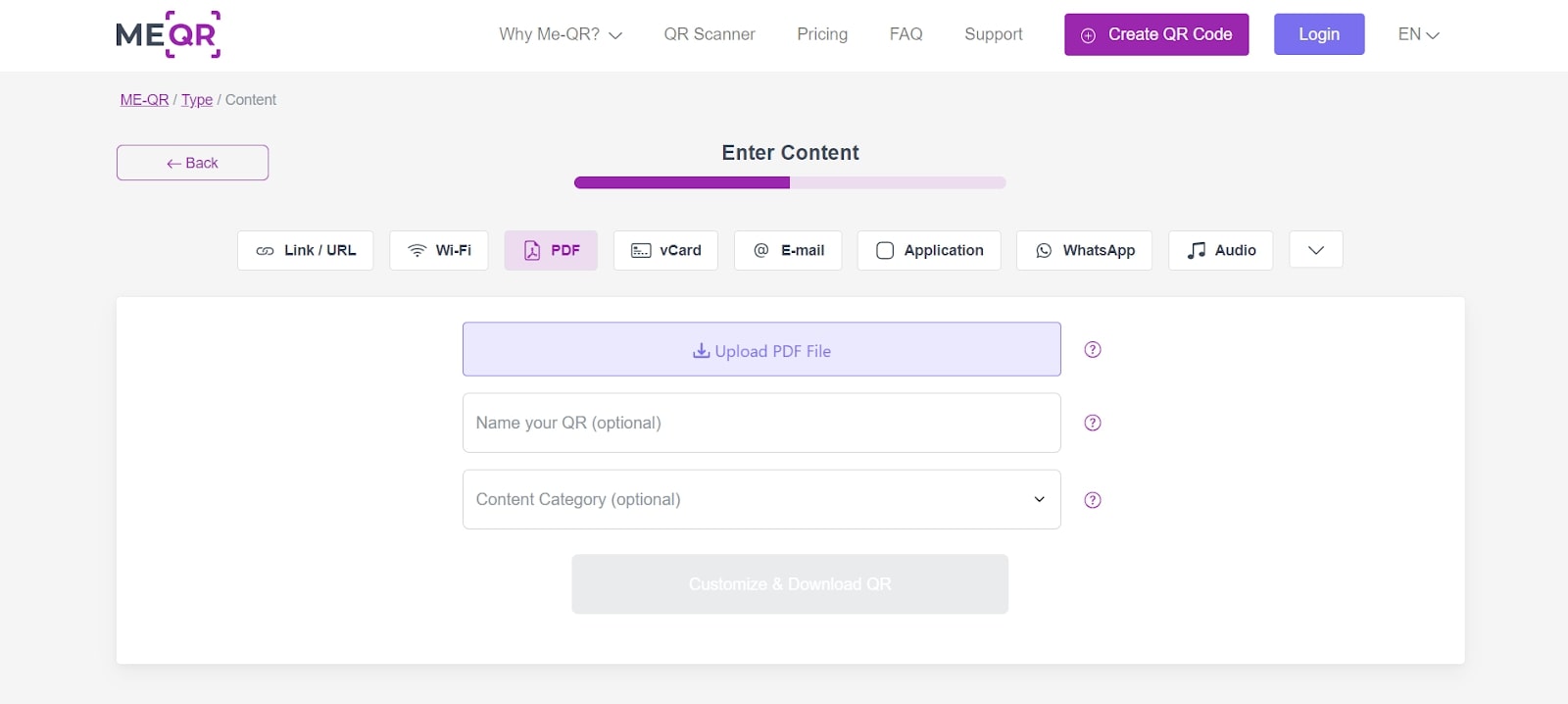 MeQR is another solution that makes it easy for you to turn your PDFs into QR codes. This platform offers a host of benefits, including valuable insights into the performance of your QR codes by tracking scan metrics, such as how many times they've been scanned and by whom.
It also enables the swift generation of multiple QR codes for PDF files. Moreover, there are no scan limitations, and the platform allows an unlimited number of users to scan your QR codes, ensuring widespread accessibility.
MeQR supports dynamic QR codes, permitting updates to the linked PDF file without altering the QR code itself. This allows for real-time access to the latest information.
The platform isn't limited to PDF-type document distribution. It also accommodates various other QR code types, including PPTX QR codes.
Pros
Responsive support team
Easy user interface
Forever-free plan
Cons
DIsplays spammy ads
Lacks robust features
No analytics available
Cancellation is difficult
Pricing: The platform offers a forever-free plan. The paid plans start at $9/month and go up to $15/month, billed monthly.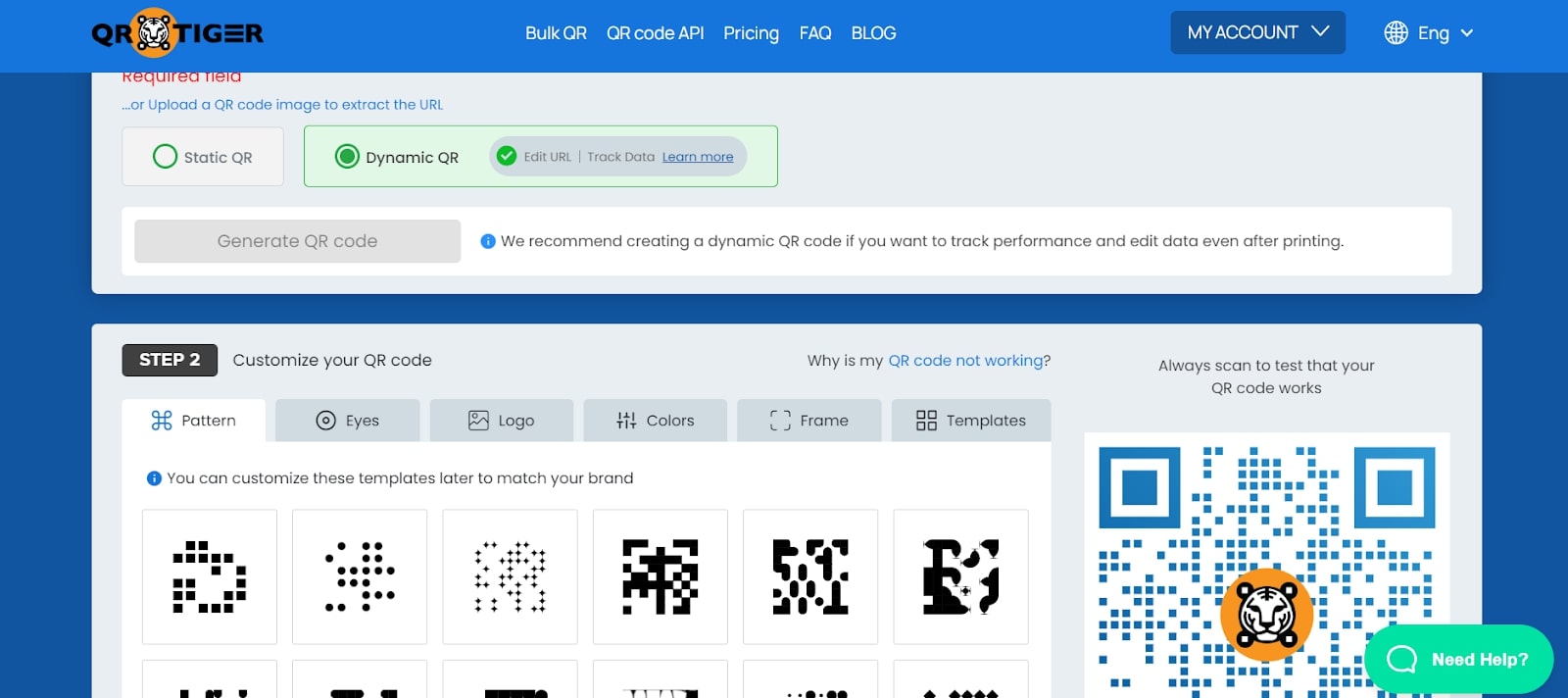 QR Tiger is another good alternative for turning your PDFs into a QR code. It offers an intuitive dashboard that comes with tons of features.
It offers full customization for QR Codes, like adding your logo or any image. You can further view scan reports, including metrics like the number of scans, times and locations, and devices used.
There is a lifetime validity for all the QR codes generated using QR Tiger, and they come with unlimited scans. You may also rename the QRs and sort them into folders to keep them in order.
Businesses can use OR Tiger to improve their campaigns by setting alerts, keeping a watch list, and monitoring the top 10 QR codes. The platform also boasts of the high-level security offered for the generated QR codes.
Pros
Simple user interface
Great customer support
Save QR Codes as templates
Actionable data and insights
Cons
Users experience lags and glitches
There's a slight learning curve
The interface could use some updates
Pricing: The paid plans start at $7/month and go up to $37/month, billed monthly. It has a free trial period, but the QR Codes generated during the trial will include the QR Tiger logo.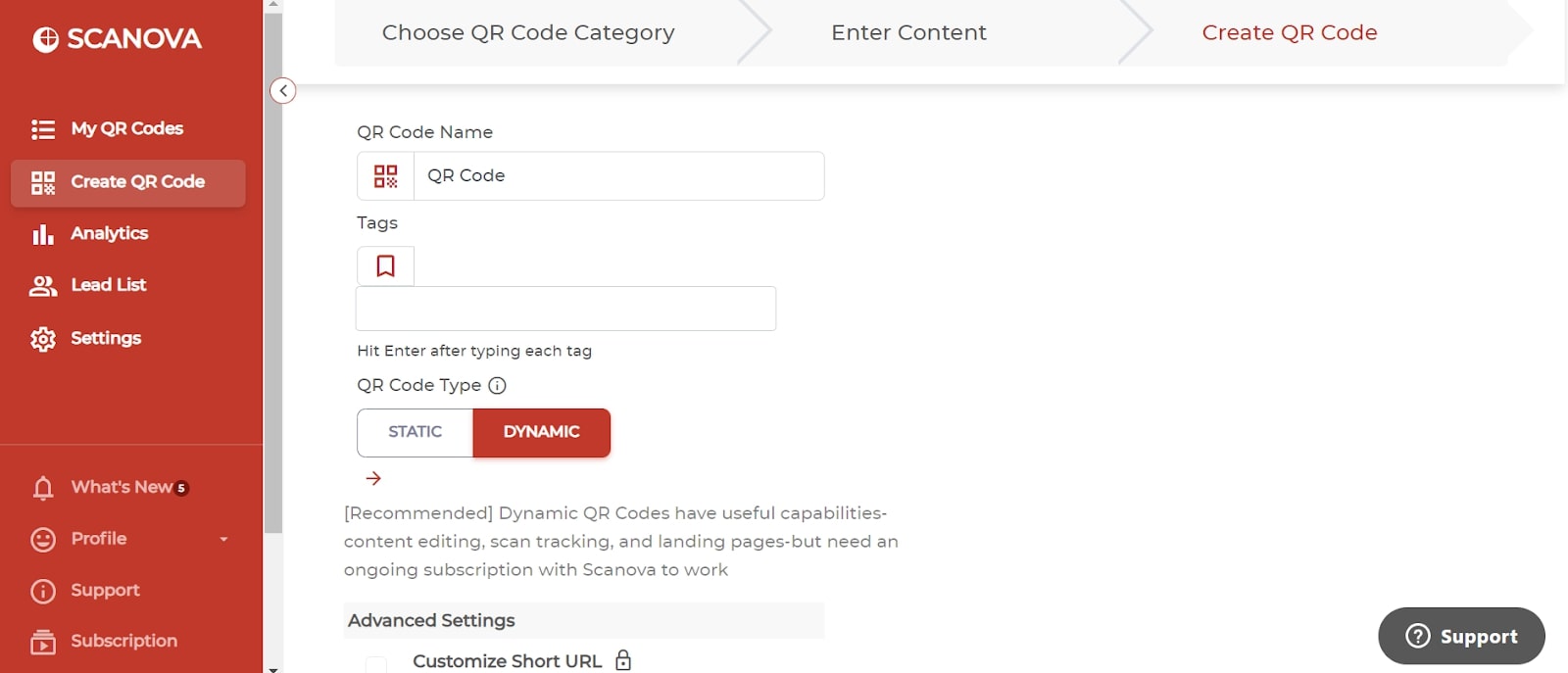 Scanova is a QR Code Generator that stands out with a range of features made to simplify the creation and implementation of PDF QR Codes. The platform is designed with simplicity in mind, ensuring that users who are not tech-savvy can effortlessly navigate and use the feature.
You can customize the QR codes including the colors and addition of a logo, along with the brand name to align with the brand personality.
Each PDF QR Code generated by Scanova can accommodate up to 20 PDFs, ensuring comprehensive document sharing in a single code.
You also get insights into QR Code usage through Scanova's detailed analytics. Track metrics like scan count and scanner location to inform future strategies.
For businesses, Scanova offers a white-label solution, allowing you to employ its technology under your brand name.
Pros
In-depth analytics
Easy-to-use
Lots of customization options
Helpful support team
Cons
They don't offer a mobile app for easy access
Pricing plans are expensive compared to other providers
Advance features are limited to premium users
Sometimes, it gives the wrong scan locations
Pricing: The paid plans start at $9/month and go up to $75/month, billed annually. They also have an ultra-lite plan that lets you create a single Dynamic QR Code with lifetime validity.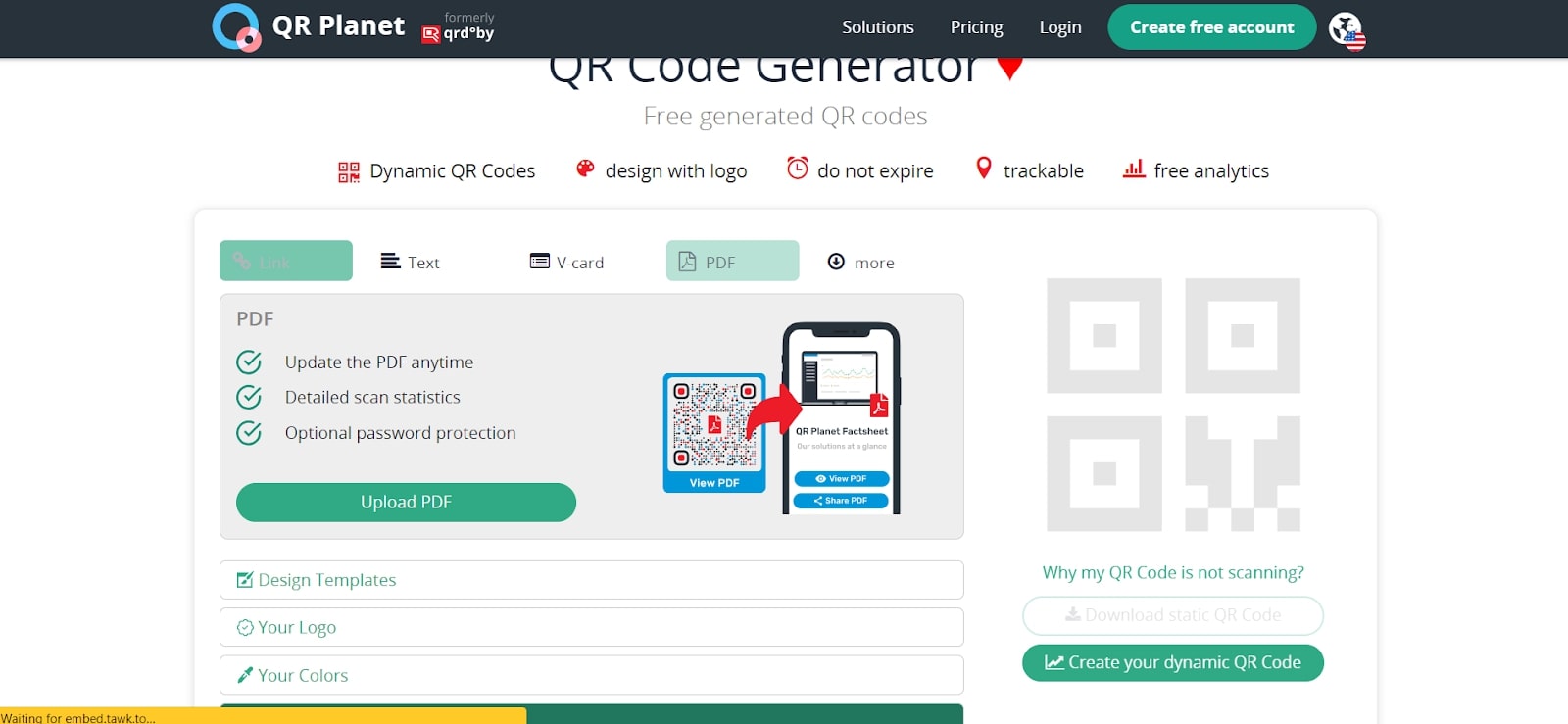 QR Planet is a versatile platform for easily creating QR codes for your PDFs. One compelling feature that sets this solution apart is the ability to receive scan notifications via email.
This feature keeps you informed whenever someone scans your QR codes, providing device information and location data.
QR Planet also offers you the ability to export detailed statistics, generate dynamic QR codes, and even design custom QR codes to match your brand identity. You can create QR Codes in large batches and precisely track the location data of each of these codes.
Pros
Feature-rich platform
Set up notifications for scans
In-depth analytics
Cons
You don't get any support on the free plan
1 QR Code allowed on the free plan
Do not support monthly billing
Pricing: They have three paid plans– the Starter plan is $5 per month, the Premium plan is $5 per month, and the White Label plan is $35 per month. They don't support monthly billing, and the minimum term is 3 months.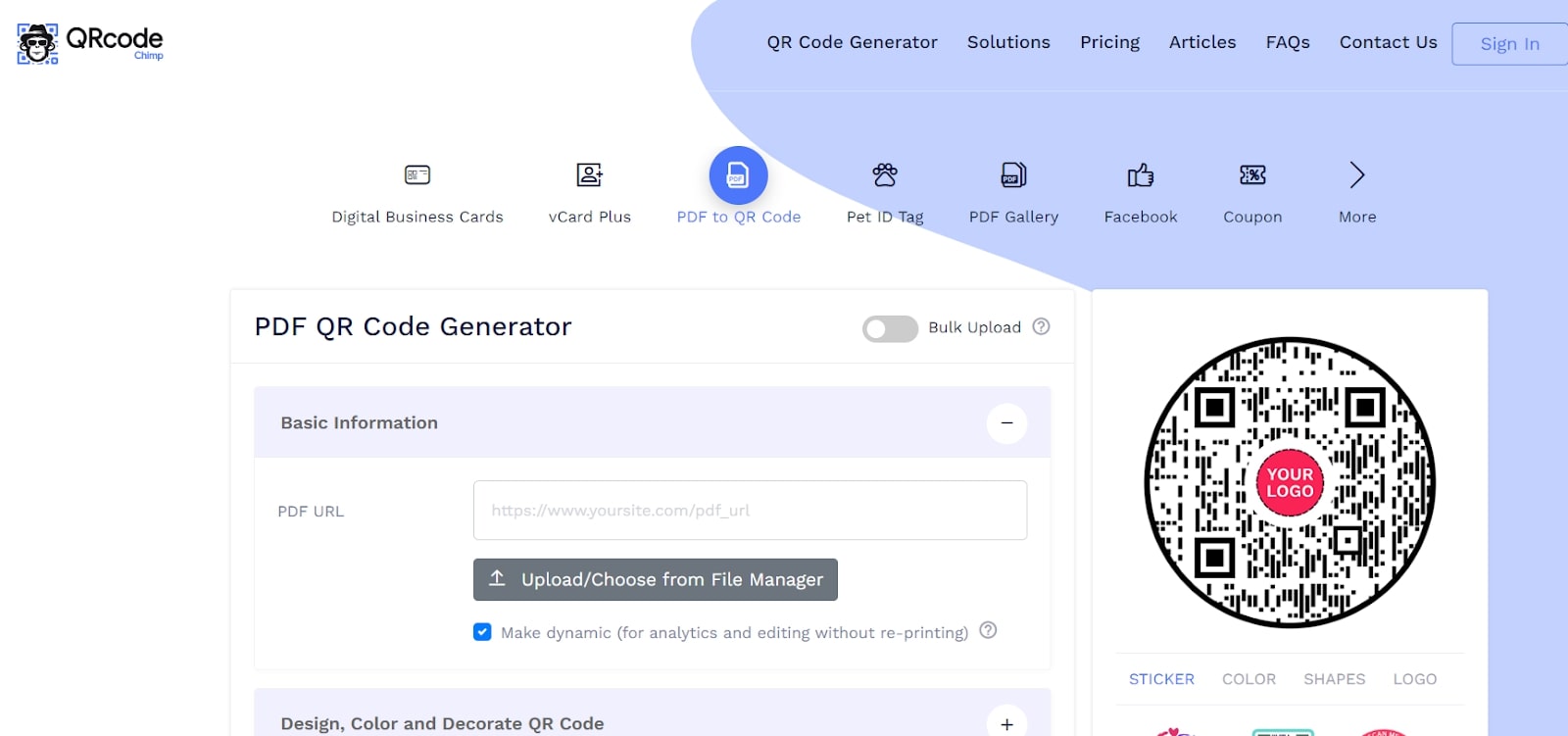 QR Code Chimp is yet another powerful solution for creating and managing PDF QR codes with ease. Its user-friendly interface makes it accessible to users with varying levels of technical expertise.
QR Code Chimp provides a range of features to enhance the functionality and appeal of your PDF QR codes. You can customize your QR codes by adding shapes, logos, and brand colors to make them visually appealing and increase scan rates.
The platform also offers actionable QR codes with the option to add stickers featuring calls to action (CTAs) for better engagement.
With features like sharing and organization through folders and subaccounts, bulk uploading PDFs, in-depth analytics, and white labeling for custom scan URLs, QRCodeChimp offers a complete solution for all your PDF QR code needs.
Pros
Forever-free plan
User-friendly interface
Innovative QR code designs
Responsive support team
Cons
The pricing is high for the number of QR codes they allow
No downloads of analytics allowed for basic plans
Pricing: Their plans start at $9.99 /month for their starter plan. Their pro and ultima plans are priced at $19.99/month and $ 49.99 /month respectively.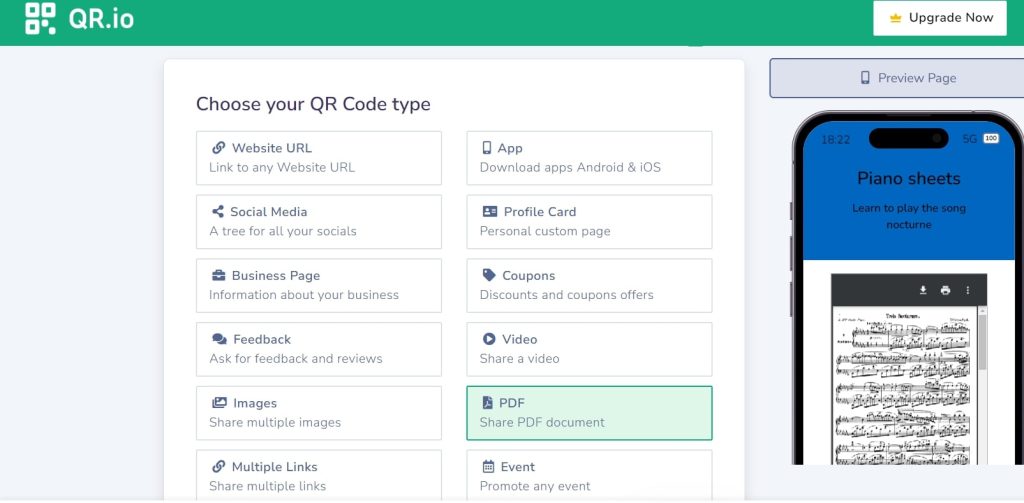 ---
QR.io is the last but not the least QR code generator on our list that can help you turn PDF into QR codes. It offers a range of features to make PDF sharing more direct and convenient.
The QR codes generated by QR.io are dynamic which means you can edit content and monitor how many people scan your QR Codes, from where and on what date providing valuable insights.
You can also customize the QR codes including shape, color, gradients and adding elements like a call to action, logo, and frame. You have the option to easily, pause, or delete QR Code campaigns and create different folders to organize the codes.
The QR codes created can be downloaded in PNG and SVG formats. QR.io further allows you to add your team to QR code campaigns for you to collectively manage them.
Pros
Keeping a track of QR Codes is easy
User-friendly dashboard
All PDF QR codes are dynamic
Weekly statistics for QR Code performance
Cons
Users find it expensive
Users also report a slower product development
The backend is a bit tricky to navigate
Pricing: QR.io has only two pricing plans – $35/month (billed monthly) and $350/year. Plus, you get 2 months free on their yearly plan. A free trial is also available to try out the features.
Which QR Code Generator is right for you?
As we've seen in the previous part of the article, the majority of QR code generators offer similar features. Here's how to select the one that suits your needs best.
If you are an individual or a small business
Since you're just getting started, you can begin with a user-friendly and cost-effective QR code generator such as Beaconstac, QRCode Generator by Bitly, or QR Planet.
These options provide essential features for creating and managing QR codes without overwhelming complexity or high costs.
If you are a larger enterprise and require advanced features
Beaconstac, Scanova, and QR Tiger offer a comprehensive suite of features, including real-time scannability score, scan notifications, advanced retargeting, and in-depth analytics fit for comparatively larger enterprises.