Do you know what customers – and potential customers – think about you? Whether you're a restaurant chain, a hot tech startup, or an agency with a host of clients, it's vital that you understand what the public says about you.
No matter how strong your products, they're only as good as buyers think they are.
But here's the secret: your reputation isn't built by accident. It comes from reviews, comments, and conversations between customers. You need to make sure that your brand is presented in the right light.
A hands-on reputation management strategy can make a huge difference. By paying close attention to what people say, you can give your brand some much-needed prestige. That "it" factor.
To show you how this works, we partnered with Reputology, a review monitoring company that helps brands protect their reputation. In a joint webinar, we went in-depth to show you how to build a strategy: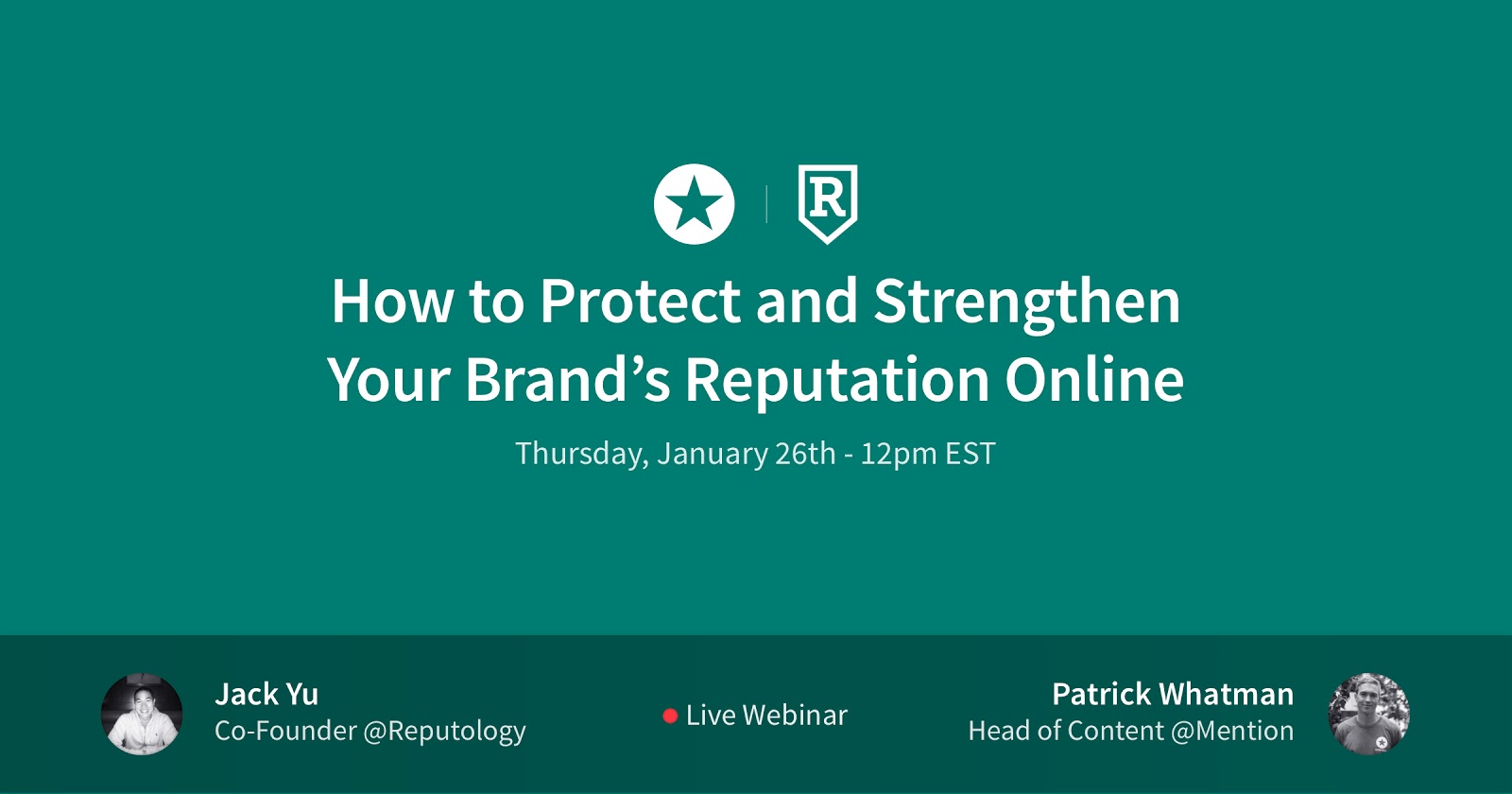 We highly recommend you watch the full webinar. For now, we're going to give you the plan in a nutshell.
This is a long guide, so feel free to jump ahead
But first…
What is reputation management?
Simply put, reputation management is the process of controlling and improving how your brand is perceived by others. And it's become a huge industry.
It's increasingly difficult for companies to protect their own image online. Social media lets pretty much anyone say pretty much anything about you – and it feels like there's not much you can do about it.
But there is!
There are even reputation management services available, where you pay someone else to worry about this for you. That's great, and maybe they save you a lot of time.
But in this writer's opinion, you should be the one concerned about your brand's reputation. It's your brand, after all.
And that's the whole point of this guide – to show you how to improve your reputation yourself.
Two keys to any reputation management strategy
Although the plan below is in 5 steps, it's based on two main principles:
1. Monitor: Know customers, influencers, and competitors say about your brand; and
2. Respond: Take active measures to develop a positive brand identity, and improve what people say about you.
Are you doing both of these already? There's a great chance you're not.
We're going to go into a whole heap of detail about both aspects and give hands-on advice.
Here we go!
Step 1: Monitor your reputation
The first step is the most important. Without this, you really can't do the rest. This whole action plan is based on the premise that you hear what people say about you, and then you respond.
So, first, you need to listen.
What you monitor depends on where your brand is present. Do people talk about you on social media, on forums, or on review sites like TripAdvisor or Amazon? Do you even know?
For starters, if you're a restaurant, bar, or tourist attraction, you need to monitor review sites. If you have a physical location, you can bet that people give their opinions about you on Yelp, TripAdvisor, and Google. Even Google's Paris office gets reviews: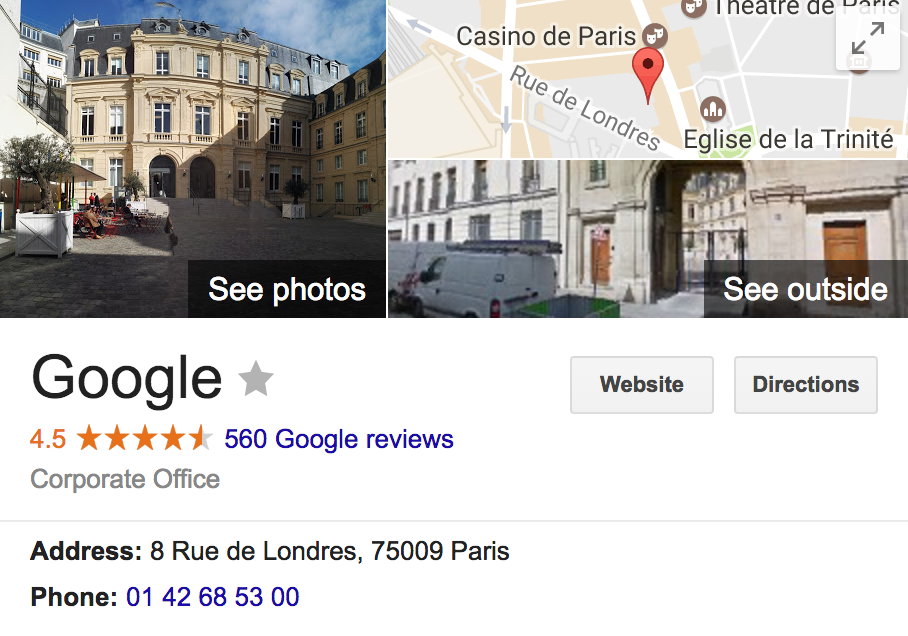 If you sell physical products, you also need to keep an eye on Amazon, eBay, and other online retailers. Buyers rely on internet reviews before choosing their phone, laptop, and even their car. In fact, 69% of shoppers consult reviews before buying anything online.
On top of these obvious review sites, you also need to think about blogs. Countless thousands (millions, even) of bloggers write and publish reviews about anything from the best brunch spots to the perfect basketball shoes. So you should be tracking these.
But we're not only looking at reviews. What about the social media conversations happening every day?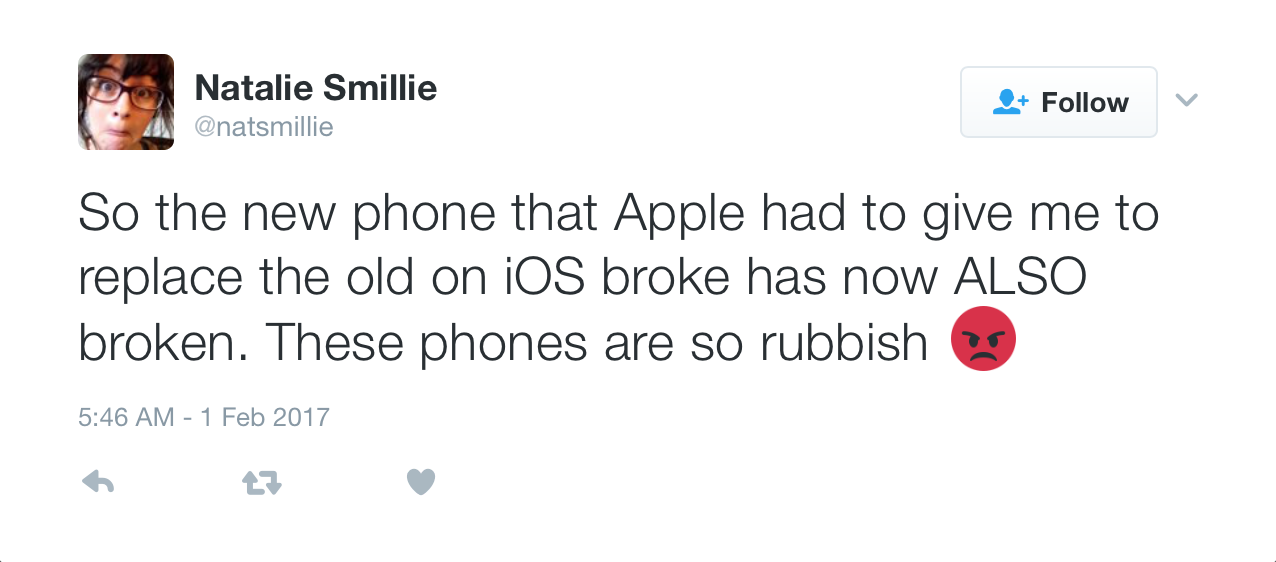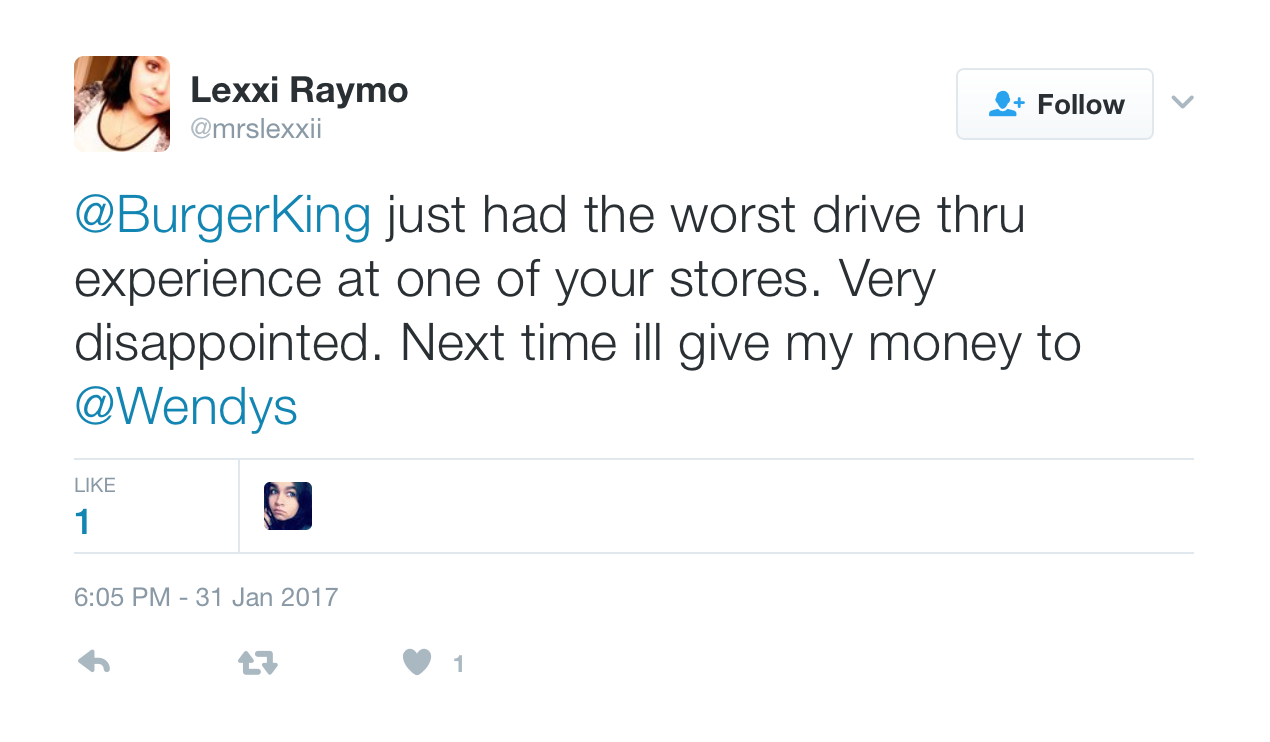 To truly manage your brand's reputation, you need to track these too.
I hope one thing is clear: people talk about your brand all over the internet, all the time. Trying to monitor all these conversations on your own is a losing battle. You need help.
How to monitor your brand's reputation
Luckily, there are tools that do this for you. Since you can't possibly hope to scan every social media platform, forum, blog, and review site manually, you need an app.
What you choose depends on your business. If you're a small, physical location like a restaurant, review sites are your biggest concern. Sites like Yelp and Google Maps are often the first thing people see when they look you up, even before your own website. It really pays to monitor these closely.
A tool like Reputology is perfect for this. Their entire focus is on review sites, and they know what they're doing.
You create profiles for each company location, and Reputology pulls in reviews from all of the sites that matter. So you don't have to go looking for it yourself.
What about the rest of the web?
You also have forums, blogs, news sites, and all of the social media world to worry about. To know what people say about you on all these sources, you'll need a media monitoring tool like Mention.
Media monitoring lets you track the whole lot from a single dashboard, so you don't have to go looking.
The other benefit of such tools is that they'll tell you when people talk about you, not just to you. Get the distinction?
On social media, you get notified when someone mentions your brand by name. We call this an @mention. But what if they use your brand name without the "@" symbol?
Since monitoring is based on keywords, these tools will still catch this. So it doesn't matter if someone writes "Nike," "@Nike," or "#Nike." You'll catch it all. This is essential if you want to know everything said about your brand online.
So that's step 1: grab one of these tools and start listening to what's being said. From there, things start to get really interesting.
Step 2: Devise a response plan
It's all well and good to know what's said about you online. In fact, it's essential. But the way you're going to improve your reputation will be thanks to action – the steps you take next.
We're going to look at some best practices for responding to comments in a moment. But first, you need to decide how you'll go about doing so.
As with nearly everything in life, it's best to have a plan.
Consider the following:
Who will monitor for comments and reviews?
Who decides whether new comments require a response?
Who knows what position the company should take regarding potential issues or questions?
Who will deliver the response?
If your business is a one-man-band, the answer to all of these questions might be "me." But if you have a larger organization you need to make the process clear.
Who will monitor for comments and reviews?
The answer to this is probably not complicated. It will likely be someone from your marketing or customer service departments – whoever is in charge of your social media accounts. They're already watching social media, so giving them the keys to your monitoring tool just makes sense.
Who decides whether new comments require a response?
Again, this doesn't have to be complicated. Most of the time, you'll aim to respond to comments and reviews just as a matter of politeness. If the comment is good, your response might lead to a retweet or share. If not, you may be able to do something to change the person's mind.
But more on this later.
Occasionally there are tough questions or harsh criticism that your social media or customer support teams are not prepared for. You need to set expectations for the kinds of comments that they are free to respond to, and those that require advice from management.
Of course, this will often be a case of common sense, but it's important to identify these kinds of comments from the beginning.
Who knows what position the company should take regarding potential issues or questions?
If our frontline person isn't sure what to do, they need to know who to go to. It could be their direct manager, someone in communications, or even the owner of the business.
It's important that this person has the freedom to speak on behalf of the company. If you're responding to harsh criticism, you need to know that the person crafting the response understands the vision and voice of the brand.
Make sure you know who will take responsibility when the time arises. When the questions do get too tough, you'll be glad you have someone in place to make these decisions.
Who will deliver the response?
Chances are, this will be the same social media or customer support person from the first question. But, depending on the scope of the issue, it may require an official spokesperson or even the CEO.
Just make sure you've thought about these things before diving in. As long as you have a plan in place, you'll have something to fall back on if things get unsteady.
Now, time for the real fun…
Step 3: Handle negative comments delicately
What do you do when you get that one-star review? It's tempting to brush it off, pretend it never happened, and hope that it gets buried in a sea of happy customers.
But you can't just ignore bad comments. They're public, and they'll probably be online forever.
Responding also gives you a chance to clear the air. Reputology polled their clients, who reported that 80% of unhappy customers were won over with the right response.
So what's the right approach?
Polite. Professional. Friendly.
As Jack detailed in the webinar, tone is always important. It doesn't help your cause to make things personal or take offense at every comment.
Instead, keep a level head and try to get to the heart of the issue. As Mention's Joei Chan writes, "most customers understand that problems cannot be solved immediately, but they need to know you listened, and are doing your best to provide a solution."
Make it clear that you're listening. Even better, name the person responding. Customers are more likely to feel they're taken seriously when they get their response from an actual human being, not a robot.
If you're patient and try to actually help, these interactions can become an opportunity to build rapport with your customers.
Speed rules
Reputology finds that response time is one of the most important factors in recovering from a harsh review. If you're quick to help people who've had a bad experience, they're much more likely to change their opinion.
It makes sense, really. Often that first comment is made out of frustration or anger. Show people that you're listening to their feedback, and they're more likely to be reasonable. And the quicker you're able to do this, the more profound the effect may be.
Use complaints to your advantage
Customer complaints can almost always be used as a lesson. Even if you think the person is way off-base, they're surely not the only one who feels this way. To repeat, your product is only as good as people think it is. So if people think it needs improving, it probably does.
Jack gave the example of The Grove, a shopping center in Los Angeles:
They received numerous complaints that their parking lot was too small. To solve this issue they partnered with Uber and offered free rides home for anyone who spent over a certain dollar amount.
If necessary, continue the conversation in private
Try to find a balance. We're trying to keep our positive interactions public. This includes situations that start out negative but where you were able to win a disgruntled customer over.
But sometimes this just isn't an option. If the complaint is too severe, or if the individual in question is past the point of winning over, ask for an email address or phone number and smooth things over privately.
This definitely does not mean that you should try to remove complaints from sites just because aren't flattering. That's asking for trouble.
But if you don't think you can solve the issue in public, it's best to do so one-on-one.
It's never nice to receive a negative review. But it doesn't have to ruin your reputation. Instead, with the right approach, you have an opportunity to build rapport with customers, improve your product, and leave a good taste in people's mouths.
Want Jack's "Uncommon, Not-So-Obvious, Counter-Intuitive Winning Practices for handling negative reviews?" Watch our webinar here.
Step 4: Build on the positives
Just as you shouldn't ignore bad comments, it pays to respond to good ones too. These are the posts that actually enhance your online reputation. Not only will you reward customers for saying nice things, but you'll also encourage others to do the same.
So that's easy. You thank people for their kind reviews and hope they share your response with their friends.
But how can you generate even more positive reviews?
Actively manage your online profiles
You may have heard of the "90/9/1" rule. According to Susan Kuchinskas, only 1% of social media users create content. Another 9% percent comment or interact with that content. But 90% of visitors – a massive majority – are there simply to read a review, and then leave.
The same rule applies to sites like Yelp and TripAdvisor, and of course to blogs.
The 90% are "lurkers," and you need to pay attention to them if you're trying to protect your reputation. Rather than just relying on that 1% for new reviews, take active control of your review pages and social profiles. Add pictures (and encourage them from your community), share great content, and make your brand seem more appealing to those who just found you on Google.
No matter how bad your most recent review was, most people are just browsing. It's the overall picture they take with them.
Ask for feedback
In our webinar, Jack explained an interesting approach that can generate very sincere reviews. If your staff feels comfortable, have them ask customers for a review:
"If you had a nice time, I'd really appreciate it if you would leave me a review."
This is hugely effective where there has been a one-to-one interaction – a server in a restaurant, or a customer service rep who has solved a sticky issue for a customer.
If you know you've delivered a good service, you can be confident that the review will be positive. And by asking personally, the customer will be more likely to go a small step out of their way to help.
Remember, you build your reputation on positive criticism, so encouraging it is a must.
Step 5: Follow through and measure your results
The final step is to actually make the changes you've committed yourself to.
Did you offer a customer a discount as an apology for bad service? Did you promise to "speak to that employee" about an issue brought up over Twitter?
If so, you actually need to do these things. Especially if you made these offers online, in public. Things will get really bad if the customer follows up their first bad review with a story about how you lied to them.
This doesn't have to be a chore. In fact, it's an opportunity to make real change in your organization. Chances are you made a promise for a reason, and it won't help your business to just ignore it.
Measure your progress
You're investing in your reputation because you want to protect it. More likely, you want it to improve. So you need to track whether that's working.
If you're using a monitoring tool, this can be incredibly simple. Review sites come with scores, and you can watch these grow as you provide value to your community. As your average moves from three stars to four, or from 50% to 70% positive, you can be sure that you're moving in the right direction.
You can do the same on social media. Mention (among others) comes with built-in sentiment analysis. You'll be able to watch as positive sentiment about your soars following the work you've done: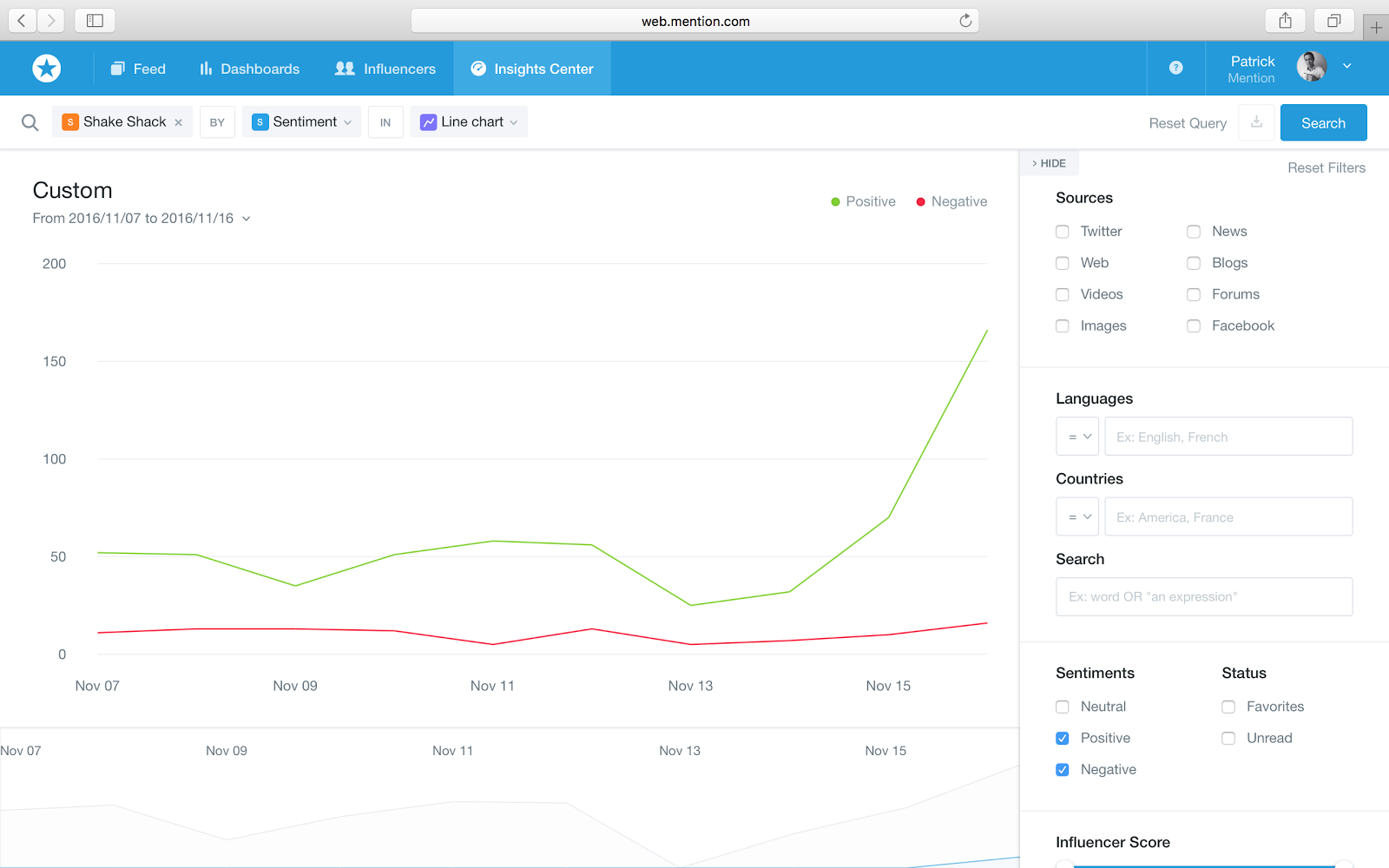 You can also use tags to easily sort positive reviews from negative ones. Ensure that your "Happy Feedback" folder grows faster than your "Angry Comments" one.
The best tools for reputation management
We've discussed a few tools throughout this post, and you may need a little more information about them.
We also have a longer, more detailed list of reputation management tools here.
Reputology: If you care about your business on review sites, this is great! It gives you a single account from which you can manage all your review profiles, including Yelp!, TripAdvisor, and the other big names. It's annoying to have to move around the web, checking each site individually. Plus, you're bound to miss things. With Reputology, you won't.
Mention: If you care about more than review sites (and you should), Mention has you covered. The tool monitors the web, social media, forums, blogs, and even television. And Mention users have access to Reputology's range of sources, so you're able to track reviews in the same place as all the rest. Talk about a time-saver!
The Brand Grader: This is a fun, free tool we built to give anyone a snapshot of their brand online. It's not comprehensive, but you'll get an idea of sentiment towards your brand, how your social profiles perform, and a few other key stats. Plus, it's instant, and you don't have to sign up for anything. Nice!
SimilarWeb: This is a great tool to compare one brand's web presence with another. By just using their free tools, you'll know how much traffic your competitors receive, where their traffic comes from, and how they rate within your industry. The paid version lets you create custom reports and monitor your competitors with precision. And the more you know about the other businesses in your industry, the more you can do to build your own presence.
Your reputation plan in infographic form:
Embed the infographic on your site:
Further reading
I'm sure this post hasn't answered every question you might have, but hopefully, these other resources will do the trick:
Here's how to build a plan before the worst occurs, so keep a crisis from becoming a reputation killer.
Now put your plan into action
Reputation management doesn't happen by chance. It's a matter of monitoring what people say about you, and actively engaging those users to encourage positive discussion.
Make managing your brand's reputation a key business focus. Invest some time, get the right tools, and use your plan to ensure that you're being presented properly online.
It takes a little effort, but the reward is a product that customers love, and others want to try.
To learn how to protect and strengthen your brand's reputation, download our webinar with Reputology.