Nowadays, in such a competitive digital landscape, businesses need to utilize every tool and marketing channel possible to stand out from the crowd.
Many business owners make the mistake of perceiving social media activity, advertisements, and strategies as a standalone channel to generate leads and promote their brands.
Similarly, many view SEO as something that's disparate from their other marketing activities.
However, many don't realize that social media has the power to impact and influence various elements of an SEO strategy, and vice versa.
Integrating SEO and social media may seem like a convoluted and unnecessary process at first glance, as most SEO professionals would debate whether the theory of social signals as ranking factors holds any weight. However, when assessing both disciplines on their own merits, objectively, there are clear overlaps and there are evident ways they can work together to help businesses boost brand awareness, traffic, and conversions.
If business owners and marketers can get the right alignment, by following the actionable tips outlined in this guide, they will be able to maximize visibility and engagement for their brands.

Table of Contents:
How Can Social Media and SEO Marketing Strategies Work Together?
Social media platforms provide an ideal space to share SEO-optimized content, attract followers, and build a strong brand community.
Simultaneously, a robust SEO foundation contributes to improved search engine visibility, leading to increased exposure on social media as more users discover and share valuable content.
This cohesive approach not only expands a brand's reach but also enables data-driven decision-making, empowering marketers to refine their strategies and achieve superior results in the highly competitive digital landscape.
Here are a few ways social media and SEO marketing strategies can work together.
Leveraging Keyword Research for Social Media
Keyword research is firmly rooted within the preliminary stages of an SEO campaign. This process involves marketers delving into hoards of data to understand the most valuable search terms and phrases that people are using to find your content, products or solutions.
Whether you are a startup or established eCommerce brand trying to improve keyword performance for products or you are a B2B service provider or consultant, keywords are your goldmine for spearheading your marketing strategies.
By analyzing keyword data, you can:
Uncover the high-volume searches and longtail keywords that you can use to thread into your content
Determine the types of questions that your target audience is asking, as a way to influence your blogs or articles
Understand your audience's specific pain points and needs
Many don't realize that this data can be pivotal in social media marketing too. Armed with data and metrics around your industry and business' most valuable search terms, you can create valuable social media updates, graphics, videos, and advertisements that align with these topics, questions and pain points. This will help ensure that your social media content resonates with – and engages – your audience.
For an informative beginner's guide to conducting keyword research and finding the most appropriate search terms to help you rank, take a look at the attached video from Yoast, a household name in on-page SEO optimization:
Align Social Media Messaging to Target Keywords
If you carefully curate a target keyword list and track your performance for these keywords over time, it makes sense to use terms that could serve a valuable purpose on social media channels.
For example, if "LinkedIn advertising" is a priority keyword for your brand, it would be prudent to create and share:
Blog headlines and descriptions that mention "LinkedIn advertising tips"
Social media posts or polls asking followers for their LinkedIn marketing challenges
Infographics and images with "LinkedIn marketing advice" as a title
Videos and interactive content that educate your audience about "LinkedIn advertising campaigns", targeting, audience segments, content, and more
When users browse social media for relevant content, it's the same premise as if they would search Google for helpful resources. Therefore, getting keyword phrases into your social posts – naturally – gives users more value and an easier search experience.
Promote Keyword-Optimized Content on Social Media
Create a social media calendar and schedule relevant content for the most appropriate days. Use this calendar to look for opportunities where blog posts, videos, and other keyword-optimized assets can be promoted.
By sharing links to this website content natively, as well as via paid social media advertisements, your website content will appear in front of interested followers, as well as those that aren't aware of your brand, product or service. In turn, if executed correctly, your website pages will be getting a much-needed boost, and over time, search engines will start to recognize the traffic and referring keywords that brought swathes of users to these pages.
Conduct Social Listening for New Keyword Opportunities
Social listening tools allow marketers to unveil words, questions and phrases that your audience may use when discussing relevant themes or topics in your industry. Some of these terms may not have been targeted yet, thus presenting an opportunity for you to add to your strategies.
Simultaneously, you can use this research to generate more blog post ideas and social media content that targets similar search terms and keywords.
Below you will find an example of a social media listening dashboard, using the listening tool Awario as an example: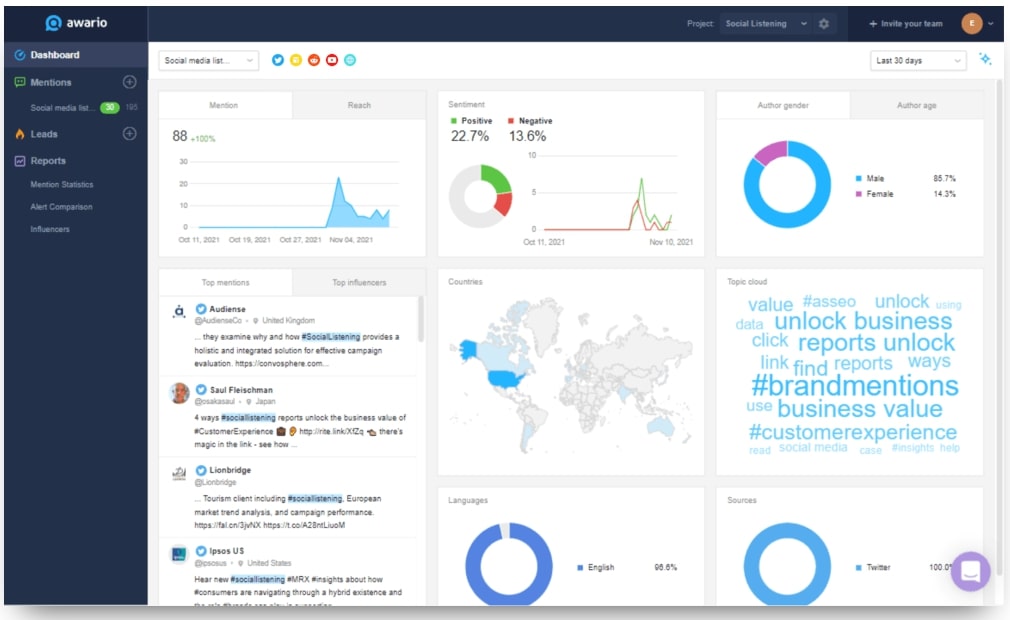 Gaining Links and Engagement
Social media platforms themselves do not directly influence an SEO campaign's effectiveness. In other words, if you're more active on Facebook, LinkedIn or Instagram, that will not give your organic SEO visibility any boost whatsoever.
However, there are things you can be doing on social media to support organic SEO rankings and performance in several ways.
Earning Backlinks
Sharing new website blog posts, videos, case studies, insights and articles on social media increases your chances of earning quality backlinks.
Other accounts may link to your content via their own sites or profiles, particularly if there is a relevant, natural opportunity to do so. Other accounts may be business partners, individual staff profiles, or named brands – all of which have their own networks of followers. Thus, you can earn more backlinks, and by extension, more traffic.
Over time, the more quality links that point to a page, the more positive effects this will have on your search engine rankings and visibility.
Using content marketing tools like Semrush, you can conduct backlink audits to determine the validity and trustworthiness of any domains that have links to your site.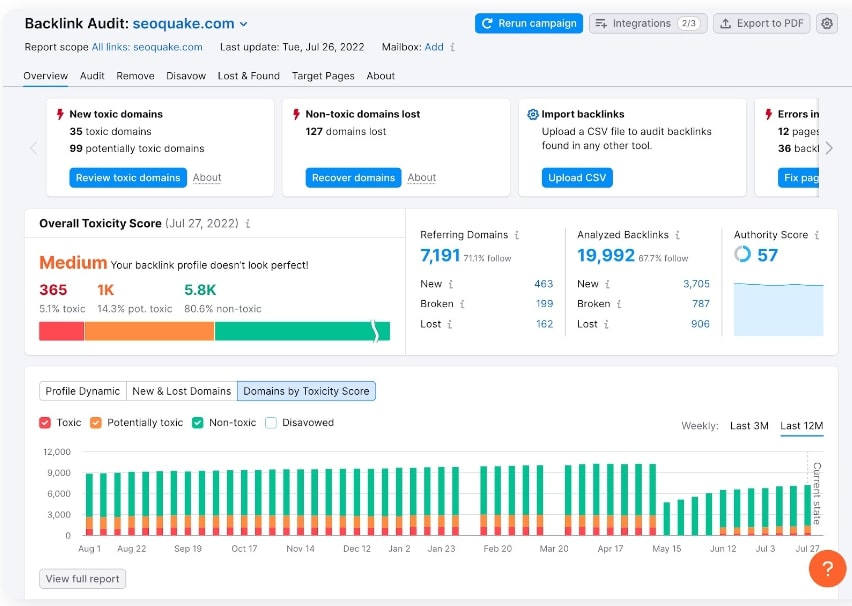 Gain Immediate Feedback & Insights
Your brand's social media followers are a specific, evolving audience segment that (for the most part) is going to be actively engaged with your content.
Their comments, shares, likes, clicks, and engagement metrics provide you with actionable data that you can use to refine, improve, or change your approach over time.
Find out what resonates with your audience and do more of that, and refrain from doing what matters less to them. These real-time insights can mirror what you will be tracking on your website using tools like Google Analytics and Google Search Console, and there are going to likely be some overlapping feedback points and insights which you can use to your advantage. Pay close attention to what your audience says and what they need more of, and apply that to your social strategy and website.
Build Authority Around Keywords
From the outset, it should always be a priority to create high-quality content about your most important keywords (i.e. those that closely mirror your service/product and audience needs). By creating content that solidifies your knowledge and expertise in this particular sector and consistently sharing it, you will be gradually building authority.
It takes time to develop authority, but it plays a crucial role in your SERP rankings. Being active, engaged, and listening to your audience on social platforms will be a valuable asset in helping build authority. Leverage social media to showcase expertise on certain topics. In time, search crawlers will hopefully begin to recognise that your site is a trusted resource for specific terms.
Harnessing User-Generated Content for SEO
User-generated content (UGC) like customer photos, reviews, and testimonials shared on social media can also benefit your SEO efforts.
Encourage Visual and Dynamic Content
Ask your customers to post photos or videos of your products in action to their social media pages and ask to be tagged. Re-sharing engaging visual UGC on your branded profiles will demonstrate transparency and that you value what your customers think.
Consider optimizing these images with targeted keywords and alt text to help crawlers understand what the photo includes (as they cannot read images themselves). Over time, accumulating more keyword-optimized images strengthens your authority for those terms.
Collect Ratings, Reviews & Testimonials
Customer reviews, ratings and testimonials are integral to helping boost SEO, particularly if you are a business catering to your local area. Make the feedback process easy, and encourage customers to leave feedback on your site, Google Business Profile (GBP), and your social media pages. You could even incentivize them for doing so by offering discounts or free shipping on their next orders.
Testimonials can be incorporated into various landing pages and case studies as social proof of your brand's professionalism and diligence. Including targeted keywords naturally and strategically here can also give them an organic visibility boost.
Watch for Brand Mentions
Social media brand-mentioning alerts can be triggered to suit your requirements. For instance, if your brand is tagged in relevant conversations, comments or posts, make sure to engage promptly and transparently.
This shows your followers that you are actively listening and attentive, thus influencing your brand perception online. This has a knock-on effect on your local SEO efforts. Control any negative feedback quickly and affirmatively, and respond to questions with complete honesty and diligence.
Analyzing SEO and Social Media Performance
To maximize the effectiveness of a combined SEO and social strategy, you must use data as the main focus. There are tools that provide valuable insights across your website and social media channels to help you understand engagement and results.
Monitor Organic Traffic
Keep an eye on organic search traffic to your site in Google Analytics and Google Search Console. Which pages attract the most keyword-driven visitors? Are your total organic visits going up each month? Are people visiting your pages but not converting?
Compare any traffic fluctuations to core Google algorithm updates or ranking changes to see whether your site has been directly impacted by them.
Social media channels tend to have built-in analytics tools that allow you to monitor your page's interactions, engagement and visibility. Continually monitor and assess what needs to change and align that with your SEO traffic performance (if relevant).
Link Social and SEO Analytics
In Google Analytics, the Link Attribution feature allows you to see visits and leads driven specifically by social media activity. Facebook Analytics also allows you to trace conversions back to original social media ads or native posts.
The salient point here is that while linking all of the tools together might seem difficult, giving yourself as much data as possible will help you refine your campaigns. See which social initiatives and keywords drive the most traffic to understand what content is working and is most visible.
Promoting Your Website and Social Profiles
Finally, there are plenty of ways that you can promote your social media pages and profiles on your website, which expands your brand's discoverability. Here are some:
Link Your URLs to Your Social Profiles
Most social media users will scan your page bio and contact information. Make sure that your website URL is prominently featured and opens the correct page in a new tab. Also, make sure that your URL address is visible on any of your promoted images, infographics, headers, and templates.
Put Profiles in the Website Footer and Integrate Share Buttons
On your website, ensure the footer (which should be hard-coded) has external links to all your brand's specific social channels.
Also, make sure that social media share buttons are automatically enabled and visible on any new blog posts, case studies, product descriptions and all relevant pages on your website.
Link Internally Where Appropriate
When sharing website content across social channels, include a link back to the source rather than just an image. This sends authority and engagement to the target page, and you can always shorten URLs to keep character counts to a minimum on platforms like Twitter if need be.
Takeaway
As you can see, SEO and social media can work hand in hand to build visibility. Many believe that these disciplines should exist independently and not influence each other. Given the significant upfront and ongoing work involved in executing a winning strategy from the ground up for each discipline, it's hard to argue against this view.
However, both marketing channels have the potential to complement each other in specific ways that, in turn, can drive visibility for your brand and organization. By following these tips and suggestions, you will be on your way to creating a methodical and aligned SEO and social media strategy that allows you to play to each one's specific strengths, and reap more benefits for your efforts.
The long-term payoff for visibility and conversions is immense if you build an optimized, cohesive strategy that marries as many digital channels as possible.