According to recent stats (2019), Instagram is the 5th most populated social network in the world.
1 billion monthly active users (MAU) on Instagram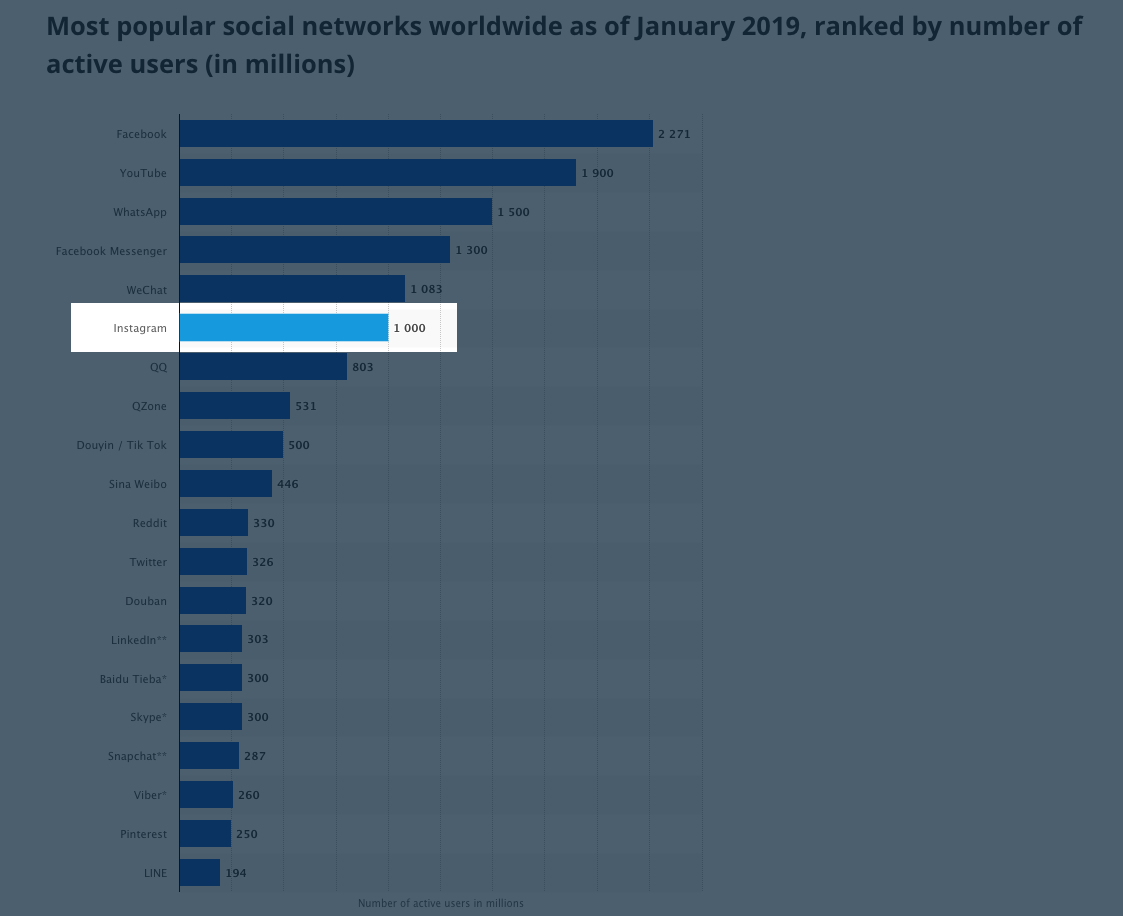 This puts the visual platform far ahead of social network giants such as LinkedIn and Twitter, and right behind the Chinese competitor – WeChat.

Social Networks Monthly Active Users — Source: Statista
And if we trust the data, Instagram's growth is not about to slow down anytime soon. Their speed of MAU increases much faster than any other network out there.
A quick look at the quarterly evolution of the MAU of Twitter, Linkedin, Instagram, and Facebook is telling:

While Facebook and Linkedin saw a slow (but steady) growth and Twitter began losing users – Instagram is multiplying its MAU every two years. If we do the math, we can expect the network to reach 1.5B MAU by the end of 2019.
And as we're always keeping our pulse on social media here at Mention, of course, we want to know where Instagram is headed.
So, doing what we do best – we collected a lot of data about Instagram and build a report.

What the Instagram Engagement 2019 Report is about
It all started a year ago (2018), when we decided to investigate to better understand how active users behave on the platform. This included:
What do they do on Instagram?
What do they share?
What do they like?
What type of content works best?
What are the best ways to share?
And much more.
Some results were expected. Others, like the use of hashtags and tagging users – were quite surprising.
If you don't have time to read the full report, here's an infographic (created using Venngage) that sums up the main key learning points.


Instagram engagement may be the golden KPI for many marketers, but it's no easy thing to measure. As the platform evolves quickly, it's hard to keep up with what works and what doesn't.
So, we analyzed a lot of Instagram posts and co-produced a report with our friends at Hubspot to share the results with you.
But, is 48+ million posts really enough for us to base our insights on? According to Mention's data scientist, Thomas Legrand:
"You could say that 48+ million isn't much compared to the 95 million documents uploaded everyday on the platform. But just as you don't need to A/B test all users of a website to identify relevant optimization processes, we didn't need to monitor billions of Instagram posts to obtain mathematically significant data to identify trends that apply to all users." Yep, definitely a scientist.
One interesting discovery from last year's report is echoed this year: to generate good engagement on Instagram, you need to be highly focused and relevant.
We'll write a few blog posts to share some of the results of our report which we will be sharing with you in installments:
The 19 most used hashtags in 2018
The 19 most engaging hashtags of 2018
Tagging users doesn't generate engagement
The more hashtags, the less engagement
Now, if you want to learn all there's to know about the latest trends to generate more engagement on Instagram download our free 30+ pages report.