Creating the perfect Instagram caption is no easy task.
You need to channel your most creative self into making something witty and eye-catching to encapsulate the photograph you are posting in just a few words.
Of course, finding these magical words can be difficult.
However, with the right motivation and some helpful tips on crafting the ultimate caption (emojis included), you'll develop the art of writing captions that will leave your followers wanting more.
Dive in to learn more about creating the perfect Instagram caption.
Why Does Your Instagram Caption Matter?
Your Instagram caption serves a dual purpose: to capture the attention of your followers and to tell them what the post is about.
You can also use the caption to give context or further explain the image that was posted.
Crafting a good caption can go a long way to driving up engagement by generating a discussion in the comment section. And if done well, it can even create leads and sales.
Our Instagram report shows that it can boost engagement from under 4% to 6%. And the more engagement you get, the more leads you can generate. Learn even more exciting details about using captions on the platform by checking out our 60-page report.
So, don't take Instagram captions for granted.
Keep reading to learn exactly how you can draft a compelling caption that supports your Instagram images and videos.
10 Ways to Create the Perfect Instagram Caption
The tips below include the best practices to follow in order to come up with the perfect Instagram caption. Try them out one by one, or, better yet, combine them to make a brilliant caption.
As you keep building posts and improving your captions, you'll learn what works best for you and your audience.
Table of Contents:
Focus on Your Audience
The key to creating a brilliant Instagram caption is to think about what your audience wants to hear.
Many businesses make the mistake of focusing solely on their own agenda, but that won't get you far.
Social media is about managing a community and connections. People are not looking for ads or anything that tries to sell to them.
Your audience will simply scroll past your post if your caption is about how great your products are and what kind of promotions you have.
Instead, focus on providing captions that interest your followers and add value to their day. To showcase value, share informative content and tips, stories, jokes, or quotes.
Consider the post above by the MET Museum. The institute could have easily posted asking people to visit the museum, buy from their gift store, or attend an event. Instead, it takes the time to showcase the everyday activities of its employees while sharing some interesting details about historical artifacts.
Providing value and interesting content should be your main goal. Keep self-promotion to a minimum.
Keep your Captions Simple and Short
When crafting captions for pictures, videos, or other media, it is important to keep things simple and straightforward.
Keeping your language casual will help capture a wide audience, as shorter messages are more likely to be read in their entirety.
For example, some Instagram posts should have no more than two sentences to ensure they quickly convey the message.
Simplicity and brevity are essential when writing captions, but clarity is just as important; there's no point in writing a clever caption if people don't understand it. Keep it straightforward, informal, and relevant.
As you go through this post, you'll find several examples of simplicity in action. The remaining points will also help you find the right tone, words, and themes to use.
Note: there are always exceptions to any rule. There are times when writing long paragraphs in your Instagram captions is beneficial – it depends on the topic, intention, and what you want to achieve.
Create a Storytelling Caption
Storytelling is one of the most effective ways to engage your followers. People love stories and will be more likely to read your caption if it's engaging and tells a story.
To get started with storytelling in your captions, start by focusing on one specific point or element of your post.
Don't just list features in your post or describe the picture when your audience can see the details for themselves.
Instead, share contexts that your audience won't know. And find ways to incorporate personal anecdotes and interesting facts.
Also, using strong keywords and punctuation can draw attention to certain points you are making in your story-infused caption. And be descriptive!
Getting creative with these elements will help you write captions that stand out and draw interest from your viewers.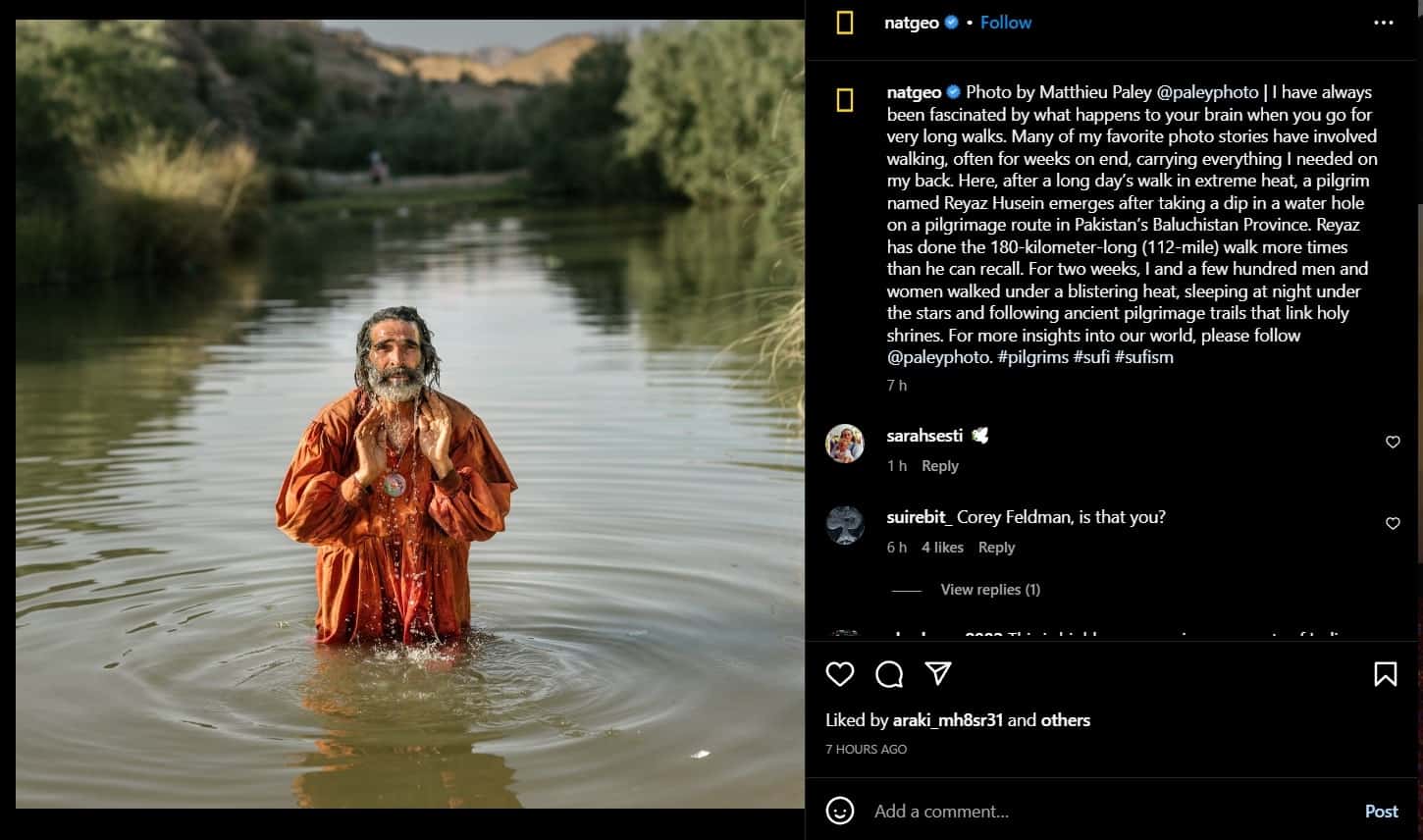 If you want a great example, visit National Geographic's Instagram page.
You'll find plenty of captivating photographs with captions that tell a powerful story.
Look for ways that you can do this with your own brand. Can you share something about how the business came into existence? Or something about your suppliers and employees?
Stories engage social media users and compel them to like your post and follow you online for more stories.
Talk About Your Audience or Customers
You probably know that in relationships and conversations, it shouldn't be all about 'Me. Me. Me'.
The same goes for Instagram. Instead of using your captions to simply talk about yourself, focus on your customers and audience.
This doesn't mean you have to sacrifice promoting your brand or product, but rather balance it out with exciting content that speaks to the people in your community.
Include user-generated content in your captions, discuss customer testimonials, and make sure to thank them for their support.
Showing you care about the people who support your brand will help you build stronger relationships with your followers.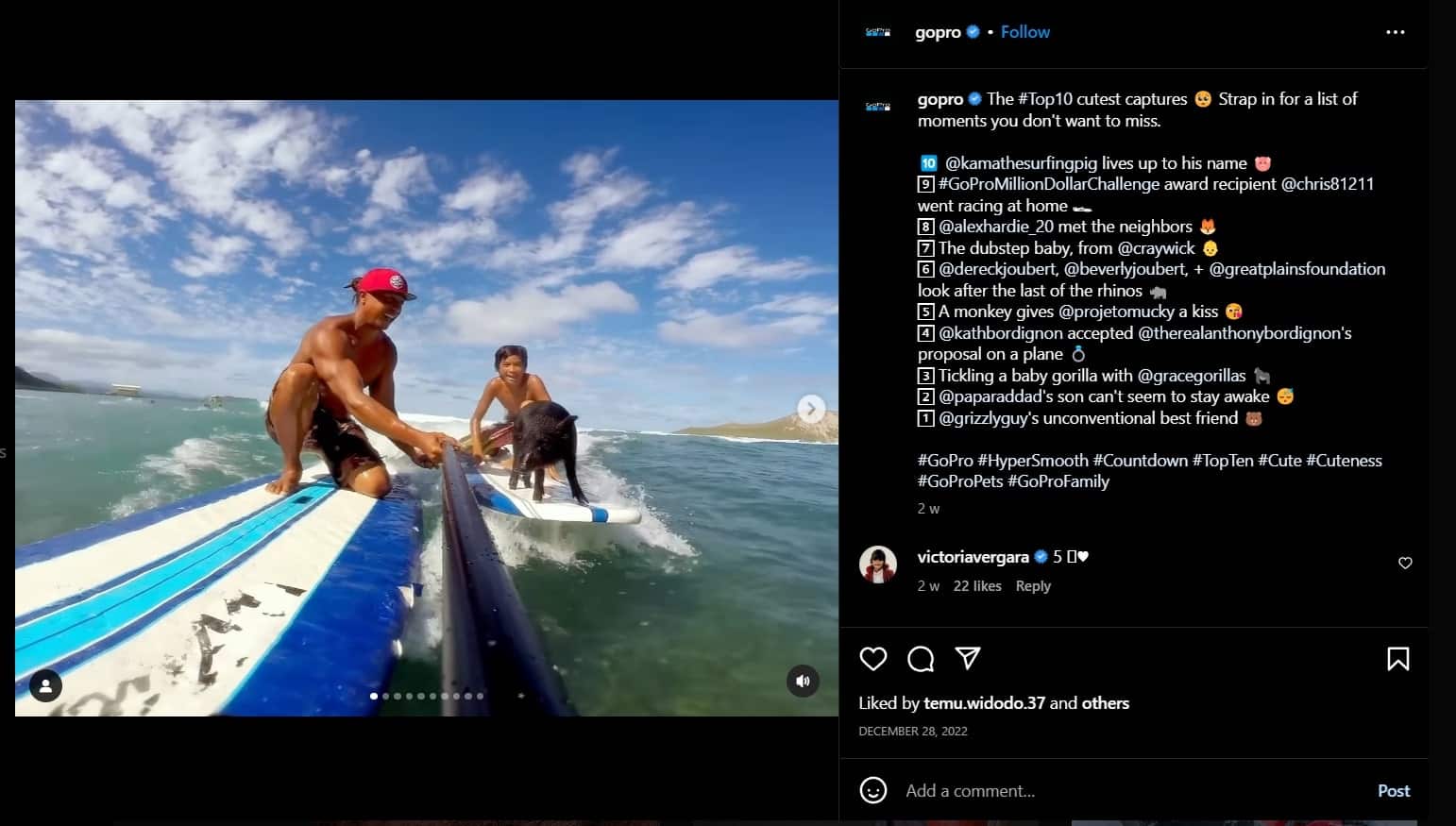 GoPro is one of the brands that do it best when it comes to featuring its audience.
The brand gets tremendous positive engagement because they highlight its users and their stories.
Can you do the same? Reach out to your audience and ask them to make a post using your product or service. Or look for your brand mentions online.
You can share user-created Instagram posts and talk about your customers in the captions. Doing so will interest your audience and build trust.
Nail the Format
When formatting your caption, use emojis, hashtags and line breaks to create visual appeal and make sure your words don't get lost in the clutter of everyone else's posts.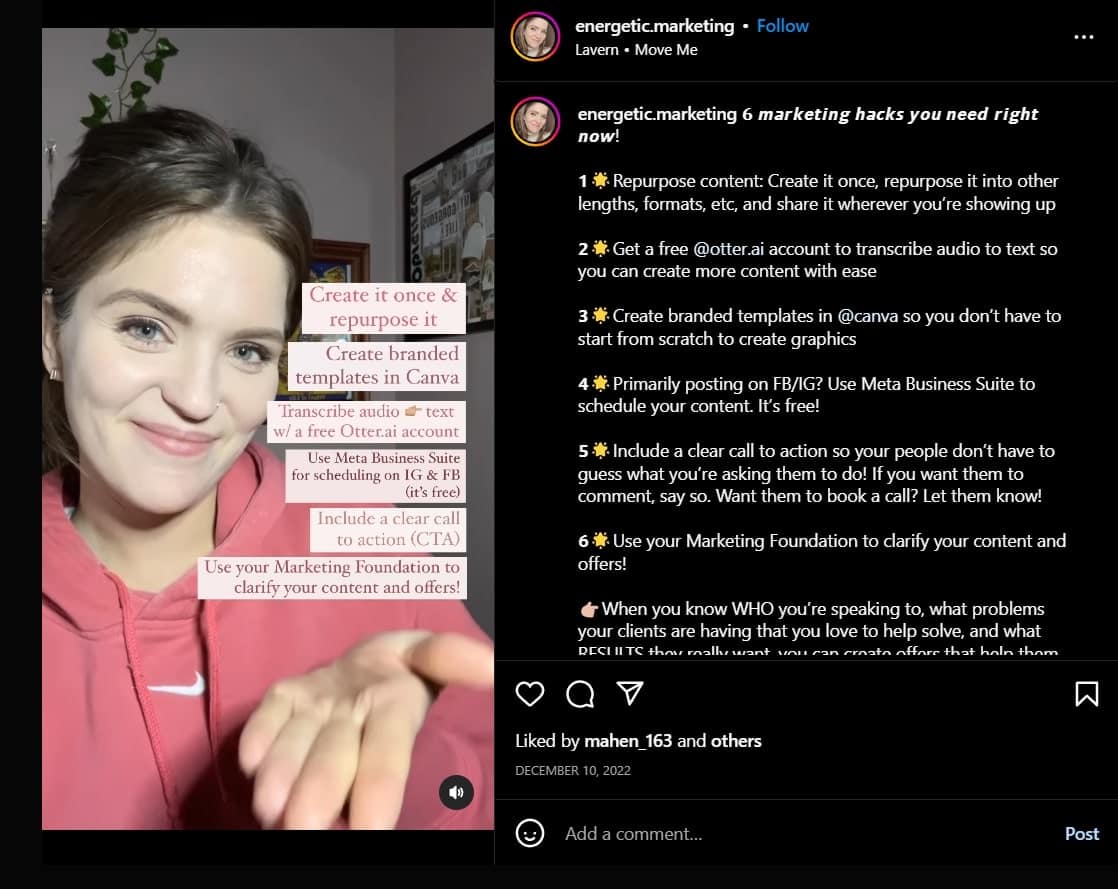 Formatting your captions will break up long blocks of text into smaller chunks, which are easier for people to read quickly on their phones or tablets.
Also, include relevant hashtags with each post to ensure more eyes find your content when searching for specific topics.
Add a Call-to-Action
Creating the perfect Instagram caption with a call to action can be a fun way to engage followers and encourage more likes, comments, and shares.
Adding a phrase like 'Double tap if you agree' or 'Tag your bestie' can get people talking and increase the visibility of your post.
You could even ask followers to share their experiences in the comments or offer them a discount code when they repost your content. It will surprise you how just a few extra words at the end of your caption can make such an impact on engagement levels.
Take this example from Cisco.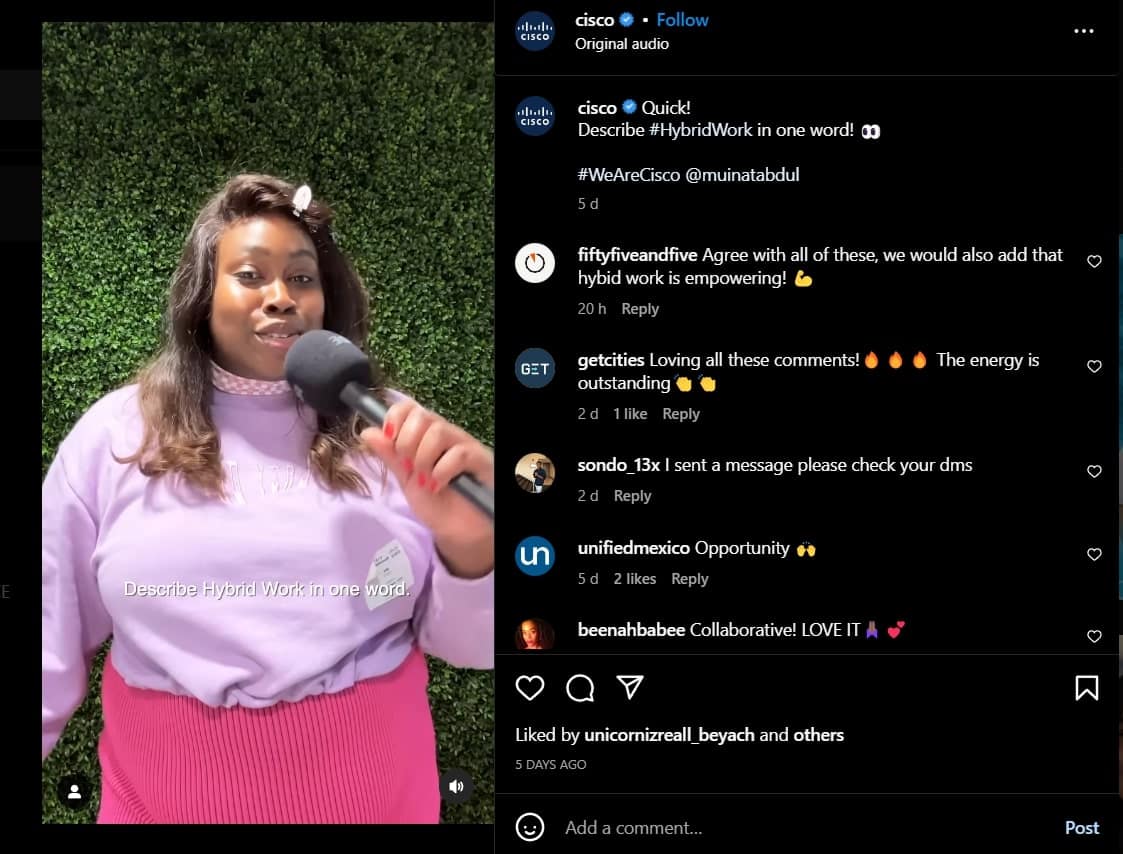 The company makes a simple statement: 'Describe #HybridWork in one word'.
And the comments show that this call to action is relevant and inspires engagement.
Always include a call to action in your caption and vary it. Ask people to like, follow, share, and at other times, ask them to click on the link in your bio.
A call to action dramatically increases the impact of your social media marketing.
Pose Questions & Invite Conversation
Are you ready to fire up the debate?
We all love to express our opinions, so get people talking on Instagram by sparking a discussion.
All it takes is a clever caption and an engaging question. Make sure that it's relevant, interesting, and short.
Invite your followers to leave an answer in the comments.
Some examples of questions you can ask include:
What's your favorite way to spend a weekend?
What's the best book you've read recently?
How would you rate this product out of 10?
What would you do differently?
A lot depends on your niche and what type of questions would be most relevant to your followers.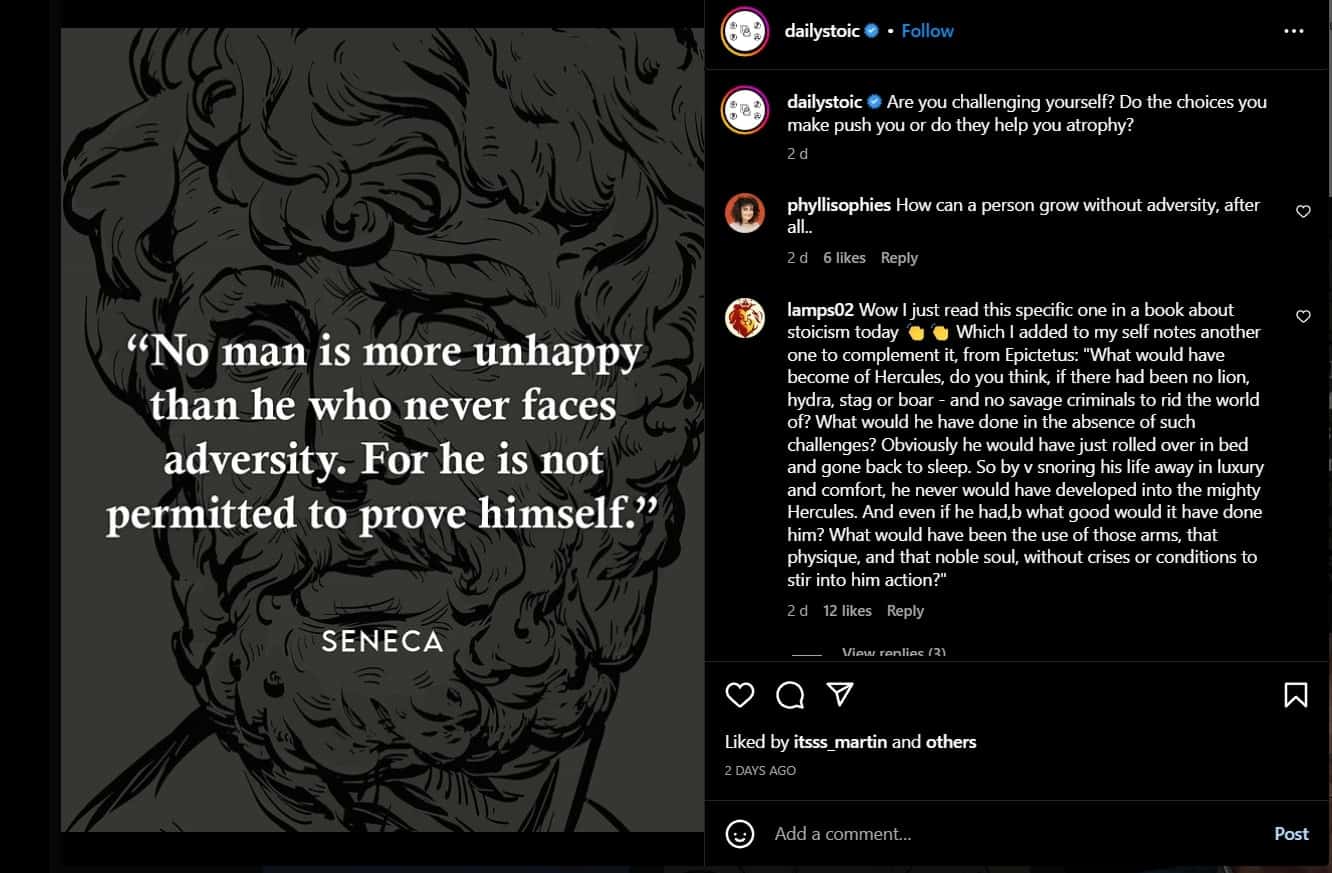 Be Positive & Upbeat
When crafting your Instagram captions, it is essential to keep them positive and upbeat.
People tend to be drawn to uplifting content, and a caption that is optimistic will attract more attention than one that focuses on negatives or contains negative language.
Optimistic language can also encourage engagement with followers, as they'll feel welcome to share their opinions.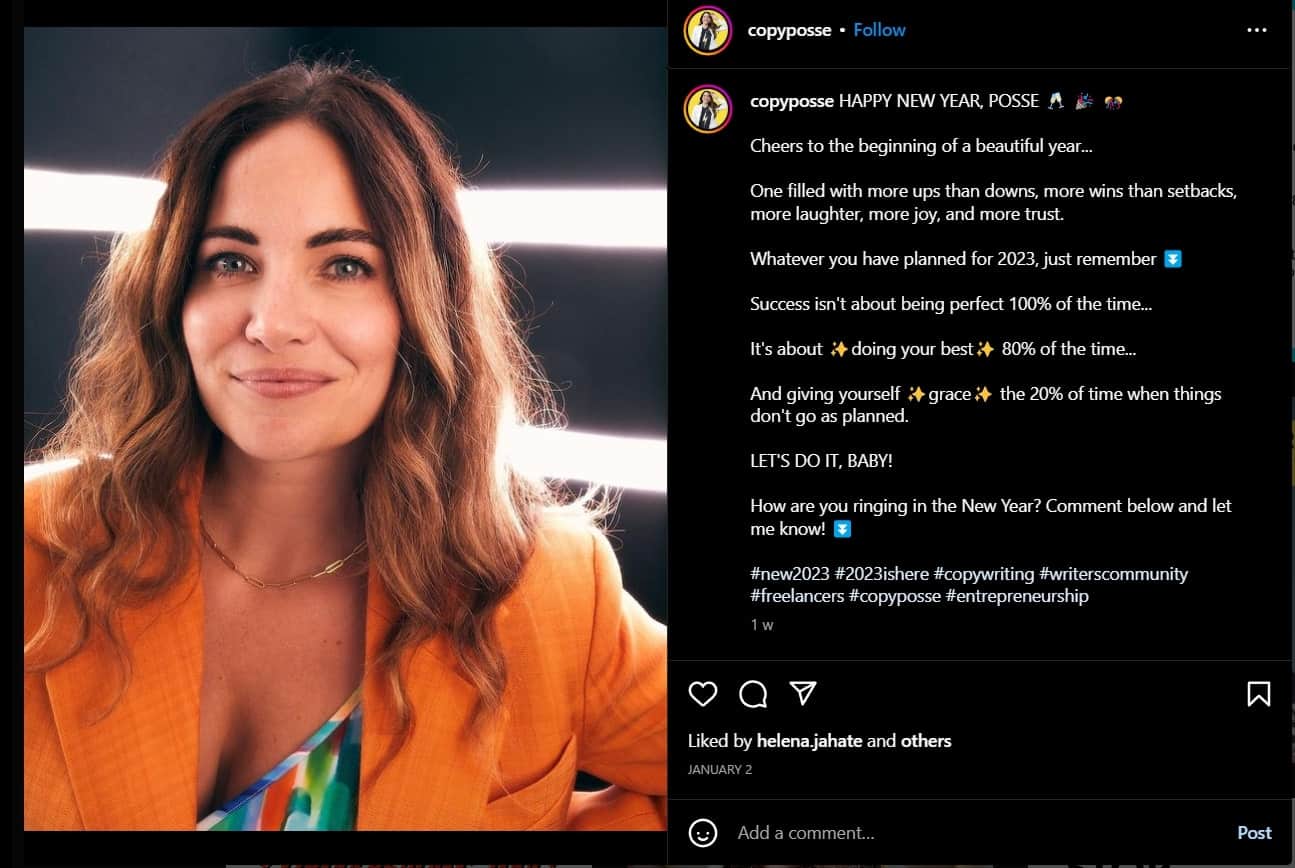 Write Like You Speak
Writing the way you speak on Instagram captions is essential, as that's how your followers understand who you are.
It also makes it easier and faster for people to understand your message.
Avoid using jargon and complex sentences. You want to sound like you're talking to a friend.
If a caption sounds contrived or distant, then there will be minimal engagement from followers – of course, this leads to fewer likes and comments.
When you write as you speak, you build conversational content – something that helps you form relationships with your community and audience.
Here are some ideas on how to make your captions sound like how you speak.
Write 'and', 'so', 'anyway', and other transition words. For example: 'So, will you be at the launch?'
Use common phrases as you do in everyday life. Example: 'If you can't beat them, join them. And that's why we're giving you a free trial!
It's a good idea to record yourself talking about the content of your post to a friend. When you listen to your recording, you'll get several ideas on how to make your captions sound more like you do.
And this will help your audience connect to you better.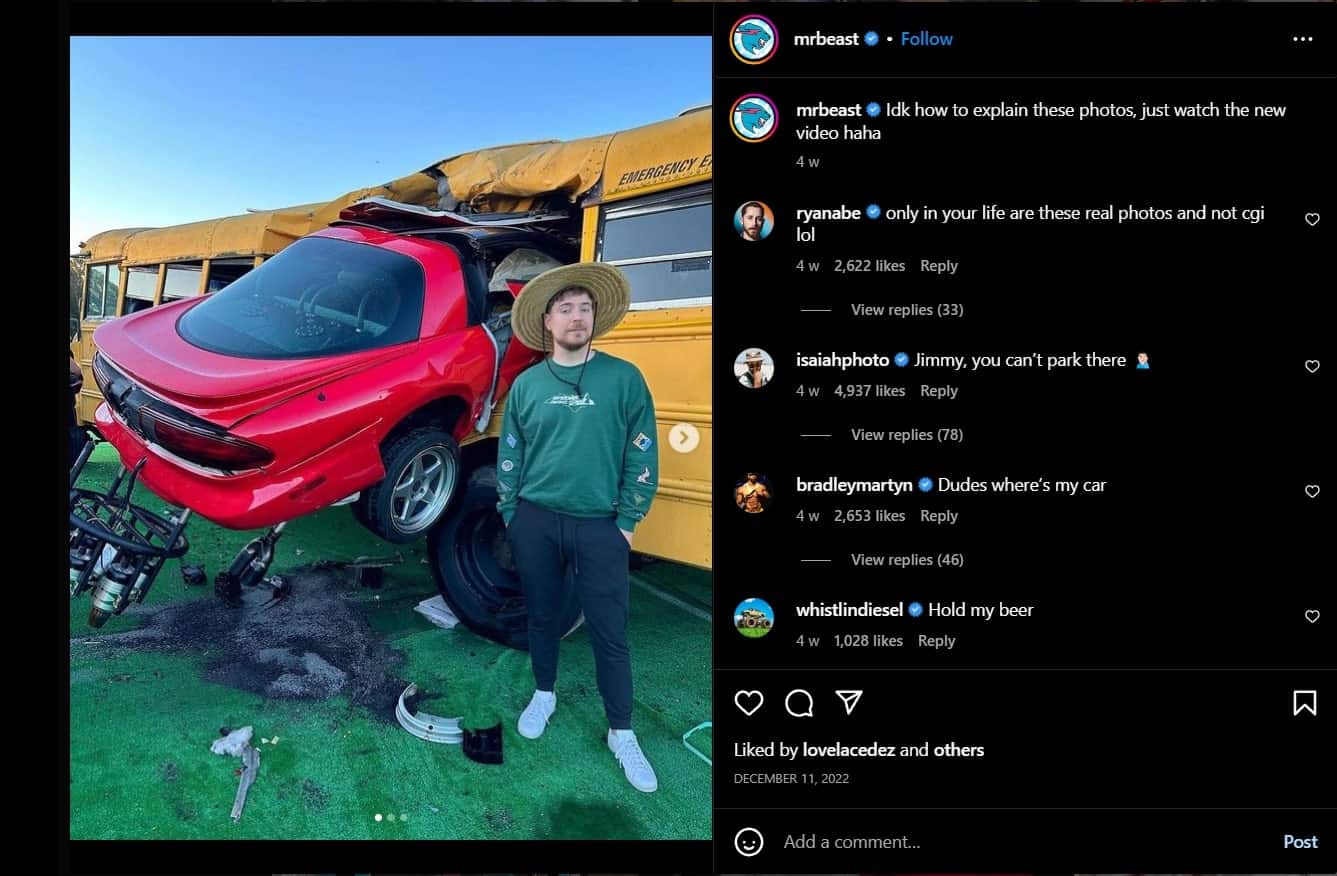 Check out MrBeast's Instagram account. In this post he simply says 'Idk how to explain these photos, just watch the new video haha'.
This is a brilliant example of writing in a colloquial way. Using 'idk' instead of 'I don't know' makes his captions sound real and friendly.
It also doesn't matter that there isn't perfect punctuation. It's about relating to people on social media.
Try Using Pop Culture References
If appropriate, use references from popular culture such as movies, music, and the internet.
Doing so helps you sound like you're with the times and are aware of trending topics.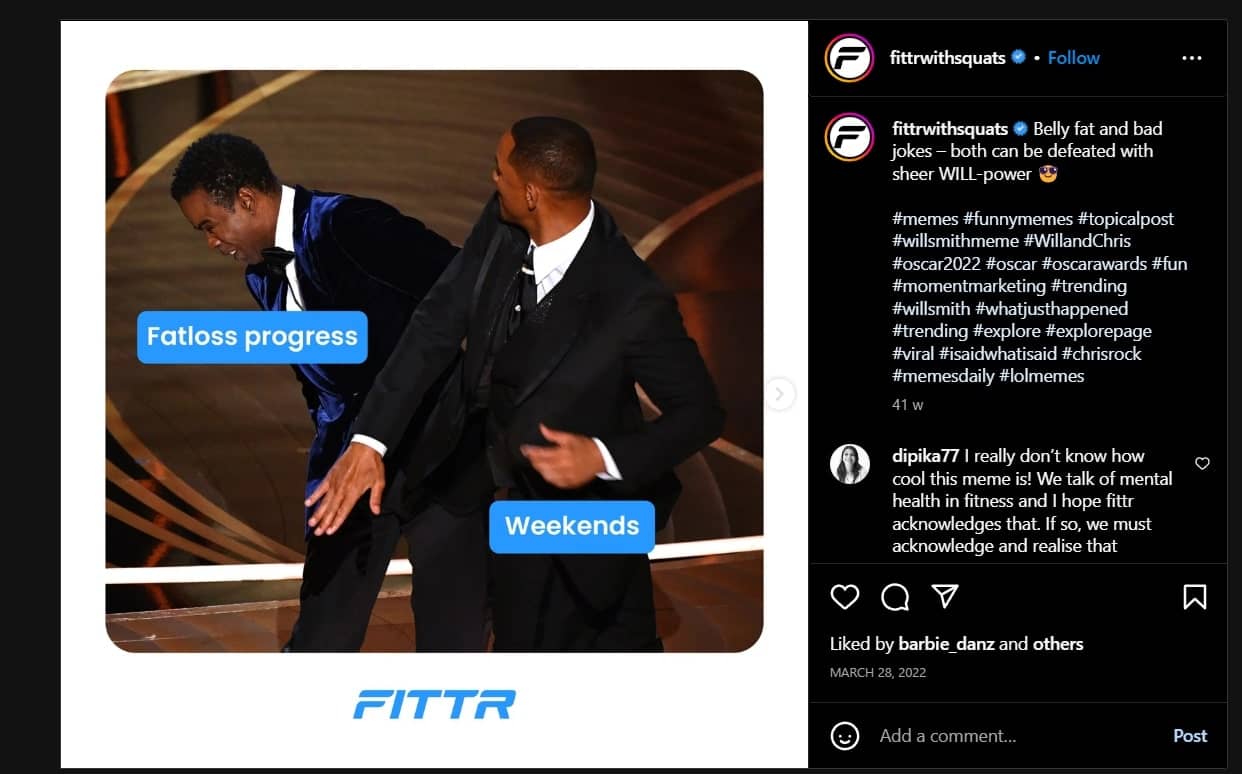 It's important to use references that your followers will understand and relate to. Doing so can help capture the attention of your audience and bring life to your captions.
Using pop culture references also adds humor, which is a great way for you to entertain your followers.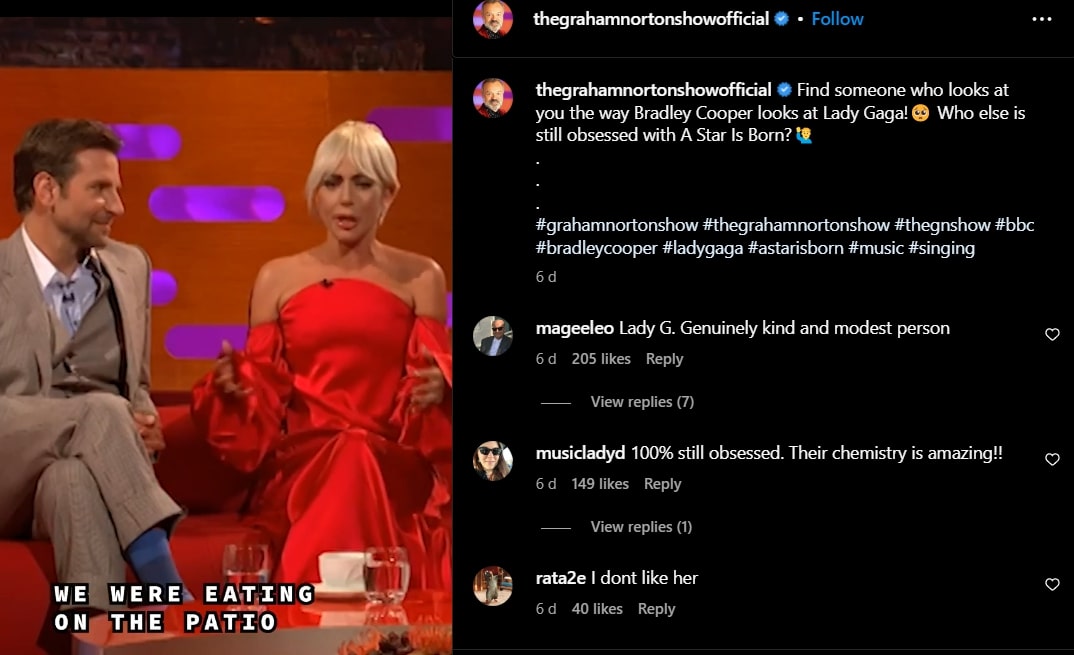 Using trending hashtags, references, and content will help you ride the wave of a major conversation. It gives you the chance to get more visibility and build your reputation as a business that is clever and in touch. And your social media accounts will soar in popularity.
Use Emojis in Captions
Emojis are a great way to add fun, color, and emotion to your Instagram captions.
Adding an emoji can also help break up the text, making it easier for people to read.
When used strategically, emojis can also be used to emphasize certain words or ideas in your caption – whether it's a laughing face emoji, a heart, or some other symbol.
Using emojis can also help create emotional connections with your followers, as they often evoke strong reactions. They also add context to your text.
And finally, emojis can make longer text content easier to read. The right emojis and their placement can help you share a number of details easily. Suppose you're hosting an event or launching a store. You'll want to share details like timings, location, etc.
Adding emojis in your caption lets you create a list in an attractive way that people will read.
Create A Sense Of Urgency
Finally, you can use Instagram captions to create a sense of urgency.
This is especially useful if you share promotional content or want your followers to take action.
For example, you could include words like 'now', 'today', or 'before it's too late'. This will encourage people to act in the present.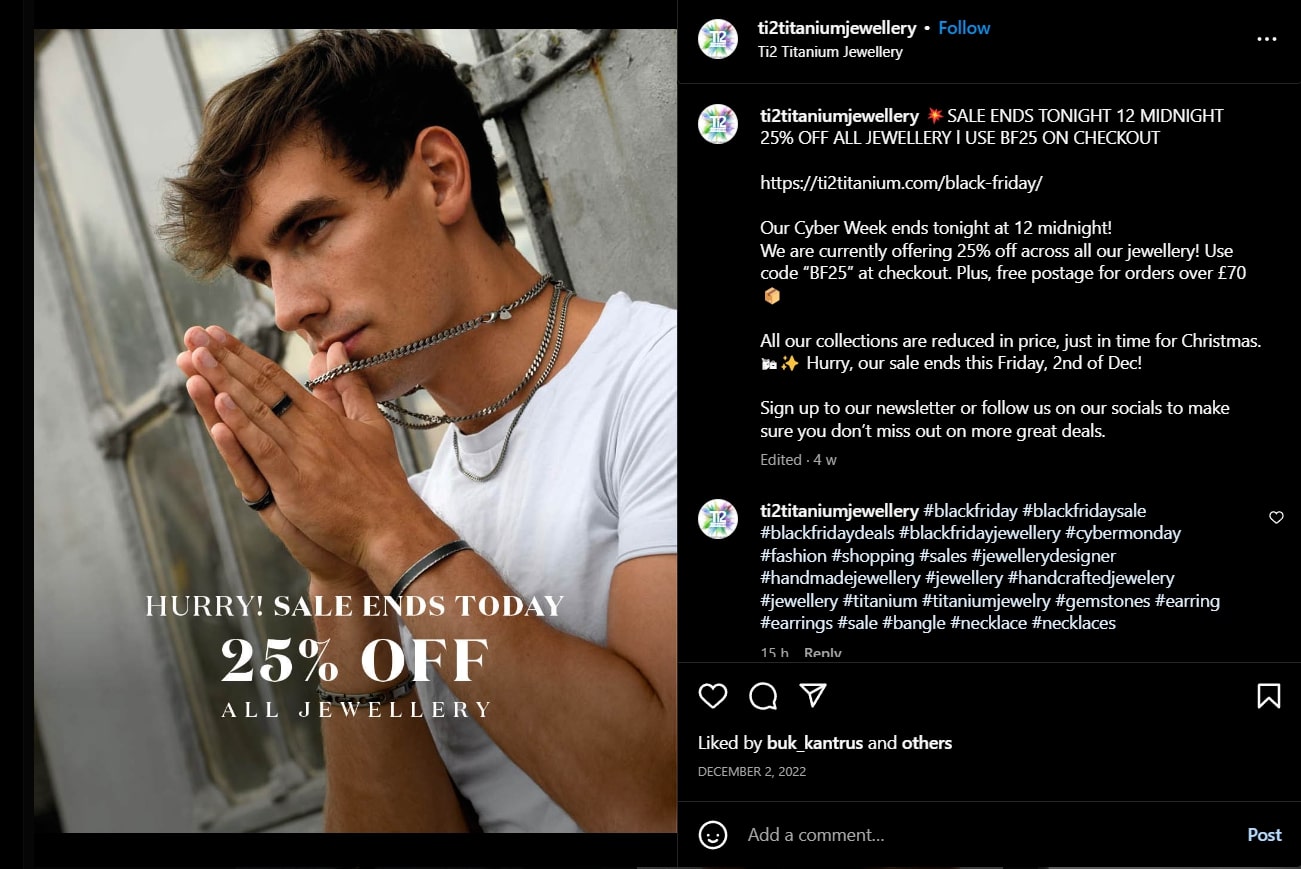 Adding this kind of language will encourage more engagement from your followers as they feel they need to act quickly.
You can create more leads and sales especially when you're running a campaign for a major event or holiday.
So, don't forget to add power words and compelling language to your captions to get better engagement.
Conclusion
Creating the perfect Instagram caption can be a daunting task, but it doesn't have to be. By following the tips we've outlined here – from staying positive and upbeat, to using pop culture references and emojis – you'll soon find that creating captions becomes easier as time goes on. Don't forget to mix these tips up too – experiment with different combinations of words and phrases until you discover what works for your audience.
With practice, writing engaging captions will become second nature!