The most important benefit of getting your brand or business up on Instagram's Explore page is reach.
Like other Instagram built-in features like Reels and Stories, the Explore page is free advertising, allowing you to connect with non-followers and increase brand awareness.
No two Explore pages are the same. Instagram's algorithm curates each user's Explore page based on their current interests and suggests accounts to follow. It is, therefore, likely that a user who follows and likes beauty lifestyle content will also see fashion lifestyle content on their Explore page.
With this in mind, the question is: how do you ride the algorithm in your favor and land on potential customers' Explore page?
The answer is in this article! You'll learn all you need to know to increase your visibility on the Instagram Explore page. Let's dive in.
What is Instagram's Explore Page?
The Instagram Explore page is a compilation of content like regular videos, Reels, Stories, and photos tailored to each user's preferences.
The page is based on similar content your audience previously engaged with, whom they follow, and whom they're connected to. This way, the algorithm recommends ever-changing but relevant content unique to their taste, boosting user experience.
In this blog post, Amogh Mahapatra, an Instagram machine learning researcher, defines the Explore page as an "unconnected recommendation system." The system is based on a two-step design stage:
Candidate generation — Here, the algorithm fetches all the candidates (i.e, content) based on a user's explicit or implicit interests.
Candidate selection — Here, the algorithm works on the candidates generated in the first stage and selects the best subset before showing them to a user.

In a nutshell, the Explore Ranking system uses machine learning to identify sources and ranks them based on similar user activities across Instagram.
For this reason, Instagram's machine-learning algorithm continually improves its content recommendations. Hence, if your target audience already interacts with other brands or products like yours, they could find you.
7 Proven Ways to Get Featured on the Instagram Explore Page
Instagram is the 4th most active social media platform. Getting featured on the Explore page, in particular, has several benefits, like increased follower counts, engagement, and conversions.
Here are seven proven ways to get your content on the Instagram Explore page:
Table of Contents:
Always post quality content
High-quality content is beyond videos and photos with great resolution; it's relevant and engaging to your target market. As mentioned earlier, Instagram's algorithm prioritizes posts with high engagement in the Explore ranking system.
Posting quality content is the most crucial factor for getting featured. Why? Because only then will your brand stand a chance of piquing your audience's interest and getting them to interact with the content.
But, it's not easy to create consistent quality content.
It should solve a pain point or add value to the audience. For instance, if you're in the SaaS marketing industry, you must demonstrate how your SaaS product solves customer challenges with an image or product video.
Intercom, a communications software company, did this with their Chatbot app:
It first shows how always being available to answer potential leads' questions can be expensive and hard to scale. Then it reiterates that the software's machine learning can look at past conversations to anticipate various answers that customer relationship agents can give. When customers see this, they won't only engage with the content. They might be compelled to convert.
Quality content can also mean fun posts. Check out this post from KitKat: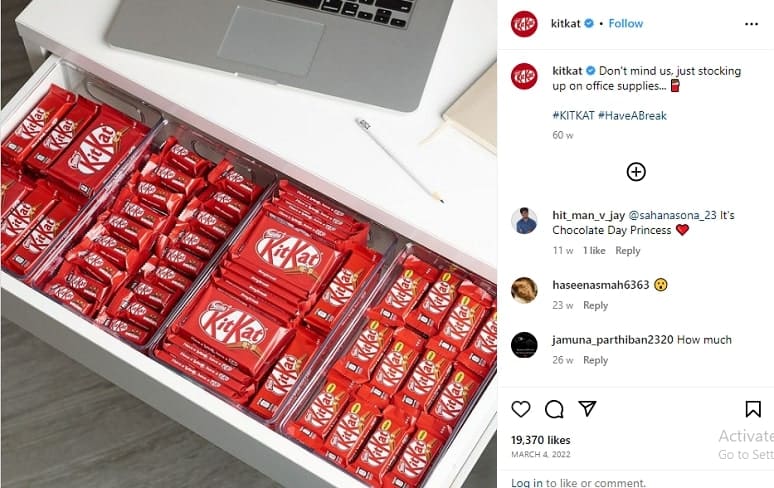 Even if the Instagram post was just a photo, it had over 19,000 likes.
You can also create high-quality videos. Video content gets more engagement and is prioritized on Instagram. Reels have 2x the engagement of other post types, and carousels outperform standalone videos and images by 1.65 percent to 5.13 percent, based on profile size.
Golde, a healthy food and beauty company, used a high-quality video to showcase its product.
If you're unsure which format to use, determine which of your existing content your target audience interacts with the most first. Then improve on that content. You can also check out which content generally gets on the Explore page in your industry.
Don't forget to also include trending audio in your high-quality content. The Instagram algorithm also promotes content with trending audio. Include it in your content strategy, and you may just land on the Explore page.
Use relevant hashtags
When you use Instagram hashtags, your audience is more likely to find you on the Explore page if they search for those hashtags.
To come up with relevant hashtags, think of the best keywords that describe your content. Also, search for hashtags other players in your industry use. For example, if you're in the clothing industry, you might want to use hashtags like #clothing and #clothingstore.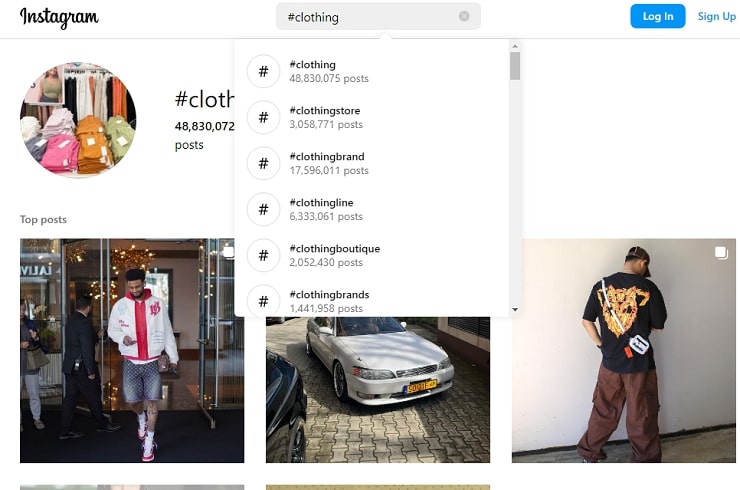 Also, search for other related hashtags in the search bar if you want ideas on which ones to use in your posts. Instagram will display other popular hashtags related to yours. You can use up to 30 hashtags on posts. Mention can help you track your hashtags to see the most effective ones.
Engage with your followers
As I mentioned earlier, a high engagement can get you featured on the Explore page. But engagement should be a continuous thing. Be patient and consistent, especially if you're a startup. Like, comment, and interact with users daily. Encourage them to do the same with your posts.
You can create contests and giveaways to motivate Instagram users to interact with you. So, you don't just increase your chances of getting featured on the Instagram Explore page. You can also increase your followers, boost shares, and get more followers on Instagram.
See how Claeshaus Clothing ran a giveaway to encourage engagement: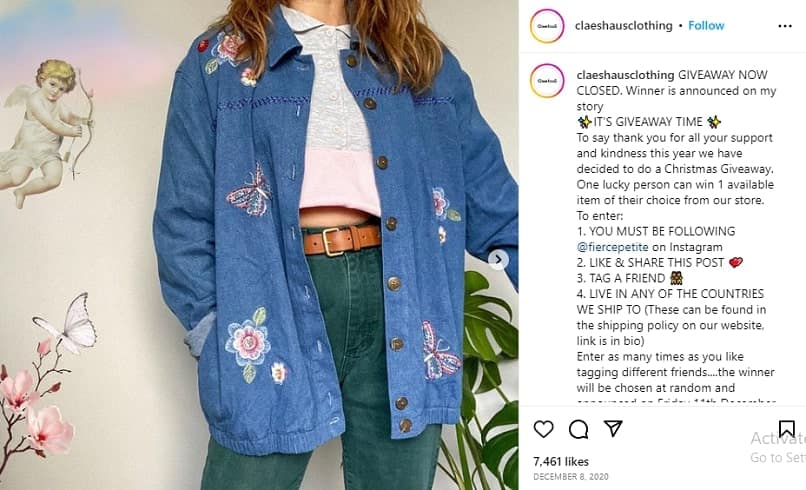 If you would rather run an Instagram contest to interact with followers creatively, use Avocadosfromchile for inspiration.
They offer gift cards as prizes for people that answer their riddles correctly: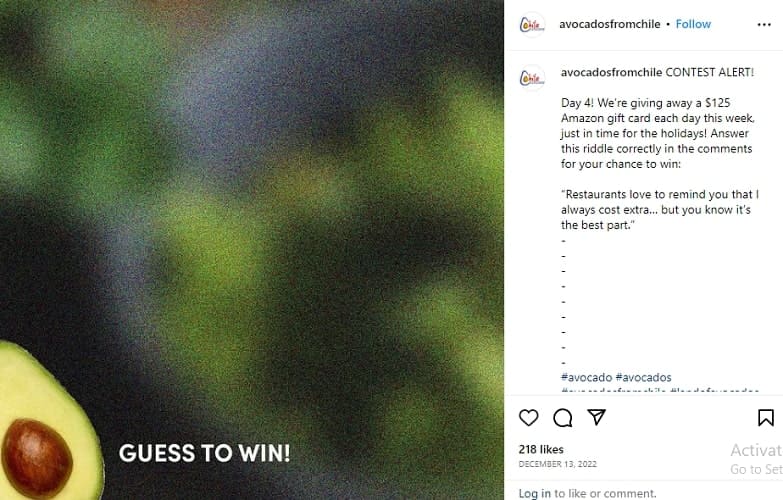 If you opt for any of these strategies to encourage engagement, it's also a great idea to make your prizes something related to your brand.
For instance, if you're a fine-dining restaurant, you could give away or give out as a prize a $25 discount on a meal in your establishment. This way, you win, too. To avail of the discount, after all, your contest or giveaway winners will still have to buy something from your eatery.
Collaborate with other users
You can collaborate with brands or Instagram influencers to expand your audience base, too. With an expanded audience, you increase your chances of your content appearing on the Explore page. After all, people are more likely to see and engage with your content.
For these collaborations, you could co-create social media content or form a partnership for a campaign. You could then create posts announcing this joint campaign. For the best results and experience, ensure you share a complementary target market and aligned interests with your brand partners.
Here's an example of a joint campaign. Allbirds, a sustainable shoes and clothing company, collaborated with Adidas, a sportswear manufacturer. They decided to co-create a sustainable shoe. Allbirds announced the collaboration on Instagram: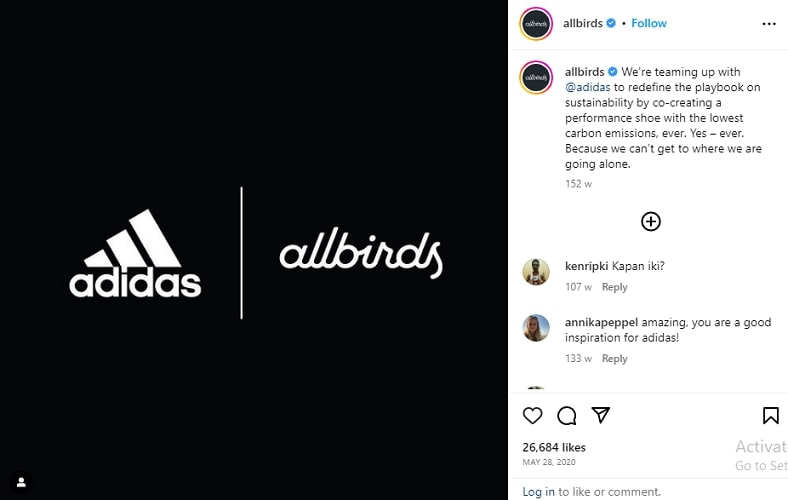 But if you think a partnership with micro-influencers will serve you better, emulate Frank Body, a skincare company. Within a year, it gained over 300,000 followers with a lot of engagements thanks to its partnerships with micro-influencers.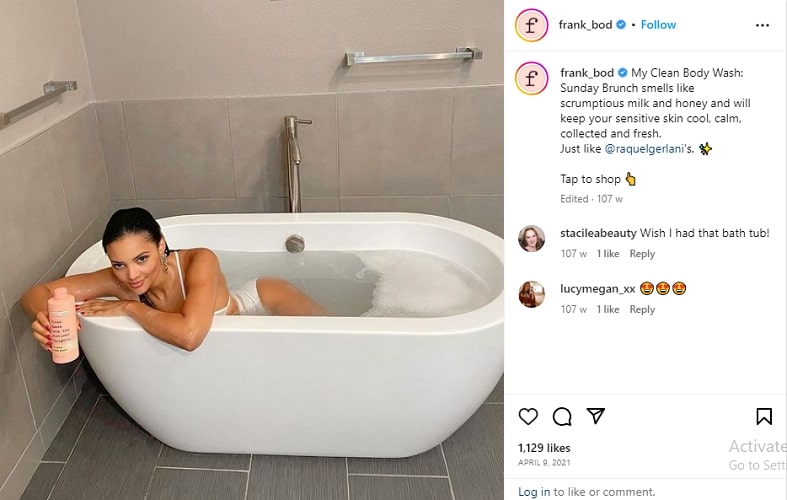 Whichever strategy you choose, you'll have to send your chosen brand or influencer a message proposing the collaboration. It's better to send them an email. If you send them a private message, it might not be read. You can use an email finder to look for their contact details.
In your email, don't focus on how your brand will benefit from the collaboration.
Instead, explain how your potential partner could benefit. Then incorporate your digital business card into your email. This is a great addition since it makes it easy for your potential partners to contact you in their preferred mode. Listicles on the internet will help you pick the best digital business card solution by comparing the different available capabilities.
If they say yes to the collaboration, don't forget to tag your partners in your posts announcing the partnership or showing the co-created content. The Instagram algorithm might also feature your post on the Explore page of users following that tagged account.
Use Instagram's new content formats/features
Apart from having a dedicated tab, Reels also appear on the Explore page. Blowing up on the Reels tab could also mean being discovered on the Explore page. Stories, on the other hand, is another Instagram feature that appears on Explore and a couple of other places.
Here's why those content formats do well on the Instagram Explore page.
Instagram wants users to adopt anything new about the platform. So, when they use this relatively new content format, Instagram rewards them with increased reach.
That said, keep things fresh by experimenting with other types of content and new features. Whether it's Reels, Stories, Shoppable posts or stickers, hop on Instagram's new offerings to increase your chances of getting on the Explore page.
Check out our Instagram Video Downloader to easily save and revisit your favorite Reels.
Keep your profile active
We now know that if your account has collected a lot of engagements, the algorithm rewards you by pushing your content to a wider audience.
But you can't get those engagements if your account isn't active in the first place. So, post content consistently.
Being consistent doesn't mean you'll just publish posts whenever you want. You also need to time your posts so your target audience will see them. To know the best time to post, look at your Instagram Insights. It will show you when users are most active, allowing you to improve your content strategy.
Also, set your profile to public, not private. This way, you increase your chances of expanding your audience and generating engagement.
Use location tags
Tag a precise location whenever you create a post. This will increase the chances of Instagram showing your content on the Explore page to the audience in that location.
Plus, if you tag popular places like cities, tourist attractions and parks, more people will notice your posts, earning you likes and interactions.
Tagging your location also helps your potential customers find your business when they search for that place on Instagram. This is a strategy used by Ralph's Coffee Shop, owned by Ralph Lauren.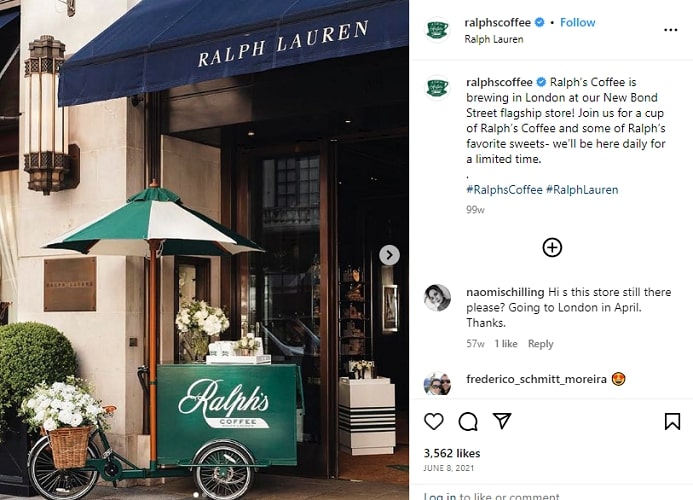 Though not quite known for its coffee, Ralph Lauren creates awareness about its coffee by tagging its shop's location and asking existing customers to come around. Therefore, people who live in and around the tagged location are likely to see the cafe post come up when they search for coffee shops in or around London. If they interact with the post, it may also appear on their Instagram Explore feed.
Adding a location tag can also increase the time spent on your posts. The longer users engage with your content, the better it ranks on Instagram Explore.
How do location tags do this? Well, users can become curious about the tag and click on it. This is especially so if the location tag shows the exact location of a new store, as in our Ralph's Cafe example.
Alternatively, the location tag can prompt curious users to visit your profile and comment on other posts saying they love your location. In the end, you could spark a conversation.`
Making the Best of Instagram Explore
The Instagram Explore page is an effective way to promote your products and services.
By adding value and inspiring engagement through your content, you'll connect with your audience. This allows you to reach their own Explore pages and even those of their followers and friends. As a result, you have a broader audience base for possible conversions.
To ensure your content strategy remains effective, test and adjust your content periodically based on how your strategy fares, too. Soon, you'll be an expert in making your own pieces of content land on Instagram Explore pages. Good luck!