You may have heard by now that Instagram has added an Instagram Reel Ad feature. And with it, your Reel Ads will be placed in the most popular places for Reels content.
This means you'll be reaching more people, creating more impact, and getting in front of audiences that haven't engaged with you before. The best part? It will feel like a seamless user experience when you do.
As Alessandro Bogliari from The Influencer Marketing Factory reports:
"Influencer marketing campaigns on Reels are performing quite well… IG Reels can be a great way to appear in front of a lot of people since there's less competition compared to TikTok when it comes to influencer content."
Instagram Reel Ads show up in your feed next to the organic Reels. From a user perspective, this means that your ad will appear to your audience without it interrupting the organic entertainment value.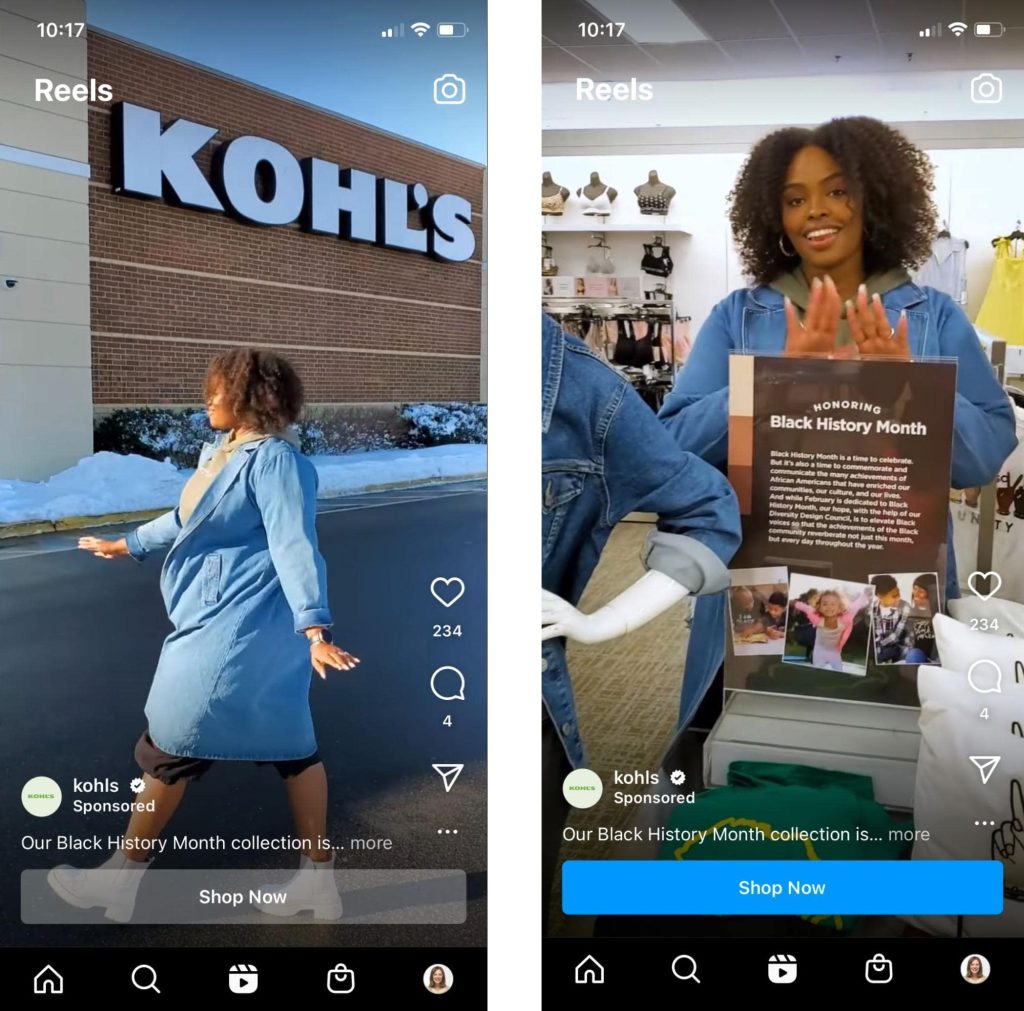 Table of Contents:
Should you use Instagram Reel Ads?
The answer is a resounding yes! And here's why:

When you create Instagram Reel Ads they will show up in the Reels tab, on the explore page, and in your audience's regular feed. They will also play on a loop and allow users to share, like, comment, and engage as they normally would with an organic Reel.
According to HootSuite, "Instagram Reels ads are displayed in the same parts of the app where users discover organic Reels content. This is a great opportunity for brands to step up their game, get creative and seamlessly capture their audiences' attention when they're scrolling through similar content."
Capturing your audience's attention without it feeling like an ad? Sounds pretty good, right?
Here are 3 ways to create effective Reel ads
Step one – Pick video content that feels informative and organic.
You have 30 seconds to promote your sponsored material on a Reel ad. This means that presenting content that feels organic and not too branded is essential.
You can build your Reel out of multiple clips and photos or just one continuous 30-second video. For example, you might show a video of you teaching a class, or create a "how we made this product" Reel featuring behind-the-scenes footage and still photos. These would both be great for ad content.
Martina Bretous at Hubspot reports, "Consumers want brands to be more authentic, and content like this can humanize your brand and help build a stronger connection with your audience."
Once you choose the video that allows the user to engage with your offer in an organic way, you'll want to add captions and stickers to your Reels.

Captions help your audience watch the Reel even with the sound off. Adding clickable hashtag, location, product, poll, or question stickers to your Reel can help increase your audience reach and engagement.
Our free Instagram Caption Generator can help you easily create captions for your Reels.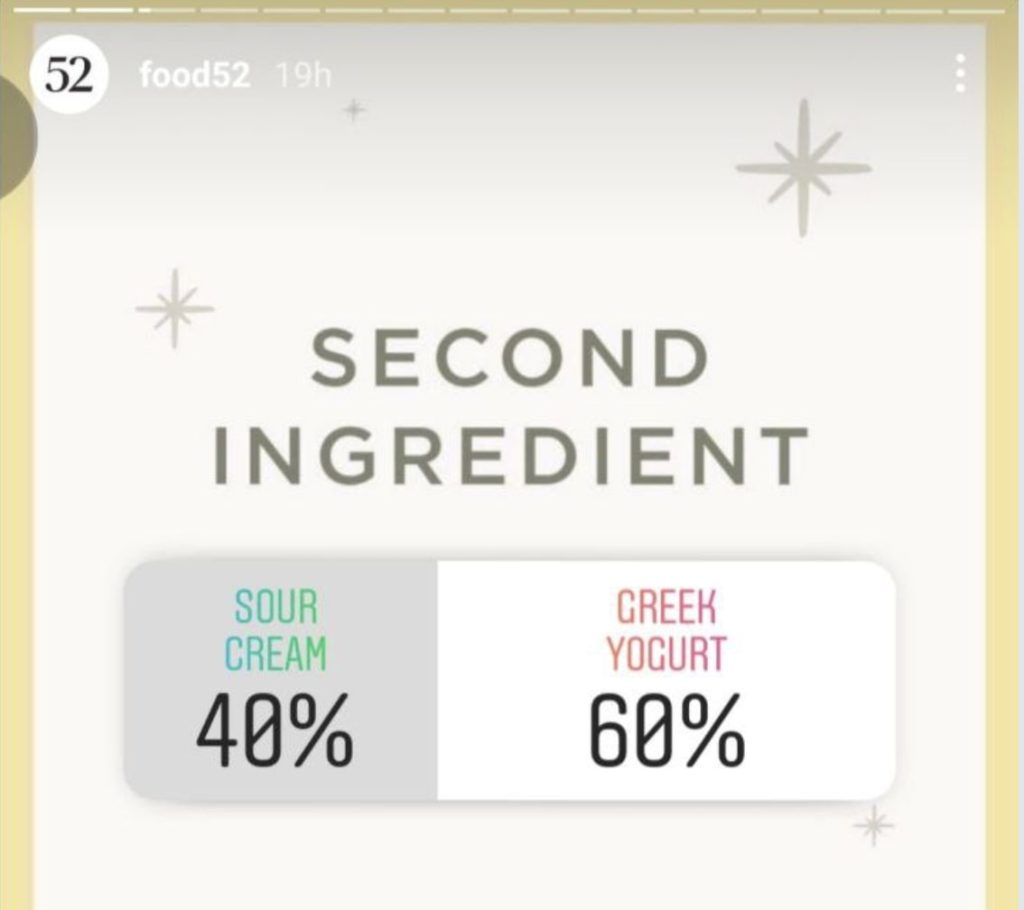 Step two – Write a captivating caption with a clear CTA.
Your call to action is the most important part of your Instagram Reel ad since your objective is to get your viewers to do something.
Often people overlook the caption aspect of the Reel, but this is prime real estate to reiterate what you talk about in your Reel and give the value-add so that the user feels compelled to click through to your landing page.
The first line of your caption is your hook, in the paragraphs below you can explain more and add value. Then, at the end, you should have a clear CTA.
Whether it's purchasing your product, visiting your website, or signing up for your email list, your CTA should convince people to go where you want them to go.
That's why your CTA needs strong copy with language that's clear and direct.
Use short, simple statements in the form of a command, such as "click here" or "learn more" or "come say hi." All of these are easy to understand and yet come across as friendly and low-risk.
As the team over at MasterClass says: "A good CTA promotes a high value yet is low risk for your audience. Employ a zero-pressure approach. Let your audience know that they are simply finding out more without committing to anything."
You want to be persuasive, not pressuring. Persuasive language makes your audience eager to keep reading. And if you can demonstrate clear value—like a discount for your product or service—that will make your CTA even more enticing.
You might also try the ticking-clock approach. For example, if your Reel ad is offering a discount on a product, you can add language like "for a limited time only" or "don't miss out." A sense of urgency boosts the chances that users will follow your CTA.
Finally, along with compelling copy, make sure your CTA has an eye-catching design so your audience can't help but notice it.
Use bold, high-contrast colors that stand out from the images in your Reel ad. You can also turn your CTA into an animated GIPHY sticker to make your ad even more engaging.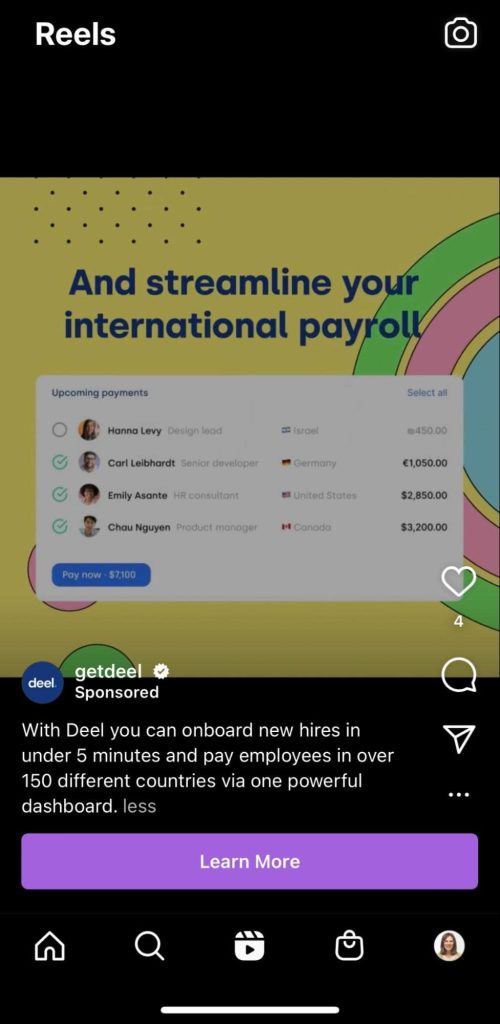 Step three – Make sure your landing page connects with the Reel ad audience for higher conversions.
Once your user has watched your Instagram Reel ad and followed your CTA, you want to lead them to a dedicated landing page that results in opt-ins, sign-ups, or sales.
Think of your landing page as the more detailed version of the CTA from your Reel ad. The only goal of a landing page is to increase your conversion rates, so it should have only one call to action and no other links that could distract your visitors.
Then you need to make sure the landing page connects to your Reel ad and matches its messaging. People should feel like they've landed exactly where they expected to go after seeing your ad.
The intro to your landing page should call out the fact that the user was directed there from Instagram. Then you'll need to give a little more information above the fold so that the user continues reading the landing page.
When you have a landing page that connects seamlessly to your Reel audience, this will create higher conversions for your product, service, or program because your viewers will understand the transition from one platform to another.
The most effective way to do this is with clear, straight-to-the-point copy on a well designed page. Again, you want to minimize distractions so that visitors can see instantly how to sign up for your masterclass or buy your product.
If you're new to creating landing pages or don't have the budget for web designers, landing page templates can be a great way to go.
Sites like Unbounce and ThemeForest have many customizable templates available for purchase. Morelli offers a free landing page template that gives you the exact framework you need to create a high-converting landing page.
Wrap Up
Instagram Reel ads offer an excellent opportunity for capturing sales and creating lead generation opportunities for your business.
Compelling Reel videos and captions, along with a connected landing page that stays on message, will ensure that your Reel ad is successful.
Not only that, but your Reel ad will also promote longer lifetime customer value for the people that are opting in as leads because they will understand and have a clear vision of what your brand is doing and why it's doing it. 
Looking to save those standout Reel ads for review or inspiration? Don't forget to check out our Instagram Video Downloader.