Before we dive deeper into the perks of chatbots for business, let's set the stage with some interesting chatbots stats: 
Chatbots are capable of handling as much as 80% of common enquiries. 
Conversational artificial intelligence handled almost one in six global customer service interactions. 
27% of consumers were unsure whether the last customer support interaction was with a chatbot or a human agent.
More than 40% of consumers use chatbot marketing tools for purchases, thus making conversational AI an outstanding acquisition for your salesforce.
87.2% of buyers say they had a neutral or positive customer experience talking to chatbots.
Conversations with chatbots acquire a customer satisfaction rate of 87.58%, which is 2% higher than the rate for communication with human agents.
35% of customers report they would like to see more businesses leveraging chatbots.
Content is king, of course, but what's next? Imagine spending hours on Instagram posts, stories, Reels, and live streams, but how can you convert these content efforts into sales? Unfortunately, a large number of companies cannot answer this question clearly. 
Here's when Instagram chatbots come in handy.
Table of Contents:
What are Instagram chatbots?
A chatbot is an automated conversation bot that is embedded into Instagram. So when talking to a chatbot, you're having a conversation not with an actual human but with a computer. Here's what it can look like: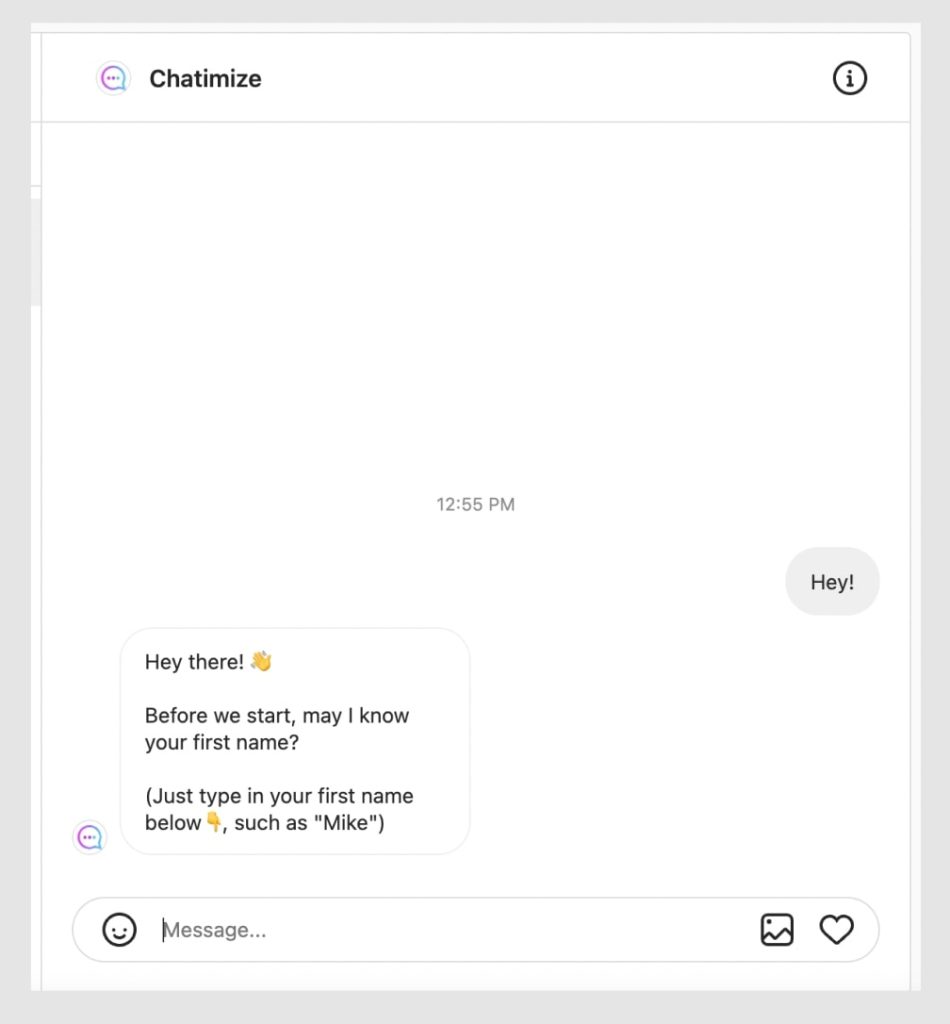 Instagram chatbots can send welcome messages to new followers or send automated messages back to those who text you in DM. The perk of having a chatbot is that it works 24/7 and can have multiple one-on-one chats simultaneously.
Sadly, Instagram doesn't yet provide a native in-app solution for a chatbot embed. This means that to streamline your customer interaction experience, you will need to use third-party tools that will allow you to create chatbots in a couple of clicks.
Don't confuse chatbots on Instagram with Instagram bots, though!
Instagram bots are fake accounts that some brands and wannabe influencers buy to make it look like they have massive followership; they get more likes and comments than they actually do. They 'try' to look like real people and actual followers, but they aren't good at it: they comment with random things consisting mainly of emojis, send weird DMs, and their accounts don't look alive.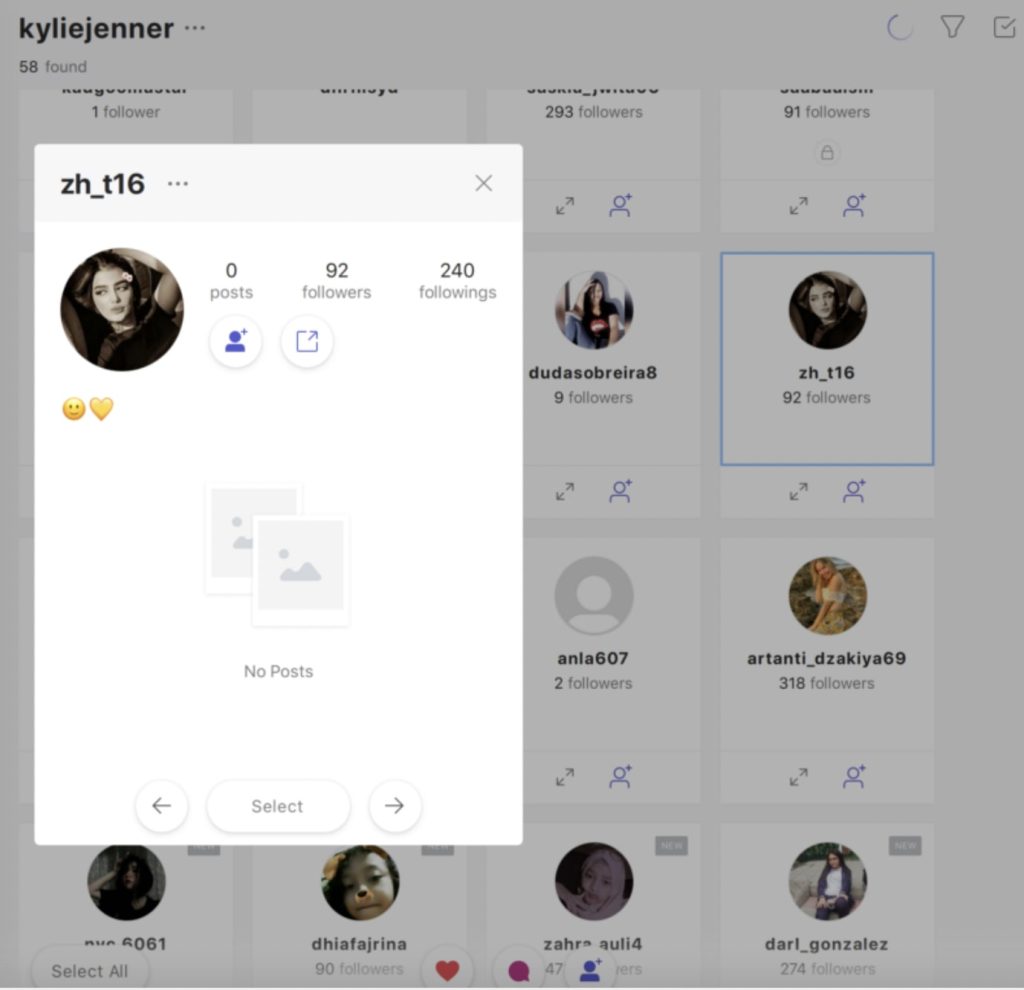 With Combin Growth, you can distinguish between real followers and fake. The machine-learning enhanced analysis leveraged by Combin detects bot-like accounts and posts with a 90% precision. It analyses such facets as followers/followings ratio, amount of posts, posting frequency, presence of ads, ER, and other attributes when coming up with a verdict on whether the profile is legit. 
Such attributes as followers and following quantity ratio, amount of posts, publishing frequency, advertisement presence, and different interrelationships between them are taken into account during the analysis. Here you can learn more about it. 
Instagram chatbots, in turn, don't even try to pretend to be real people. They're just a means of communication between you and a brand. They don't like, comment on your posts, or ghost follow you. As a matter of fact, chatbots are legit; bots are not.
Are Instagram chatbots legal?
Absolutely. Yet as a brand, you shouldn't try to make a chatbot look like a real person since it's not transparent. Besides, chatbots are not as flexible as humans in terms of problem-solving and decision making, so if your customer has a question that wasn't added to a chatbot dialogue scenario, the chatbot simply won't be able to answer it.
As a result, a customer ends up addressing a real human. And when this happens, your chatbot shouldn't impersonate a human agent not to ruin the whole customer experience.
How do Instagram chatbots work?
The chatbots' functionality is straightforward: your client does something you assume as a conversion action in your current marketing funnel (for instance, texts you in DM, follows you or leaves a comment), and then, after a few seconds, the bot replies according to the scenario prepared in advance. 
Here's what chatbots are capable of today:
Instantly respond in Instagram DMs, giving accurate information about your products or services.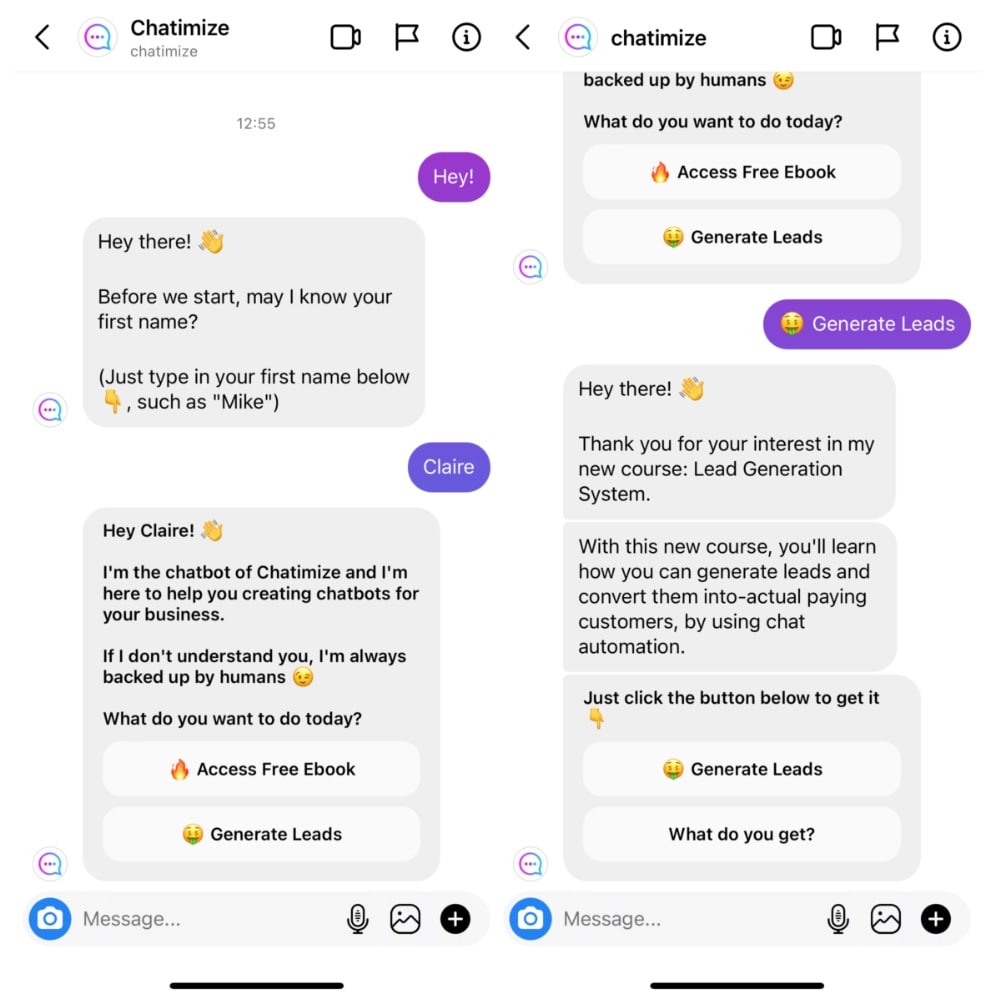 Send reminders in Instagram DM chats and start the chat again if the client has been distracted.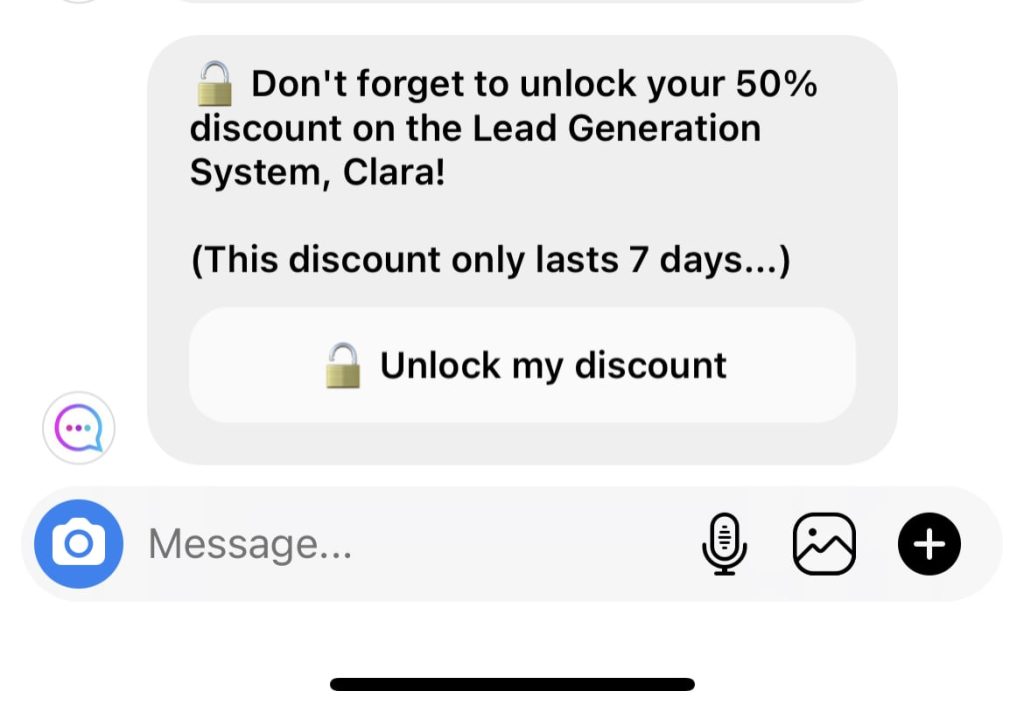 Collect leads such as email addresses and phone numbers.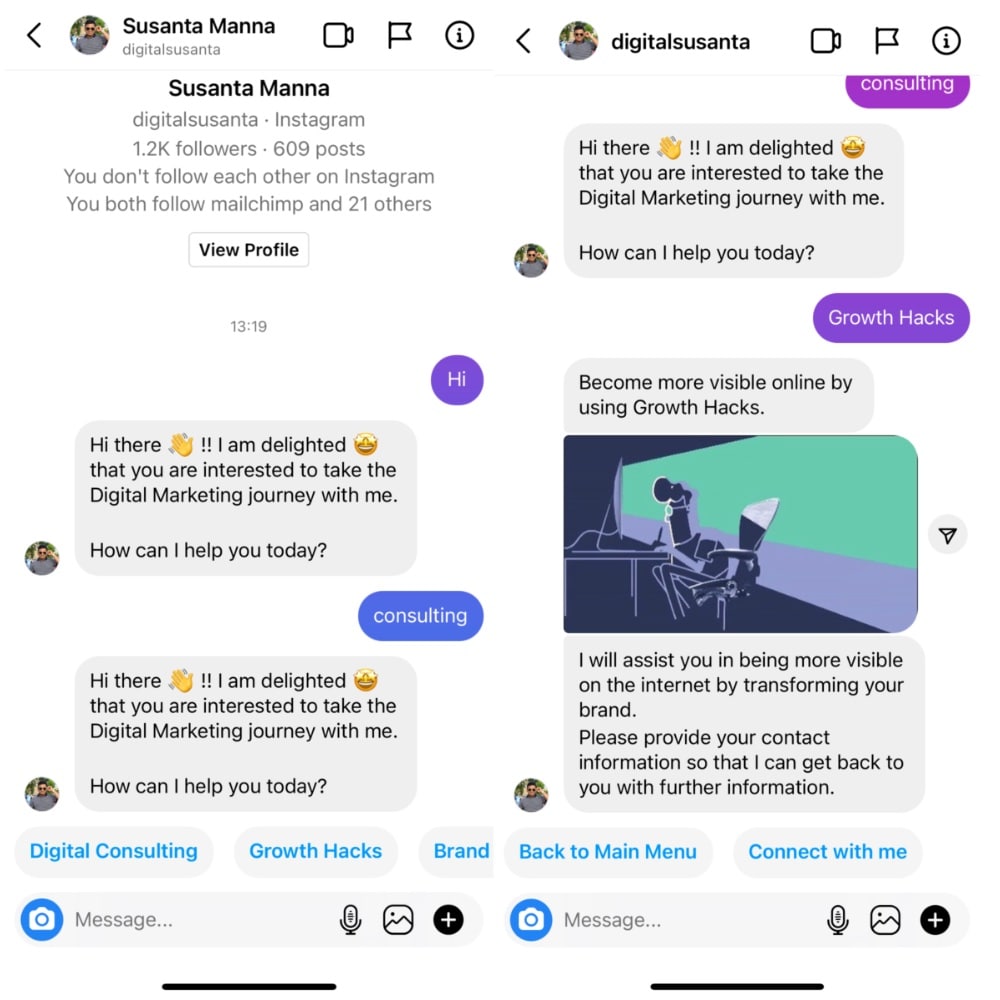 Take orders right in DMs and send the details back to your CRM system.  
Register followers to webinars, workshops and events.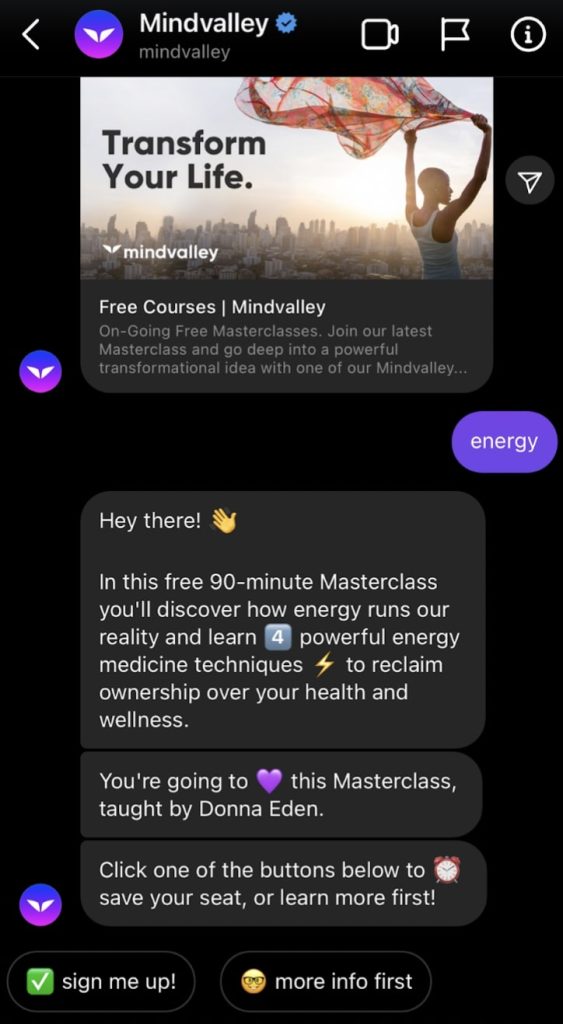 Conduct giveaways: All you need to do is prepare a scenario, and the bot will be responsible for the giveaway from start to finish. 
Make the sales funnel: You make a series of messages that guide customers through various sales funnel stages, and a chatbot will automatically do it for you.
Reply to messages in multiple languages: communicating in multiple languages is vital when your business has a diverse clientele. As much as 80% of consumers are more likely to buy when they have a personalised experience, and speaking the same language as your clients largely contribute to this personalisation.
The majority of chatbots talk to customers based on the pre-made conversation flow chart – a scenario of a conversation. So depending on the customers' actions or specific questions, chatbots answer accordingly.
The conversation flows can be built using these three things:
Triggers: Actions made by a customer, after which the chatbot starts the conversation.
Actions: Enquiries made by the customer that tell the bot what to do (specific questions or phrases, such as shipment conditions).
Nodes: Flows based on a logical pattern if this, then that – conditions that cause a specific action.
For instance, a customer starts the conversation by texting you in an Instagram DM asking if you have the size of the shoes you sell. The chatbot you integrated understands the question and sends back the details regarding all available sizes.
To make sure the bot understands this question, you should add keywords like "size", "sizes", or "shoe sizes" in your conversation flow chart. Then, when building the flow, you need to set up the trigger consisting of these keywords that will make a chatbot answer certain questions.
How you can set up an Instagram chatbot mainly depends on the bot you've chosen. Here are to name a few:
Types of Instagram chatbots
You can't sell on Instagram without communicating with your followers and customers. To cover all questions your customers might have, you will need to have various functions of chatbots. Let's take a look at the most common ones.
Instagram story bot responder
Responding to story reactions shows your followers that you care and notice their reactions. But you can hardly respond to each reaction manually since it's daunting and time-consuming, especially if you already have many followers. Here, chatbots can be helpful: You can set up which reaction should trigger the chatbot. The messages the chatbot is to send can be simple 'Thank you' messages, or you can go further and add a GIF or a photo to the reply.
Instagram DM bots for answering repetitive questions
You and your employees can't be online 24/7, but over 50% of customers require an online business to be available 24 hours, seven days a week and reply to their messages instantly. Yet, it's not that simple for a business to provide excellent customer service on social media all the time. Here, again, a chatbot can step in. All you have to do is to set up the most frequently asked questions to trigger the bot, and here you go! 
Order placement directly via DM
Many Instagram chatbots can not only answer in a DM but also take orders right in the chat. Thus, you can speed up the customer's journey and process order placements more efficiently.
Send product recommendations based on the users' preferences
About 80% of consumers are more likely to buy from a company that provides a tailored experience. And you can tailor it with a chatbot since there are bots that can personalise product recommendations based on a customer's DM enquiries. For instance, Tidio chatbots use predefined words or phrases and recognise the query to make the recommendations personalised.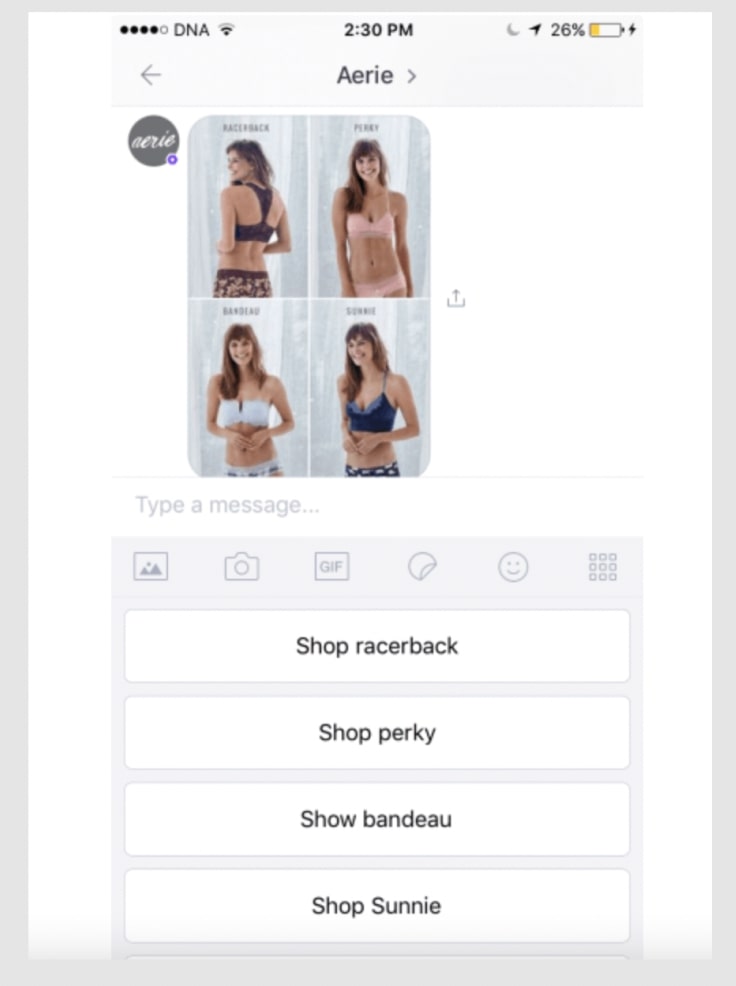 Ask for an opinion on Facebook
Collecting customers' feedback is crucial for businesses since it allows them to improve their customer service, thus boosting customers' loyalty and sales. Instagram's native shopping tool – Instagram shopping – does not yet allow customers to leave feedback under the product cards. Therefore, you can ask your customers to leave their opinion on your Facebook page. Many Instagram chatbots can help you do so – they simply send a request to a customer. 
How to boost conversions and sales with Instagram chatbots
Let's take a look at these five strategies for boosting conversions and sales using chatbots on Instagram.
Start a chat with an introductory message. 
This is a basic strategy that every brand that uses a chatbot should use. What's this about? The core of the strategy is that the empty DM window doesn't boost conversions. What you should do is make it easy for a client and start a chat yourself, adding an initial message that the chatbot will send just after the client opens the DM dialogue window. This can be the message containing a FAQ, hot shortcuts for making an order, or a plain 'How can I help you today?' with the answer options.
The more effortless and seamless communication between you and the client is, the more conversions you'll get.
After using social media chatbot Heyday for six months, cosmetics brand Make Up For Ever saw a 20% increase in online sales and a 30% conversion rate on personalised product recommendations.
Set up responses to stories' reactions. 
Now we know that there are bots that can do exactly that – including the story mentions trigger. This is like an automated 'thank you' message to those who reacted to your stories with emojis and words. The quick and on-time response contributes to the user-generated content because a follower sees that the brand does care. Together with the response, you can even send a promo code or a discount. This will even turn a conversation into a second purchase. 
Automate the keywords. 
The primary task of a chatbot is to start a conversation when a user is ready to make a purchase. To complete the task, you can set up keywords like 'buy', 'purchase', 'shipping', 'discount', etc., and after recognising these, a chatbot will reply with one of the predefined responses.
To make this strategy even more effective, choose short and plain keywords, and add CTAs in your Instagram posts, stories, Reels, live streams, and Instagram bio to increase conversions. 
Use a common reply. 
A chatbot sends a standardised common reply when it doesn't see any keywords in a customer's query. Think through a common reply to respond to all incoming DM texts so as not to lose a customer and don't make them wait. The common reply could be a greeting message that also gives a customer advice on what they should do to not wait for a human agent's response: Place an order doing this, find answers to the frequently asked questions, and so on.
Here, you don't have to think through the whole conversation scenario. Instead, a chatbot just removes the necessity to take basic actions and makes a dialogue shorter and more convenient for a customer.
Automatically reply to comments. 
It works just like with stories response. When you send an automated personalised message to every of your commenter, you initiate a chat and show that you care. This strategy is especially effective for Instagram accounts whose followers are especially active in comments or those who often host giveaways. 
Some more tips to boost conversions and sales with chatbots on Instagram:
Start a conversation with a plain question to engage a customer.
Use quick reply buttons to engage customers and not make them type replies themselves. This allows boosting conversions up to 80%. 
Collect emails and phone numbers right in the chat with the chatbot. 
Instagram chatbots: Common mistakes
Instead of wrapping up, let's briefly touch upon the don'ts after all the do's we previously discussed. So here's what you should avoid doing when using a chatbot.
Not letting human agents handle complicated enquiries
Chatbots can easily deal with common questions but will hardly be able to handle complex enquiries. You can't think through every scenario and a conversation twist, so always leave a space for a human agent to deal with such queries.
Spamming
Spam annoys people. Chatbots' functionality allows you to send customers personalised recommendations and greet them as soon as they follow you. Which is great, in moderation. If you start being too pushy in your followers' DMs, it won't lead to anything but irritation. Besides, you really risk being blocked by a user or Instagram itself.
Inappropriate chatbot replies
You have probably been there yourself: You ask a question in an application or a chat and receive a highly inappropriate or simply unfitting reply. This is what happens when businesses don't think through the conversation flow thoroughly enough. For instance, some bots are set up so they can only answer yes or no questions, or they can only reply affirmatively or negatively when they don't understand the query. This is why you as a business should thoroughly think through the chat scenarios.
Too lengthy replies
Keep chatbots short and simple. If the reply has to be long, separate the text with spaces – don't keep it like a long text sheet. But the best way is to put even complex information in a short, plain way.
No replies at all
This is worse than responses sent out of turn. When a customer makes a query, they expect to get an answer, so you can't leave a customer without it. Sometimes, if the bot doesn't understand the query or there was no such query considered in a scenario, the bot just doesn't reply at all. To avoid this, think through the conversation flow carefully and come up with a common reply when there's nothing a bot can help with.