The internet is a big ole place with tons of information. Some of it's great, some of it…not so much.
One of the cool things about online marketing methods like influencer marketing is that they're easy to learn for free, on your own time, with resources you find online. But one of the bad things about it is that you don't always know which resources you can trust.
I read a blog post yesterday that said the more you use a keyword in a blog post, the higher it will rank. The author said it was that simple, that keyword density rules all, and that you will get on page one of Google.
It's been a very, very long time since that's been close to the truth. But the post wasn't written seven years ago, it was written last month.
That's just scary.
If you try to learn influencer marketing from people who don't know what they're talking about, you probably won't get much further than pissing off a lot of influencers with your poorly planned campaign.
Instead, make sure you're learning from reputable sources. Start with some of these guides, tutorials, and templates – they've all been personally vetted by me and I guarantee they'll help you become a master.
Influencer marketing reads
1. How to Research the Right Influencers for Your Marketing Campaign

Selecting your targets for an influencer campaign has to do with more than just reach and popularity. You need to make sure your partners move your campaign and overall business goals forward. It takes more than a lot of followers for that.
Read this ebook to learn what qualities make up a perfect influencer for any given campaign.
2. A Framework for Influencer Marketing
Once it's time to stop researching and start taking action, this infographic from Traackr can help. Quickly and simply, it outlines the stages of an influencer marketing campaign. I like that it covers both the actual working with influencers part, as well as encouraging you to think about the big picture of your marketing goals.
3. 5 Qualities of Relevant Influencers for Marketing Outreach
There's so much more to influencer marketing than actual influence. And by the way, "influence" can be a vague and subjective term, anyway. So what should you really look for in the VIPs you work with?
This marketing advice can help you figure it out. Learn what qualities actually make someone an influencer, and which ones to prioritize in a campaign.
4. The Definitive Guide to Mastering Influencer Marketing Automation
The more successful your influencer marketing is, the more important that will be.
Become more productive when running influencer campaigns by learning to build and manage influencer workflows, track outreach, and overall manage your campaigns better. Thank you, automation!
5. Influencer Outreach: Making Connections for a Successful Campaign

Any influencer on your outreach list probably has a dozen other pitches in their inbox right now. How can you possibly stand out anymore? How do you make a great first impression and get influencers to say "yes" to your brand?
In this ebook, learn how to write great influencer pitches, set up templates, make outreach easier, and get more replies.
6. The Content Marketer's Guide to Influencer Marketing
Influencer marketing can be used to launch campaigns. To sell products. To build trust. And, perhaps most obviously, influencers are great for promoting and sharing content. But what was once an "easy win" now takes competition and finesse.
Download HubSpot's influencer marketing guide to learn the ins and outs of this subset of influencer marketing and get VIPs to share your content.
7. How to Work With Influencers to Maximize Social Media Exposure
Another subset of influencer marketing is specifically performing outreach to grow your social media audience. Efforts aren't always tied to selling one product or promoting one campaign – something more general can offer wins across projects and initiatives.
Learn how to master research, outreach, and promotion when it comes to using influencers to increase social reach in this free ebook.
8. The Dangers of Not Owning Marketing Relationships
For long-term success, your relationships are much more than isolated outreach emails and social media posts. You can't only contact influencers when a new campaign's starting up. You need to build and manage valuable relationships with influencers. Real relationships.
If you don't own those relationships and manage them well, it'll be the influencer marketing equivalent of living paycheck to paycheck without a base of savings – marketing from campaign to campaign without a solid base of influencers to rely on.
9. How Influencer Marketing is Perfect for Digital Agencies

Agencies, this one's for you. Managing multiple influencer campaigns in-house is hard enough, but working on them for multiple clients in multiple industries can get crazy. In this ebook, learn the most effective way of working influencer marketing into the backbone of your client strategy.
Influencer marketing tools
1. BuzzSumo
BuzzSumo is one of the industry's best tools for identifying websites and social users with serious influence. Find the most influential content for any topic, domain, or author – and the influential users that shared and linked to it.
View share counts for all social networks – including Twitter! – to see where people and content are popular, and set up alerts to watch your own content and conduct competitive analysis. It's awesome, you should use it.
2. NinjaOutreach
When it's time for creating and emailing outreach list, NinjaOutreach comes in handy. It's an influencer CRM that combines both prospecting and outreach so you can keep all your campaign data in one app. Their influencer database has over 25 million websites and social media users.
3. ContentMarketer.io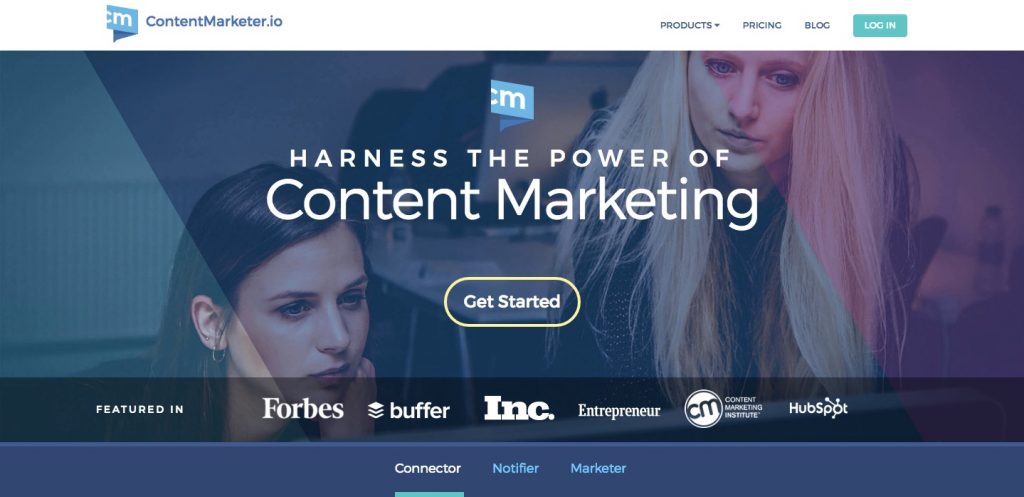 ContentMarketer.io is a whole suit of products to help with influencer outreach for content marketing. Connector lets you use proven templates to schedule and automate outreach. Notifier lets you quickly notify Twitter users that you mentioned them in a post. Marketer combines everything and lets you find anyone's contact information and perform outreach.
4. BuzzStream
BuzzStream is our own influencer / marketing CRM of choice at Mention. Use their search tool for prospecting or easily import your own lists from spreadsheets, URLs, or Google search results. They have a pretty handy Chrome extension that lets you do this from anywhere online.
Build lists for link building, PR outreach, or promoting content and blog posts. It also lets you manage conversations and templates really easy once contact is made. It's a lifesaver for having a ton of guest bloggers.
5. GroupHigh
GroupHigh is an all-in-one blogger and influencer marketing platform that does pretty much anything you can think of. With a database of 15 million blogs that includes the blogger's social content, you can find targets in any niche. It pulls in analytics and info to make prioritization and outreach easy, then has an outreach platform to handle the rest of it as well.
6. Email Hunter


When you just need to quickly find someone's email, Email Hunter is a great and simple tool. They also have a plugin that's even simpler.
You simply go to there website and type a domain name into the search tool, and it will display emails associated with it. Even if the specific person you're looking for isn't there, you can see the email pattern the company uses and likely figure it out.
7. HubSpot Sales (formerly Sidekick)
Another simple tool, this one tells you important info about the results of your outreach. Was your email opened? Was the link clicked? Did it lead to conversations or coverage?
The email tracking tools in HubSpot Sales will help you simplify and refine your outreach lists, templates, and strategies.
8. Followerwonk
Running a social campaign? Use Followerwonk to get the best Twitter influencers on board. Search bios to find people with relevant interests, jobs, or locations. Analyze your own Twitter followers to find influential advocates and identify demographics to help identify targets.
9. Quuu Promote
Want to put your content straight into the hands (and Twitter accounts) of influencers? Quuu Promote is a unique form of social advertising that does just that. It suggests your content to influencers using their curation platform.
Check out this case study of Quuu vs. traditional social advertising, and you'll be creating an account later today.
10. Mention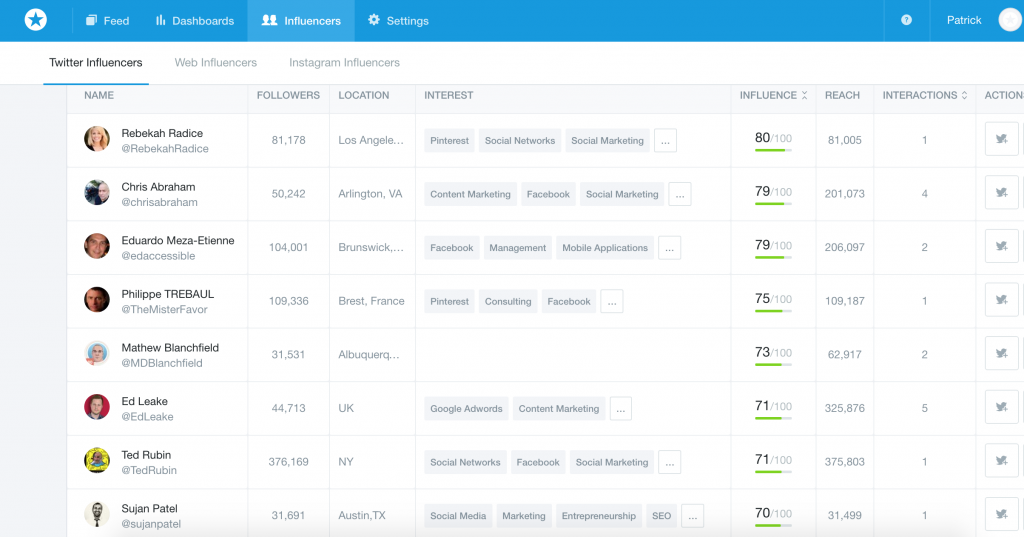 You knew this would be on here, didn't you? Mention's influencer dashboards and regular monitoring features can help you build and reach out to a list of influencers.
Instead of looking at a list in a database and finding people who fit your audience, using Mention works the other way around. We can show you people that are already talking about and supporting your brand, then pick out which ones are influential.
Not to mention (pun intended), a social listening dashboard will come in handy for nearly every other step of your influencer campaign. For example, you can use it later on to track the influencers' actual campaign activity, monitor the buzz it garners, or create a report summarizing the results.
Templates to save time
1. Power Up Your Influencer Outreach with These 2 Email Templates
One campaign can involve dozens or hundreds of outreach emails. If you try to type each one from scratch, you'll have no time left to nurture the relationships you're trying to start. The key to finding time to perform mass outreach while still keeping things personal is email templates.
The two given to you in the link above handle not only an initial "hello" email, but a follow-up reminder if you don't originally get a response. It's an essential but often forgotten step, so these templates help you cover all your bases.
2. The Complete Guide to Influencer Marketing: Strategies, Templates & Tools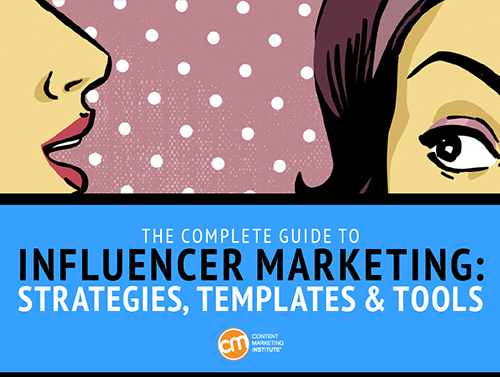 This total, super in-depth guide from Content Marketing Institute is a great resource for anyone starting from scratch with an influencer marketing strategy. But let's talk about those strategy templates in particular.
They're not outreach templates or anything that you would publish. Instead, they're things to help you manage your actual strategy and results. They'll help you figure out what metrics to track to determine influencer success, how to evaluate different tools to run your program, and track KPIs over time.
Holy high-level game plan, Batman!
3. 5 Free Influencer Outreach Templates for Your Content Campaigns
Now, back to outreach templates, because they are really helpful. But the templates we gave you above for outreach and follow-up were specific to one type of outreach campaign: expert round-ups.
This post from Aaron Agius covers a few other options too, including guest blog post pitches and letting someone know you mentioned them in a post.
4. 9 Easy Email Templates to Save Time On Marketing Outreach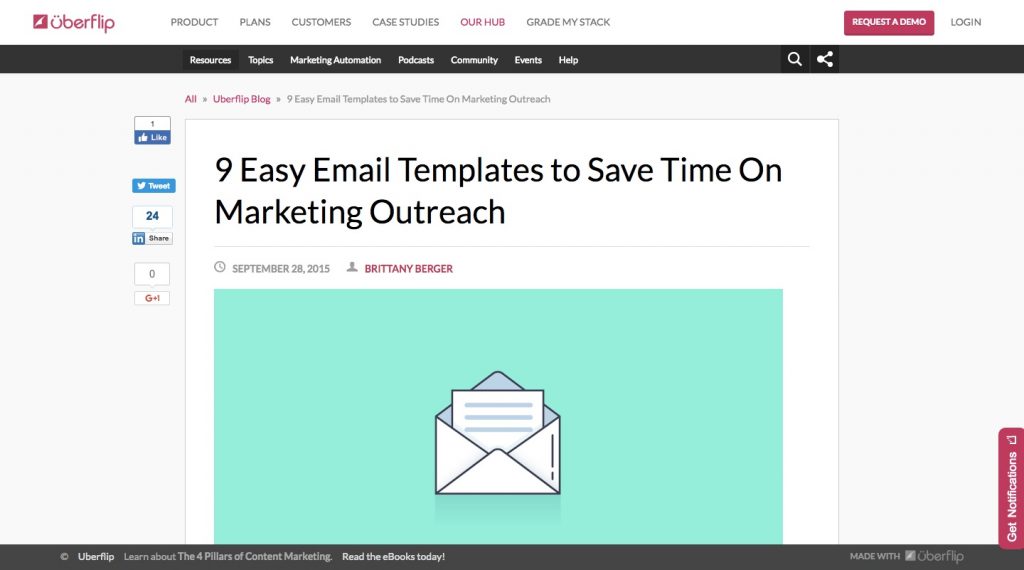 And for even more options with outreach templates – these spanning even further beyond traditional influencer marketing campaigns – check out this roundup I wrote for Uberflip.
It covers writing templates for topics topics like inviting an influencer to guest post on your own blog, interviewing customers to produce case studies and testimonials, and pitching influential media outlets.
5. Influencer Identification Template Helps Prioritize Outreach and Guide Strategy
This blog post on The Content Standard shows you how to build your own template or process to evaluate and prioritize the different influencers you find during initial marketing research.
Especially when using an influencer research tool or existing relationships, you can end up with more people that might be a fit than you can reasonably manage in your campaign. Use this process to cut your list down to those who will drive the greatest results.
6. How to Run an Instagram Influencer Campaign [with Downloadable Templates]
Instagram influencers are somewhat of a newer frontier than bloggers or Twitter users, which can make campaigns there feel unfamiliar and confusing. But this post from Keyhole has three different templates in three different areas of your campaign to get started.
First, there's an exercise PDF for planning your campaign and setting your goals. Then it includes an outreach template to use that's specific to an Instagram campaign. Finally, there's a link to a realtime tracker in Keyhole that you can use to track and measure your campaign.
7. Blogger Outreach Email Template
A lot of influencer outreach templates are just a copy-and-paste block of text. Bluewire Media instead lays out their 10-step approach visually and works as more of a workbook for building your outreach email.
8. 10 Pitches That Landed Top-Tier Placements and Why They Worked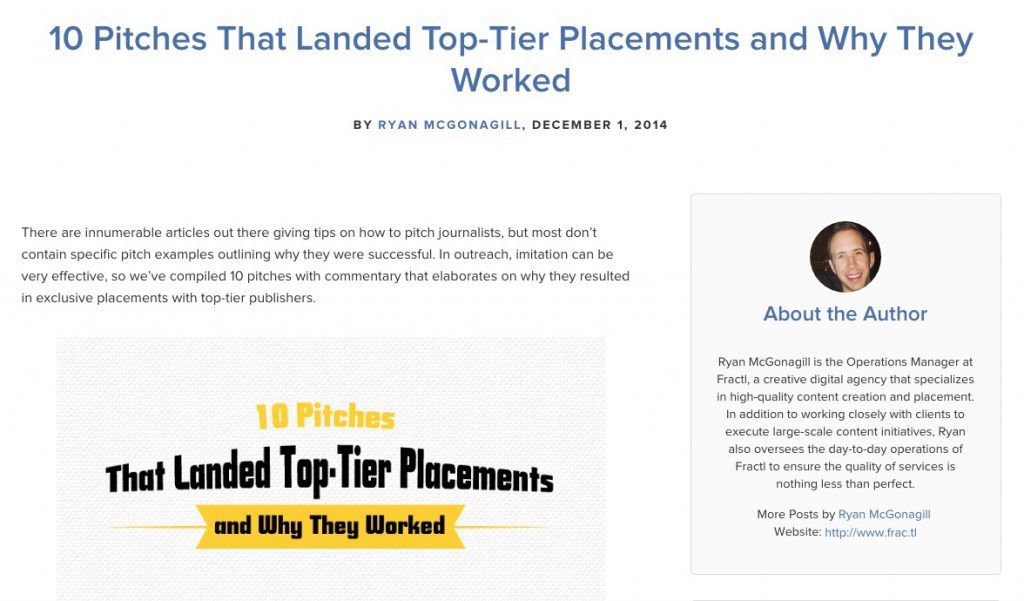 Instead of just taking templates that are unused and untested, you can also create templates based on real, successful outreach emails. That's what this BuzzStream post is about. Take actual pitch emails from live campaigns, read about why they worked, and use the formula to create your own emails.
Gotta catch 'em all
You need to start building your influencer network now. If you're not already an expert in finding relevant people, reaching out to them, and building a relationship to support your team's marketing campaigns, that's step one before you send a single email.
I know you want to start getting out there and pitching people, which is why this post exists. It lays out all the influencer marketing resources to prep yourself to make a great first impression. So read them, use them, and go meet those influencers.