Influencer relationships are precious. They require a certain amount of dedication, persistence, and careful nurturing to maintain. If you are lucky, you may start seeing positive results instantly. But, most of the time you'll have to wait for a while to see any kind of positive results.
While influencer marketing can fetch you tremendous results, you should also note that these relationships are very fragile. If you're not careful, they relationships can fall apart pretty easily.
Here are a few mistakes that can end up killing your influencer relations.
1. Considering it a one-off exercise
Let's look at a small example. Imagine you reach out to Kristi Hines to promote your new article, she accepts the request, and shares it on her Twitter account. If you're going to say just thank you and move on, then the relationship is as good as dead.
Sure, you may come out of it feeling delighted at all the traffic you got. But in reality, you just lost a huge opportunity to build on that relationship and achieve greater things.
The Influence 2.0 report cites that this kind of shortsighted view hinders performance, making influencer marketing less effective compared with other strategic programs.
Don't be blinded by the short-term benefits – those are just one-tenth of what you can achieve. The key here is to put in sustained and focused efforts to grow the relationship.
Not sure how?
Here are a few top tips:
Create a solid plan. Before you approach an influencer, you should know exactly what you can get out of them.
Pitch them to become a regular contributor to their website.
Ask them if they'd like to contribute articles to your website.
Give them exclusive news about product updates.
Give them early access to your products or features.
Share their content on your social media pages regularly.
Invite them for your podcast/webinar series.
There are a lot more things that you can do. The aim is to stay in touch with them. Develop top of mind awareness, and grow the relationship.
2. Considering it as a transactional relationship
"A transactional relationship is based on an expectation that a favor will be returned in kind." – John Jarvis
Normally in a transactional relationship, all parties are in it for themselves. These relationships easily fall apart because there's no attempt from your side to grow the relationship or build an emotional connection. Today, businesses try to avoid this by providing authentic and meaningful experiences to their customers.
The pitfalls of considering influencer relationships as transactional are:
Reduced impact: The content you produced in collaboration with them may lack authenticity or may even look forced.
No additional effort from their side: they will try to get away by doing just the bare minimum. All they care about is what they are about to get in return.
One mistake can jeopardize the whole relationship.
Such relations will won't be sustainable in the long run.
The relationship will never grow.
Influencers may or may not be your customers. But given the kind of returns they can fetch your brand, it is imperative that you consider them like your customers.
Not sure how?
Here are a few ways to build meaningful relationships:
Make an effort to stay in touch. Festive greetings, casual interactions, notes of appreciation etc.
Try to use a more personal, friendly tone to your communications.
Tiny favours. Refer their services to your friends and peers (if relevant); quote them in your articles when possible (and let them know); write a review for their ebooks on Amazon; write a review for their podcast on iTunes.
Whatever you do, it should appear genuine and authentic.
3. Lack of regular communication
Like any other relationship, if you don't communicate with influencers regularly it will fall apart.
When you have ongoing communication with them, it's easier to gain top-of-mind awareness and to ask favours.
It may sound simple, but it's not. If you're too aggressive, they might feel like being spammed. If you're too laid back, they might forget you. The key here is to maintain a balance.
Not sure how?
Here are few tips on how to communicate with influencers effectively:
Help them when required: They may face questions from their audience while promoting your product. If you don't help them, they will lose face.
Be clear about what you're asking for: They may consider vague messages a waste of time.
Connect with influencers on multiple channels: influencers need not be active on the particular channel all the time, so it's crucial that you connect with them on multiple channels. Send a connection request on LinkedIn, follow their Twitter profile, add them as a guest to your Slack channel.
Find areas of mutual interest or concerns and try to build conversations around them: it could be anything from trending topics to the performance of their favourite sports team.
Observe messaging, email, and even Slack etiquette to avoid miscommunications.
4. Micromanaging them
Your employees don't like to be micromanaged. How do you think influencers would react?
Influencers normally succeed in building an engaged audience because they know what their audience wants and how best to deliver it. Their audience trusts them as experts, and values their advice.
It's safe to say that the influencer-audience relationship is built on trustworthiness, uniqueness, and creativity. These are the same values that get compromised when companies try to micromanage influencers.
End result: a subpar campaign! The audience may not feel particularly interested because it lacks authenticity. The influencer could also get called out for being overtly promotional. Let them do what they do best – engage with their audience.
Not sure how?
Here are a few tips to stop you from micromanaging your influencers:
Don't interfere during the creative phase.
Don't ping them randomly – make sure you schedule a meeting.
Set realistic goals for the campaign.
Example: Clothing retailer Zara's #iamdenim campaign helped them gain 4.6 million new Instagram followers in 8 months. One of the major the reasons for the success of this campaign was the kind creative freedom they gave the influencers.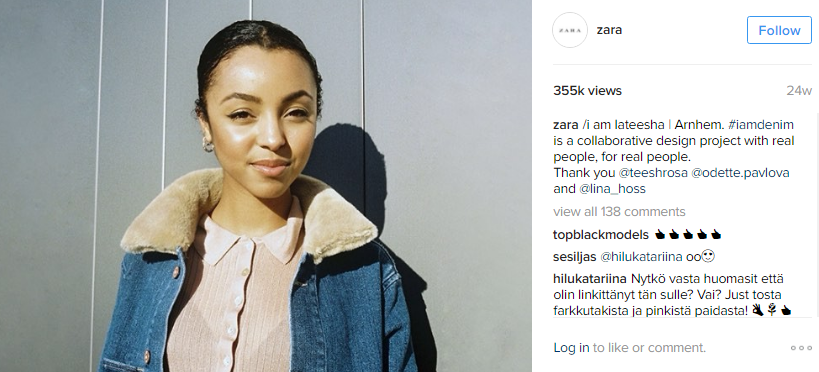 Source: Shane Barker
5. Being inconsistent and unfair
Nobody likes it when they're treated inconsistently or unfairly.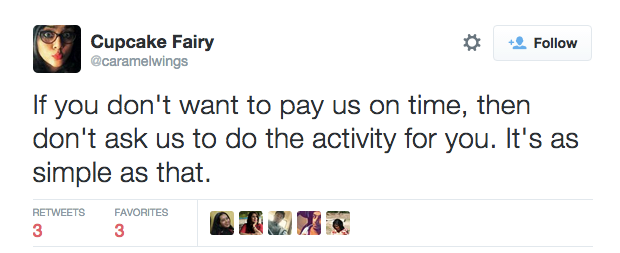 We've seen a lot of instances where the brands act warm and fuzzy initially, but once the influencer completes the task, their tone becomes the complete opposite – cold and indifferent. Sometimes, they're rude enough to end the relationship without even a thank you.
When influencers dedicate their time and energy for you, it is utterly unprofessional and indecent to leave them hanging. Not only does it leave a bad taste, you might also get called out by the influencer. Furthermore, other influencers may refuse to work with you due to your reputation.
With influencer marketing yielding as much as 11x the ROI of online display ads, you simply can't afford to treat influencers like that.
Not sure how?
Here are a few tips to avoid such situations:
Spend time upfront and create a solid agreement. Ensure that both parties are clear about the terms and conditions.
If it involves any kind of payment or an exchange, make sure you respect it and deliver it on time. In the case of a delay, let them know beforehand, and give an alternative date.
If the campaign exceeded the expectations in terms of results, make sure you give the influencer a bonus. They shouldn't walk away feeling under-compensated.
6. Treating them like a marketing channel and not like a human being
Although influencers are not your average marketing vehicle, brands often make the mistake of considering them as such. Here are a few instances:
They try to impose their brand's tone or message upon them, stifling their creative freedom.
They set unrealistic goals and end up overwhelming the influencer.
They try to implement a one-size-fits-all strategy. But each influencer is different – the characteristics of their audience will vary too.
Tracking their performance using KPIs of traditional marketing.
To build a successful campaign, it's crucial that you treat them like you treat your customers – with care and respect.
Another thing brands should note is, through influencers, you have a golden opportunity to reach an already engaged audience. They trust and value the influencer's opinion. It's important that you have a well-tailored strategy for approaching and managing influencers.
Not sure how?
Here are a few points that you should keep in mind:
Influencers are passionate about their niche: give them enough and more opportunities to explore your product (early-access, inside access, exclusive demos, exclusive interviews with developers etc.)
Influencers are great storytellers: help them weave a story around your product.
They're putting their reputation on the line: Make sure the information you provide them is 100% legit, true, and proven.
Always be honest with them: never leave them in the dark about your end-game.
Identifying and tracking the right KPIs.
7. Considering all influencers the same
Influencers are human beings, so, you can't expect all of them to behave the same. Their needs, motivations, and passions may be different.
Some influencers may not be interested in remuneration. Rather, they might be looking for a helpful resource that they can share with their audience. At the same time, there will be influencers who will ask for remuneration explicitly.
It's up to you to understand and respect the influencer's choices. If you don't, the relationship will fall apart pretty soon.
You can't ask an influencer who is vocal about privacy laws to promote your latest big data analytics app. It's doesn't make sense, and the influencer may feel insulted too.
One reason why they're influential is the values and beliefs they stand for. You can't ask them to compromise that. Even if they agree to your request, their audience will feel let down and cheated.
Not sure how?
Here are a few key points to remember:
Never ask them to do things they're not comfortable with.
Don't use their name without permission – they may have said your product/service is good, but that doesn't you are allowed to use their name to promote your product.
Wrapping up
At the end of the day, influencers are human beings. They need to be treated as such – with respect and authenticity. This is why building influencer relationships is regarded as a complex yet delicate process.
Avoiding the mistakes above, and you'll go a long way in building a sustainable and mutually beneficial relationship with influencers.