Online branding. It's that elusive but powerful thing that influences buying decisions. It's the je ne sais quoi that customers feel when they willing pay more to get essentially the same product or service.
Some companies actively invest in it. Some don't even think about it. But the truth is, if you are communicating with your customers in any way online, you're contributing to your online brand.
But what might happen if you dive into this without thinking, without planning, and without a stress ball in your hand when shit hits the fan?
Bankruptcy and life-long shame and ridicule. That's what would happen.
Jokes aside – a lot of companies don't give online branding as much thought as necessary, thinking they'd save resources, and then end up wasting more time and money.
So today we're talking about five big online branding mistakes businesses make, and how you should avoid them.
5 online branding mistakes you need to stop making
1. Not monitoring your brand online
You may have an amazing vision for your brand, but what matters is what people say and think. And the internet allows anybody, anywhere, to share their thoughts about your brand.
Blogs, social media conversations, news articles, YouTube reviews…these are the things that make up your online brand. And if you're not monitoring them, you have no control over them.
Monitoring your brand online helps you find out what your brand image looks like right now. That's the first step – if you don't know what's working and what's not, it's tough work trying to improve anything.
Obviously, we would recommend you do your brand tracking with Mention, where you can track any conversation of your brand, anywhere online, and generate analysis and reports with a few simple clicks.
But if you're just starting out, not ready to invest in a tool, and want a quick pulse of your online brand, you can try this free tool, the Brand Grader.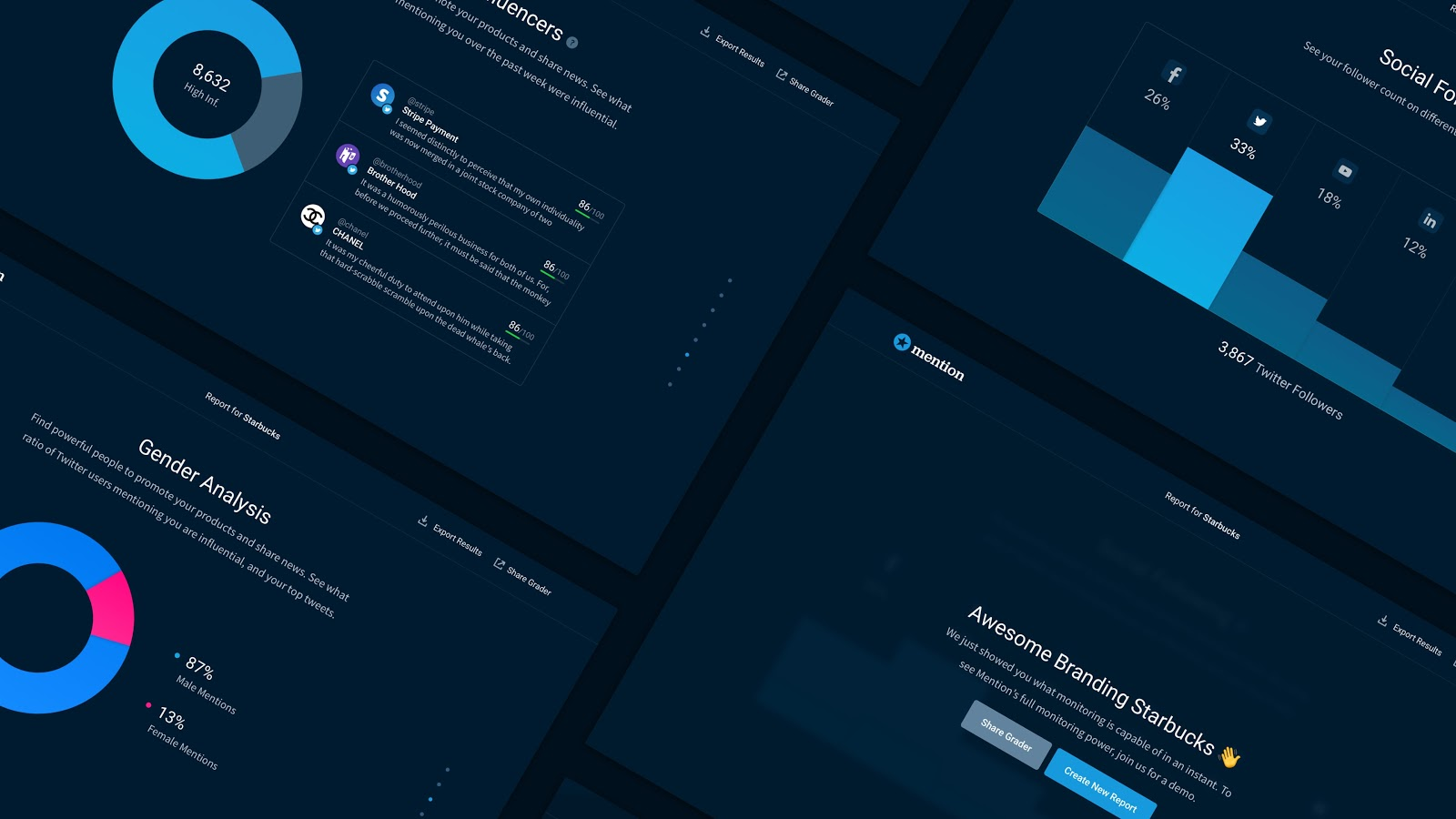 The Brand Grader gives you a quick overview of a brand's online presence in seconds. Simply choose the company or product you're interested in, and you'll see:
Their biggest web influencers: major blogs and news sites talking about them online.

Their top sources: see whether most of their mentions come from forums, images, or news sites.

Brand sentiment: whether people speak about them positively or negatively.

Location of mentions: where in the world people talk them:
For a free tool that takes a few seconds to use, the results are quite powerful.
2. Not leveraging and improving your online reviews
While monitoring your brand online is crucial, to improve your online branding, you must attack the clearest source of your online reputation: reviews.
Whether you like it or not, your customers love leaving online reviews, and your potential customers love reading them.
Online reviews have become omnipresent. They're no longer just on review sites like Yelp, Tripadvisor, or G2Crowd. They're available and visible on Google search or even social media networks like Facebook.
And these reviews – be them good or bad – make up your online brand and reputation. They are the first thing people see on Google most of the time. So ignoring them is a huuuge mistake.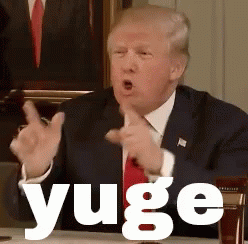 There are many ways you can actively improve your online reviews, like building your official profiles, proactively asking for reviews from your customers, etc. Most of them are no-brainers – it'll be a real pity not to try.
3. Not leveraging influencers
You might've heard of the saying, "tell me who your friends are, and I'll tell you who you are."
People judge people by associations, and the same goes for brands. Working with the right influencers can help reinforces your brand identity and image. It's also one of the quickest ways to expand your brand reach and increase social proof.
Knowing this, when we started our video marketing campaign, we decided to bring B2B marketing influencers in our videos.
These videos have generated a lot of views, shares, and engagement in our social media channels, and led to multiple syndications, notably on Convince & Convert and Social Media Today.
Both articles now rank on the first page of Google for the search term "content marketing predictions 2017: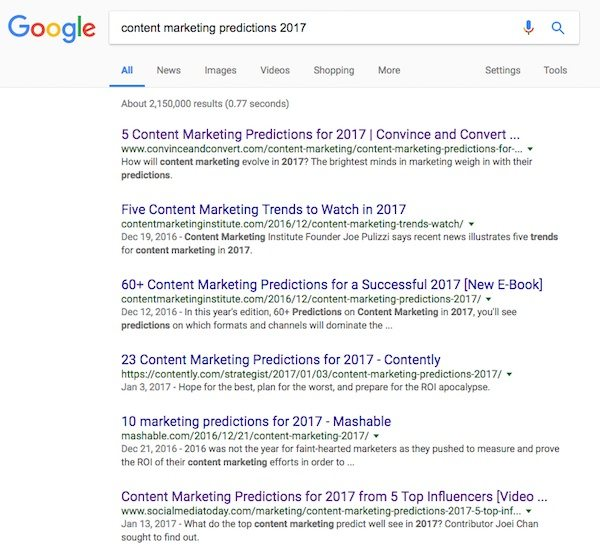 This brand visibility and recognition wouldn't have been possible if it wasn't for the influencer's participation in the video.
And when you do influencer outreach right and build long-term relationships with influencers, you'll get powerful endorsements from these industry leaders that will effectively strengthen your branding.
4. Being inconsistent in your brand communications
Successful brands are immediately recognizable and distinctive in people's minds. As Walter Landor once said: "Products are built in the factory, brands are created in the mind."
That's why it's important that your design team has clear brand guidelines, and that your content or communications team has the writing style and tones set crystal clear.
From the HEX codes of your logo to the spelling (e.g. recognizable or recognisable?), down to the Oxford comma, there needs to be clear guidelines. When done well, customers should be able to recognize your brand immediately just by the colors, font, or tone of your communications. Attention to detail is what sets great brands apart.
And the same applies to the rest of the company; the way your sales people treat and talk to your customers; the way your customer support team handle complaints.
Your brand story can go on about transparency, respect, and trust – but if your CEO hides key information from shareholders, or your customer support rep treats frustrated customers disrespectfully, no amount of budget spent on marketing and advertising can help salvage your brand.
Living up to your word and being consistent in all areas of your communication with your customers is essential to building a strong brand online.
5. Not knowing what your competitors are up to
No brand lives in a silo. You need to know your enemy.
As a kid, have you had the experience of being thrilled that you got a 9/10 in your test, thinking you did great, only to find the rest of the class all got full marks?
It's sad, but you can't evaluate how well you're doing without comparing against others. Same goes for your brand.
It's always better to get that reality check yourself than have someone else tell you, "you aren't as good as you think."
And that's where competitive monitoring comes in handy.
Luckily, few things are private on social media. And the web in general, really. If your competitor is marketing online, you can probably find it. And analyze their branding. And figure out how to do it better yourself.
There are tons of different things to look at: their websites, social media profiles, paid ad campaigns, email marketing sends, PR coverage…every channel and area is an opportunity for you to learn and improve your own branding strategy.
Make new mistakes
Online branding is a tricky business. It takes years to build, but seconds to tarnish.
So now that you learned about these common mistakes, do everything you can to avoid them. Print this post out and stick it on the wall if you have to.
As my English teacher used to say, "go make some new mistakes."
Need help improving your online branding and reputation management? Learn more: