Whether you're ready for it or not, your customers love leaving online reviews, and your potential customers love reading them.
Online reviews have become omnipresent. They're no longer just on review sites like Yelp, Tripadvisor, or G2 Crowd. They're available and visible on Google search or even social media networks like Facebook.
If you're new to the online business world, online reviews may seem daunting and difficult to control. You may be tempted to brush them off as something that's "nice to have" or "just there."
The bad news is, customers are relying heavily on them to make buying decisions. Believe it or not, 90% of American consumers are reported to read reviews before making a purchase.
But the good news is, the spread of online reviews gives businesses plenty of opportunities to increase exposure and influence potential buyers. Keeping an eye on online reviews is not only crucial to managing your online reputation, but also to growing your business.
So if you don't want to be too late to the party, read on to learn how to leverage online reviews to your best advantage and use them to improve your marketing, sales, and customer experience.
1. Use reviews to increase your brand exposure
Online reviews are your new word-of-mouth. Having good reviews – and the more the better – increases your visibility and helps customers find you.
Here are a few concrete ways reviews boost your brand exposure:
Reviews help you stand out in search
Business reviews aren't just a reflection of your products and customer service. They also influence your search rankings.
When a customer reviews a business and their offerings, that creates unique, fresh content. Since search engines love fresh content, your listing gets a bump in rankings.
Also, having great reviews increases your visibility in "best…in…" searches: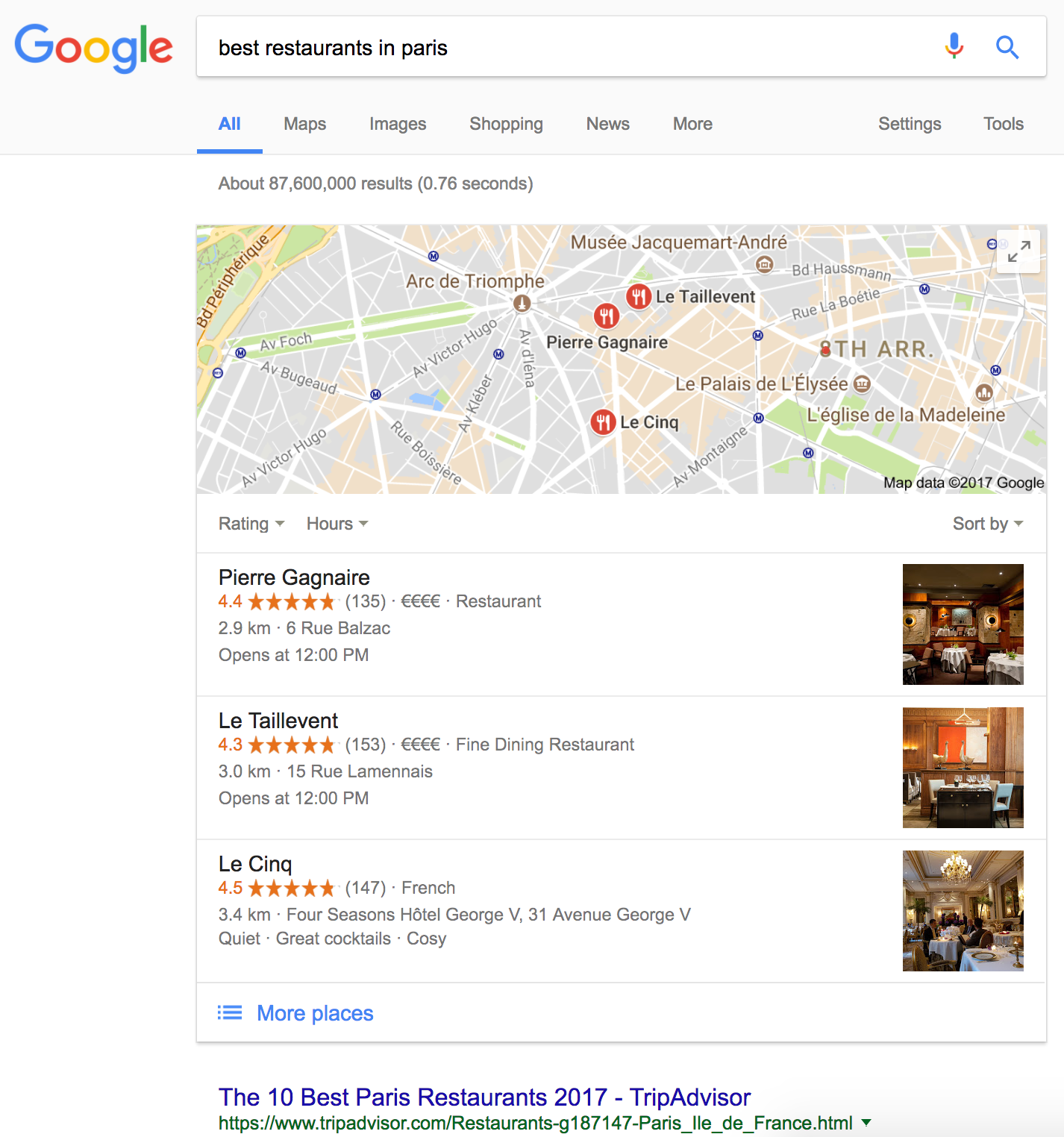 Google even allows AdWords users to include a review snippet within the ad. These snippets again help your listing stand out to customers comparing products or services: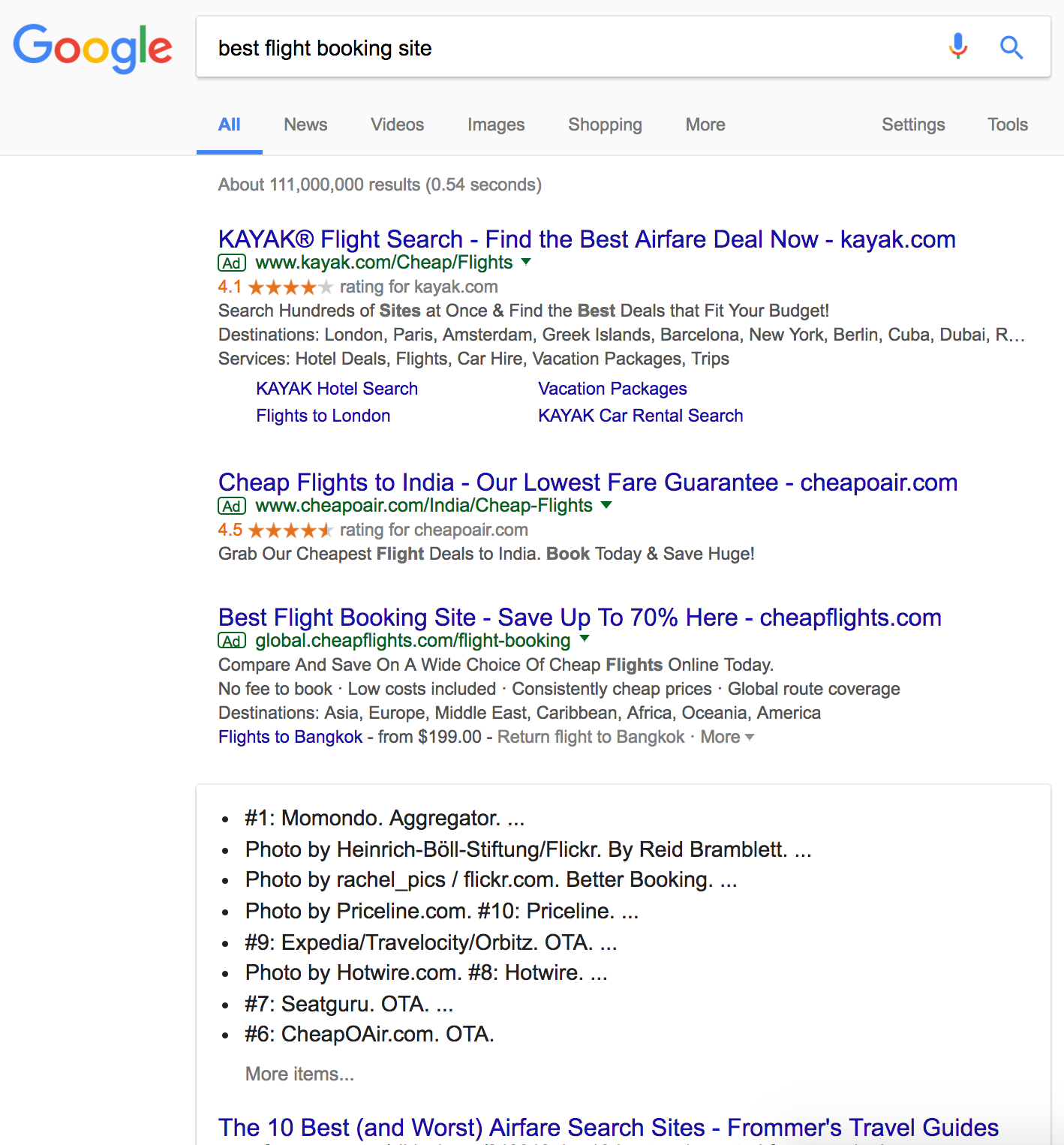 Apart from search engines, websites like Booking.com also lets you rank results by their review scores: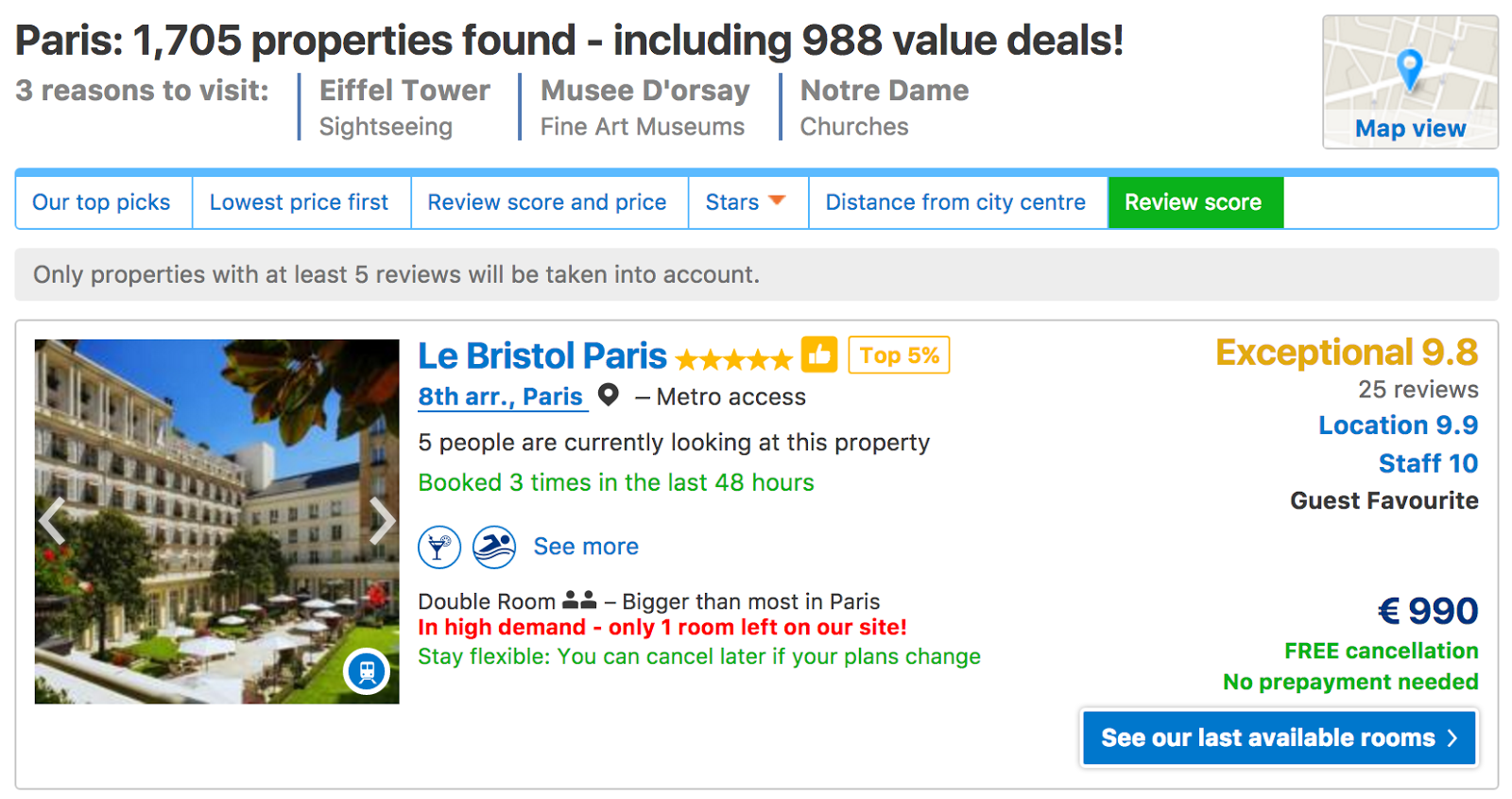 Similarly, you can also discover tools by their ranking on business tools review sites like G2 Crowd: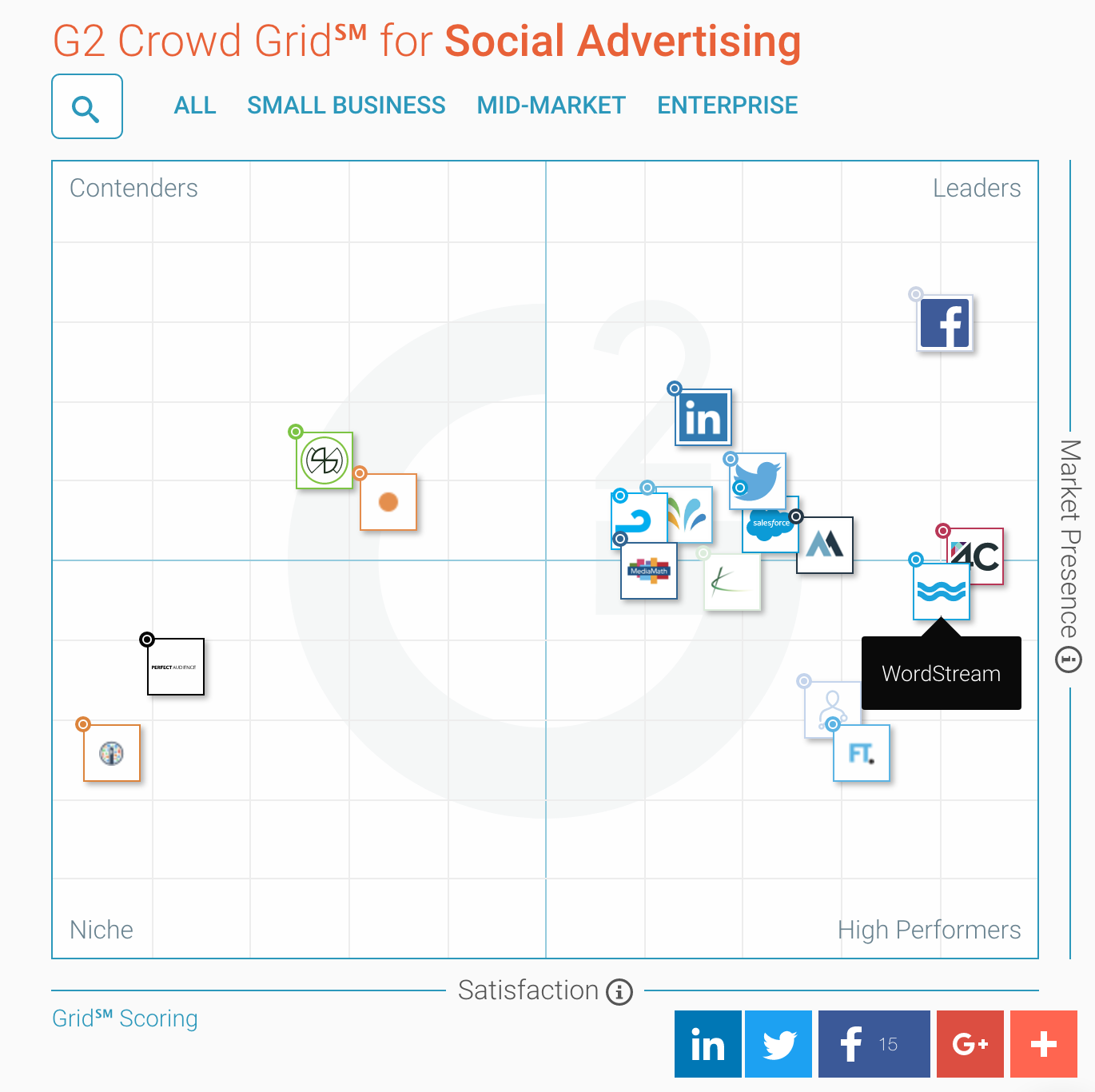 As you can see, reviews can increase your visibility across platforms dramatically, and allow more potential customers to find you.
So take active control of your review pages and social profiles, like making sure you enable reviews on your Facebook page and other platforms and encourage as many customers to leave you reviews as possible.
Use customer reviews to find keywords for your product
A more active way to increase your brand exposure is to fine-tune your keyword targeting by analyzing how customers describe your products in their reviews. This gives you a clearer picture of how customers perceive and search for your products.
For example, you may think you're a social media tool, but your users may consider or use it more as an influencer marketing tool.
By tracking common keywords used by customers in reviews, you get a better idea of how to improve your product positioning, long-tail keyword targeting, tags, or content creation, and help your brand rank better in search, be it on Google, TripAdvisor, or Amazon.
Leverage positive reviews in your PR and influencer outreach
If you've been following our blog, you'd know how much we love influencer marketing.
But if you've tried reaching out to influencers in the past, you know how much of a time drain it can be. The same goes for PR outreach to journalists.
Since these people get so many pitches a day, you need to give them good reasons to work with you instead of moving your email to trash (or worse, spam.)
Influencers have a reputation to manage, and they want to be associated with well-liked brands.
Great reviews are an awesome way to show influencers and journalists how much people love your brand, and how they'll benefit from collaborating with you.
We all want to be friends with people who're popular and liked by others. So include those five-star reviews in your next pitch email.
This is not the time to be shy or humble.
2. Use online reviews to increase sales
You already know now that nine out of ten customers read reviews before buying. But did you know that customers are also willing to pay more if they see good reviews? It's simple supply and demand, really. The more people like you, the higher you can set your prices. So if you aren't leveraging them to boost sales, you're literally leaving money on the table.
Use good reviews as social proof
If you've got those hard-earned, five-star reviews, use them! Show the world! Include them in your sales prospection emails. Put them on your website. Tell people they exist and where to find them.
Kia, a South Korean Car company, understands how customers' research is moving online, and tried to harness that by actively encouraging customers to look at their reviews.
In one of their TV commercials, they focused almost exclusively on their positive reviews as the main selling point:
And they've achieved remarkable results from this approach, reporting that users reading reviews are 300% more likely to request a test drive.
Salvage bad reviews
Oddly, negative reviews help too. Customers are skeptical towards brands that have only good reviews, and 67% of buyers trust brands more when they see both good and bad reviews.
Some believe that buyers who seek out bad reviews are highly engaged with their pre-purchase research, and much more likely to convert.
Whether or not negative reviews increase conversions, you can train your sales team to look at them as objections and improve their objection handling techniques for future customers. The more your sales reps know about potential deal-breakers, the higher the chance they'll have in closing more deals.
3. Improve your product with customer feedback
Customer reviews are the best place to collect product feedback. Your target audience is telling you exactly what they like, what they hate, and what you should change about your product.
Like this review I left for a local poke bowl joint: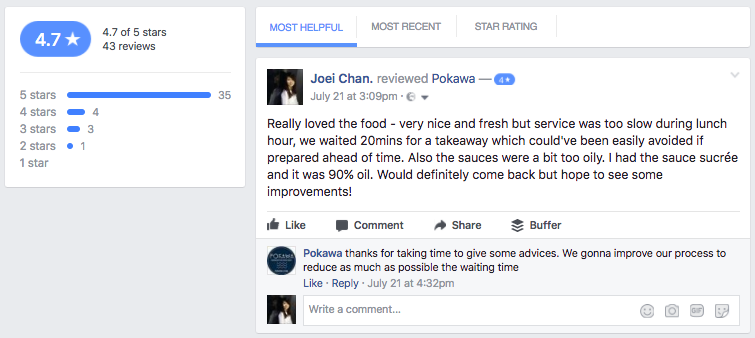 (Yes, I love leaving and reading reviews – why do you think I wrote this blog post?)
Here are some specific ways you can leverage reviews to improve your product:
Find and solve bugs. Customers frequently find product issues before you do. And they may like to let you and potential customers know through online reviews. Spot these complaints early on and address them asap.
Analyze patterns. Assess the negative reviews and find the common denominators. What do they all agree on that suck? Analyze your reviews to spot a common thread and modify your product accordingly.
Offer more of what they want. Which features are your customers raving about? How are they using your product? This is helpful info for products in the early phases of development. Or if your product team is looking to cut or add features.
Spy on the competition. Your competitors' online reviews tell you as much, if not more, of what you should do to improve your product. What do customers love and hate about them? What can you learn from their hits and misses?
4. Improve customer experience by engaging with online reviews
As more customers share their experiences and grievances online, reviews have inevitably become another channel for customer support.
If you want to improve customer happiness and loyalty, you must stay on top of online reviews and reach out in time to show customers you care.
Respond to all complaints
It sounds like a no-brainer, but a surprising majority of brands ignore online complaints.
Unsurprisingly, making your customers feel like they're talking to a wall won't help you keep them.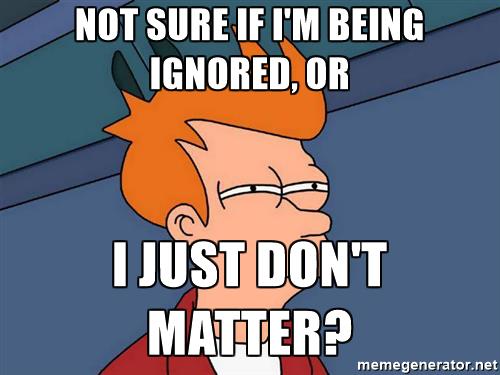 Personally, when companies ignore my complaint, I get so annoyed that I leave more reviews on different channels until I catch their attention.
Most customers understand that problems cannot be solved immediately, but they need to know you listened, and are doing your best to provide a solution.
Use the opportunity to build rapport with customers
Responding to positive reviews is just as important. It encourages customers to keep engaging with your brand, and potentially become brand advocates.
It can be as simple as responding to a happy customer in a thoughtful way: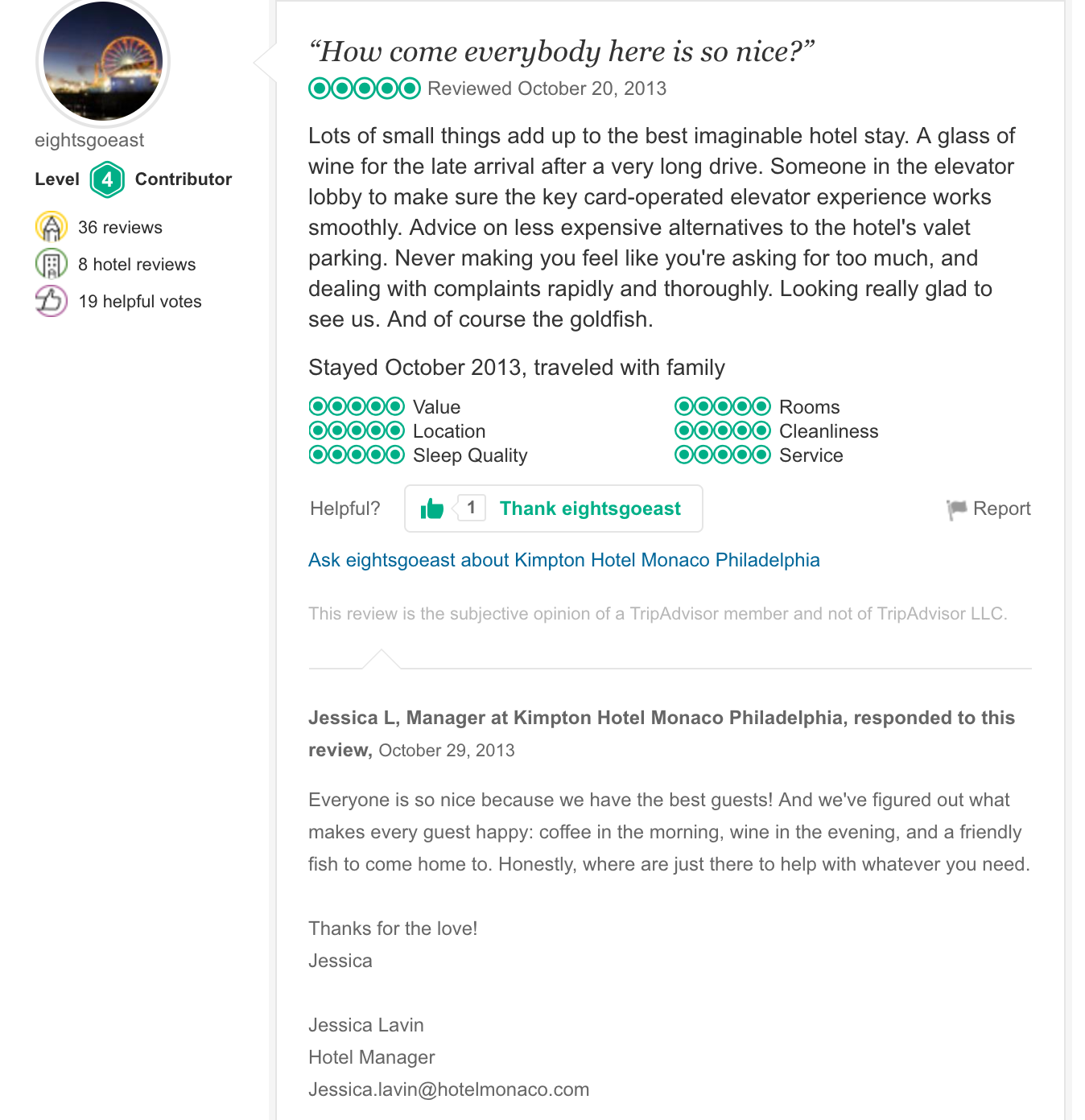 Use reviews as a user-generated FAQ
Most people like to share their experience with others, and this can help you create a user-generated FAQ for how to use your product, what to look out for, how to choose different products based on your needs, etc.
Your customer reviews can become helpful information for buyers who are hesitating or have similar questions.
Amazon has a great system to encourage user-generated FAQs: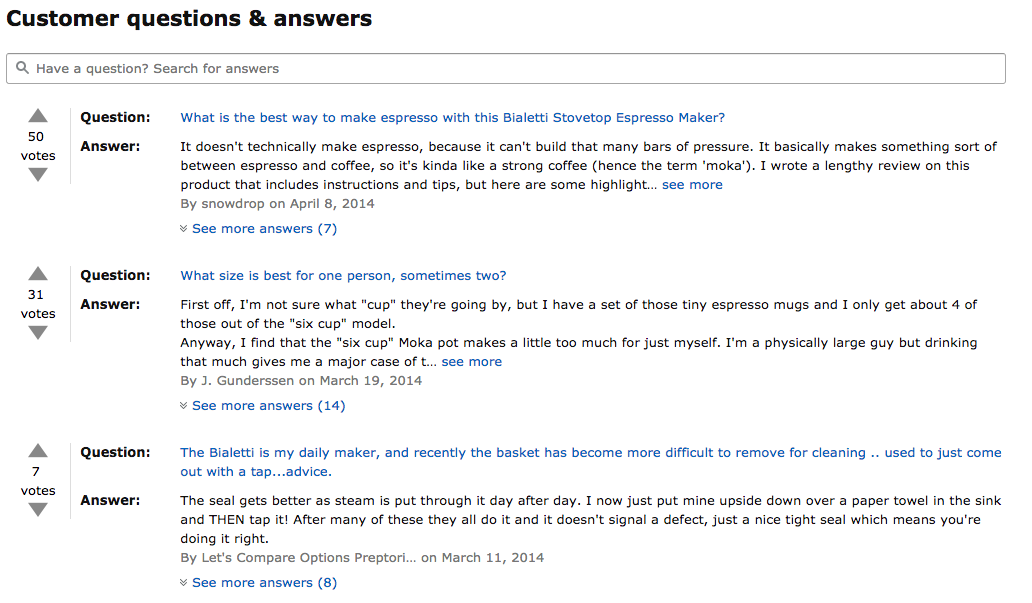 You can create a similar review/FAQ section on your website, or encourage customers to use built-in review systems on review sites or social media networks.
Harness the power of online reviews
As you can see, there are literally so many ways online reviews can help improve your marketing, sales, product development, and customer experience.
It's just such a huge waste to let all these opportunities slip away, into the hands of your competitors.
Of course, you can't do everything all at once, and other people in your company may not be convinced about the importance of reviews. But you can start by monitoring your online reviews and sharing insights with your team to gradually get people on board.
And as usual, you know where to find us if you need help.
Hey, want to learn how to monitor and improve your online reviews? Watch our webinar with Reputology. Their entire focus is on review sites, and they know what they're doing: