If you've been enjoying the sound of your own voice as it booms across social networks for far too long, well, don't be surprised that no one is listening.
Social media users are tired of marketing broadcasts and generic brand messaging. We're all determined to "put the social back in social media."
Mind you – it's not that people don't want companies on social networks. Now more than ever, people are using social media channels to connect and engage with brands. That's exactly the point – audiences don't want to be talked at any longer. They want to interact with brands, participate in their stories, and share a moment…or two.
Like any relationship, it's a two-way street – and as a business looking to meet your customers' needs and win their loyalty, you're there to listen. That's where social listening comes in (go figure). It has become a vital part of digital marketing, helping businesses gain a better understanding of their customers, extract invaluable insights, and find opportunities to engage audiences in a more meaningful way.
Hold tight, because we're here with some great hacks to help you crush it.
1. Encourage UGC
Simply referring to brand-related posts created by consumers, user-generated content (UGC) has flooded social media platforms. It has claimed an especially important place in Instagram marketing, helping consumers and brands gather around niche communities. And it's the fuel of the influencer fire.
UGC has not only changed the way consumers interact with brands on social, but it's profoundly shaping digital marketing and branding as a whole.
Salesforce presents some juicy numbers to back up this claim:
Visitors spend 90% more time on websites that feature UGC galleries
Social media campaigns that incorporate UGC have shown 50% higher engagement rates
53% of millennials claimed that UGC influenced their purchasing decisions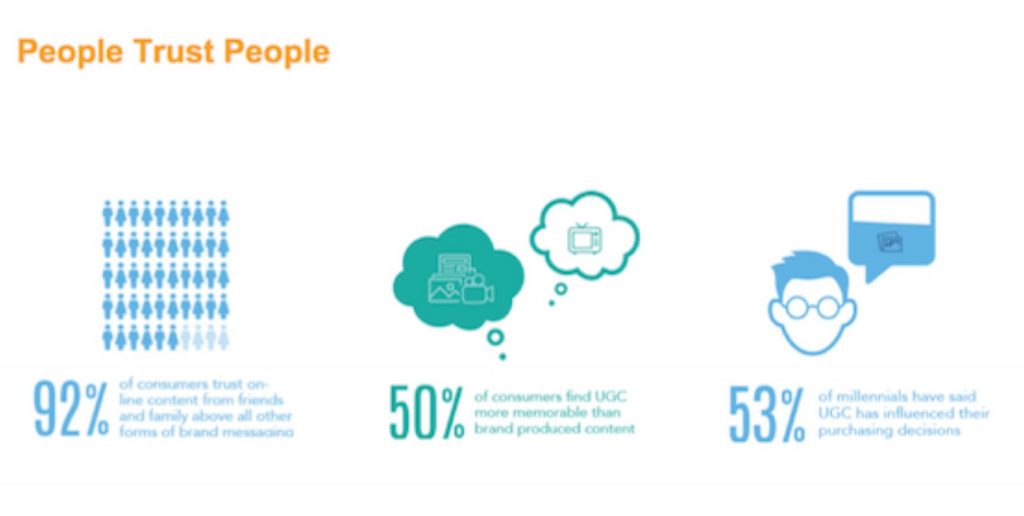 Impressive stats aside, what does UGC have to do with social listening?
Well, remember that social listening isn't just monitoring conversations. It's participating in them, and if you want to take it a step further and hit home, you'll run campaigns that are capable of facilitating conversations.
By encouraging your audience to post content on your behalf, you won't only be directly encouraging interaction; you'll be cultivating a community around your brand.
That's what social media marketing is about, and community is the basis of a strong, trusting relationship with your audience.
Most importantly, it's a way for people to take part in your brand's story.
What's the best way to actually get people to post about your brand? Offer a reward to get them in on the game.
Run giveaways and contests using branded hashtags, which you'll easily track with a monitoring tool like Mention.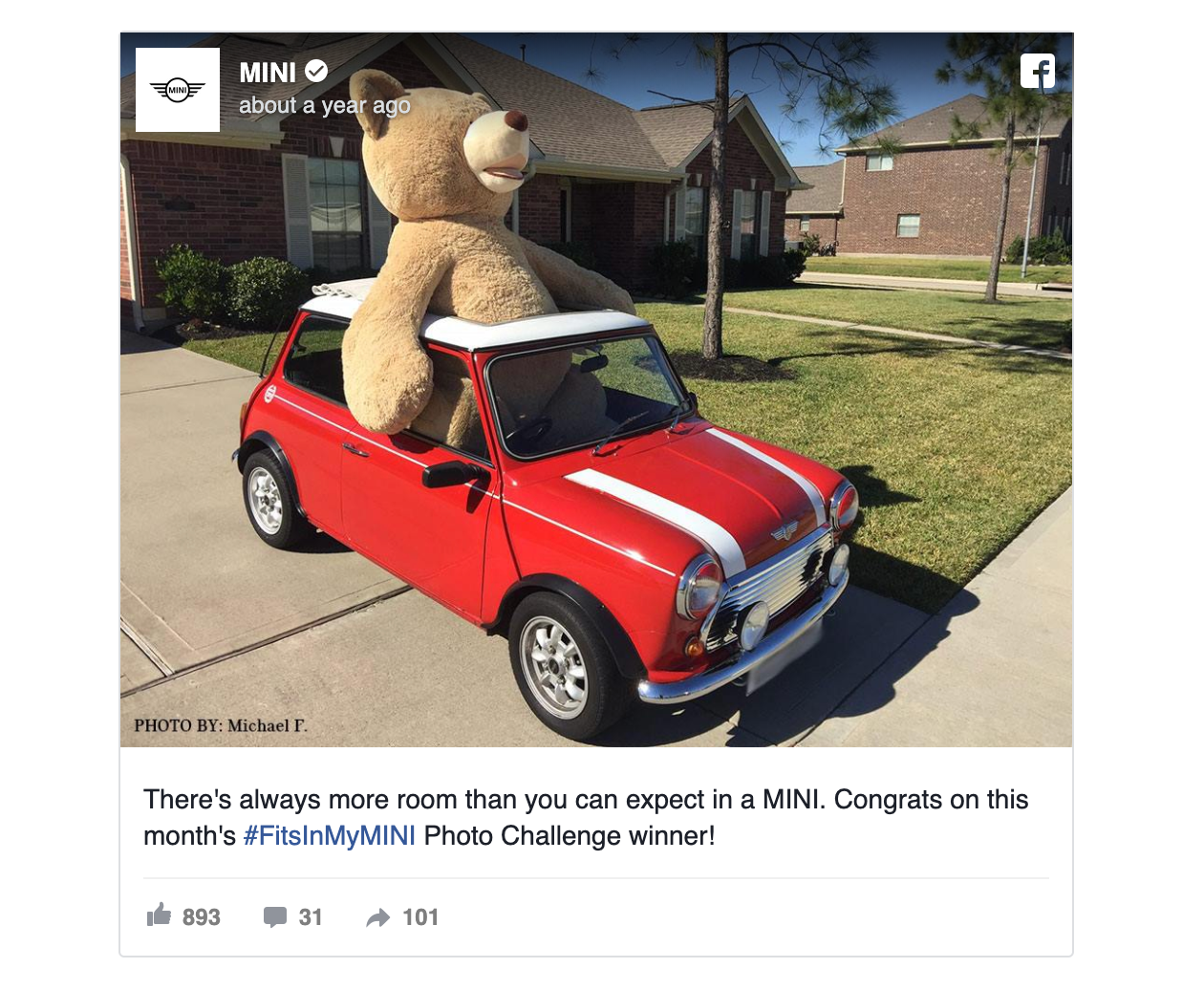 And don't give away junk. Make sure the reward is something from your company that you know your audience will appreciate, and you'll make a smash hit of your campaign.
2. Don't miss the forest for the trees
One of the biggest social listening mistakes businesses make is not monitoring enough. If you want to make the most out of it, you need to look beyond your brand.
Organize your social monitoring efforts into three main categories:
Conversations directly related to your brand
Conversations related to your competitors
Conversations related to your industry
This will help you determine your social media marketing goals and strategies, as well as find new opportunities to engage relevant audiences.
But on top of that, you want to gain an understanding of which communities your audiences participate in. What are their interests, and which causes are they fighting for?
The answers to these questions will help you bring your social listening game to the next level. When you lock down the current events and relevant keywords that aren't necessarily related to your products/services but reflect your brand values, you'll find many more opportunities to engage followers and build trust.
Innocent Drinks, a UK-based company selling healthy, natural beverages, exhibits a great deal of authenticity and personality on their Twitter account using this tactic. These past few days, they've been covering #Eurovision and the Game of Thrones finale, gathering their audiences around these hot topics in the world of entertainment.

But the team is not afraid to get serious, too, using their social media presence to spread awareness about environmental issues that they, as a conscious brand, are invested in:
Clue into what your competitors are doing, what's creating a buzz in your industry, and what your target consumers are talking about so that you can take part in the conversation too.
Whether you're weighing in on a social issue or the latest in pop culture, just make sure you're not doing it "just because". Participate in the topics you care about as a brand too, rather than aimlessly looking for what's hot right now.
If you want to fuel creative campaigns and build a loyal following around your name, you need to hold your finger on the social pulse.
3. Be generous (and know when to say thank you)
You know what they say – one good turn deserves another. Loyalty only grows stronger when it's rewarded and appreciated, especially on social media.
If someone mentions you in their blog, reach out to them. Offer points in your rewards program or something else as a way of saying thanks. Provide incentives to encourage people to refer your brand to friends and family via social. Prepare special promotions and discount codes for customers who follow you on any given platform so that you reward loyal fans and build your following.
On social media, there's more to rewards and incentives than generating leads or boosting conversions – it's also about building buzz around your name and propelling your brand out there. You'll get people sharing and talking, and you'll be there to listen in the whole time.
Whatever you do, don't forget the non-material way to show your appreciation for customers and followers. Celebrate milestones with them and let them know how important they are to your brand's story.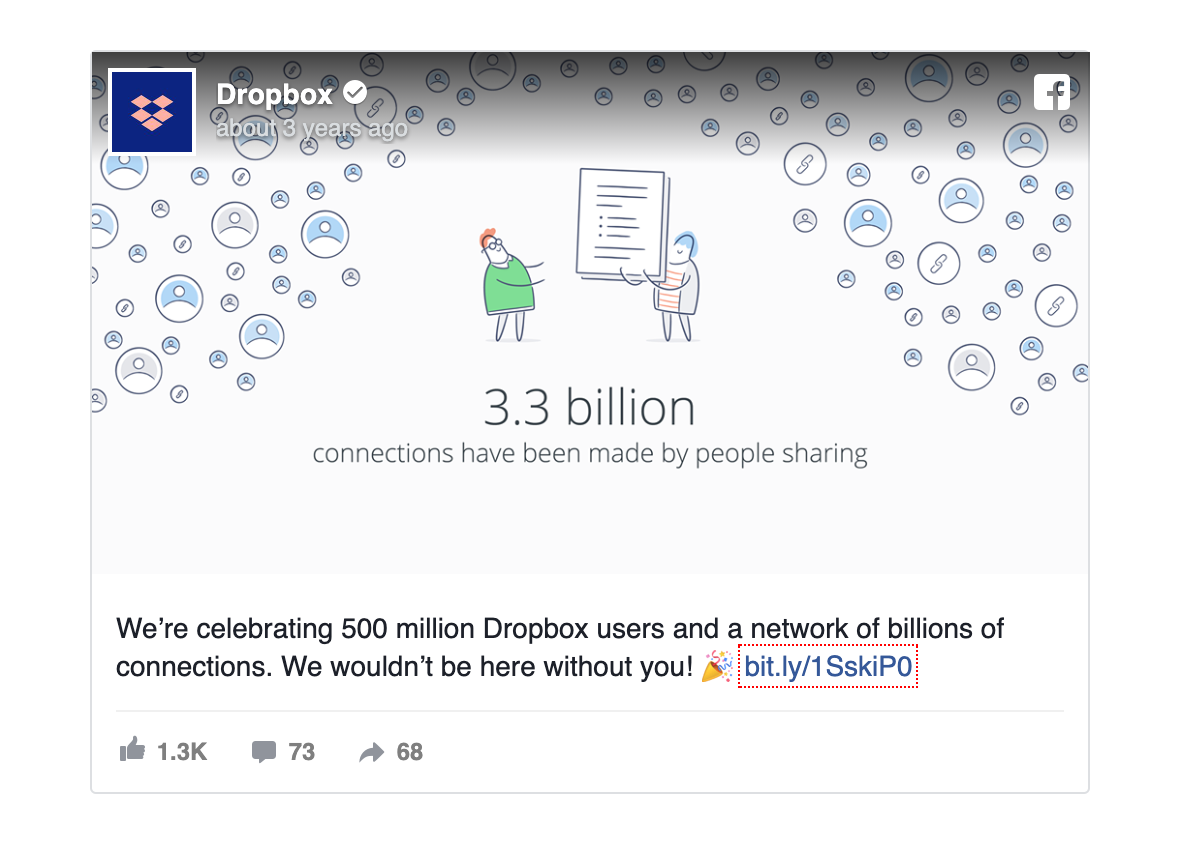 Put your most loyal fans in the spotlight by embedding their posts – and they don't necessarily have to be posts related to your brand. People are generally thrilled to be featured in a post from a brand they follow.
For example, sharing useful content that's related to your industry or a social issue you care about as a brand is a great way to take part in the community, to show that you're listening and that you care. That's why it's important that you also track relevant industry and community keywords as part of your social monitoring efforts.
4. Let them know you take their feedback seriously
You need customer feedback to grow your business – and luckily for you, you'll find plenty of it on social media without even asking. Once you set up the right monitoring alerts, you'll see all these people sharing their experiences with your brand, voicing their opinions, and outright telling you what's working and what isn't.
But the trick is in letting them know how valuable their insights are. You're not just using social listening to improve your product – you're truly building a community around your brand and giving credit where credit is due. Show your audience how their feedback has influenced certain products or decisions in your company, and let them know they're a part of your success. The idea of participation and shared success form a special kind of bond.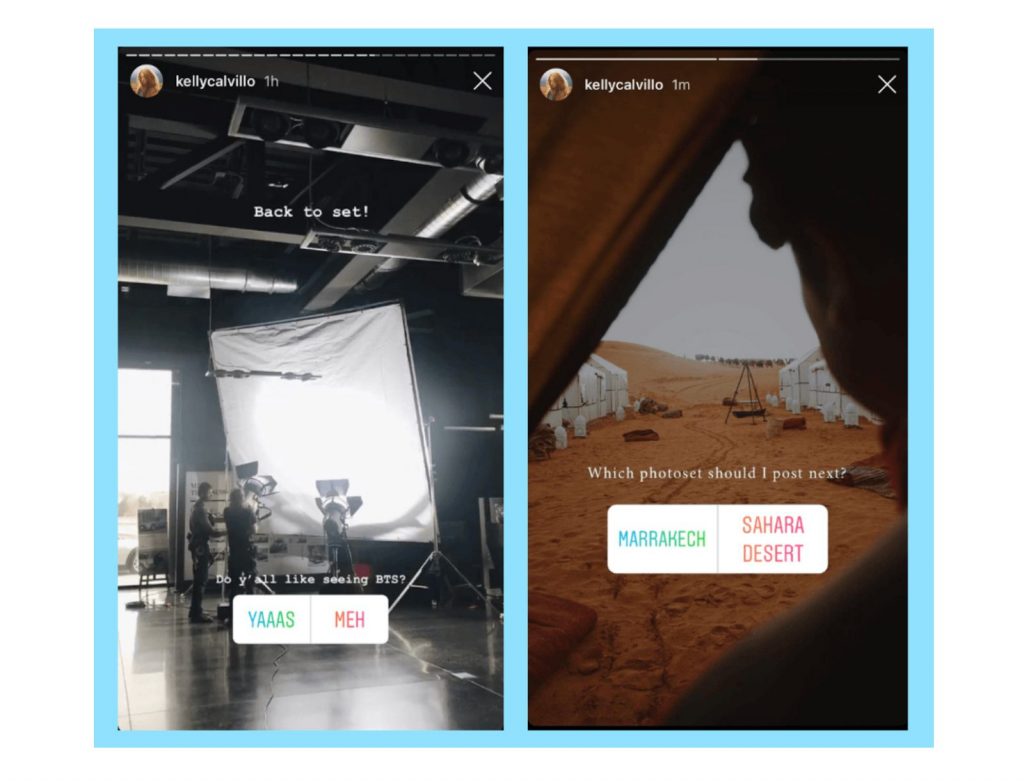 You can also ask for feedback in order to improve your content strategy and find inspiration for new posts. For example, the Polls feature on Instagram Stories has become a valuable tool for marketers who are looking to give their audiences more of what they want.
Sometimes it's as simple as asking directly!
5. Try to turn negative reviews into opportunities
It's not always going to be hearts and shares and digital hugs.
Whether they're on a review platform, a comment on Instagram, or in the form of an angry Twitter rant, the way you handle complaints and negative comments is a vital aspect of your reputation management strategy.
In fact, a negative comment or review can turn into an entirely favorable situation for you. That's if you deal with it with grace, professionalism, and a problem-solving mindset. To handle negative reviews like a boss, you'll need to stick to two key rules:
Be prompt. Use social monitoring to provide outstanding social media support and deal with complaints immediately.
Don't offer an apology without a genuine solution. Approach social media support just like you would an in-person interaction, or a customer service call – only with much, much higher stakes. When you're dealing with a frustrated customer, the last thing you want to do is just offer them a hollow apology, without mention of how you'll fix things. That approach would only exacerbate the situation. And on social, it's like you've got a whole audience with popcorn in their laps watching what you make of the situation.
6. Bring your brand personality to light
When replying to customers and followers on whichever channel, don't refrain from getting into an actual conversation. You know, the one where you won't just be saying premeditated customer service/marketing phrases.
Just look at what a wonderful job JetBlue Airways does replying to a customer complaint on Twitter. They're talking like an actual person, engaging in dialogue with the distressed customer before providing a swift solution.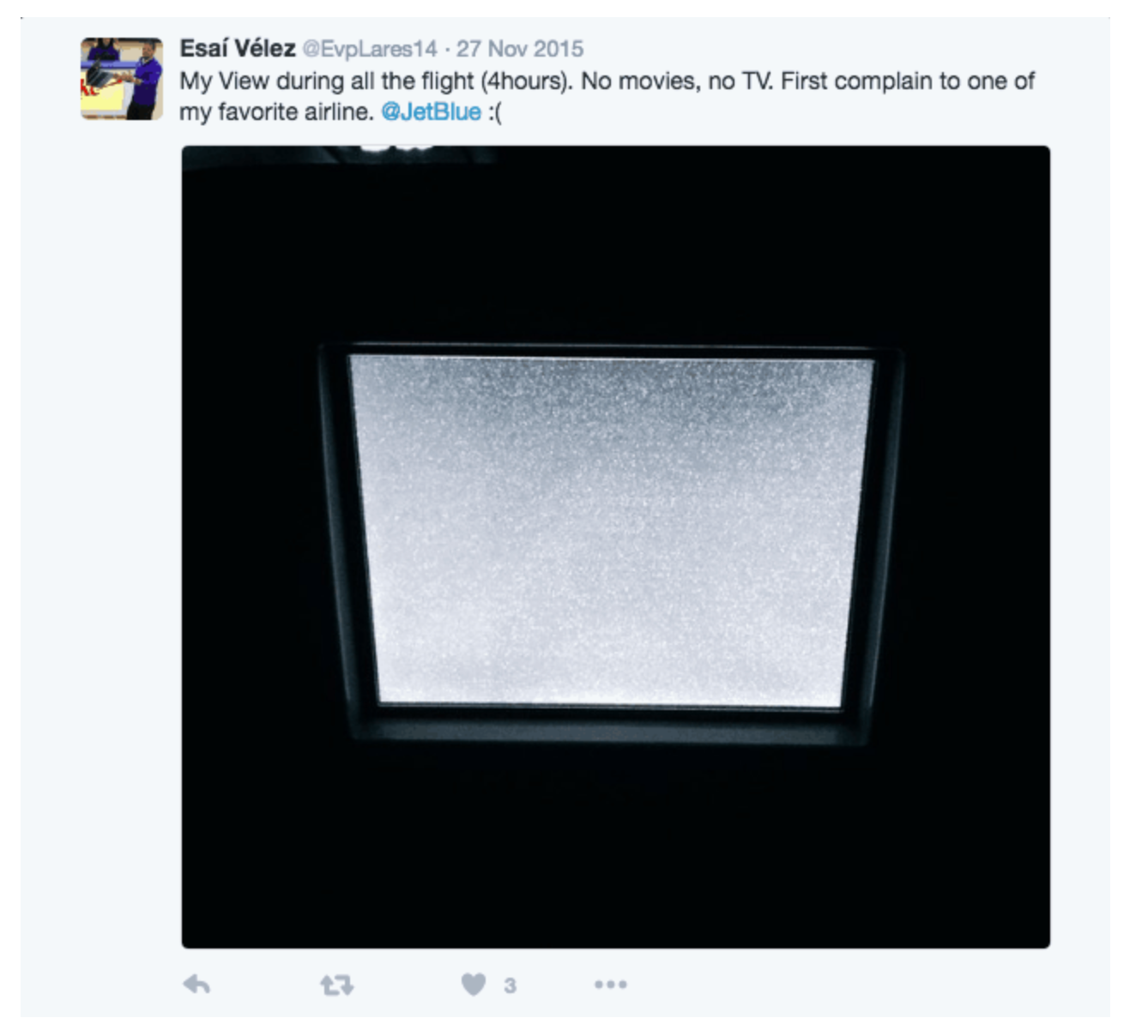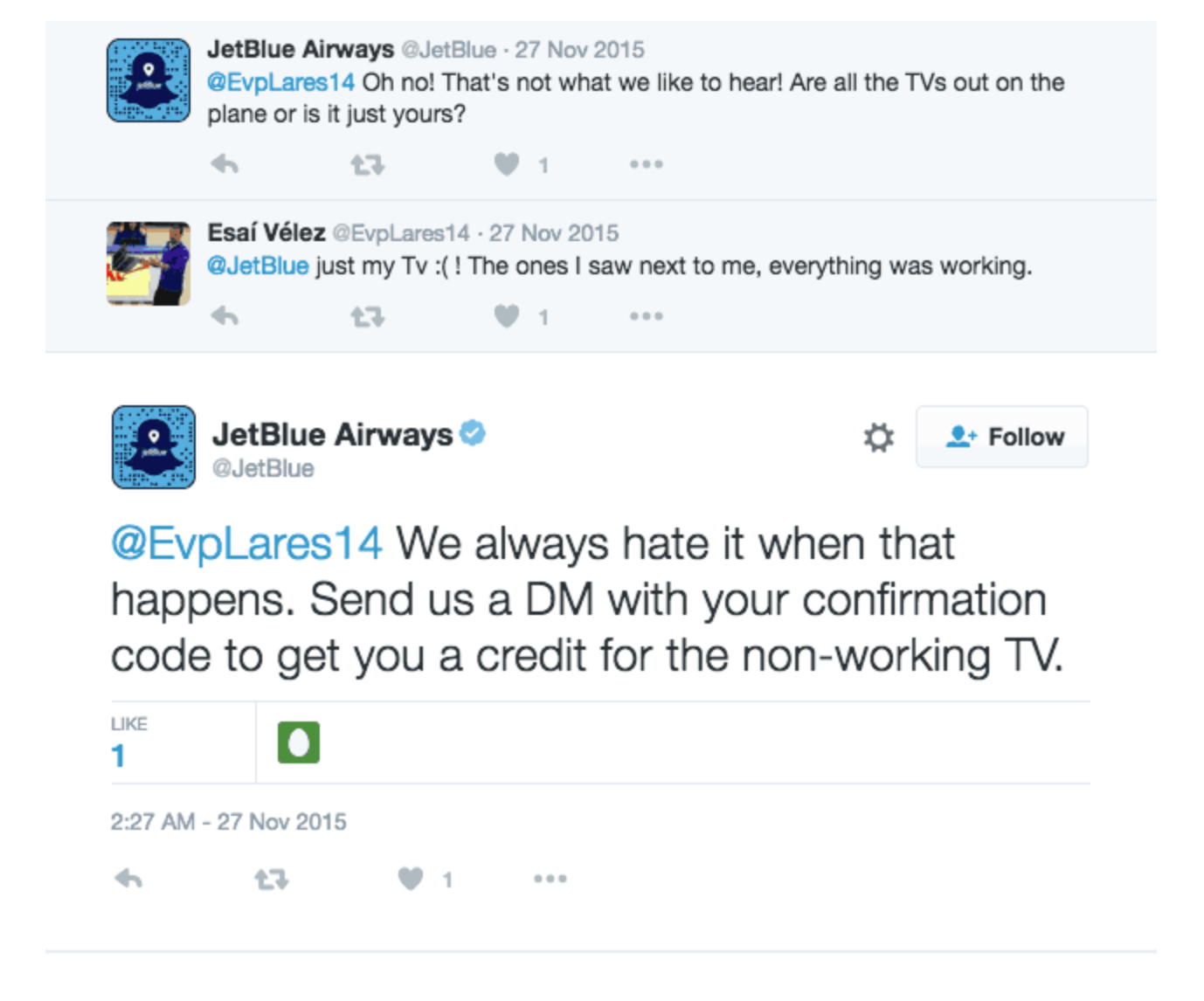 Remember, customers appreciate transparency above all. Find your brand's voice – make it human, and by human we mean "not sounding like a marketing bot."
Now, that's a matter of brand identity and it's an entire topic on its own, so we won't delve into that for the time being. We'll just cut it short and say you might need to go on a journey of self-discovery as a brand.
A strong brand personality can build a powerful online presence and increase customer loyalty. Just think of Wendy's ruthless Twitter – you certainly don't have to go down that path, but it's an epic example.
Final thoughts
The most important distinction to make is that social listening isn't just monitoring brand mentions, competitors, and relevant industry-related keywords.
It goes far beyond monitoring because the point lies not in listening, but in hearing what your customers are saying. That means using insights from social monitoring to improve your campaigns and products, as well as to evolve your understanding of your audience base.
Once you're hearing what consumers are saying, you'll be able to facilitate interactions that they'll be happy to participate in, engage them with your brand, and build a trusting relationship.