Can you recollect any instance where you loved a product so much that you recommended it to your friends or family?
This is what word-of-mouth marketing (WOMM) is all about. It happens when a consumer's liking towards a brand reflects in their everyday dialogue.
Here's the big question – Is WOMM still relevant in today's competitive world?
The simple answer is – yes!
Check out the following statistics to know why:
78% of customers rave about their happy buying experiences to someone they know at least once per week.
88% of customers trust a brand recommended by friends or family.
WOMM drives 90% of all purchasing decisions.
26% of customers avoid buying from brands after hearing negative experiences about them from their circle.
All these data points to the fact that word-of-mouth marketing can be instrumental in helping brands win loyal customers and boost sales.
In this post, we will discuss six must-have tactics to help you leverage the power of WOMM. Use them to promote your brand and build a community of brand advocates.
Let's get started.
Best Tactics for Successful Word-of-Mouth Marketing
Here are the best tactics to encourage customers to spread the word about your brand, thereby strengthening WOMM.
Table of Contents:
#1: Provide the Best Customer Service Experience
Customer service experience is how customers feel while interacting with a brand at any given instant. For instance, how a brand addresses customer pain points – before, during, and post-sales determines customer service experience.
Why is it a crucial factor in WOMM?
According to a report, 63% of customers expect brands to understand their pain points, needs, and unique expectations. Another report affirms that stellar customer experience encourages 93% of customers to make repeat purchases.
These reports signify that outstanding customer service experience can get people to rave about your brand.
Here's how you can ensure a great customer service experience.
Train Your Team: Arrange employee training sessions to make your sales team understand the pain points and needs of the target audience, product functionalities, communication tactics, and more. Teach them ways to convey business values while ensuring customer satisfaction. This can help enhance your team's knowledge, skills, and work efficiency and create a productive workforce.
Invest in the Right Tools: Empower your team with powerful online tools to help gather data and extract insights, such as CRM, chatbots, social listening tools, and more. This can help them gain insights into customer behavior and pain points, thereby enabling them to make customer-centric decisions.
Offer Self-Service Options: A report by Gartner revealed that 44% of buyers (millennials) desired a human-free buying experience in 2021. So, provide customers with self-support capabilities. Create a knowledge base, FAQ page, and self-help product guides for them to refer to and reduce their dependency on your team.
Netflix, the subscription-based streaming company, is an excellent example of a brand implementing all of the above tips.
Notice the dedicated page of Netflix called "Help Center" with self-service options.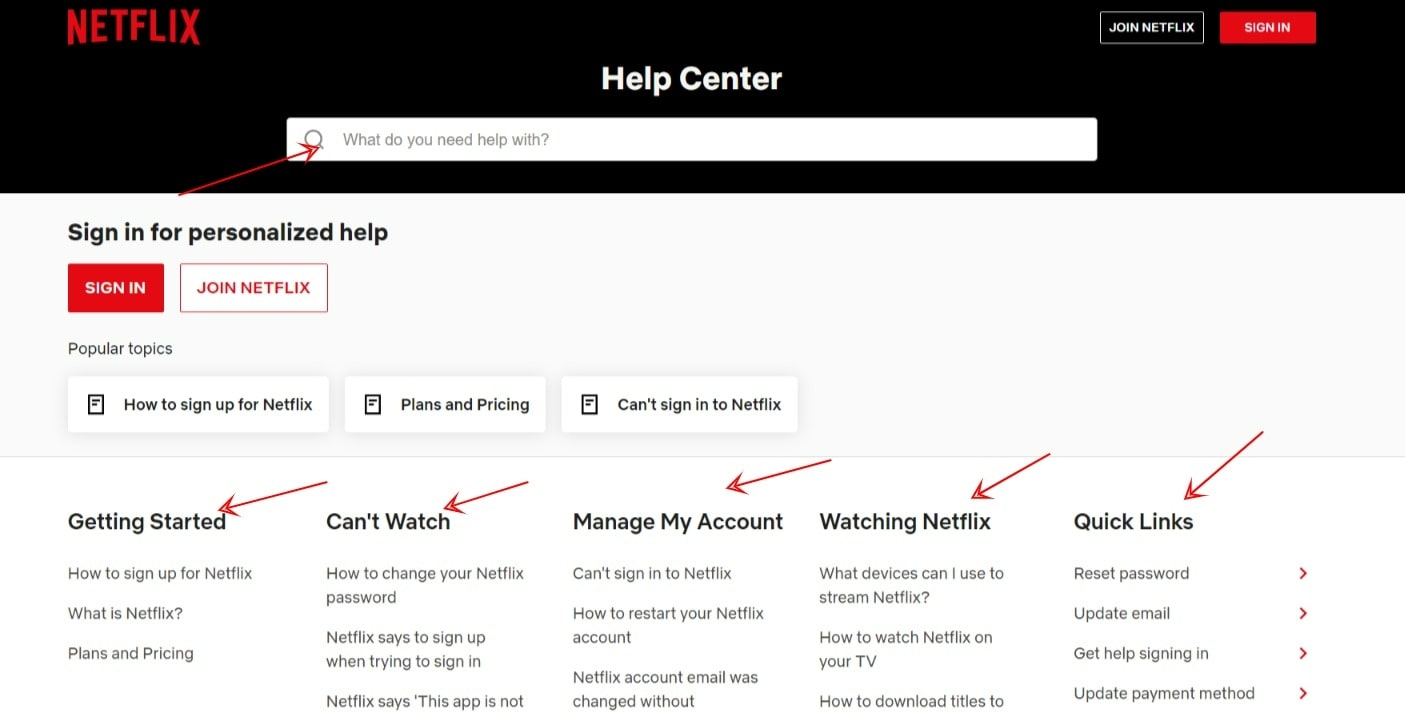 Here, users can find answers to the questions they've been asking.
Besides, Netflix has accounts on social channels like Twitter and Facebook and their well-trained team members interact with and resolve user queries on each channel. In short, Netflix leaves no stone unturned in offering personalized assistance to its users.
No wonder Netflix has earned over 223 million global paid subscribers because of its excellent customer service.
#2: Sell High-Quality Products
Despite exemplary customer service, achieving success in WOMM is unattainable with products that don't meet customer expectations.
Think about it –
Why would customers recommend a brand if it doesn't address their pain points?
Understand a simple fact that customer needs evolve with time.
The products that helped you succeed and establish a strong reputation may not work today. So, think beyond your tried and tested formula and build products that match your modern customer needs.
Here's how you can do it.
Conduct an in-depth market analysis.
Ask yourself:
* Who buys your products (target audience)? 
* What are their key pain points and needs?
* What features influence their buying decisions?
* Are they happy with your product features?
These are a few crucial questions that can help you understand your target market and their needs.
Pro Tip: Count on tools like Zoho CRM software to get actionable insights into your target audience, such as their interests, purchase history, interactions, and more. Use this valuable customer data to deliver quality products.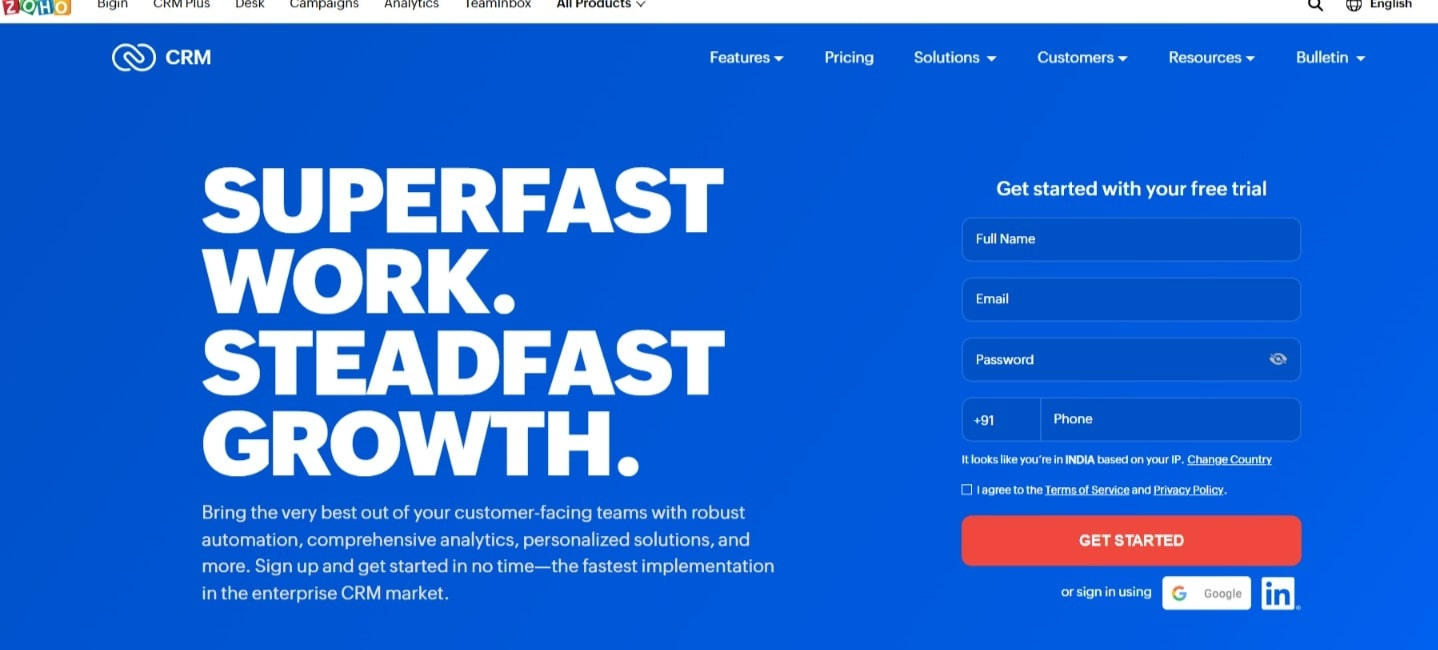 Keep a tab on channels like Facebook and Twitter to identify your prospects' concerns.
Pro Tip: Deploy tools like Mention to understand your brand perception in the digital landscape. Anticipate and address crises before things take the wrong turn.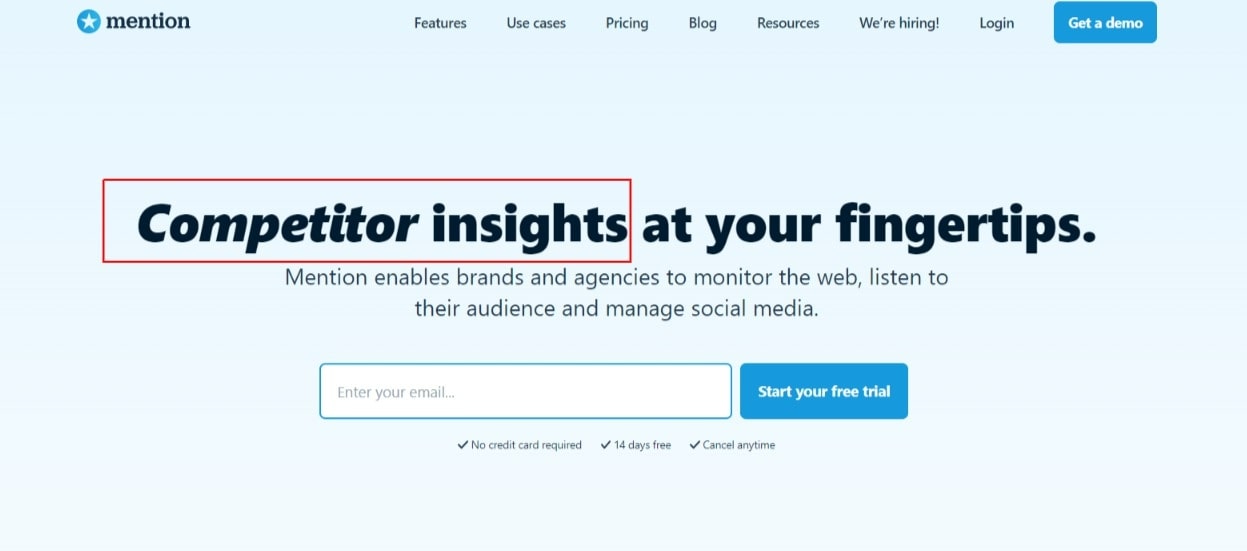 Besides, this software can help you stay ahead with its competitive analysis functionality. Acknowledge what your competitors are doing, and create strategies to bring innovation to your products.
Keep a tab on industry-related research, reports, and trends to understand the ongoing trends.
#3: Get Your Products Reviewed by Credible Influencers
Did you know?
Modern-day customers trust influencers more than brand messages. In fact, influencer-driven content earns 11x higher ROI than other forms of digital marketing.
No wonder, digital marketers are leveraging this trend to generate the best business outcomes.
Here's a screenshot of eMarketer's survey that affirms the same. Notice how the trend of influencer marketing is rising every year.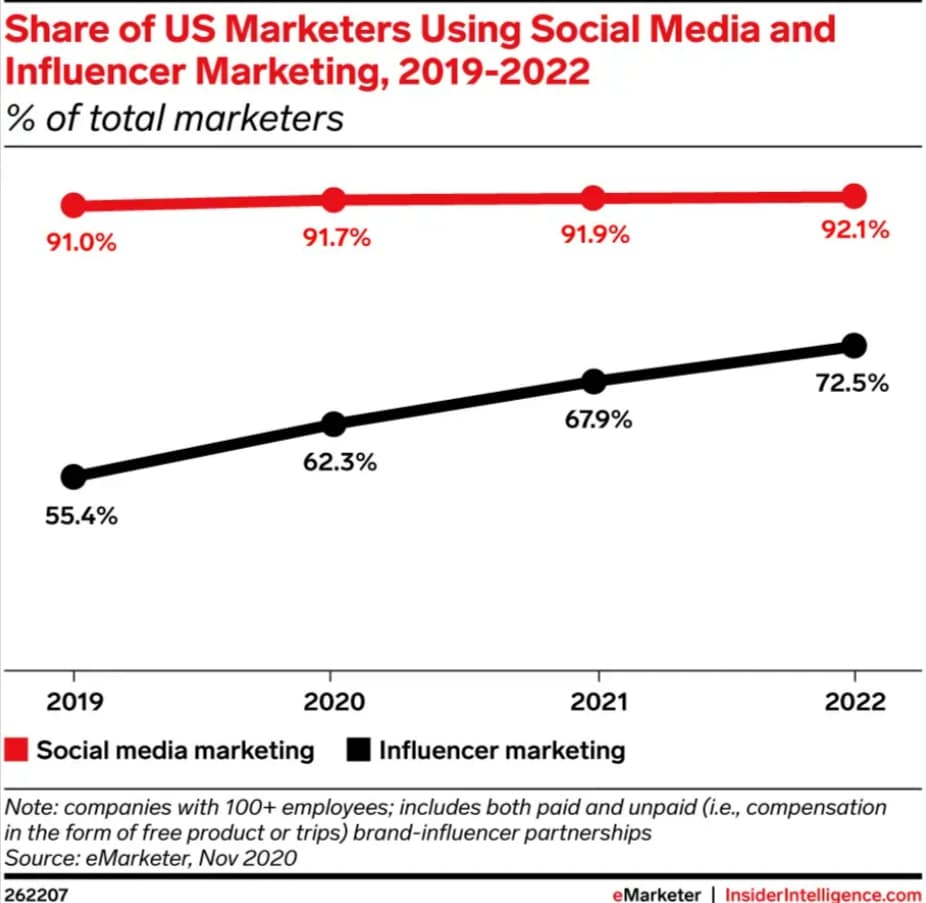 So, jump on the bandwagon and get your products reviewed by influencers in your niche. This can help you win customer trust and generate word of mouth.
Here are a couple of tips to help you make the partnership successful.
Ensure that influencers create content that brings value to the target audience. For instance, if you are a SaaS brand, create content that helps users in SaaS application adoption by understanding the product features.
Maximize your content value by adding compelling visuals, such as videos and imagery.
Here's an excellent example.
Notice how Google leverages influencer marketing to generate word of mouth while considering the shared tips.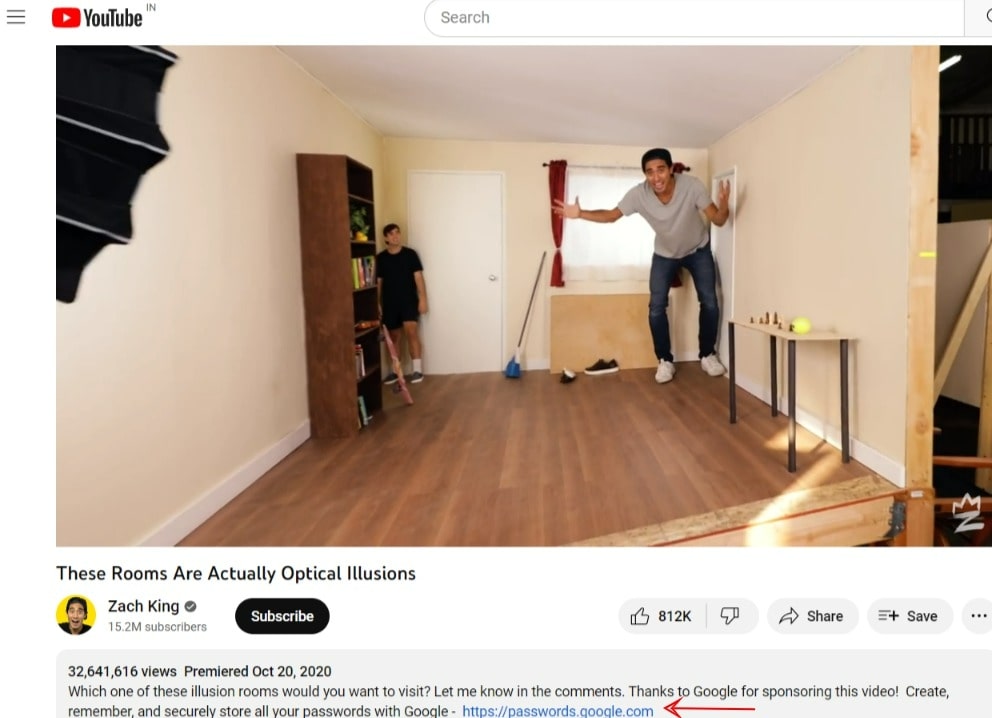 Google partnered with the renowned illusionist Zach King to highlight the versatility of their product – Google Password Manager.
This video earned over 32M views and 812K likes on YouTube. Most importantly, it helped Google boost its brand awareness by subtly sparking word of mouth.
Pro Tip: Often, influencers buy fake followers to make the collaboration appear successful. Make sure to read the comments on the post to track the actual engagement. In addition, track KPIs, such as traffic, likes, and shares, to gauge the effectiveness of your influencer campaign.
#4: Encourage User-Generated Content (UGC)
User-generated content (UGC) is the content generated and shared by the audience on social channels, discussion forums, and more. For instance, UGC can be product testimonials, images, and review videos that people share online to express their buying experience.
How can UGC help in WOMM?
According to reports, 72% of people trust the product or brand testimonials and reviews shared by existing customers more than others.
This means encouraging UGC can help you:
Showcase your brand value
Create a buzz on digital platforms
Establish credibility in the market and win audience trust
Here's how Airbnb (5.2 million followers) publishes UGC content on Instagram. Their beautiful posts with client reviews have gotten customers talking about their brand.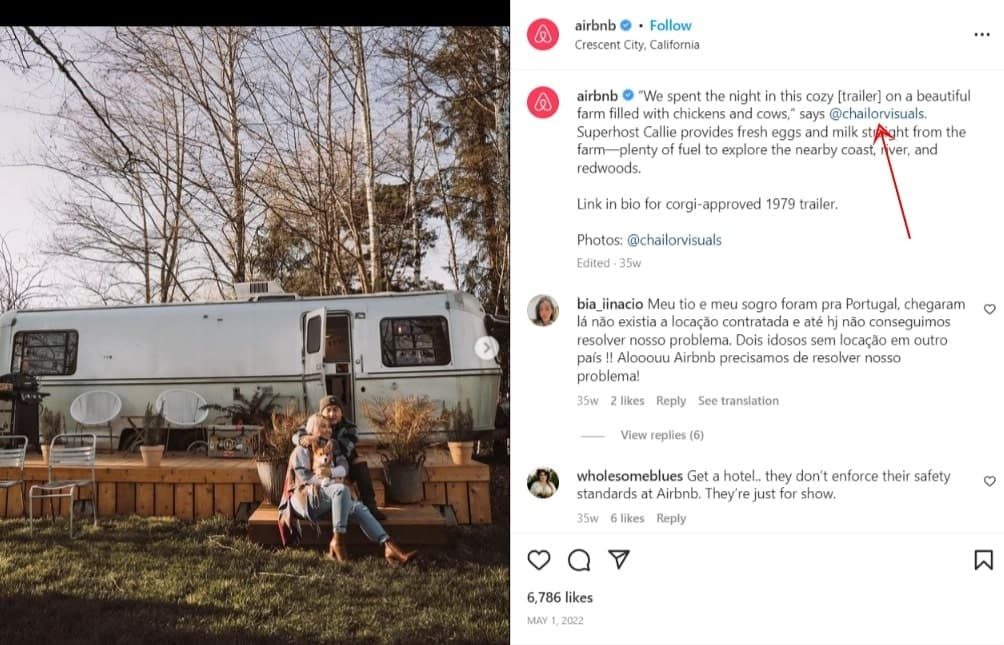 Here's how you can encourage people to share UGC.
Send emails requesting your verified loyal customers to share reviews on social channels.
Give influential customers a chance to appear in your social feed, or offer discounts on their next purchase.
Run contests asking customers to share product reviews to win exciting rewards.
A good example comes from Domino's Pizza India. The multinational pizza brand recently ran a powerful UGC campaign to trigger word of mouth.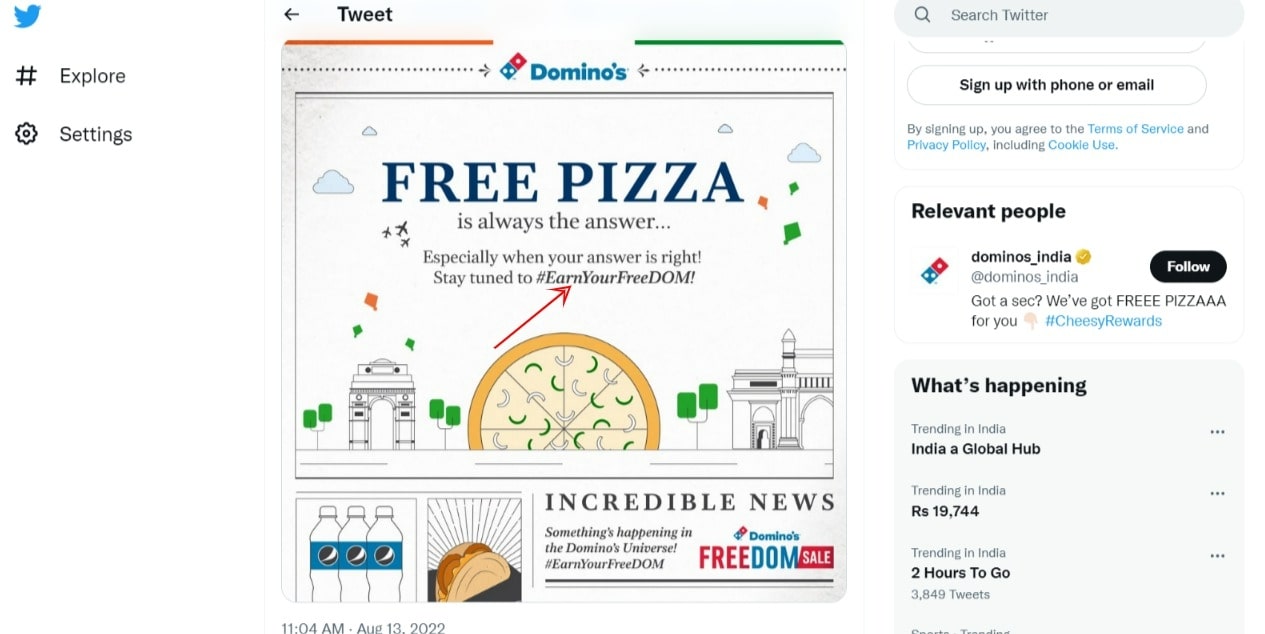 The company asked people to Tweet why they deserve a free pizza using the following hashtags –
#IndependenceDay
#FreeDOMDay
#DominosPizza
This unique campaign attracted thousands of Tweets and created a buzz on Twitter.
#5: Empower Your Customers by Involving Them in Decision-Making
Make your customers feel valued by involving them in your decision-making process. This can prove a game changer and help you build a community of loyal customers and inspire word of mouth.
Here's how it works.
Say a brand decides to involve its customers in product development. The company connects with customers to understand their expectations, and implements strategies to incorporate them into the product.
How can this benefit the company?
This tactic can help instill a sense of trust and make the customers feel valued. When customers trust a brand, they recommend it to their friends. Besides, they make repeat purchases and stay loyal to the company. That's how empowering customers can bring tangible results for the brand.
Here are a few tips to consider.
Create surveys to collect customer feedback. For instance, ask customers what features they expect in your product. Deploy tools like Typeform and SurveySparrow to create engaging surveys.
Pro Tip: If you are on a tight budget, use Google Forms, a free-of-cost survey builder software. With this tool, you can collect and analyze audience responses in real-time.
Post surveys and polls on social channels like YouTube, Facebook, and Instagram, to give your customers a voice.
Notice how the clothing retailer Gymshark takes advantage of this tactic.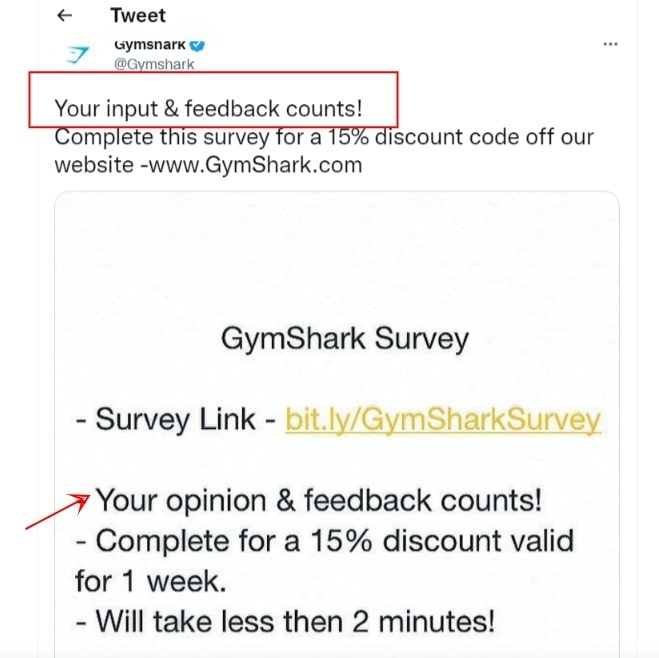 The brand values customer feedback and, hence, collects them at frequent intervals. The goal is to imbibe a sense of belongingness that can ultimately strengthen the WOMM strategy.
Host live events to interact with your customers. Offer freebies and discounts to encourage customers to provide their valuable input.
Pro Tip: Implement collaboration tools like Zoom and Google Meet to get started. These platforms allow users to connect and collaborate with anyone globally with a few clicks. You only need a stable internet connection and a web or mobile device to run the live event.
#6: Position Yourself as a Thought Leader
A strong reputation can help brands stand out from competitors and become thought leaders in the industry.
What does a "thought leader" mean?
It means brands that acknowledge their customers' needs and offer valuable insights to empower them. However, establishing credibility doesn't happen overnight. Companies should stay consistent and relentless in helping people, despite the highs and lows in the business.
Here are some winning tactics to consider:
Publish High-Quality Content: This can help showcase your expertise in your niche and help address the queries of prospects and customers. Create well-researched, relevant, and helpful content and publish it on your website, social media, and digital communities.
Check out how Amazon leverages this tactic. This eCommerce giant publishes high-quality blog posts to help readers.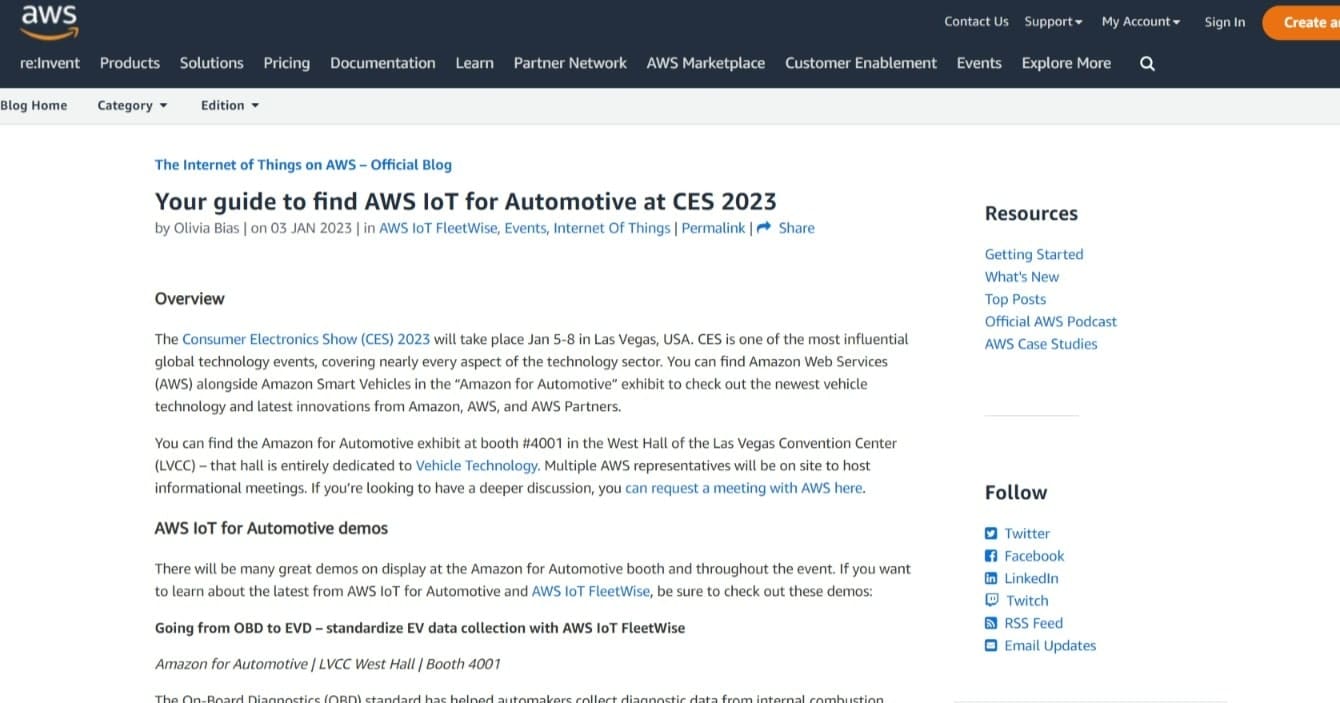 Pro Tip: Offer informative resources, such as reports, guides – and more – for free. This can boost your brand awareness and encourage customers to return for more. More than that, it can solidify customers' trust in the brand.
Leverage Social Channels: Get active on social channels to establish your credibility as a thought leader. For instance, create a business account on LinkedIn, the world's largest professional network with 875 million global users.
Connect with other brands and share posts, helpful videos, and more. This will spark conversations about your brand.
Check out how the software company Aha! shares thought leadership content with LinkedIn members.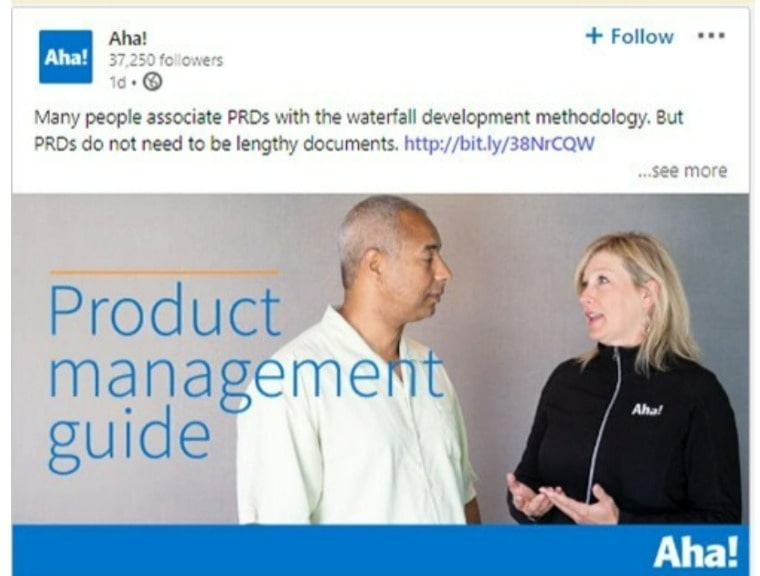 Host Virtual Webinars: Invite industry experts or a senior from your team to speak about the latest market trends and innovations. Involve the target audience in the conversation by letting them ask questions.
Observe how the leading IT company, Accenture, uses this tactic to engage its audience. No wonder the firm has established a reputation as an industry leader.

Wrapping Up
Word-of-mouth marketing (WOMM) can boost brand awareness, engagement, and ultimately sales.
The best part? Unlike other marketing tactics, it is cost-efficient. Brands only need a solid roadmap to encourage customers to talk about them. Leveraging the shared tactics and tools can help you achieve the goal of creating a WOM-worthy experience for your customers.
So, implement them to kickstart your word-of-mouth marketing campaign.