Are you a marketer wondering whether your brand should be on TikTok?
TikTok marketing is quickly becoming the next high-priority item on every brand's social marketing palette.
Yes, TikTok started as a very Gen Z app. But it's no longer just about funny dances or challenges: nearly every brand can now find its audience.
Should YOUR brand do TikTok marketing? What's the best approach? Will your CEO need to do a wacky dance?
You'll find answers to all of these questions in this article and more. Buckle up; you're in for a TikTok ride.
Table of Contents:
What is TikTok?
TikTok is an entertainment app that serves you short, 15-second videos created by its users.
TikTok exploded into pop culture mostly during the 2020 pandemic, but it's been around since 2017. It launched in China first with the name Douyin. Not long after, it got a refresh and a different iteration for the international community. It now had the lip-sync functionality and the name TikTok.
TikTok dances and lip-sync videos have quickly become staple content in the app.
TikTok has recently become the first non-Facebook mobile app to reach 3 billion downloads globally. According to research, kids spend more than 70 minutes per day on TikTok.
While it was largely popular with the Gen Z crowd initially, TikTok is now a worldwide phenomenon enjoyed by adults, celebrities, and brands alike.
A lot of people don't know that it's not all about lip-syncing and dancing on TikTok. You can also find on the app:
Standup routines
Video commentaries
Educational videos
Fashion showcases
Lifehacks
Pranks
Makeup tutorials
Recipes
…and a ton more similar content
TikTok could very well be your next step in building a community. It's just a matter of deciding whether it makes sense for your brand or not.
Should you market your brand on TikTok?
If you're a Millennial or an older marketer, you're probably wondering: should I jump on this trend with my team? Is it worth allocating some money from the marketing budget? Will my CEO have to dab for likes?
You're not alone. Thousands of marketers are asking themselves the same question and pondering their powers over their CEOs.
Firstly, TikTok is not likely to go anywhere anytime soon. There are 689 million active users on the app currently. It's expected to surpass 1.2 billion in 2021. The app is unquestionably very addicting.
Secondly, when done right, users don't mind ads on TikTok. A Kantar study found that 72% of users felt that TikTok ads were inspiring. 7 out of 10 users said that sponsored posts were more enjoyable and optimistic than on other platforms.
On the organic side of marketing, TikTok has also rolled out its version of "link in bio." This means that you can also drive traffic to your website (haven't got one? Time to create a website and reap the benefits!)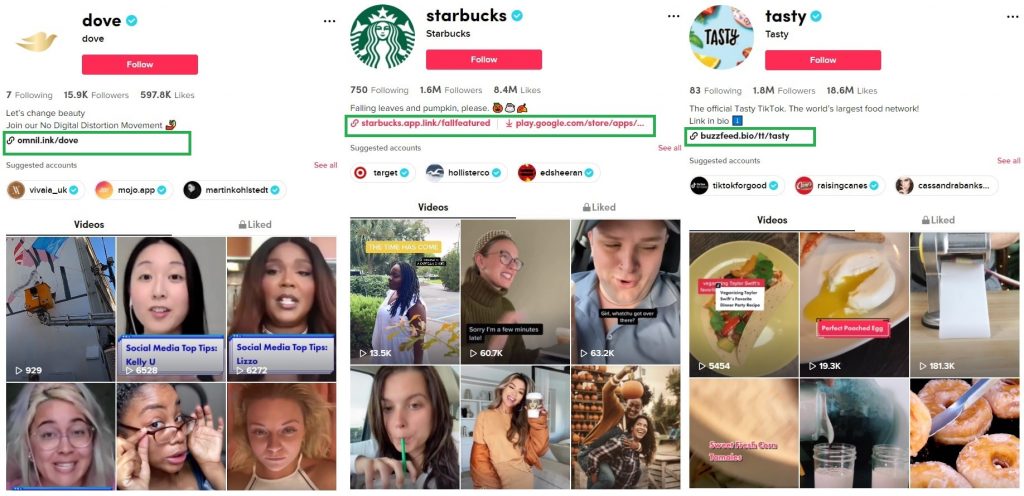 By using the TikTok Bio Generator, you can easily create a professional bio for your profile that is sure to grab the attention of your followers. With this powerful tool, you can make sure your bio stands out from the rest and helps direct people to your website.
And finally, there are a few questions you should answer to find out if you should market your brand on TikTok.
Content marketing
Do you have some flexibility in your content marketing strategy? If it's tightly planned out for the whole year, you might have to move things around.
Budget
Do you have any wiggle room in your budget? Even if you're only planning on doing organic content on TikTok, you should plan for an ad budget in case your videos take off.
Audience
As mentioned earlier, adults also love the platform. With that said, you may have an audience where it's hard to tell if they use the app. Are long-haul truck drivers watching TikTok? How about cryptocurrency accountants? It's a tall order. Your best bet is to ask them with a survey or set up social listening.
Branding
No, it's not true that only popular consumer products or entertainers can make it on TikTok. Take a look at how news magazine, The Washington Post, or currency trading app, etoro use TikTok. These examples prove that you don't need to be an overly casual brand like Wendy's to be on TikTok. Did you know that Wendy's was also on Wattpad writing stories about themselves? Nothing is off-limits for brands.
Personal branding
Many brands have a person who acts as the most recognizable "face" of the company. This person could also represent your brand on TikTok. And no, your CEO won't have to do a wacky dance challenge (unless they want to). Their content could be anything from tips to pranks to behind-the-scenes videos.
How does the TikTok algorithm work?
TikTok's main algorithm is mostly kept a secret.
Still, some part of it is known, as most social media apps operate on similar principles, which is: how do we keep our users engaged for as long as possible?
The answer is: by showing them engaging content.
Enter TikTok's For You page.
This is the page where you go to explore new content. Videos on this feed are not from those accounts that you follow but could be from any creator. TikTok's algorithm is more generous to unknown accounts than most other social media platforms. Why?
If your content is engaging, it will get a boost to be shown on the For You page to a small group of users. If feedback is good, you get exposed to a larger pool, and so on.
According to popular belief, adding the #foryoupage #foryou #fyp #follow or #tiktok hashtags will help you get on the For You page.
Every user gets a different For You page. The recommendation system learns the type of videos you like and will always serve the content based on that.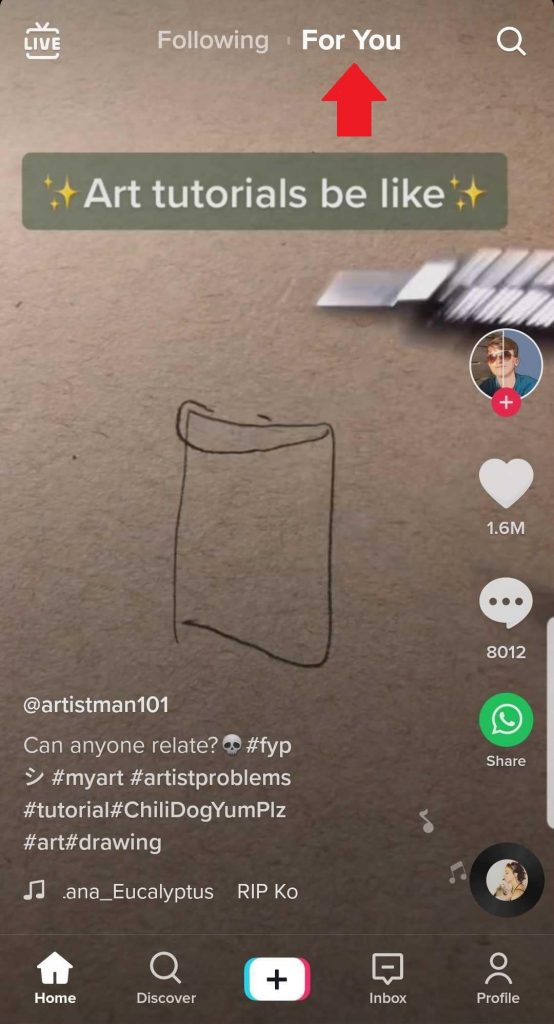 Here are some determining factors for the For You page:
Positive engagement indicators, such as likes, rewatches, shares, video completions, comments
Negative engagement indicators, such as unfollows, hides, "not interested" list additions, videos reported as inappropriate
Geolocation
Hashtags used
Sound on or off
How can brands use TikTok?
If your company already uses Instagram Reels or YouTube, there's a good chance that you could find your voice on TikTok, too. Even if you don't, there is a way to combine your brand with the trends on TikTok effectively.
For example, The Washington Post uses TikTok for satire and political commentary and features its social media people in their skits. Chipotle reshares a lot of user-generated content. Insurance company, Geico, shares a mix of humorous ads, educational material, and user-generated content.
Every brand is different. You can use TikTok to:
Showcase your latest launch
Show your take on popular TikTok trends
Connect with your audience
Keep your brand relevant
Build a personal brand (such as the CEO or a spokesperson for your brand)
How your brand uses TikTok will come down to the type of service or product you offer and whether or not you want to repurpose your other content.
Do you feel that TikTok is suitable for your brand? It's time to start strategizing.
Popular TikTok strategies to consider
There are some surefire strategies you can use on TikTok that work well with the app's audience and help you get discovered. Take a look to see which strategy would fit your brand the best.
Hashtag challenges
Using hashtags is an excellent way to get into different For You pages. To start, use the #fyp related hashtags. Then, extend your reach by adding niche-specific hashtags, as well.
You have a 100-character limit on your video's caption, so it's best to use your keywords and hashtags wisely. Alternatively, you can experiment by adding some of your hashtags as comments.
A great way to optimize your TikTok captions is to use a TikTok Caption Generator. It can help you create captions that are optimized with relevant hashtags and keywords to maximize your reach on the platform.
But how should you go about selecting your hashtags?
If you don't have any data to start from, then social listening is a reliable method of gaining reliable insights into your audience's lingo. You can then incorporate them into your next TikTok campaign.
Or, you can create your own.Mattress brand Simmons ran the hashtag #snoozapalooza at the start of the pandemic. Users had to go stage diving onto their bed in creative ways. They engaged more than 1.1 million users in the challenge.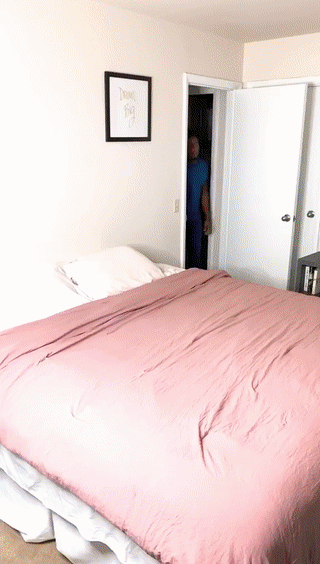 The cherry on top? The #snoozapalooza hashtag is still being used by TikTokers even after the campaign has concluded.
If you're running low on ideas…
User-generated content
You can work user-generated content (UGC) into your campaigns using the Duet or the Stitch features.
This is how you do it:
For example, khaby.lame became TikTok famous thanks to his hilarious video responses to other TikTokers, ultimately mocking their borderline ridiculous "life hacks."
As a brand, you won't need to make fun of users, of course (unless you're Wendy's). Simply use your biggest fans' content to make them feel seen and generate a bigger reach organically.
Sports brand, Puma, used the Duet feature to reshare their users' attempts to powder the Puma logo onto their coffees (with more or less success).
Finally, you can also utilize TikTok's new reply to comments with video feature. This is a great option if you want to highlight a funny comment or a frequently asked question.
Influencer marketing
Influencer marketing can still bring in solid results as part of your digital PR campaigns. Why? Influencers themselves like to pick and choose who they work with to ensure that their followers receive top-notch recommendations.
The great news is that you don't need to wade through hundreds of videos to find someone to work with. Instead, check the TikTok creator marketplace. It's a hub where brands can easily find TikTok collaborators who fit their target audience.
For example, keeoh is a gamer influencer who struck a brand deal with Red Bull. It was a fitting collaboration as the gamer community is known for consuming energy drinks to keep up with their gaming lifestyle.
You're probably wondering: how much can I expect to pay these TikTok influencers? The answer is, of course, it depends.
For example, micro or nano influencers with 10,000 or fewer followers, can bring higher engagement results at a reasonable cost. According to Influencer MarketingHub, sponsored posts may only cost between $5 to $125 for these types of influencers.
If you are looking to widen your net and have deeper pockets, expect to pay anywhere from $125 to $2,500 or more per post.
The results? Influencer marketing can make you an average of $6.50 for every $1 you put into it. So, it's worth testing out the waters of TikTok influencer marketing if you have a bit of budget.
TikTok paid ads
Looking to have access to more refined audience targeting? TikTok paid ads are your answer. They start from $10/impression and may end at 5-figures or more if you're a big brand.
TikTok paid ads are an excellent way to get eyes on your brand.
Similar to other ad managers, TikTok also allows you to:
Drive traffic to your website
Increase app installs
Increase online sales
Attract new leads
Target audiences by custom settings or by lookalike audience settings
Set a daily or lifetime budget
In-feed ads
TikTok's in-feed ads are similar to Instagram's Stories ads. They appear on your For You page in between other videos as you scroll through your feed.
There are a handful of features available for in-feed ads, such as multiple call-to-action placement options and like, comment, or share options just like on organic TikTok posts.
Your ads can be anywhere between 9 to 15 seconds. However, keep in mind that they are skippable after 2-3 seconds. Users, who are hungry for the next funny video need to be convinced in just a couple of seconds that your ad is worth the watch.
How can you do that?
Add a short, attention-grabbing text
Add sound
Get on a trend, such as a dance challenge
Feature humans right away because faces capture the attention easier
Use less polished looking ads and experiment with more of an amateur or home video feel, which TikTok users love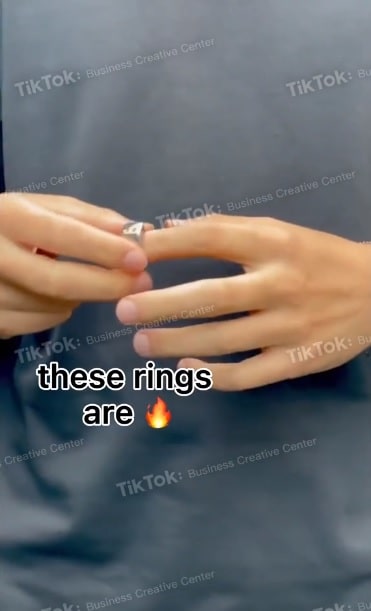 TopView ads
The TopView ads on TikTok are located on the top of the For You page. TikTok's ad page states that you get "leading access to user attention" with the TopView ads.
This means that you'll be in the most premium spot as the For You page is the starting point of every TikToker.
The same engagement options (like, comment, share, etc.) are available as on other TikTok ads. TopView ads can be as long as 60 seconds, complete with a distraction-free, fullscreen video experience.
How do you catch users' attention with TopView ads?
Users, especially the Gen Z audience, expect "authenticity" and "fun" from brands, according to a study. Therefore, make sure to stand out by using a lot of TikTok's built-in effects, stickers, and more. Don't be afraid of using less polished quality videos, either.
Additionally, you can tap into the phenomenon of "readable social videos." Users love this format, whether it's for educational or entertainment purposes.
Brand Takeover
Brand Takeover is the king of all ads on TikTok. Why?
When you open TikTok, it's the very first video ad you'll see (and fullscreen)
Various creatives from this ad will "take over" the TikTok For You page as still images, GIFs, or videos
You can opt to create the ad's own hashtag challenge page
Brand Takeover ads are far-reaching. Get ready to fork out a lot more money than for other TikTok ads. To give you some perspective, the brand names that used the Brand Takeover ads included Levi's, Maybelline, or Spotify.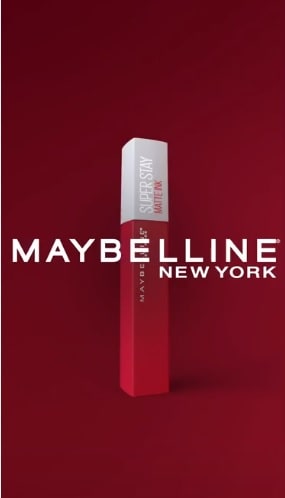 How can you make the most of your Brand Takeover ads on TikTok? Learn from the big brands.
Run a hashtag challenge to boost user engagement
Make the challenge super easy to replicate (see: Levi's #inmydenim challenge)
Pick a song popular among your audience (look for inspiration from playlists like this)
Collaborate with as many as four TikTok influencers
Focus on delivering an engaging, feel-good video
Branded effects
Branded effects ads on TikTok are a fun way to offer up a bit of your brand for TikTokers to use in their videos.
What are they exactly? They can range from shareable stickers to filters and special effects. Users can add these elements to their videos for a more creative and fun visual experience.
This type of TikTok ad is especially great if you have a recognizable brand or interesting branding.
Here are a few tips for creating branded effects ads on TikTok:
If you have a physical product, add that as one of the stickers
If you have a memorable brand tagline, create a text-based sticker out of it
Follow what filters and special effects are trendy to use and adjust yours to that
Finally, ensure to make these branded elements easy to use in videos. TikTok creators want to publish fun, engaging videos, not ads. 
Check out our TikTok Video Downloader to easily archive and analyze successful branded effect ads and stay ahead in your marketing game.
TikTok has also recently announced the Gamified Branded Effect:
You're now ready to take on TikTok!
Yes, TikTok is a new app on the playing field. Yet, at the end of the day, TikTok marketing is no different from your regular marketing efforts: know your audience, engage them, and provide value.
At the same time, do lean into TikTok-specific tactics, as well, such as hashtags, challenges, user-generated content, TikTok influencers, and TikTok ads.
And if you're all out of ideas, you can always get your CEO to do a dance challenge after all.