Whenever my colleagues ask, "hey Joei, where did you go for lunch today?" I reply, "check my Instagram story!"
Yes. I'm addicted to Instagram. But I'm not alone.
According to TechCrunch's latest study, Instagram has recently rocketed past 700 million users, making it the third most popular social network after Facebook and YouTube. Instagram is also considered by influencers to be the platform with the highest engagement among all social media platforms. So it's no surprise that Instagram just hit over one million advertisers, as more and more brands flock to the platform to promote their brand and engage with customers.

Among the million different ways to use Instagram for business, hashtag campaigns prove to be one of the most efficient and effective.
Of course, we all remember the time when hashtags were considered ridiculous:
But according to Instagram Engagement Report, posts with at least one Instagram hashtag average 60.61% more engagement than posts without a hashtag.
Instagram hashtags easily amplify your message and help you reach a larger audience. And they're great for branding, especially when you're doing an Instagram marketing campaign.
But how exactly do you choose and use the best hashtags for Instagram to maximize your campaign reach?
In this blog post, we're going to look at five examples from brands using Instagram hashtags right, and successfully expanded their campaign reach with those # signs.
For more on Instagram hashtags, check out our massive Instagram Engagement Report.
5 awesome brands rocking Instagram hashtags in their marketing campaigns
1. Airbnb
Hashtag used: #WeAccept
Instagram campaign idea:
It started as a Super Bowl ad. In an apparent dig at Trump's immigration ban, the 30-second ad featured a diverse array of faces as the words strung out: "We believe no matter who you are, where you're from, who you love, or who you worship, we all belong. The world is more beautiful the more you accept," followed by the hashtag #WeAccept, which went viral.
Although the ad's message is politically charged at the immigration ban, Airbnb also has its reasons to promote diversity. Reports have suggested that some Airbnb hosts discriminate against guests of certain races or backgrounds, and that non-colored hosts are able to charge more on average.
"We couldn't talk about the lack of acceptance in the world without pointing out the challenges in our own community at Airbnb," the company acknowledges in its announcement. "The painful truth is that guests on Airbnb have experienced discrimination, something that is the very opposite of our values. We know we have work to do and are dedicated to achieving greater acceptance in our community."
Lesson for marketers: Airbnb's #WeAccept campaign was so powerful because of two reasons. First, they newsjacked a hot, controversial topic – Trump's immigration ban. Second, they addressed a core issue that's relevant to their brand. As a platform for welcoming strangers into your homes, the message of acceptance and tolerance resonates strongly with the core value of the company.
2. Red Bull
Hashtag used: #PutACanOnIt
Instagram campaign idea:
Red Bull asked their followers to upload photos to Instagram with the hashtag #PutACanOnIt, and in just a few months, almost 10,000 original #PutACanOnIt photos were uploaded and hashtagged across Instagram and Twitter. Fans "put a can on" Minis, trucks, bikes, motorcycles, planes, people, and even dogs.

#PutACanOnIt became so pervasive that other big brands participated in their own way. Pepsi posted a similar photo of a Pepsi can on Twitter, to which Red Bull responded by putting their can on top of the Pepsi can and hashtagging #PutACanOnIt. Then Perrier jumped in and posted the Perrier can on top of Red Bull's can on top of Pepsi's can. This spontaneous interaction among the three brands inspired more to level-up the #PutACanOnIt campaign with more imagination.
Lesson for marketers: The #PutACanOnIt idea is fun. It's limitless. And that's the essence of the Red Bull brand. The campaign demonstrates how Red Bull is brought to life every day through its fans. #PutACanOnIt has given fans an opportunity to express themselves creatively while connecting with and inspiring others who share their affinity for the brand.
3. KitKat
Hashtag: #MyBreak
Instagram campaign idea:
It started out as an ad from KitKat:
Which inspired a global digital campaign to help views and customers find trending YouTube videos on their phones while having a KitKat break.
Using Google's voice search function, you can say, "OK Google, YouTube my break" to any Android mobile, or any mobile device with the Google app installed. After watching a short KitKat video on YouTube, they then see a playlist of the top trending videos on the platform and can share this content via social media.
"The campaign is based on the consumer insight that KITKAT® consumers are also YouTube fans, and that the video platform is uniquely placed to provide real-time insights into the world's most-watched videos," writes the press release. The campaign's official hashtag, #mybreak, has been printed on 22 million bars.
Just organically, #mybreak went viral on Instagram, with over 37k user-generated posts of different KitKat moments.
Lesson for marketers: If you're selling a consumer product, try combining online and offline marketing strategies for maximum impact.
4. Starbucks
Hashtag: #RedCupContest
Instagram campaign idea:
Every November, Starbucks launches the #RedCupContest to promote its holiday-themed seasonal beverages and – you guessed it – red cups.
It encourages coffee drinkers to submit shots of their coffees for the chance to win a pricey Starbucks gift card – and Starbucks lovers always deliver, as seen from the 40,000+ posts on Instagram.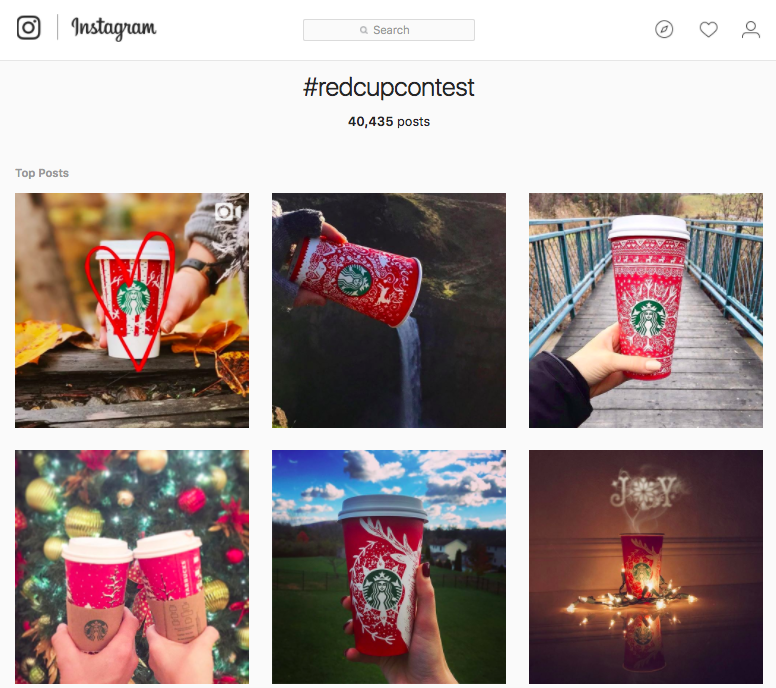 The #RedCupContest generates buzz, brand awareness, and sales. By offering a prize, Starbucks incentivizes fans to participate and engage online, promotes their seasonal drinks, and gets more sales – because obviously you have to buy a drink before you can take a picture of the red cup.
They also maximize the reach of this Instagram campaign by cross-promoting on other platforms like Facebook:
Lesson for marketers: Use a contest to promote and generate buzz around your brand or products. Offer a prize for participation using a branded hashtag to get people excited about commenting, posting, and sharing on Instagram.
5. Herschel Supply
Hashtag: #WellTraveled
Instagram campaign idea:
Herschel Supply's online content series, titled "Well Traveled," is a feed of shared travel stories from photographers visiting destinations like Kerala, India, Tel Aviv, and New York City. The blog, updated weekly and told in the form of photo essays, is meant to show Herschel's backpacks, satchels and duffels in action all over the world.
The campaign Well Traveled, launched by one of the company's founders after a trip to China in 2010, has since documented trips to 130 countries, and its corresponding hashtag #WellTraveled pulls 700,000 image results on Instagram.
"The goal of Well Traveled is to reach every country in the world, and so we matched that with a product you can find in 99 percent of the world," said Mikey Scott, global marketing director for Herschel Supply. "We wanted to tie our content to a product that could reach a very broad audience."
Lesson for marketers: create hashtags that aren't specific to your brand, but represent your target audience, and leverage user-generated images to keep your feed always updated with visually engaging images. This also incentivizes followers to use your hashtag in exchange for a coveted spot on your Instagram feed.
#Tryitforyourbrand
Hopefully this have given you some great ideas on Instagram hashtag marketing campaigns you can run for your own business.
Instagram is an incredible channel for any brand to achieve their marketing goals. All it takes to take your business to the next level with an Instagram marketing campaign is just a bit of planning, a lot of passion and creativity, and the right #hashtag.
Need more ideas with Instagram marketing? Check our checklist.