When your brand is in crisis, the last thing your team needs is to feel behind the conversation as it's happening. News travels fast, but social mentions travel even faster, especially if your brand is about to embark on a crisis. The key is to keep calm and use a social listening tool.
Brand awareness still reigns as the top goal for marketing today, so maintaining your reputation is an absolute must. Although it can be tedious and time-consuming, knowing exactly what your customers are talking about online is essential to react fast. Mention's notification features allow professionals to stay focused on their tasks at hand while staying connected to all conversations about their brand, a topic, or competitor.
Whether you're doing social listening as a team, or on your own, our notification features allow you to always stay connected to key conversations as they're happening.
1. Top Mentions
Think of Top Mentions like a daily or weekly digest email. It gives you a snapshot of the alert you've set up, to assess the "health" of your alert and the associated topic.
This email can be shared with as many users as your plan allows, and will provide an overview of top mentions for one or multiple alerts in your account.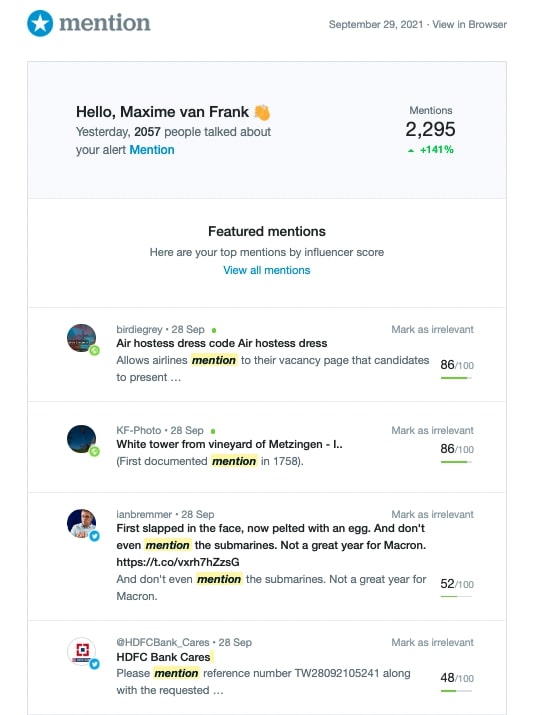 Why use Top Mentions?
These notifications are a great way to view the most influential posts that your alerts are fetching during a given time period. You can even schedule them to arrive just in time before your team asks "how are we doing on social?
2. Instant Mentions
If you're thinking about getting Mention's Company plan, a great way to stay on top of new content in your Mention Feed is through Instant Mentions. Instant Mentions are email notifications that will be sent to you for every new mention that appears in one of your alerts. You'll be able to receive up to 20 Instant Mentions for each alert you set up, and this quota will reset every month.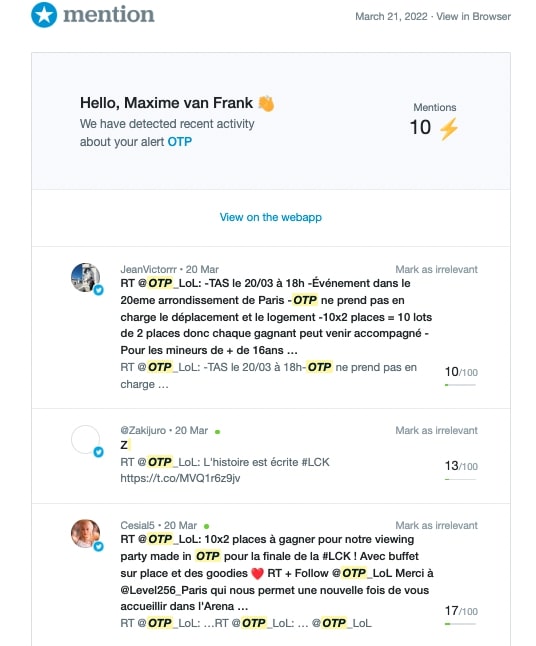 Why is Instant Mentions a great option for larger teams?
Instant Mentions is sent via email for every new mention that's curated, meaning if your company likes a 'paper trail' of brand mentions as they happen, then this is for you!
If your job requires you to be constantly on email versus Slack, then this notification option is for you!
3. Spike Notifications
Mention Spike, helps you be proactive instead of reactive when it comes to your reputation management strategy. When a topic you're monitoring is getting more mentions than usual, we'll send you a notification – a spike.
If you don't have time to keep checking your dashboard, spikes are an easy way to keep up with important activity around your brand. You'll get a short message (email) as soon as buzz starts building.
We'll tell you when the big stuff happens, as soon as it happens – so you can react.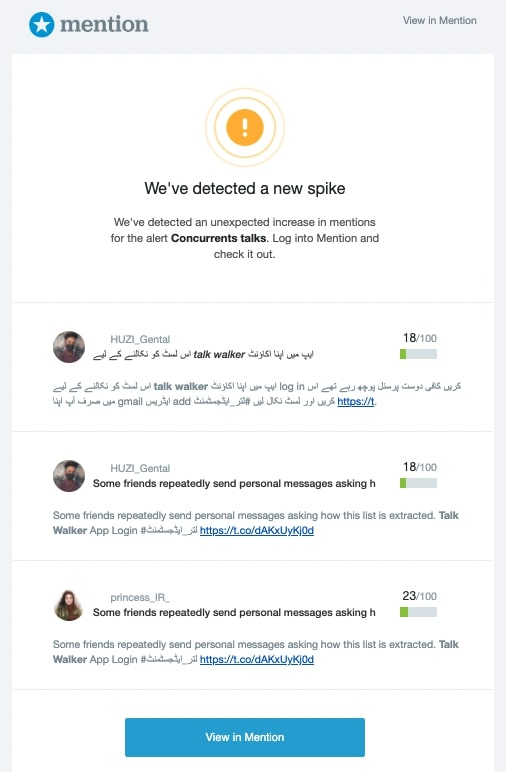 Spike prevents that from happening, so you're ready for:
Reputation Control – Find out about a crisis immediately, so you can put the fire out.
Campaign engagement – Let's say your new campaign receives major attention. Join the conversation on social media.
4. Real-time Notifications via Slack
This integration can both send all your new mentions into Slack so you don't need to check your dashboard as often. Mention's Slack Integration is an option for those who simply don't have time to flip between tools. If you're an avid Slack user, you can centralize all your communication here, including real-time mention notifications in any Slack channel.
Mention is a flexible tool, to ensure you're updated about your audience in a way that works for you or your team.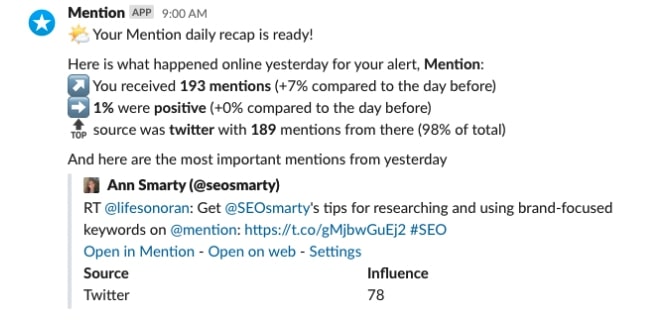 With our Slack integration, you can:
Customize and filter the notifications so that, for example, you're only getting Slack messages for mentions from influential websites and users.
If you need to stay close to a specific Alert, create a social feed of mentions with your team in a public or private Slack channel
So there you have it, if you're considering getting a social listening tool but are concerned about time to use it. Fret not, Mention has a ton of different ways to keep you and your team engaged with your brand's reputation. Our notification options ensure you're in the know of your most important mentions, on your own time, as they happen.