Instagram is one of the top-performing social media platforms with over 1 billion users worldwide.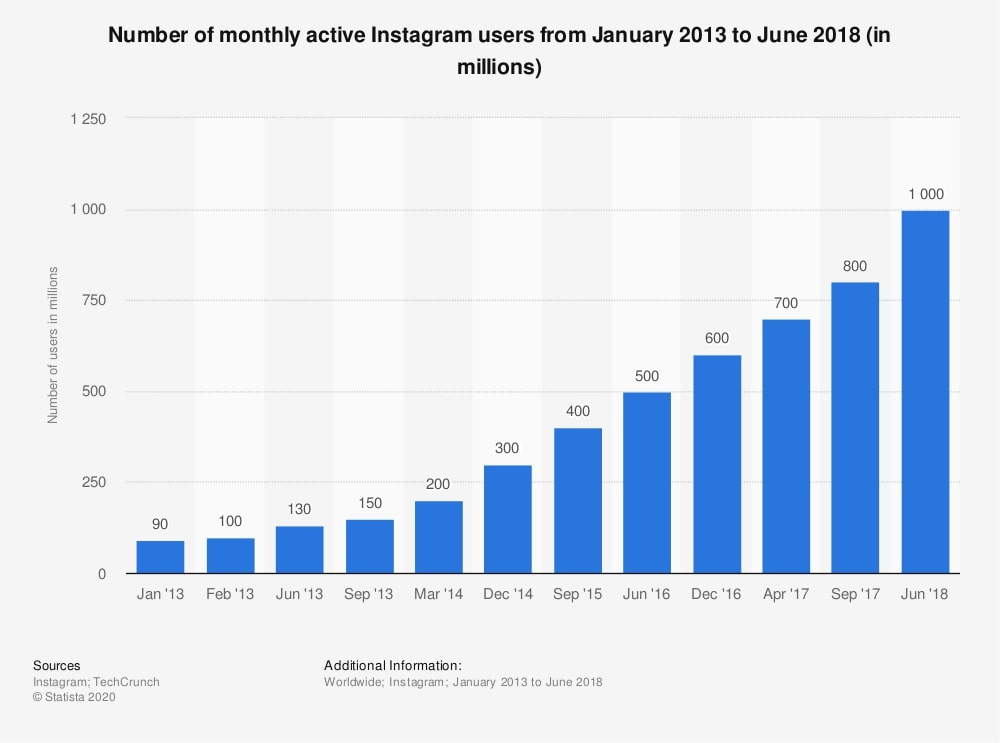 When it comes to comparing engagements, Instagram beats all the other social media giants out there.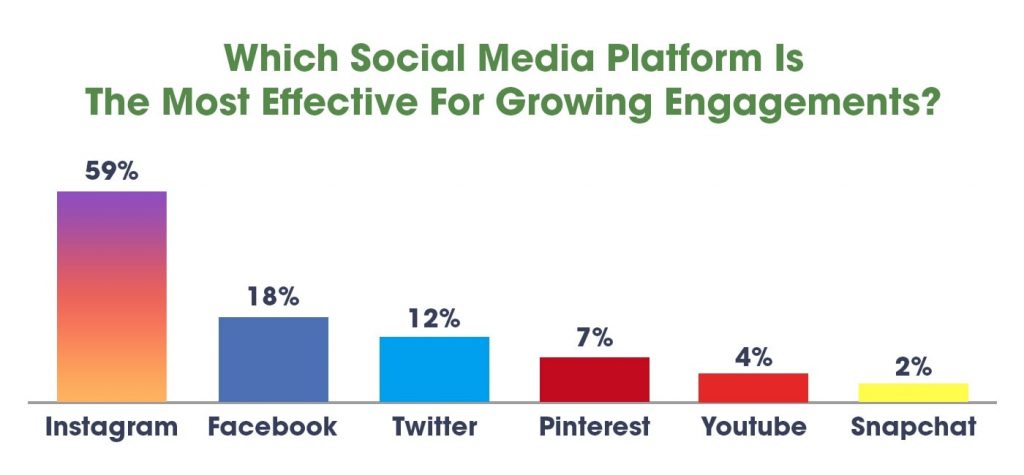 Therefore, if you are not on Instagram nowadays, you are surely missing out on something big with your business. By adding the occasional contest, you can seriously step up your Instagram game.
But before we dive into how to run a successful Instagram contest, let's understand the 'why' first.
Why you need Instagram contest anyway
In the era of social media, all the businesses are thriving with all sorts of content, whether it's blog posts, infographics, podcasts, or videos- they are growing with lightning speed.
But what if you have just launched out your first online venture? Or maybe your existing business is having trouble competing with bigger brands. You need something that will help you stand out.
In other words, in business, you have different goals, from increasing brand awareness to driving sales, and you have to jump through the hoops while making every aspect of your business right.
An Instagram contest spurs precisely those opportunities.
If engagement is one of your marketing KPIs – an Instagram contest gets almost 64x more comments and 3.5x more likes than an average post.
Or if you want to attract new customers – 34% of new customers can be acquired through contests alone.
Need a boost in conversion rate? Contests have a staggering conversion rate (34%), which is way higher than other types of content.
Besides, those who are eager to participate in your contest are ready to give their personal information (such as their likes, dislikes, or email addresses) in exchange to get something back.
That simply means you're designing a new way to know more about your potential customers and get to serve those better down the road. Ultimately, it will encourage your consumers to stay with your business for years.
Instagram rules
Before you set up a contest, remember that Instagram or any other social media platform has been built to connect people around the globe. At the same time, they also have a responsibility to protect our privacy.
They have their own rules to protect their audience, and contests are no different. Therefore, you'll want to take into account some precautions listed below before launching your contests.
Remove Unnecessary Tagging
You'll want to reach as large of an audience as possible so you might want to tag them with your contests or let them tag their friends, family members with your brand.
But it could go against Instagram guidelines and force you to abandon your campaign or a worse scenario, your account will permanently be banned.
It's a nice-to-have: if those folks tag their friends commenting on your contests, but you can not force them to tag by their names while sharing them with their own posts(unless those are directly included in it) or unless they are sharing those photos using your products or services.
Exclude Instagram Itself (even their support)
You can run as many contests as you want and use their platform to create massive engagement or even do business with your audience. But you are not allowed to include Instagram to brand yourself by any means.
Their guideline strictly preaches that and more they are not responsible for anything that might occur with your contests, even for the administration of any promotion. Whatever you do, you do it at your own risk.
You should also mention that all the contests that you run on their platform are not sponsored, endorsed, or associated with Instagram.
Now that you're aware of all the precautions you should take, let's look at some examples that inspire you to make your own.
3 killer examples of running a successful Instagram contest
1. Simon & Schuster
It's a publishing brand that wanted to increase their brand awareness as their primary goal, as well as followers as their secondary.
They started this campaign by asking an excellent question: "How do you make trouble?" and let their fans comment on their trouble-making antics and win their prizes.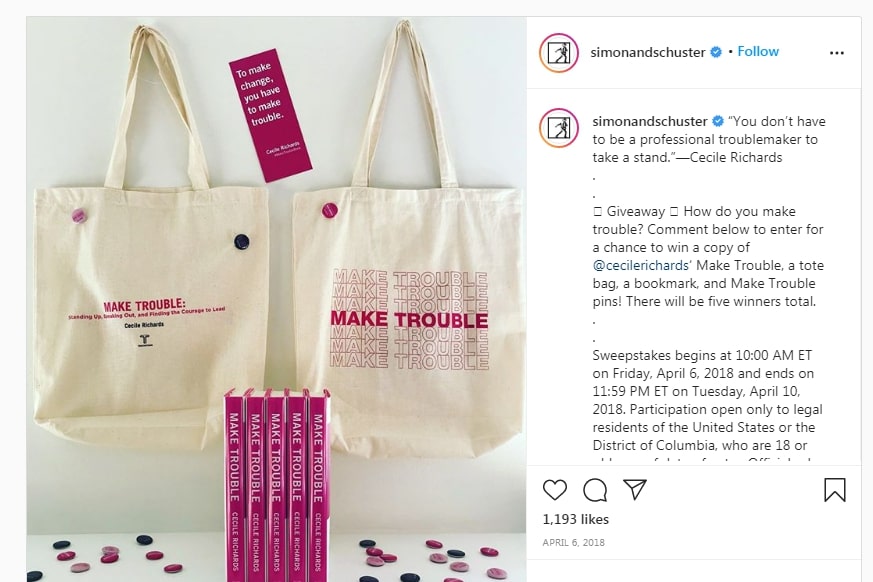 They moved on with an outstanding proposal – a bundle of 4 products (a Make Trouble Copy by Cecile Richards, a tote bag, a bookmark, and Make Trouble Pins )as their giveaway gift.
And also offered the opportunity to not only one winner but made their offer to five random people to win instead.
It's a killer approach from a conventional brand showing creativity through contests.
2. Hydra Flask
It's a water bottle brand that wanted to host a contest as a celebration of reaching the milestone of 200k followers on Instagram.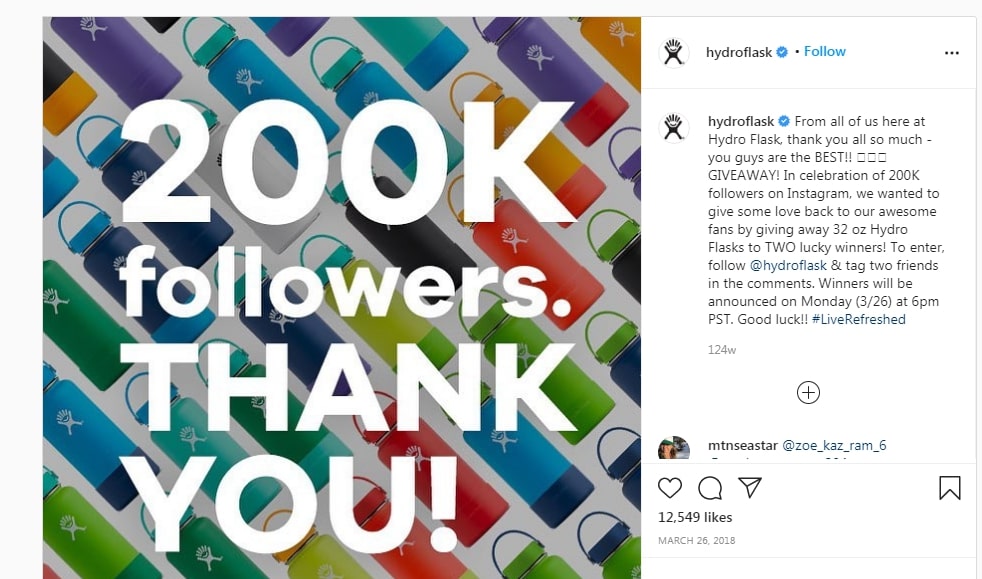 The goal was to extend that follower size a little more.
The plan was simple – follow Hydra Flask and tag two friends in the comments by getting those people a chance to win a 32-oz.
That one contest got more than 12K likes within a couple of days, as you can imagine, the engagement was way higher.
3. Dominos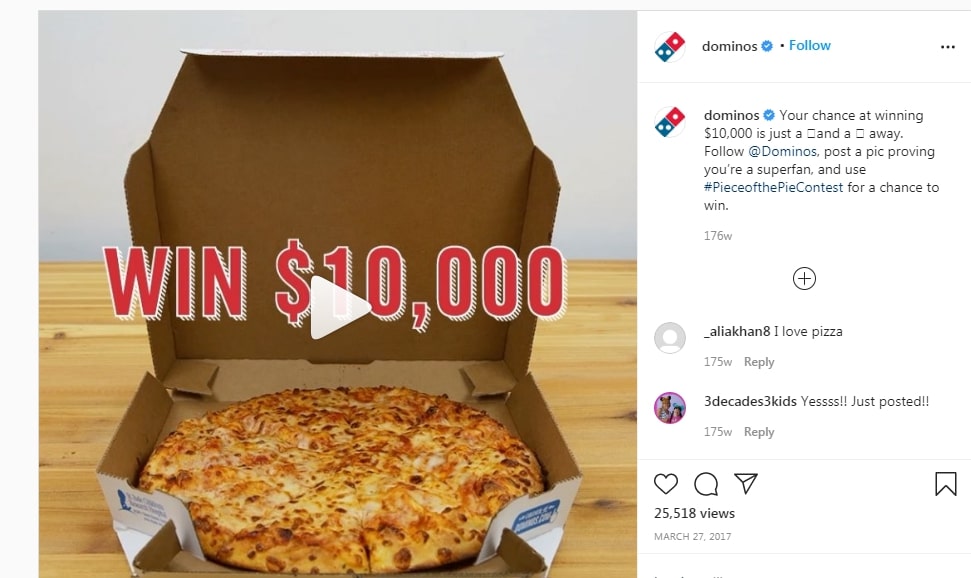 This fast-food brand wanted to know how much love their audience has to its brand and how well they respond to them. They need to encourage people whether they are just a fan or a superfan.
Their decision made me amazed while inspiring people to participate in a photo contest to win a whopping prize of 10000 $.
It was a massive risk but significant enough to extend its brand value.
They simply asked their super fans to share a photo with Dominos in checking how those fans are enjoying their foods.
You can always experiment with expensive gifts, but it doesn't mean that you go all with 10k or 100k prizes. It means anything valuable to your audience can take your contest game to another level.
8 simple steps to run a successful Instagram contest
Now you have some ideas on how this whole Instagram contest works and it's time to know how you will make one for yourself.
Table of Contents:
Start with the end goal
Focus on the types of contests you will go after
Give your contest design and copy more value
Choose a killer prize
Choose multiple winners or prizes
Set a deadline
Prizes distribution
Boost Your Campaign Reach with Promotional Strategy
1. Start with the end goal
Every campaign that you start should have goals, goals that lead to results.
Here are some of the most common Instagram contest goals:
Direct traffic to product or service pages
Increase brand awareness
Building an email list
Getting followers
Engage audience(likes, comments, shares)
Or even drive sales.
Select campaign goals that move the needle of your business and help grow your brand faster.
2. Focus on the types of contests you will go after
Once you have decided what you want to achieve with your campaign, you need to think about how you will generate ideas for your contests.
Here are some popular options that can save hours while searching for a new one.
User-generated contest
User-generated content is an excellent way to attract an audience without doing much from your end.
The concept is simple – let others help you to create content for you to maximize your reach.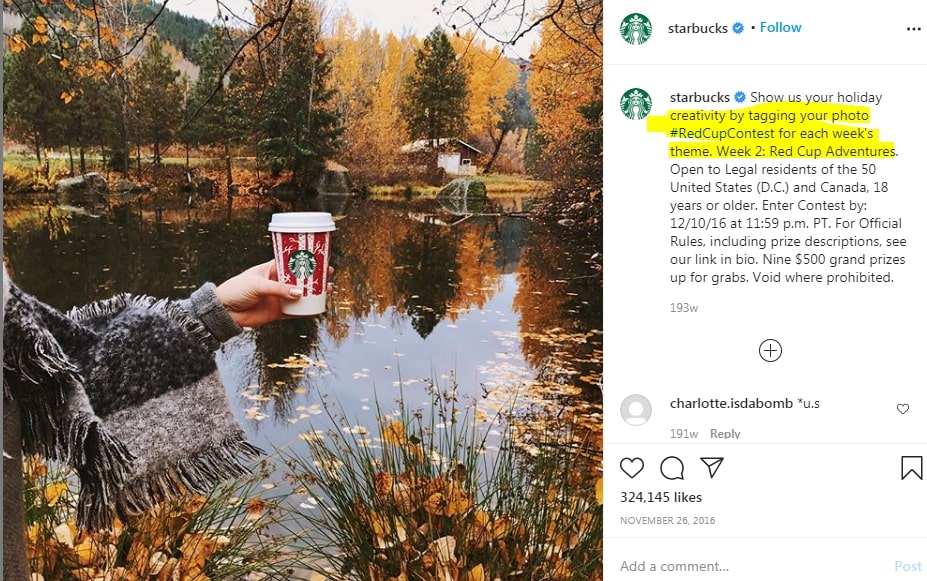 Once Starbucks did it with their 2nd week's theme(@redcupadventurs). They simply asked its audience to show some creativity by sharing a photo using their products.
The engagement was way higher than their expectation (as you can see the likes are over 300K).
Selfie contest
It's similar to the first one, but you post selfies instead of product photos.
Toppsforindia recently hosted a contest by encouraging its audience to take selfies with their pets.
Caption contest
In this unique contest, you upload a pic and let others create a caption for your pic and then you choose a winner by your judgment or based on most likes.
Here is an example: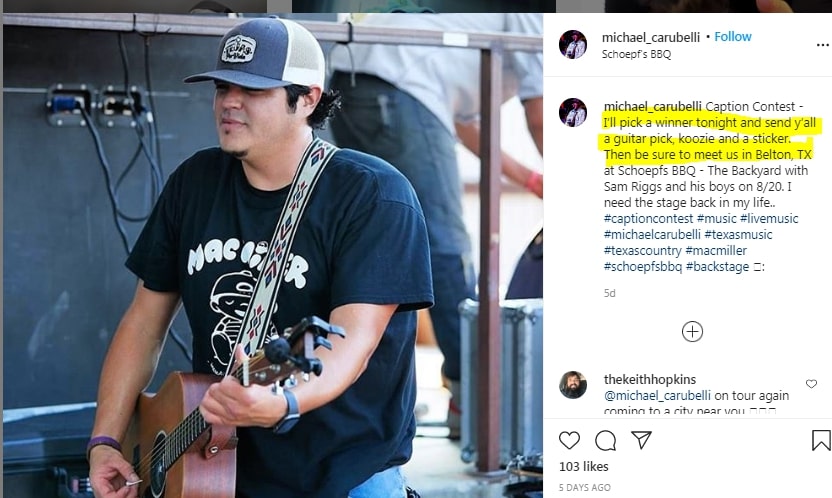 Like, follow and share or tag to win
It's one of the easiest ways to take your contest to another level.
You simply ask your audience to like, follow, share or even tag your brand with their Instagram accounts.
The more they do it, the better reach your contest gets in a short span of time.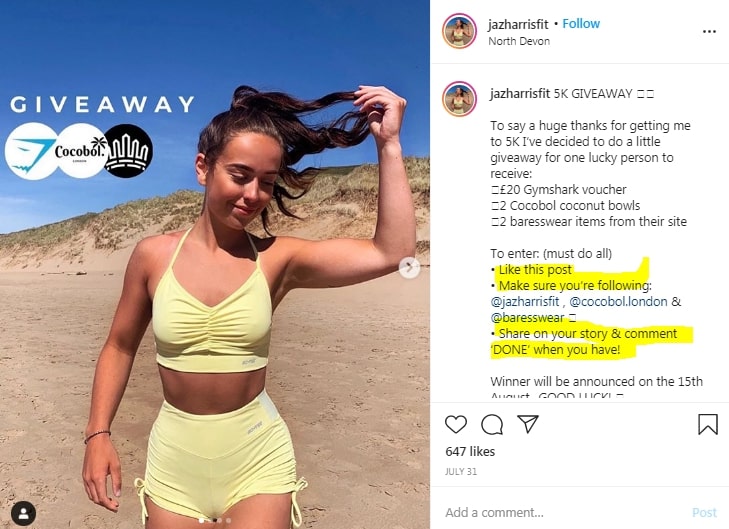 Jazzharrisfit has described everything precisely as the triumph of reaching 5k followers on her account.
Instagram success story contest
For a first-time contest creator this may not be the right choice, but it's another creative contest idea that you might look on when you have some existing success stories from customers and ask those folks to participate in the contest.
The best part, it spreads your brand's value to peers that are not even your customers just because they know your business is helping someone else.
For instance, diapereez implemented this killer one with its audience.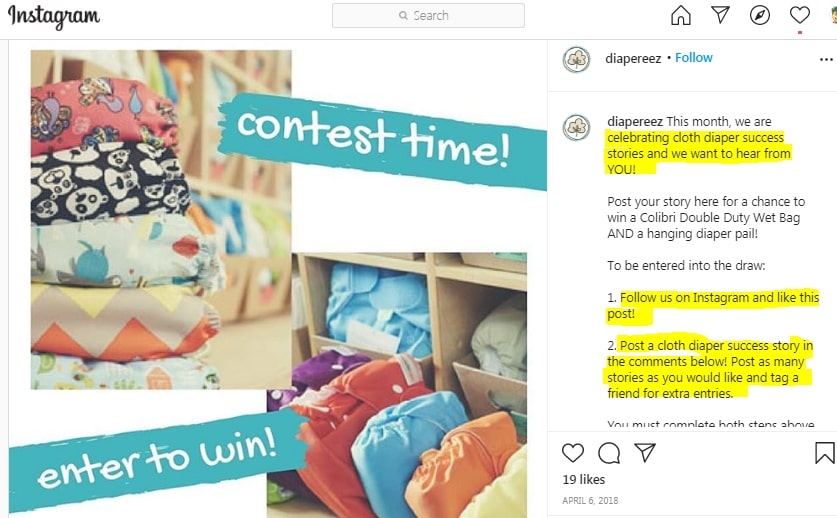 3. Give your contest design and copy more value
Design and copy are the first stepping stone in making your entrants believe why they should be the part of your contest anyway.
If you lose your balance to make this one right, it's barely possible to encourage those folks to go with you further.
Your design doesn't have to be great or so creative, but anything that showcases what you are trying to convince can have a significant impact while spreading your reach.
Moreover, a good copy will lure people into taking action that you want them to take.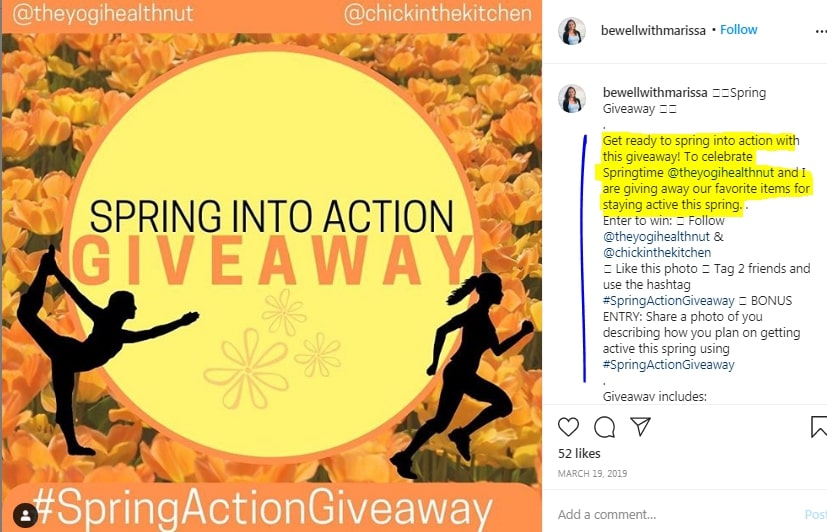 Marissa started her contest with an unusual approach by announcing "spring into action giveaway" and letting her audience know what she meant!
The copy clearly describes that she wanted to celebrate the whole spring being active.
And as a celebration, this giveaway comes with a combination of three gifts: a yoga mat, a foam -roller, a protein bar.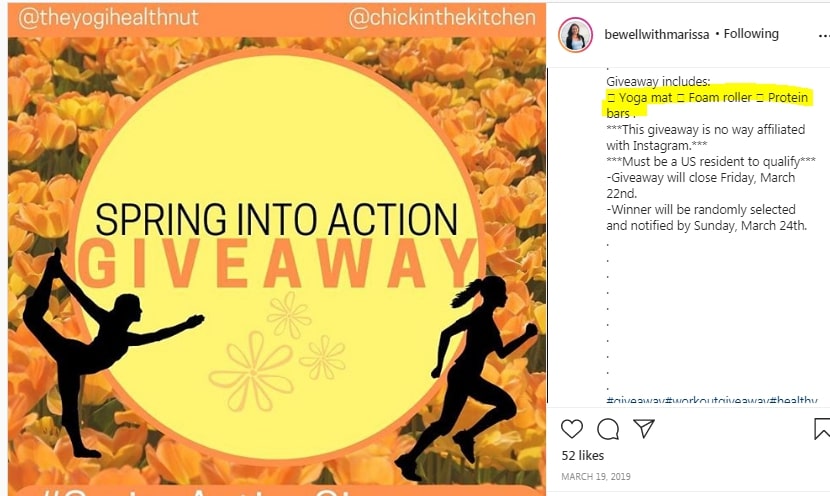 It taps into direct emotion as well as tempting people to multiple prizes instead of some simple tasks such as liking the photo, tagging two people, or even using their branded hashtags.
That simply means those who are ready to enjoy spring being active ones are going to participate in it with grace.
4. Choose a killer prize
Figuring out what prize to give is one of the major concerns that most brands have.
Unfortunately,those brands make some massive mistakes while deciding on prizes and have some sort of thought that giving an i-phone or i-pad is the only option to attract quality entrants or followers to their contests.
In reality, it's way different.
It's ok to give an iphone, but giving those unnecessary items most often will lead to fake followers and possibly attract those who don't want to engage with you down the road.
Here is an example of a well-crafted contest from xercise4less.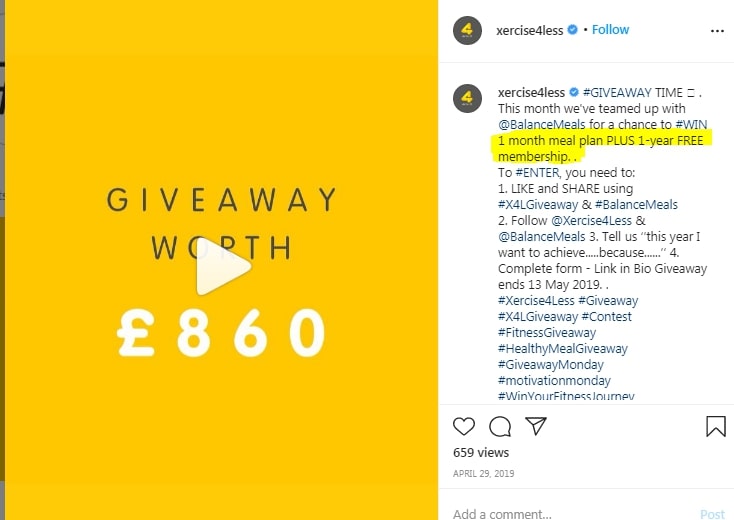 This fitness brand clearly stated about both of their prizes in a concise manner (1-month meal plan and 1-year free membership, which is worth £ 860).
It's laser targeted to health-focused people and will have the ability to increase the quality of their entrants or even followers.
5. Choose multiple winners or prizes
It's vital to think about quality. You should be thinking about quantity as well.
Let's think about it for a moment, if a contest only provided one prize for one winner, the chances are you will not be participating in it just because your chances of winning are slim to none.
At the same time, if you glimpse on a contest where the possibility of giving prizes is to multiple winners(let's say five winners), at least you would give it a try.
It's a psychological trigger that caters your mind into thinking that you can win something even if you don't win.
The same goes for your audience. Those folks will happily get into the contest.
You don't have to worry about spending thousands of dollars to host multiple prizes. Instead, 25 dollar products to three winners are more than enough to get more eyeballs to your contest.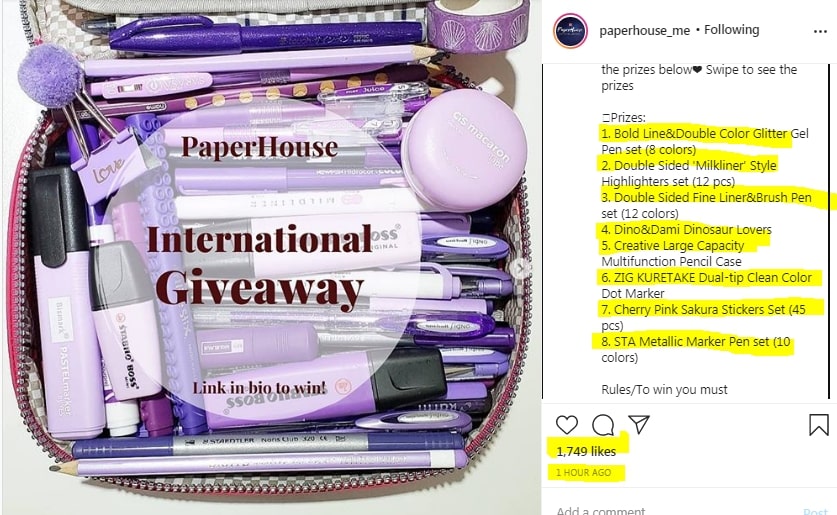 Paperhouse_me attempted to give eight prizes to eight winners. This resulted in 1749 likes within just an hour.
Try some variation of multiple prizes or winners, whether it's three, five, or even eight and explore what gives you a notable advantage.
6. Set a deadline
There are many things that you can do to determine how long your contest will last.
Of course, it depends on your contest types and how you promote them.
If you are worried about your follower's growth, you might go for a longer timeframe. Yet, if you are using your contest to celebrate something good or your recent achievement (for example, in Christmas, Halloween, or a new product launch), then a few days could be sufficient.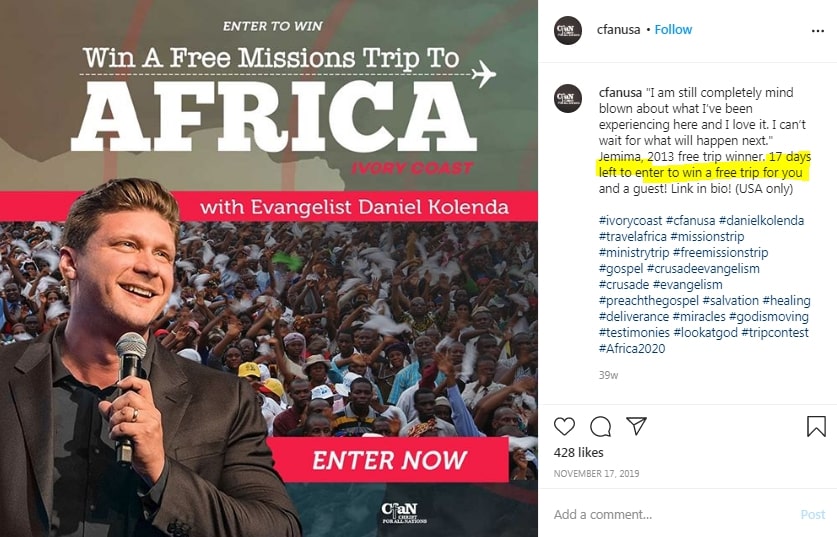 Cfanusa confirmed how many days (17 days) are still left to enter in their contest. It was also encouraged to take place in the USA only.
Make your deadline according to your needs and preference. Whatever you do, make it clear for your audience so that they can participate with minimum friction.
7. Prizes distribution
If you plan to provide your prizes in any specific country like the USA or the other parts of the world, you can mention that in the description as well.
Whether you pay for shipping or they have to bear the shipping cost of those winning products, make sure that has also been clarified.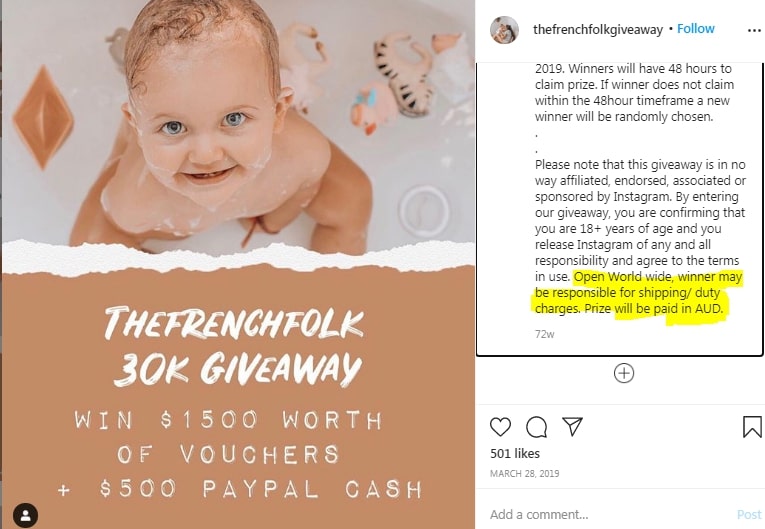 Here is a detail from The french folk mentioning who will be responsible for shipping even with currency clarification.
8. Boost Your Campaign Reach with Promotional Strategy
Last but not least, your campaign can go beyond your imagination when you have a killer promotional strategy.
It's the surefire way to boost your reach to a bigger audience.
You can consider getting 3-5 micro-influencers to promote your campaign, or trying to boost the contest with Instagram ads.
Of course, it's happening on Instagram but you should not only promote that campaign on this channel alone, share it to your own Facebook, Twitter, Pinterest, Linkedin with best practices.
Perhaps you have some blog readers or few email subscribers, so reach out to them while asking their help to promote those in their social media channels as long as they are your loyal fans.
Over to you
It can be overwhelming to launch an Instagram contest if you are a first-time contest creator, but the more you do them, you will be better at it.
Try out these tips to create your next contest and let us know how they worked out for you!