Entrepreneur Gary Vaynerchuk notably said, "It took thirty-eight years before 50 million people gained access to radios. It took television thirteen years to earn an audience that size. It took Instagram a year and a half."
As you can imagine, a platform this powerful is a highly effective marketing tool. Businesses in all kinds of industries, from small artisanal bakeries to restaurants, tech startups to giant corporations and global brands, are all using Instagram to let people know about their business and service offerings.
This wildly popular visual social network is helping many brands to achieve massive gains, but not all of them are success stories.
Many companies are straggling behind and not seeing much worth in the platform, while others make unnecessary mistakes with their Instagram advertising. This could end up costing them more than just losses in money spent on advertising; it can also harm their brand reputation and cause revenue losses.
Instagram is here to stay
This popular visual platform is becoming more and more important in the digital marketing realm, and it pays businesses to use it, but only if they do it correctly. It's pretty easy to avoid the five most common mistakes made in Instagram advertising.
Let's take a closer look at how these mistakes are made and how you can avoid making them.
Table of Contents:
#1. Not defining a strategy with a clear set of goals
No matter how powerful your campaign is, if you don't have a goal, you're just floating around aimlessly – you are up a creek without a paddle! There's no way of knowing whether your advertising is successful or not. Before you begin casually posting whatever pops into your mind without any clear plan, figure out what your main goal is. Then you can create a plan.
Ask yourself what's more important, growing your follower base or boosting brand awareness? Are you trying to drive sales, or is your Instagram page merely a landing page for your website?
Knowing your main goal is the key to an effective strategy. Without this, your efforts can't have a meaningful impact. Every goal has a different path to reach it. Once you've figured out what you want to achieve, you can begin to map a clear way to it. Part of a good plan is deciding what type of ads you want to use, for example:
Feed ads – Your feed allows you to show content to your audience between posts by other people and companies they follow. Feed ads are super effective because it's so natural; it makes it easier for you to persuade people to engage and click through.
To place a feed ad, it has to be a .jpg or .png of a maximum of 30MB if it's an image or 4GB if it's a video. Videos have to be square or vertical and can last up to a minute. You can have up to 30 hashtags and a maximum of 10 carousel cards.
Here is an example of a feed ad: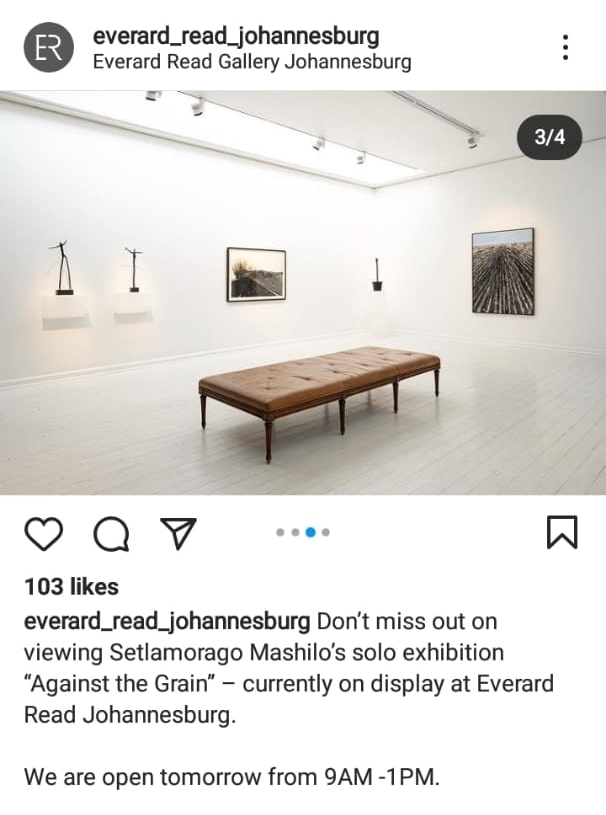 Stories ads – These ads are less intrusive and only appear at the top of your feed. Stories ads are highly effective at driving clicks to your Instagram page or even a landing page on your website.

To place a stories ad, make sure your layout is vertical with images 1080×1920 in size. Each photo will be visible for five seconds. Use a maximum of ten carousel cards; and each carousel video will last 15 seconds, while a prompted carousel video lasts 60 seconds to 120 seconds.
Here is where your stories ads appear on somebody's Instagram:

Existing posts as ads – If your organic posts are doing well, boost them! It will make them appear in your target audience's newsfeed without looking too much out of place. It's the simplest way to create brand awareness on Instagram.
An example of a boosted ad: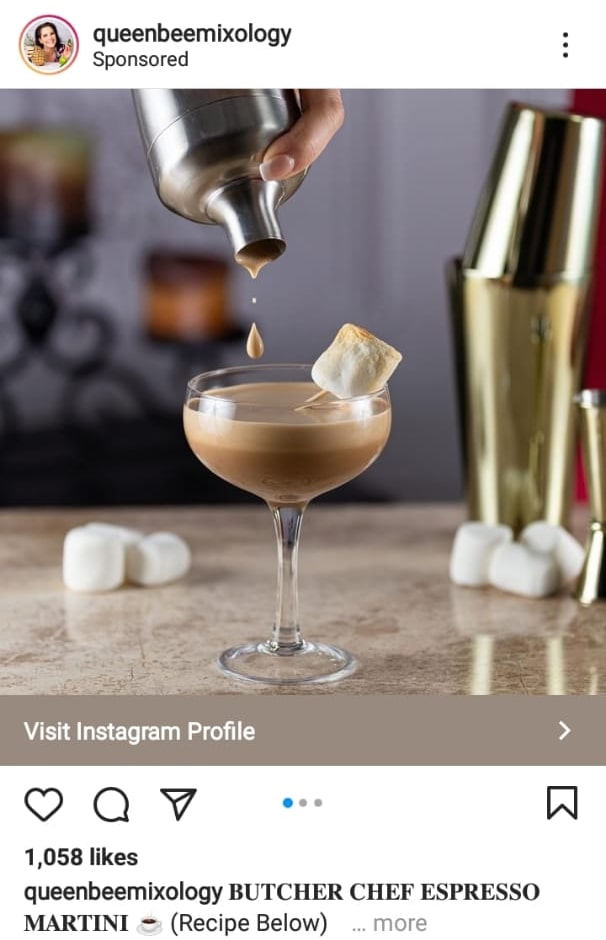 #2. Posting controversial content
Whatever you do, avoid posting anything that could be controversial or anything that's just fluff, for example:
Don't be too 'salesy'; it's not all about a quick buck. You want to engage with your audience and make them feel so at home that they want to keep coming back to your page.
Nobody wants to see photos of your breakfast every day. Unless every person in your audience is a foodie, they don't care! Although making your page personal is part of cultivating engagement, that's not all it's about.
Don't post irrelevant content for the sake of engagement. Stay brand-centric and keep your posts within context. If you are posting something to boost attention, make sure it ties back to your brand's purpose.
Avoid controversial content about politics, religion, and other social hot topics.
Don't post anything that your audience may construe as racist, misogynistic, homophobic, transphobic, or fascist in any way.
H&M clothing had to pull an ad and make a public apology for posting it because of racist connotations. It caused an Instagram storm and massive damage to the brand's name, including boycotts.
Although some followers say the ad was not racist, others did not agree. It's best not to risk posting anything even potentially contentious.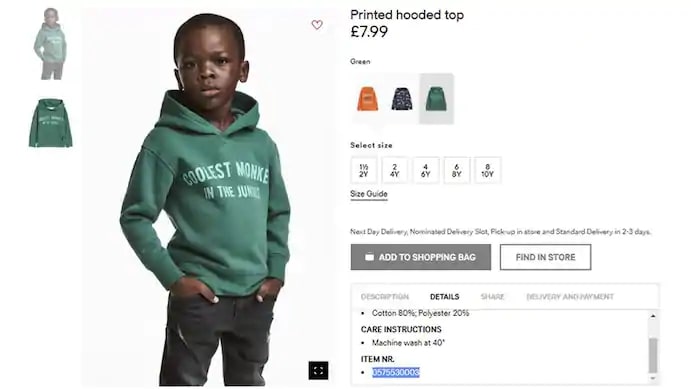 A little positivity goes a long way. Posting ten quotes by Deepak Chopra or Rumi every day is probably too much. Moderation and balance are key!
Don't keep repeating content. Keep it fresh and interesting—alternate posts between ads, valuable information, sales, new product announcements, etc. Make sure to add posts that are just fun and nothing else.
#3. Targeting the wrong audience
Even famous brands make this mistake. So many ad agencies get so stuck on creating mind-blowing ads that they completely miss the target market or customer segmentation. If you target the wrong people, your work is worthless, and you're wasting time and money.
To avoid this, get familiar with how Instagram's targeting system works and adapt your strategy accordingly. If you do this effectively, you will reach an audience with the right demographics, interests, age, location, and preferences.
On Instagram, there are two options you can use:
Custom audiences – This allows you to target specific groups that you've interacted with in the past. If you target people who have already shown interest in what you offer, it is more likely to drive sales.
Lookalike audiences – This is created based on your existing audience. It allows you to target people with similar features and interests to people already engaged with your brand.
Bonus tip: If you haven't already done it, switch to a business account. With an Instagram business account, you can amplify every bit of content by customizing your audience targeting. You can add Call-to-Action buttons, making it easier for your visitors to make a reservation, book an appointment, or get in touch with customer service.
A business account will also give you:
A label under your name showing what your business does.
The ability to promote posts as ads without using Facebook's ad tools.
Improved access to influencers and influencer networks like Carro. Read this article to learn more about how to choose the right influencer for your campaign.
Shoppable posts, so you can sync your store with Instagram.
Access to Instagram Insights for metrics like best times to post and a detailed look into your followers' demographics, making it easier to understand them.
This is what Instagram Insights looks like: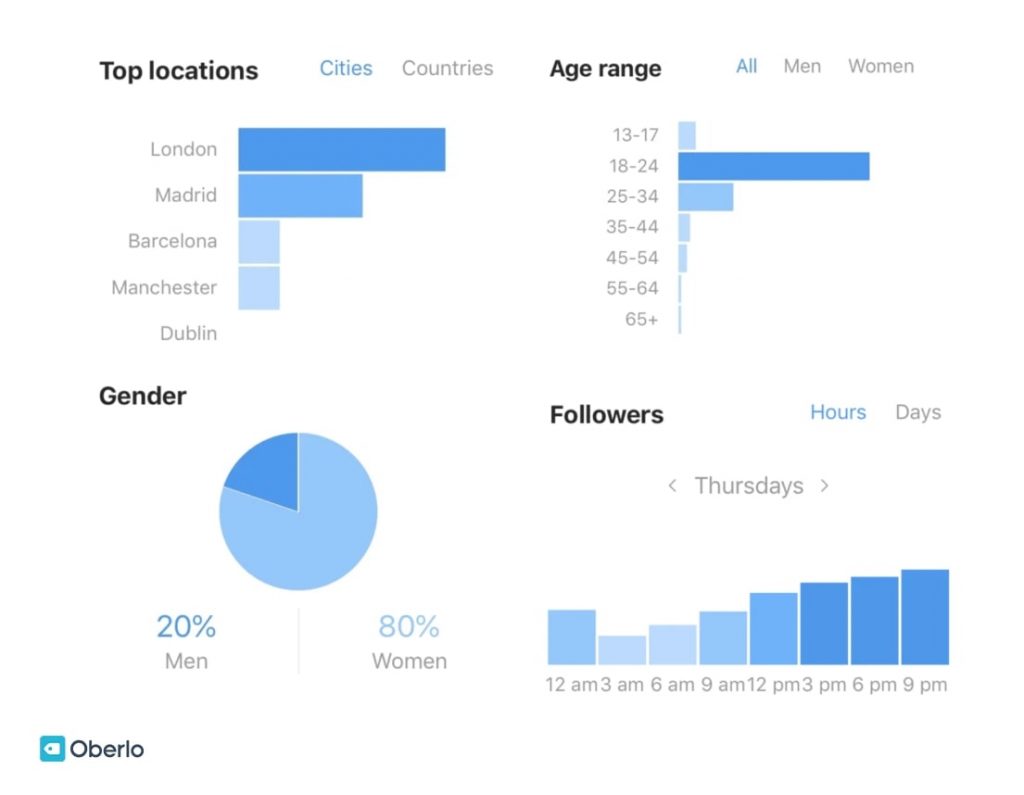 #4. Not paying enough attention to visuals
Instagram is simple. It's easy to gain an audience and begin to engage with them by sharing interesting and engaging posts. It all happens through visual content, so you must use high-quality photos, graphics, and videos. Home videos are charming, but you don't want your audience to think you're so strapped for cash that you can't afford a decent smartphone to take good photos and videos with.
The trick is to engage your audience and raise their interest. You want to keep them on your profile for as long as possible. Research shows that people love visuals! If you see a puppy or a baby, don't you go, "Awwww!?" Conversely, if you're on your lunch break and you're ready to eat, seeing a picture of a freshly baked pizza smothered in gooey cheese could make you drool. Our brains are just wired that way.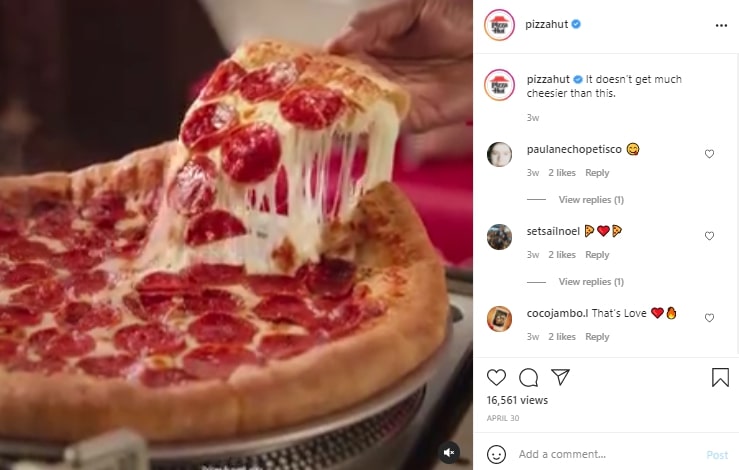 Bad, lackluster visuals can discredit your brand, negatively affecting your audience base and brand awareness. These days, you not only have to produce high-quality images, but every visual also has to tell a story that promotes engagement. Ultimately, your objective is to persuade your audience to want to interact with your brand. You're still thinking of that pizza, aren't you?
To avoid bad images and videos, you need more than just a good smartphone. Make sure you use all the tricks in the book to make your visual content stand out, for example:
Take high-quality photos using natural light, interesting angles, and enough contrast.
Use good editing tools. You could use one of the free tools available in a pinch, like this free photo editor from Inpixio.
Create a style, and stick to it. Consistency is super important.
Keep it simple; make sure the message your image is giving is easy to understand.
Make your brand unique. Stand out in the crowd, and don't repeat what everyone else is doing. Or worse, repeat your own ads, like the Instagram ads below. This company used the same image with minor changes in consecutive ads.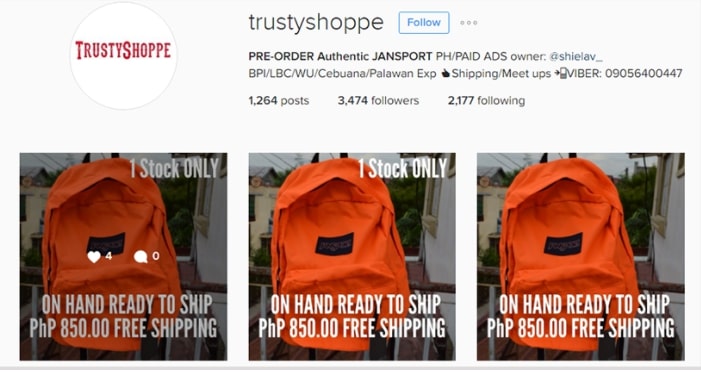 Unless you can make repetition work the way Toy Shades does:
#5. Confusing your audience
Even when you have beautiful ads and great visuals, it's lost if your audience doesn't understand your message. No matter how clever your ads are or how scrumptious that photo of the pizza is, if your posts don't tell your audience what you offer and what your brand is about in a simple, understandable way, they're bad posts.
To avoid this, ensure that every message you're trying to convey is clear and to the point. Look at every post and ask yourself whether it would make someone see it want to take action, such as buy something, sign up for a newsletter, tell someone else about it, or explore your website.
This ad by Burger King was called out for being confusing. Does it make sense to you?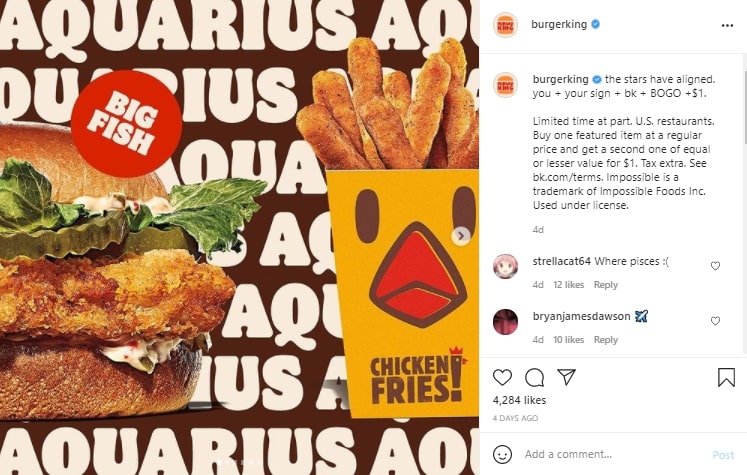 You can be smart without being too vague, for example, this ad by Casper: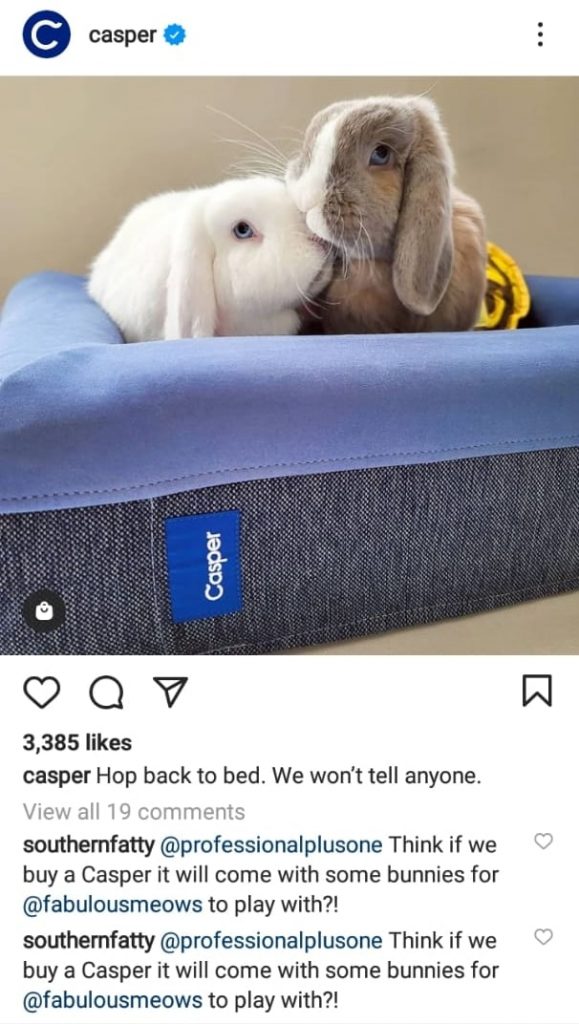 Ready, set go!
So, you have established your goals and mapped out your path to achieving them. You have a smart plan containing fresh, engaging, and exciting content you're sure your audience will love! You're also pretty sure you'll achieve some good short-term results.
For example, you're running a special on a garden tool, and your posts leading up to it are tips and tricks to plant marigolds, how much to water your garden, and maybe something about birdlife. These posts created engagement, and your audience is ready to buy that tool. You get a bunch of sales as soon as you make the special available. Is that enough?
Getting results relatively quickly is great, but they're temporary. It would be best if you kept the bigger picture in mind.
Be in it for the long haul
Make sure you consider long-term development with each step of your plan. Every bit of content should be geared to give new people something valuable while also being interesting enough to bring your existing audience back to your page time and time again. Think about what will build long-term engagement with your audience. Every single post has to be of value.
Besides avoiding the common mistakes people make with Instagram advertising, it's also essential to stay consistent and make sure your plan is long-term.
The main thing is to plan before you post. Think everything through and make sure that every step you take will contribute to you achieving your advertising goals while showing your brand off in the best possible light. That way, you'll create compelling content and set yourself up for long-term success.