Let's be honest. Social media is already a part of our everyday lives.
People's social media consumption has been growing and growing, and it doesn't seem to be stopping any time soon. And as consumption increases, the demand for variety in content grows as well. Instagram addresses this increasing demand with IGTV.
Table of Contents:
What is IGTV?
Instagram TV or more popularly known as IGTV, is Instagram's long-form video platform. You can see it as something similar to Youtube. With IGTV, you can share mobile-optimized video content up to 60 minutes long. That's a far cry from the 60 seconds of video you can share on a classic Instagram post.
With the limitation of the short-form video gone, you now have a better opportunity to tell more engaging and compelling stories through video. You can create different types of content like feature films, study resources, e-learning courses and many more.
So to answer the question 'What is IGTV?': it is an Instagram-powered platform to ramp up your video marketing strategy.
Why Use IGTV?
Video usually outperforms other types of content on any social media platform, even on Instagram. The latest findings from Mention & Hubspot's 2021 Instagram Engagement Report revealed that for the third year running, video is the content format that IG users are most likely to engage with. It has become a powerful medium for brands and marketers to engage with potential and existing customers.
With IGTV, you can boost your Instagram marketing strategy and promote your business more effectively. You can now create more compelling videos since IGTV lets you upload videos as short as 15 seconds and as long as 10 minutes. If you have an Instagram verified account, you can even upload videos for as long as an hour.
How to Use IGTV
Now that you know what IGTV is, the next question is, how do you use it?
To start using IGTV, you need to have an Instagram account. From there, you can create your own IGTV channel, which I'll tell you more about later on.
Once you have your Instagram account, you can log in to IGTV. You can browse and watch the videos of your favorite content creators and influencers or search for videos that pique your interest. But there's more to IGTV than just browsing and watching videos.
You can also upload your own videos to IGTV using the Instagram app or the IGTV app. You can add a preview of your IGTV video in an Instagram story or Instagram post. You can also share your Instagram story live broadcasts to IGTV. I'll share more details on how to upload videos and the video requirements in the following parts.
How to Create Your IGTV Channel
In the past, IGTV required you to have an IGTV channel before you could upload videos onto IGTV. But Instagram already removed this feature, and all you need now to have an IGTV account is to have an Instagram account. Your account lets you upload videos on IGTV either via the Instagram app or the IGTV app.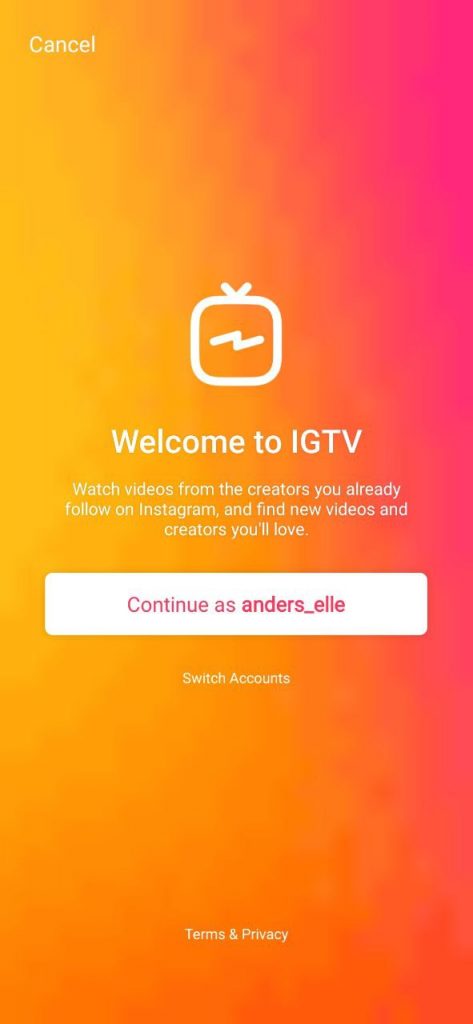 If you're planning to start using IGTV, all you need is an Instagram account. If you don't have one, creating one is super easy.
What are IGTV's Requirements?
Before uploading your first IGTV video, it would be wise to know the important rules and specifications so that everything goes smoothly.
Here are some of the requirements you must keep in mind:
Video Length: Videos should be between 15 seconds and 10 minutes long. However, verified accounts can upload long-form videos up to 60 minutes long, and you must upload them from a computer.
Video File Type: Video file format should be MP4.
Aspect Ratio/Video Dimensions: Videos should be vertical. The minimum aspect ratio is 4:5, and the maximum is 9:16. You can watch landscape videos on full screen on the app only by flipping your phone.
Video Size: For the video size, the maximum file size for videos 10 minutes or less is 650MB. For videos up to 60 minutes, the maximum is 5.4GB.
Video Content: Instagram aims to maintain a quality experience for all users. To keep this, Instagram can remove videos that don't meet Instagram's Community Guidelines.
How to Upload Your IGTV Videos
Uploading videos to IGTV is super easy. You have two options to do it: via desktop or from your mobile device.
Let me share with you how to do it.
Uploading from Desktop
To upload from a desktop, on your browser, go to instagram.com.

Once you're on Instagram, head to your profile. Look for the IGTV tab found below your profile details.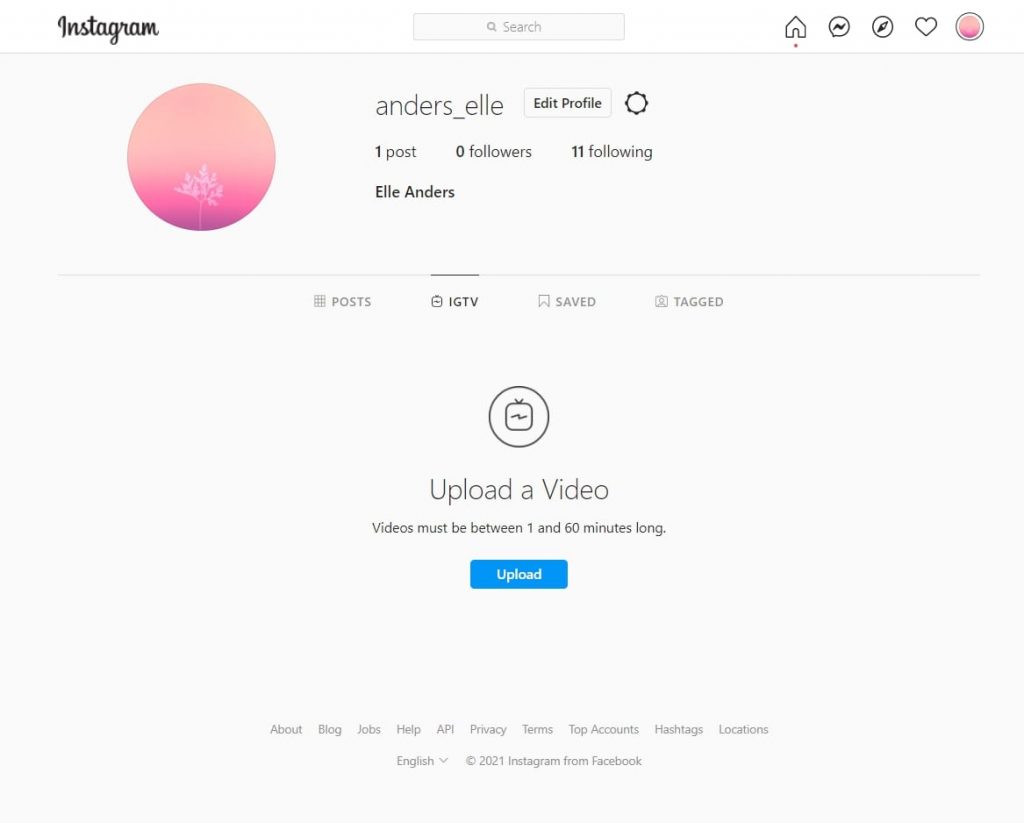 When you're on the IGTV tab, look for the 'Upload' button and click it. On the next screen, you will be able to upload a video.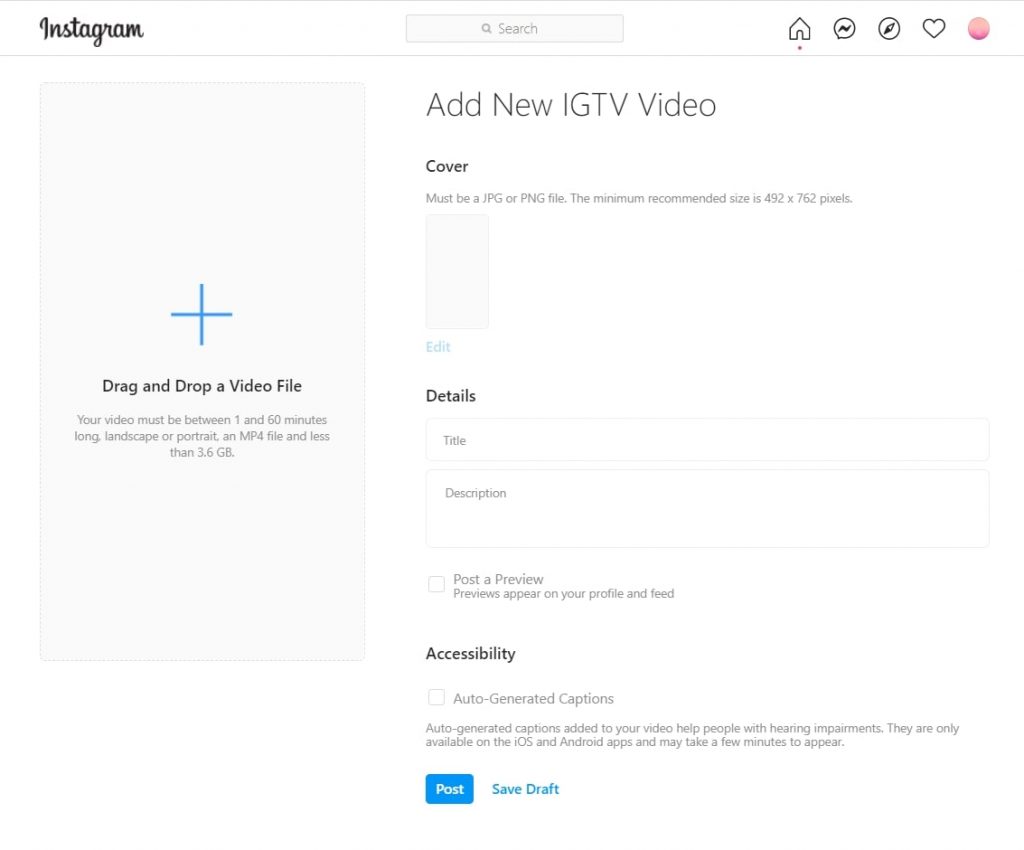 Select a video to upload. Once you have picked a video, it will automatically generate a cover for you, or if you want, you can upload your own vertical cover photo. Write the title and description of your video.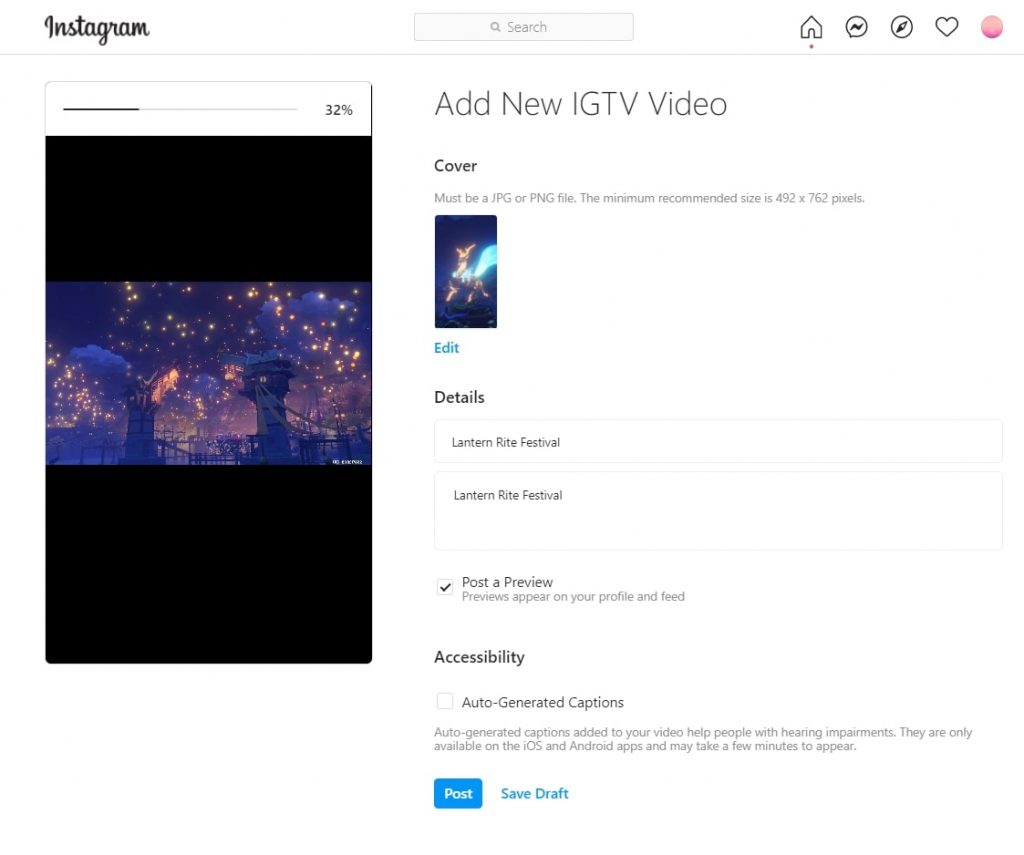 When you're ready with your new video details, all that's left is to click the 'Post' button and your video will be published in a few minutes, depending on your video size and internet upload speed. If you plan to post it for later, just click the 'Save Draft' and your video will be saved as a draft until you decide to publish it.
Uploading from Mobile Device
If you're on mobile, there are two ways you can upload your IGTV videos: using Instagram or using the standalone IGTV app.
To post IGTV videos using your Instagram app, first, you should go to your profile. Then click the ⊞ icon found on the top right corner.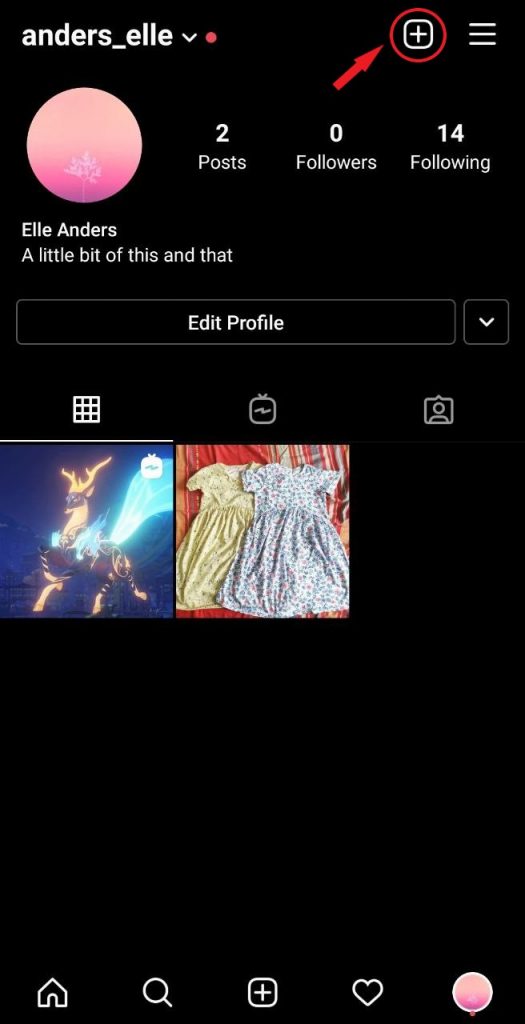 After clicking the button, in the menu, click IGTV Video. It will then ask you to select which video you want to upload.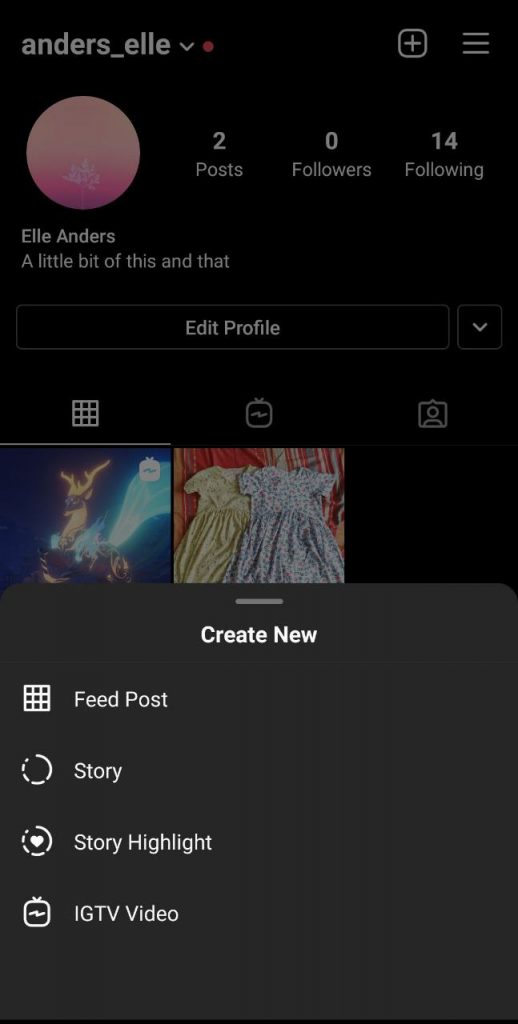 Once you've selected a video, just fill out the Title and the description.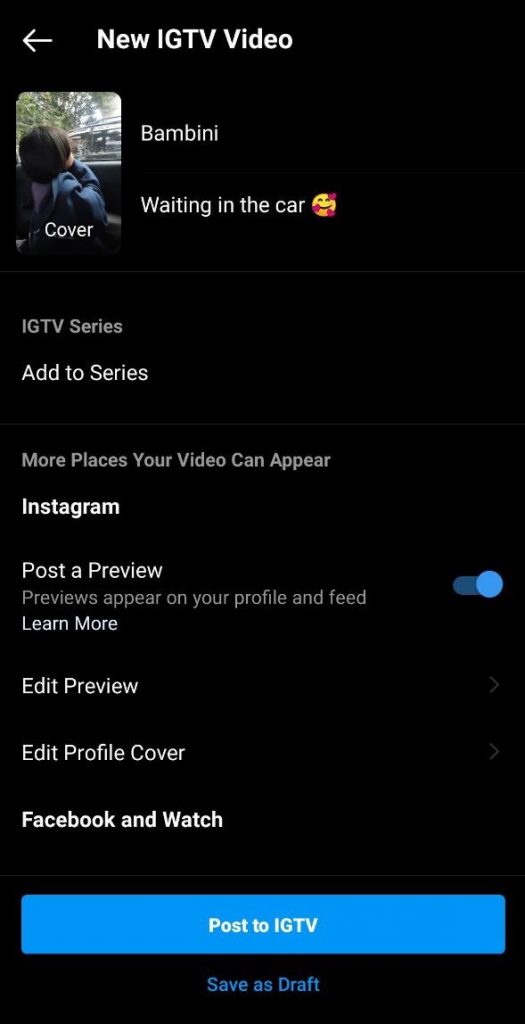 If you're good with your video details, all you have to do next is to tap 'Post to IGTV' if you're done or tap 'Save as Draft' if you plan to publish it later.
Now let's go to how to upload a video using the IGTV app. Uploading using the IGTV app is almost the same as uploading using the native Instagram app. Nonetheless, here's how.Open your IGTV. On the home screen, you'll find a 十 icon on the top right; click that.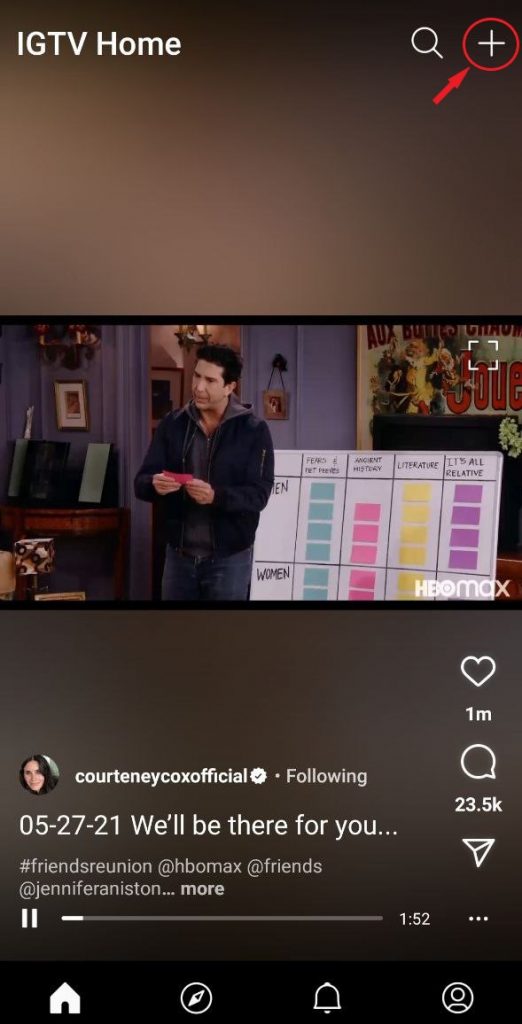 Upon clicking that, you'll have the option to record a hands-free video or select a video from your gallery.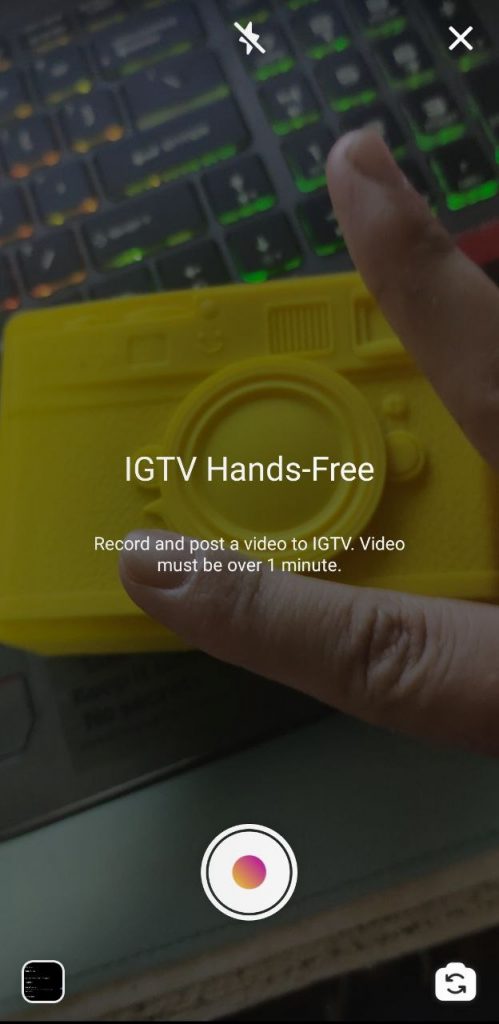 Once you're done recording, or you've selected a video, it will then ask you to choose a cover photo.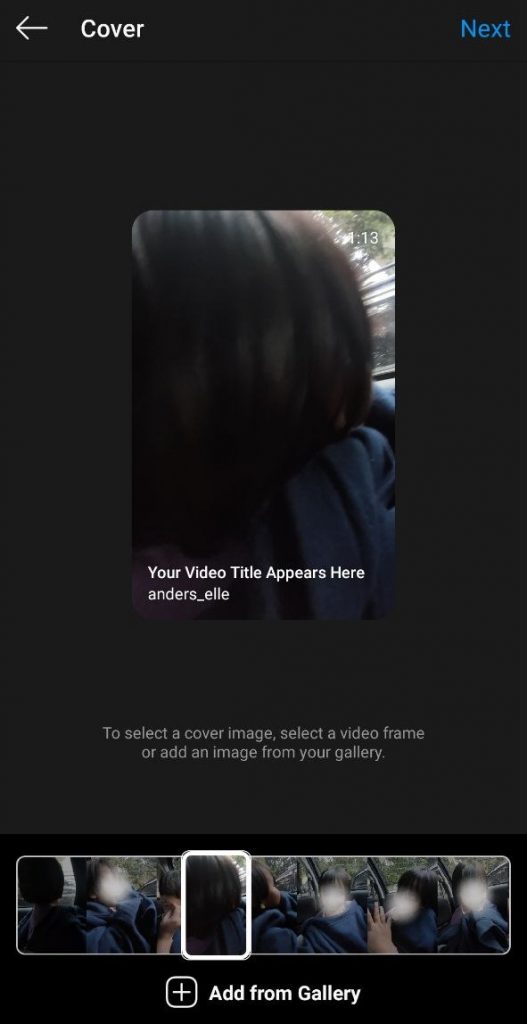 When you're finished choosing a cover image, you'll need to fill out the title and description of your video. Very similar to when uploading using the Instagram app.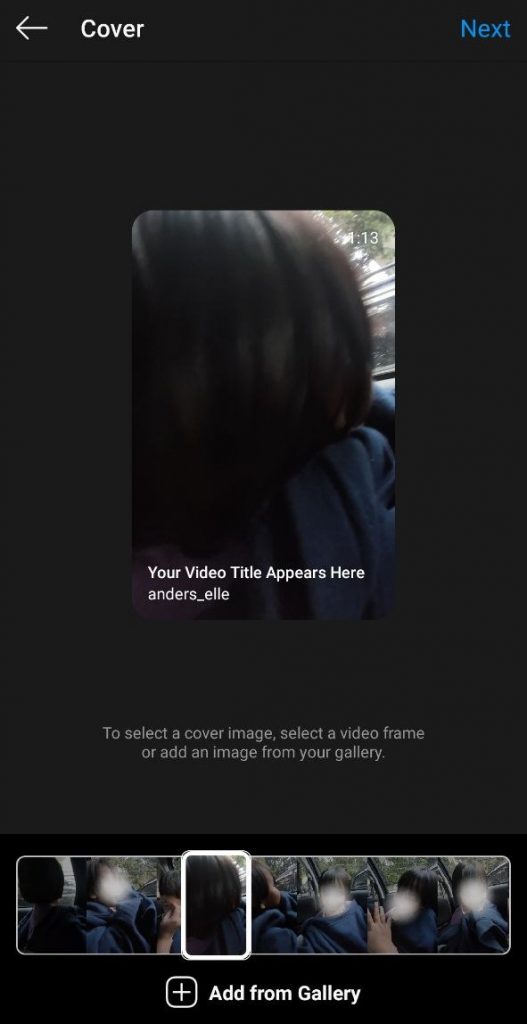 If you're done filling out the details of your video, just tap 'Post to IGTV' if you want to publish it immediately or 'Save as Draft' if you're planning to publish it later.
How to Add IGTV Video to Your Instagram Story
Now, besides uploading videos to your IGTV channel, you can also add your IGTV Video to your Instagram story and ramp up your Instagram marketing strategy.
You can re-use your IGTV video and add it as a link to your Instagram Stories. Posting the video on your IG Stories makes your story richer and more compelling. It will also allow your viewers to get your IGTV content.
Let me tell you how you can add an IGTV link to your Instagram Story:
Go to your Story creator screen, then add what you plan to post in your story. On the top part of the screen, you'll see the 'link' icon. Tap it.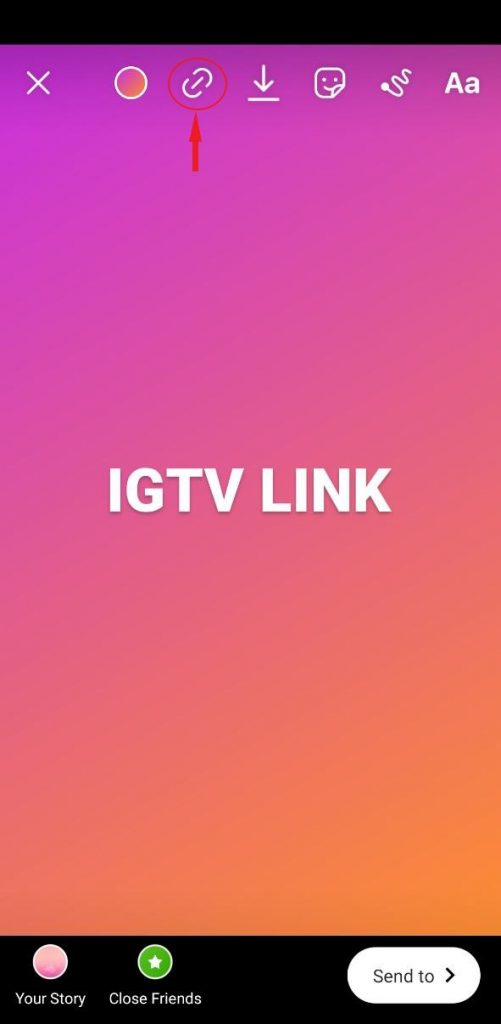 On the next screen, select the IGTV video you want to link from your IGTV channel.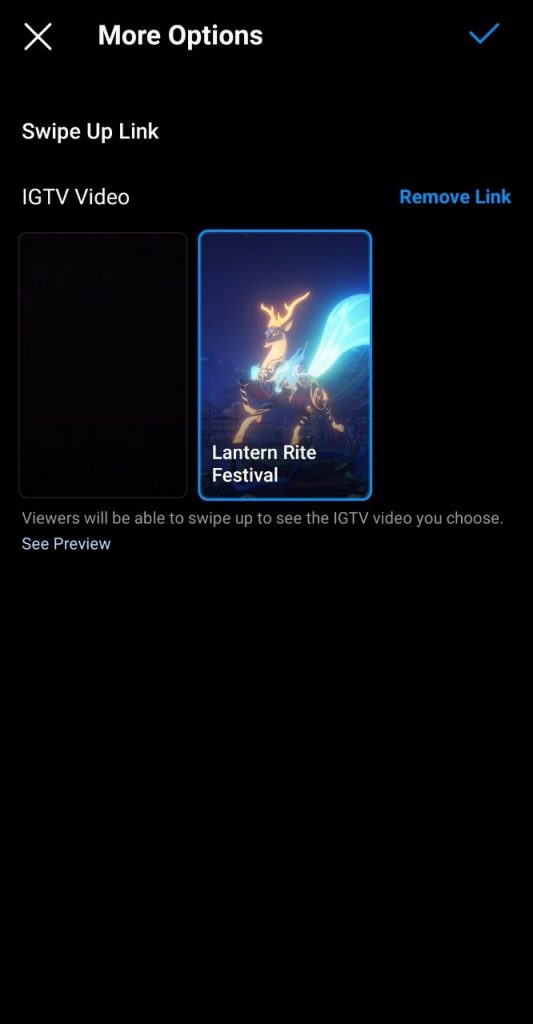 When you're finished choosing the video, click the ✓ icon or 'Done' button.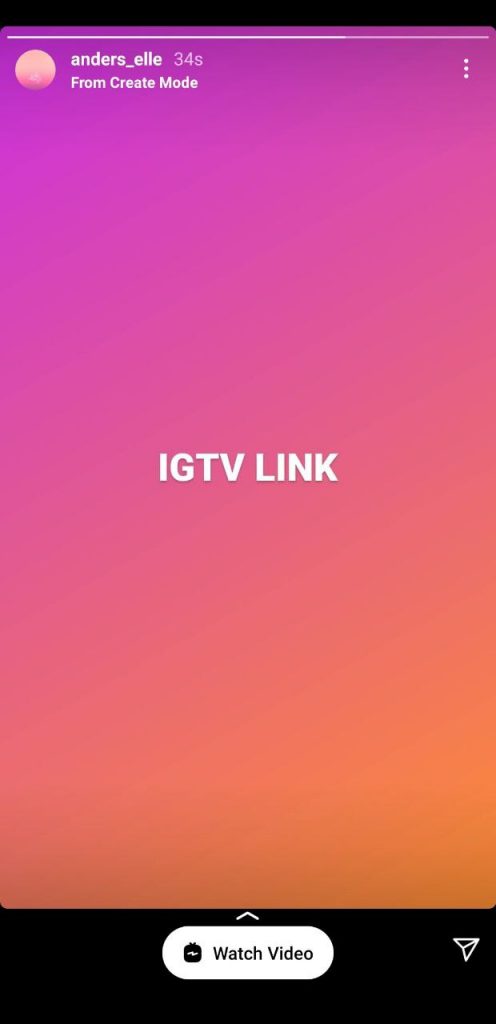 When you do this, a link to your IGTV video will appear as a Swipe-up link on your Instagram Story, and when clicked, it will open the video.
How To Share Your Instagram Story Live Broadcasts to Your IGTV
Well then, besides adding your IGTV video to your Instagram story, you can also share your Instagram live broadcasts to your IGTV.
With this, your live videos will last longer than 24 hours. IGTV will also save your live video in the IGTV tab on your Instagram profile and IGTV channel. This will allow more people to view your content.
So how can you share your live video on Instagram to IGTV after it ended? Here's how.
After your live broadcast, tap 'Share to IGTV' at the menu as shown below.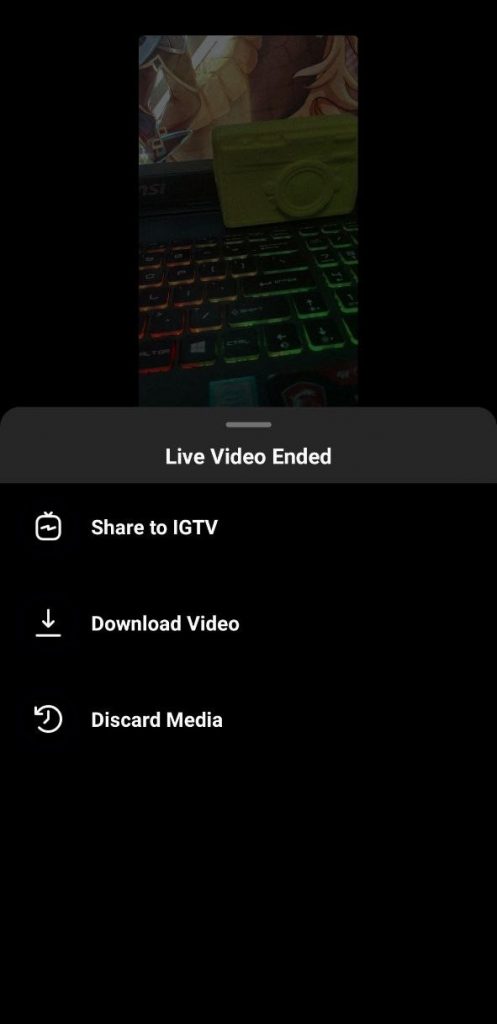 The next steps are the same as uploading a video to your IGTV on your mobile device using the Instagram app.
Do keep in mind the following:
Your live video replays won't include any likes or comments from your original live video.
Your viewer numbers for your live video will restart once you share the video to IGTV.
You will not be able to edit or trim your live video before sharing it to IGTV.
You also have the option to download your live video on your phone, so you can continue reusing it.
What Should You Post on IGTV?
Since you now know how to use and how to upload videos on IGTV, you may be wanting to try it out immediately. But you need to know this, for you to get the most out of your IGTV, you must have a proper plan. You must have an idea of the type of content you want to post. Having a strategy will give you a sense of direction, and all your content aligns with each other.
Let me give you a few ideas on what you could post on IGTV.
Tutorial Videos
One excellent way to build engagement is through helpful tutorial videos.
You can cover different topics in your industry. What better way to demonstrate how a product works than through a video tutorial? Now that you can upload longer videos with IGTV, you can easily share videos showing your viewers how to do or use something.
For example, you can create a tutorial guide on how marketers can study their content. Teach them what content metrics to look out for and how they can analyze and improve them.
Another example could be showing how your product can solve the pain points of your customers. Not only are you highlighting the product's feature but you're also presenting a solution to your customers' problems.
There are more tutorial video concepts that you can explore. Just look for something that you love doing and can make quality content from.
Q & A Session
Another great way to interact with your audience is through a question and answer (Q&A) session.
You can answer any questions your followers might have, and it would be an excellent opportunity to show that you have solid and reliable knowledge of your industry.
A perfect example would be, let's say, you're a medical expert. You can answer your viewers' questions about health or share your insights and opinions about specific medical systems.
Another example will be if you're a business owner. You can answer your audience's questions about business strategies or business solutions you use. You can also share with them any recommendations of software for automation, inventory management, and more. You can use the Q&A session to impart your business knowledge to your eager audience.
As a tip, promote your Q&A session on your Instagram feed and story beforehand, asking them for questions they want to be answered. Pool the questions and use them for your IGTV recording.
Educational Videos
What's a great way to impart knowledge virtually? Through videos.
Through IGTV, you can share educational videos virtually about anything that you're an expert on. You can discuss concepts and topics that you have substantial and reliable knowledge of.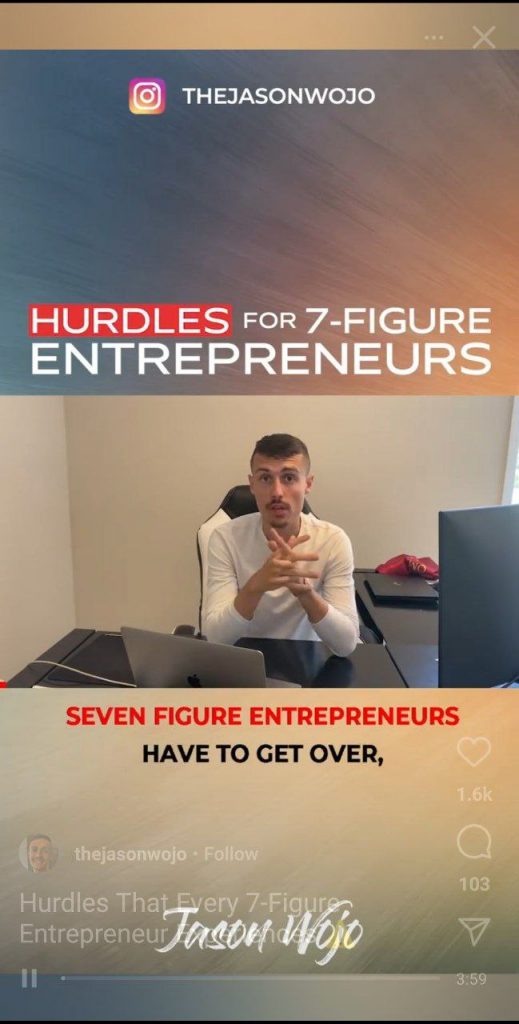 One of my favorite things to watch online is educational videos about digital marketing. It's easier to grasp things and understand concepts if an expert is explaining them. So educational videos will definitely be a hit if you impart your knowledge in your field of expertise.
Just make sure that your educational videos are beginner-friendly and easy to understand so that your audience won't be overwhelmed with complex terminologies.
Behind the Scenes
Have you ever been curious about how things are made and how things are being run in the background? Everyone has.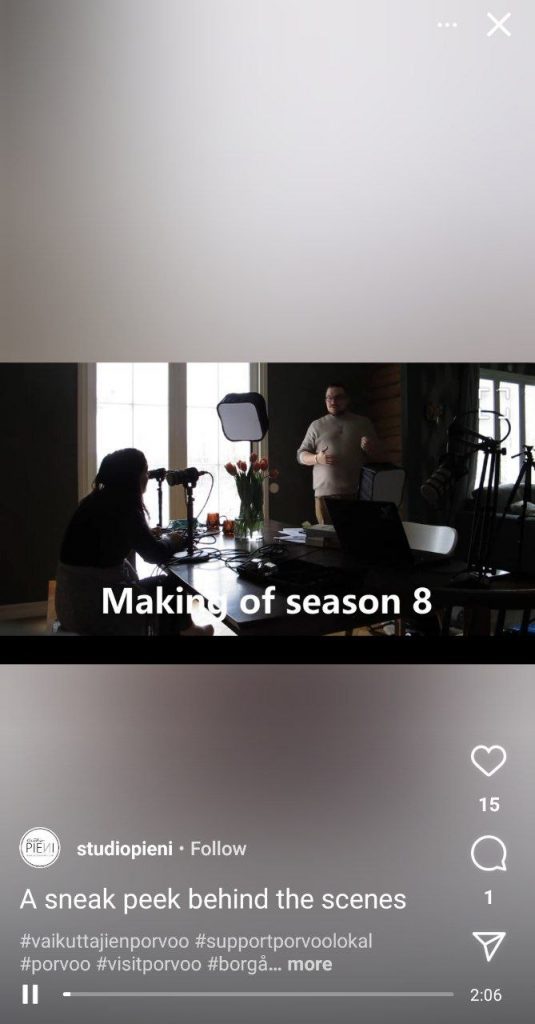 Sharing with your audience what goes behind the scenes is a perfect way to build transparency into your brand. Reveal to them what goes into making your products. For example, if your business is about health supplements, you can show your audience how empty capsules turn into your supplements.
Besides this, you can also show how your employees work. If you're running repair services, you can show a video of how your employees repair an air conditioner or repair a furnace. Showing how things are done is a great way to build trust with your customers.
IGTV Best Practices
Since you now have a few ideas on what you can post on your IGTV, I will now share some tips and best practices that will help you optimize your impact.
Be consistent with your aesthetic
Just like with your Instagram account, where you maintain a consistent and specific aesthetic, the same thing works with IGTV. Having a consistent aesthetic is a crucial factor for your branding effort. Stick to a consistent color scheme, fonts, and themes.
Put most important information upfront
People usually scroll through their feeds quickly, so you only have a small window of time to grab their attention. Because of this, make sure that your IGTV video hooks your audience as soon as possible. Don't let them lose their attention or give them a reason to swipe next.
To have a compelling hook, answer the following questions as soon as possible:
What is the video about?
Why should you continue watching?
Optional: Who is this for?
Optional: How long will the video be?
If you answer these questions in the first few seconds of your video, you will have longer and higher-quality views.
Cross-promote
To boost engagement with your IGTV videos, you need your target audience to see them. To do this, you have to cross-promote your videos through different channels and platforms. Besides having a preview of them on your feed and stories, you can also share the link on Facebook, Twitter, email newsletters, and other social media platforms you're on.
Optimize descriptions by using relevant hashtags
To improve your IGTV videos' visibility, you must add relevant Instagram hashtags in your description so that even those who don't follow you can discover them. This allows your videos to be seen by a relevant audience and not just your existing followers.
Plan your posts,
It's essential to have a proper publishing calendar for your social media posts, including IGTV. With a publishing calendar, you can easily visualize your content, make plans and organize your posts more efficiently.
Conclusion
There is an ever-growing need for content. Social media platforms must come up with solutions to keep up with this demand. Instagram's IGTV is their answer for the increasing demand for content variation and video content.
Without the 60 second limitation for a video that Instagram has, IGTV proves itself to be a hub of countless possibilities for growing your audience, brand, and digital marketing.