A significant event is on the horizon – maybe a global sports tournament, an important election, or even The Voice's season finale. But one thing is certain: everybody will be paying attention.
That attention is the envy of every growing company. We all wish we could catch that same attention. But while you may never catch the billions of eyeballs that tune into the Olympics, you can take advantage of the popularity and visibility of major events.
Doing this is called newsjacking, and it helps draw attention to your brand.
We already shared a strategy for finding news you can use. Now, let's take a deep-dive into one company that's made this their key marketing tactic.
Geckoboard makes "KPI dashboards" that let businesses display metrics on screens anywhere. The screens update in real time, so team members can keep an eye on their goals around the office.
For example, they built these analytics dashboards for Diggerland USA, a construction-themed amusement park: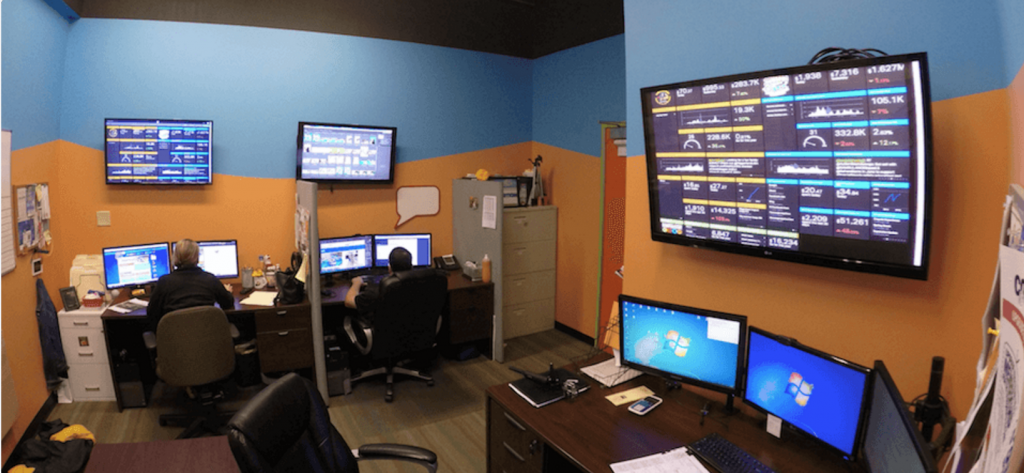 Image courtesy of the Geckoboard blog
But their tool works for more than just KPIs. Basically, anything you'd track in a spreadsheet can be viewed in a dashboard.
To prove this – and to gain publicity – Geckoboard creates custom dashboards to track special events. This puts their tool in front of a larger audience.
"The main reason we do it is to grab people's attention," says VP Marketing Simon Whittick. "We find that when people see our dashboards, they like the look and feel of them. They're designed to be simple to understand and present data in a nice way."
Two such events stand out the most. In 2016, they created special public dashboards for each of Super Bowl 50 and the US presidential primary elections. Let's take a quick look at each.
Newsjacking the Super Bowl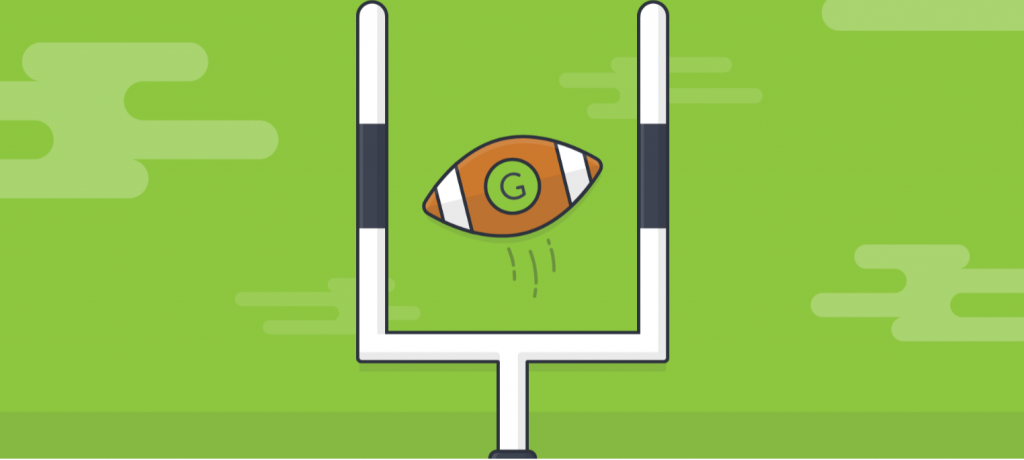 The Super Bowl is one of the biggest social media events each year, and sports fans love statistics. Super Bowl coverage is littered with phrases like "completion percentage," and "yards after the catch." So Geckoboard decided to feature another set of statistics, related to performance on social media.
They focused on the social media frenzy leading up to and during the game. They also looked specifically at conversations around Super Bowl commercials, a major talking point every year.
They needed a tool that would catch everything being said about the game, the players, and the advertising. This would be sent to a Google Sheet, which then powers the dashboards.
This demanded something simple. As Simon explains, "I'm a non-technical person." And once the dashboard was built, it had to refresh automatically, to keep the information up to date.
They chose Mention's API. "We found a developer and asked him to pull certain metrics from certain time periods out of the Mention API. It took him a day."
And because Mention uses a "push" API, any new information was sent immediately to the dashboard. By contrast, some APIs update periodically – once a day, for instance.
Now that they had the technology, it was time to build their boards.
Collecting Super Bowl Pregame Stats
To seize people's excitement before the big game, this first dashboard showed up-to-date odds, sentiment analysis of the teams and their quarterbacks, the number of daily social media mentions, and the latest news: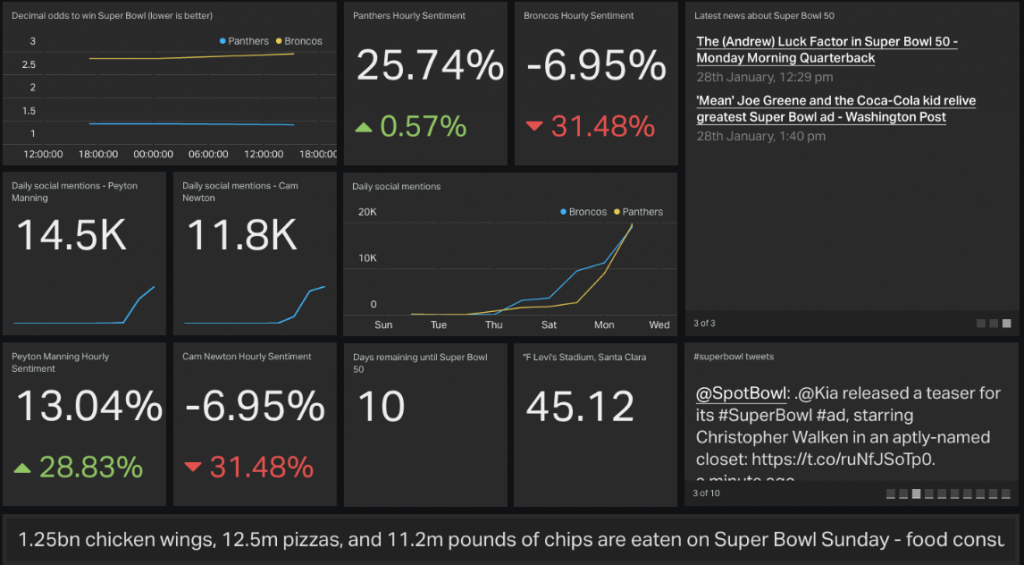 The social mentions, sentiment analysis, and #superbowl live feed all came from Mention's API. Geckoboard was also able to display live odds, the temperature at the stadium, and the latest news from other sources. This let them prove the versatility of their tool.
"We tracked mentions of the different players in the lead-up to the game, advertising conversations, and activity on the day of. It went really well." They did this using three dashboards: one for pre-game chatter, one for reactions to ads, and one for the game itself. "That brought us a lot of attention, and a lot of traffic."
Monitoring the top 10 advertisers
One of the biggest non-football topics during the Super Bowl each year is advertising. Geckoboard saw that the average cost for a 30-second halftime ad was $5 million. So, they tracked social mentions of 10 of the biggest-name advertisers.
If each commercial cost roughly the same amount, viewers could judge a company's return on investment by the level of conversation. If one brand got the most social mentions, they probably made the most of their advertising dollars.
But not all mentions are positive. Every year, controversies arise from Super Bowl commercials. So the dashboard displayed public sentiment towards each company. This let viewers see how the commercials were received, besides the total number of mentions.
Keeping score during the game
This measured conversations about the game as it happened.
It looked at the sentiment towards key players in real time. If one team's quarterback missed a crucial play, social media sentiment would take a dive.
There's also the famous halftime show. Social media came alive as Beyoncé joined Coldplay and Bruno Mars on the field. And the dashboard showed users this massive surge in discussion.



With this tactic, Geckoboard found a way to take a small part in a major event.
The dashboard was covered by analytics websites like Datanami and insideBIGDATA. When you're marketing a tool, what could be better than demonstrating it in action?
But newsjacking isn't just great for publicity, it can translate to sales. "The Super Bowl dashboards led to our biggest week of signups so far," says Simon. "I believe it was our biggest week of MRR as well – a 25% increase."
After the success Super Bowl 50, Geckoboard turned their attention to another campaign garnering major social media attention.
Following the presidential primary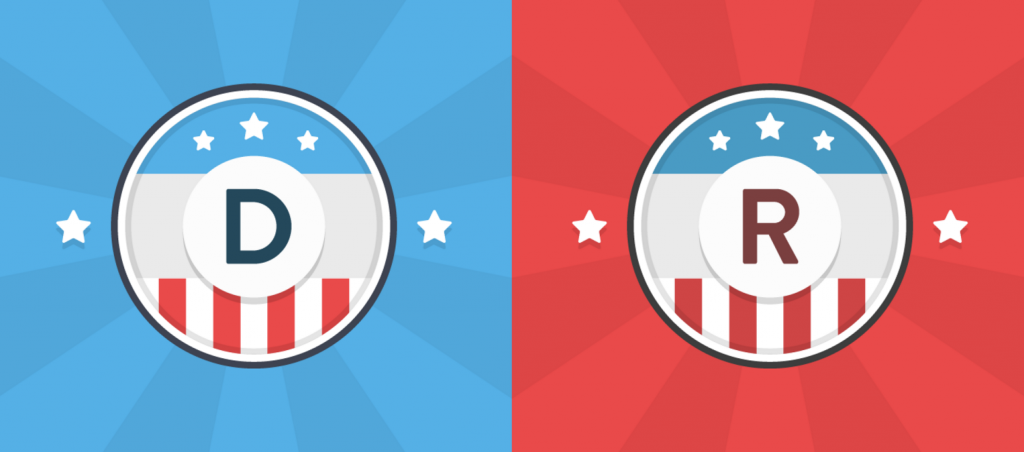 In March 2016, they built two dashboards to track social reactions to the US presidential primary races. There's one each for the Democratic and Republican Parties, featuring the leading candidates, campaign spending, and sentiment analysis: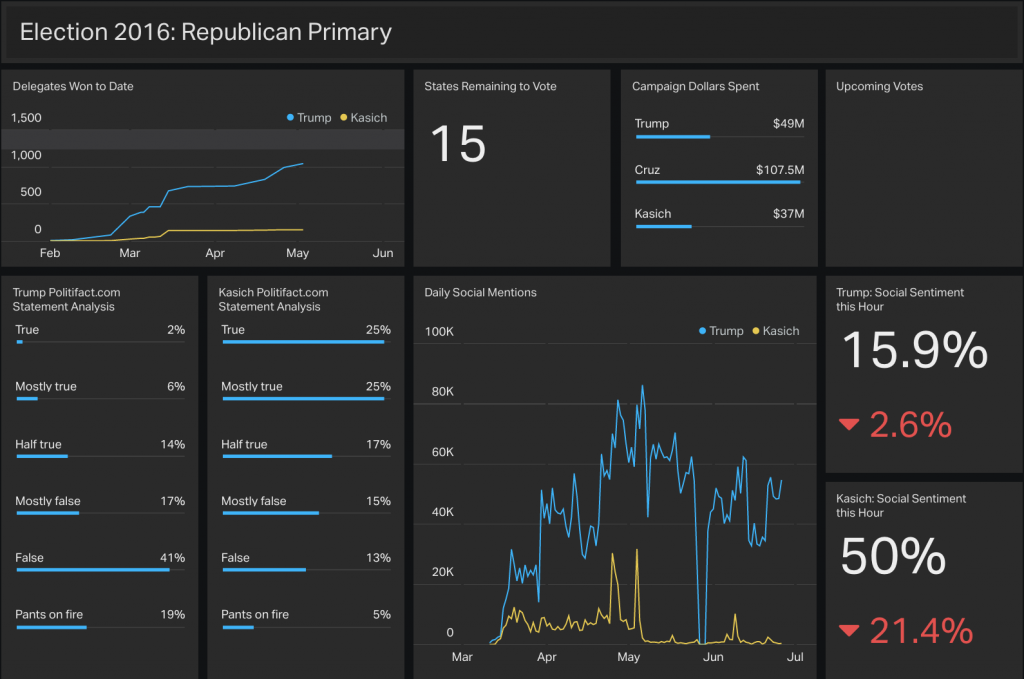 The political primaries have been a huge story all year, and piggy-backing off this attention helps Geckoboard get noticed.
Simon says people like these dashboards for one specific reason: "People like the presidential dashboard because a lot of different publications are very biased. The dashboard is just raw data, and people can understand that data very easily. It's not biased toward any of the candidates."
The dashboards also demonstrate Geckoboard's ability to deal with large volumes of changing data. "Think about the sheer number of times that Donald Trump has been mentioned during the campaign so far. We've had 2.3 million mentions of Hillary Clinton, 1.5 million mentions of Bernie Sanders, 3.8 million mentions of Donald Trump, 1.4 million mentions of Ted Cruz, and 500,000 mentions of John Kasich."
Simon credits Mention with helping them collate this information without issue. "Mention does a really great job of aggregating huge amounts of social data. We can pull that information out of the Mention API and present it really nicely."
Keeping track of social sentiment
Both of these cases took advantage of one of Mention's most popular features: sentiment analysis. When you're dealing with massive quantities of social mentions, it helps to have a quick way to make sense of them.
"It's all well and good seeing the total number of mentions, but knowing how many are positive and negative is also really valuable. That makes a huge volume of data easily digestible, which is what we're all about."
Sentiment analysis isn't new to politics. In 2012, Twitter teamed up with social analytics company Topsy (no longer operating) to create the Twitter Political Index. The tool monitored the presidential race between Barack Obama and Mitt Romney, and gauged public sentiment.
During the same campaign, Discovery Research Group measured social sentiment before and after one 2012 debate between the two, to decide who "won" the argument. As they wrote in their recap at the time, "there was a clear increase in positive comments and a decrease in negative comments. This may be a good indication that in general supporters of Barack Obama felt good about his performance in the final debate."
The purpose of this analysis is to quickly sum up the general feeling towards each political candidate or football player. Social media users can't expect to do this simply by "eyeballing" Twitter, but sentiment analysis makes it possible.
How you can do this too
In an earlier blog post, Lindsey Prowse taught us how to watch for breaking news and take advantage of it. That's a great idea.
The nice thing about Geckoboard's strategy is that you can plan for these events in advance, and take time to build your campaign. You also have time to gather any extra resources you might need. In their case, Geckoboard needed Mention's social media monitoring expertise.
To use this strategy yourself, ask the following questions:
1. What major events are coming up?
Look ahead, and see what's on the horizon. It could be a global event like the Olympics, a local technology conference, a one-day music festival, or something ongoing like the primaries.
2. Who is my audience?
Are they global or local? Are they everyday consumers or business executives? It's no use earning publicity from an event if your audience will never read it.
3. How can I take advantage?
You'll need to be creative. If you're an analytics tool, see what kinds of interesting data you can produce. If you're a marketing agency, can you do a case study on aspects of the event? This is the part that will draw eyes to your company, so try to make it unique.
Conclusion
We're all searching for endless content ideas. At times, just creating content feels like a losing battle. 
And best of all, it's fun.
Instead of banging your head against the wall, struggling to think of something fresh and timely, let the content come to you.
Looking for more strategies to find new content ideas? Download our guide: