As of 2021, there are 1 billion active monthly users on Instagram. And 500 million people use Instagram Stories on a daily basis.
Instagram Stories have become increasingly popular. That's why some brands are tweaking their digital marketing strategies to include Stories.
When done right, your Instagram Stories can increase your brand's reach and generate a high engagement rate. They can improve your visibility and help you connect with a relevant audience that's not already following you.
That's why Instagram Stories will dominate 2021 with an increasing number of brands using them to engage their audiences.
Now that you have some idea about the benefits of Instagram Stories, you will need to consider ways to optimize your strategy. The intention is to further improve the impact of your Stories. For this, you're going to need a few extra tools.
So let's check out the five best apps to enhance your Instagram Stories.

1. InShot
Are you sick of cropping your images and videos to fit in the vertical aspect ratio of Instagram stories? Well, there is a solution to it. The InShot app. This app allows users to modify the ratio of videos and images to conveniently add them to Instagram Stories.
Basically, the app creates a new video of 9:16 ratio for Instagram Stories. You just import the original video. And then decide if you want to keep its original ratio or modify it into the ratio of your choice. If the video has excess space, you can fill it up with gradient or solid color.
With the help of this app, you can be more creative when making videos. You can add various elements like GIFs, emojis, or text to your videos. What's even better is that you can edit the video within the app.
You can add effects or filters to make your Instagram Stories even more attractive and appealing.
InShot is available for both iOS and Android users, and you can download it for free. But if you want to remove the watermark, you have to make an in-app purchase.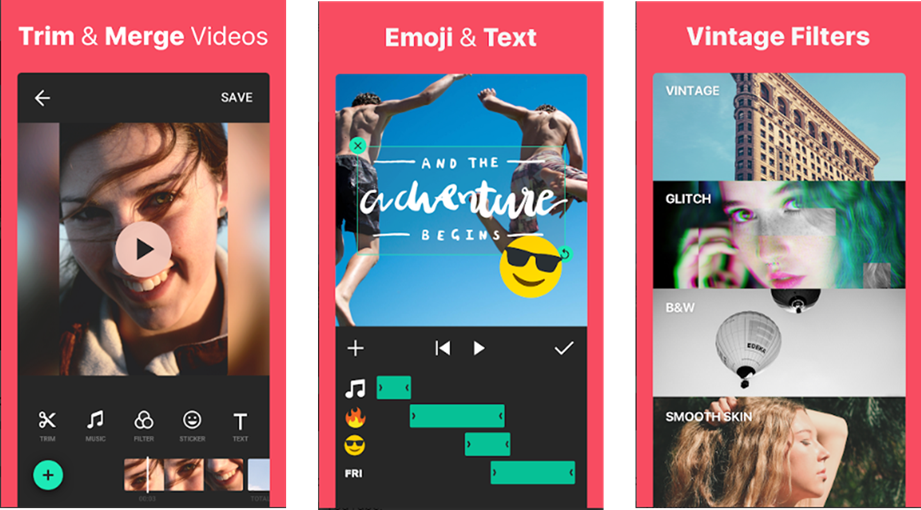 Image Source – InShot
2. Easil
If you are looking for quick, well-designed Instagram Story templates, then try Easil. It's a web-based graphic design tool.
This web-based tool has three plans to choose from. The first one is the basic plan, which is free for an individual. But the basic plan comes with a very limited number of features.
The second and third plans are called Plus and Edge, respectively. These are paid versions of the tool which come with many advanced features that aren't available in the Basic plan.
One of the best features of this tool is that it has templates suitable for any kind of Story. The tool also provides a large pool of template types to its users to select from. And the templates are very easy to use, as users just have to drag-and-drop the templates.
You will be able to change the pictures, text, or color scheme to match with your Story. And the results are amazing as you can produce a branded Instagram Story that's fun to watch and engaging for your audience.
Easil is a desktop tool, so you need to download the templates you want to use and save them in Dropbox. It is that simple.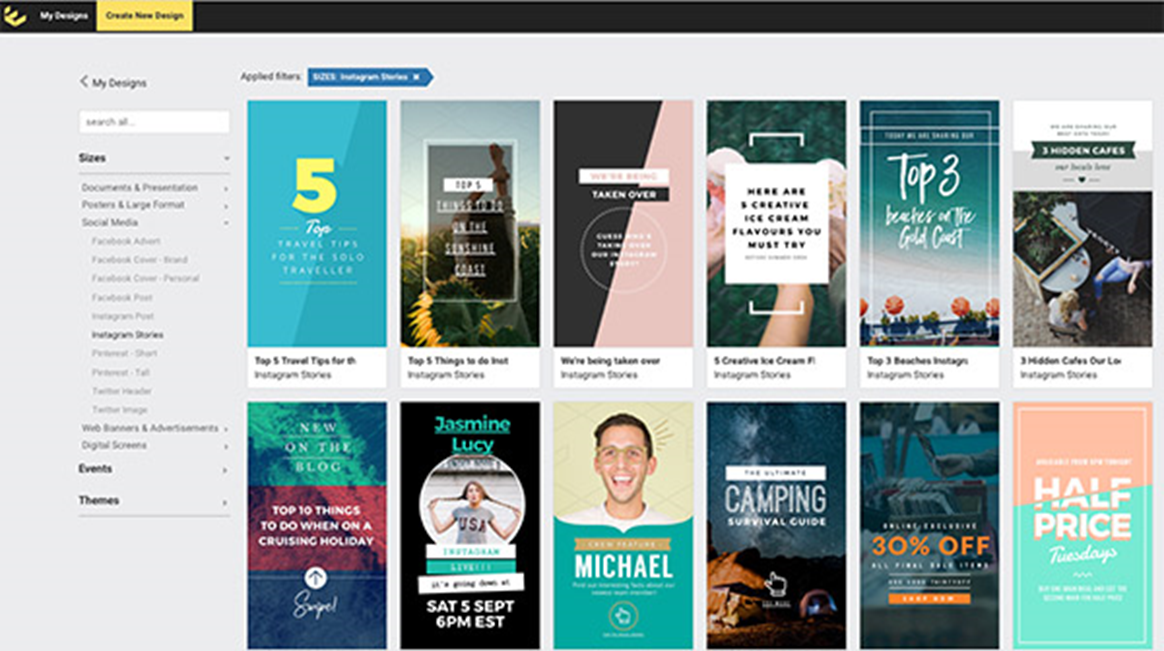 Image Source – Easil
3. Envato
If you're also looking for something a bit more dynamic, Envato has some of the most beautifully designed Instagram Video Story templates out there.
These editable templates can be uploaded into Photoshop, After Effects, Premiere Pro and many other tools. Templates come in packs, which ensures that all of your stories look consistent and clean.
The Envato site also has lots of helpful tutorials and resources on their Tuts+ page, where you can learn everything you need to know to edit your Instagram Story templates using these software packages.
Envato Elements comes as a subscription which allows you to access over 54 million creative assets, including stock photos & video, music tracks, sound effects and many more. For anyone creating marketing or social media content on a regular basis, this platform is like the Aladdin's cave for creatives. You can start off with a selection of free downloads which are refreshed each month and then opt for one of their no-commitment plans.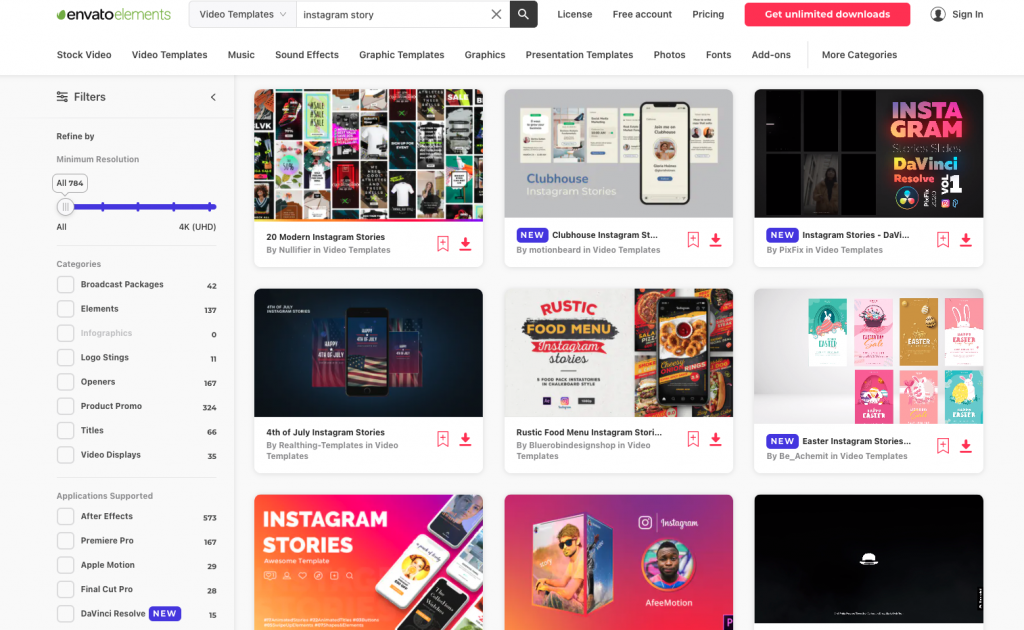 Image source – Envato
4. Microsoft HyperLapse
If you want to enhance your Instagram Stories by creating time-lapse videos, then HyperLapse from Microsoft is an excellent option. With the help of this app, you can shoot stable and smooth time-lapse videos. The new time-lapse videos can be recorded up to 20 minutes.
You can also upload any existing video of yours and convert it into a hyperlapse video. Sounds interesting, right? You can select the speed from 1X to 32X of the normal speed. Just ensure that for Instagram Stories, you are recording the videos in portrait mode, not in vertical mode.
It's a very simple yet advanced app and is easy-to-use. You can find it in the app stores for both iOS and Android. You can download it for free and you don't have to create an account to get started.
Just make sure that you allow the app to access your phone's camera, photos, media, and microphone.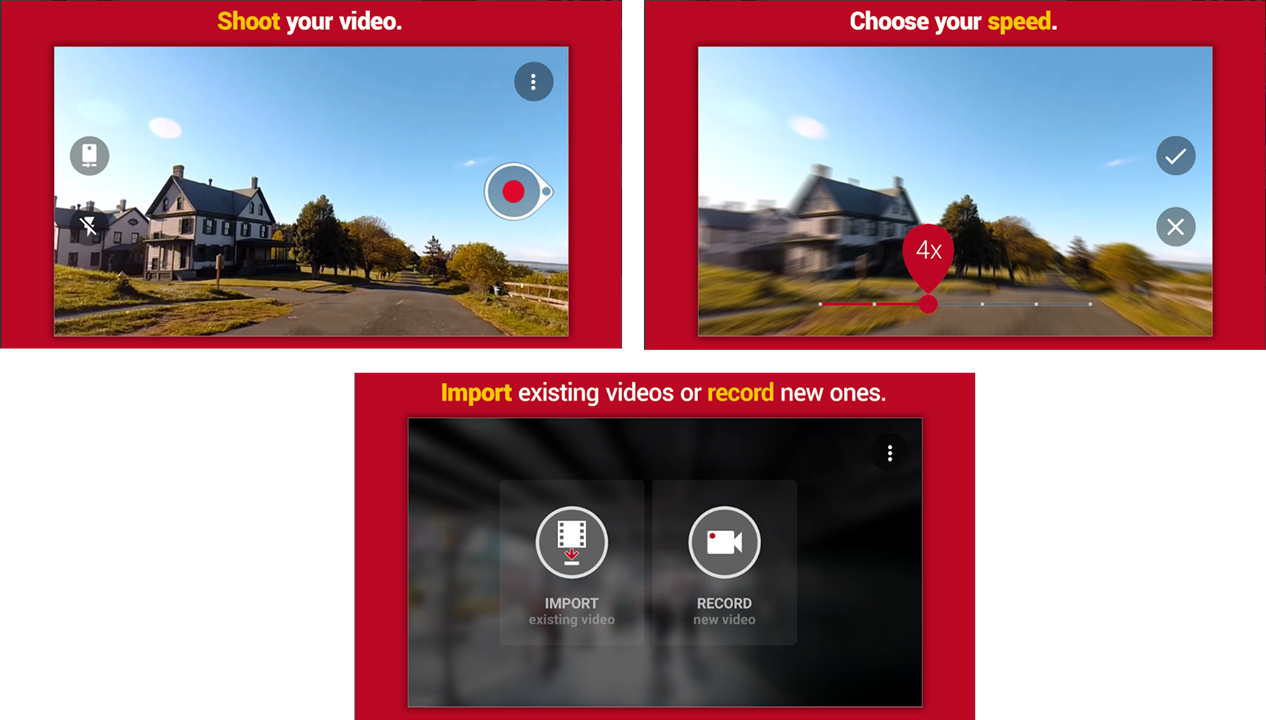 Image Source – Microsoft HyperLapse
5. CutStory
When you're recording a video for your Instagram Stories, you might get the nagging feeling that your 15 seconds are going to be over quickly. I'm sure a lot of people would agree that 15 seconds are not enough to capture something. The good news is that, tools like CutStory can come to your rescue.
This app allows users to shoot and record through the camera app and later on upload it as an Instagram Story. Sounds amazing, right? This lifesaver app cuts the video seamlessly into 15-second clips and allows you to upload them one after the other. This way you can share the entire video in mini clips.
You can also select pictures and use this app to make interesting Instagram Stories. Not only is this app great for creating Instagram Stories, it is equally effective for creating better Instagram posts. You can use it to cut and edit the video for 60 seconds, which is ideal for Instagram posts.
The app is available in the Apple store for download. While the app is free to use, there is also an in-app purchase to remove the logo of CutStory.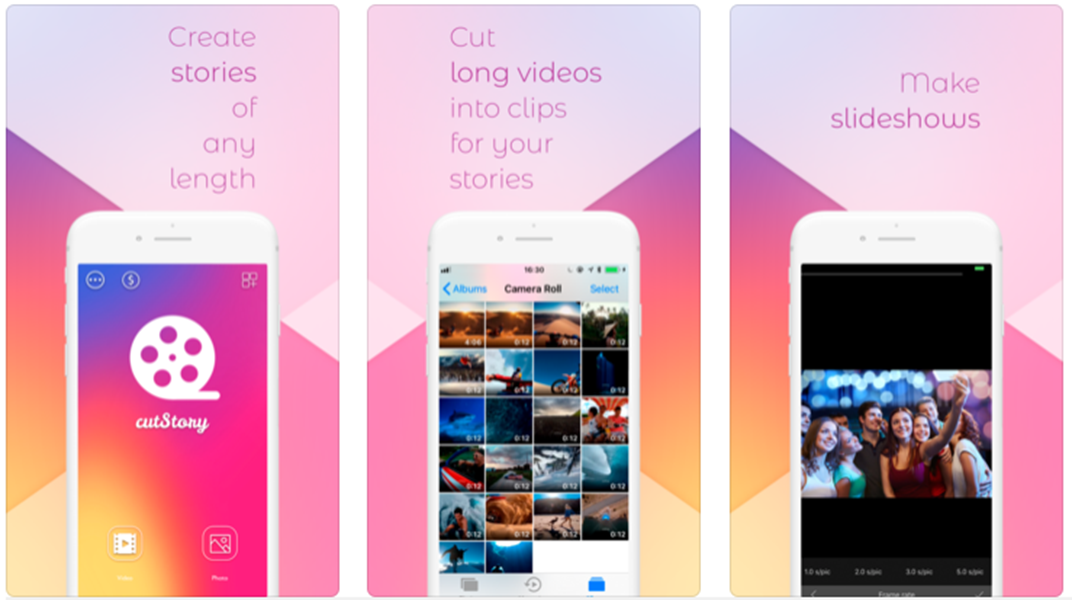 Image Source – CutStory
Create Cool Instagram Stories
These are some of the best tools and apps to enhance your Instagram Stories. The best part is that they're all very easy-to-use. So, which one is your favorite?
Do you know of any other easy-to-use tools or apps to enhance your Instagram Stories? Let us know in the comments.