Influencer marketing has gained ground in just a few years, and for good reason.
According to a Linqia study, 86% of marketers have used it, and 94% of them found it effective.
Influencer marketing can help brands boost their authenticity, which is necessary for building trust. It can also help drive engagement, website traffic, and conversions.
That's exactly why even big brands are taking advantage of this powerful marketing channel.
In fact, global brands like Adidas and Colgate-Palmolive have been working with influencers for many of their campaigns.
These campaigns helped drive brand awareness, lift brand interest, and increase purchase consideration.
For one of the influencer marketing campaigns executed by Colgate-Palmolive, they worked with Jenn Im at the clothesencounters YouTube channel, which has over 1.9 million subscribers.
The video Jenn created for the campaign has been viewed more than 500,000 times.
Just because big brands have embraced influencer marketing, that doesn't mean it's out of reach to small and medium-sized businesses.
In fact, you can launch a successful influencer marketing campaign on almost any budget.
In this post, you'll learn, step-by-step, how to do influencer marketing the right way.
1. Start with a goal
Executing an influencer marketing campaign without a defined goal is like traveling without a destination in mind.
You know you want to get somewhere, but you're not sure exactly where you want to go.
So you just move forward aimlessly, wasting time, energy, and money along the way.
Before you even begin to come up with a plan for your campaign, you need to define your goal.
What do you expect to get from the campaign?
You want to improve your performance, but what aspects of your performance do you want to improve?
Is it engagement, brand awareness, conversions, or a little bit of everything? Or maybe you want to promote a new product or event to a relevant audience.
Whatever the goal may be, you should define it, and then use it as a basis for planning your campaign.
Your goal will help you figure out which kinds of influencers to work with, and how you can best execute your campaign.
For example, if you want as many people as possible to hear about your brand, you should work with influencers with a massive reach.
Have them tell your brand's story in their own unique voices.
Or if you want to drive engagement, look for micro-influencers who can reach a relevant and engaged audience.
Have them promote a giveaway contest in which their followers can win free products or experiences from your business.
2. Find the right influencers
Now that you've defined your goal, you can start looking for influencers who can help you achieve that goal.
What you need to remember is that the influencers you choose should be relevant to both your brand and your goal.
To choose the right influencers, look for people that help you:
Increase brand awareness: Top influencers with massive reach.
Boost brand sentiment: Influencers known for their honest and authentic content.
Build brand trust: Niche influencers known for creating authentic content.
Drive engagement: Relevant micro-influencers with high engagement rates.
Drive conversions: Mix of top and mid-level influencers, as well as micro-influencers across various relevant niches.
Promote a product launch: Industry experts and niche influencers with significant reach.
These are just a few examples of the types of influencers you can choose to work with, based on some of the most common influencer marketing goals.
Feel free to mix things up a bit, and make adjustments based on your specific goals.
Once you've decided what kind of influencers to work with, you can use Mention's influencer dashboard or other tools like BuzzSumo, Insightpool, Hivency, or HYPR to find those influencers.
With these tools, you can conduct a search using relevant keywords. Then you'll get a comprehensive list of influencers, with stats for each.
These include their number of followers, location, engagement rate, and more.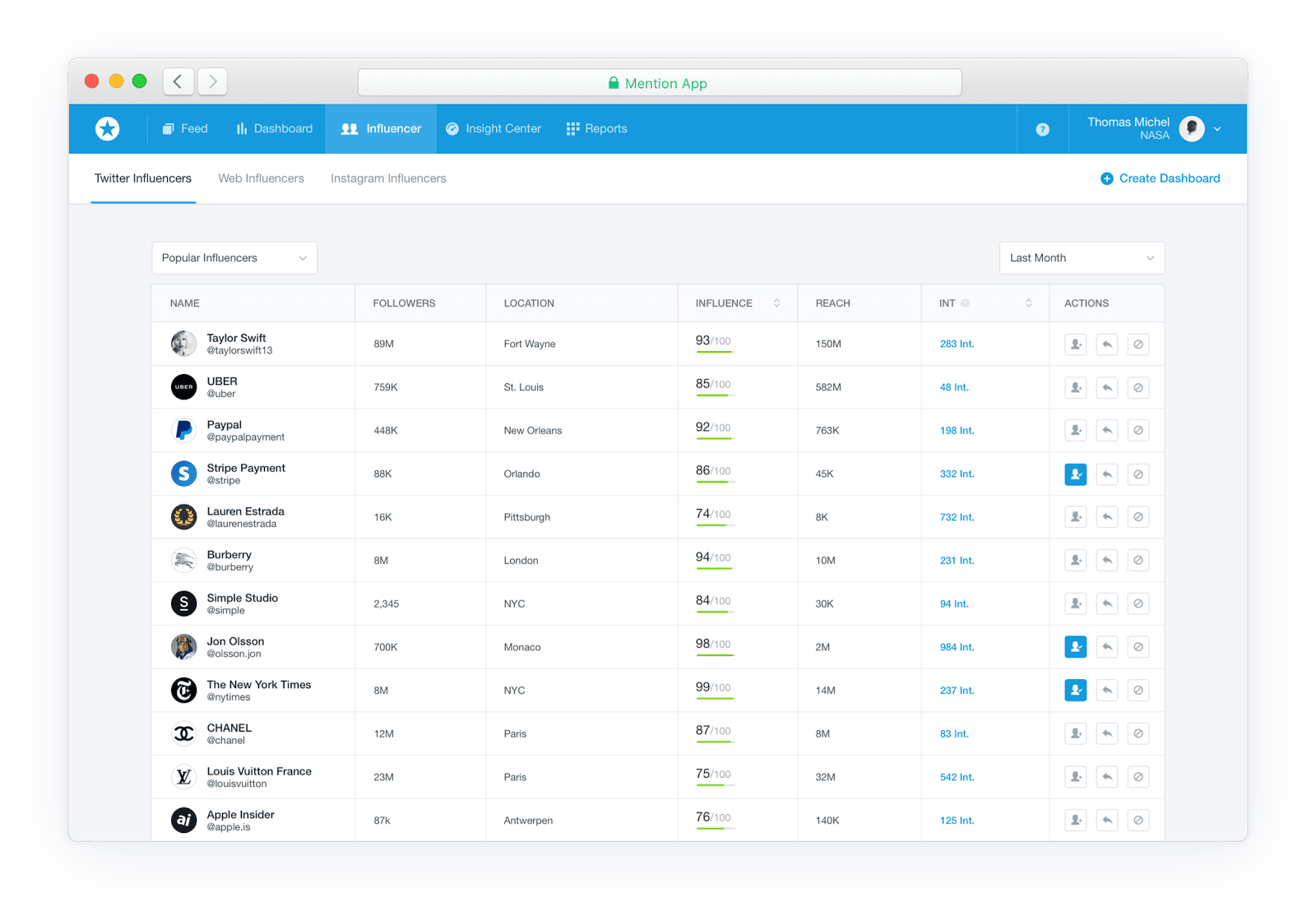 You can also find influencers through platforms like Scoutsee, which helps brands connect with influential fans, and turn them into brand ambassadors.
What's more, Scoutsee is an interesting tool to track the ROI of your campaigns.
3. Provide sufficient compensation
According to Altimeter and TapInfluence, the biggest mistake you can make in influencer marketing is failing to provide your influencers with sufficient compensation.
Influencers let you use their influence to reach a relevant audience.
It's only fair that you compensate them fairly for it.
At the same time, some small and medium-sized businesses have budget limitations. If that's the case, you need to carefully plan your budget.
Come up with a compensation model that's beneficial for both you and the influencers.
Here are five popular influencer compensation models (in order of effectiveness):
Cost per engagement: This is when you compensate influencers according to the number of engagements they drive with their content. The previously-cited Linqia study found it to be one of the most effective compensation models.
Cost per click: With cost per click, you compensate influencers according to the number of clicks they drive to your landing page. It's considered to be just as effective as the cost per engagement model.
Pay per post: With this model, you pay influencers a fixed amount for each post they create for your business. It's the third most effective model, according to marketers in the Linqia study.
Free products/experiences: Instead of, (or in addition to), monetary compensation, you can offer influencers free products or experiences in exchange for their partnership.
Cost per acquisition: Also known as "cost per conversion" or "cost per action," which means you compensate influencers for the number of actions or acquisitions they drive. The action could be submitting a form, subscribing to your newsletter, or making a purchase.


Image Source: Linqia
4. Plan your influencer marketing campaign
Now that you understand the basics of finding, and compensating influencers, you need to think about what type of campaign you want to execute.
There are many different ways to run an influencer marketing campaign.
You should choose the best type for your brand, based on your specific goals.
Here are three of the most effective types of influencer marketing campaigns:
1. Help influencers set up an Instagram storefront
When launching an influencer marketing campaign, you shouldn't miss out on using powerful social media channels like Instagram.
Even influencers themselves say it's the most effective platform for influencer marketing.
But the problem is that Instagram doesn't allow all users to add links to their posts.
So if you plan on executing an Instagram influencer marketing campaign, have your influencers set up their own storefronts.
Influencers can post photos of your products on Instagram, and include a link to their personal storefront in their bio. Their storefront will then include their images of your products, with links to each specific product page.
Which helps make it as easy as possible for their followers to buy.
For example, micro-influential fitness and outdoor enthusiast Zoe Szczepanek includes a link to her personal storefront in her Instagram bio.
As you can see in the screenshot below (taken in August 2019), she also advertises some of the brands she works with (here, FITAID and Powerdot).
When Zoe's followers click on the linktree link, they're taken to a page centralizing the brands she works with.
It's beneficial both for Zoe, and the brands she works with.
On the one hand, it can track the source of the traffic and reward Zoe if and when her followers become customers.
On the other hand, brands get an extra touchpoint with engaged audiences.
2. Promote a giveaway contest
Giveaways can be a highly effective component of influencer marketing campaigns.
They can help you engage your target audience, and raise more awareness about your business.
When an influencer hosts a giveaway contest using your products, they get a chance to engage their followers, while at the same time driving engagement for your business.
Your contest rules can require that users tag their friends in the comments, or share the giveaway post to enter. Which will make sure that even more people learn about your brand.
Contests can help you increase brand interest, and improve brand perception.
Nitromousse, for example, partnered with influencer, Taylor Ann (@taylor_362), to create a giveaway contest.
To enter the contest, the influencer made it clear that participants had to 1. Like the post, tag friends and both her account as well as Nitromousse's.
With 4k likes, it's fair to assume that the operation contributed to increase the follower count of both the business and the influencer.
3. Have them create unique content
You may have come across influencer content that seemed unnatural, or even robotic as if they weren't the ones creating the content.
That can happen when businesses try to have too much control over how influencers promote their brand or products.
In fact, the previously-cited Altimeter and TapInfluence study found that this is the second biggest mistake brands make with influencer marketing.
Influencers are influencers for a reason.
They know how to create unique and engaging content that resonates with their audience.
When you work with influencers, trust them to tell your brand's story in their own voices.
Trust them to create content that will engage their followers, and inspire them to check out your brand.
An excellent example of this is how Target let influencers create unique content in their own voices.
The retailer works with a lot of influencers who have also built their own brand around Target.
Conclusion
By now, I hope that you understand influencer marketing a bit better and have a clearer idea of how to do it the right way for your brand.
What matters the most is that you define your goal and only then start to look for influencers based on that goal.