Throughout the last two decades, the music industry has dramatically changed especially in how we can publish & promote our music.
Before the digital age in the early 2000s, musicians are tied in what we can call the label infrastructure that typically goes like this: a musician gets noticed by a label (can be a major or indie label), the musician get signed, and then the label would handle everything from recording the single/album to publishing the music to promoting it.
What about today? While the infrastructure is still there for celebrities and grammy-winning multi-platinum musicians, the rest of us must be creative and juggle with all the different tasks. Besides the obvious music creation and recording, an emerging musician must also handle and oversee everything from graphic designs, getting gigs, website development, and maintaining their online/social media presence.
This is where Instagram as one of the biggest social media platforms comes in. It's no secret that the primary target market for any music regardless of the genre, tends to be younger people below 35. 31% of Internet users aged 18-34 and 32% of users between the ages of 25 and 34 are active on Instagram. Also, there is almost a 50-50 ratio of male and female users on Instagram.
Another key reason why Instagram is a great platform to promote your music is the fact that it's really versatile: you can choose between 'traditional' posts, IGTV, and Stories, and various advertising options.
But how exactly can we use Instagram to promote our music? Here are our best tips.
1. Optimize Your Instagram Bio
Unfortunately, not too many independent and emerging musicians paid enough attention to their Instagram bio. Your Instagram bio can be a very powerful platform to introduce yourself and engage your fans. Here are some tips on how to optimize your bio:
Informative and Engaging Story
Admittedly, we are not given a lot of room in our Bio, as we only get 150 characters and nothing more.
Thus, it's very important to use them wisely.
Check out our Instagram Bio Generator to help you create an informative and engaging story in just a few clicks.
Although we can be creative and use all kinds of different approaches, here are a few ideas you can try:
Describe your music. As a musician, it can be hard to objectively fit your unique sound into a single genre, but you should try.
You can talk about the most relevant and recent things you've done with your music (currently recording, released a single, on-tour, etc.)
Include achievements, awards, and career highlights if you can. Be honest and make sure that your achievements are valid.
If you've been reviewed by prominent media or influencers, you can also include this information in your bio.
Also if you are a band with multiple members, you can include the members' Instagram handles.
Use an Effective Link
You can only use a single link in your bio, so you can choose to include one of these following options:
Your website
Spotify or YouTube channel, or your other social media profile
Landing pages where fans can directly purchase your music, ticket, merchandise, or other items
A lead magnet page, where the visitor can download your music or video in exchange for their contact information (email), useful for email marketing purposes
Remember that you can change the link to include from time to time depending on your needs/current campaign. For example, you can include a link to the most recent interview from a prominent media.
Your Profile Picture
Since Instagram is naturally a visual platform, it's fairly obvious that we should have a compelling, well-taken (or if it's a logo, well-designed) profile picture. Your display picture should reflect your story and your genre, as different genres or sounds might have unique visual aesthetics as their identity. Of course, you can always use the out-of-the-box approach and be creative.

Billie Eilish is an example of an effective Instagram profile, linking her YouTube channel (where her music is), emphasizing her really young age as the main focus of the bio (which is what she's known for), and great use of profile picture.
2. Diversify Your Posts
Above, we have mentioned how Instagram is a very versatile platform where we can use various forms of content to reach our audience, from Posts to Stories to paid ads and IGTV. However, the 'traditional' Posts alone can be approached in various different ways with several different types of content:
Photos and Images
Instagram is originally a platform to showcase photos, so it's only natural that you should use this type of content. You can use photos and images in creative ways to indirectly promote your music, for example by posting a really interesting image that is related to your song, and then include the link to download/stream your song in the caption area.
Videos
You can post up to 60 seconds recorded or live videos in Posts (not to be confused with videos in IGTV and Stories, which we will discuss later on. Videos can be a very attractive medium to promote your music and engage your audience—especially since you can include your music with the video—. Don't forget that you can also use a still image with a snippet of your music if necessary.
Also, most users scroll their Instagram feed with muted sound by default, so use subtitles with your videos to allow people to consume your content when they are in a public place without headphones.
Text
Yes, you can post textual content (i.e. blog) on Instagram in your captions. You can include a maximum of 2,200 characters in your captions—that is, around 300-450 words including spaces—, so it's not that bad. If necessary, you can also write the blog post elsewhere and then upload the screenshots as an image Post.
On average, captions of 1,000 to 2,000 characters are the most effective for engagement.
There are actually a lot of people who read your captions if the content/story is engaging. For example, you can use attractive photos of your latest concert and then write a short blog post telling an interesting story that happened at the same concert.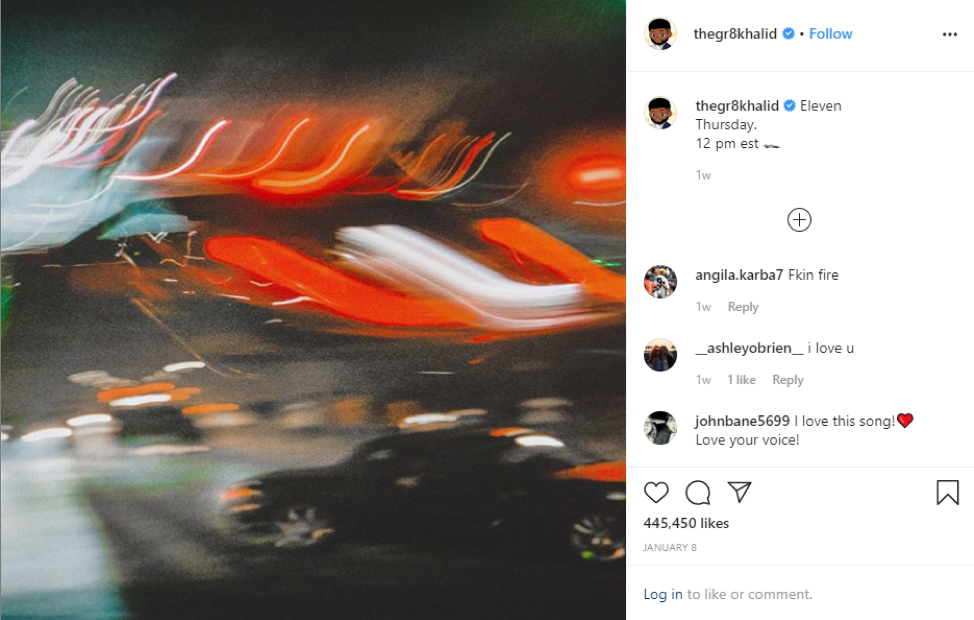 Good usage of captions by Khalid to build anticipation for his new song.
3. Using Stories and IGTV To Showcase Your Music
Instagram Stories
Throughout 2019, Instagram Stories has been one of the most important platforms on Instagram both for personal and marketing usage. Instagram reported half a million daily active Stories in January 2019 (that is, both viewing and creating), so it's a very effective platform to reach your audience.
You can upload up to 15 seconds worth of video in Stories, and throwing out the right 15-second part of your song can effectively engage your fans (for example, your attractive chorus, hook, or drop).
You can also promote various things related to your music in Stories such as:
Upcoming gigs, fairly obvious
New releases of your single, music video, album, etc
Throwback content by engaging your fans with older songs from your back catalog
Promoting your merchandises
Running polls, hosting giveaway quizzes and Q&As to engage your audience
Stories disappear after 24 hours (unless you keep them), you can be more experimental and use the trial-and-error approach when promoting in this medium.
Also, one of the key advantages of using Stories is that the notification is placed at the top of the Instagram feed, so they are more noticeable. Yet, nowadays more people are using Stories, so you still have to combat all the noises and saturations. Make sure to use attractive visuals, appropriate hashtags, and location tags.
IGTV
IGTV essentially allows us to upload longer video content, up to 10 minutes for regular users and up to 60 minutes for Instagram verified accounts. Also, IGTV is uniquely designed for vertical videos.
IGTV in the Instagram ecosystem is fairly new, being just a little over a year old. However, it is widely considered as the strongest competitor of YouTube as a video streaming platform, although it is still quite far off at the moment.
You can obviously upload a full song or even a full music video on IGTV, depending on your objective. You can also upload various content like Q&A sessions, vlogs to showcase the behind-the-scene progress of a song/album, and various other approaches to engage your audience.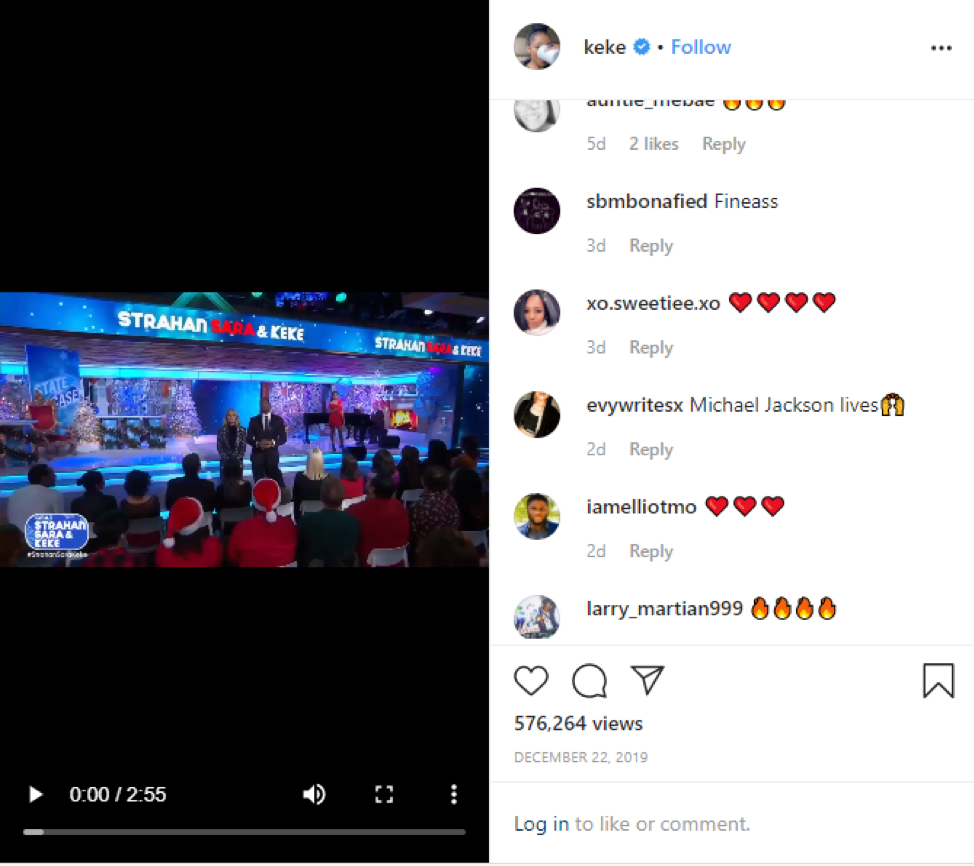 Effective use of IGTV by Keke to promote her live performance and weekly show.
4. Use The Right Hashtags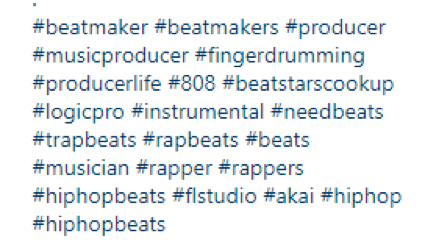 Hashtags are a very important element of Instagram as a social media platform.
Instagram users often use hashtags to find new content, places, and artists/musicians. Also, Instagram's algorithm utilizes hashtags to recommend content to its users based on their past shares and likes. If Instagram doesn't change this key algorithm feature in 2020, it's going to be even more relevant amidst the saturation of the platform.
You can technically include 30 hashtags with every post—including hashtags you add within the comment section—. In general, you should aim to include at least 20 hashtags with each post. For Stories, you can include 10 hashtags per story. So, the big question is, which ones?
You should definitely aim for the popular hashtags like #music, #pop, and any hashtags for your genre(s), as well as hashtags like #InstaMusic, #MusicMonday, and similar ones. Be creative and do your research, so you can find both popular and niche hashtags that can help you reach your audience.
A social media management tool such as Mention will help you to identify the most trending and relevant hashtags in your industry.
Staying up-to-date with the current trends, and probably even create your own trending hashtags will be the secrets in Instagram marketing success.
5. Use Ads and Sponsored Posts

One of the best usage of Instagram ads to promote Portugal.The Man's show back in 2018.
Organic reach is declining on social media. In some ways, social media marketing is slowly becoming a pay-to-win.
Instagram is no exception, and by converting your Instagram account to a business account, you can now invest in Instagram ads, allowing you to engage a wider audience and reach new fans.
There are several different options for Instagram Ads: single image, video, carousel, and Stories.
It's virtually guaranteed to generate results fairly quickly, the main challenge in advertising on Instagram—and other social media networks— is managing costs: it can be extremely expensive if you are not careful.
So, the main thing to focus on here is how we can reach as many people as possible with the advertising while spending as little as possible. Specific to the purpose of promoting your music, there are two different factors to consider: targeting, and the content of your ad.
Targeting: that is, finding the best possible audience to display your advertising
Content: publishing an engaging post that can attract the target audience defined above
You need to get people to stop scrolling and click on your ad. While the most obvious thing is to simply use your music videos as the Instagram ad, remember that most people watch videos with the sound turned off. So, unless the visuals of your music videos are really attractive, they might not click on the ad even if your song is really good.
So, you might need to edit the music videos to incorporate attractive graphics, logos, typographic designs (i.e. like lyric videos), and other elements to capture your audience's attention. This will include using engaging captions to the snippet.
If you've been mentioned by respectable media, sites, or influencers, you can use this within the caption. If not, you can mention famous artists with similar sounds as yours inside your caption, for example, "Sounds like…", "for fans of…", and so on. Pair this with the right targeting to display your ads to users that are following this particular artist, and they might be more likely to click on your ads.
End Words
There are certainly other methods you can use on Instagram to promote your music, but as you can see from, Instagram can be a very versatile platform to introduce your work to more people, and especially to engage with your fans (and potential fans) in two-way communication.
Check out our massive Instagram Engagement Report and discover the best time to post on Instagram.