Influencer marketing is a digital trend that continues to rise in popularity among brands and marketing agencies.
In fact, reports have shown that 59% of brands who currently have an influencer marketing program increased their budget for influencer collaborations in 2019.
Since "numbers don't lie", it's safe to say that brands who are conducting influencer campaigns are seeing a positive ROI.
Whether you're starting an influencer program from scratch or you've already dabbled in the field, it's important to have a strategy in place before launching a campaign.
The strategy should include:
Themes of your campaign; will the content focus on a new product release, a holiday, or is it simply a brand awareness effort?
What your overarching goals are including specific metrics you hope to reach such as increased social following, traffic to your website, conversions, or impressions.
Who your target audience is. Learn how to define your target market here. If you do not already have an understanding of who you are trying to reach, you are likely not ready to conduct an influencer marketing campaign.
What your budget will be. Hint: analyst firm Altimeter reports that brands should allocate 25% of their digital budget on influencer marketing.
From there, it's time to determine what type of influencer you should approach. While this step does include researching influencers based on factors such as engagement, content themes, and audience demographics, the first thing to decide is what level of influencer you want to work with.
In early 2019, there were more than 500,000 influencers on Instagram alone.
With this many influencers eager to make money, marketers have begun breaking down influencers into four tiers. Each one has their merits and drawbacks.
Marketers should be knowledgeable about these levels of influence in order to make a wise and informed decision. In this article, we'll break influencer tiers down into the following categories:
Macro-influencers
Mega-influencers
Though the actual audience size of each tier can depend a bit based on who you're speaking with in the industry, this blog post outlines the widely accepted characteristics of each tier and why you should consider working with them if you think you're a match.

Nano influencers: small but engaged audiences
As a general rule, a nano influencer is anyone with 10,000 or fewer followers. In 2018, 70% of Instagram users had fewer than 1,000 followers.
This means that a nano influencer could be an average, everyday Instagram user who is already a fan of your product and has influence over their peers' buying decisions.
Working with nano influencers is the truest form of good old fashioned word-of-mouth marketing because their recommendations are genuine and audiences trust them in the same way they would a friend.
These individuals are easy to approach and happy to work with brands in exchange for product alone.
As of July 2019, Julianna Rubino, a millennial behind the fitness Instagram account @barretotable, has just over 1,100 followers and works as an ambassador to FRÉ Skincare.
Though the skincare line is reaching fewer potential customers working with a nano influencer, they are able to create a genuine relationship with Rubino's followers.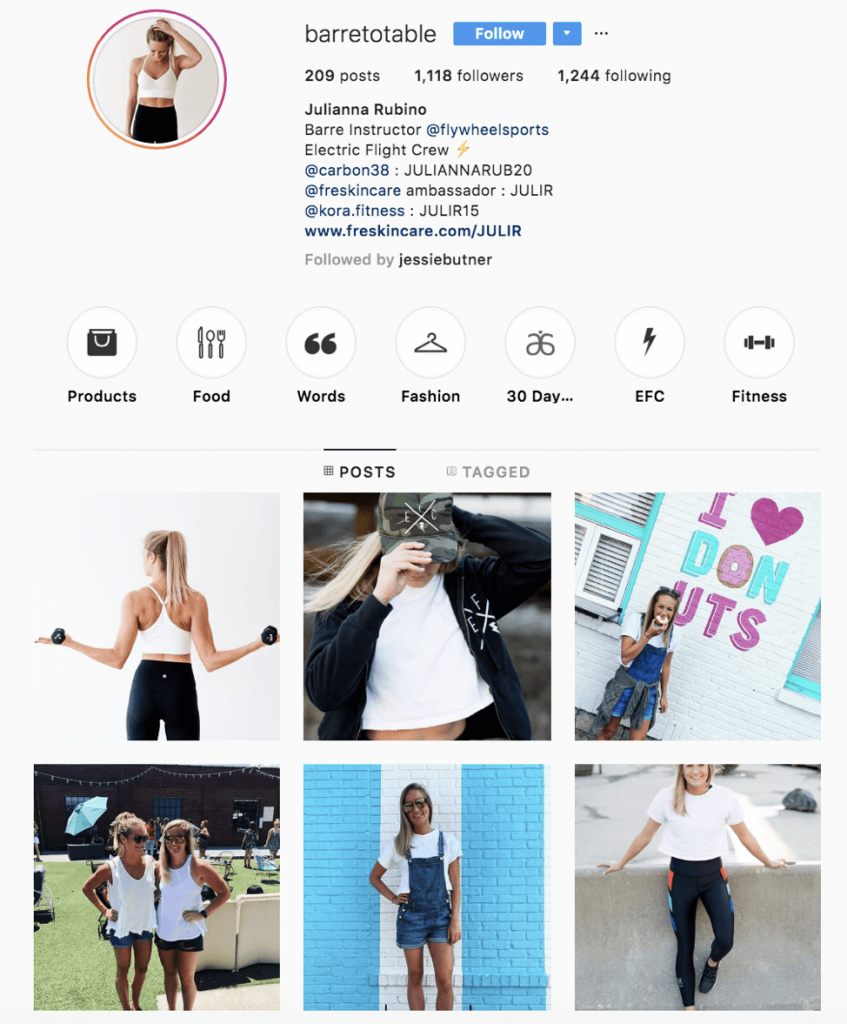 Who should work with nano influencers?
Brands who are working with a tight budget (or no budget at all) will find that the nano influencer is the perfect target.
Nano influencers won't have a major impact on website traffic, social following, or SEO, but they can yield impressive engagement rate numbers (Rubino's average engagement rate, for example, is a strong 13.27%). Nano influencers are also incredibly easy to work with and eager to please brands.
While national brands can benefit from nano influencers, local companies should almost always be targeting nano influencers.
Nano influencers' audiences are typically very similar to the influencer themselves (i.e. they live in the same area).
Micro influencers: a powerful force for driving conversions
The next step up on the influencer tier is the micro influencer.
While some personal preferences tend to blur the lines between nano and micro influencers, we'll define a micro influencer as anyone with a following between 10,000 and 500,000.
These influencers have been around the block a few times and have the business acumen and a firm foundation of trust with their audience that will allow them to know exactly what type of content to create for a brand to yield successful results.
Aicha Balde, the lifestyle blogger behind Tales and Turbans, is a great example of a micro influencer that brands should be targeting.
Aicha was recognized by influencer marketing platform Fohr as one of the most underrated influencers and became part of their "Freshman Class of 2018". Aicha works with brands such as Joybird and Away luggage to increase brand awareness and drive traffic to the brand's platforms, ultimately leading to conversions.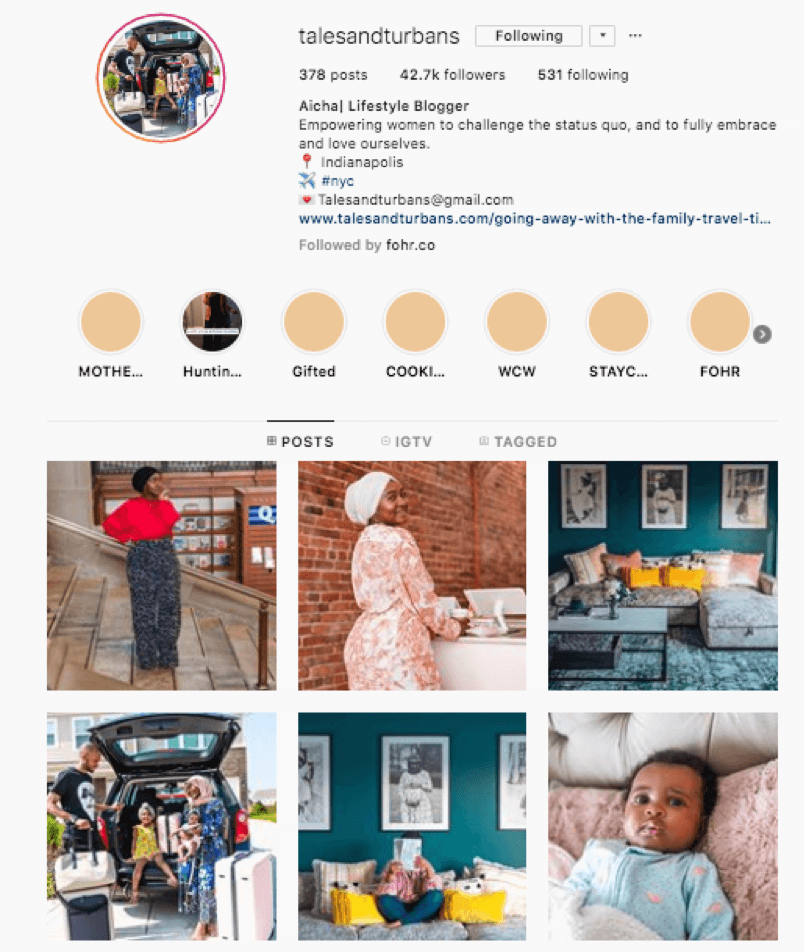 Who should work with micro influencers?
Working with a group of micro influencers is one of the best tactics for receiving a positive ROI as a national or international brand. Micro influencers come at a cost, but are still much more affordable than a macro or mega influencer.
Brands who are looking for conversions, traffic, and new social followers should target micro influencers.
For example, a recent collaboration between one of my clients and micro influencer Travel Realizations lead to a 5.26% conversion rate (global averages on conversion rates are between 1-3%).
Another perk of working with a micro influencer is that brands are often able to have full repurposing rights without having to shell out extra cash for photos and videos as long as they link to the influencer.
This is because micro influencers are always looking to continue growing their brand and can benefit from a well-established brand promoting their content.
Macro influencers: the power middle
Macro influencers can be categorized as any content creator with a following between 500,000 and 1,000,000.
Often, these influencers have truly branded themselves and have honed the process of collaborating with brands.
Lauryn Evarts Bosstick, for example, has a specific aesthetic paired with a unique tone of voice which has allowed her to thrive as an influencer and grow her following to more than 850,000.
What started as a blog has now grown into a full-scale brand including a podcast, book deals, "secret" Facebook groups for her audience, and highly curated social feeds.
A single sponsored post from Evarts Bosstick can yield impressive results – upwards of 83k impressions and 8.6k engagements, according to Klear's influencer research tool.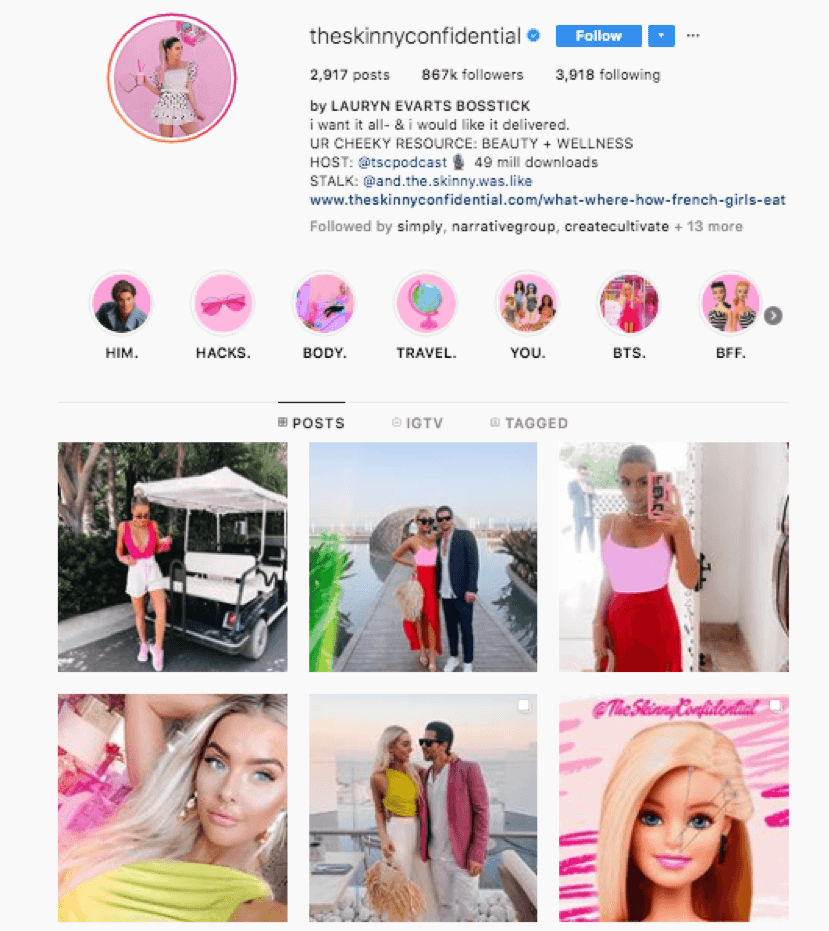 Who should work with macro influencers?
In the early stages of influencer marketing, most brands were simply after reach, making macros the most sought after type of influencer.
These days, more emphasis is placed on engagement and audience demographics.
While engagement rate tends to drop when follower count rises, there's still plenty of benefits to come from working with a macro influencer.
Brands who are eager to increase brand awareness quickly should target macro influencers.
Additionally, if the marketing team is low on resources and time, a campaign with a macro influencer will significantly simplify campaigns and will remove the need to micromanage a large group of influencers with a smaller reach.
It is important to note that working with a macro influencer will not be cheap. influencer rates can vary dramatically depending on what product you have to offer, how much they are willing to negotiate, and countless other factors.
Costs can range from $100 to several million.
Mega influencers: celebrities with remarkable reach
Mega influencers are the highest tier and are often referred to as celebrity influencers.
They have over 1,000,000 followers and are widely known.
The incredible reach of a mega influencer can significantly increase sales and metrics such as website traffic.
But, one of the greatest perks of working with a mega influencer is the fact that a single collaboration will boost a brand's "cool factor" immediately.
Actor Brant Daugherty is a prime example of the mega influencer tier. A single frame on his Instagram Story will lead to hundreds of thousands of impressions.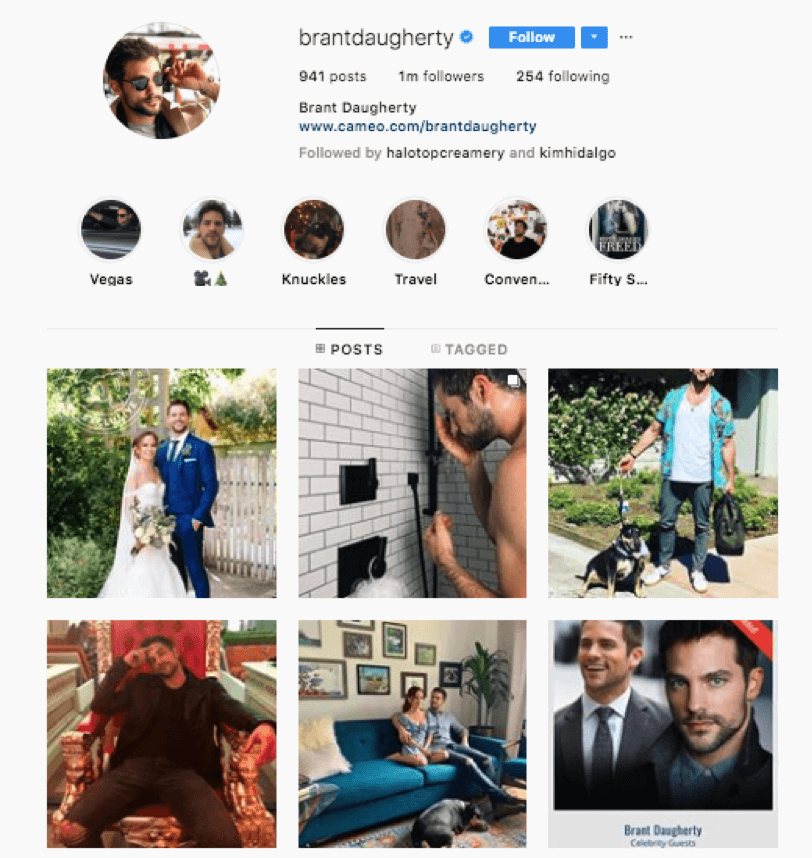 Who should work with mega influencers?
Similar to macro influencers, working with a mega will come with a hefty price tag.
Some celebrities can cost upwards of $1,000,000 for a single piece of content.
This idea might give you sticker shock, but the collaboration will be incredibly smooth.
It's rare to find a mega influencer that does not have a manager who organizes brand collaborations for them.
For brands and marketers who are looking for the most professional exchange, mega influencers are the way to go.
Brands who are hoping to improve sentiment around their product or service and have a large budget to work with can target mega influencers.
These collaborations can take a product from "never heard of it" to the latest trend in no time.
To conclude
There's not one right way to develop an influencer marketing strategy. Instead, brands should make strategic campaign decisions based on overarching goals and budget. Each tier of influencer brings something different to the table and brands can earn impressive results at all levels.
Do you have experience working with different tiers of influence? Which level has yielded the most impressive KPIs for your brand?